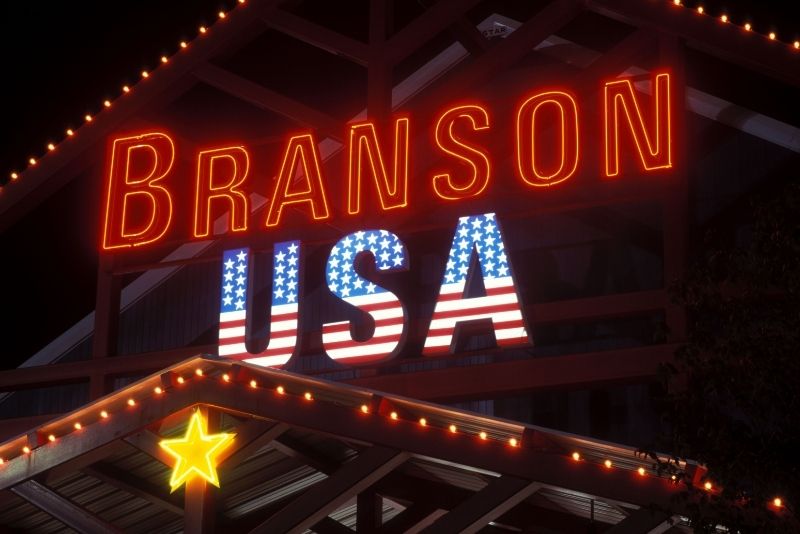 Rightfully dubbed the Live Music Capital of the World, with theaters, theme parks, and immersive natural beauty in every direction, Branson is finding itself perched atop more and more Americans' bucket lists with every passing year.
Nestled within the heart of the Ozark Mountains where hiking, camping, and horseriding activities are aplenty, Branson holds its own as one of the Midwest's most popular (yet still wildly underrated) tourist destinations, welcoming some 7 million eager visitors per annum.
With over 100 different shows to choose from, plus award-winning restaurants, thrilling rides at Silver Dollar City, and the sparkling waters of Table Rock Lake, the variety of things to do in Branson is nothing if not surprising.
1 – Take a trip through history at the Titanic Museum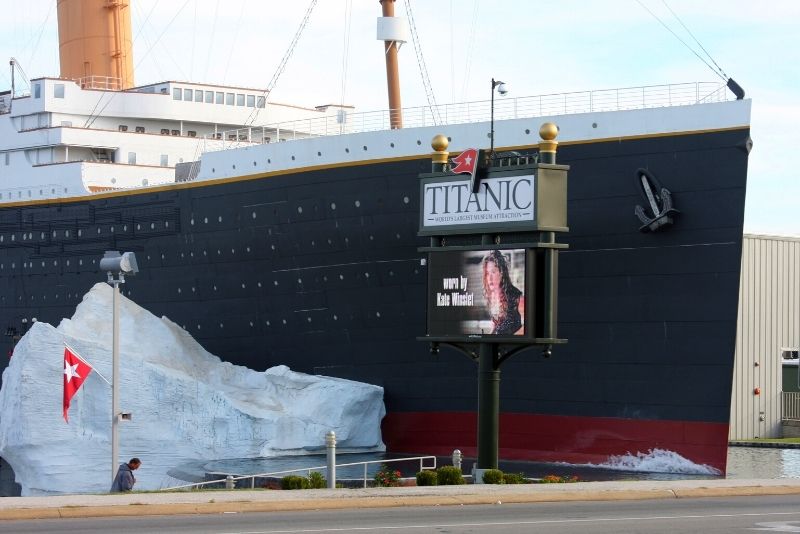 Like taking a step back in time to the heyday of luxury ocean travel, the revered Titanic Museum, located near the city's Threatre District, regularly delights guests with its fascinating interactive exhibits that take guests on a journey back to 1912.
With over 400 artifacts from the shipwreck spread across some 20 galleries, as well as replica dining rooms and bedroom suites.
Visitors not only can learn about the famous White Star Line flagship, but see what it was like for the ill-fated passengers as well.
More than just a regular museum, stand-in crew members don period costumes and interact with visitors, making this very much an immersive, experiential adventure!
2 – Step inside the Branson Butterfly Palace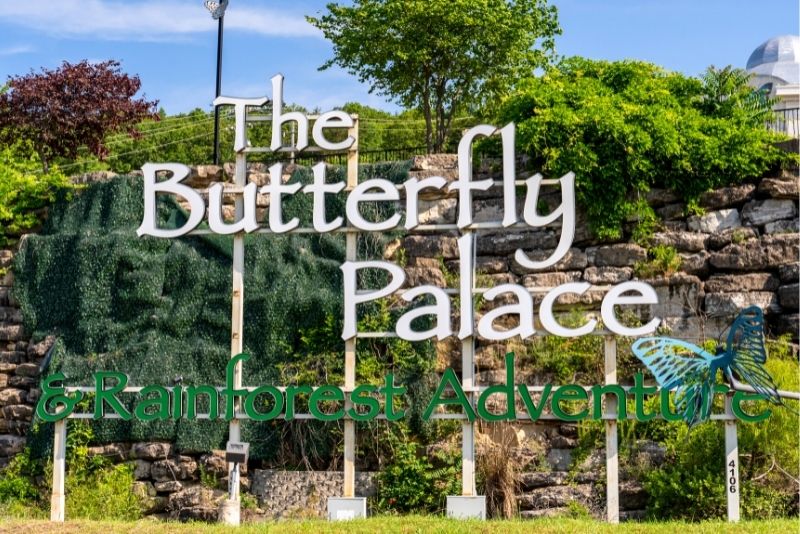 A must-see for nature lovers, and a nice change of pace from the busy waterfront downtown.
This magical indoor garden is home to more than 1000 exotic butterflies, which flutter freely around the tropical-like environment.
Housed inside a large greenhouse, the garden is packed full of exotic flowers and plants that provide natural nectar for these beautiful creatures as they flutter from tree to tree (and sometimes even land on your outstretched arms).
As you meander around this one-of-a-kind attraction, which also features a rainforest discovery center with live reptiles and a mirror maze for the youngsters.
Don't forget to check out the 3D "Flight of the Butterflies" movie to learn all the stunning Monarch Migration.
3 – Mingle with turtles at the Aquarium at the Boardwalk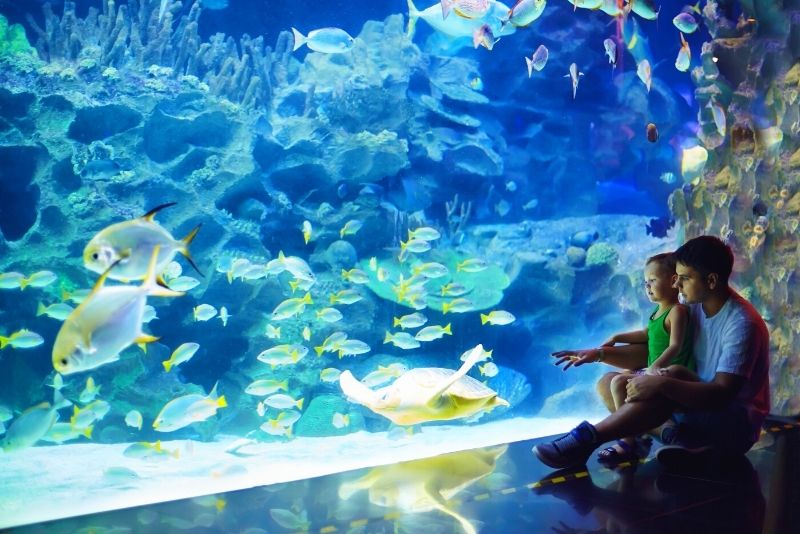 For a day out with the kids that's both educational and entertaining, you can't beat spending some time at the aquarium.
Located in the heart of Branson Landing, this massive attraction is home to more than 250 species of aquatic animals from all over the world, including ominous sharks, elegant rays, and adorable sea turtles.
Besides the chance to stroll around the exhibits, admiring the colorful creatures from afar, those brave enough can also stick their hands in the touch tanks or sign up for some of the aquarium's VIP experiences to get up close and personal with the exotic critters.
Hot tip: don't miss the 24-foot high Kelp Forest climbing structure, likewise the giant octopus sculpture at the entrance!
4 – Climb aboard the Branson Scenic Railway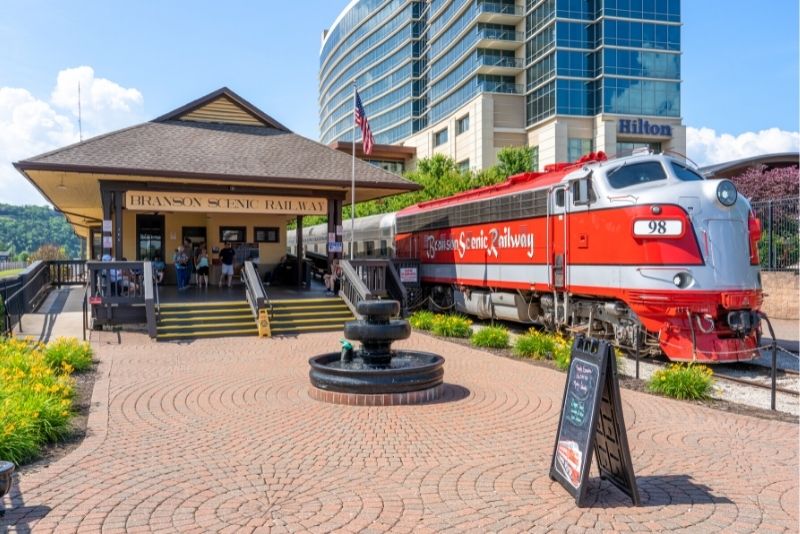 Where a longstanding Missouri icon meets enchanting nature, the Branson Scenic Railway offers a remarkable way to enjoy the Ozarks.
Departing right from downtown, this railway winds its way through the beautiful countryside for just under two hours, taking in everything from pristine lakes and rushing rivers to dense forests and rugged hillsides along its 40-mile round-trip route.
Choose from the northern route, which ventures through the Missouri countryside, past the town of Galena and the beautiful James River Valley; and the southern, which rides over the Barren Fork Trestle into northwest Arkansas.
Either way, as you take your seat in the historic and meticulously restored railcars from the late 1930s through the early 1960s, not only are you embarking on a journey through the rugged Midwestern landscapes, but also a journey back in time.
Can't decide when to ride? While there's never a bad time to hop aboard, in fall, when the colors of the leaves start to change to vibrant reds and oranges, the magic is taken to another level.
5 – Take the whole family to Fritz's Adventure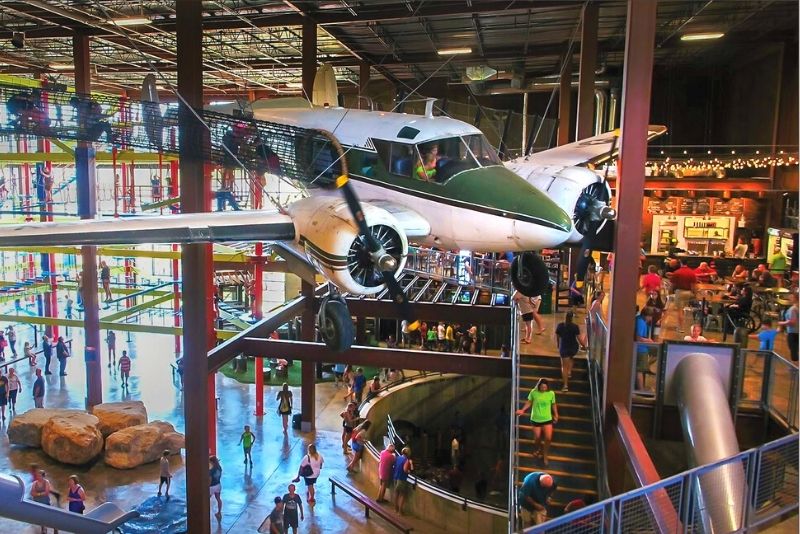 For a thrilling and action-packed day out with the kids, there's arguably no better option in Branson than Fritz's Adventure.
Located just ten minutes from downtown, right next to Dolly Parton's Stampede, in an expansive indoor setting that's open year-round.
This popular attraction is home to dozens of exciting rides and attractions for all ages—including everything from an exhilarating multi-story ropes course to slides, underground tunnels, jungle gyms, and a laser maze!
6 – Ride exhilarating roller coasters at Silver Dollar City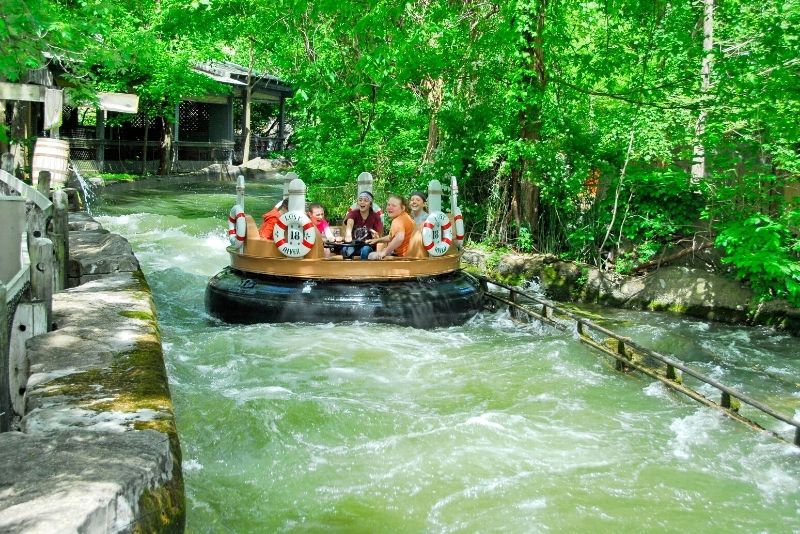 Silver Dollar City is one of the most popular and beloved theme parks in all of Missouri, and for good reason.
From its humble beginnings as a small-town attraction to its current status as an internationally acclaimed amusement park, Silver Dollar City has something for everyone.
With more than 40 thrilling rides and attractions—including a handful of world-class roller coasters—countless live shows, special events throughout the year, all themed around an 1880s-style, there's no denying that Silver Dollar City is an absolute must for thrill-seekers.
Not sure where to start? With a top speed of 68 miles per hour, The Outlaw Run is sure to get the heart-racing; a trip into the Marvel Cave takes you 300 feet below the surface; while Thunderation is a runaway mine train that dishes up spectacular panoramic Ozark views.
And, if you happen to be visiting in the lead-up to Halloween, make sure to add the annual Harvest Festival to the bucket list!
Looking for accommodation near Silver Dollar City? The Still Waters Resort and Lodge of the Ozarks come highly recommended, while anywhere in Branson West typically draws fewer crowds than Branson proper.
7 – Feed kangaroos at Branson's Promised Land Zoo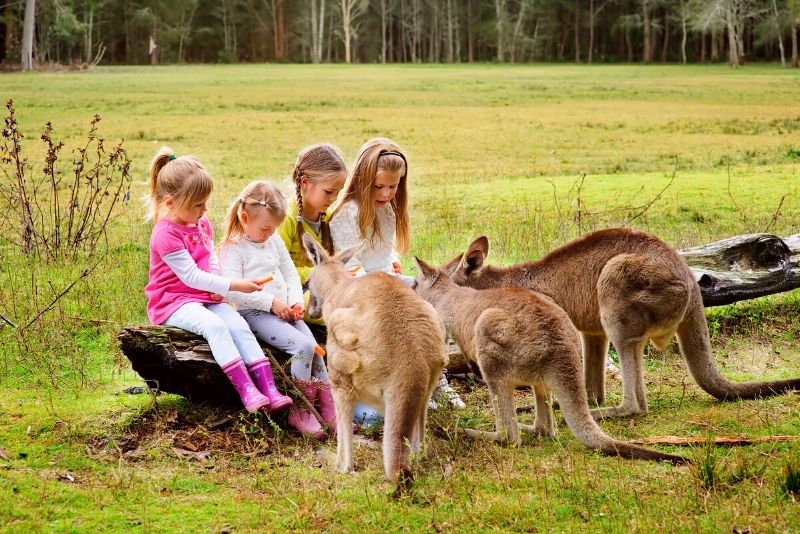 Spread across 75 acres of natural Ozarks landscape, the Promised Land Zoo is as big as it is beloved — with over 500 animals from around the world, it's regularly regarded not only as one of America's top 25 zoos, but one of the best things to do in Branson, period.
Playing host to everything from lions and tigers to lemurs, sloths, camels, and kangaroos, the zoo offers up plenty of opportunities for close-up encounters with some of the most fascinating creatures on the planet.
What's more, the zoo is home to a wide variety of exotic plants and trees, making for a beautiful and peaceful stroll through nature right in the heart of Branson.
Looking for something extra special? The RTV guided tour offers a safari-like half-day adventure, while the Christmas Lights Drive-Thru adds that extra touch of must-see magic.
8 – Experience zero gravity at WonderWorks Branson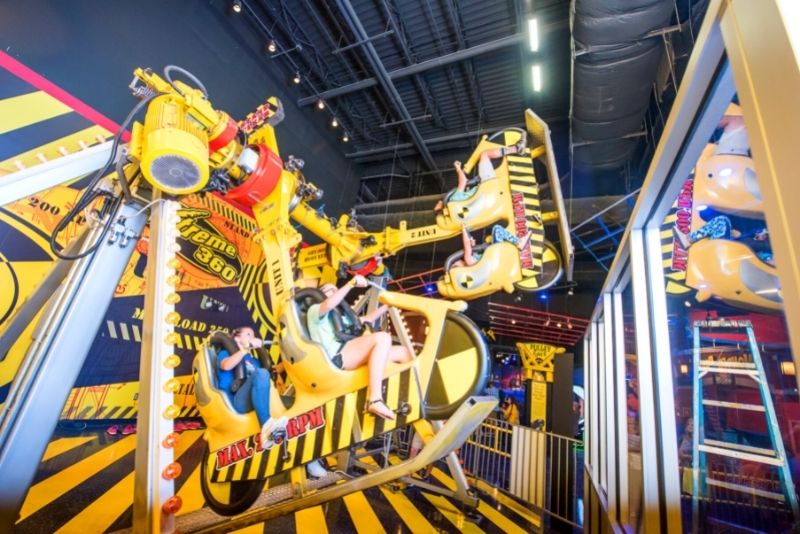 A staple family-friendly indoor Branson attraction, WonderWorks is an amusement park for the mind, with more than 100 hands-on exhibits that challenge perceptions and explore the fun side of science.
From a life-size game of Operation to upside-down rooms, the chance to experience zero gravity or lie on a bed of nails, and everything in between, WonderWorks is guaranteed to keep you entertained (and educated) for hours on end.
What's more, WonderWorks is conveniently located within walking distance of dozens of restaurants (check out the 1950's-style Mel's Hard Luck Diner) and shops — making it the perfect place to spend a day exploring all that this vibrant city has to offer.
9 – Meet the animals at Branson's Wild World
If you're looking for a family-friendly attraction that's equal parts fun and educational, look no further than Branson's Wild World.
Located along the entertainment epicenter — 76 Country Boulevard — this award-winning zoo meets aquarium meets theme park delights guests with the chance to feed sharks, alligators, and stingrays.
It's also possible to play with dingos and lemurs at the daily shows, and compete for ultimate bragging rights with a quick game of mini-golf to finish things off.
10 – Soak in the view from Branson Inspiration Tower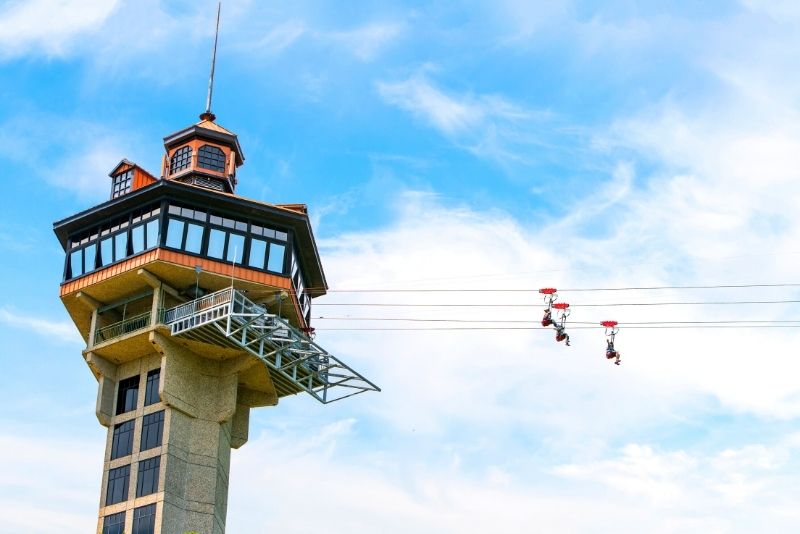 Standing at more than 230 feet tall (the highest point in Southwest Missouri), the tower offers stunning 360-degree views of the city and its surrounding countryside from its observation decks — making it the perfect spot to snap some photos or just take in the (incredible) scenery of this lively Ozark town.
High atop the tower, which you'll reach via a spectacular glass-bottomed elevator, you'll be able to see for over 90 miles on a clear day.
For something a little more heart-pounding, take a seat on the Vigilante Extreme ZipRider, a thrilling ride that launches seated riders down from the Tower at a whopping 45 miles per hour — hold onto your hats!
11 – Cool off at a waterpark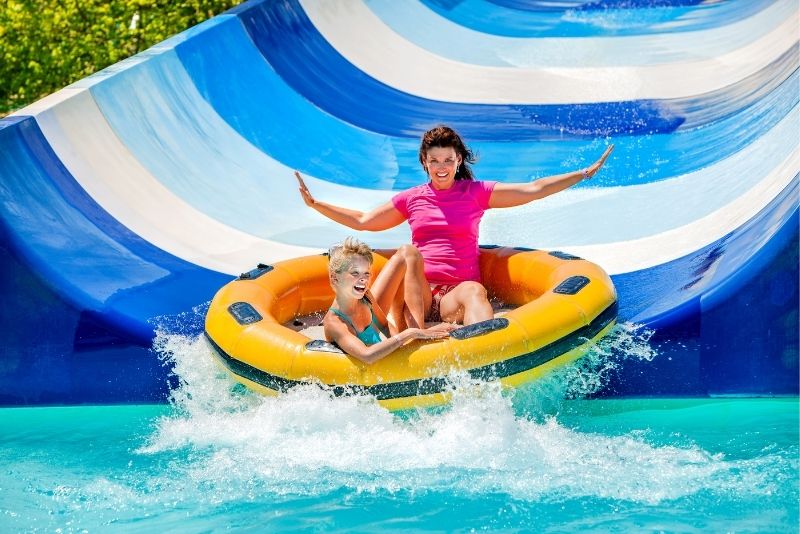 With no shortage of sizzling summer days blanketing the Midwest, a refreshing reprieve from the heat is always welcome.
Luckily, Branson has your back — with the Splash Country Indoor & Outdoor Waterpark situated right in the heat of the action on 76 Country Boulevard.
Visitors are treated to a soaking oasis full of water slides, lazy rivers, kiddy pools, and the beloved 1,000-gallon tipping bucket.
While Splash Country caters mostly to families (with an on-site cafe for the parents and plenty of spots of lounge around), nearby White Water at Silver Dollar City is perfect for those who are looking for a more thrilling day out, with its KaPau Plummet and Kalani Towers sure to get the heart racing!
12 – Marvel at the natural Talking Rocks Cavern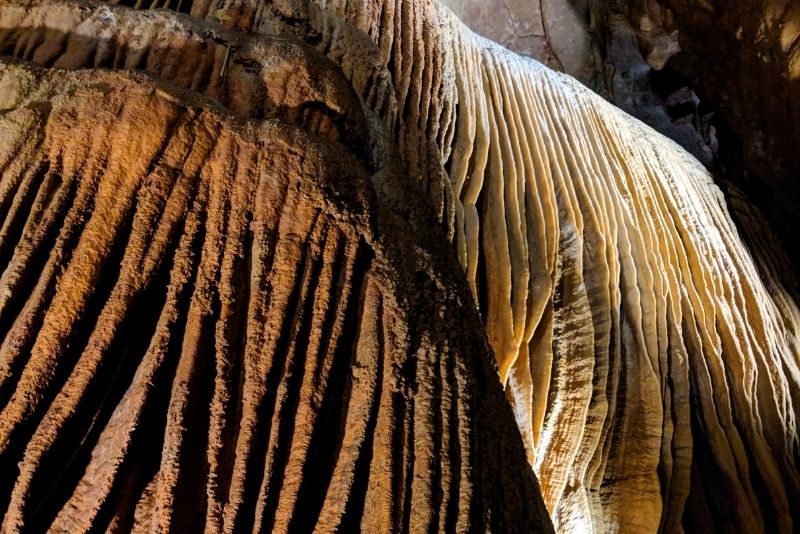 A geological wonderland that's been around for millions of years, local-favorite Talking Rocks Cavern is a natural limestone cave over in Branson West that offers intriguing (and a little eerie) guided tours of the labyrinth of caves and crevices.
Outside of the caves themselves, the Cavern boasts picnic areas, mini-golf, games areas, a couple of crawl mazes, an abundance of nature trails, and a lookout tower to take in all that Stone County has to offer!
13 – Snap a few selfies at the Hollywood Wax Museum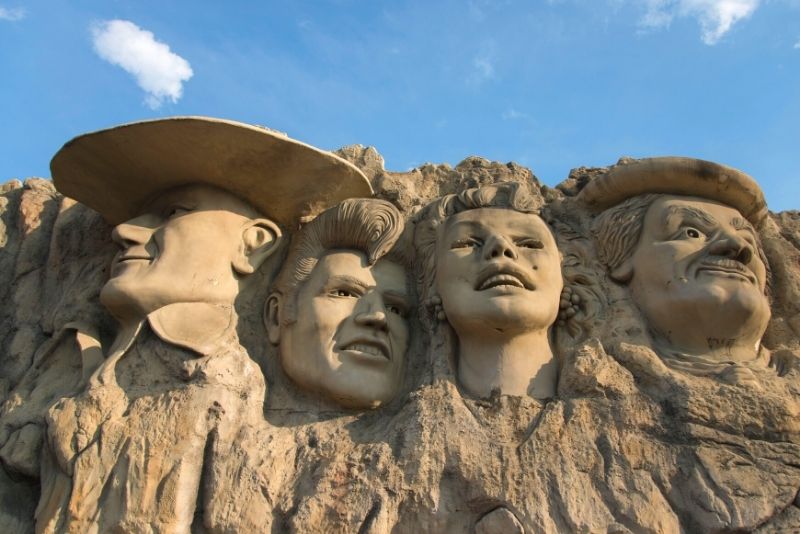 A surefire way to light up the social media feed with pictures of A-list celebrities, musicians, sports stars and more, the Hollywood Wax Museum is a popular stop for visitors of all ages.
Featuring over 100 life-size wax figures (including everyone from Elvis Presley and Marilyn Monroe to The Beatles and Lady Gaga), the museum is open every day of the week and offers photo ops aplenty!
Hot tip: after meeting your lifelike heroes, make sure to try the 5D Castle of Chaos experience!
14 – Try not to get lost in Hannah's Maze of Mirrors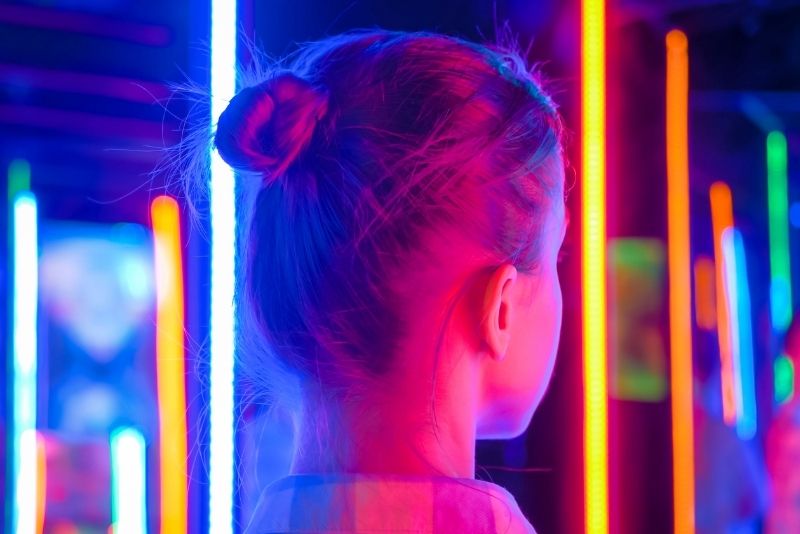 Sure to confuse, mystify and delight all at once, Hannah's Maze of Mirrors is a mind-bending labyrinthine adventure located right in the heart of Branson next to Ripley's.
With walls, ceilings and floors made entirely out of mirrors, Hannah's is sure to mess with your sense of spatial awareness as you try to save Princess Hannah of Savannah, making your way through its twists and turns in the most exciting way possible.
15 – Soak in nature at the Lakeside Forest Wilderness Area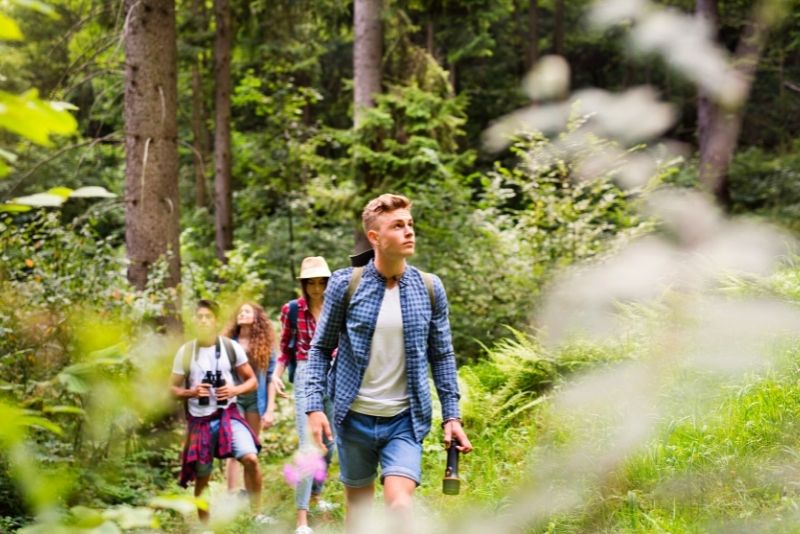 A 140-acre nature park that sits right in the middle of all the touristy hustle and bustle (and therefore acts as an easily accessible slice of greenery for those looking for a quick escape).
The Lakeside Forest Wilderness Area welcomes guests to soak in the fresh air with giant trees, cascading waterfalls, hidden caves, and abundant wildlife.
Boasting about six miles of hiking trails (ranging from easy to difficult), as well as plenty of biking trails that weave in and around the rocky terrain.
This under-the-radar spot is perfect for those who love getting lost in the great outdoors.
If you plan on doing the 339 steps down to Lake Taneycomo, make sure to wear sturdy shoes; and if you tackle the Bluff Trail, make sure to take a quick glance into the cave.
16 – Ride the Alpine Coaster at Branson Mountain Adventure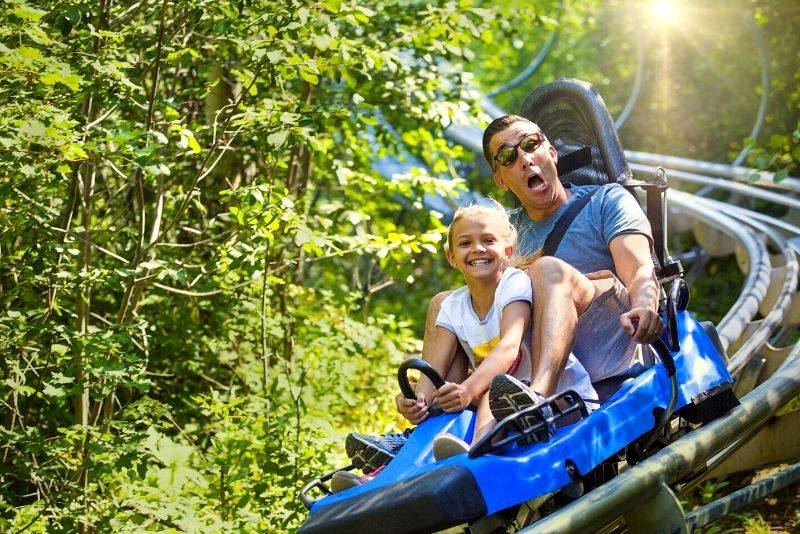 A favorite with both kids and adults with an insatiable need for speed.
The Runaway Coaster at Branson Mountain Adventure Park is a gravity-defying thrill ride that will have you zipping over 4900 feet through the forest on what is both the longest and fastest mountain coaster in the Midwest — and when it's lit up at night, the thrills of the hairpin turns and drops are turned up yet another extra notch.
Besides hosting the only mountain coaster in Missouri, the Adventure Park also provides guests the chance to zoom down the Quad Racing Ziplines!
If you're after a hotel in the area, both Marriott's Willow Ridge Lodge and the Fairfield Inn & Suites are popular choices.
17 – Soak in some sun at Moonshine Beach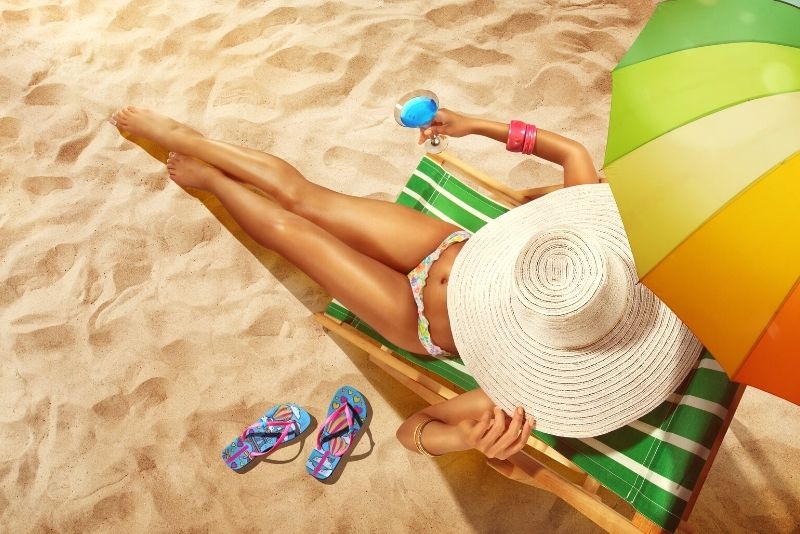 A popular spot for a sandy picnic or a day working on the tan, Moonshine Beach is an outdoorsy oasis on the shores of Table Rock Lake, that dishes up ample swimming space in its calm waters.
Only a 20-minute drive away, you'll find playgrounds to keep the youngsters entertained, and plenty of outdoor tables and BBQ spots for when the tummy starts to rumble.
Plus, thanks to its location just around the corner from the Dewey Short Visitor Center Recreation Area, there's always plenty to see and do nearby.
18 – Enjoy the view from atop the Branson Ferris Wheel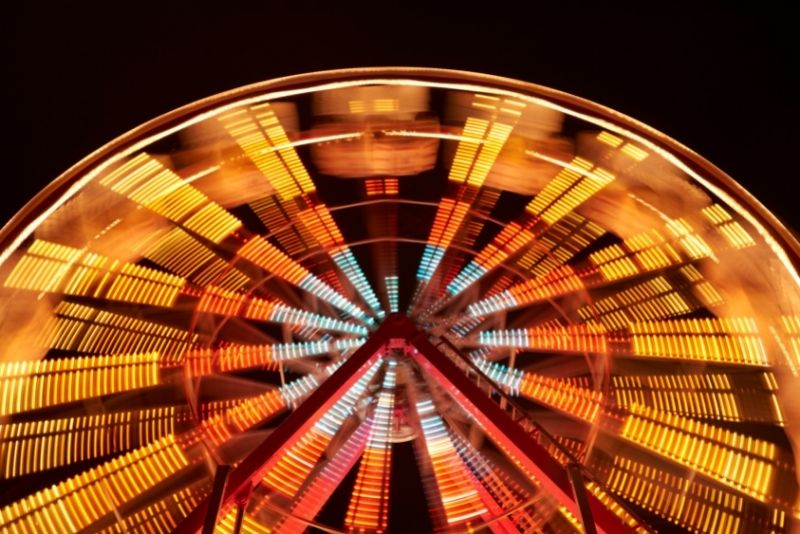 A must-do for anyone visiting with kids, Branson's Ferris Wheel is a 150-foot-tall monstrosity that towers over 76 Country Blvd and provides one of the best views around — especially on a clear day, when you can stare out across the area's plethora of theme parks and attractions.
At night time (when its 40 gondolas are lit up by over 16,000 colorful LED bulbs), all eyes will be firmly glued upward as guests spin past hundreds of twinkling stars in sync with a customer musical arrangement titled "Electrify".
Fun fact: before delighting Missouri visitors, the wheel sat for over 20 years at Chicago's iconic Navy Pier!
19 – World's Largest Toy Museum Complex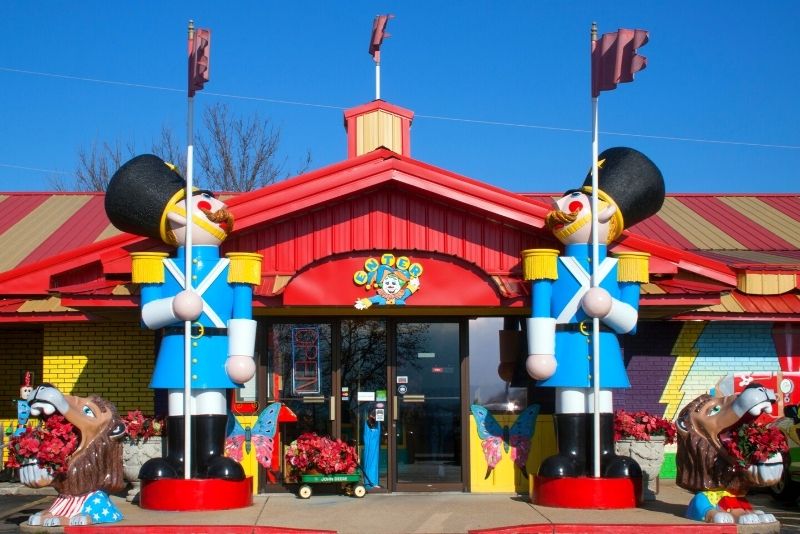 For the ultimate trip down memory lane, and one of the most entertaining things to do in Branson whether you're traveling with kids or just a big kid at heart.
This complex (which actually consists of not one but six museums*) is home to more than 1,000,000 pieces of nostalgia-inducing playthings that have been collected over decades.
From Tonka Trucks and Barbie dolls to GI Joes, Hot Wheels, and Cabbage Patch Kids, there's something here for everyone (or at least everyone who remembers playing with toys).
Throw in the Matchbox cars, Pez dispensers, Star Wars figurines, and classic Disney Toys and it's easy to see why the 30,000-square-foot attraction has become quintessential Branson.
*choose from National BB Gun Museum, Harold Bell Wright Museum, Stearnsy Bears, Paul Harvey Jr. 50's Era Museum, World of Checkers, Memory Barn, and the World's Largest Toy Museum.
20 – See Mother Nature's best work at the Dogwood Canyon Nature Park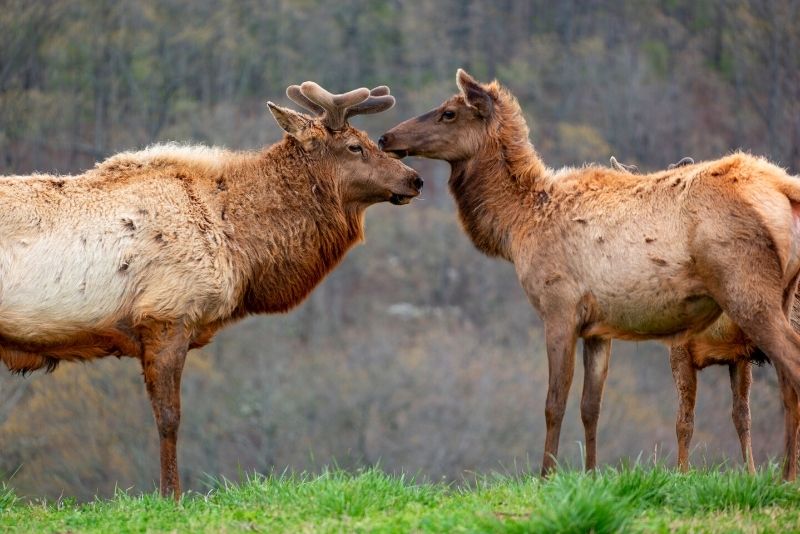 Sitting about a 35-minute drive from Branson over in the stunning and lush nature-filled city of Lampe, the Dogwood Canyon is an outdoor enthusiast's paradise that offers the chance to hike and bike on dozens of trails throughout its 10,000 acres of diverse scenery.
Spot deer and other wildlife in their natural habitats, go fishing for trout in one of the many crystal-clear ponds or streams, explore caves, hop on an open-air tram for a wildlife tour to learn all about the creatures (bison, elk, and Texas longhorn) who call this grassy oasis home, and so much more!
Hot tip: with endless postcard-worthy backdrops, make sure the camera batteries are charged!
21 – Go fishing!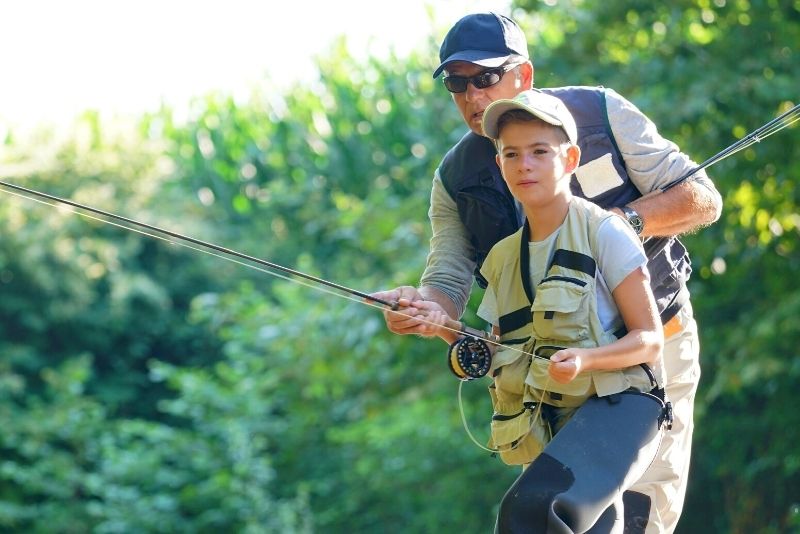 Besides reeling in trout at the Dogwood Canyon Nature Park, Branson also offers plenty of spots to catch bass, catfish, bow, and more year-round.
Choose from dozens of different locations across the three pristine lakes (Lake Taneycomo, Bull Shoals Lake, and Table Rock Lake), and book a guided tour with a licensed pro to ensure the best possible chance of success.
Even if you've never caught a fish before, with all the equipment provided (and the experienced guides on hand to help you out), it's hard not to reel something in!
22 – Stop by Ripley's Believe It or Not!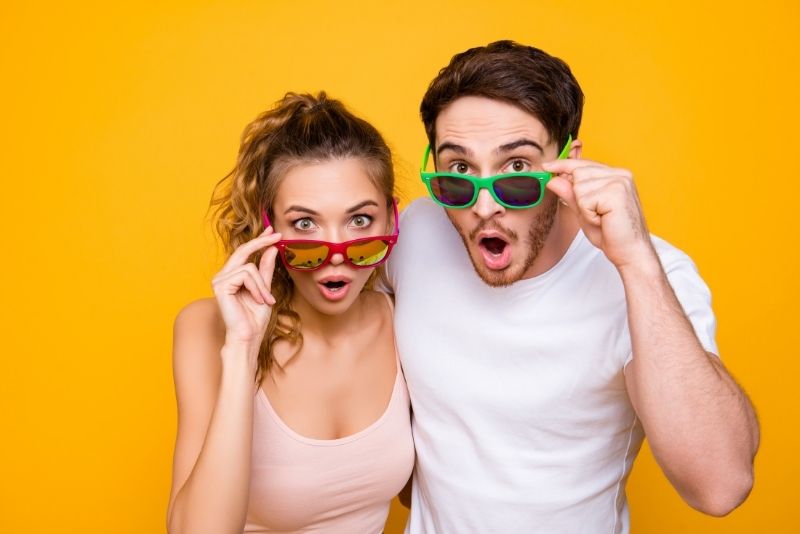 A staple family-friendly attraction in dozens of cities across the US (and beyond), this interactive museum and odditorium is the ultimate one-of-a-kind attraction for those who love to be entertained, puzzled, and awed.
With hundreds of different exhibits, fun facts, and head-scratching optical illusions that are sure to surprise, amaze and amuse (and housed in a building that looks like it's splitting in two), there's plenty in Ripley's eight galleries to keep guests busy for at least an hour.
Not sure where to start? The Military Marvels exhibit is unique to Branson, while the Super Fun Zone with laser tag, an interactive maze, and Smash Dash is a fan favorite.
23 – Spend some time at the Shepherd of the Hills Fish Hatchery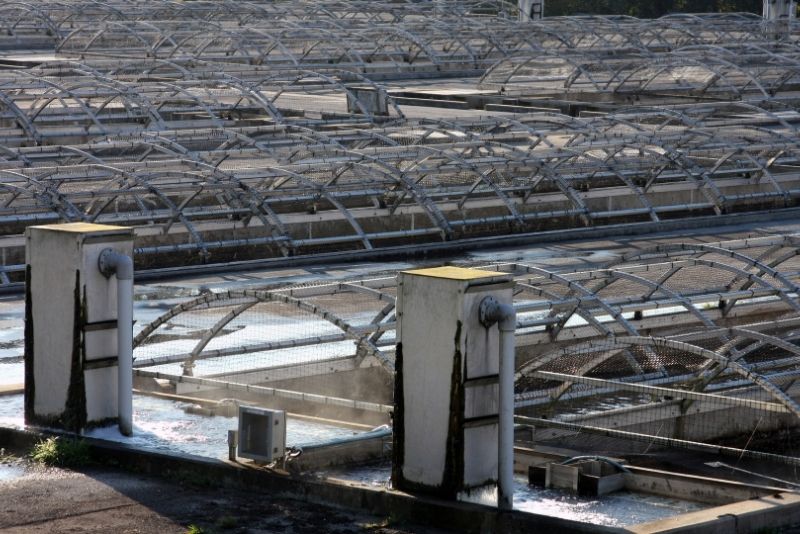 If you're looking for a day out with an educational twist, head to this off-the-beaten-path attraction which is home to over a million catchable trout every year.
Kickstart your Shepherd of the Hills Fish Hatchery visit with an eye-opening short film in the museum.
Check out the hatchery tanks up close, and consider a guided tour if you want to learn more about the ins and outs of the trout lifecycle from egg incubation to fully-grown adult.
24 – Learn about past conflicts at the Veterans Memorial Museum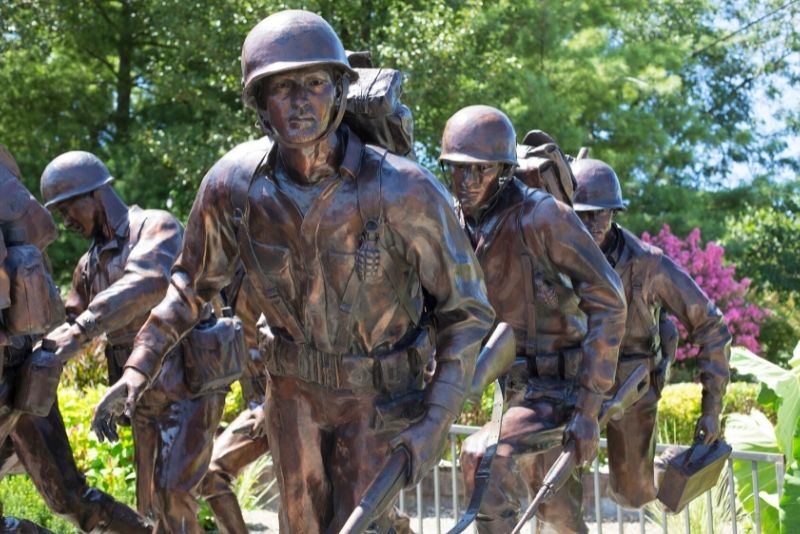 Honoring the service and sacrifice of those who've defended their country over the years, particularly during the 20th Century.
Spread across some 18,000 square feet — meaning the Veterans Memorial Museum is by no means small.
You'll be able to explore more than 2000 exhibits (uniforms, weapons, documents, and more) that dive into infamous conflicts like WWII and Vietnam through to lesser-known events like the USS Cole bombing.
With the P-51 Mustang fighter suspending above the ground outside the museum on 76 Country Blvd, and a significant memorial statue of soldiers in line, it's impossible to miss.
25 – Take photos with a T-Rex at the Dinosaur Museum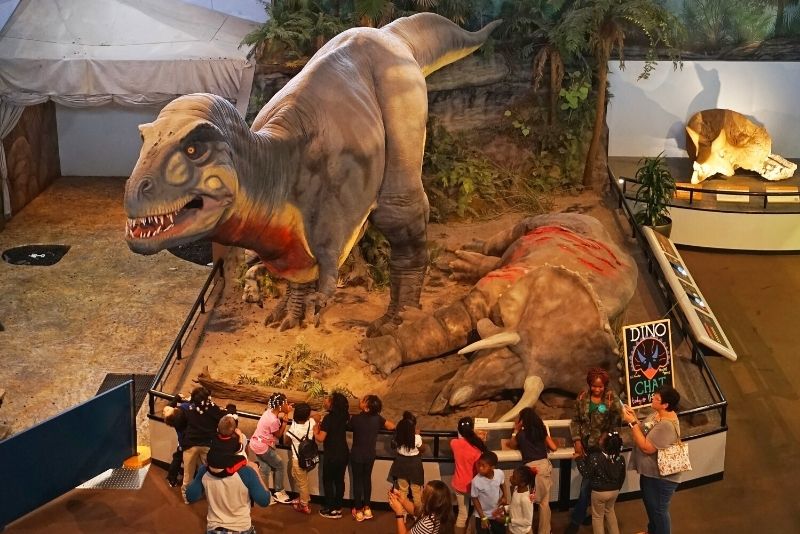 While this museum is just a few years old, it's already earned itself a place on the list of essential things to do in Branson — and that statement is multiplied tenfold if you consider yourself a paleontologist in the making.
With more than 50 cast replica dinosaurs on display (including everyone's favorite Tyrannosaurus Rex), and ancient fossils from around the world, all presented alongside information about when they lived and how they died.
This small but perfectly formed museum is a treasure trove for dinosaur lovers of all ages.
26 – Spend a day or two at Table Rock Lake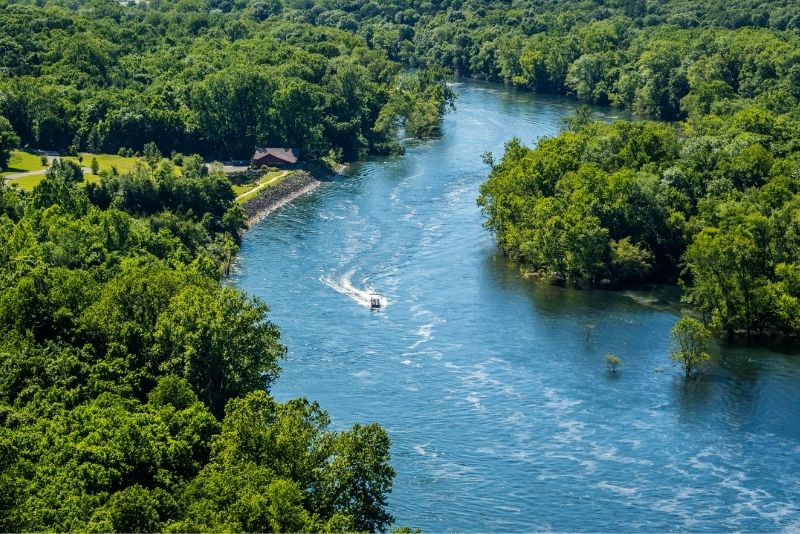 One of Branson's three nearby major lakes, known for its 800 miles of shoreline and pristine fishing opportunities, Table Rock welcomes one and all.
Whether you want to try reeling in a fish (you'll find bass, crappie, catfish, and bluegill all over), rent a kayak, charter a boat, or hang out at one of the numerous beaches.
Hikers, make a beeline for the Table Rock Lakeshore Trail; nature lovers, consider setting up camp in the Table Rock State Park or signing up for scuba diving session or mountain biking adventure.
For the romantics, look no further than The Showboat Branson Belle, a paddle wheeler that offers 3-course dinner cruises with live music and entertainment (not to mention stellar views from its decks) year-round.
Hotel hunting? The Westgate Branson Lakes Resort is off the beaten track and therefore seldom crowded while the Chateau on the Lake Resort Spa is all about luxury.
27 – Jump around at a trampoline park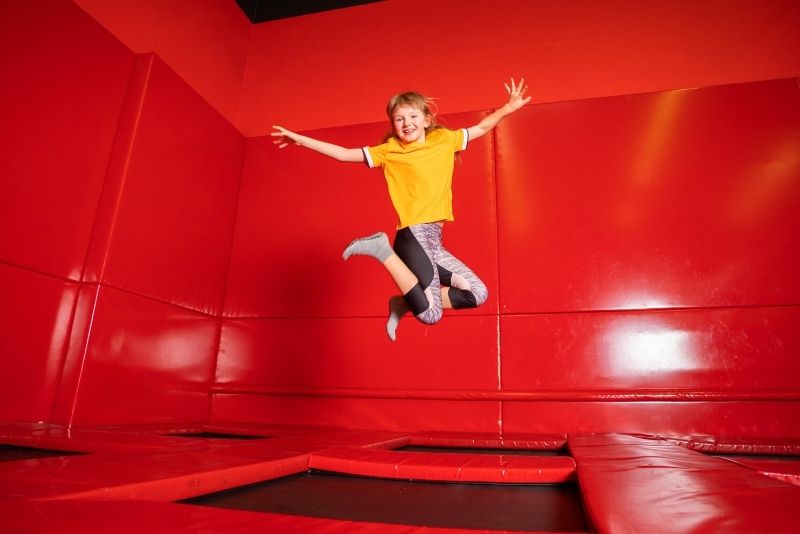 Far more tiring than its looks, trampoline parks are popping up all over the country and Branson is no exception — they're a must-try activity for those looking to burn off some energy.
Over at Big Air, for example, which is much bigger than your typical indoor jumping center, guests go flipping mad for the near-60 attractions: compete with the friendly staff at dodgeball, ride the mechanical bull, test your balance on the battle beam.
See how far you can get in the Ninja Warrior course, or simply practice your somersaults and twists on one of the many freejump areas!
With dedicated zones for the youngsters as well as more challenging activities for the risk-takers, there's something for the whole family!
28 – Meet Lightning McQueen at the Branson Celebrity Car Museum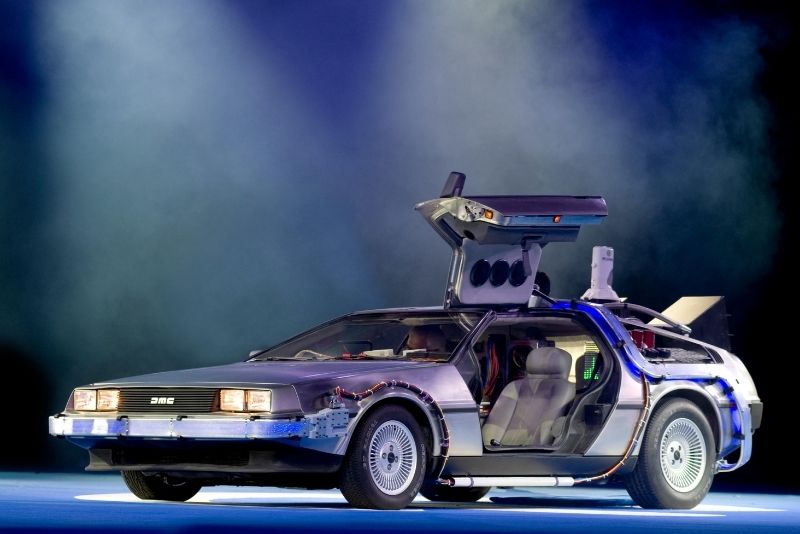 Where Hollywood meets the Midwest, with an extra splash of automotive history, the Branson Celebrity Car Museum shows off more than 100 different instantly recognizable rides from all kinds of infamous movies and TV shows.
From Scooby Doo's Mystery Machine to the Back to the Future DeLorean, plus Lightning McQueen and Mater from Disney's Cars, and no shortage of head-turning cars from the Fast and Furious franchise, this is a must-visit for both car and pop-culture enthusiasts.
29 – Spend an afternoon at Shoot for the Stars Mini-Golf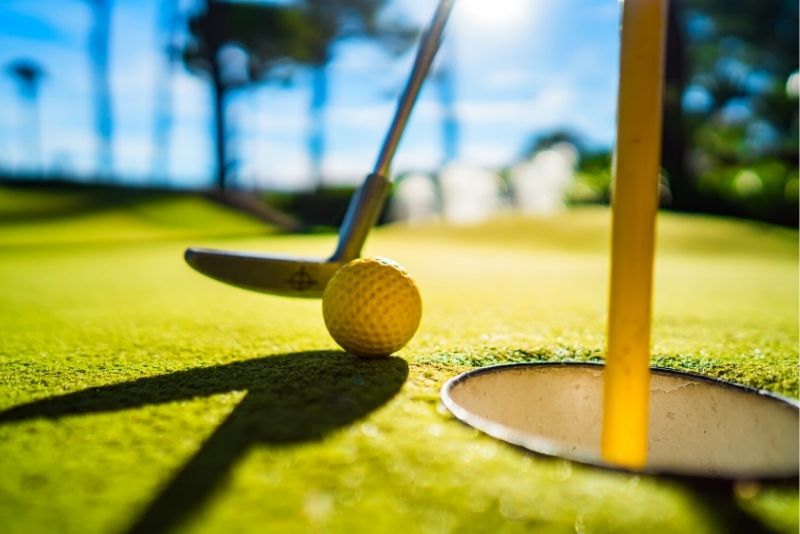 A simple yet always-enjoyable way to spend an afternoon, mini-golf is one of those activities that are perfect for all ages and abilities.
And at Shoot for the Stars Mini-Golf in Branson, you can do just that — as the name suggests, this place takes its 18 holes of outdoor golfing and meshes it with the glitz and glamour of Tinseltown.
As you putt your way through Hollywood's most recognized landmarks (meant to showcase the actual stages of a Hollywood career, from being noticed to getting a star on the Walk of Fame), you'll be greeted by the Chinese Theater, Capitol Records, the Hollywood Bowl, and plenty of other famous sights.
30 – Check out the hands-on exhibits at Beyond the Lens!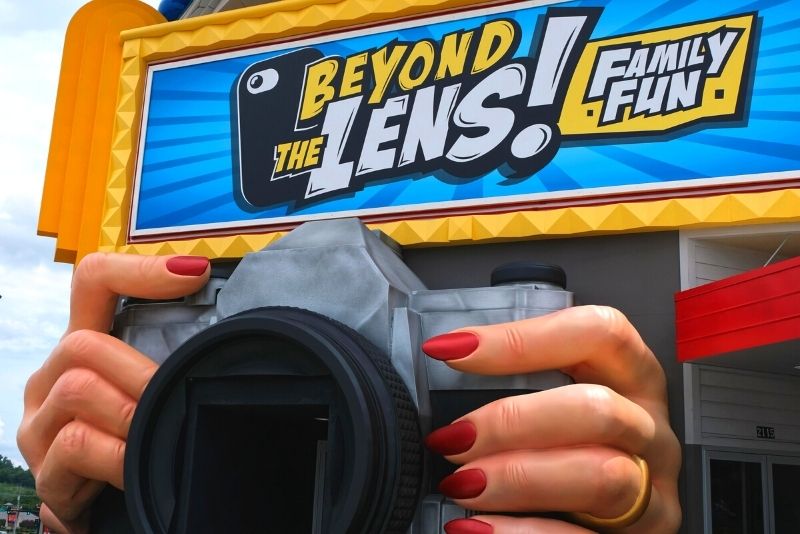 Harnessing state-of-the-art technology, Beyond the Lens! Branson is an interactive experience that lets visitors immerse themselves in the magic of photography, cinema, and a whole lot more.
With amazing photo ops around every corner — like replicas of the Oval Office, L.A.'s Rodeo Drive, or even the recreated site of the 1969 Moon Landing — and the chance to walk through mirror tunnels or star in a Hollywood blockbuster, this is an experience that's sure to leave you with some one-of-a-kind memories.
Hot tip: don't miss one of Branson's newest attractions, FlyRide, where you'll soar over 22 national landmarks for a unique perspective of the diverse landscapes of the US of A.
31 – Travel back in time at the Ancient Ozarks Natural History Museum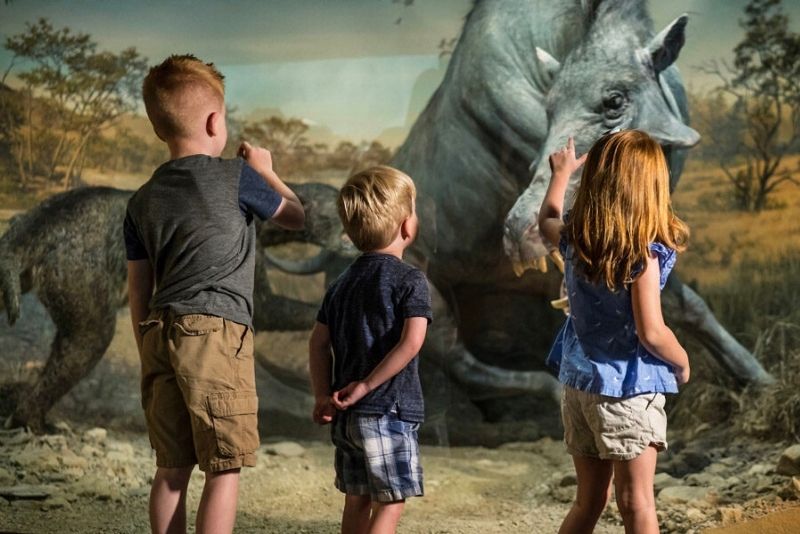 While not as famous as some of the other attractions in Branson, the Ancient Ozarks Natural History Museum (established by Bass Pro Shop founder Johnny Morris) is definitely worth a visit.
Learn more about the area's diverse geology, its evolution, and all of the prehistoric creatures — think saber tooth cats and short-faced bears — who once called Missouri and America home.
Housed in a beautiful building over at Top of the Rock (which is the highest point in the area, overlooking Table Rock Lake), this museum contains exhibits on topics like local Native American cultures, early settlers, the Wild West, and the Civil War era, making for a morning full of learning and entertainment.
32 – Wander around the College of the Ozarks campus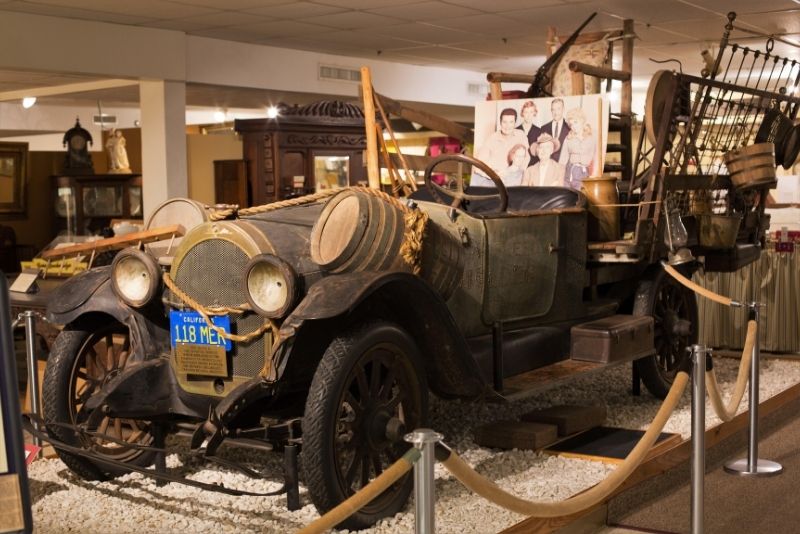 Sitting on a beautiful, green-abundant campus over in Point Lookout, just outside of Branson, the liberal arts-focused College of the Ozarks is a well-known institution that's been inspiring students for over 100 years.
On site, the Ralph Foster Museum showcases the school's early history as well as quirky collections of dolls and weapons, while the Hoge Greenhouses, with over 7,000 plans, give visitors a glimpse into local nature at its finest.
Hungry? Sample the best creations of next-generation chefs-in-training at The Keeter Center's Dobyn's Dining Room. Or, simply roll out the picnic blanket at Patriots Park.
33 – Keep your eyes peeled at Bigfoot Fun Park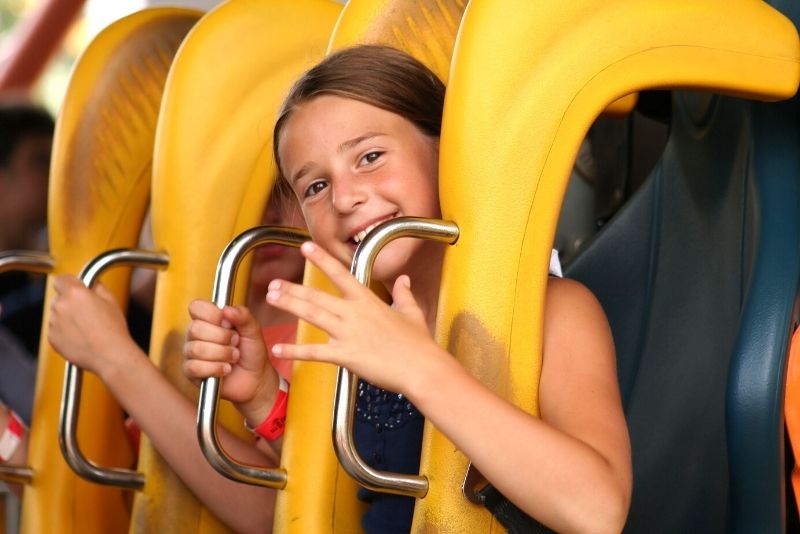 All themed around none other than Bigfoot himself (the infamous, elusive sasquatch), the Bigfoot Fun Park is perfect for those who love a good, old-fashioned amusement park ride or two.
Thrills seekers, rejoice: the 200-foot-tall Bigfoot Action Tower casts a shadow over the area, while the Super Sling and Gravity Bomb are sure to get the adrenaline surging into overdrive.
Less dramatic, but just as fun, the Park is also known for its Scottish Highland cattle farm tour and Bigfoot Discovery Expedition — an outdoor safari where you'll see all the local wildlife up close (Bigfoot included?).
34 – Ride Parakeet Pete's Waterfront Zipline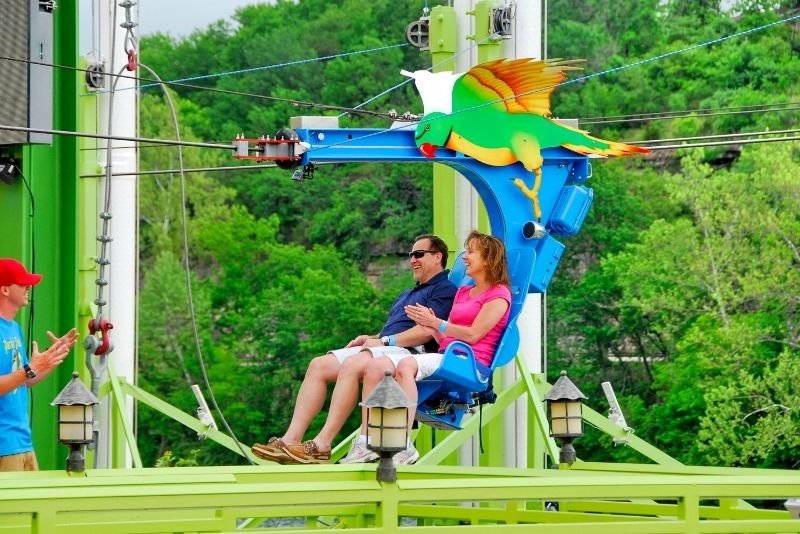 One of the newest additions to Branson Landing's extensive list of attractions, Parakeet Pete's Waterfront Zipline lets you take to the skies over Lake Taneycomo for a bird's eye view of the shimmering waters juxtaposed with the built-up Downtown skyline.
Made for visitors of all ages and offering a different experience by day or by night, this zipline is a must-do activity if you're visiting Branson Landing.
35 – Check out some live music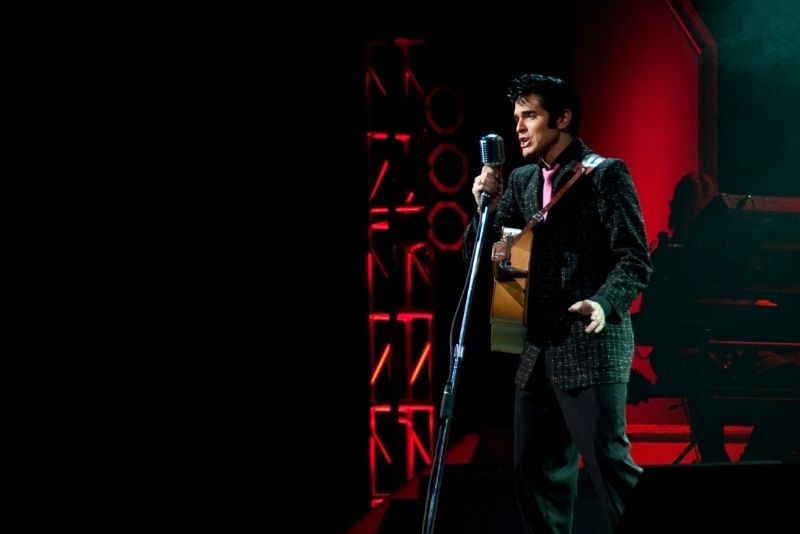 No article about Branson would be complete without a mention of the live music that fills its air every night.
With more than 60 venues offering everything from country crooning to stand-up comedy routines, there's sure to be something for everyone on this list of must-see shows.
Locals flock to the retro-themed Dick Clark's American Bandstand Theater, where some of the very best impersonators take to the stage nightly in the Legends in Concert Show (think Elvis, Whitney Houston, and the Blues Brothers, to name a few).
Stepping away from Country 76 Boulevard for a moment, Pierce Arrow blends side-splitting comedy with some of the most toe-tapping tunes from the '60s, '70s and '80s, while Branson's Famous Baldknobbers, led by Branson's own Mabe family, has been dishing up great laughs and even better live music for over 60 years.
36 – Visit Chicago, Boston, and Detroit at Ballparks of America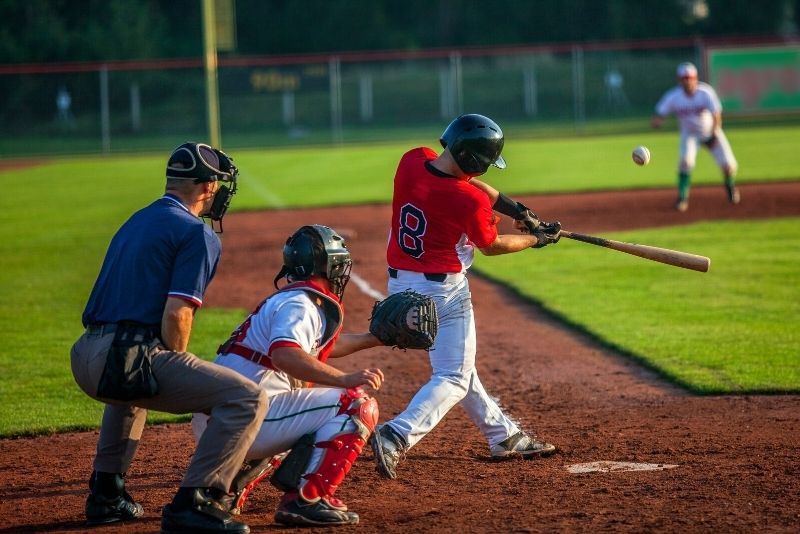 What could be more American than spending a day at the ballpark? Ballparks of America brings together a total of 16 different baseball fields, all part of a recent state-of-the-art facility for local youth to hone their craft.
Beyond just a training ground, however, the Ballparks of America also act as both a tourist attraction and history lesson.
Guests are given the chance to play on 2/3-size replicas of five iconic stadiums spanning the evolution of American baseball: St. Louis Stadium, Chicago Field, Boston Park, Detroit Stadium, and Brooklyn Field.
Besides the chance to watch the youth strut their stuff, there's also an on-Site Puzzle Parlour and laser tag course.
37 – Saddle up for an Ozark Mountain Trail Ride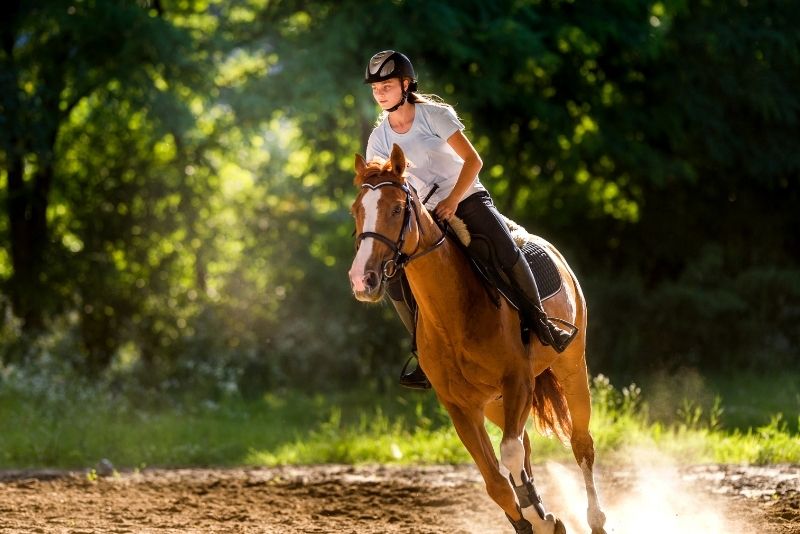 With nature and fresh air aplenty, there's no better way to experience the Ozarks than from atop a trusty steed Mountain Trail Ride.
Whether you want to take in all of Branson on an hour-long trail ride or opt for the more intense half-day trips into the backwoods and beyond, Branson's long list of horse riding excursions has something for everyone.
From the family-friendly options at Shepherd of the Hills (which include seeing a live show at the historic Old Mill Theater) to the more casual rides at Bear Creek or Busiek (or you could even head down to Horseshoe Canyon Ranch in Arkansas).
There's a trail waiting to take riders of all experience levels on an adventure through some of the Midwest's most picturesque countryside.
38 – Hit the arcade at the Track Family Fun Parks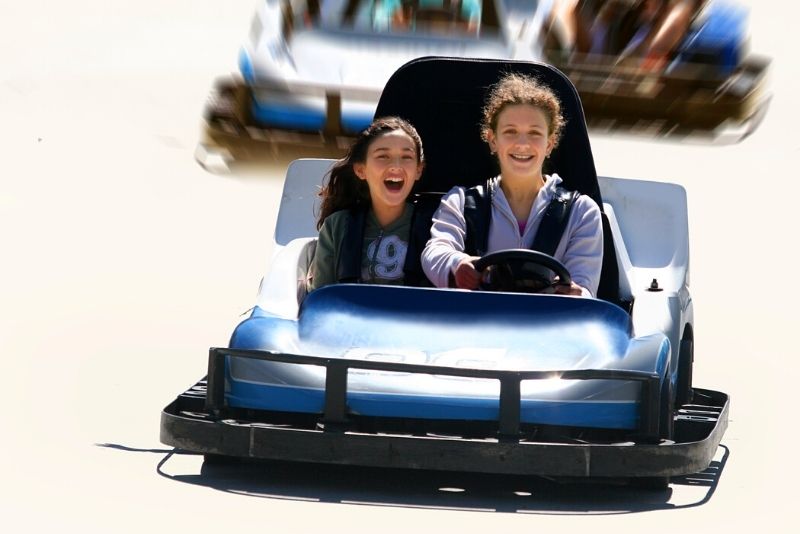 With both high-rise and classic go-kart tracks, glow-in-the-dark mini-golf, bumper boats, over 25 arcade games, and a whole lot more, it's hard to know where to start when describing the family fun on offer at Track Family Fun Parks.
There's something for everyone here, from the little ones who just want to splash practice their swing in the batting cages to those seeking a heart-pounding adrenaline rush on the Skycoaster!
Best of all, entry to the park is free – so you can still wander around without breaking the bank (just pay for what you play).
39 – Travel back in time at Branson Auto & Farm Museum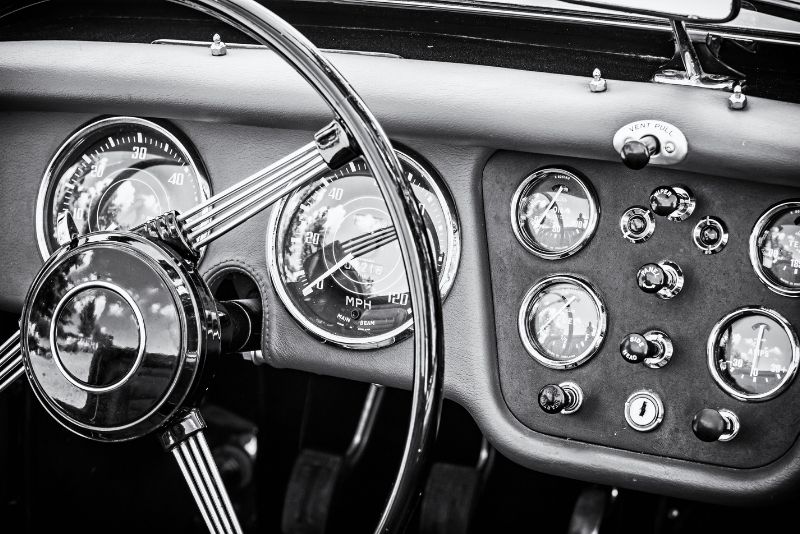 If you're at all interested in the history of automobiles and agriculture, a visit to the Auto & Farm Museum stands out as one of the more interesting things to do in Branson.
Housed in a 90,000-square-foot building on the tourist-trodden Country 76 Boulevard, this museum takes visitors on a fascinating journey from the horse-drawn plows of early settlers to the space-age technology of self-driving tractors, and everything in between.
Along the way, you'll see everything from classic and collectible muscle cars (over 150 of them) and trucks to massive combines and harvesters (180+ farm vehicles in total), with a gift shop full of quirky souvenirs to boot.
40 – Play a round of golf!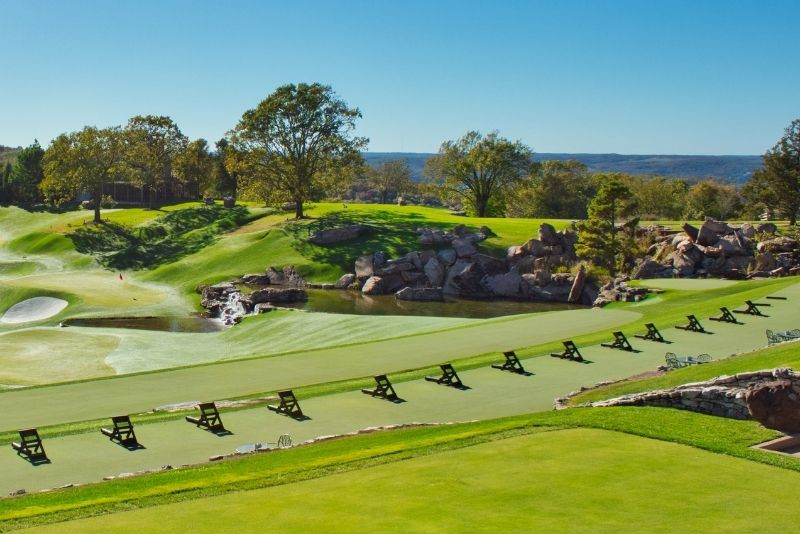 As a quintessential vacation activity, with so many days of blue Branson skies and sunshine between April and November, there's never an excuse to avoid a round of golf.
There are plenty of world-class courses to choose from, catering to all levels of player: if you appreciate natural surroundings then look no further than serene hardwood forests and natural streams of the 18-hole Thousand Hills Resort & Golf Club. For something more challenging, check out the PGA Tour destination and celebrity magnet – the Top of the Rock course.
Honorable mentions need to go to the Tiger Woods-designed Payne's Valley, as well as the Ozark National, both of which dish up an excellent combination of great views and challenging layouts.
41 – Hurl down the mountain at The Branson Coaster adventure park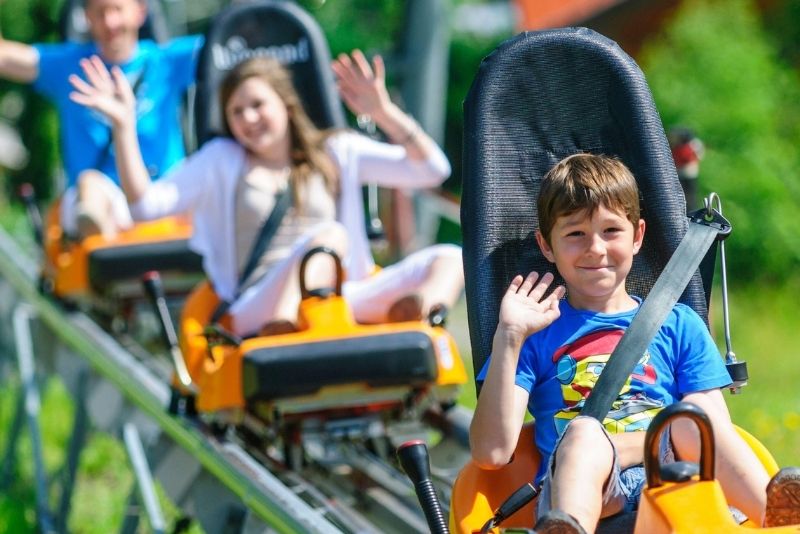 On the hunt for something a little more thrilling? The high-speed, hair-raising rides at Branson Coaster (the name of the theme park as well as its main coaster) ought to do the trick.
This delightful amusement park ride reaches speeds of up to 45 mph as it twists and turns its way around the track, giving riders an adrenaline rush like no other — however, with the rider in full control of speed, it can be as relaxing or as thrilling as you like.
Mountain coaster aside, don't miss The Branson Buzzsaw, a new addition to the park that soars 123-foot high and delivers stomach-churning G-force in spades.
42 – Buy some candy at Dick's 5 & 10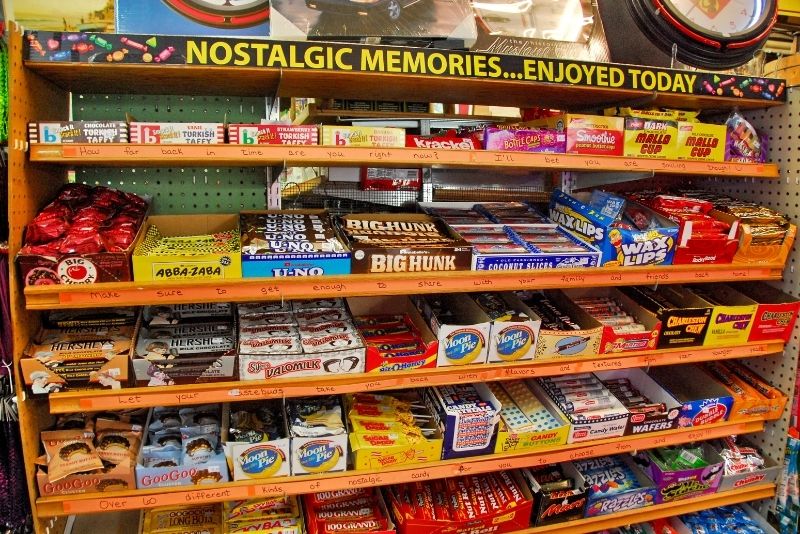 A whimsical old-fashioned variety store that serves up a different style of retail therapy compared to the big malls, Dick's is a must-visit for anyone who wants to take a step back in time.
This quintessential family-run general store has been around since 1961 and is crammed full of everything from charming retro candy to nostalgic toys, games, clothes, and knickknacks.
If you're after quirky souvenirs, this is the spot.
43 – Sign up for a ziplining adventure!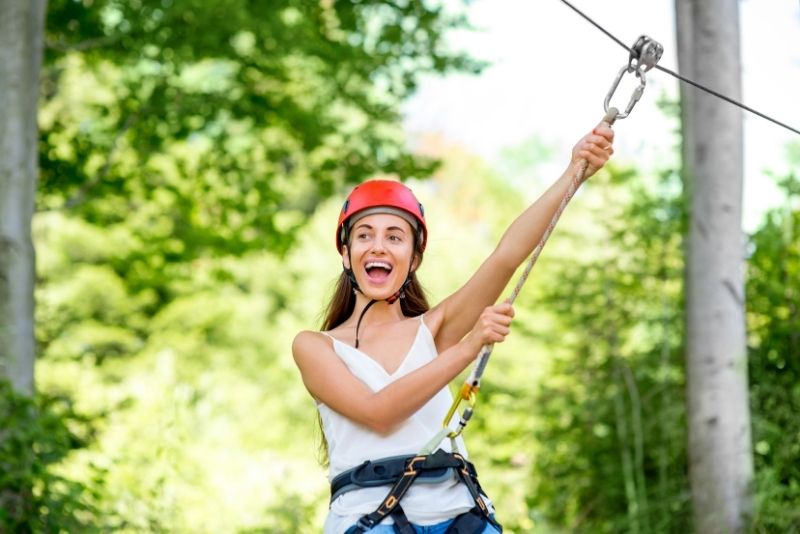 One for the thrill-seekers, an afternoon spent hurling into the wind hundreds of feet above the lush Ozark canopies is a Missouri experience you won't soon be forgetting.
With options for canopy tours at Wolfe Mountain (where you'll traverse 7 ziplines and 10 suspension bridges in just two hours), adventure parks with multi-line courses tailored to kids and adults alike, and one-off rides at some of the area's many theme parks, there's no shortage of excitement to be had.
44 – Watch a reenactment of The Shepherd of the Hills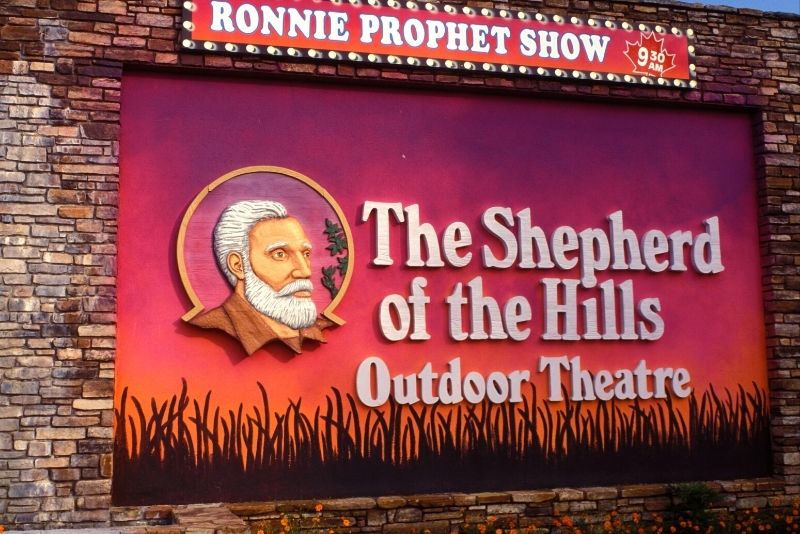 An outdoor entertainment park that centers around the live performance of the famous eponymous historical novel, this action-packed attraction is a hit with families.
The show tells the story of early settlers in the Ozarks and weaves in themes of faith, love, and patriotism that are as relevant today as ever.
With live music, stunts, horse riding, and more — not to mention the Shepherd of the Hills Inspiration Tower — it's an entertaining way to spend a few hours. Plus, there are plenty of shopping and dining options to keep you occupied before or after the show!
45 – Take a cruise on Lake Taneycomo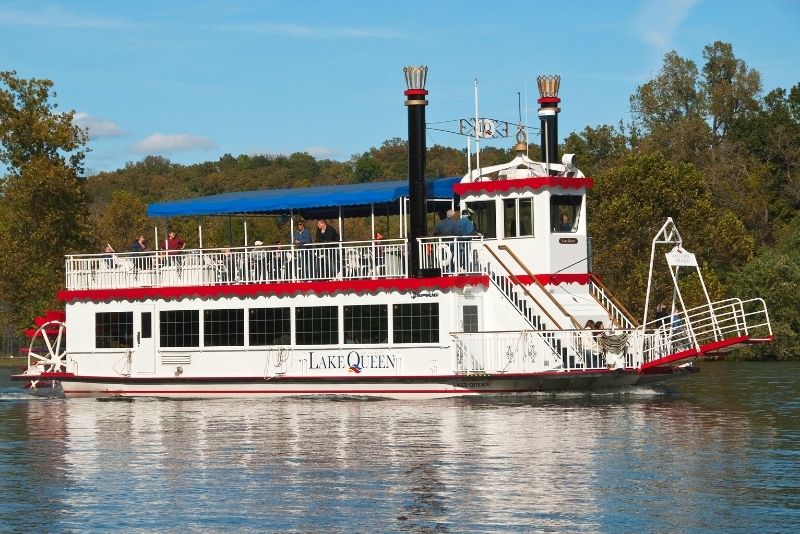 With a fleet of old-fashioned paddle steamers (notably, the Lake Queen) and modern yachts (the 100-foot Landing Princess), Main Street Lake Cruises sells itself as a perfect vessel to explore Branson's signature shimmering lake.
Both the popular Taneycomo sightseeing tours and dinner tours take about an hour and a half as you make your way around the picturesque shoreline — offering stunning views, a cash bar, and plenty of live entertainment along the way.
46 – Shop till you drop at Branson Landing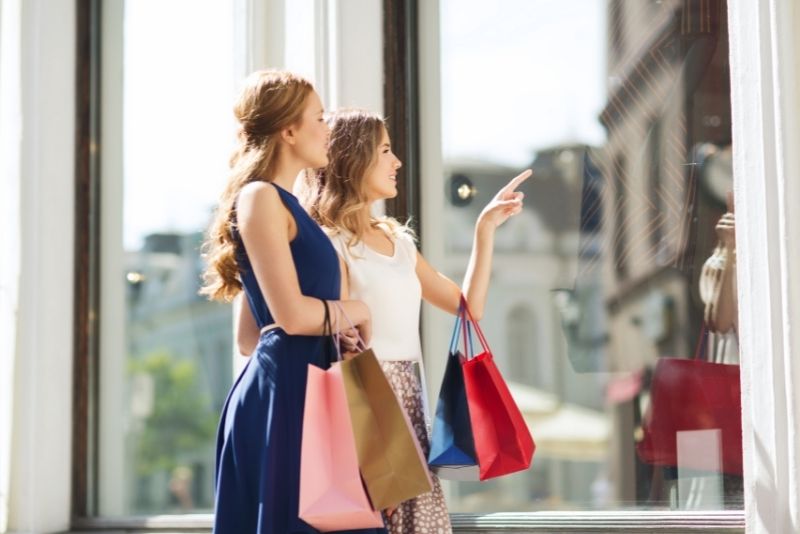 Got the credit card ready? This family-fun destination in the heart of riverside downtown is one of Branson's most popular areas, and for good reason.
There are over 100 shops to explore at Branson Landing — where you'll find everything from big box brands like Bass Pro Shops to upscale fashion names such as Victoria's Secret.
Throw in a food court, occasional street performers, no shortage of bars within walking distance, and the magical Branson Landing Fountain Show, and it's not hard to see how it's become a tourist magnet in recent years.
47 – Jump on a trolley tour of Downtown Branson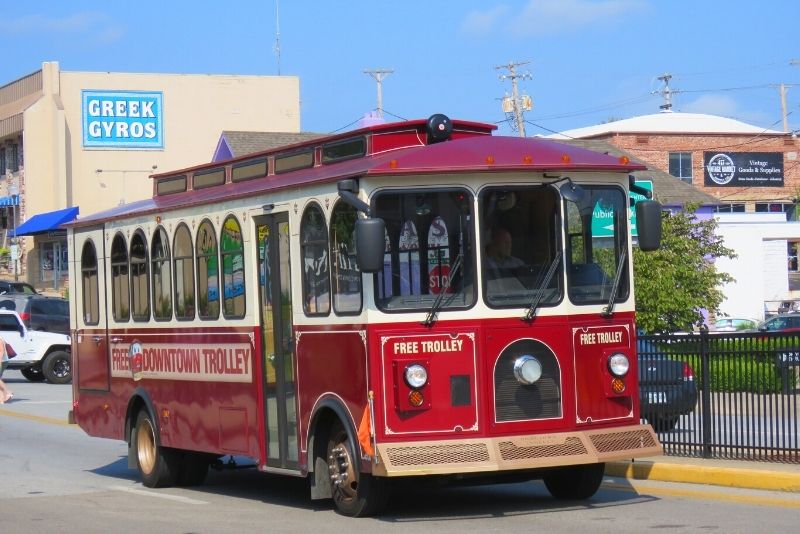 For an efficient way to tick off all the main attractions without needing to walk too much, why not take a spin on Sparky, the free Branson Trolley that zooms around town with 13 notable stops?
Free to hop on and hop off as you please, the main haunts include Main Street, Branson Landing, and the Branson Convention Center, to name a few.
The open-sided, red buses make loops around town all year, with live narration on board, and are a great way to orientate yourself before you start exploring further.
48 – Burn some calories at Branson RecPlex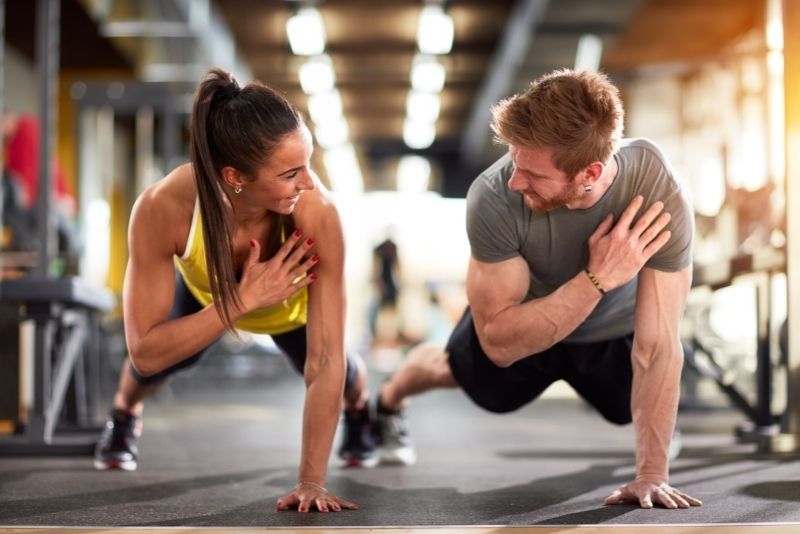 For a more active exploration of the area, be sure to check out Branson RecPlex, a sporting and fitness mecca north of Branson near the Branson Hills Golf Club.
Blending a range of different facilities in one location — including an indoor pool, gymnasium, 3-lane indoor track, and basketball court — it's perfect for families with kids who love to burn off some energy.
Walk around some more and you'll stumble across tennis courts, volleyball courts, a sprawling playground, and diverse walking paths that cover the 40 acres of lush greenery, making it easy to spend an entire day here.
49 – Enjoy the show at the Clay Cooper Theatre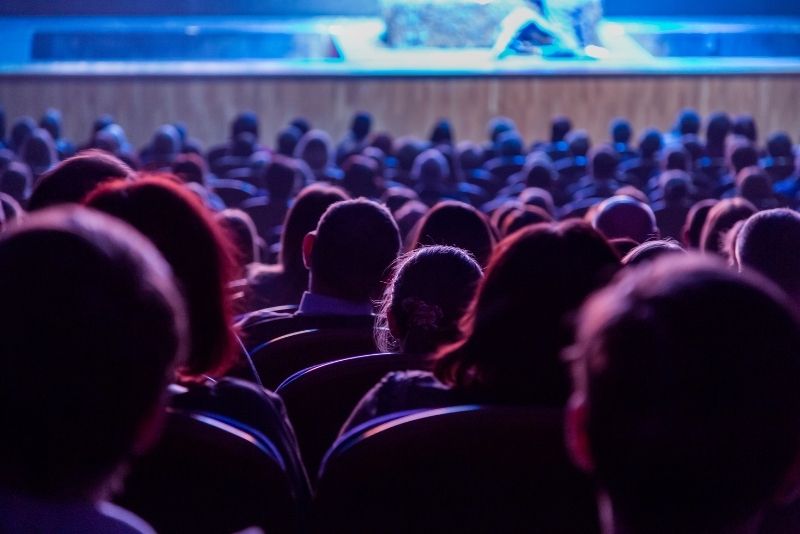 A 2-minute stroll from the Titanic Museum, this Branson institution has been entertaining audiences for over two decades with its mix of country music and comedy, making it a must-see show whether you're a fan of the genre or not.
With multiple shows operating throughout the season — including Hot Rods and High Heels (which dives into 50s classics), The Ultimate Elvis (an impression by Dean Z), #1 Hits of the '60s, and The Haygoods — and the mainstay performance of Clay Cooper's Country Express show, you're sure to find something that tickles your fancy.
50 – Tap your feet to the music at Presleys' Country Jubilee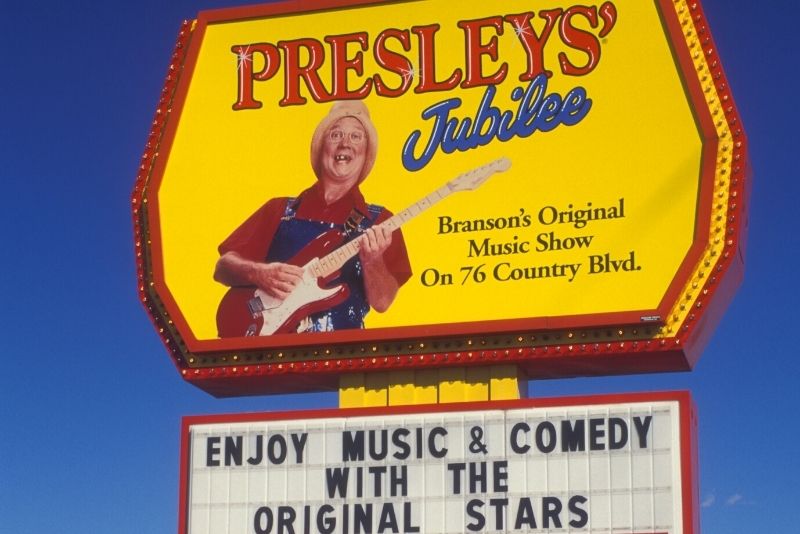 Hunting for a more traditional country music show with a splash of quick-witted Ozarks comedy? Then look no further than Presleys' Country Jubilee, which has been packing in the crowds since it first opened its doors in 1967.
The family-owned and operated theater delivers toe-tapping entertainment by the bucketful, with a combination of country music, soulful southern gospel, and laugh-your-socks-off comedy tactfully performed in a modern and enchanting theatre space.
51 – Drift around corners in a go-kart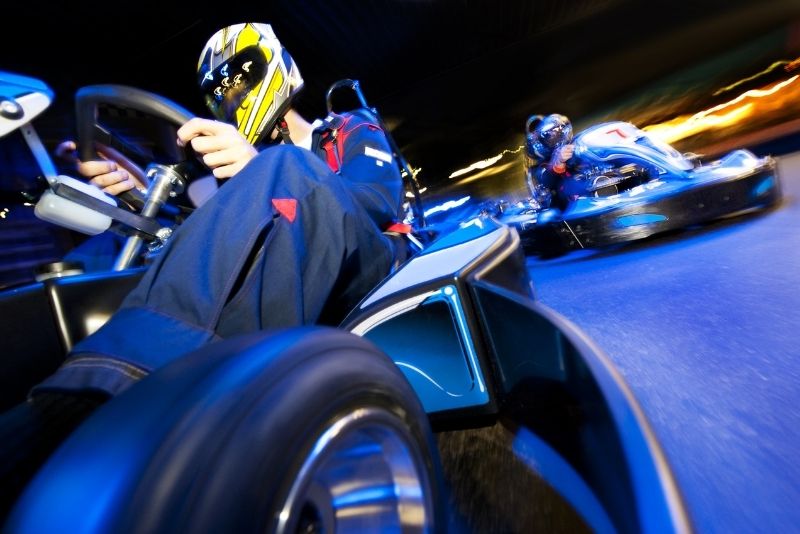 Craving that need for speed? Then head to one of the area's many go-karting tracks for a heart-pounding race around some tight corners.
With options for all ages and abilities, there's no excuse not to get your adrenaline fix; from indoor tracks in the cooler months to outdoor circuits that make the most of Branson's sunny climate, you're sure to find something that keeps you entertained.
For high speed and burning rubber, check out the Xtreme Racing Center of Branson; for everything else, Branson Tracks boasts no fewer than a dozen different layouts around the city: from the 4-story-tall Heavy Metal High Rise to the Kiddie Karts safely designed for 4-year-olds, and everything in between!
52 – Test your skill at an arcade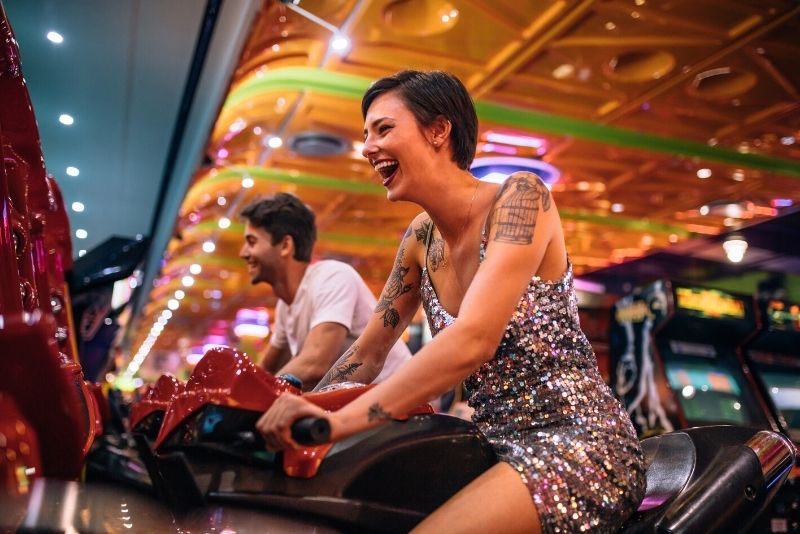 What's a day out without a few games of chance? Luckily, Branson is flush with arcade game centers to keep you entertained for hours on end.
From classics like Street Fighter II and Donkey Kong to the latest in VR gaming, there's something for everyone.
And if that doesn't take your fancy, you can always try your hand at some classic Midway-style games to win that oversized teddy bear!
Gamers are typically delighted by the Jungle Arcade at Branson's Wild World; The Arcade City is the go-to spot in the Branson Landing area, while the Grand Country Fun Spot Arcade boasts some of the city's most diverse prize selection.
53 – See bible stories come to life at the Sight & Sound Theatre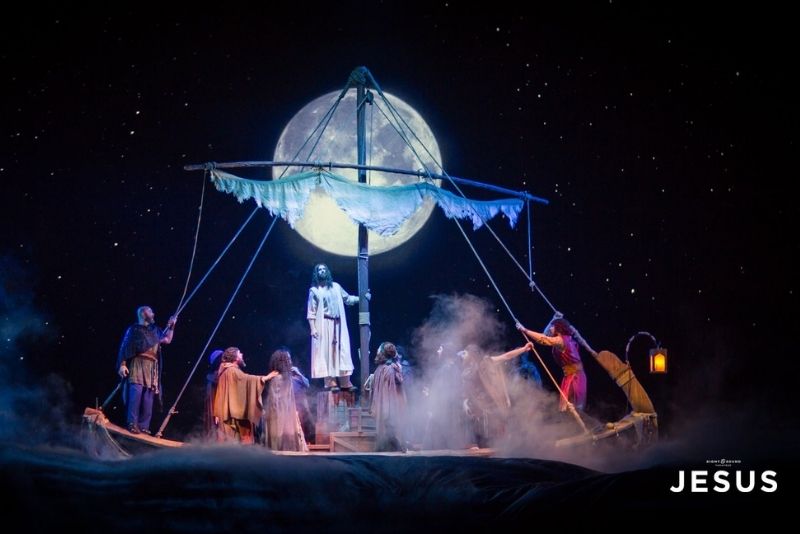 In the mood for a more highbrow evening of entertainment? Then head to one of Branson's renowned theaters, where you'll find everything from Broadway-style shows and musicals to eclectic productions using modern technology in interesting ways.
Offering a unique night of Bible-themed entertainment, the Sight & Sound Theatre is widely considered one of the best venues in town.
With an imposing building that looks like it's been plucked straight from a movie set (no surprise when you consider that it cost more than $60 million to construct), you're guaranteed an unforgettable evening.
54 – Grab a seat at the Hughes Brothers Theatre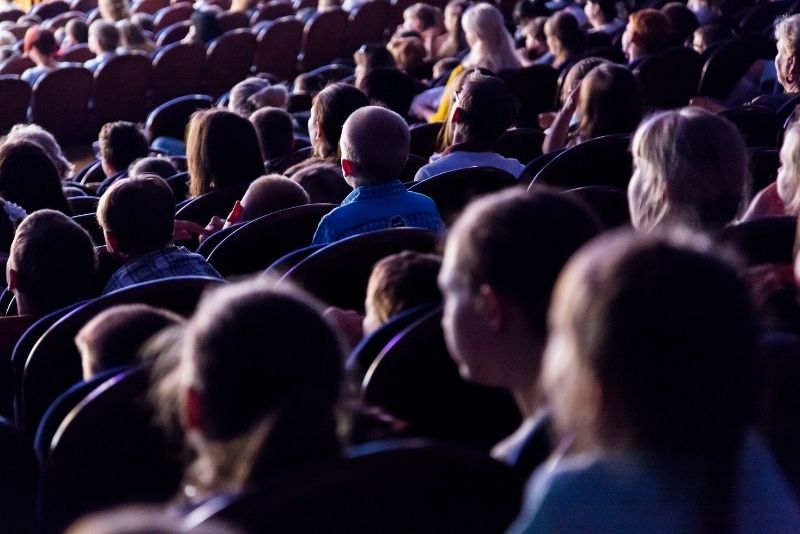 If casual evening entertainment is on the menu, you're not going to want to miss the Hughes Brothers Theatre, which offers an intimate night of comedy-meets-music with no shortage of clever twists and impressive costumes and backdrops.
Calling themselves 'the largest performing family in the world', the Hughes Brothers have been putting on a show (and a highly regarded one at that) for years, noted always noted for their high energy and diverse music selection.
Traveling around Christmas time? Then the holiday spectacular is a Branson essential.
55 – Play for a few hours at Grand Country Fun Spot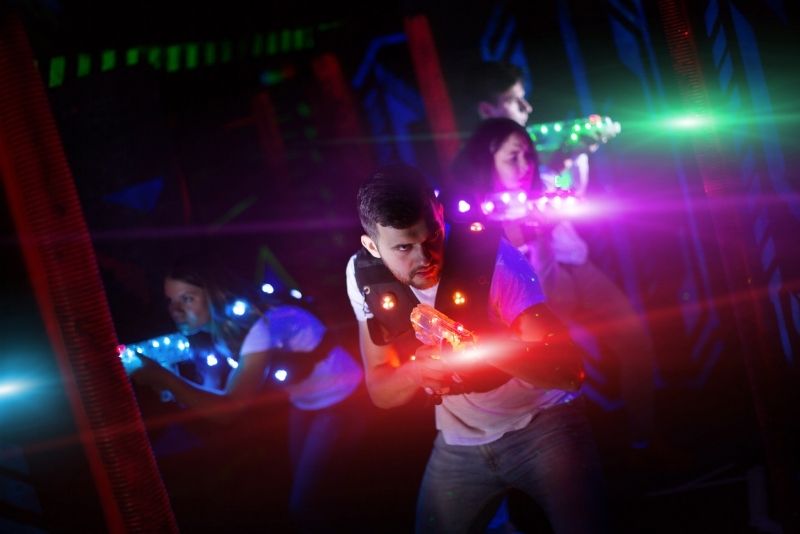 Offering indoor fun for the whole family no matter the month or the weather.
Grand Country Fun Spot (just down the road from Splash Country) offers everything from skee ball and pinball machines to black-light mini-Golf, mini bowling, zippy bumper cars, a high-adrenaline laser maze, and a whole lot more.
Parents, while the youngsters run wild, can take a break in the on-site cafe or dig in at the all-you-can-eat pizza, pasta and salad bar.
56 – Rent a boat State Park Marina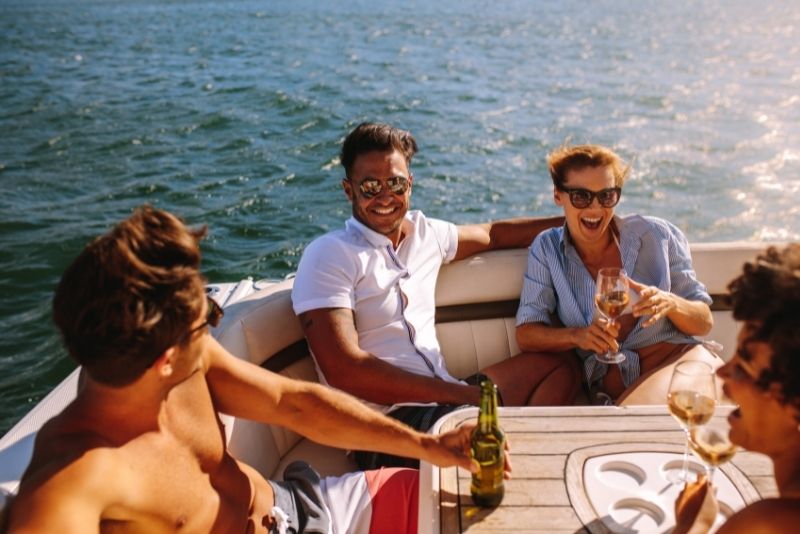 Take to the water for a day of fishing, swimming, or just cruising around on one of State Park Marina's boats; with everything from kayaks and pedal boats to pontoon boats and fishing charters available for rental, you're sure to find something that suits your needs.
Located in Table Rock Lake State Park (a stone's throw away from Silver Dollar City), the Marina is open every day of the week and offers some of the most competitive rates in town for catamaran cruises – perfect for budget-minded tourists.
Feel like staying dry? There's no shortage of grassy areas for a picnic, as well as shops to browse inside the Marina Boathouse.
57 – Drive up to the Branson Scenic Overlook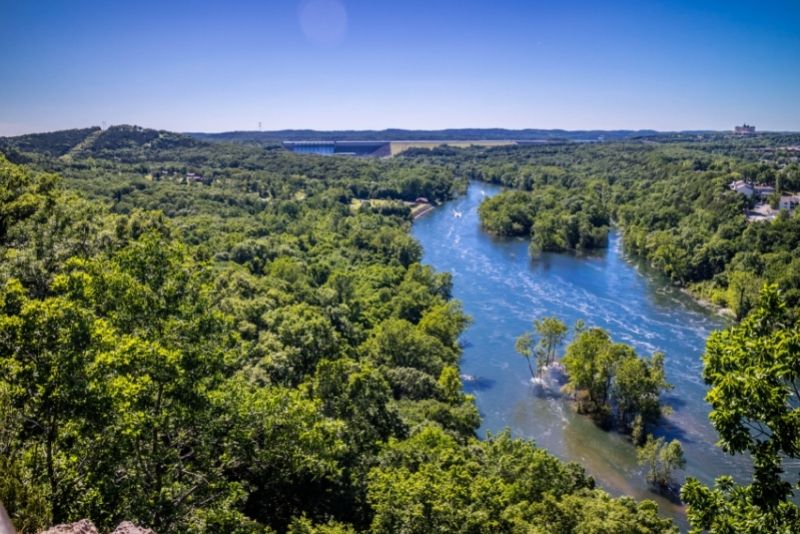 Offering panoramic views of the Ozark Mountains and Table Rock Lake, the Branson Scenic Overlook is a must-visit for nature lovers and photographers.
With ample parking and easy access to several hiking trails (including one that leads down to the lake itself), it's the perfect spot to spend an afternoon.
If all the touristy theme parks and attractions have your head spinning, then the Overlook is a relaxing getaway, if only for an hour or two.
58 – Go wine tasting!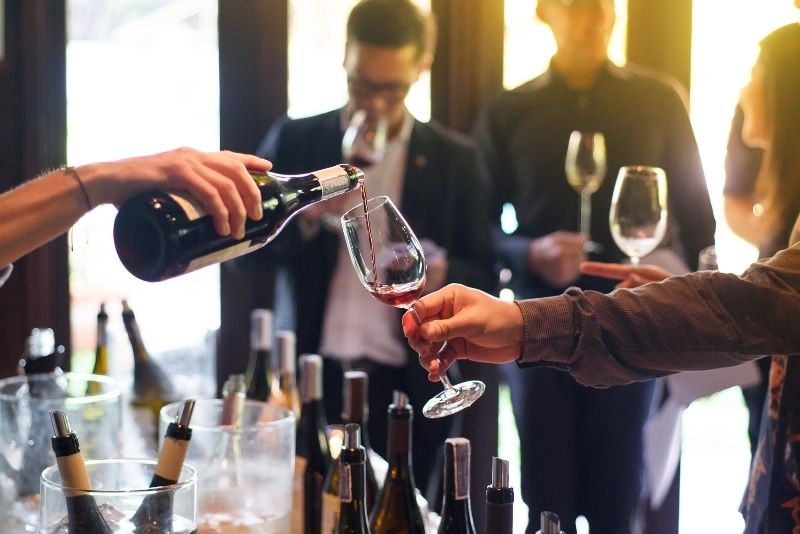 Feeling thirsty? You're on vacation, after all, so how could we blame you? Sample some of the best wines that Missouri has to offer at one (or more) of the vineyards located just a short drive from Branson.
With wine production on the rise in The Show-Me State, there's no shortage of places to go for a taste – and with everything from sweet fruity whites to robust reds,  you're sure to find a new favorite.
Need some help getting started? If venturing solo, the Lindwedel Winery, Ozark Hills Winery, and Bear Creek Wine Company come highly recommended — however, why choose?
For the best bang for your buck (and to have a designated driver come along), most travelers opt for a pre-organized wine tour that includes hotel pickup and dropoff.
59 –  Get your adrenaline fix at Branson Jet Boats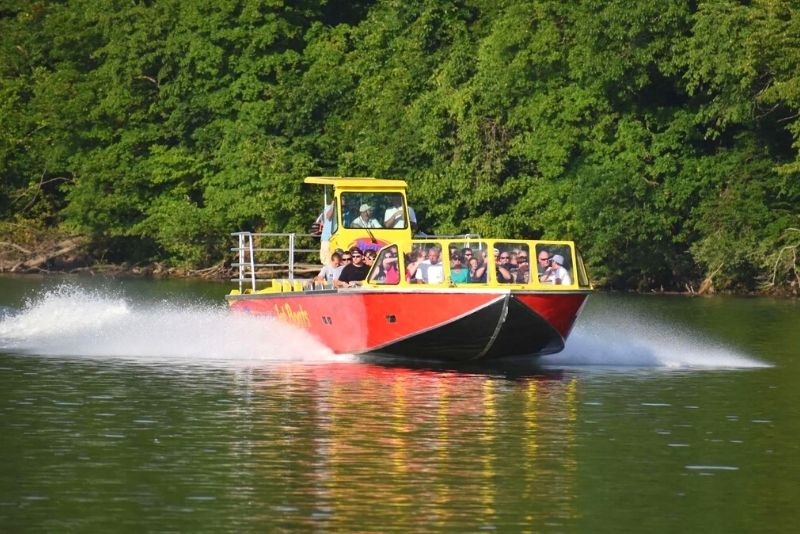 Looking for a heart-pounding, white-knuckle adventure while in Branson? Look no further than the high-speed speedboat!
Departing from the Branson Landing, these boats reach speeds of up to 50 miles per hour on the open water — with music blaring and the wind full-throttle in your hair.
It's no wonder these boats are such a popular attraction in the warmer months.
60 – Eat at the infamous Gettin' Basted BBQ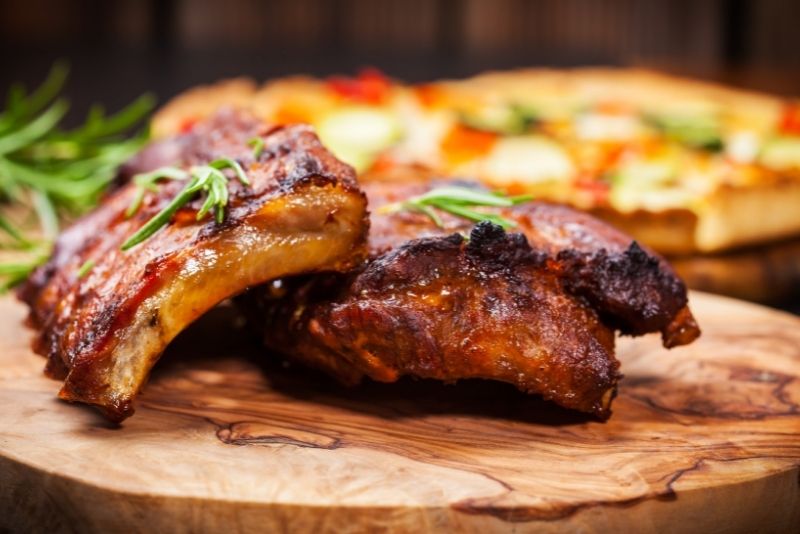 Foodies, listen up! If you're looking for a high-quality, down-home taste of barbecue while in town, then Gettin' Basted BBQ is the way to go.
With more trophies lining the shelves and championship awards than any meat-eater can count, its reputation for the best 'cue in Branson is well-deserved.
With a variety of meats (including ribs, brisket, pulled pork, chicken, and more), sides, and desserts to choose from, there's something for everyone.
Not sure where to start? The Championship Wings are award-winning, the Basted Nachos are overflowing with cheesy goodness, and, if you're head over heels for the sauce, you can even buy a T-shirt!
61 – Get dessert at the Old Fashioned Dough Company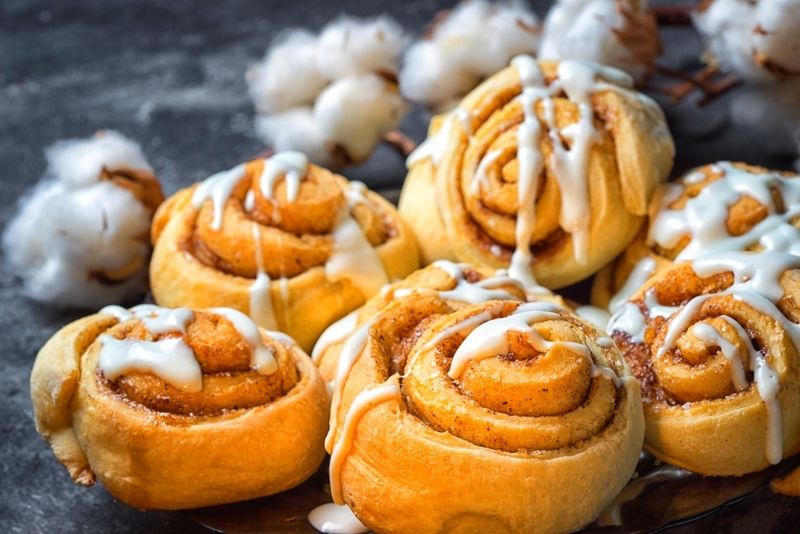 One for the dessert fiends, the Old Fashioned Dough Company is known citywide for their fresh, handmade cinnamon rolls.
Serving up classic cinnamon roll in half a dozen flavors (as well as danishes, drinks, and pies), this family-owned business can satisfy any craving.
Everything is baked fresh daily, but get in early before the good stuff's sold out.
62 – Book a seat at Hamners' Variety Theater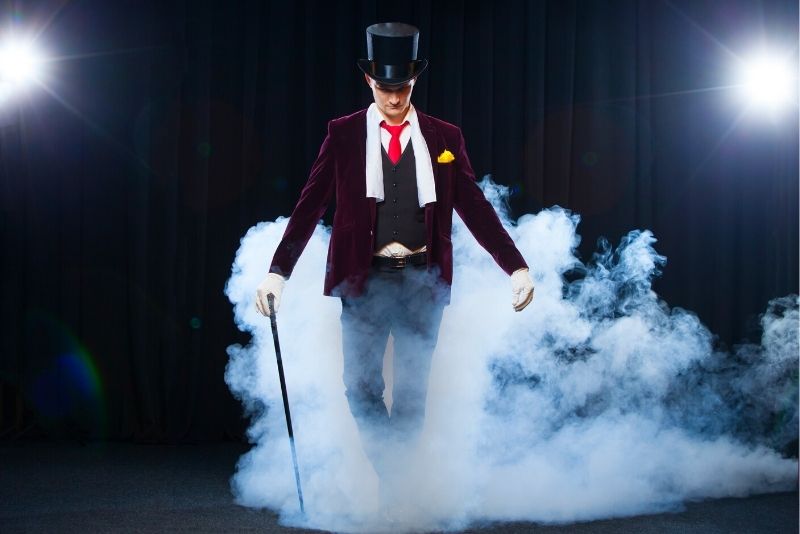 One of the longest-running shows in Branson, Hamners' Variety Theater is a must for anyone looking for an evening of family-friendly entertainment.
With a rotating cast of singers, dancers, aerialists, and illusionists (not to mention their famous ventriloquists), this show has something for everyone.
Outside of the regular variety show, you'll also find tribute shows to the likes of ABBA – so check the website to see what's on during your visit!
63 – Order a giant NY-style pie at Rocco's Pizza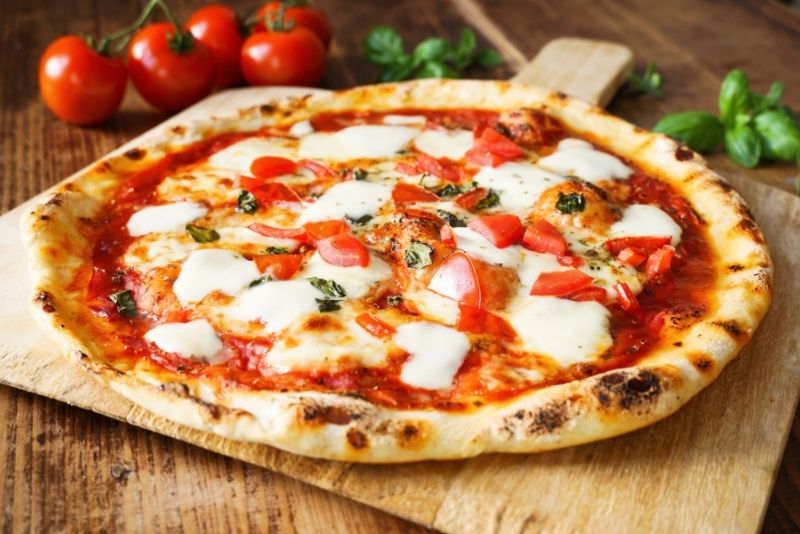 If you're a fan of pizza (and, let's be honest, who isn't?), set a course for Rocco's, and make sure not to even think about eating beforehand!
While it might be rather unassuming from the outside, make no mistake: with more than a dozen specialty pizzas, as well as pasta dishes, subs, calzones and desserts.
This family-owned and operated business knows how to do Italian American cooking right.
Reviewers have called it "the best pizza in the area", and "The Best Pizza ever — even better than in NYC"… but there's only one way to find out for yourself.
64 – Take a seat for at least one dinner show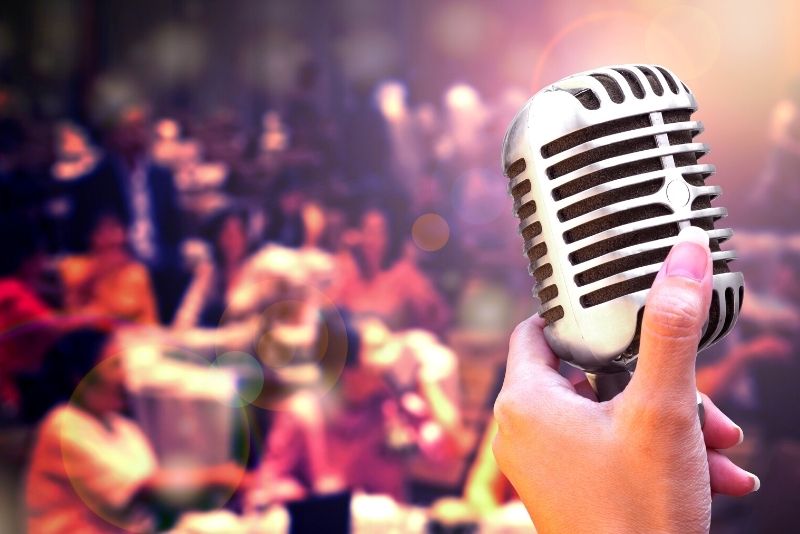 From Dolly Parton's Stampede which brings horses and cowboys into the heart of the action, to Garry & Janine Carson Escape Reality Dinner Show which brings the best in magic, comedy, and showmanship.
The selection and variety of nightly entertainment in this Midwestern Vegas is second to none.
For something a little more hillbilly, check out the WhoDunnit Hoedown; for some live game show action, consider the Funny Farm Dinner Feud; or for your 150% dose of county music, look no further than Branson Shepherd's Chuckwagon Dinner Show.
65 – Wet your whistle on a distillery tasting tour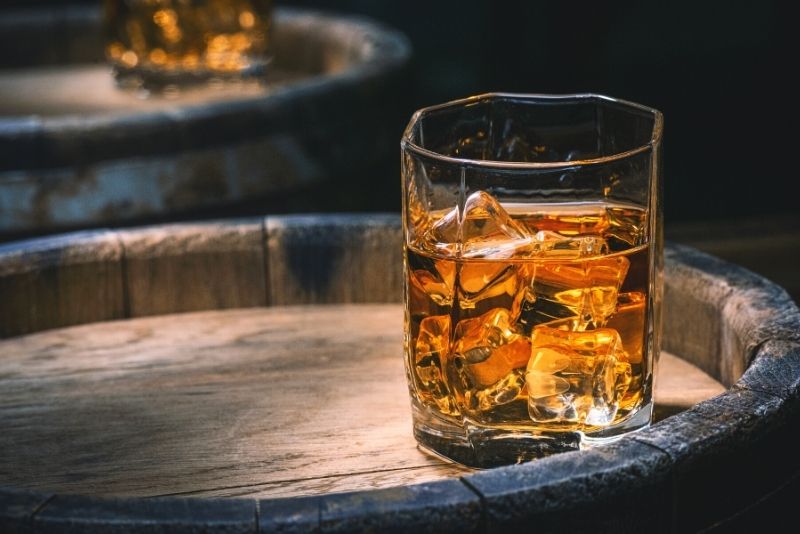 Offering a range of spirits from gin to whiskey, as well as vodka and rum, the list of Branson distilleries is known for its craftsmanship and variety.
Operating as the premier (legal) distillery in the Ozark Mountains post-Prohibition, Copper Run offers behind-the-scenes tours from Wednesday through Sunday at 1.30 pm and 4.00 pm, giving thirsty visitors the chance to see the whiskey and rum up close.
More centrally located at Branson Landing, Smith Creek Moonshine, as you might expect, is all about good old moonshine, serving up no less than a dozen flavors highlighted by apple pie, chocolate silk, and lemon-lime.
If you're after single malt whiskeys or single barrel bourbon, it's hard to go past the Missouri Ridge Distillery, a family-run joint specializing in small, handcrafted batches.
66 – Find a unique souvenir (and a big burger) at the Branson Craft Mall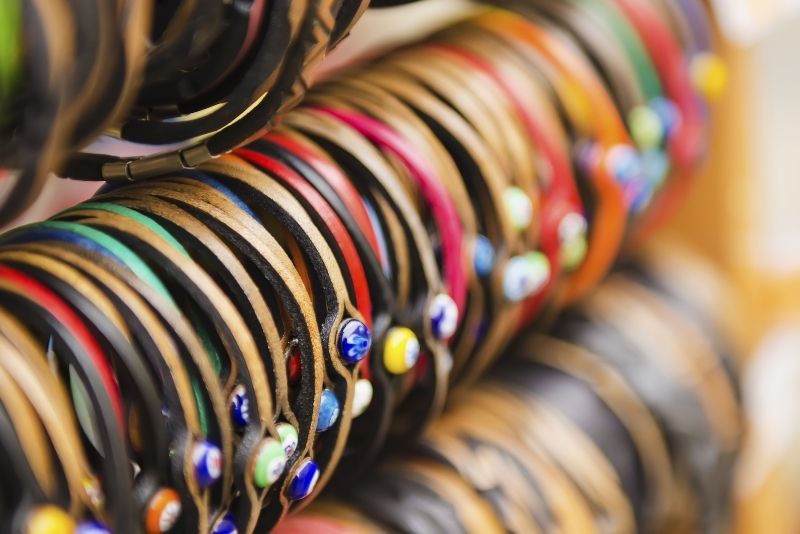 If you're a fan of arts and crafts, or if you're looking for that one-of-a-kind gift, the Branson Craft Mall is well worth a visit.
Boasting more than 200 artisans, this off-the-beaten-track shopping center offers everything from stained glass to wood carvings, metalwork to quilts, and leather goods to jewelry.
Shopping makes you hungry, right? Thankfully, locally adored Pickin Porch Grill is on-site, serving up hefty plates of charbroiled burgers, overflowing tacos, slow-cooked bbq, and sandwiches the size of your head.
And, if you're looking for dessert, grab a free sample at the Branson Fudge Co.!
67 – Be amazed by the Reza Edge of Illusion show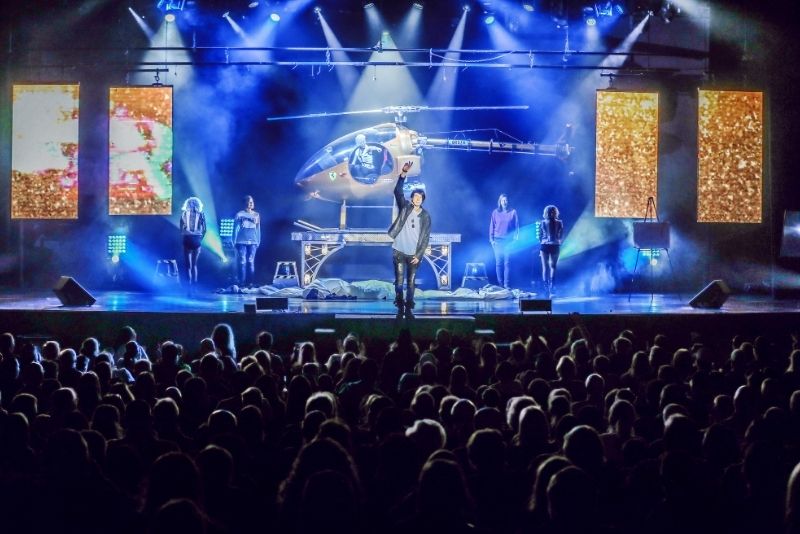 An infamous name in Missouri, REZA has traveled the world for more than thirty years, mastering his craft in magic and illusion.
Now calling Branson home, the notorious performer puts on a grand scale production complemented by state-of-the-art equipment, multimedia effects and some of the city's most spellbinding illusions.
With illusions featuring big-ticket items like helicopters and motorcycles, and plenty of interactivity, the question isn't whether or not Reza will deliver; it's what he'll do next!
68 – Order the meatballs at Pasghetti's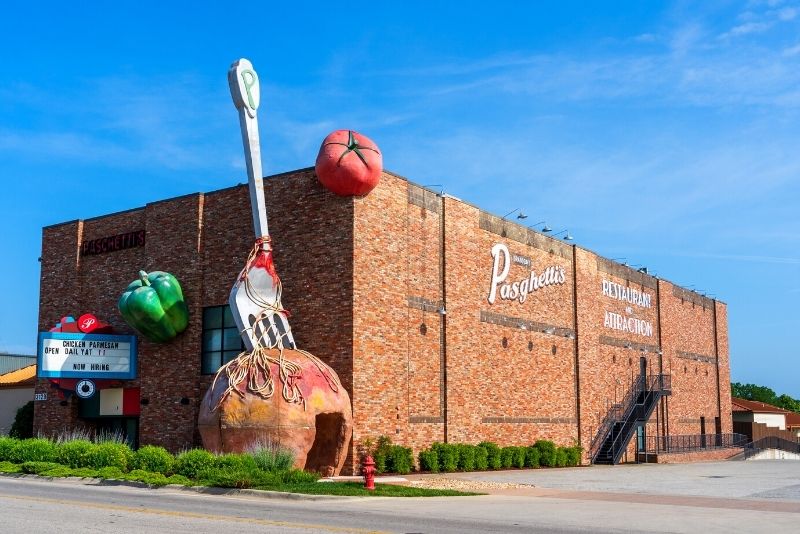 Where a whimsical family-friendly land of adventure meets a menu sure to tantalize your tastebuds, Pasghetti's is so much more than just an Italian restaurant.
Signposted by the giant fork and meatball statue out the front (officially the world's largest meatball and fork, by the way), this popular diner is quirkily and meticulously arranged to transport you to the streets of San Francisco and New York of the 1930s and 40s.
Diverse Italian menu aside (think cheesy pizza, homemade pasta, calzones, salads, and the trademark pasghetti and meatballs), you'll also find a three-gondola Ferris Wheel, a games room, a wine cellar, and not one but seven different themed rooms!
Sitting on Highway 76 near a host of main attractions and open from 11am-9pm most days, Pasghetti's is an eaterie well worth a spot on the bucket list.
69 – Grab a beer at a sports bar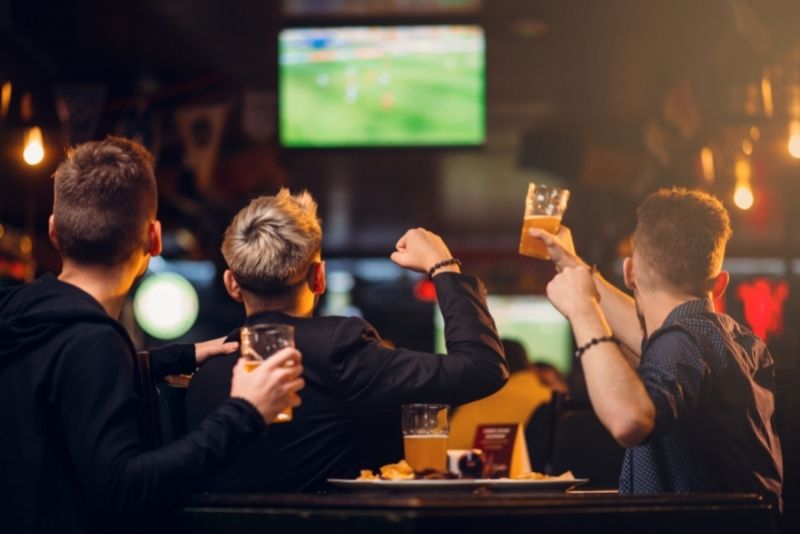 If you're a fan of any sport – be it college football, the NFL, MLB, NHL, or NBA – there's a good chance that one (or more) of Branson's sports bars will have your team playing.
Head to Big Whiskey's American Restaurant & Bar for all the wings and beer you could hope for; check out the Drafts Sports Bar & Grill for some college football and NFL action; or if you're looking for a more fun and interactive vibe, head to Andy B's Bowl Social.
And, of course, every city needs its cliché Irish pub, so look no further than Waxy O'Shea's for a tall pint of Guinness.
70 – Watch a show at The Dutton Family Theater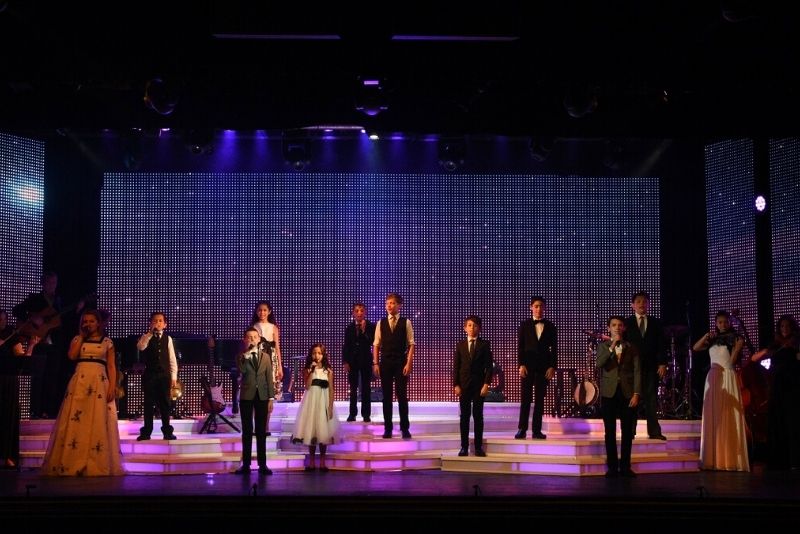 A musical extravaganza made famous thanks to the Dutton family's appearance on America's Got Talent, this live show is made by a family (with three generations on stage simultaneously) for families, with a whimsical blend of music, dance and comedy.
With a variety of shows that rotate throughout the year, there's always something new to see at the Dutton Family Theater, making it a must-visit for those who love a night out at the theater.
71 – Hit the dancefloor at the city's best nightclubs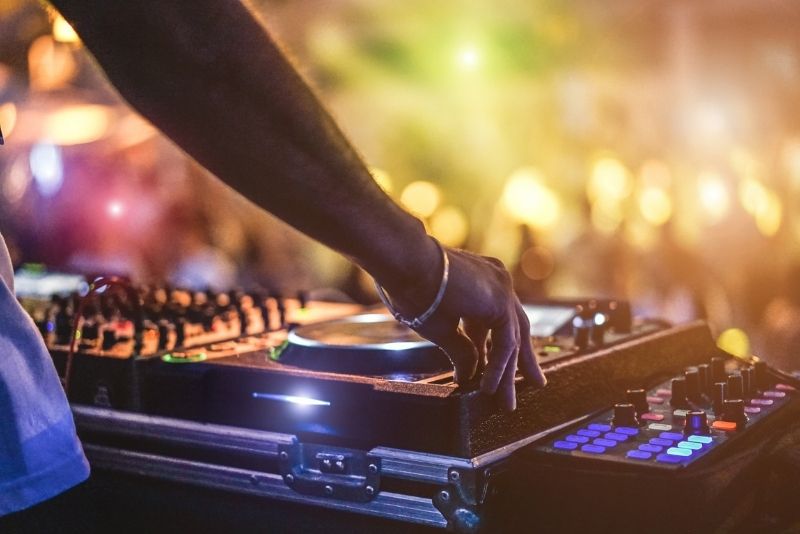 Branson boasts countless resemblances to Sin City, and on a much smaller scale, its nightlife is no exception. So, if you're in the mood to party, Branson doesn't disappoint — with a seemingly endless selection of nightclubs, there's sure to be something to suit your taste.
Open till 1.30 am most nights, Crazy Craig's Cheeky Monkey Bar welcomes partygoers with a lively dancefloor and regular live DJs and bands; while The Paddlewheel at Main Street Marina has become synonymous with its electric Rock the Dock parties.
Still feel like partying? While more low-key, both the Bucketlist Restaurant and Bar and Garfield's Restaurant & Pub are known to throw down a good time.
72 – Spend a night or two at the Top of the Rock's Big Cedar Lodge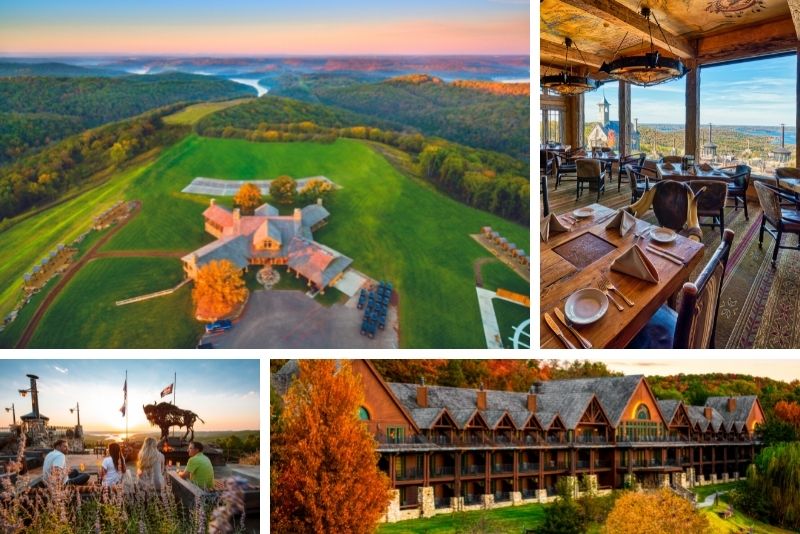 If you're looking to mix a little nature with your nightlife, Big Cedar Lodge is the perfect spot.
Just a short drive from downtown Branson, this world-renowned resort offers everything from championship golf courses to rustic cabins, and its on-site restaurants (don't miss the sunset view at Buffalo Bar or Texas-style BBQ at Arnie's Barn) are some of the best in town.
Set atop the Missouri Ozark Mountains overlooking the sparkling Table Rock Lake, the Lodge blends luxury accommodation with engulfing nature — so if you're after an unforgettable play to stay, away from the chaos of the 76 strip, Big Cedar — and specifically Top of the Rock — has got you covered.
Looking for another place to stay? Check out the best hotels in Branson.
Where to next?
Thanks for checking out our collection of things to do in Branson, Missouri! If you have anything you'd like to add to the list, feel free to leave a comment below. In the meantime, make sure to check out some of the equally impressive destinations nearby!
Memphis and Nashville are havens for music lovers; Oklahoma City has become famous for the kind nature of its locals; Saint Louis boasts some of the best zoos and botanical gardens going round, and state-straddling Kansas City is all about good barbecue, thorough jazz heritage, and historic museums.
That's a wrap — as always, happy travels!