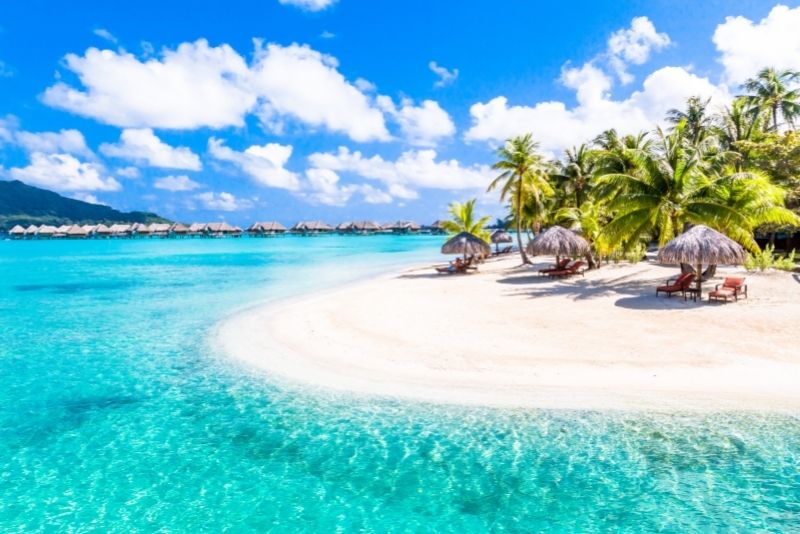 If Heaven on Earth were to exist, it sits in the middle of the Pacific ocean on a little slice of land named Bora Bora.
Where turquoise waters and lush green mountains meet; where longstanding Polynesian traditions come face to face with modern luxury and diverse water sports; and where the sand is so white, the sunsets are so colorful and the drinks are served with such a smile; it's no wonder Bora Bora has long been regarded as one of the world's most romantic destinations.
The list of things to do in Bora Bora covers everything from culture to adventure, relaxation, art, and romance; so whether you're interested in learning about traditional Bora Boran culture, experiencing the thrill of parasailing over a coral reef, or snorkeling with stingrays; you'll find plenty of excitement on the horizon.
1 – Snorkel in the world's most magical waters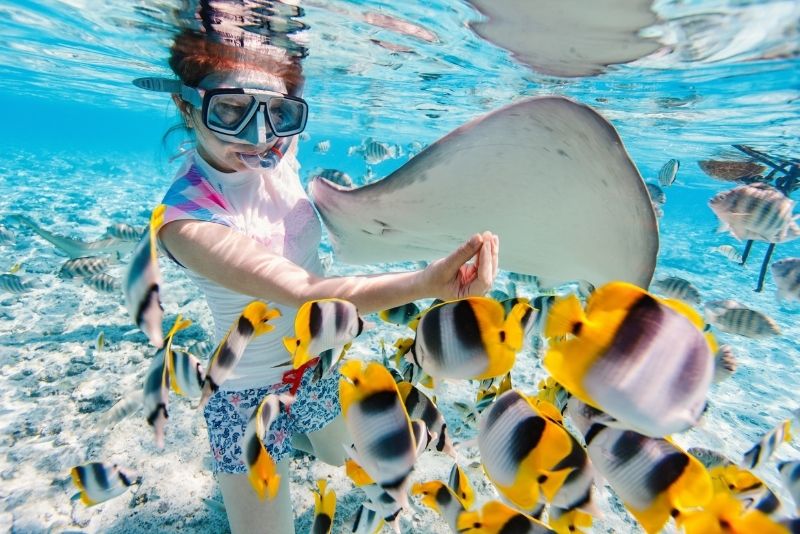 With aquamarine shores so translucent you can see the seabed sway under the waves, snorkeling in Bora-Bora is an experience of a lifetime.
The coral reefs that fringe the island are teeming with brightly-colored fish, making it a top spot for snorkelers (and divers) of all levels of experience; and if you're lucky, you might even spot a stingray or two.
A mainstay activity for all, snorkeling often comes part-in-parcel with half-day sailing adventures, a floating bar experience, eco-tourism tours, or jetskiing; simply choose your preferred duration, budget, and adventure and let the friendly guides handle the rest.
If a pre-arranged tour is out of the question, many resorts offer complimentary snorkeling equipment and lessons for guests; so grab a mask, flippers, and a waterproof camera and you'll be swimming in paradise before you know it.
2 – Soak in the sun on Matira Beach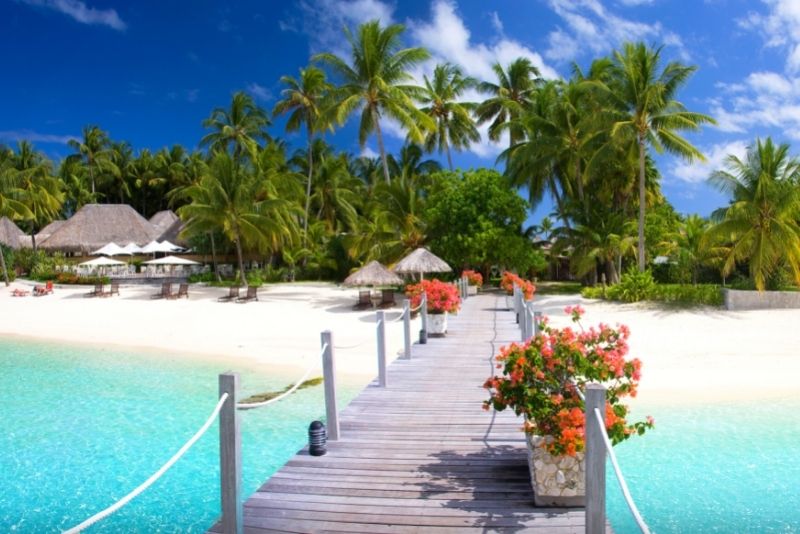 As the long public beach on the island, Matira is unsurprisingly busy and well-loved – but that's all part of its charm.
With close to a mile of warm, powdery white sand, crystal-clear waters, and a backdrop of lush green mountains, all intersecting at the southern tip of the main island, it's easy to see why a visit to the slice of natural beauty is considered one of the essential things to do in Bora Bora.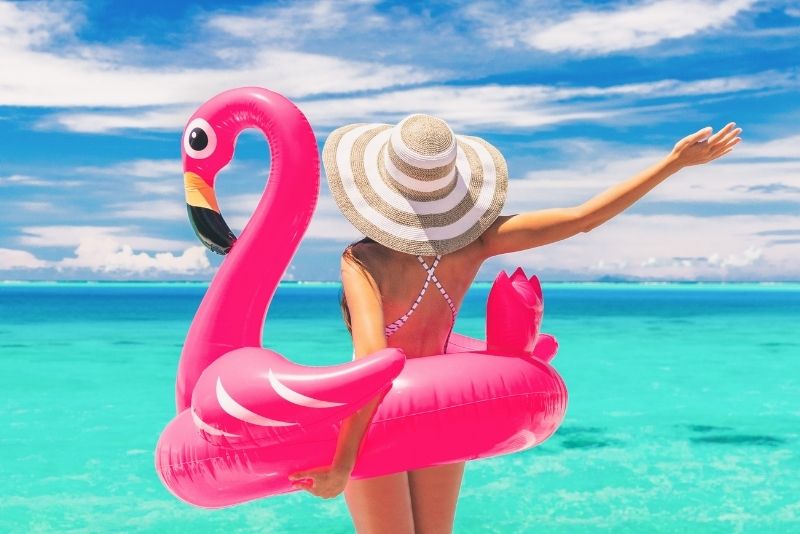 Far more than just a nice beach, the area is also teeming with locally-run resorts, shops, and eateries, making it the ideal spot for an afternoon of sunbathing by the sea or exploring further afield.
3 – Get off-road with a 4×4 Jeep adventure!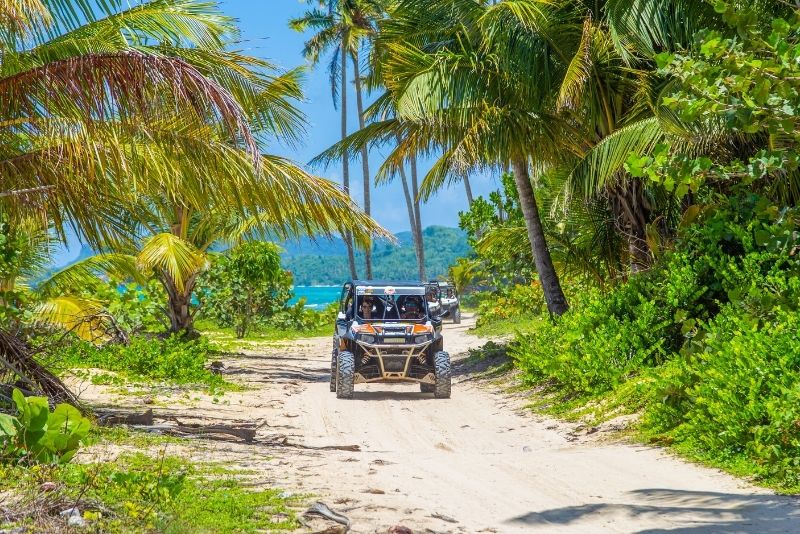 Where adventure and adrenaline meet immersive nature and abundant wildlife, jeep tours are always a sure-fire hit.
The best way to see everything that the area has to offer, jeep safaris take you off the beaten track (and often up into the mountains) for an unforgettable day or two of exploration in some of the most beautiful landscapes on earth.
From half-day tours that circle the island offering a quick but thorough highlights reel to all-in-one adventures that also include a few hours on a jet ski or a boat, there's an itinerary to suit all tastes.
4 – Have lunch on a motu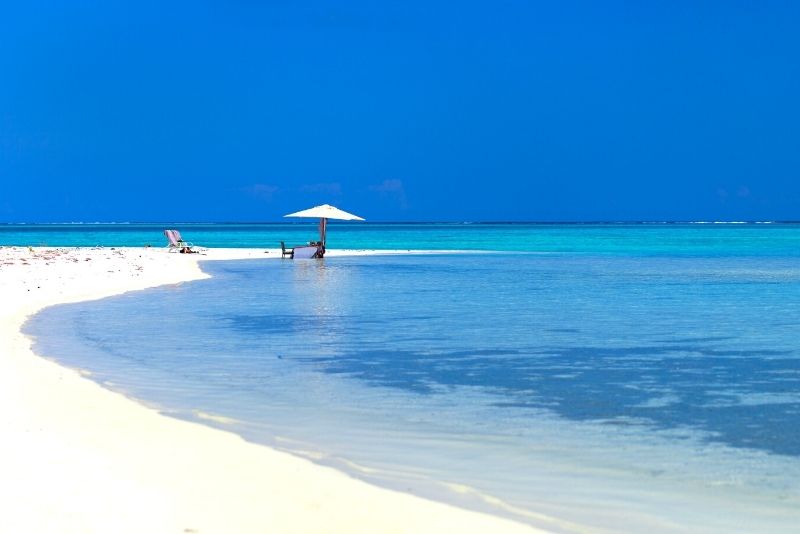 For a day full of luxury, relaxation, and unforgettable memories, take a trip out onto the tranquil lagoon with Lagoon Service Bora Bora.
Having been delighting visitors for years, the team offers an exclusive range of private cruises in glass-bottomed boats, catamarans, or traditional outrigger canoes that explore different areas of the Island.
Perfect for couples, honeymooners, or small groups looking to explore the crystal-clear waters, colorful coral, and diverse marine life of the lagoon.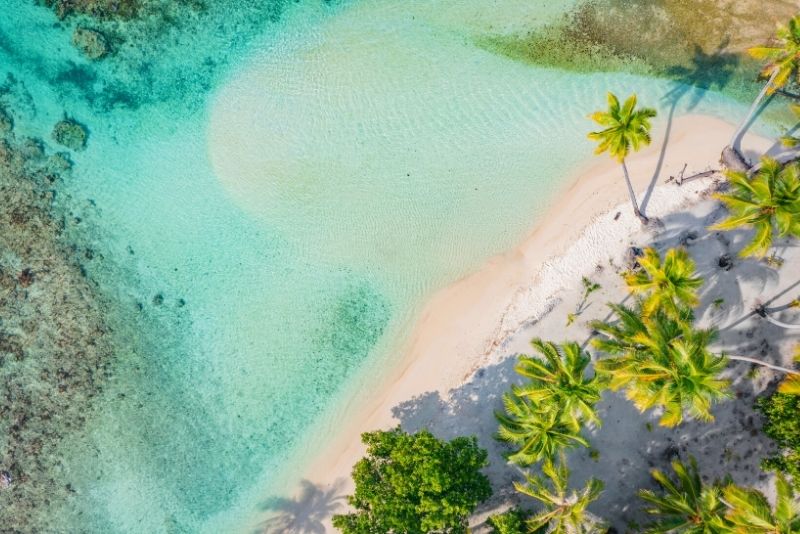 With an experienced and passionate crew, a range of delicious food and drinks included in most tours (not to mention lunch on a private islet, AKA a motu), and plenty of Instagram-worthy photo opportunities along the way, these enviable adventures are sure to leave a longlasting memory.
5 – Snorkle in the colorful Coral Gardens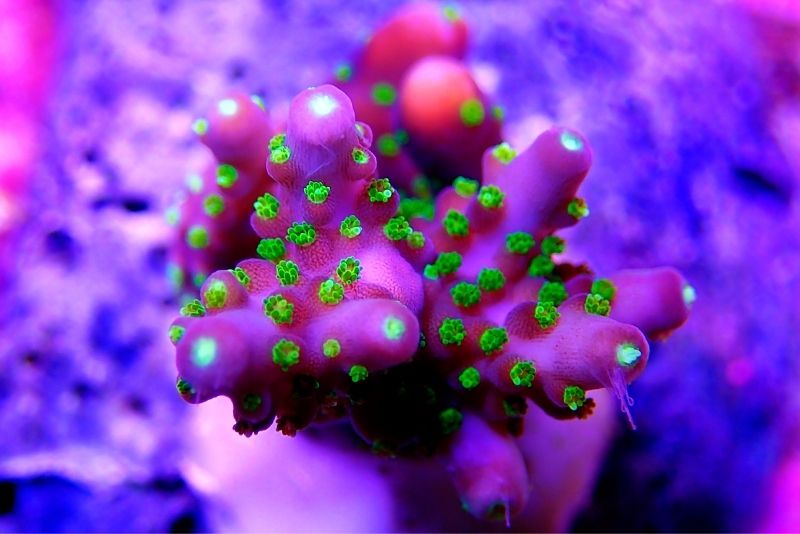 As the name might suggest, Coral Gardens is a snorkeler's paradise and a great place to start if you're new to the activity.
Just a short boat ride from shore on the west side of the island, not too far from the Sofitel Bora Bora Marara Beach Resort.
The aptly-named gardens are home to an abundance of colorful coral and fish, as well as turtles, eels, reef sharks and rays; making it perfect for anyone looking for a relaxed morning surrounded by the great outdoors.
Hot tip: while solo snorkeling is possible, locals recommended joining a guided tour to find the most wildlife-abundant spots (plus, then you don't have to worry about the transport).
6 – Set sail on a catamaran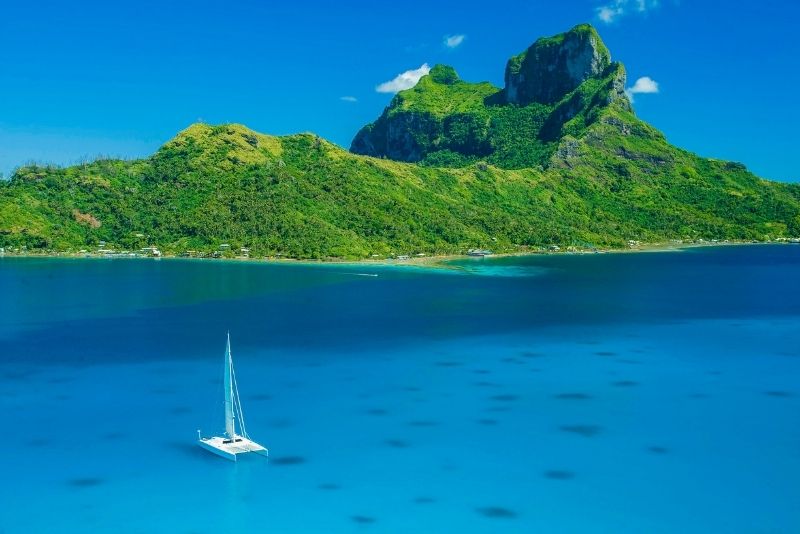 Nothing evokes the kind of social media envy that a selfie on a luxury catamaran sailing in Bora Bora does – and luckily, it's a relatively affordable pastime that's easy to indulge in.
With glass-bottom floors, comfy lounging areas, shaded decks, and plenty of onboard amenities (including drinks service for everyone looking to really get into that vacation mode), catamarans provide the perfect way to spend an afternoon or two out on the enchanting Bora Bora waters.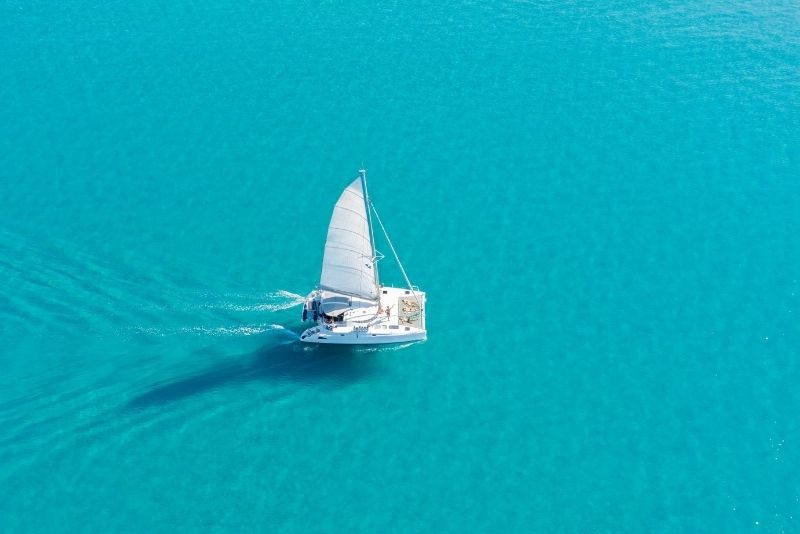 Traveling on a budget? Then a small group adventure is your best bet. However, if it's lavish relaxation you're after and are willing to pay a bit extra, private charters with your own personal captain, and food and drinks service is also available.
Either way, get ready for a spectacular sunset.
7 – Browse the Tahiti Pearl Market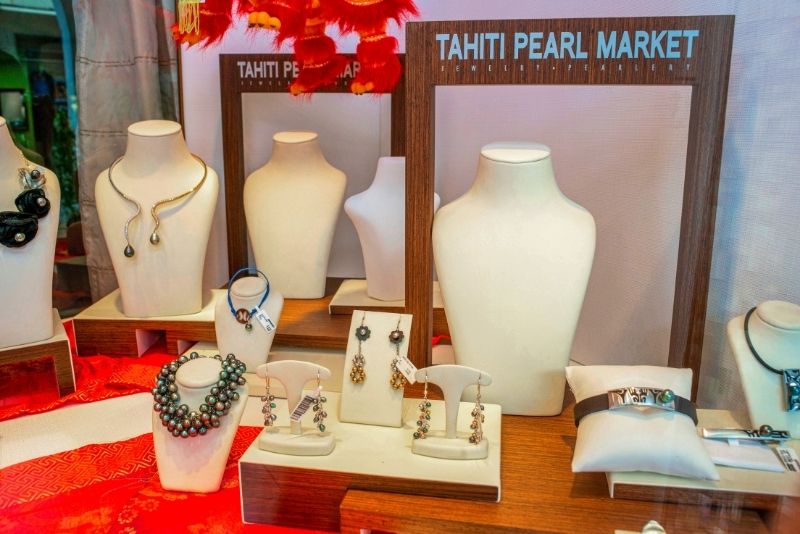 A wonderful spot to meet the ever-smiling locals as well as pick up a few souvenirs for all of your jealous friends back home, the Tahiti Pearl Market is located just outside of Vaitape, on the main island's west coast.
Rather than serve up cookie-cutter jewelry pieces, the authentic locale takes the time to accommodate each and every visitor by making custom jewelry pieces on the spot from their chosen peals — it's your chance for a one-of-a-kind keepsake.
Even if you're not in the market for a new piece of jewelry, it's worth browsing through the stalls to see the incredible (and often surprising) variety of pearls farmed nearby.
8 – Head underwater with an aqua safari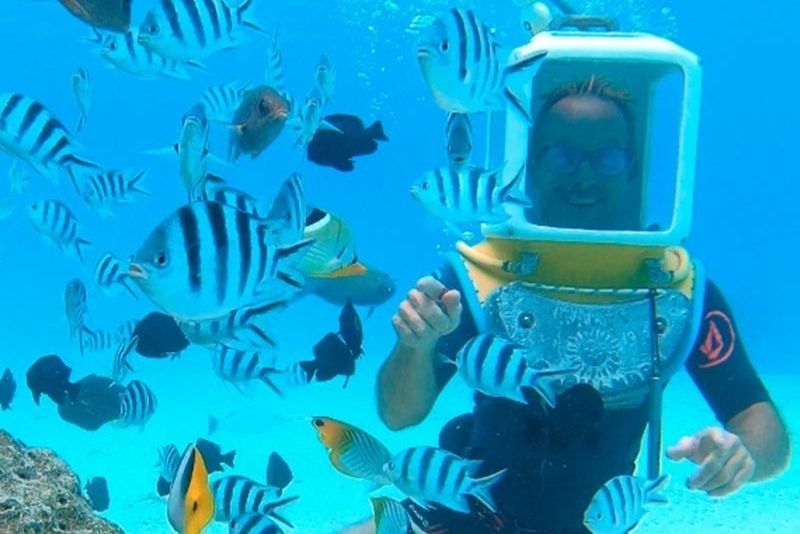 A two-to-three hour wonderful wildlife-viewing excursion that includes a solid 30 minutes wearing the state-of-the-art underwater helmet.
The Aqua Safari is a must for anyone visiting Bora Bora who wants to get up close and personal with the enchanting sea life but isn't a confident swimmer.
Led by experienced guides, the safari takes you through the crystal-clear waters of the lagoon in search of rays, (friendly) sharks, schools of fish, and other marine life – all while you learn about the fascinating local ecosystems.
Perfect for visitors of all ages, the Aqua Safari is a unique and unforgettable way to experience the magic of Bora Bora.
9 – Feed some sharks and stingrays!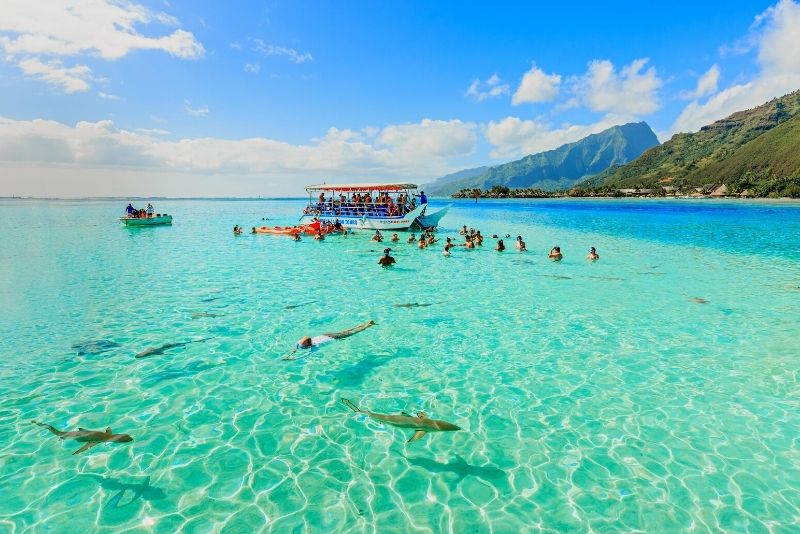 Coming face to face with these intimidating —albeit naturally friendly— creatures in an experience in and of itself; feeding them, however, is a whole other ball game.
Offered by many of the island's boat operators, shark (native blacktip reef sharks) and stingray feeding can be done either as part of a snorkeling tour or (for those who really don't want to get wet) from the safety of the vessel itself.
Be prepared to have your hands and feet —and anything else that's within arms reach— touched by these inquisitive creatures, who naturally gravitate to the food.
And, as a little bonus, most companies include hotel pickup and drop-off in the package price, making for a memorable and hassle-free morning.
10 – Experience the thrill of an underwater scooter ride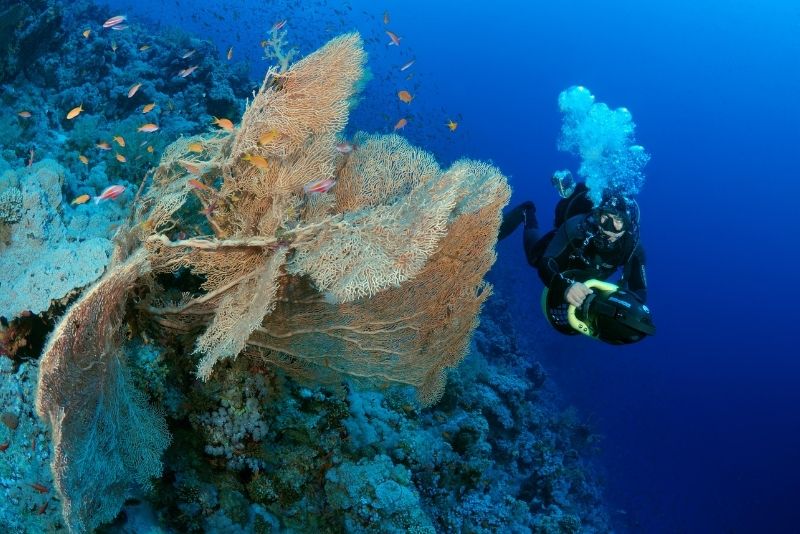 For a more "hands-on" approach to exploring the depths of Bora Bora, look no further than renting an underwater scooter at Bora Ocean Adventures.
The perfect in-between of snorkeling (easy), and scuba diving (difficult, and requiring training), these motorized devices move through the water with ease.
With a surface buoy keeping you at a controlled depth of 10 feet; all in all, taking most of the hassle out of swimming and making it easier to cover more ground.
Rid one as part of a larger package is easy, and all you need is a sense of adventure (and maybe a bit of bravery) to take the plunge.
11 – Hop on the back of a jet ski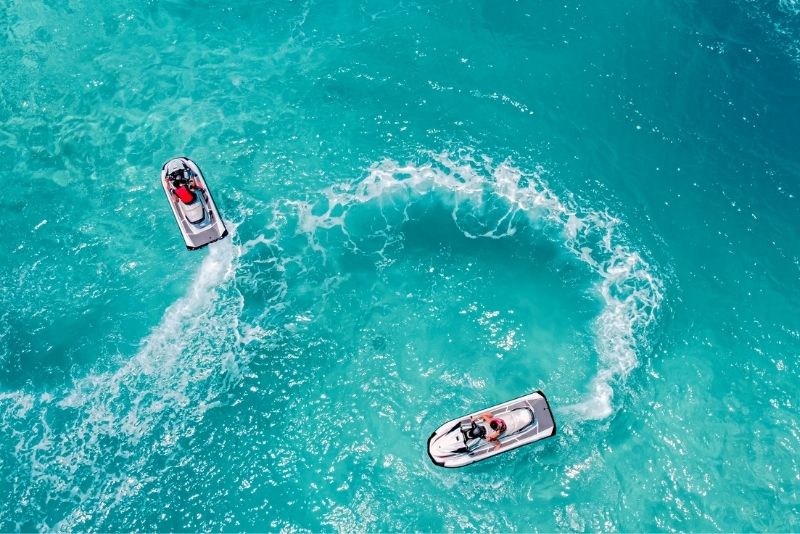 One for the thrill-seekers, a jet-ski ride, with the warm sea breeze and refreshing ocean spray buzzing through your hair, is easily one of the quintessential things to do in Bora Bora, if only for a quick 15 minutes or so for the experience alone.
Available for rent by the hour, half-day, or full-day (or as part of a combination tour), jet skiing is one of the more popular activities on the island – and it's not hard to see why.
Zipping around the lagoon at high speed, taking in all of the beauty that surrounds you; it's a feeling that's hard to replicate.
12 – Take a hike on Mount Otemanu and Mount Pahia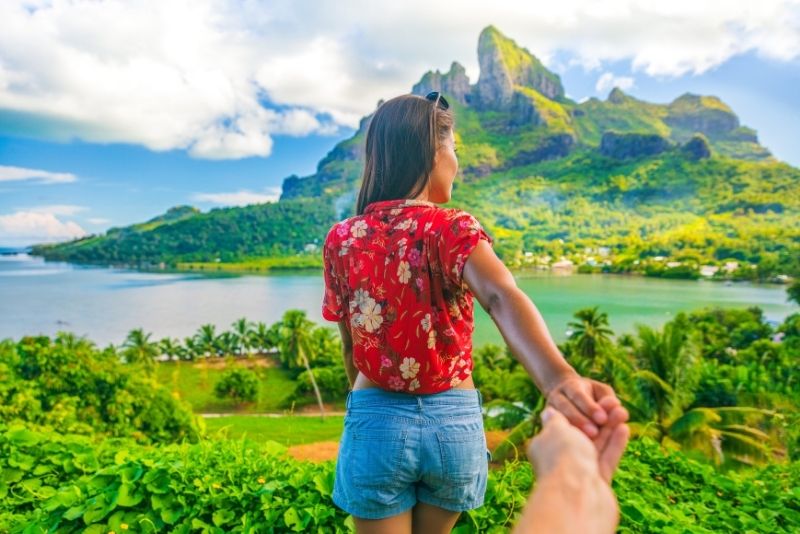 Hikers, listen up! If you're looking for an invigorating (and challenging) hike that offers incredible views, add both Mount Otemanu — rising 2,400 feet above the lagoon — and the twin peaks of Mount Pahia — slightly smaller but no less dramatic at about 2,150 feet —  to the bucket list.
The two dormant volcanoes are a sight to behold and make for a rewarding day trip full of hiking, driving in a 4X4, and a stop for lunch at a local restaurant.
On Mount Otemanu, while the peak isn't accessible because of its unstable nature, the 6-hour trek to the "shoulders" of the mountain dishes up stellar views and remains one of the more difficult hikes on the island.
Don't miss the hidden cave on the mountain's northeastern side, where you'll be greeted by spectacular vistas over to the islands of Taha'a and Ra'iatea.
On Mount Pahia, unlike Otemanu, you can actually reach the peak — and make no mistake, the views from the summit and worth every step of the grueling 6-to8-hour return hike.
While both mountains are accessible solo, a guided hike is highly recommended.
13 – Meet turtles and rays at the Lagoonarium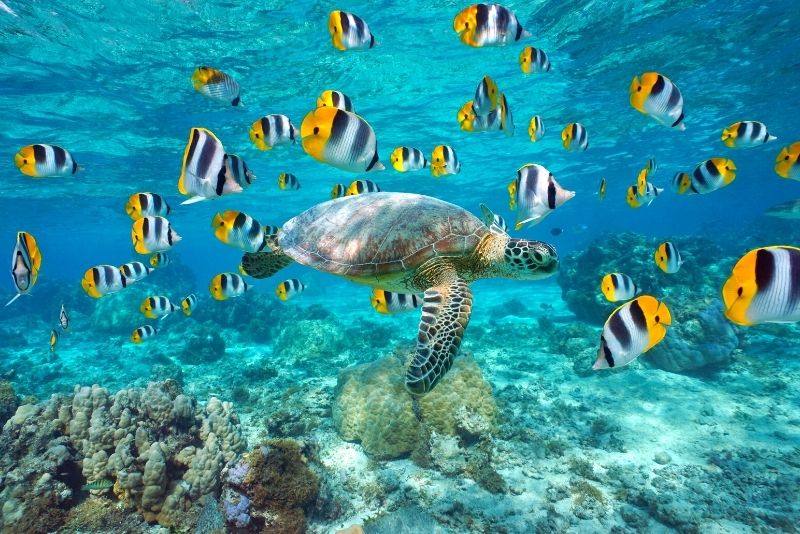 Bora Bora is home to one of the world's most beautiful and intriguing lagoons, but did you know that there's also an aquarium in town?
Well, not your typical manmade aquarium; rather, a family-owned section of the lagoon that welcomes an abundance of sharks, stingrays, eagle rays, sea turtles, and a whole lot more in a safe, controlled, and confined (yet still roomy) space.
Located on a small motu (outer island), the Lagoonarium also gives visitors the chance to snorkel under the supervision of a guide and catch an up-close glimpse of the beauty that lies beneath — a strong stepping stone to open-ocean snorkeling for another day.
14 – Join a glass-bottom boat tour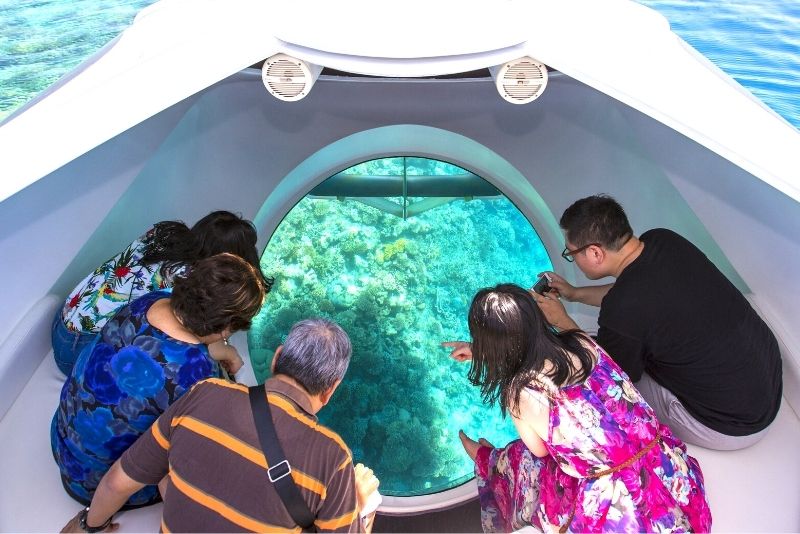 A great activity for the whole family, a glass-bottom boat tour at Moana Adventure Tours is a perfect way to see the amazing marine life that calls Bora Bora's lagoon home without having to get wet.
Departing from Vaitape (the main town on the island), these tours typically last around an hour and take you on a leisurely cruise around the lagoon.
With an experienced guide on board, you'll learn all about Bora Bora's lagoon ecosystem as well as its history and culture – but that's not all!
As your captain navigates through the sun-kissed waters of this tropical paradise you will be treated to a front-row view of some of Bora Bora's most breathtaking spots.
From the crystal clear waters surrounding Mount Otemanu to the over-sized rock formations that line Vaitape Bay.
15 – Meet an artistic icon at the Art Gallery & Studio Alain Despert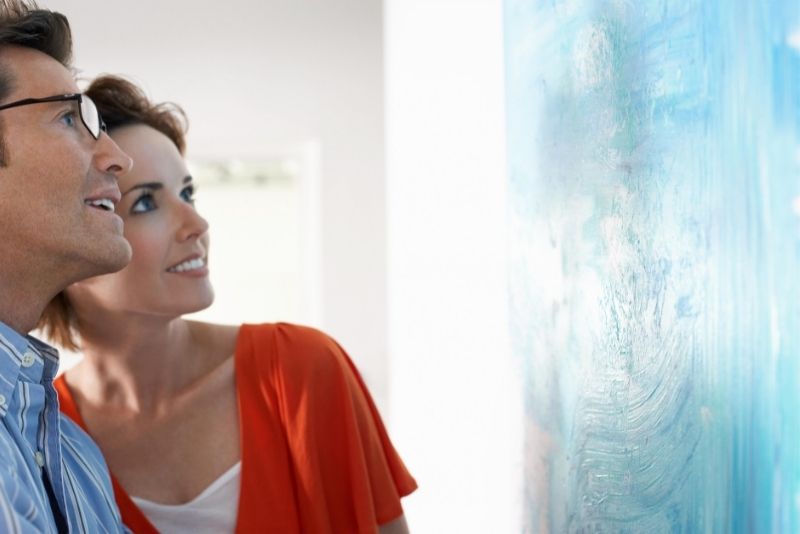 If you're looking for a little bit of culture during your stay in Bora Bora, be sure to check out the Art Gallery & Studio Alain Despert in Vaitape.
This small but well-stocked gallery is home to an impressive collection of Despert's contemporary and colorful art, whose enamel and acrylic pieces are now exhibited in many major cities throughout the US.
However, wind the clock back to 1990 and Despert was only just getting discovered — here, on Bora Bora. The famed artist still resides and works here today and, if you're lucky, you can meet him with an easily arranged appointment (just do so via email before visiting).
What's more, the gallery also tells the artist's backstory, diving deep into his unique creative process.
16 – Explore the impressive landscape with a quad bike tour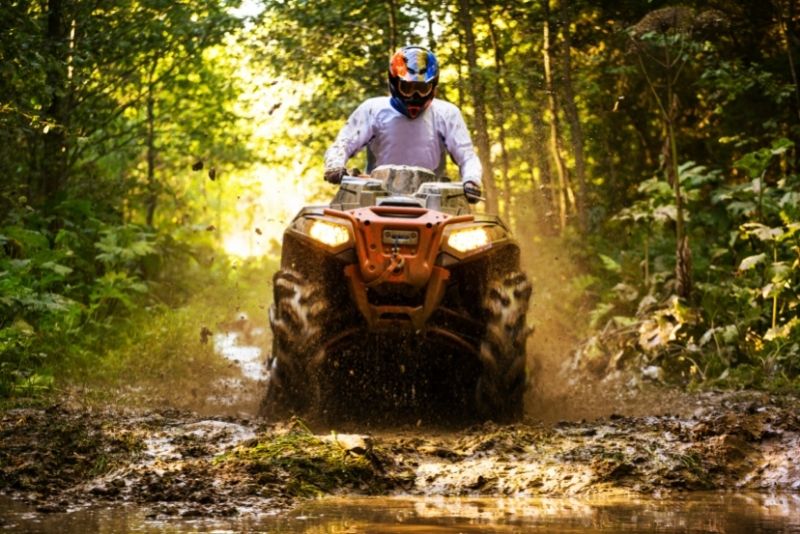 Bora Bora is one of the most picturesque islands in the world, and what better way to explore her beauty than on a quad bike, well and truly off the beaten track?
A great way to see all that the island has to offer, these tours take you off-road and through some of the most inaccessible (and stunning) parts of Bora Bora.
Typically combined with other heart-racing activities like jet ski tours and ziplining, a quad bike tour is a perfect way to end an adrenaline-filled day on this paradise tropical island.
17 – Wander around (and grab some souvenirs at) magical Vaitape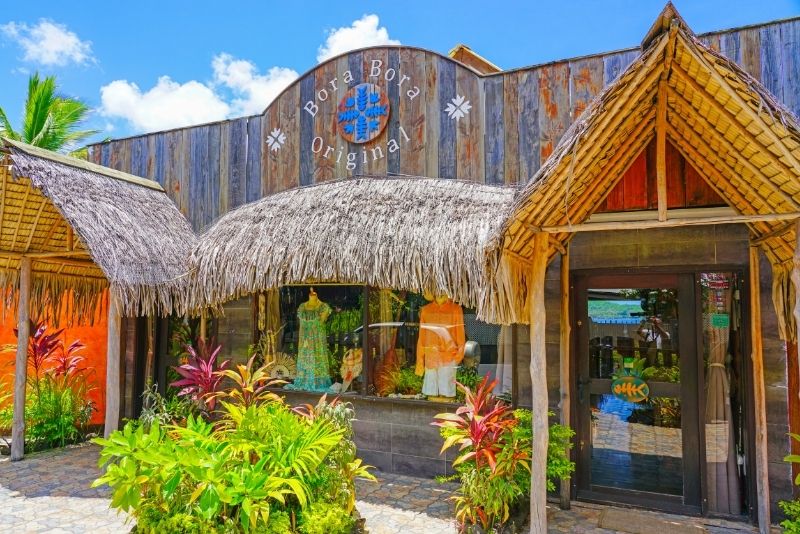 Beautifully located in Vaitape Bay, this small village (small, yet still the main town on Bora Bora) is home to some of the nicest shops on the island — from boutiques selling the latest fashion to art galleries and souvenir stores (don't miss Sibani Perle for black pearl jewelry).
What's more, it's also the perfect place to people watch, with locals and tourists alike meandering around its narrow streets and waterfront promenade.
If you're looking for a break from the beach (or simply want to pick up a few presents for friends and family), be sure to wander around Vaitape and take in the charm of this little town.
18 – Drive around the scenic Circle Island Road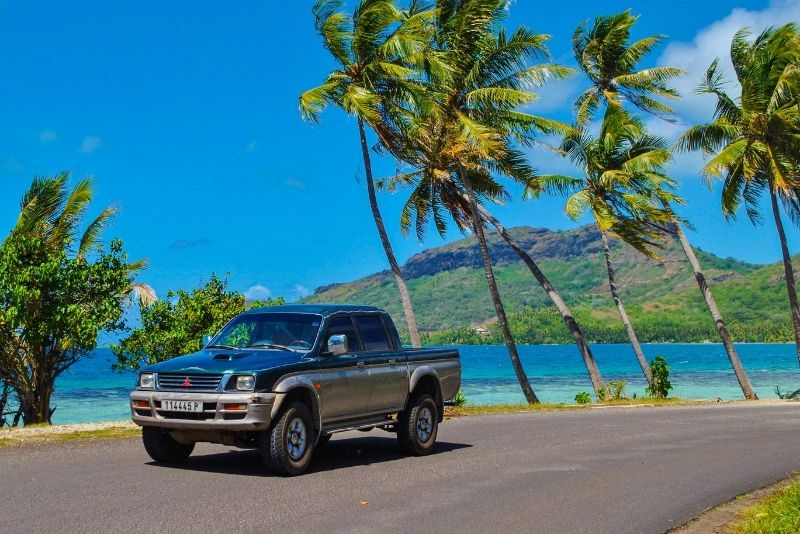 True to its name, the Circle Island Road takes you on a picturesque journey around Bora Bora.
Starting and finishing in Vaitape, this 20-mile (32 km) driving route offers stunning views of both the lagoon and the ocean as it loops its way around the fairly flat perimeter of the island.
Keep an eye out for roadside stops where you can marvel at the scenery and snap some photos, and make sure to stop in the quaint villages of Farepiti, Faanui, and Anau along the way.
19 – Have a Canoe Breakfast at InterContinental Bora Bora Resort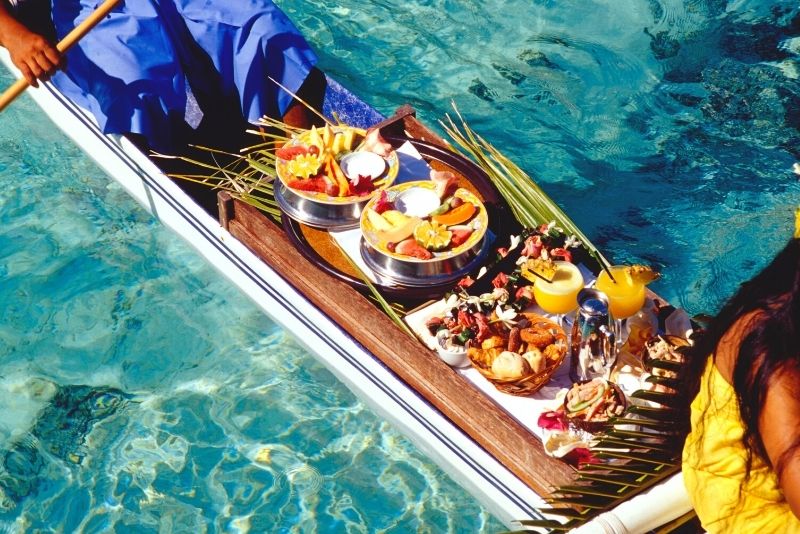 A bucket-list worthy accommodation, with villas that float above the translucent waters, the InterContinental Bora Bora Resort is an experience not to be missed.
The 5-star resort and day spa boasts a private beach, several restaurants and bars, a fitness room, Turkish bath and outdoor pool, and spa facilities — but it's the suites themselves, which you've surely seen on postcards time and time again, which steal the show.
With panoramic views of Mount Otemanu in the distance, there are few better places on earth than these direct-water-access hideaways.
Top it all off with a Polynesian Canoe Breakfast, and you'll be feeling pretty darn special.
20 – Soar into the skies with a Bora Bora Lagoon parasailing adventure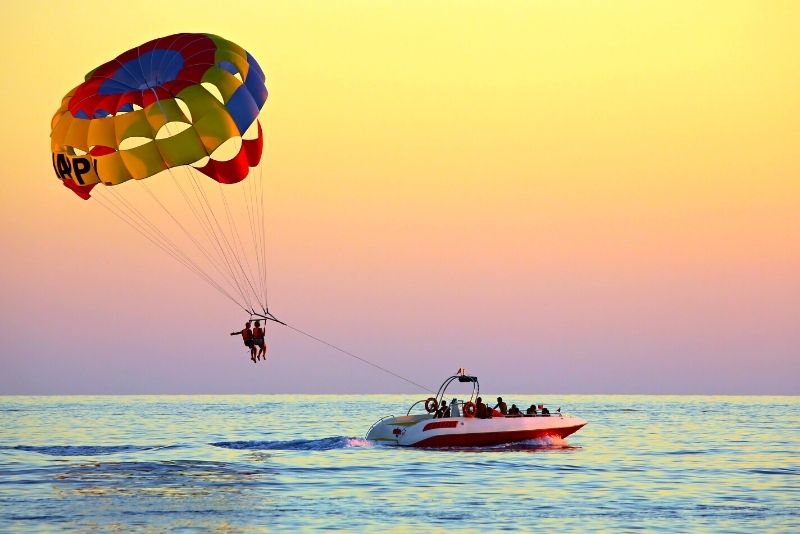 What could be more exhilarating than soaring high above the lagoon on a parasail?
The perfect way to get a bird's-eye view of the rolling mountains of Bora Bora juxtaposed by the turquoise ocean, this is an activity that the whole family can enjoy.
With all of the equipment and training provided, all you need to do is relax and let the experienced crew do the rest!
21 – Enjoy the view from Pointe Tereia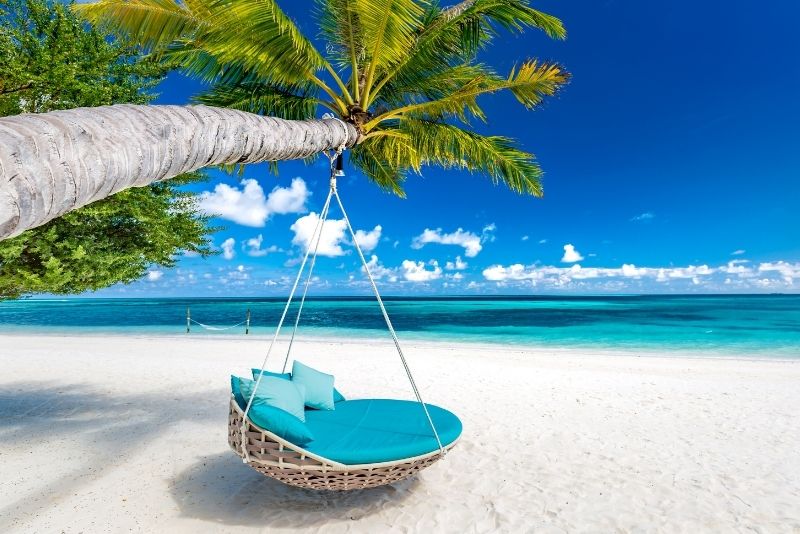 Located on the relatively unpopulated northeastern side of Bora Bora, about 4km north of Vaitape, Pointe Tereia is a tranquil and secluded beach with crystal clear waters and stunning views of the smaller Motu Tevairoa to its west.
A popular spot for snorkeling thanks to its shallow depth (a great place to see manta rays if you're lucky), this sandy stretch offers plenty of opportunities for water sports and is bordered by wildlife-abundant mangroves.
22 – Go wakeboarding!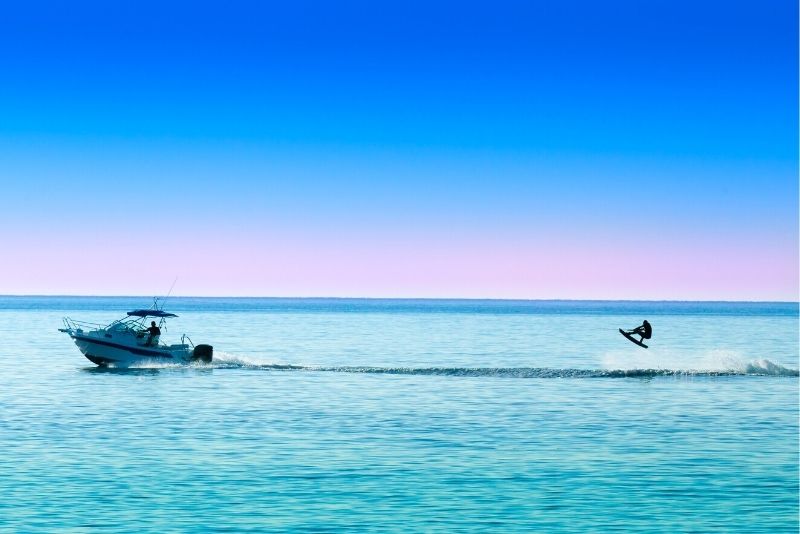 Thrilling and challenging, wakeboarding is a water sport that's perfect for those who want an action-packed day out on the waves.
Thankfully, with the majority of the things to do in Bora Bora revolving around water sports; a safe, experienced, friendly instructor/operator is never too far away.
Simply choose between a dedicated wakeboarding experience or combine it with waterskiing and tubing for an adrenaline-fueled combination.
23 – Admire the art at the Bora Art Upstairs gallery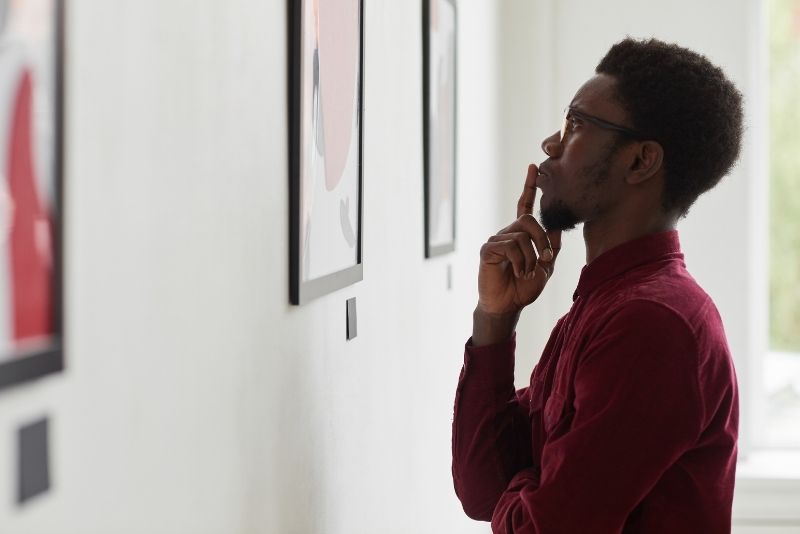 If you're looking for a different type of souvenir, make sure to pay the Bora Art Upstairs gallery a visit — a gem of a locale tucked away next in Vaitape next to the island's only post office
Full of one-of-a-kind pieces — many of which are hand-created by Bora Bora residents — this little gem is full of local crafts and art pieces that are perfect as gifts or mementos from your trip.
With a particular focus on Polynesian works of art, it's far more than just an art gallery too: it's an insight into local culture.
24 – Hold a sea turtle at the Bora Bora Turtle Center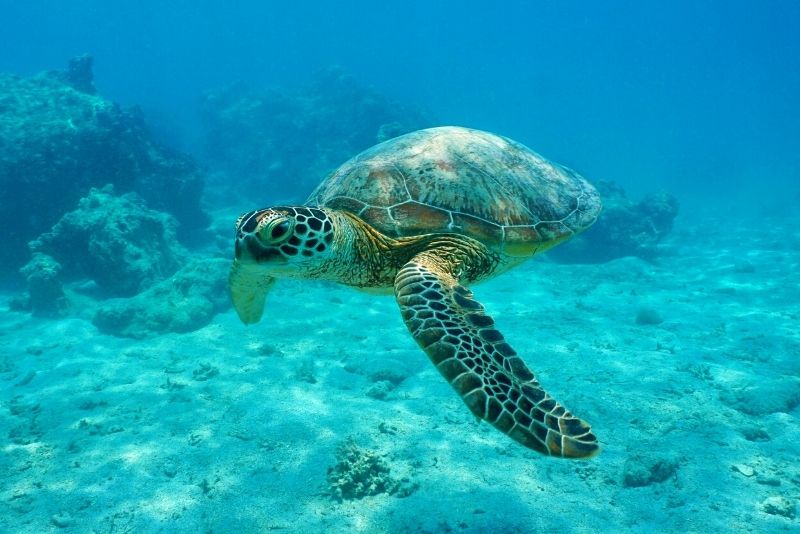 A fascinating place where you can learn more about one of Bora Bora's most famous inhabitants (the green sea turtle), as well as listen to the heart-warming stories of rehabilitation and recovery.
There's even the possibility of swimming with a few of the friendly critters — this do-good center offers information and interactive exhibits that will educate even the youngest members of your family.
Plus, thanks to its overarching purpose to protect and aid the marine turtles of French Polynesia, you can rest assured that any donations or souvenir purchases at Bora Bora Turtle Center are going to an important cause.
25 – Sleep in paradise at the Four Seasons Resort Bora Bora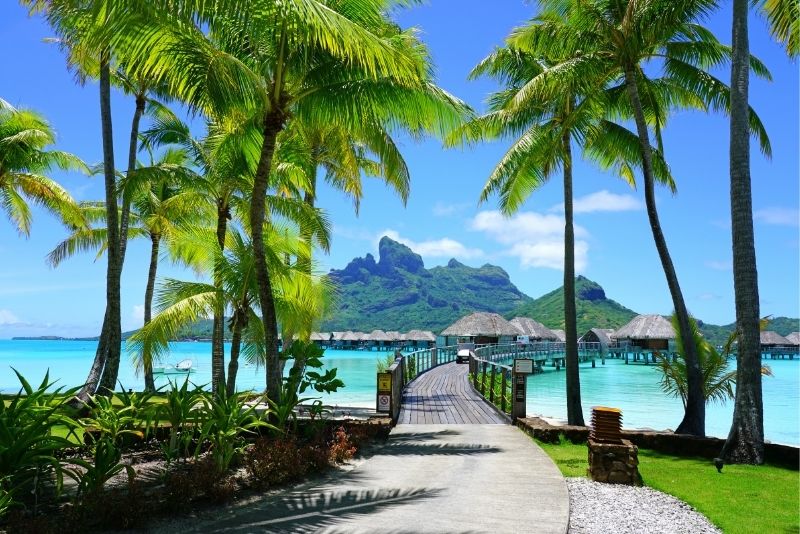 Absolutely flawless, reminiscent of the stereotypically lavish over-water bungalows, the Four Seasons Resort Bora Bora is located on Point Matira, a relatively secluded part of the island where the views are nothing short of glorious.
With glimmering waters and a stunning Mount Otemanu backdrop, this romantic resort is perfect for couples looking for a peaceful escape from reality — especially when you consider their beach wedding service, with a chapel that overlooks the lagoon, for anyone looking to tie the knot.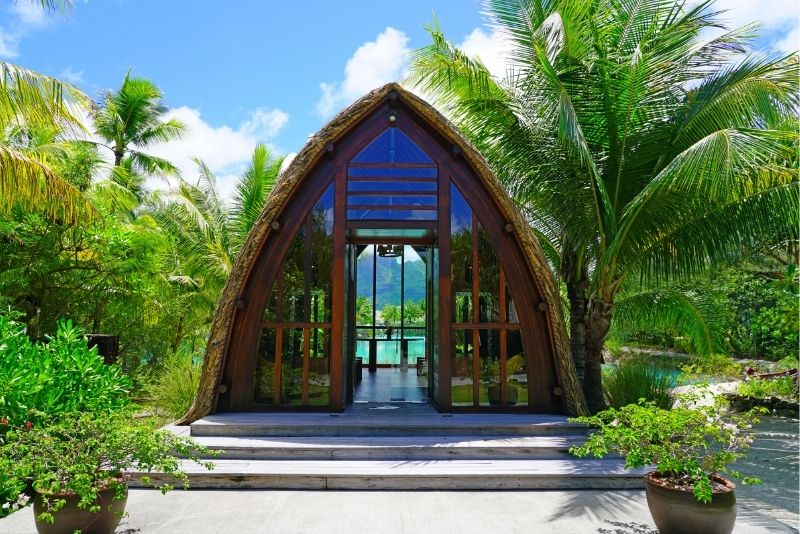 Spellbinding bungalows aside, the resort also boasts an infinity pool, day spa, and fitness center, and offers activities like kayaking, shark feeding, and snorkeling to anyone staying in one of their luxury villas.
26 – Dial up the romance with a Bora Bora romantic sailing tour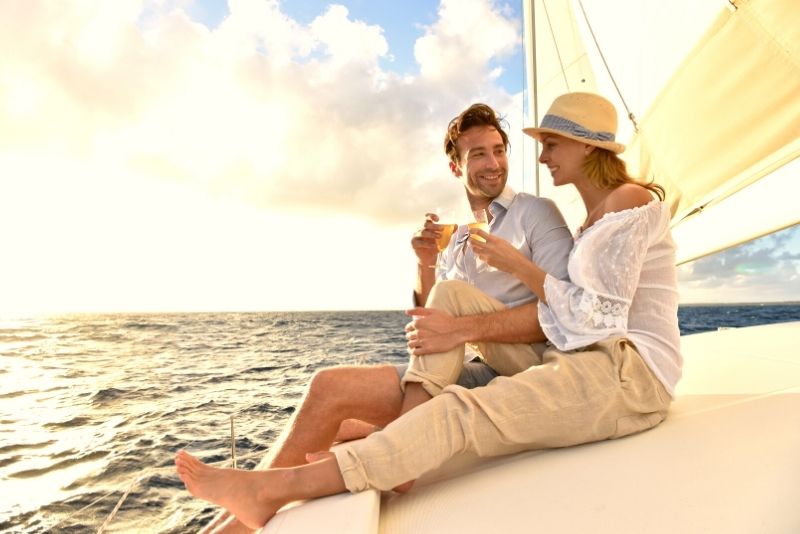 Speaking of romance, if you're looking for a way to explore the island with your loved one, why not take advantage of the island's so-called Romantic Tour?
With an expert guide to show you around some of the most beautiful and secluded spots on the island, this half-day tour is perfect for couples who want to get away from it all (and snap a few Insta-worthy shots while they're at it).
A range of options are available to suit a variety of budgets, offering enchanting experiences like sunset cruises, barbecue lunches of private islets, champagne on the bow of a yacht, a private dinner at the Restaurant St James, and a whole lot more — simply take a look at their website for more information on what they offer.
27 – Go whale-watching!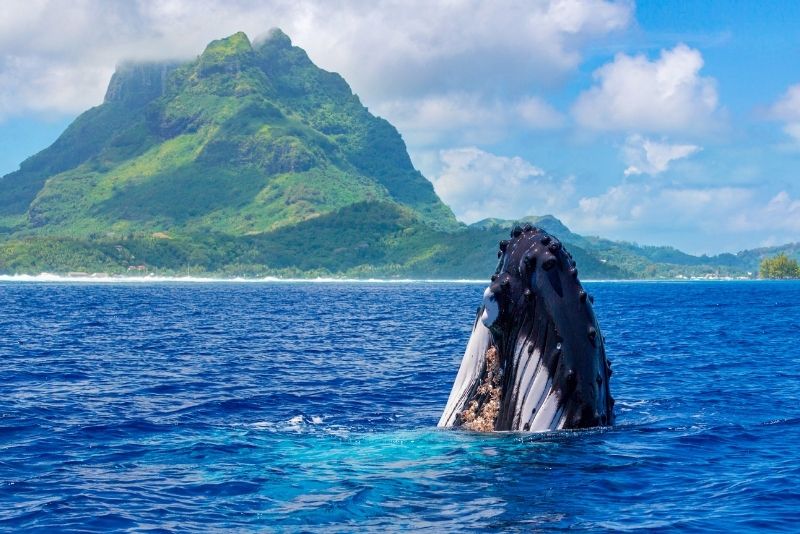 If you're visiting Bora Bora between July through November, there's a good chance you'll be able to see humpback whales — they migrate through the area during that time of year.
A truly wonderful sight, these gentle giants are a joy to watch as they play and breach in the water.
There are a few different ways you can go whale-watching while in Bora Bora: from the shore, on a private or public boat tour, or even from the air with a helicopter ride.
No matter how you choose to do it, make sure to add this display of Mother Nature's beauty to your list of things to do in Bora Bora.
28 – Step inside the Paroisse Saint Pierre Celestin Church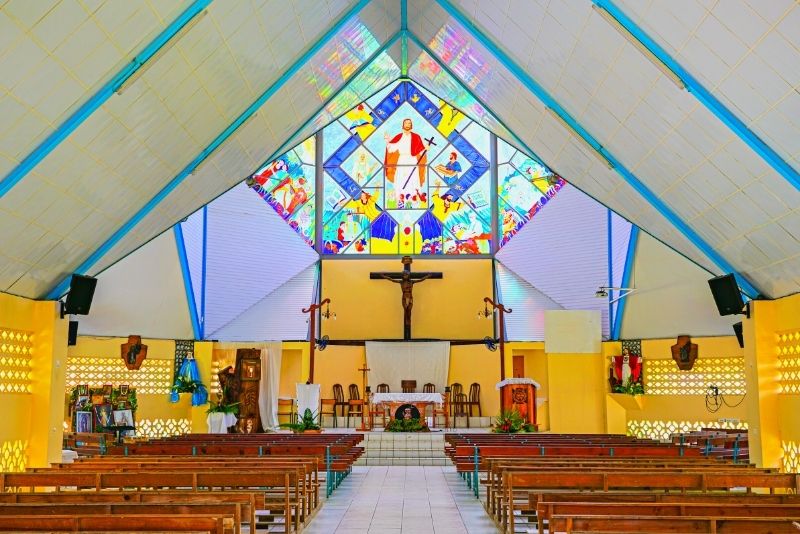 One of the island's most iconic buildings, the Paroisse Saint Pierre Celestin Church is a notable sight to behold.
In stark contrast from its surroundings — with an interior bathed in light thanks to gorgeous stained-glass windows — it offers visitors a man-made change of scenery from their nature-focused Bora Bora itinerary, viewable as part of a mass or a simple walk-through.
And, as one of the first buildings you see as you arrive on the bay on a cruise ship, the cross on the roof juxtaposes brilliantly with the rolling green hiss in the distance.
29 – Soar over the city with a helicopter tour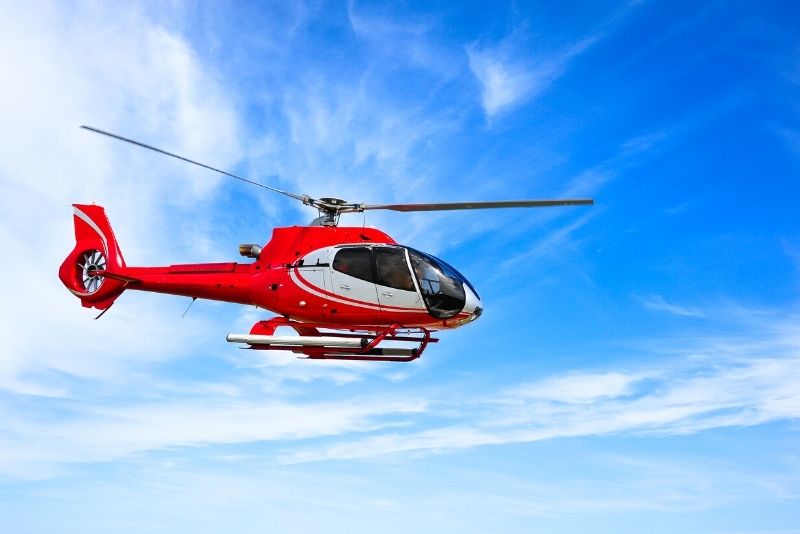 If you're looking for an unforgettable way to get a birds-eye view of this Pacific paradise, book yourself on one of these tours and see all there is to see from the sky.
Some of these tours offer you a more private experience, where you'll have your very own expert pilot to fly over some of Bora Bora's most scenic spots — while others are perfect for groups looking to split the costs and see as much of the island as possible.
Either way, a helicopter tour is sure to be one of those things you can cross off your Bora Bora bucket list!
30 – Go kayaking!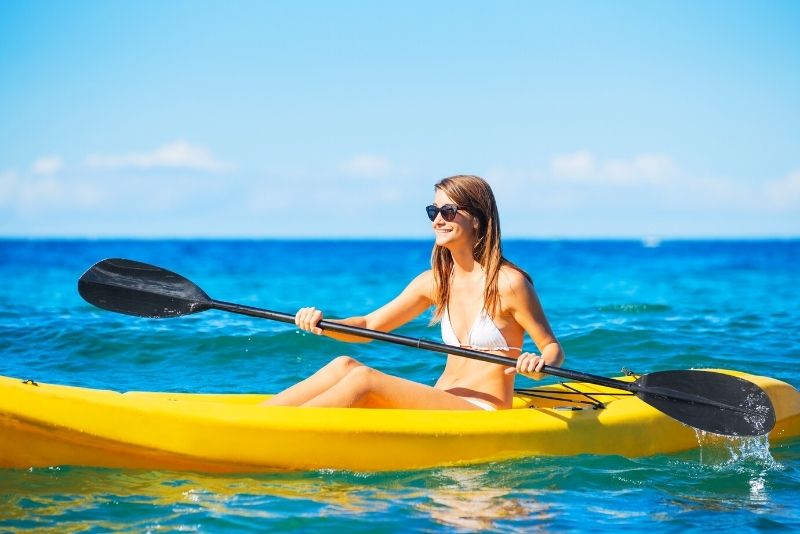 With a multitude of options available on the island, kayaking is an activity you can do solo or as part of a broader Bora Bora itinerary — and it's perfect for those who want to take in a new perspective, explore more than just the beach.
For the best bang for your buck, book a stay at a resort or hotel that includes free kayak rental (as well a multitude of other activities), or for something a bit more orchestrated, take a kayaking tour with one of the local companies where you'll be sure to learn all about the local wildlife along the way.
31 – Try out the water sports at Le Moana Resort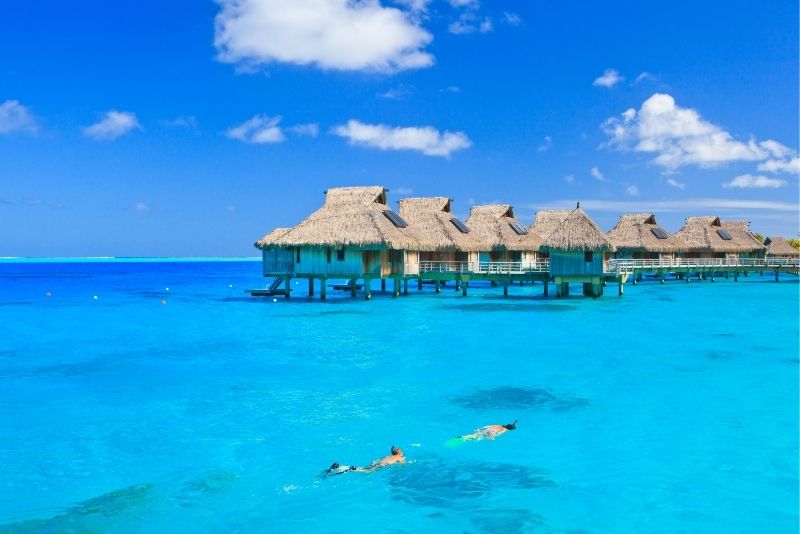 Where enviable luxury in overwater bungalows meets exciting water sports, peppered with a whole host of amenities exclusive to a region of the world where the sun shines nearly every day of the year, the Intercontinental's Le Moana is a resort like no other.
With so many activities on offer here — from paddleboarding to snorkeling and deep-sea fishing — you can be sure that boredom won't even be an option when visiting Bora Bora.
If you're after something slow and relaxing, cruise around the lagoon in a kayak or on a traditional outrigger canoe; or, for a more adventurous day out, sign up for one of the resort's helmet dives, sub-scooter dives, or submarine dives, which venture up to 50 meters below the surface where a colorful paradise awaits.
32 – Sign up for a Maohi Nui sailing experience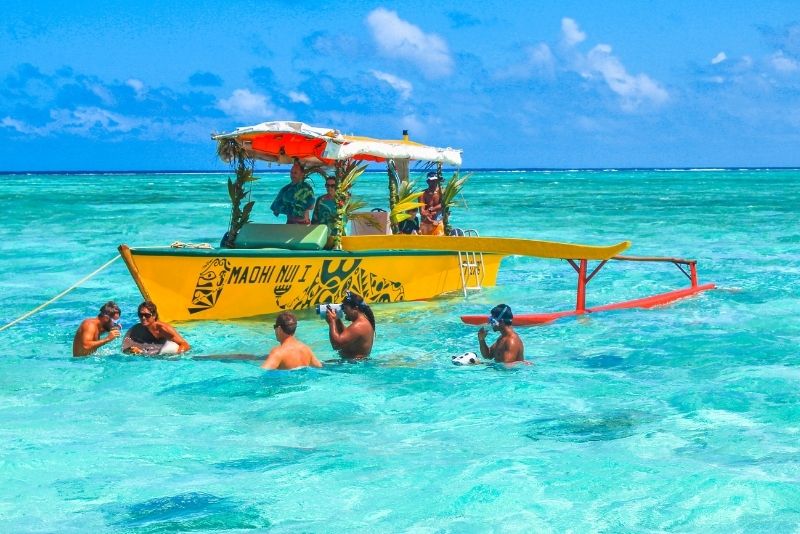 One of the most popular things to do on Bora Bora is going sailing on its glistening lagoon, and one of the best ways to do it is with a culture-focused company like Maohi Nui — Maohi, after all, refers to the ancestors of the Polynesian peoples.
Offering a range of half-day or full-day excursions, as well as sunset sails complete with champagne, a bit of ukelele and canapés, there's something for everyone.
The canoe tours are a crowd favorite, delivering a truly immersive experience with a knowledgeable guide to help you learn about the local culture and flora and fauna, as well as providing ample opportunity for snorkeling in crystal clear waters.
While the Polynesian feast and fire show on a private motu (island) delivered a strong cultural insight rarely found with the typical tourist activities.
33 – Book a villa at the St. Regis Resort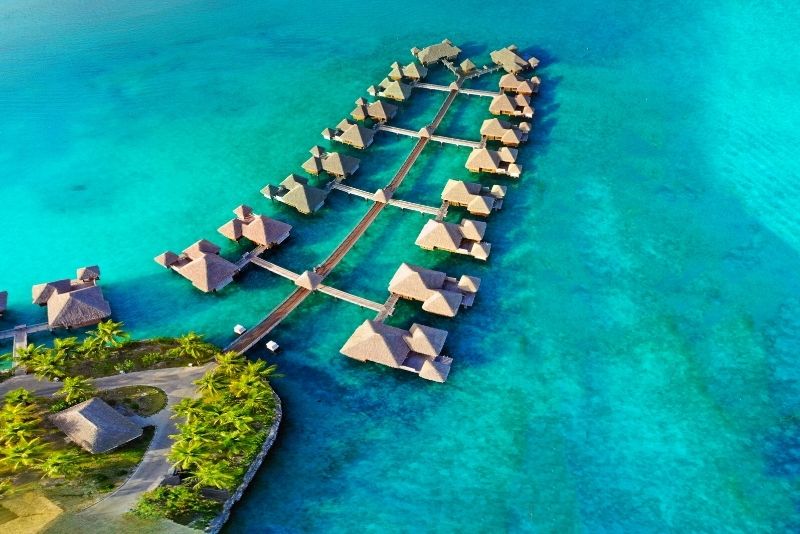 Boasting the largest overwater villas in the South Pacific, the St. Regis Resort is an opulent, Insta-worthy five-star resort in Bora Bora with all the amenities and activities you'd expect from such an idyllic location — including, of course, pampering spas, oceanside pools, and all the typical water sports.
Choose from either an overwater villa on an on-land platform or a standalone villa; spend lazy days by the pool; explore the coral gardens beneath the water on a snorkeling excursion, or simply relax in your own private haven with panoramic views of Mount Otemanu.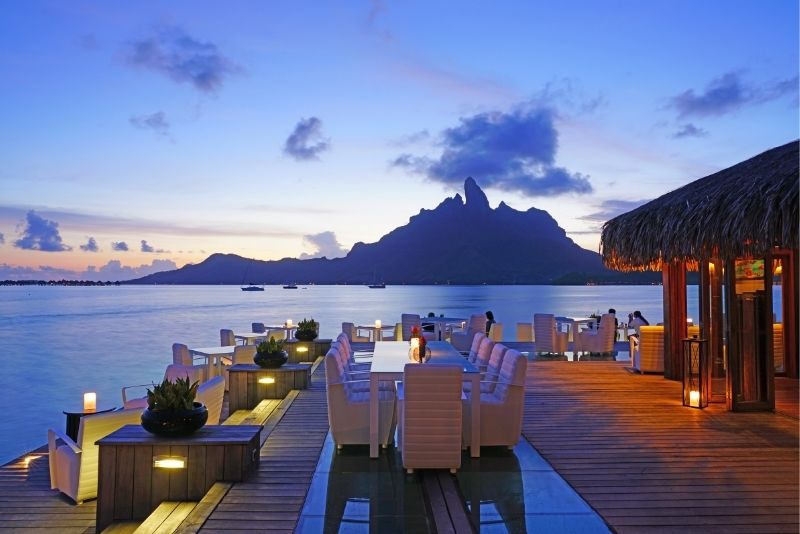 Hot tip: while you're there (and even if you're not officially staying on the resort), be sure to book a table at Lagoon Restaurant by Jean-Georges, a flavor-packed eaterie where long glass panels reveal the turquoise lagoon beneath.
34 – Find some R&R at the Deep Ocean Spa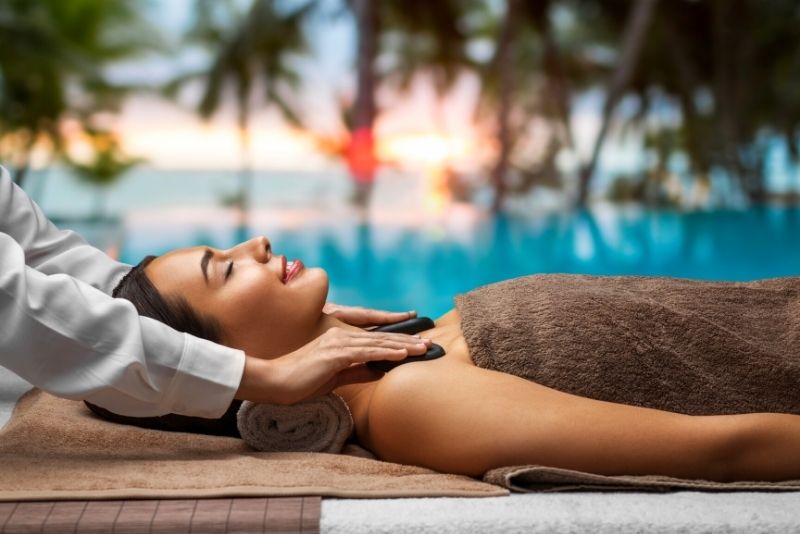 For that heavy dose of pampering we all crave on vacation, there's no better place than Deep Ocean Spa, located at the enviable Intercontinental.
Where glass-bottomed floors line the massage and treatment rooms, offering wondrous views to boot, the Spa is most famous for its thalassotherapy (seawater therapy), however, also incorporates Polynesian healing rituals to – as Intercontinental puts it – relax and rejuvenate your mind, body and spirit.
To name but a few, choose from deep tissue massages, skincare sessions, hot stone therapies, body scrubs, neck and shoulder massages, or a signature Polynesian Taurimi massage — the perfect way to recharge after an action-packed day exploring Bora Bora.
35 – Appreciate paradise on a sunset cruise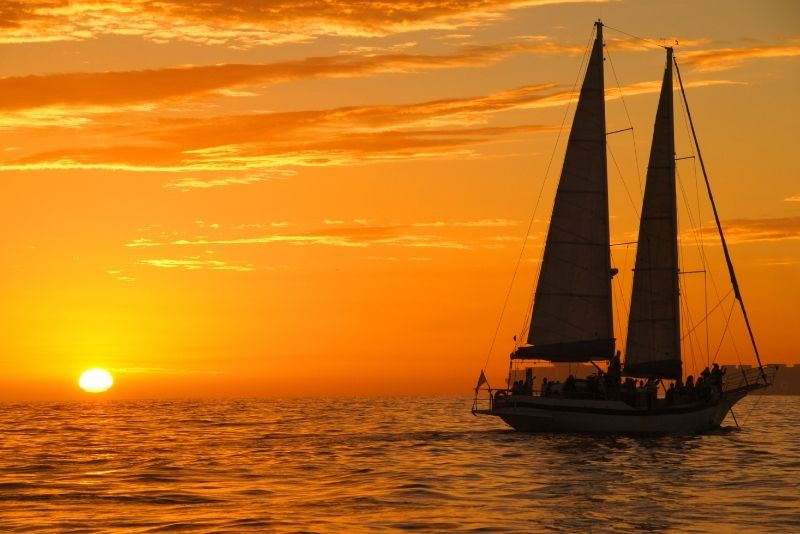 The classic Bora Bora sunset is the perfect way to end any day and enjoy that all-important downtime while in paradise, with numerous boats, companies, and resorts painting colorful, enchanting vistas of which no combination of words could truly do justice.
With plenty of options to choose from — two-hour cruises complete with a barbecue dinner and an open bar; romantic catamaran trips complemented by a hearty candlelit feast,
sunset and stargazing excursions; and private sailboat trips with your own personal driver on board to cater to your every cultural question – there's something for every budget.
36 – Go scuba diving at the Eleuthera Bora Diving Center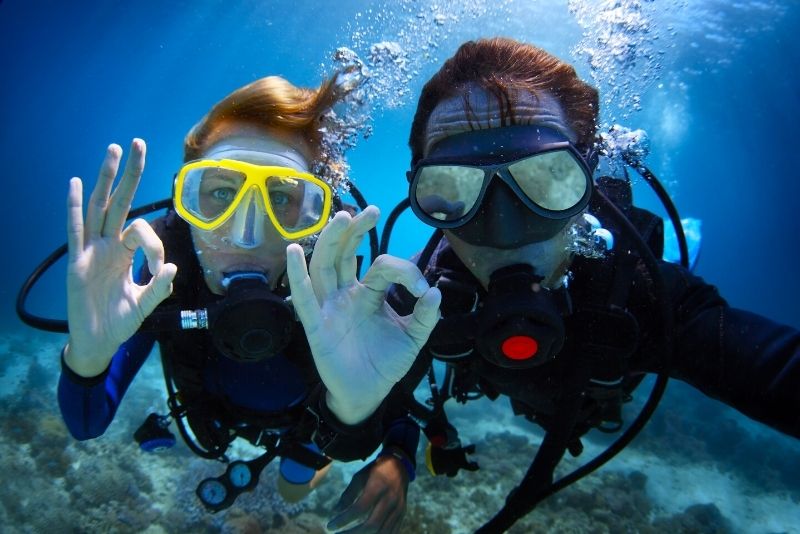 Located at the renowned Matira beach, the Eleuthera Bora Diving Center presents a range of scuba diving packages for all levels and budgets.
Including introductory courses to learn basic swimming skills and explore the depths without any formal qualifications; PADI Open Water certification where you'll be able to swim up down to depths of 100 feet; and expert courses for those looking to take their diving skills to the next level.
With dive sites ranging from coral gardens to caves, where rays and colorful fish are aplenty, Bora Bora is unsurprisingly a world-famous hotspot for divers of all levels.
37 – Stay, dine, and be delighted at Le Bora Bora resort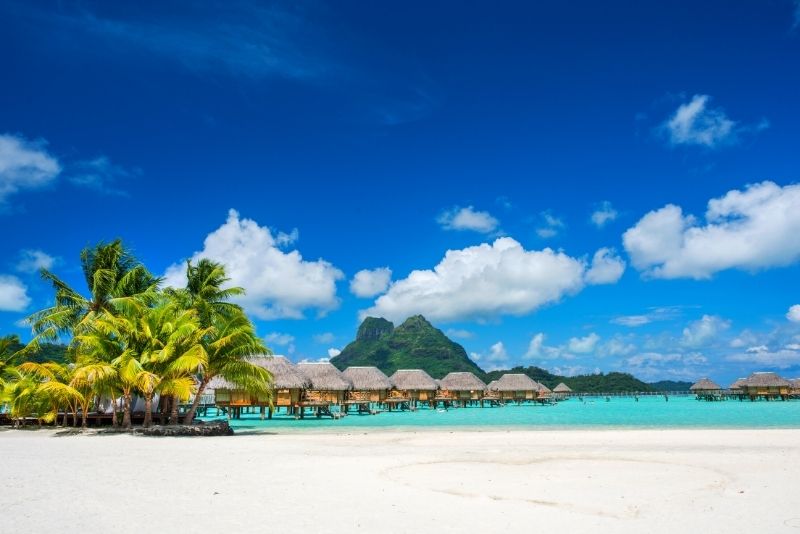 If there's one place that epitomizes romance and luxury in equal measure, it's Le Bora Bora, another Instagram-worthy overwater collection of villas – this time, sitting over on Motu Tevairoa.
Dishing up postcard-perfect views of Mount Otemanu and the sparkling lagoon, this uber-luxe resort offers private bungalows (or beach villas), each equipped with its own plunge pool and private sun deck.
And while the resort's three main restaurants (Poerava Gourmet Restaurant, Miki Miki Restaurants, and Otemanu Restaurant, the latter pf which gives you the option to dine under the starlit sky) are sure to tantalize the tastebuds, it's the romantic dinners on the beach which are quintessential and iconic.
38 – Be the center of attention with a Bora Dream Pictures photography trip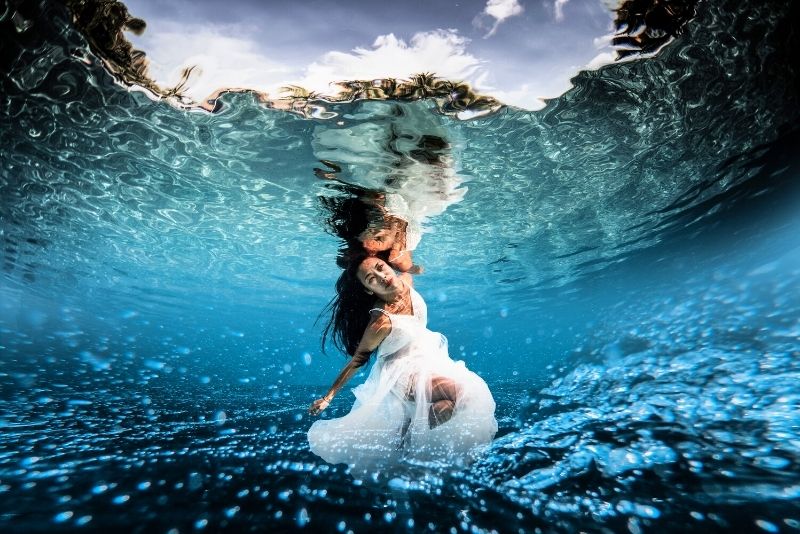 Photography buffs, listen up!
If you're as enamored by Bora as we are (and if not, how on earth did you get this far?!) — and want to take some stellar pictures home with you – then take note of Bora Dream Pictures, a service that guarantees you leave with a souvenir that will last a lifetime.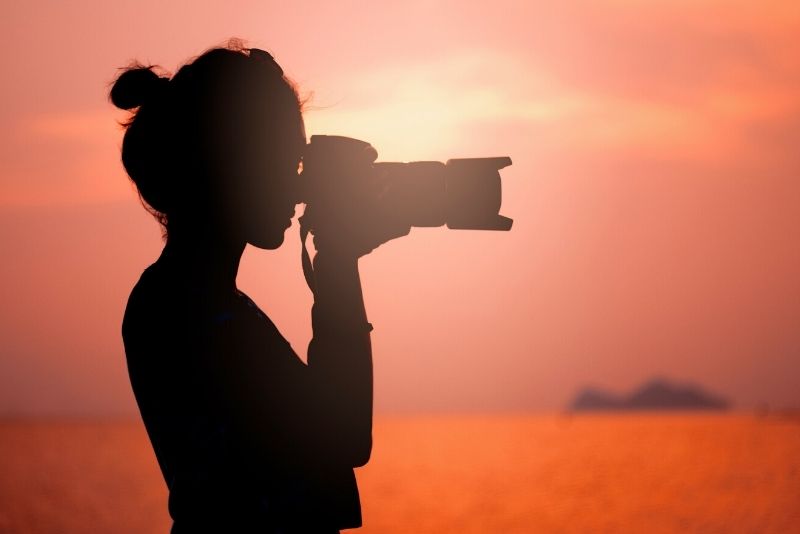 Led by locals who know the archipelago's most photogenic backdrops, the excursions not only deliver incredible photos for you to take home but double as sightseeing trips around the island, too.
39 – Dine in paradise at the St. James restaurant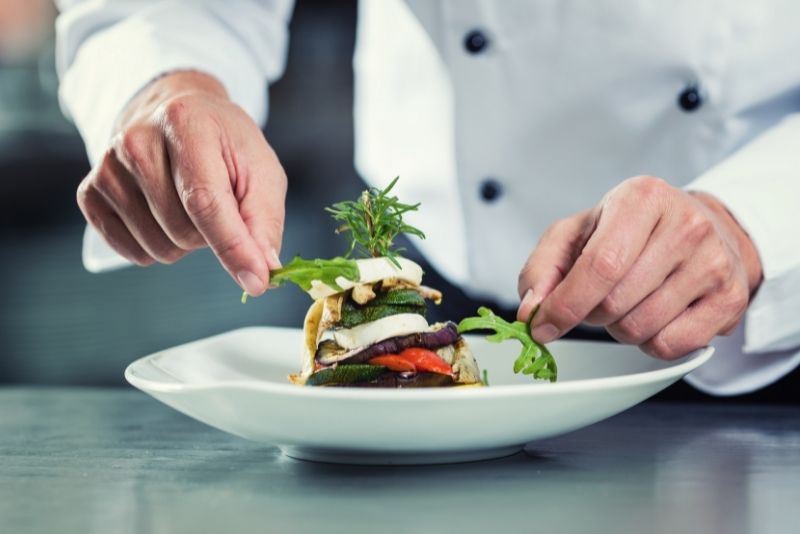 Boasting a famous reputation as one the most beautiful restaurants not only in Bora Bora but in Polynesia, period, Saint James restaurant is perched by the water and serves up a breakfast, lunch, and dinner menu bursting with French specialties.
This classy eatery features an open-air terrace, decorated in traditional Tahitian fashion, a wine cellar full of diverse local and important blends, and, to top it all off, a range of cigars to choose from too.
Hot tip: because of its popularity, calling ahead to reserve a table is recommended.
40 – Feel the energy of a Polynesian dinner show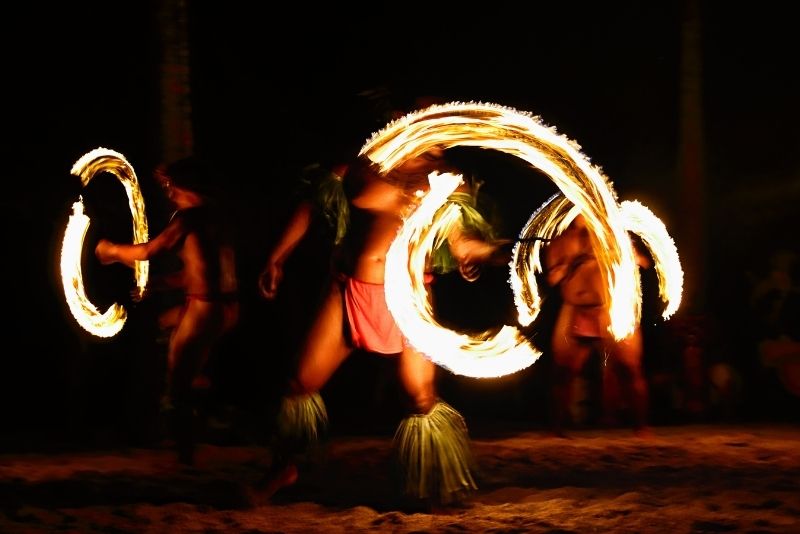 A must for the voyaging culture vultures, these energetic, fire-filled shows are an absolute blast and are guaranteed to get you in the island mood.
Typically, the extravaganza will kick off with a traditional ceremony followed by an explosive before moving on to more dancing, singing, and general Polynesian entertainment.
There's plenty of live Tahitian music, no shortage of food, and a bar on hand so you can toast to your newly-found tropical paradise.
With a range of hotels – including the Intercontinental and Four Seasons – putting on shows, it's easy to find one that suits your evening.
41 – Dine in style at La Villa Mahana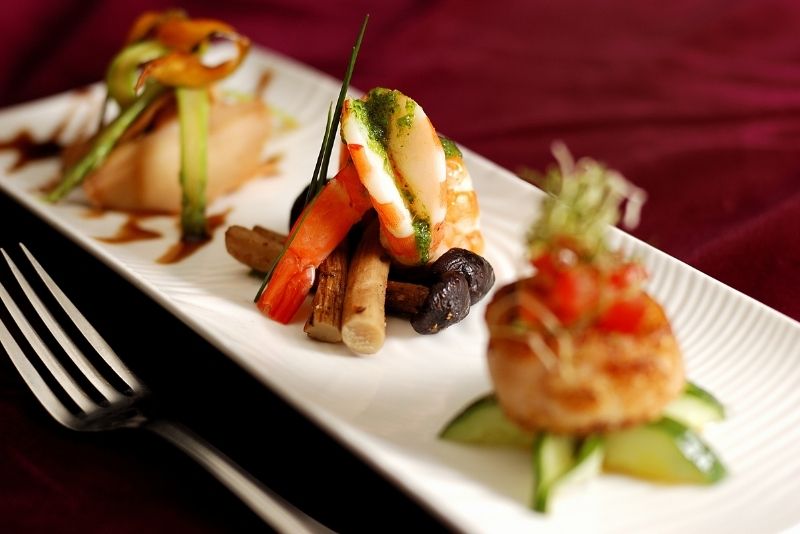 Regularly spoken of as the premier restaurant on the island, intimate and romantic La Villa Magaha — located just north of Maitra Beach — delivers far more than just a meal.
With stunning views overlooking the water from the bar, and French cuisine that's both healthy and hearty, it's a dining experience that simply has to be experienced.
Can't decide what to order? Consider lunch at "The Chef's Table", where you'll be treated with a range of tapas-style dishes, given the opportunity to try a wide variety of flavors, and all paired with the perfect wine.
Note: with room for just 14 guests, bookings are essential.
42 – Jet off on a dinner cruise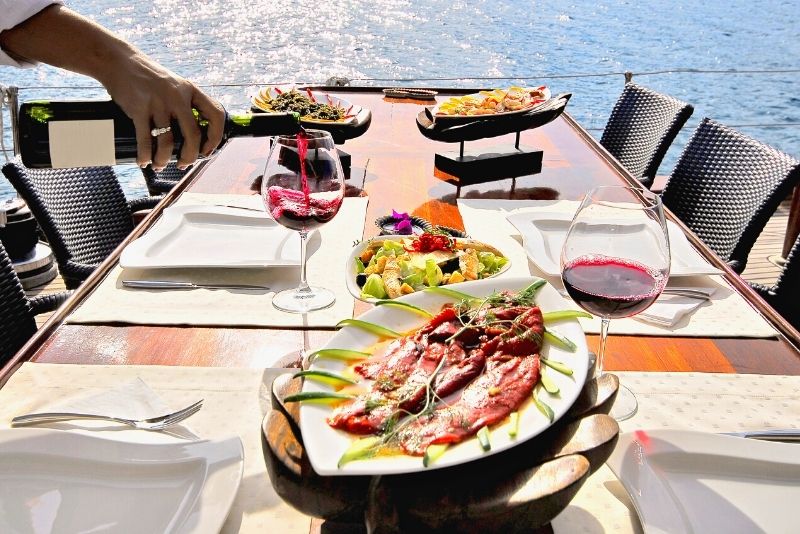 Why choose between a scrumptious dinner and a sunset cruise when you can have the best of both worlds?
Several operators provide dinner cruises from around Bora that offer live music, entertaining shows, and mouth-watering menus; providing the chance to see the island from a different perspective, enjoy the company of your loved ones, and indulge in an evening you'll never forget.
While some boats provide dinner onboard, other excursions will see you disembark onto a motu (a small, private island) for an intimate beach barbecue under the stars.
43 – Relax at Upa Upa Lounge Bar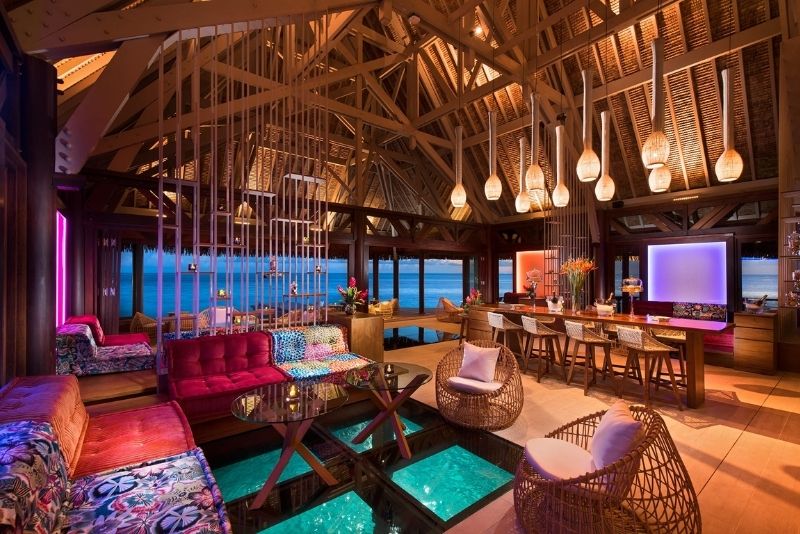 A popular yet still underrated resort compared to the likes of the Four Seasons and Intercontinental, Conrad provides a host of opulent floating villas that deliver picture-perfect vistas, complemented by infinity pools, spa services, and a range of notable eateries across the property.
Not to be missed is the resort's favorite watering hole: Upa Upa Lounge bar. Here, with glass floors and a relaxing outdoor terrace, guests can sip tropical cocktails in what is undeniably a prime location.
44 – Grab a drink at Bloody Mary's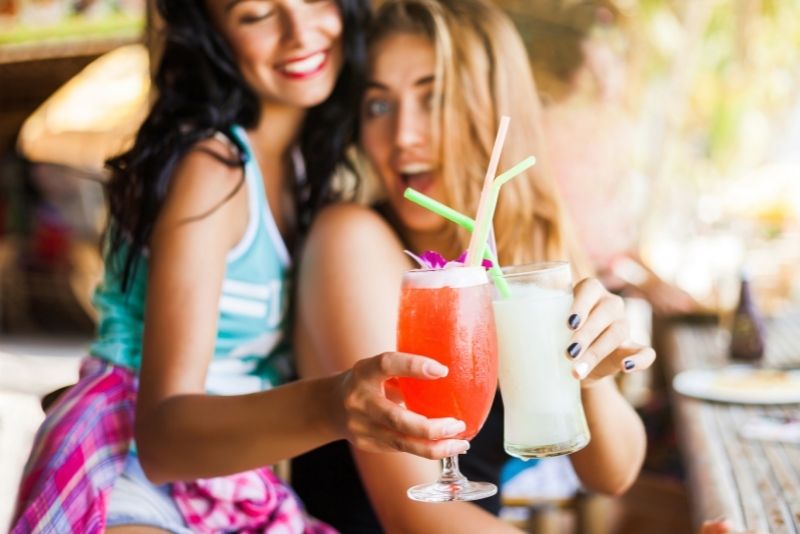 Having been serving up tantalizing meals for almost half a century, Bloody Mary is a Bora Bora staple.
Most well-known for its steak and seafood, the restaurant offers a range of dishes that'll have your taste buds doing backflips, but it's the Hollywood-esque theme that keeps visitors coming back for more.
And, of course, with a name like Bloody Mary's, you can expect a wide range of signature cocktails that'll help wash down your meal (Happy Hour is from 6 pm to 7 pm, for all you penny-pinchers out there).
45 – Stargaze after sundown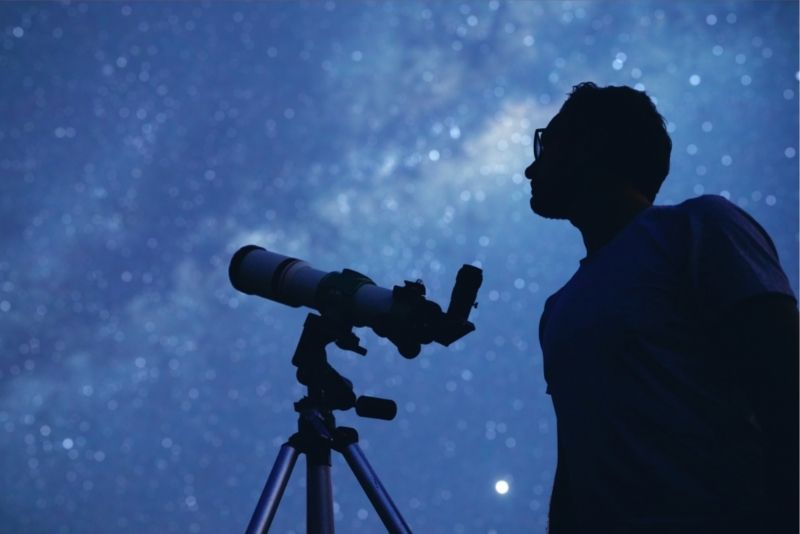 With near to zero light pollution over the islands, Bora Bora is one of the best places in the world to do some serious star gazing.
Pack a blanket, some snacks, and drinks, and find yourself a spot on the beach for an evening you'll never forget.
Or, take the hassle out of organizing and book yourself a guided tour — which takes travelers to the premier viewpoints and often is combined with other notable activities — in order to get the most out of your experience.
46 – Chill out at the Le Meridien pool bar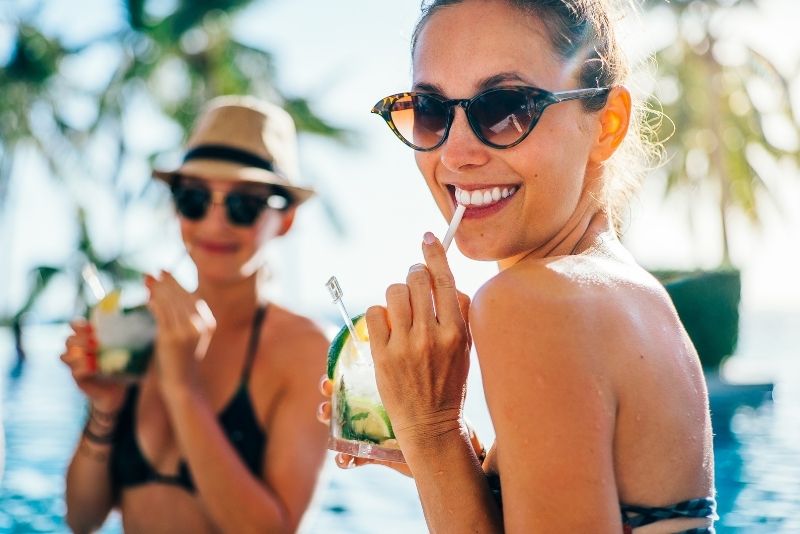 Found over at the Marriott and open from 10 am to 5 pm every day, the relaxing yet playful pool bar at Le Meridien is all about views, views, views.
Sip on cocktails as you recline in a comfortable poolside chair and take in the stunning surrounds of Mount Otemanu and the lagoon, or take a dip and work on the sand at the adjacent beach.
Top it off with strong drinks and a light yet filling menu full of appetizers and sandwiches and you're onto a winner.
Where to stay: Sleep in an enchanting overwater bungalow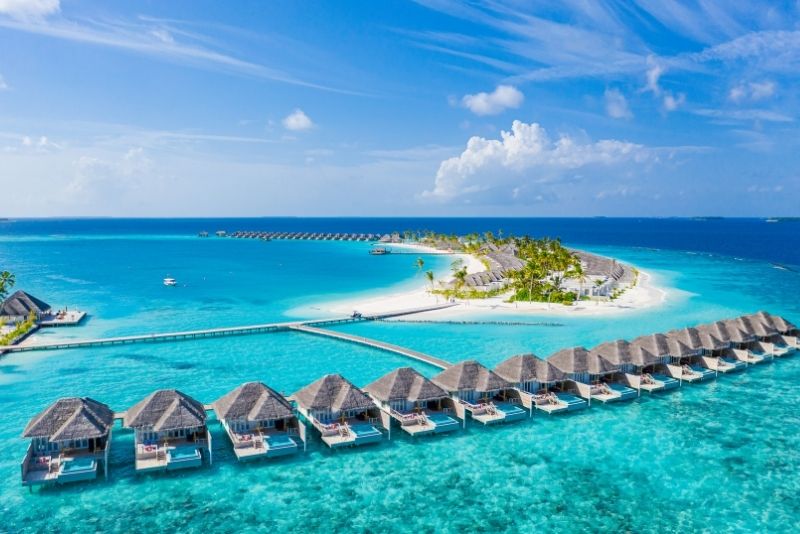 What's a trip to Bora without spending at least one night in an overwater bungalow?
There's something truly magical and intimate about waking up to the sounds of lapping waves and soaking in stunning views from the comfort of your bed, and with dozens of resorts scattered throughout the islands, there's no shortage of places to choose from.
Choose between rustic and secluded bungalows or more luxurious options with all the bells and whistles, but be sure to book in advance, as they often fill up fast!
Airport Transfers: What you need to know
While Bora Bora itself is relatively small, if you arrive without a plan it can prove to be a complex process to get from the airport to your final destination, especially if staying on a motu or in an overwater bungalow.
Thankfully, TourScanner has got you covered with a range of airport transfers to choose from.
From private transfers in luxury cars and boats to shared shuttles and taxis, we've got the perfect solution for every budget and travel style. Plus, since they're pre-organized, you won't have to deal with haggling drivers.
Final thoughts
Well, that's a wrap. Thanks for checking out our collection of things to do in Bora Bora, French Polynesia — a place that truly embodies paradise.
If you have anything you'd like to add to the list, feel free to leave a comment below.
So what are you waiting for? Start planning your dream trip to Bora Bora and lock in those tickets and activities today!
Bon voyage!