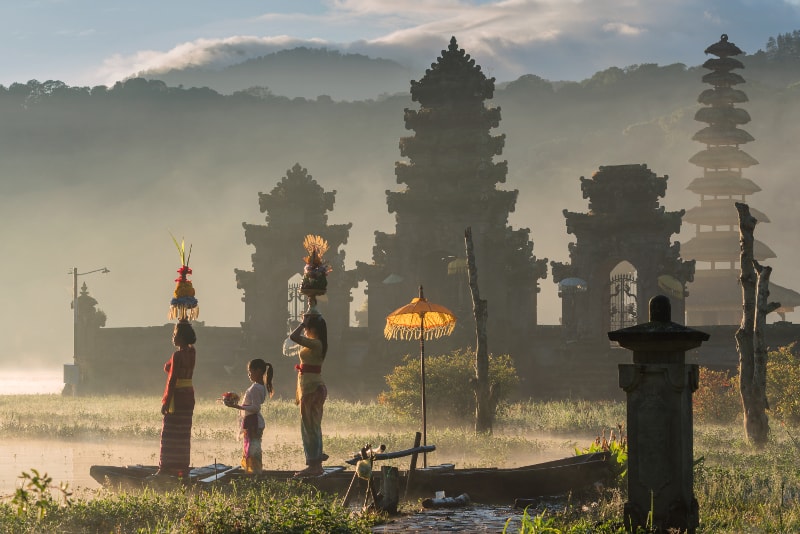 Located in Indonesia, Bali is THE island you must visit at least once in your lifetime! From its abundant wildlife to its prestigious temples, the island is full of surprises that will fulfill all your adventure desires. When researching for fun and cool things to do in Bali, it's easy to feel overwhelmed.
Whether you are a local realizing you have yet to fully explore Bali island or a first-time visitor seeking adventure and unusual activities to do, these stops will help you catch a glimpse of Bali's beating heart.
TourScanner is the No 1 meta-search engine for tours & travel activities. Search over 25 bookings websites and find your ideal travel activity at the best price.
Bring your Children Unforgettable moments
1 – Discover UNESCO classified Jatiluwih rice terrace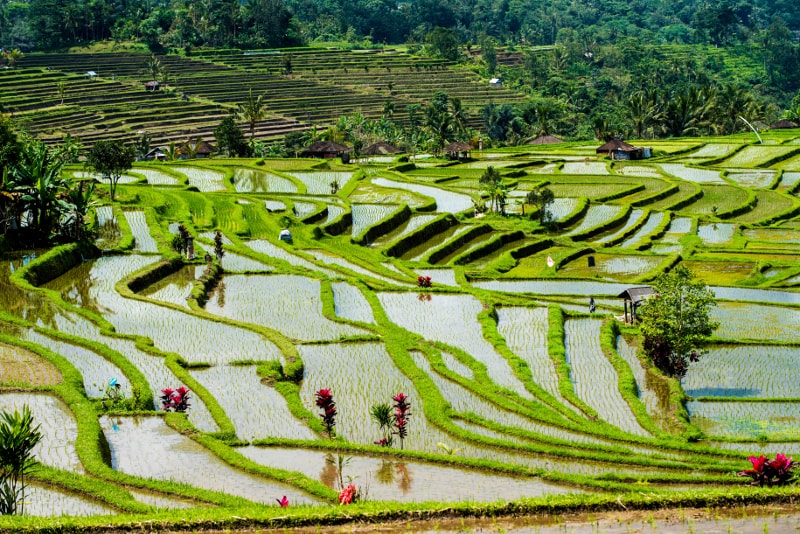 A key to the Balinese psyche is the subak system of rice-field irrigation. Terraced rice fields cut smooth contours across the hilly region. It is classified at UNESCO with the primary objective of conserving cultural goods. It is a key to the Balinese psyche with the subak system of rice-field irrigation.
? Jalan Jatiluwih No No.Desa, Jatiluwih, Penebel, Kabupaten Tabanan, Bali 82152, Indonesia
2 – Splash into a world of aquatic adventures at Waterbom Bali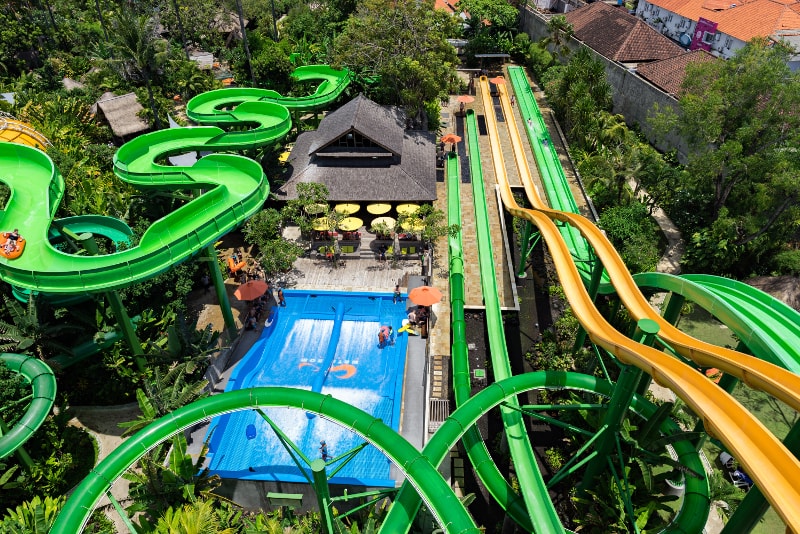 Located in South Kuta, Waterbom sets itself in a lush tropical garden with many great rides and attractions. This all-ages water park with attractions and rides range from mellow to extreme. It's been voted as the best water park in Asia on TripAdvisor. Their philosophy is to be the safest, greenest and cleanest waterpark in Bali since the park opened nearly 23 years ago. Definitely one of the coolest things to do in Bali for kids!
? Jl. Kartika Plaza Tuban, Kuta, Kabupaten Badung, Bali 80361, Indonesia
3 – Go horse riding in Canggu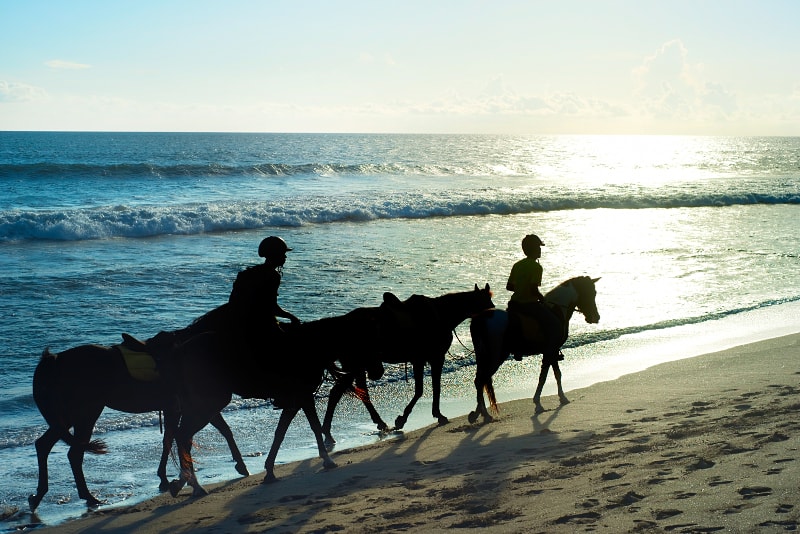 Enjoy a comfortable horseback ride on a secluded beach and experience the natural beauty of Bali. It is the ultimate riding experience located at Canggu beach with sunset view.
4 – Join the elephants for their morning bath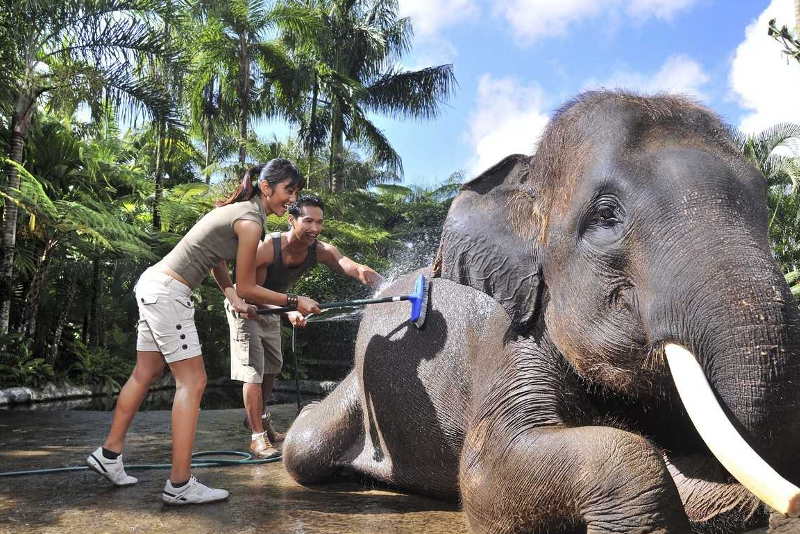 Enjoy an amazing experience with the Sumatran elephants in their bathing lake. Get a unique chance to wash and feed them. A gourmet breakfast will be waiting for you, overlooking the lake as the elepants soak up and dry off in the morning sunshine.
5 – Taste awesome chocolate at Pod Chocolate Factory and Cafe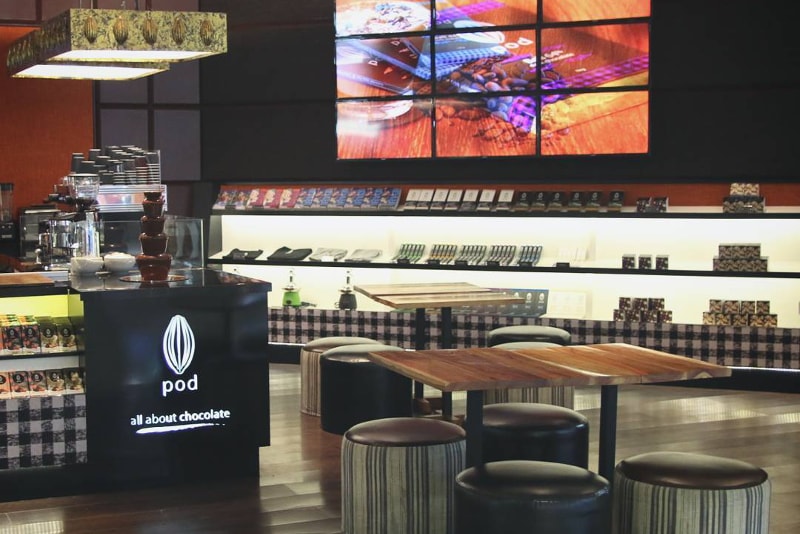 Pod Factory is a local artisan chocolate factory in Ubud, Bali. A must visit attraction to see chocolate being made from bean to bar. They create chocolate at source on the tropical island of Bali located at the heart of rice paddies in Carang Sari.
6 – Learn Mepantigan martial art in the mud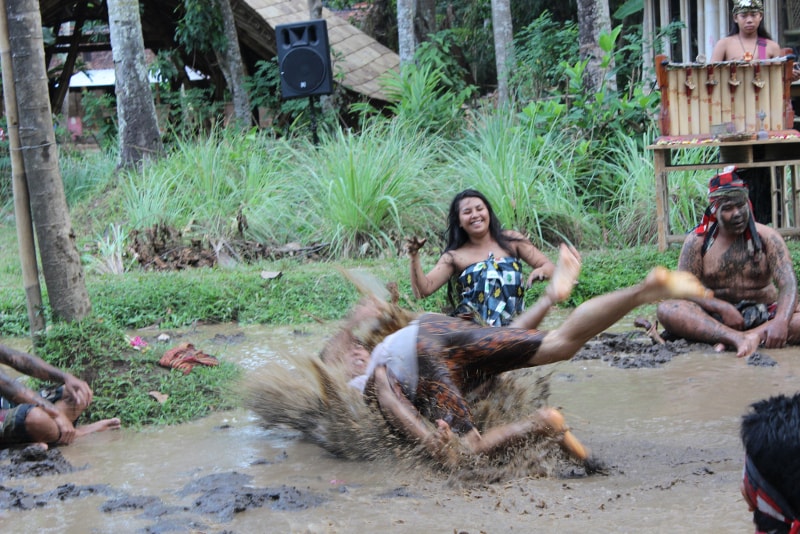 Mepantigan is a traditional act combining Balinese martial art, fire dance, drama and music. Before they get into the sludge, the participants have to learn proper techniques on how to attack, to pin down their opponents and to fall safely. Furthermore, scientists have discovered something that children have always known… playing in the mud can lift your mood.
? Jalan Tanah Ayu, Sibang Gede, Abiansemal, Sibang Gede, Abiansemal, Kabupaten Badung, Bali 80352, Indonesia
7 – Swing with the feet in the water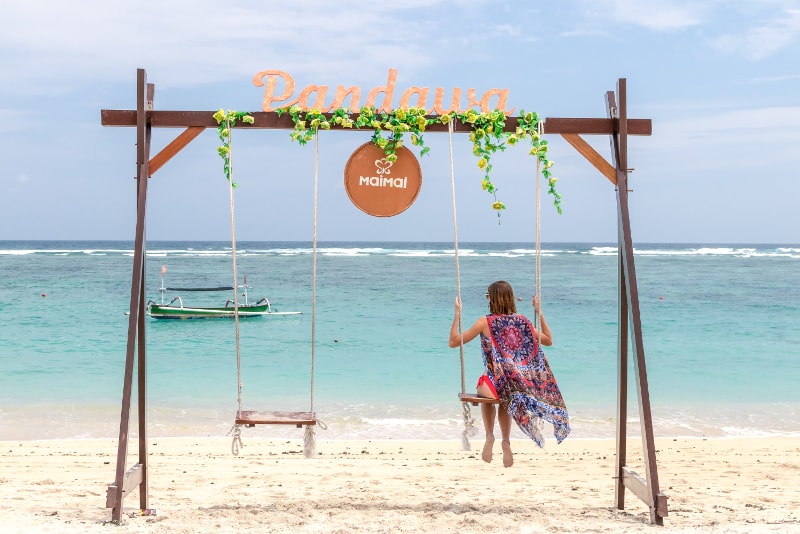 Bring your children in the middle of the sea and push them on a rope swing while admiring the most beautiful sunset in your life. The perfect way to mix family moment with a peaceful atmosphere.
? Pandawa Beach / Ombak Sunset / Mertasari Beach
8 – Watch the Devdan Show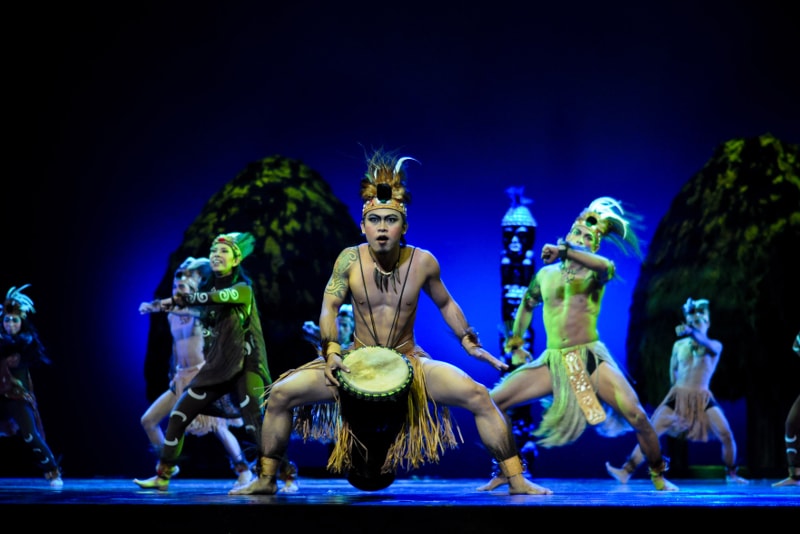 The Devdan show is Bali's most spectacular stage that will take you on an exciting journey throughout Treasure of the Archipelago's cultural heritage with a breathtaking mix of traditional and modern dance, heart-pounding acrobatics, dazzling illusions, and amazing music.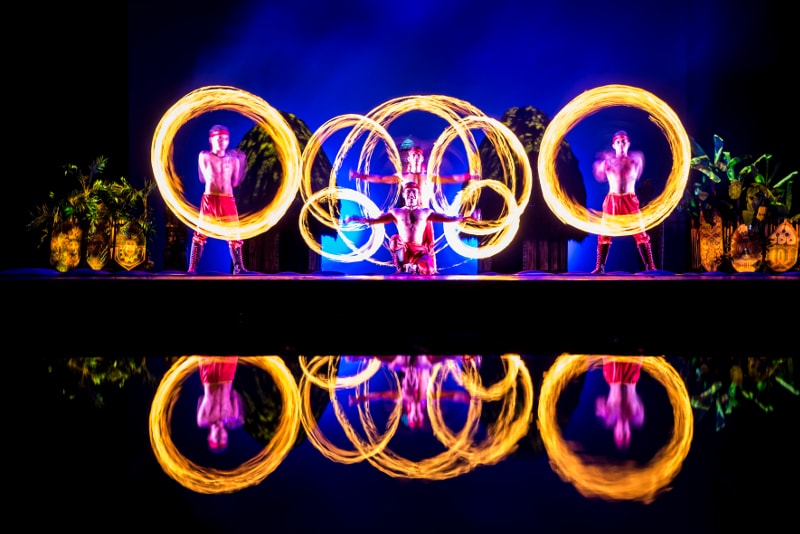 ? Komplek ITDC Nusa Dua, Kuta Sel., Kabupaten Badung, Bali 80363, Indonesia
9 – Spend a day at Marine and Safari Park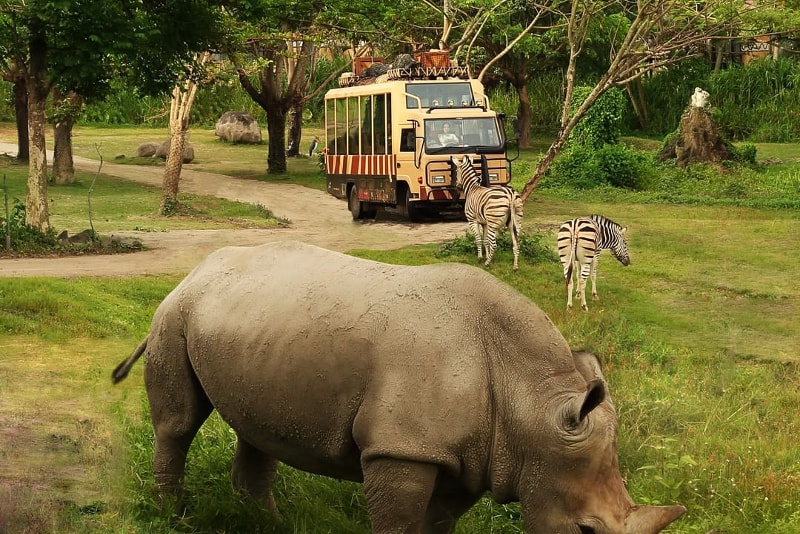 Bali Marine & Safari Park offers a fun day out and serves as one of the island's largest and most visited animal theme parks which opened its gates in 2007. It is home to over 100 species with some of the rarest and endangered animals in the world. Enjoy the beauty of unusual animals and try the jungle hopper, tiger, rhinoceros, and leopard.
? Jl. Prof Ida Bagus Mantra Km, 19.8, 80551, Indonesia
10 – Take a bath at Aling Aling Waterfalls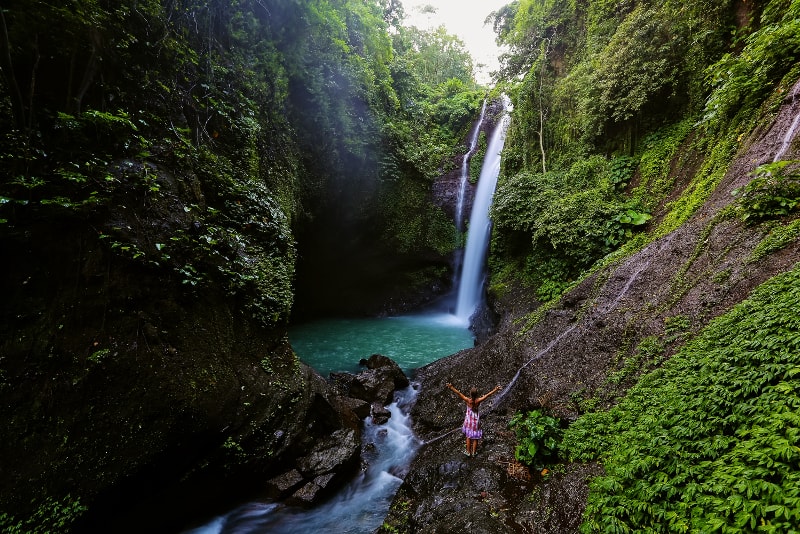 Aling Aling Waterfall is located near Singaraja in Bali. It is a picturesque waterfall complex consisting of 7 secret waterfalls with unique side-by-side waterfall top.
? Jalan Raya Desa Sambangan, Sambangan, Sukasada, Kabupaten Buleleng, Bali 81161, Indonesia
11 – Take a stroll at Marigold Field Forever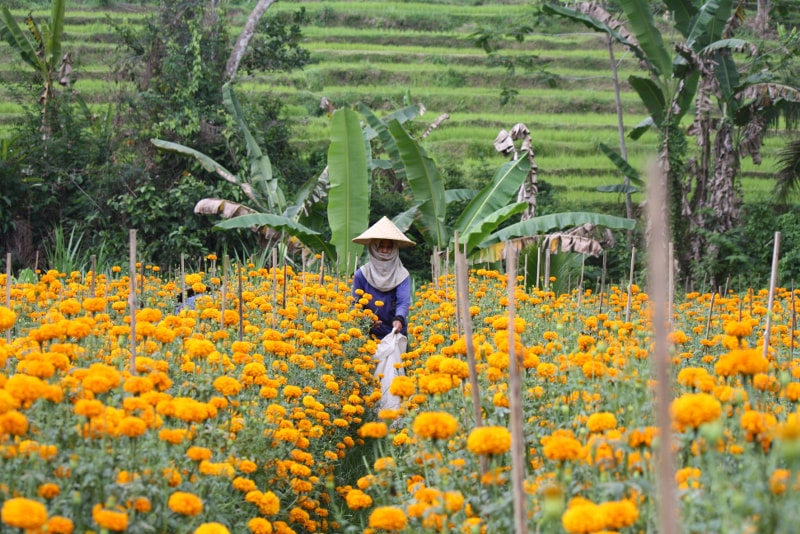 It's easy to imagine how wonderful it could be to be in the middle of flower fields full of marigold! Open your nose and smell the unique aroma of marigold while hiking and admiring this orange sea!
12 – Visit a unique car temple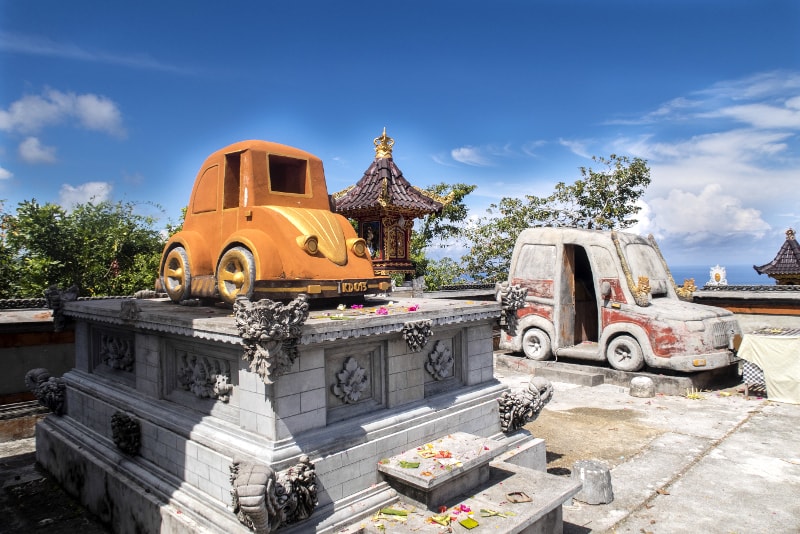 Set atop of a 200-meter limestone cliff, the Pura Paluang Temple could be the most unusual and unique temple you'll visit in Bali. What makes this Hindu temple rare is the ancient statues that are very strange as they are shaped like cars.
? Bunga Mekar, Nusa penida, Kabupaten Klungkung, Bali 80771, Indonesia
13 – Cuddle bunnies at Dandelion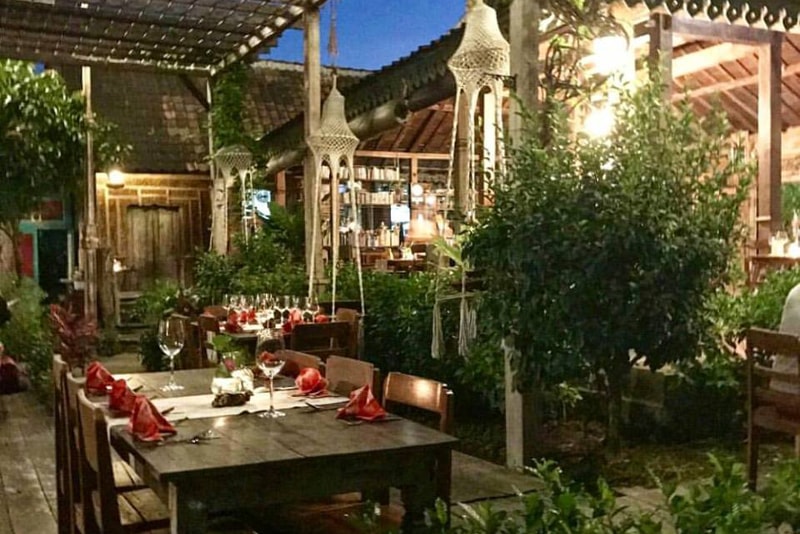 Situated in Canggu, the Dandelion is a restaurant that provides typical Indonesian cuisine. One of the restaurants you have to try if you want to discover the Indonesian food style. You can also cuddle the cutest rabbits in the restaurant's garden!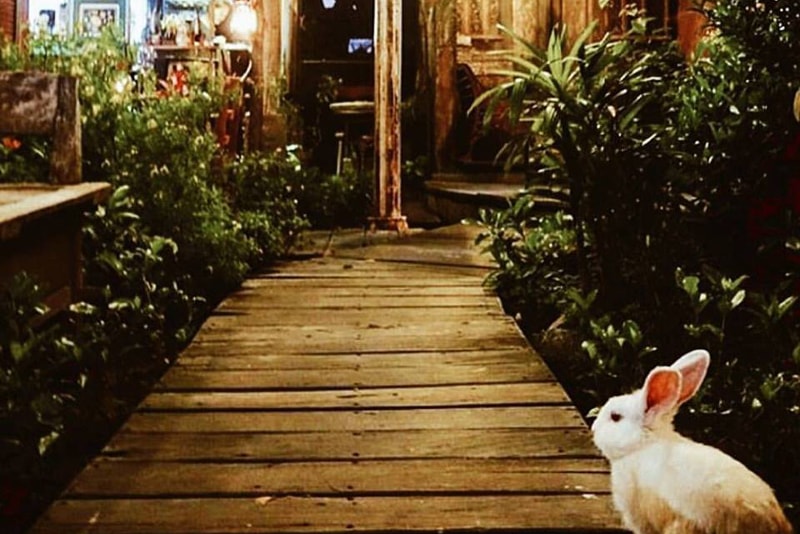 ? Jl. Pantai Batu Bolong No.10, Canggu, Kuta Utara, Kabupaten Badung, Bali 80361, Indonesia
14 – Enter the shadow of the Elephant Cave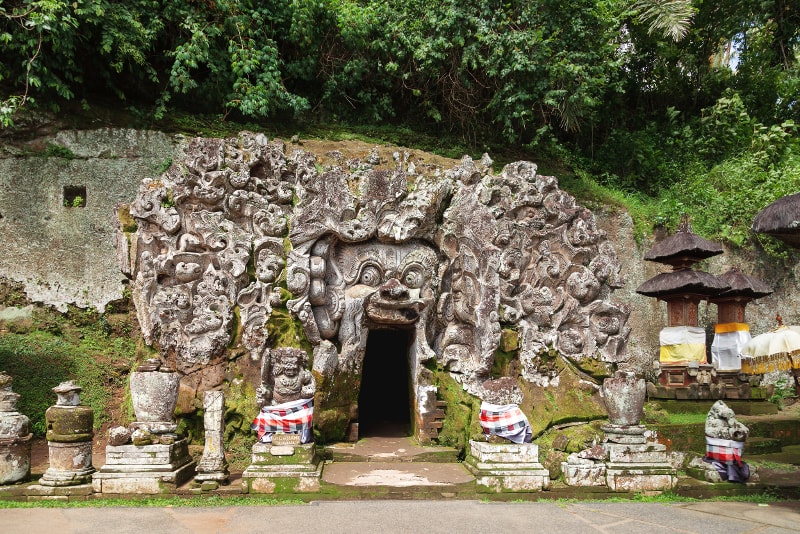 Goa Gajah, or Elephant Cave, is located on the island of Bali near Ubud. This temple is an archaeological attractions monastery of Buddhist monk and Shivite priest with a history dating back more than 1,000 years this cave was listed in the UNESCO World Heritage tentative list.
15 – Follow the sound of water and head to Tegenungan Waterfalls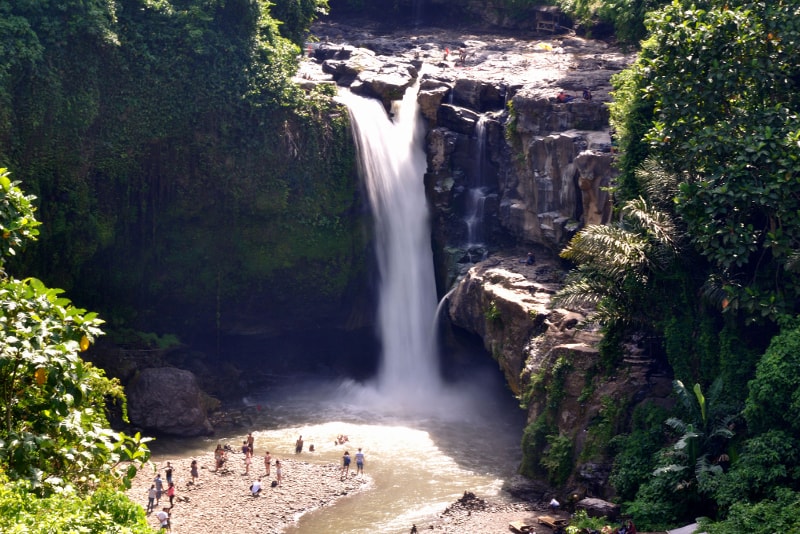 Located near Ubud, the Tegenungan Waterfall is a great spot to take incredible snapshots and have a lot of fun! It is also possible to take a bath under the scenic fall. Even the way to get there is wonderful with paved village roads lined with stretches of green rice fields on both sides.
? Jl. Ir. Sutami, Kemenuh, Sukawati, Kabupaten Gianyar, Bali 80581, Indonesia
16 – Climb the Tree at the Treetop Adventure Park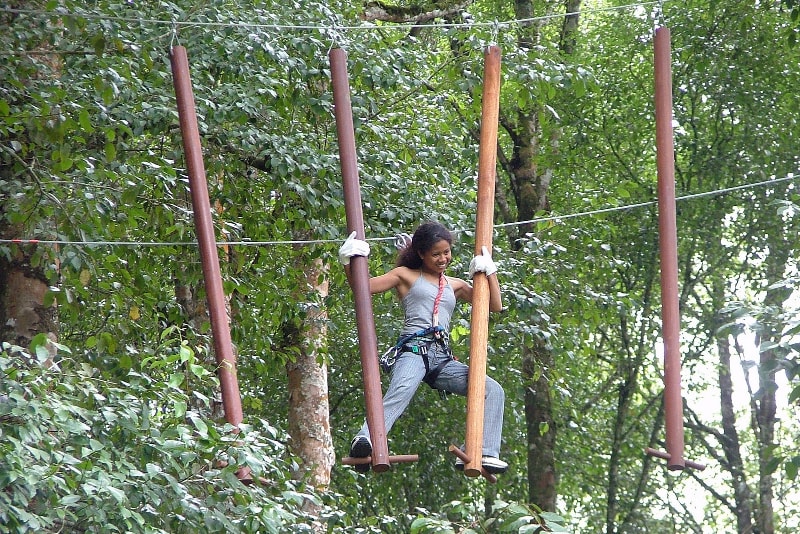 Located next to Indonesia's biggest botanical garden, the treetop adventure park brings you atop of beautiful trees and with breathtaking views. You will experience new feelings never felt before by enjoying fun air environment on top of the trees. Undoubtedly a cool thing to do in Bali with childrens!
? Candikuning, Baturiti, Tabanan Regency, Bali 82191, Indonesia
17 – Get wet at Kanto Lampo Waterfalls
Located in Gianyar next to Ubud is a hidden new paradise site in Bali. The Kanto Lampo Waterfalls is a Scenic, seasonal waterfall cascading down a stepped rock wall into a shallow wading pool.
? Beng, Gianyar Sub-District, Gianyar, Bali, Indonesia
immerse yourself in bali's rich culture
18 – Visit the Penglipuran village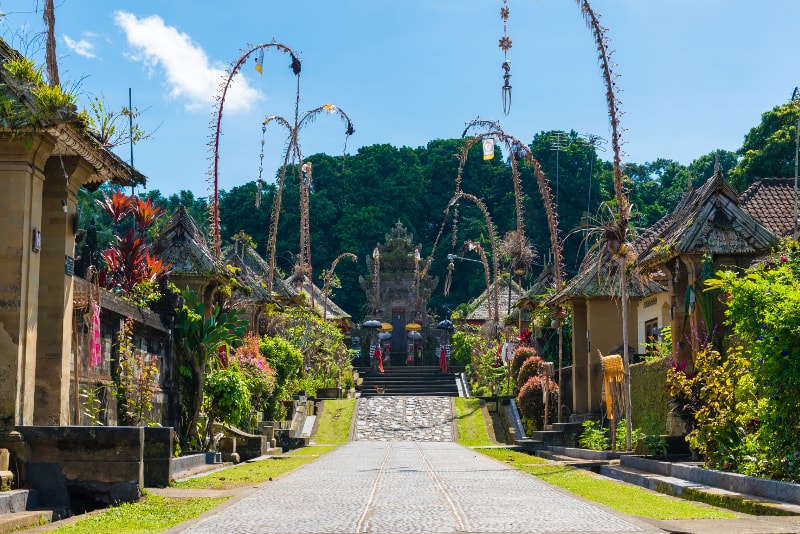 Penglipuran village is a traditional town which has its own character. Located at 625 meters above the sea level, around 6 kilometers from Bangli City, and 1 kilometer from Kubu Village, Penglipuran is one of the quietest and clean villages in Bali. People here are still using the old technology to their daily lives.
? Jl. Penglipuran, Kubu, Kec. Bangli, Kabupaten Bangli, Bali, Indonesia
19 – Witness Bali Arts Festival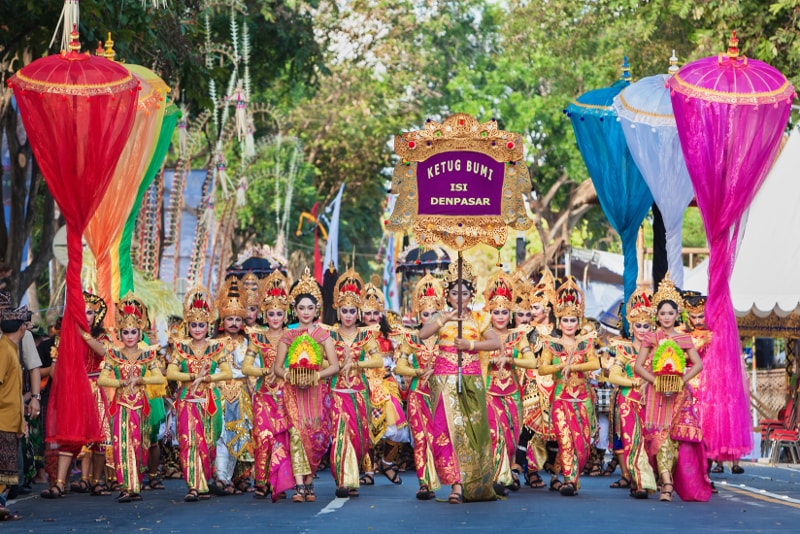 The Bali Arts Festival 2019 is the 40th event running and its going to be better than ever. From the 9th of June to the 7th of July, it brings the island's cultural scene to life with daily exhibitions, performances and an array of art-related activities such as traditional dance, music, and crafts. Definitely, a must-do Festival in Bali.
20 – Go shopping at Kumbasari Art Market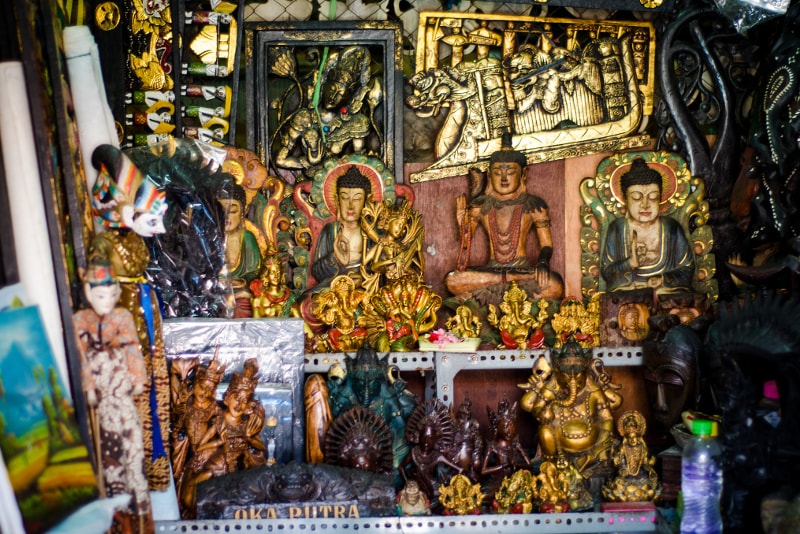 The Kumbasari Art Market is part of Denpasar's most iconic market, located right across the Badung River, on the opposite of the Badung Traditional Market. It is the largest market in Bali and acts as a sort of flea market for many island goods. As it's a traditional market, you should expect it to be a little dirty and smelly, but this is the truly Bali experience.
? Jl. Gajah Mada, Pemecutan, Denpasar Bar., Kota Denpasar, Bali 80111, Indonesia
21 – Be amazed at the Green village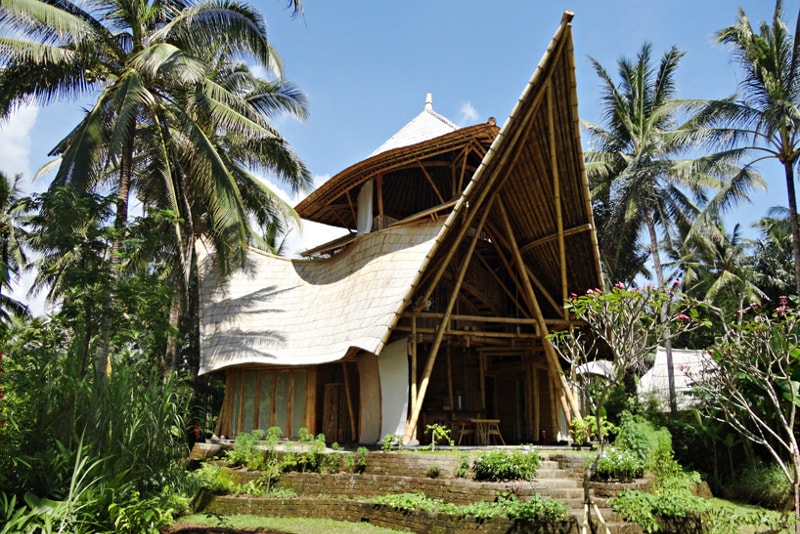 Green Village is in a local Bali Village. It is a unique community of homes designed by IBUKU from natural materials & built-in symbiosis. The way how bamboo is treated and made into unique houses makes it A magical place nestled above the sacred Ayung River Gorge. This "village" is an eco-initiative led by Ubud's Elora Hardy and her team at Ibuku with architects, designers, and master craftsmen.
? Jalan Tanah Ayu, Sibang Gede, Abiansemal, Sibang Gede, Abiansemal, Kabupaten Badung, Bali 80352, Indonesia
22 – Witness the end of the harvest at the Makepung Buffalo Race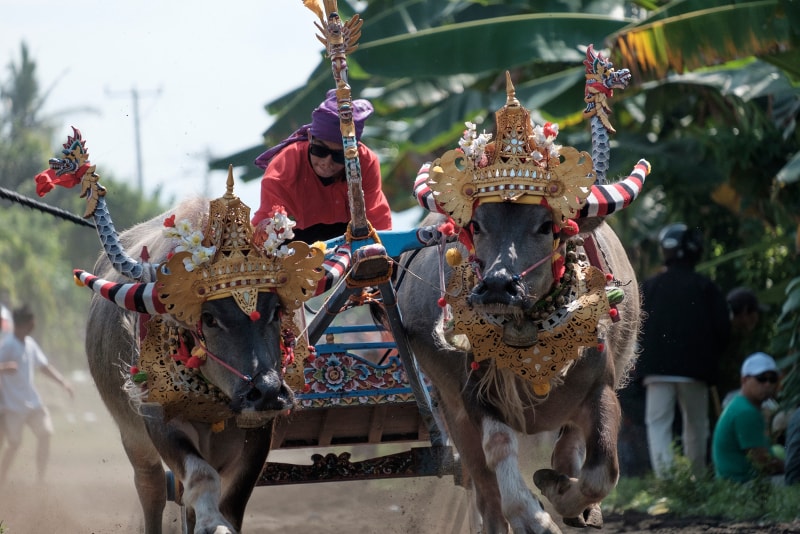 Twice a year in West Bali, people celebrate the end of rice harvest with Buffalo Race. Every race is a part of the official championship during which the bulls are tied into race carriages that are colorfully decorated. Guests also have the unique opportunity to watch a show known as the 'buffalo fashion show'. A must to if you plan a trip to West Bali in July and November.
23 – Look on with favour the Sukawati Art Market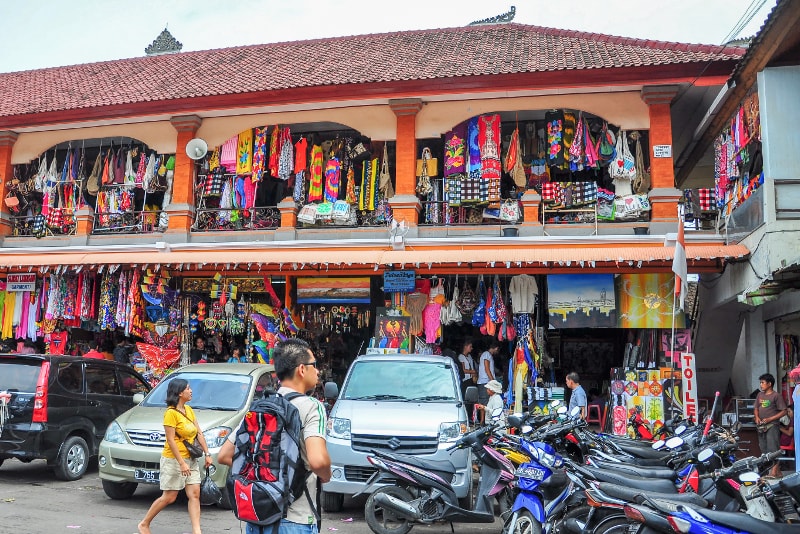 Sukawati Art Market is Bali's most distinguished and long-standing art market. Also known as Pasar Seni Sukawati. Lots of artists sell art items that would make a tremendous Balinese souvenir of Bali to a friend.
? Jl. Raya Sukawati, Sukawati, Kabupaten Gianyar, Bali 80582, Indonesia
24 – Ink your trip at Babayaga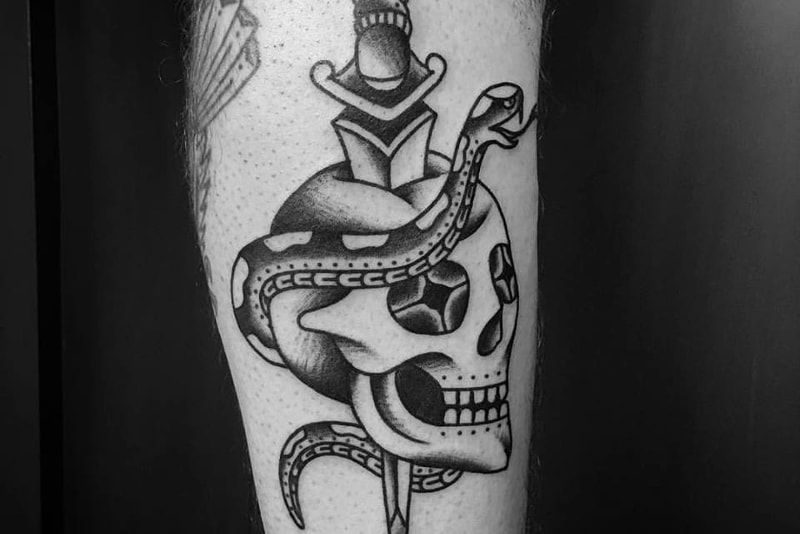 Are there better moment than traveling to make a tattoo? Hang out to Babayaga Tattoo studio in Canggu and get inked by some of the best tattoo designers of the Island.
? Jl. Pantai Batu Bolong No.76, Canggu, Kuta Utara, Kabupaten Badung, Bali 80351, Indonésie
25 – Discover local artists at Cata Odata Art House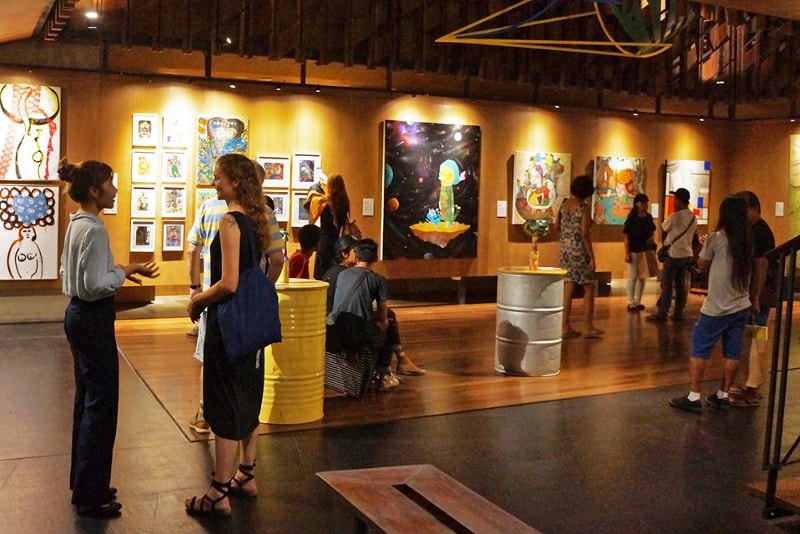 Located in Ubud, the Cata Odata is a funky art studio that is breaking the rules of a usual gallery. It is a creative art space dedicated to Balinese artists.
? Banjar Penestanan Kaja No.77, Sayan, Ubud, Kabupaten Gianyar, Bali 80571, Indonesia
26 – Buy groceries at Badung Market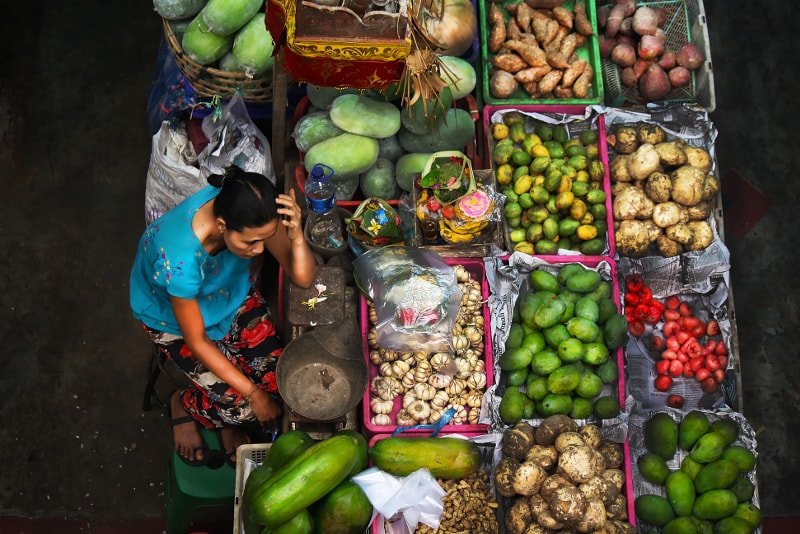 Badung Market is a traditional open-air market with a variety of offerings, including groceries, clothing & souvenirs. It is also Bali's largest food market which is busy in the mornings and evenings. It's a great place to browse and bargain with Fruit and vegetable producers from around Bali.
? Jl. Sulawesi No. 1, Dangin Puri Kangin, Denpasar Barat, Kota Denpasar, Bali 80233, Indonesia
Pray like a Local
27 – Admire the sunset at Tanah Lot Temple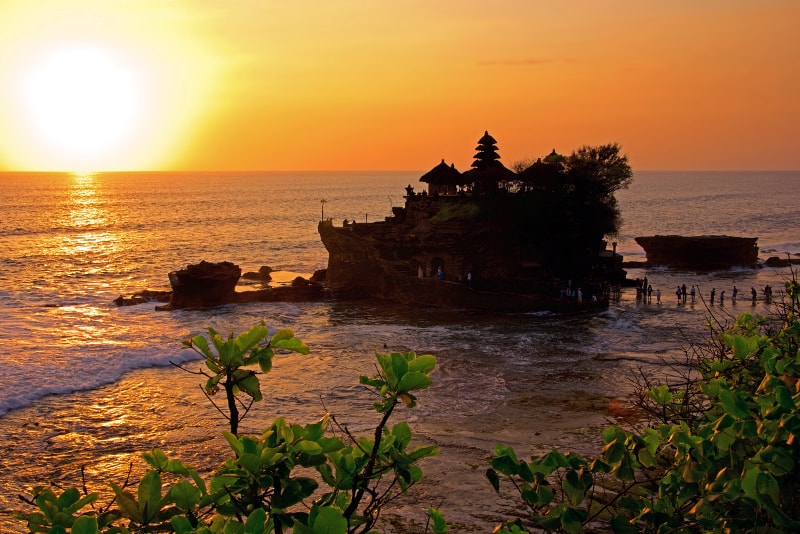 Well known for its remarkable offshore setting and sunset backdrops, Tanah Lot Temple lay on an offshore rock which has been formed continuously over the years by the waves. This temple off the coast of Bali provides incredible ocean views, clear mountain air, and a deep spiritual connection.
? Beraban, Kediri, Tabanan Regency, Bali 8217, Indonesia
28 – Be amazed by the beauty of Ulun Danu Temple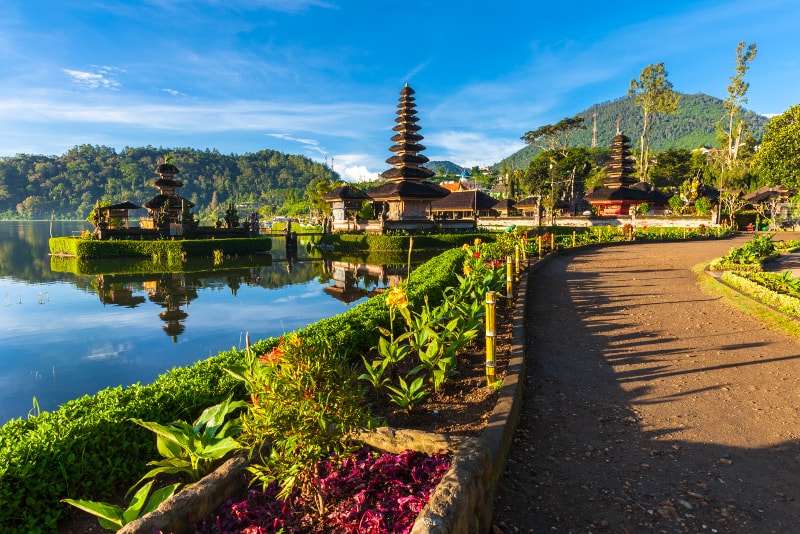 The Ulun Danu Beratan Temple is both a famous picturesque landmark and a significant temple complex located in central Bali. Set within the highlands of the mountainous Bedugul Regency in Bali, atop a plateau that sits on Lake Beratan, stands the majestic Ulun Danu Water Temple.
? Danau Beratan, Candikuning, Baturiti, Tabanan Regency, Bali 82191, Indonesia
29 – May your soul be blessed at Tirta Empul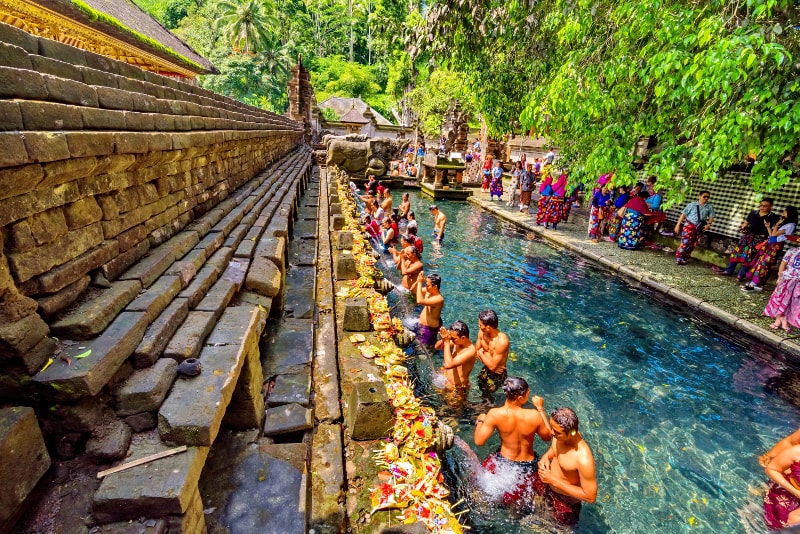 Tirta Empul is an important temple complex and holy mountain spring, located in the village of Manukaya in central Bali. The temple compound consists of a bathing structure, famous for its holy spring water, where Balinese Hindus go to for ritual purification. These sacred springs are said to have been created by The God Indra and possess curative properties.
? Jalan Tirta, Manukaya, Tampaksiring, Kabupaten Gianyar, Bali 80552, Indonesia
30 – Discover Hindu's beliefs at the Temple Taman Ayun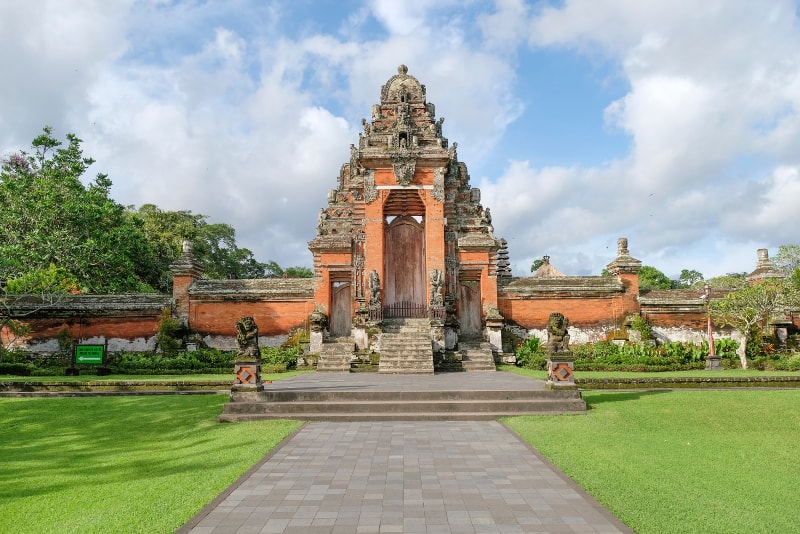 The huge royal water temple of Pura Taman Ayun, surrounded by a wide, elegant moat, was the main temple of the Mengwi kingdom. It is located in Mengwi subdistrict in Badung Regency, Bali. Taman Ayun Temple and its garden are serene places of enveloping calm.
? Jl. Ayodya No.10, Mengwi, Kabupaten Badung, Bali 80351, Indonesia
31 – Visit Pura Besakih Temple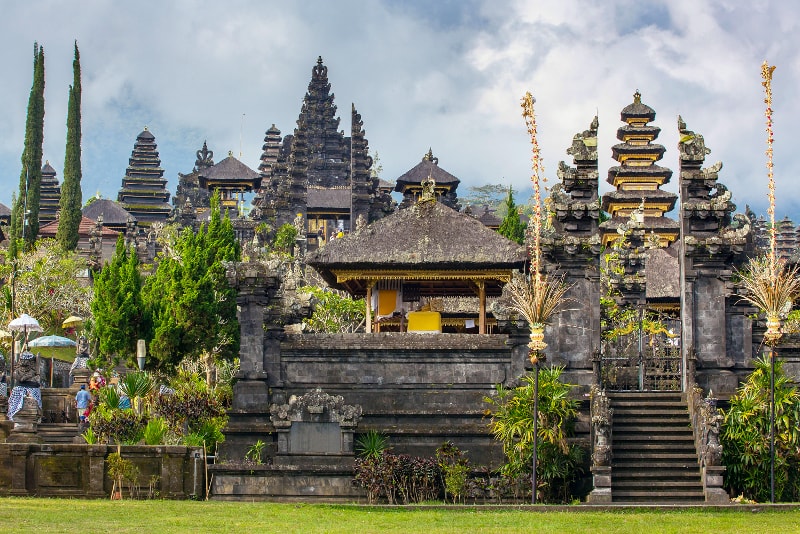 It is the most important, most significant and holiest temple of Hindu religion in Bali, and one of a series of Balinese temples. The site is over 1,000 years old and is dedicated to a dragon god who is believed to inhabit the sacred mountain. It has miraculously survived the catastrophic volcanic eruption of 1963.
? Besakih, Rendang, Karangasem Regency, Bali 80863, Indonesia
32 – Witness Hindu's culture at Taman Saraswati Temple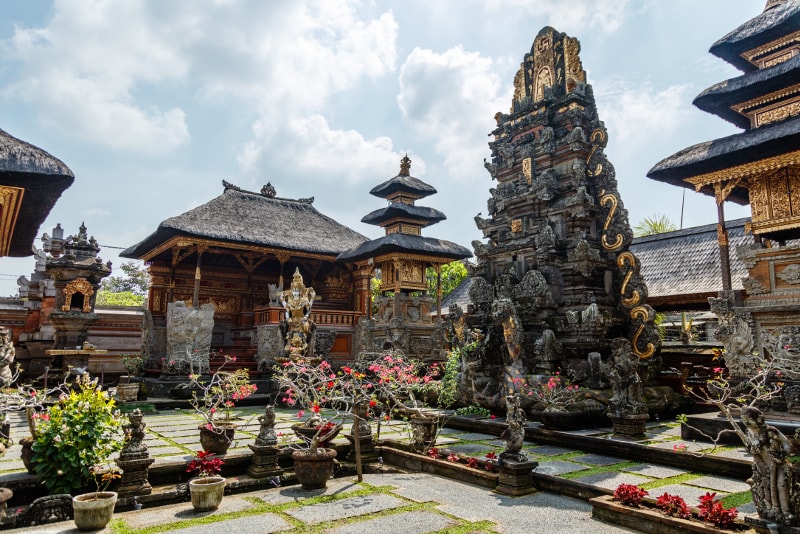 The Pura Taman Saraswati is a handsome water temple in central Ubud, reachable from the Jalan Kajeng street off the main road of Jalan Raya Ubud, The actual outer area of the temple are composed of magnificent water garden which overflows with pretty lotus blossoms. You can enter the religious building behind its amphitheater at any daytime and admire the calming atmosphere and the architectural features.
? Jalan Kajeng, Ubud, Kabupaten Gianyar, Bali 80571, Indonesia
33 – Reach the Paradise Gate at Lempuyang Temple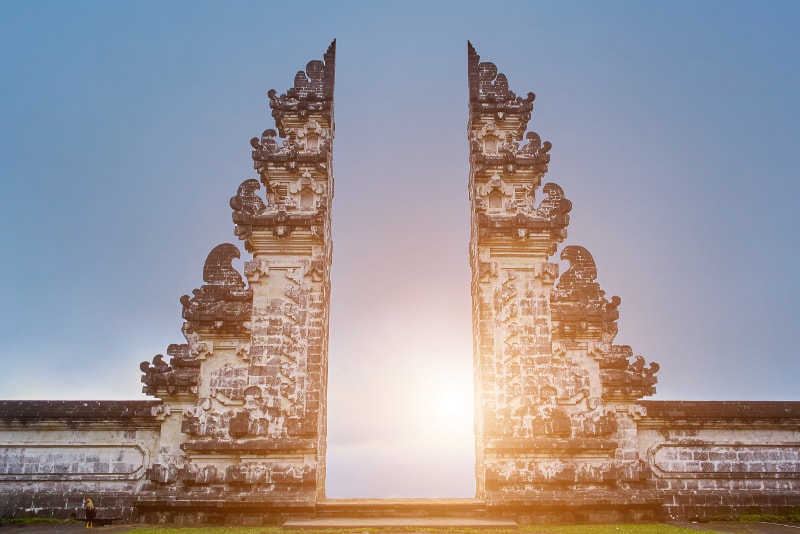 Pura Lempuyang, one of Bali's oldest and most highly regarded temples is one of Bali's nine directional temples and is important to the Balinese culture and religion. This temple has the particularity to be located in the mountains of Bali. The view from the gate atop the temple look just like Paradise gate.
? Banjar Purwa Ayu, Desa Tribuana, Abang Subdistrict, Karangasem
34 – Visit Uluwatu temple and admire the splendid view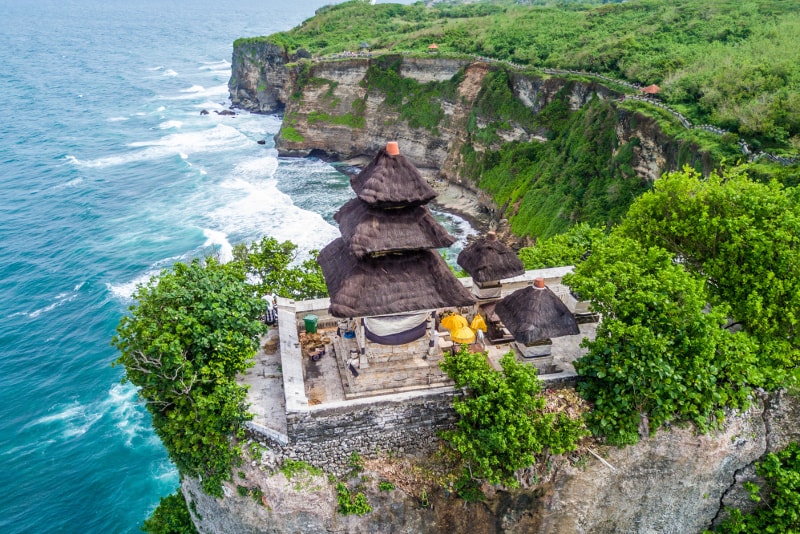 Perched atop of a steep cliff approximately 70 meters above Uluwatu Beach, the Uluwatu Temple is part of the nine directional temples of Bali meant to protect the island from evil spirits. It 's stunning cliffside beautiful architecture makes it more dramatic with the crashing of waves 200 feet below. But don't think that you'll have this isolated sanctuary to yourself.
? Pecatu, South Kuta, Badung Regency, Bali, Indonesia
35 – Watch a Kecak dance
In Uluwatu Temple, you can also discover true Balinese dance at a Kecak Show. This dance is one of Bali's most iconic art performances, famous for its dominant use of human vocals in place of gamelan instruments to accompany the dance-drama at its core will mesmerize and amuse you in turns.
Be Romantic
36 – Dine in a cave at Samabe Resort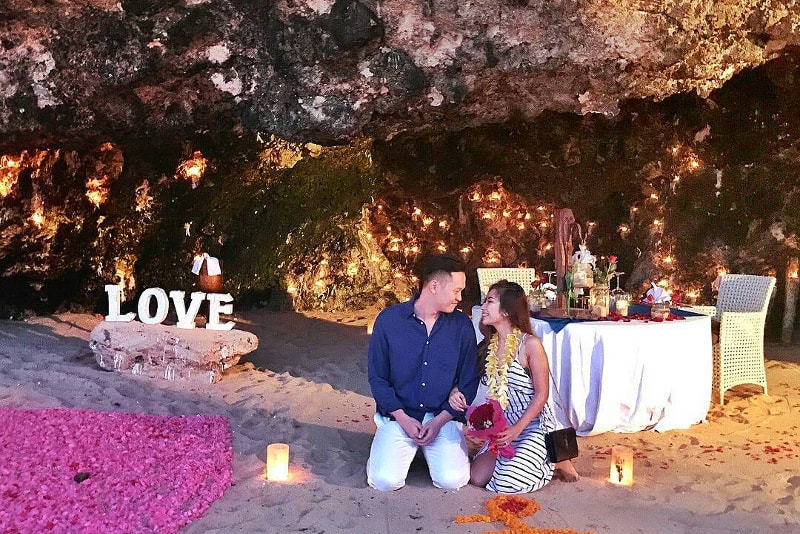 Delight your other half with a romantic dinner in a secluded beach cave at Samabe Bali Resort in Nusa Dua. Samabe cave dining is a unique experience which combines privacy and luxury. The dinner takes place right on the beach, with countless lanterns and candles only adding to the romantic ambiance of dining right by the ocean making it such a magical experience!
? Jl. Pura Barong – Barong Sawangan, Nusa Dua – Kuta Selatan, Badung, Bali 80363, Indonesia
37 – Take a stunning bath at One Eighty°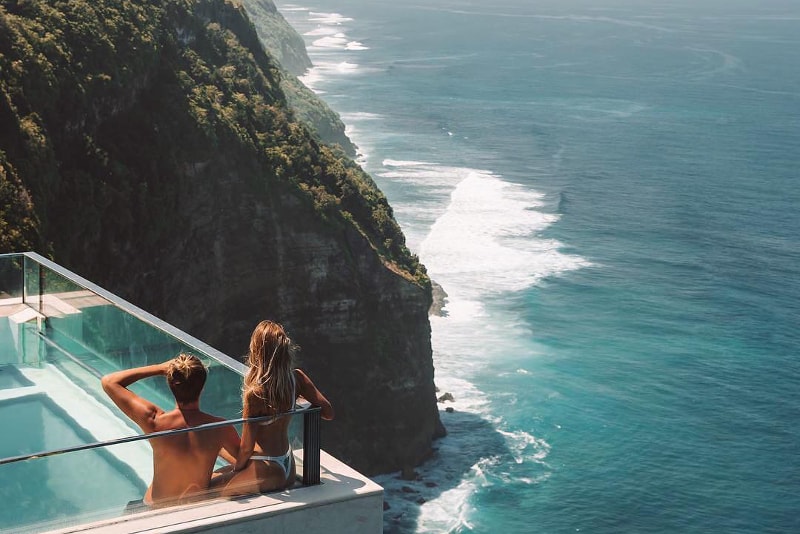 Oneeighty is the signature cliff-edge infinite pool bar and lounge at The Edge Bali, one of the luxurious villa resorts in Bali's southern peninsula. It's sheer class upon the precipice of Uluwatu where Bali's hottest new jet setter hangout has caught the world's attention. The villa sits in an elevated location in one of the last untouched parts of the island.
? Banjar Dinas Kangin, Jl. Goa Lempeh, Pecatu, Kuta Sel., Kabupaten Badung, Bali 80361, Indonesia
38 – Delight your beloved at La View Restaurant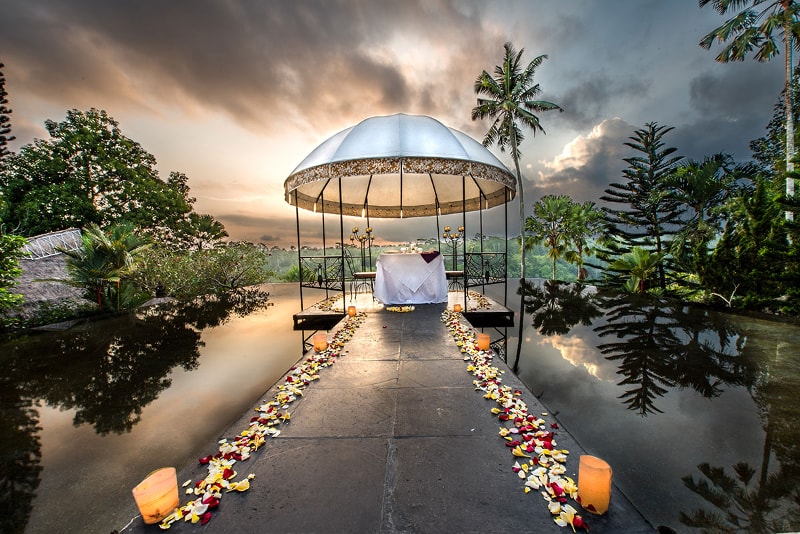 Set on the fringe of the rice paddies where you will see the fireflies dancing at night, and you can relax in peaceful surroundings, enjoy a romantic afternoon or evening with your beloved in La View Restaurant in Ubud. Definitely one of the must-do romantic dinners in the Bali Area.
? Kedewatan, Ubud, Gianyar, Bali 80571, Indonesia
39 – Experience a helicopter marriage proposal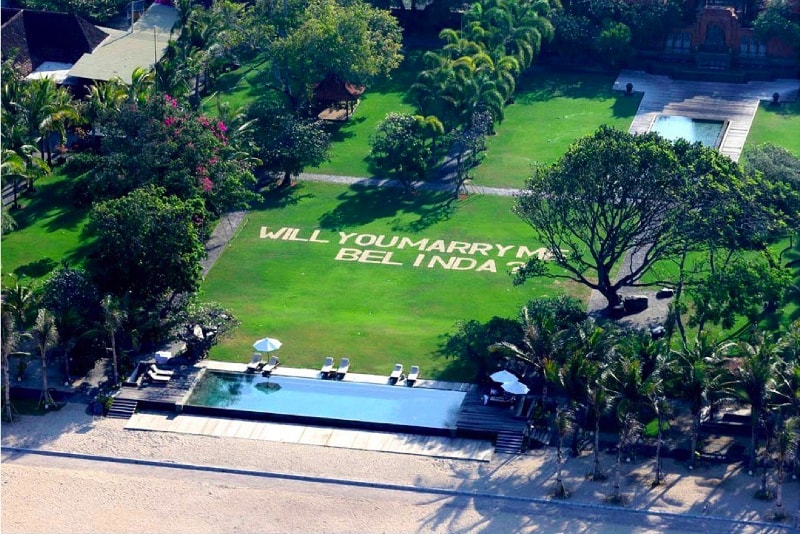 What better way to create an unforgettable memory than to use a helicopter for your proposal? Surprise your special someone with a memorable marriage proposal above the Strip at the twilight hour above romantic Bali.
40 – Have lunch in an infinity pool at the Hanging Gardens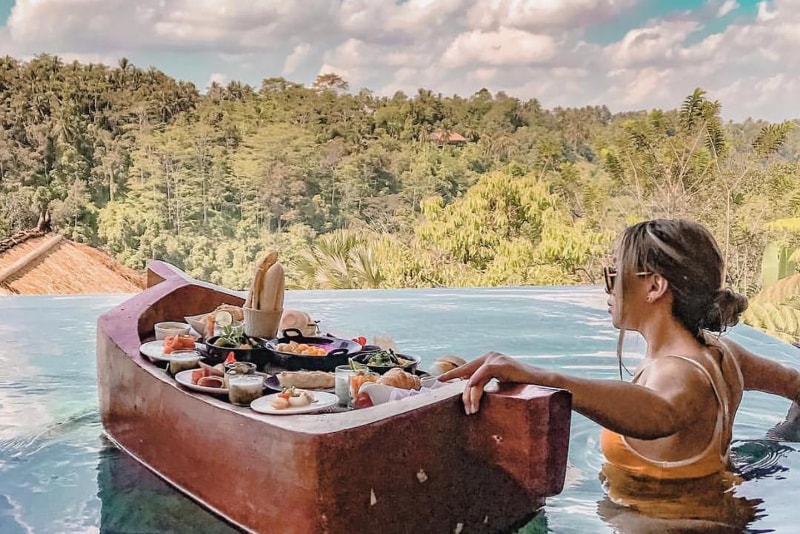 Overlooking the Ayung River, the luxurious Hanging Gardens of Bali offers villas with a private infinity-edged pool facing the surrounding jungle.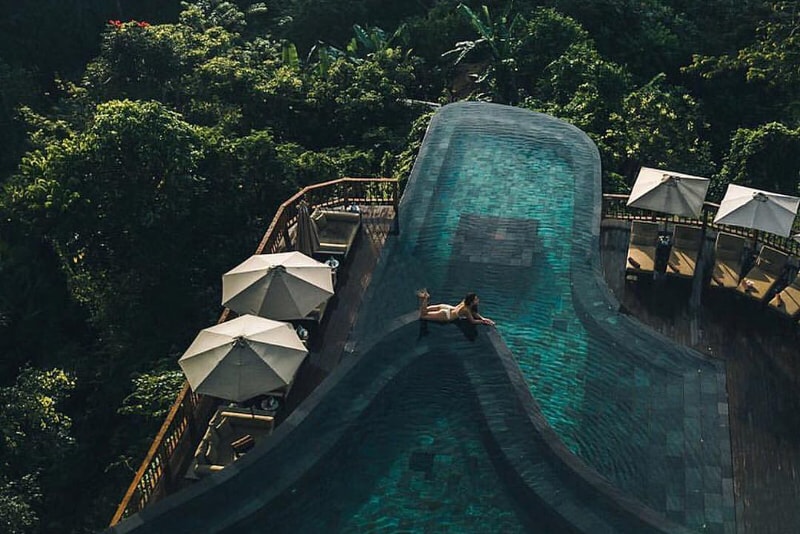 ? Banjar Susut, Desa Buahan, Payangan, Kabupaten Gianyar, Bali 80571, Indonesia
41 – Enjoy a candlelight dinner with your beloved at Swept Away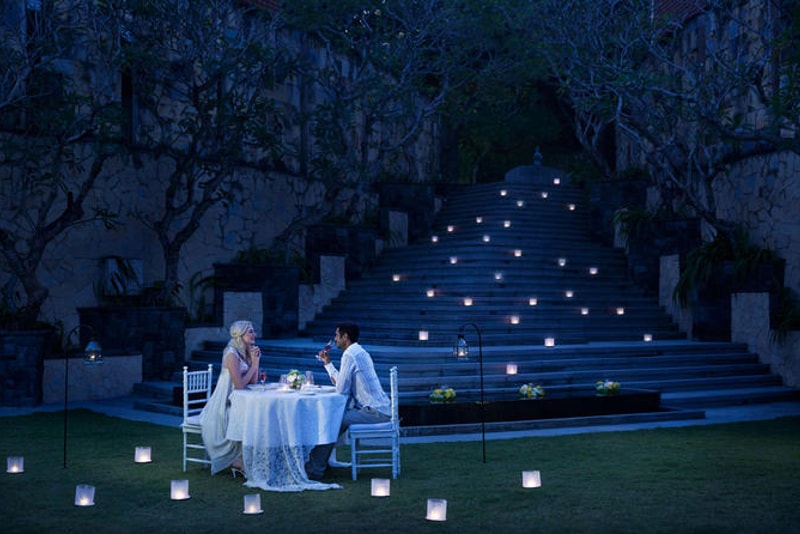 Located at the core of the jungle on the edge of the holy Ayung river, this rooftop provides the perfect spot for a candlelight dinner at The Samaya Ubud: 100 candle dinner. Celebrate your sacred holly moment at a holy place in a dreamlike atmosphere filled with candlelight and magical sounds. One of the best Valentine dinner in Bali.
? Jl. Raya Sayan, Sayan, Ubud, Kabupaten Gianyar, Bali 80571, Indonesia
42 – Experience glamping at Sandat Glamping Tents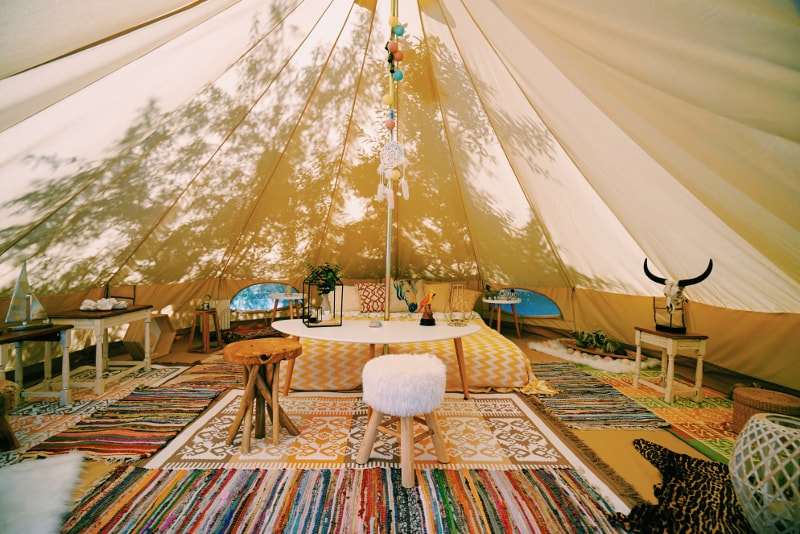 Located near Ubud, the Sandat Glamping Tent is one of the best ways to get up close and be a part of the island's natural landscapes surrounded by evergreen, dense rainforest nearby a world heritage site. Give up the hustle and bustle of daily life in luxury settings.
? Jl. Subak Sala, Banjar Sala, Pejeng Kawan, Ubud, Pejeng Kawan, Gianyar, Kabupaten Gianyar, Bali 80552, Indonesia
Be Scared in abandoned Places
43 – Visit abandoned planes and dine in an inflight restaurant :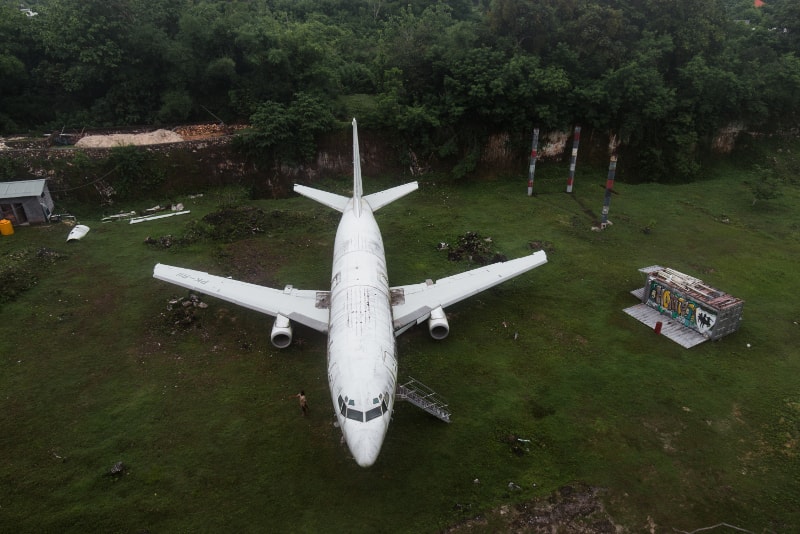 Nearby Pandawa Beach in the south of Kuta, you can find an old abandoned Boeing 737. What is even more unexpected is how nobody noticed the arrival of the huge plane which lay in a field just off a highway on the Indonesian island. One of the strangest things you can venture out to see in Bali.
Keramas Aero Park provides one of the most unique dining experiences in Bali. This park host an abandoned Boeing 747-400 which was meticulously restored by its owners and transformed into the quirkiest restaurants on the island.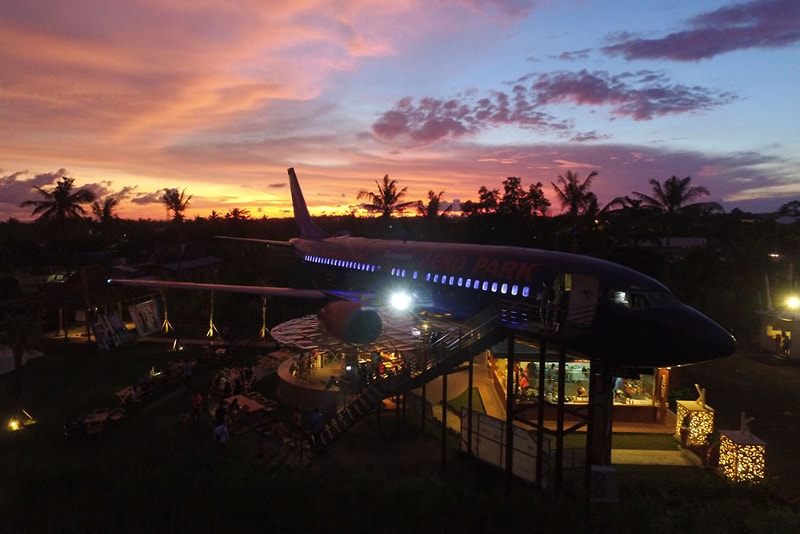 ? Jl. Bay Pass Ida Bagus Mantra KM. 28, Keramas, Medahan, Blahbatuh, Kabupaten Gianyar, Bali, Indonesia
44 – Encounter death at the Trunyan Cemetery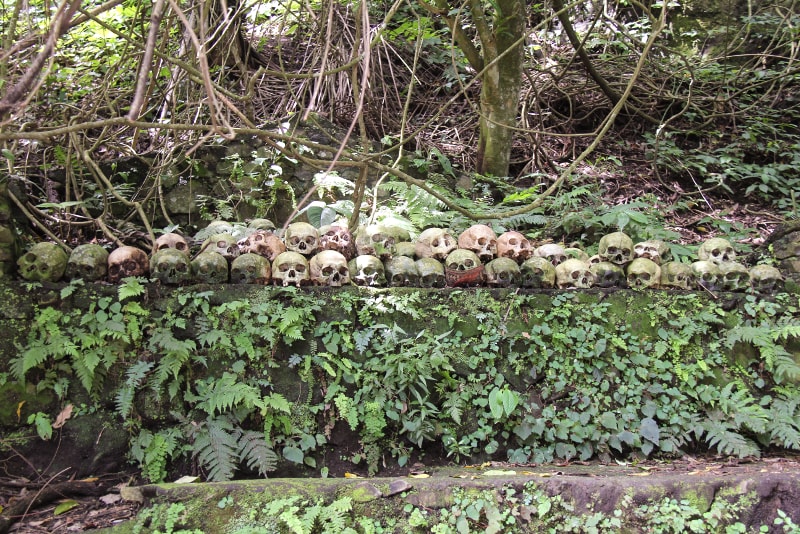 Situated on the east side of Lake Batur the cemetery of Trunyan is littered with human skulls and bones which have been set up on stones. The death ritual of the village is to sail their dead in canoes to rot in the open air. Only accessible by boat, the Trunyan's three cemeteries are separated from the town by dense, impenetrable jungle.
45 – Meet ghost at the abandoned Bedugul Taman Hotel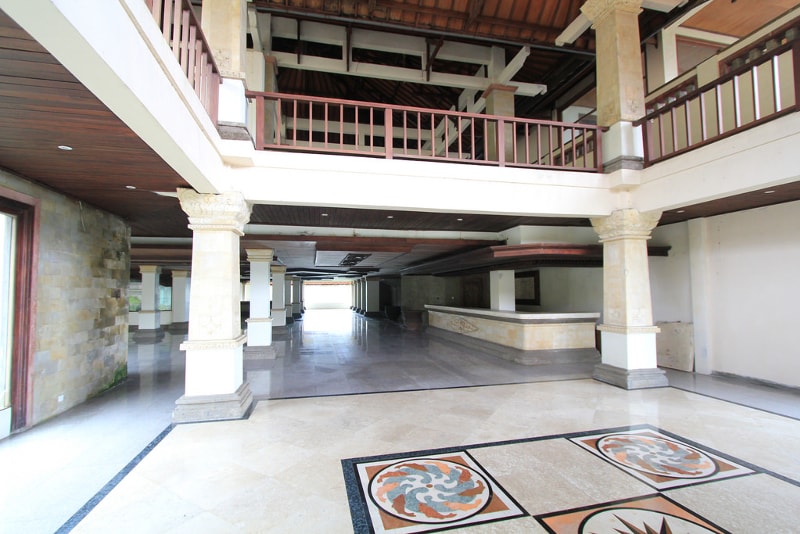 Set up in a tranquil and scenic backdrop, the abandoned Bedugul Taman Hotel has a spooky history, shrouded in stories of ghosts, curses, and corruption. This large and decaying resort was never finished and never opened its doors. Face your Fear and enter the hotel!
? Batunya, Baturiti, Tabanan Regency, Bali 82191, Indonesia
Seek Bali's best sports
46 – Try the best Balinese surf spots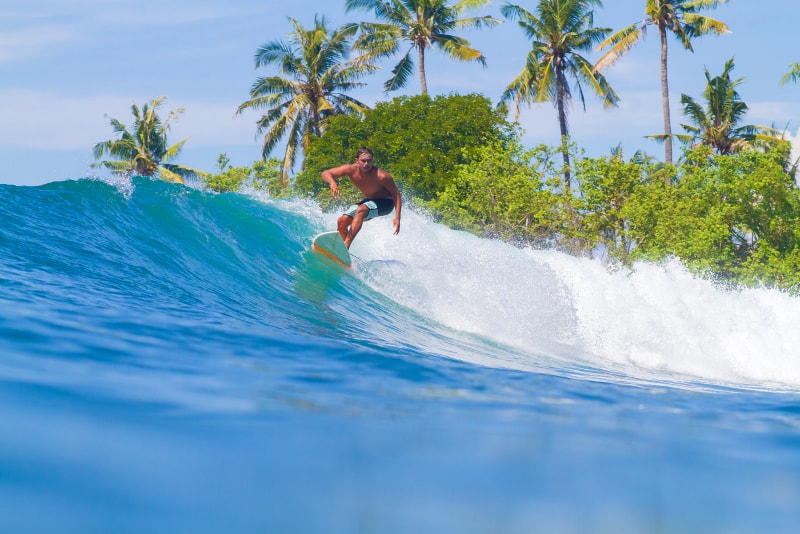 Either you are a beginner or a skillful surfer, Bali boasts some of the best beaches for Surfing in the World. Whatever the conditions, you will find the best surfing waves in Bukit Peninsula.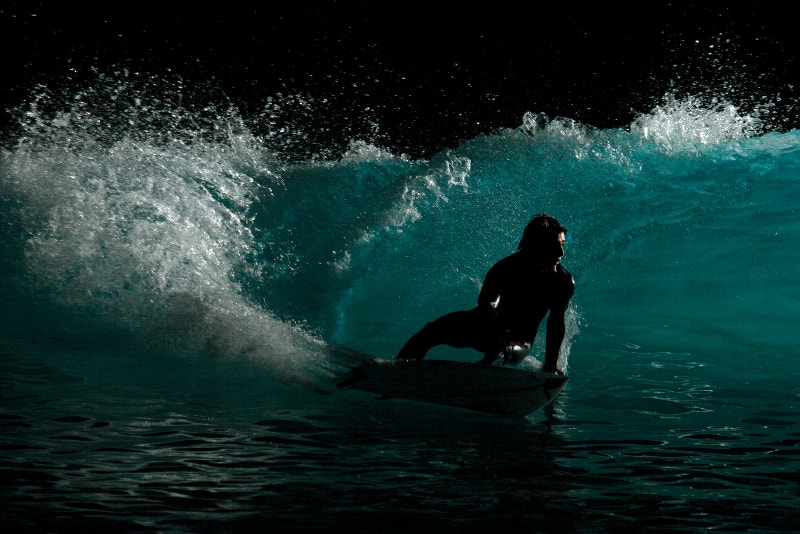 You can also begin surfing at Echo Beach and learn how to be the next feature in Point Break! For the most adventurous you can also try by night at Keramas.
47 – Flip above the water on a Flyboard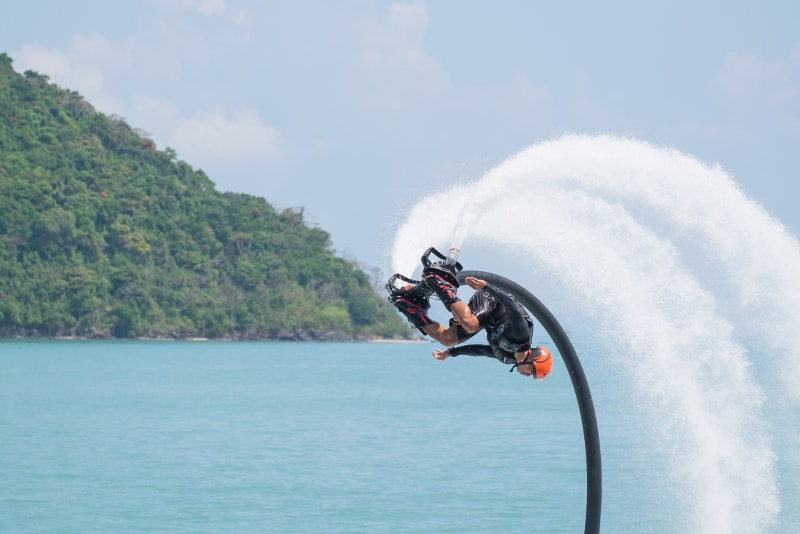 A Flyboard is kind of a water jetpack attached to a personal watercraft. It is a new way to experience the water and yourself. Created in France in 2012 it makes you fly through the air like a superman and soar 14 meters above the water.
48 – Raft on the Ayung River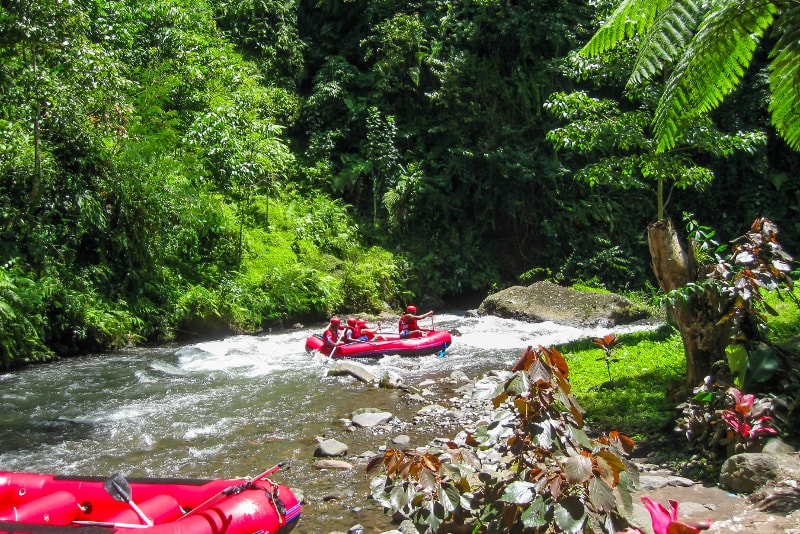 From astonishing waterfalls, past our gardens and down the Ayung River. Live an exciting day rafting down the river and enjoy spectacular views and great fun filled rapids. Read more on our guide about rafting in Bali.
49 – Learn wake boarding at Wake Park Bali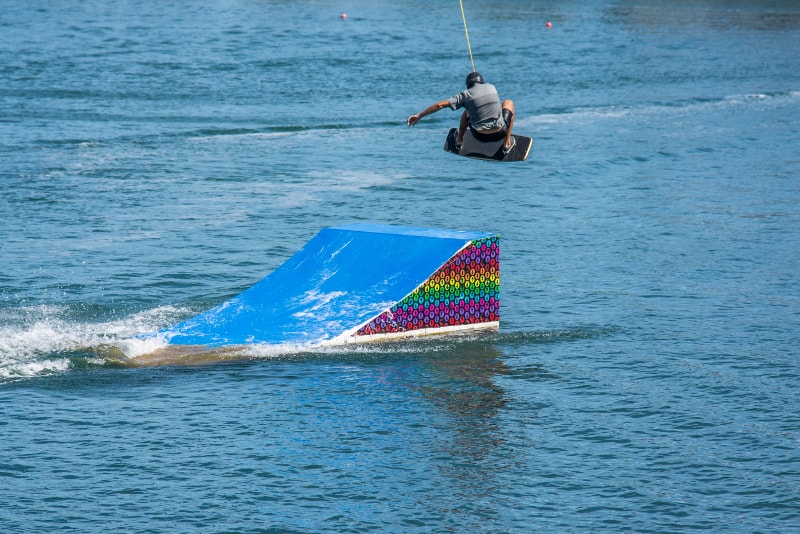 If you want to do a super fun, adrenaline-rushing activity, you should try the Bali Wake Park. It is the first and only wakeboard park in Bali. Wake Park is now home to Asia's largest aqua park. Bring your children here for an unforgettable day!
? Jl. Raya Pelabuhan Benoa No.7X, Pedungan, Denpasar Sel., Kota Denpasar, Bali, Indonesia
Discover paradise Islands around Bali
50 – Go island hopping at Nusa Islands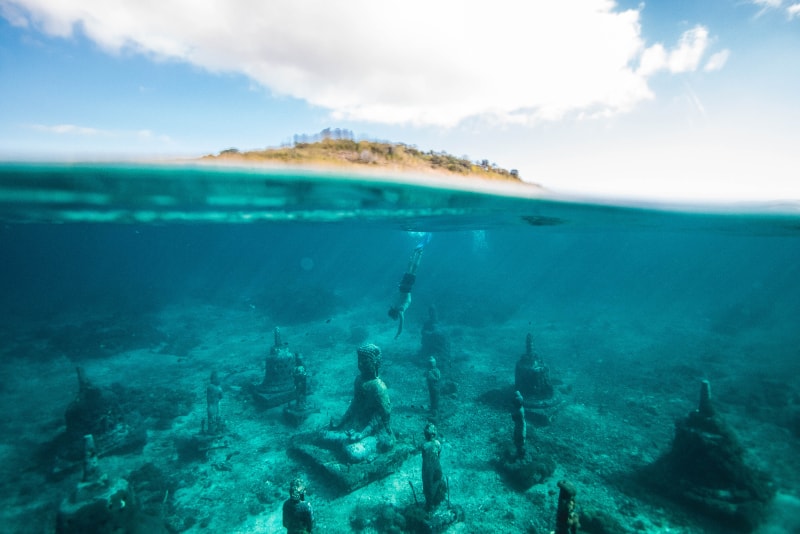 Looking for the best boat tours in Bali?
Discover three of the islands just off the edge of Bali. Lead to Nusa Lembongan to find the pure, natural pleasures rather than the luxurious shopping opportunities you can get in Bali.
Get to Nusa Penida to discover the most wonderful diving spot on the archipelago of Lesser Sunda Islands.
Take a boat to Nusa Ceningan and discover quirky and secluded beaches. All islands are close to Bali, and they became famous for island hopping adventurer.
51 – Spend the week-end at the Gili Islands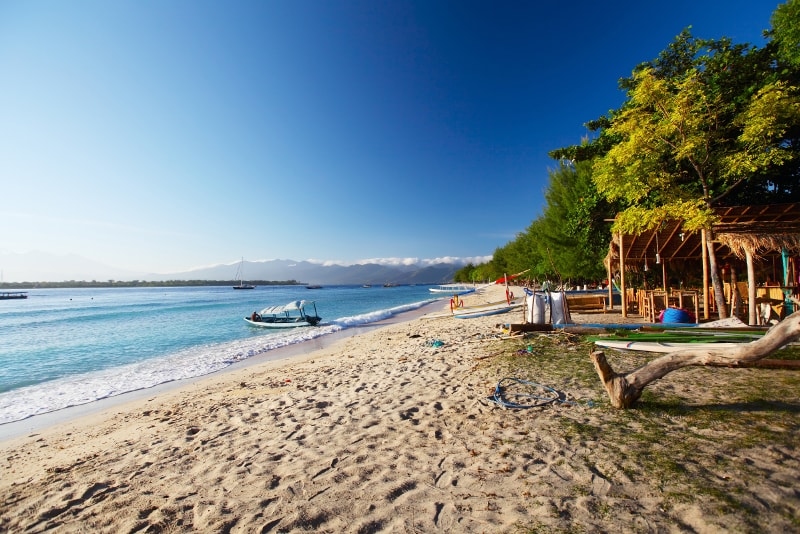 The largest of the three Gili Islands, Trawangan is renowned for its full moon party where the locals come all together to party all night long. It is a great place for those who want to expand their consciousness and discover Indonesian nightlife.
Go to Meno for the perfect honeymoon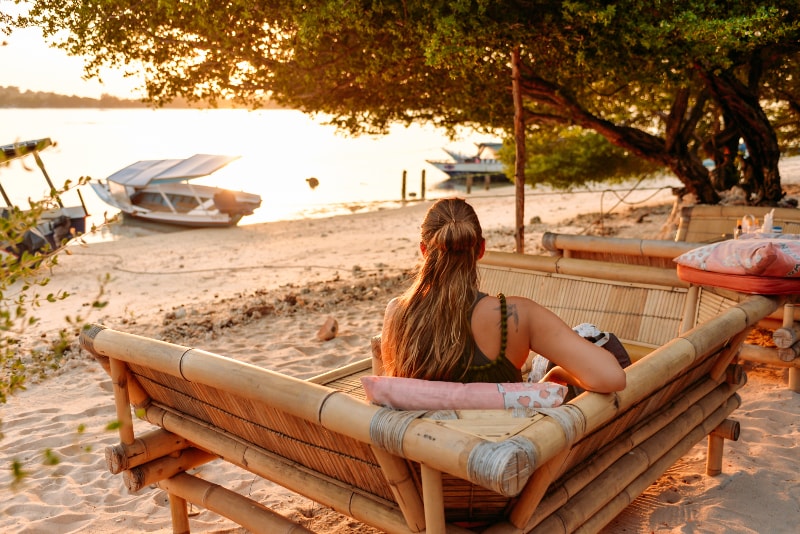 Meno is the quietest and smallest of the three Islands. It is the perfect place to bring your special one and rest for two days. The peacefulness and the white sandy beach are making it a little heaven on earth.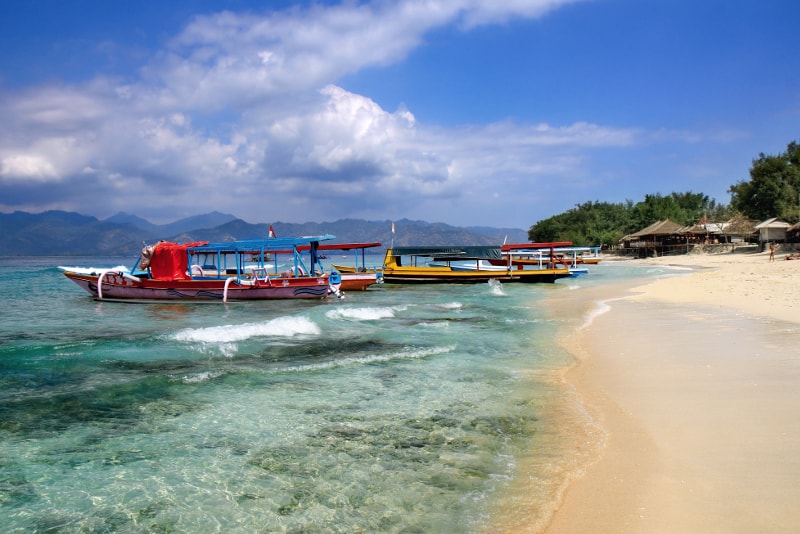 Gili Air is a mix of Gili Meno and Gili Trawangan. It is a perfect place to rest, do a little bit of snorkeling and finish the day at a beach club. Not renowned for its party atmosphere, Gili Air is more a place to relax.
Learn and become a Local
52 – Take a silversmith class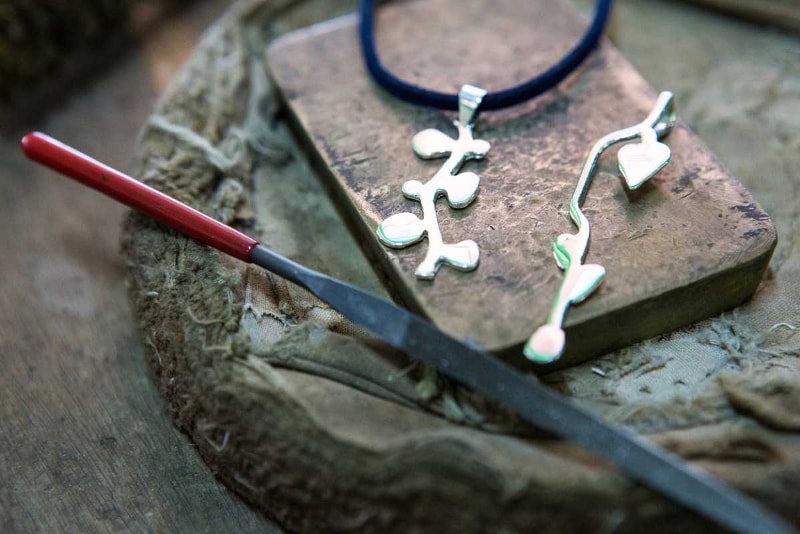 Bali's clans of gold and silversmiths have been creating detailed objects for temple heirlooms, rituals and fine jewelry for centuries. Take a class at Studio Perak to create your own silver ring, pendant, bangle or earring.
? No.57 Taman Kaja, Jl. Sri Wedari, Ubud, Kabupaten Gianyar, Bali 80571, Indonesia
53 – Prepare your own Perfume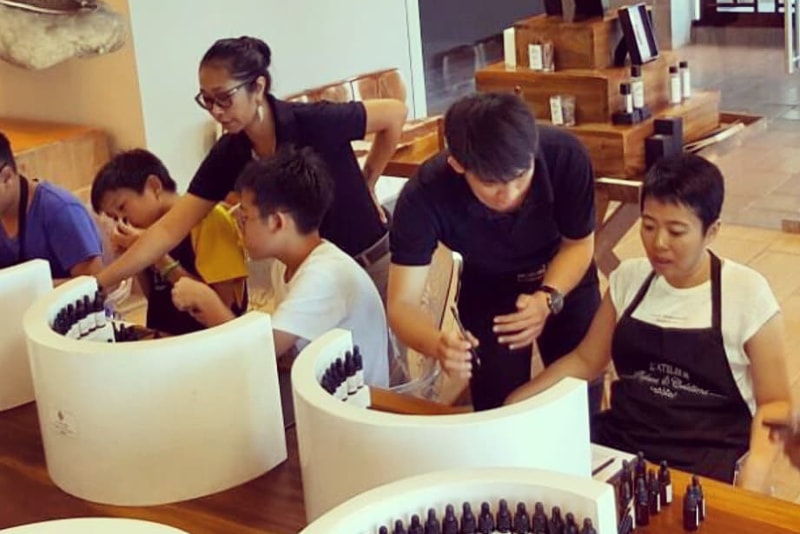 The Perfume Workshop in Bali is a fantastic way to spend a day.sh Concoct your perfume and create a unique personalized fragrance in a fun and relaxed atmosphere.
? Jl. Karang Mas, Jimbaran, Kuta Sel., Kabupaten Badung, Bali 80361, Indonesia
54 – Learn how to cook Balinese food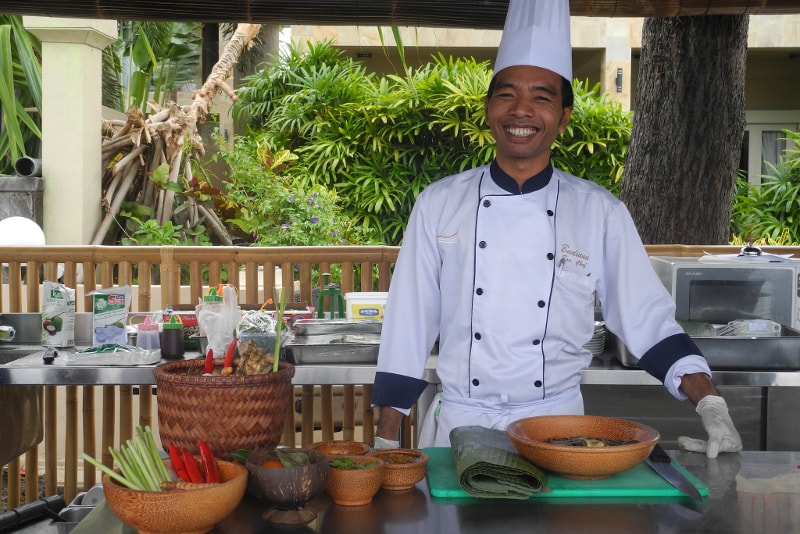 Known for its typical tasty dishes, Bali is one of the best places to take some cooking class. Learn techniques and become familiar with fresh herbs, spices, Organic and traditional ingredients that make food delightfully tasty with skilled and friendly Instructors. Become your own Balinese chef!
55 – Learn how to make Batik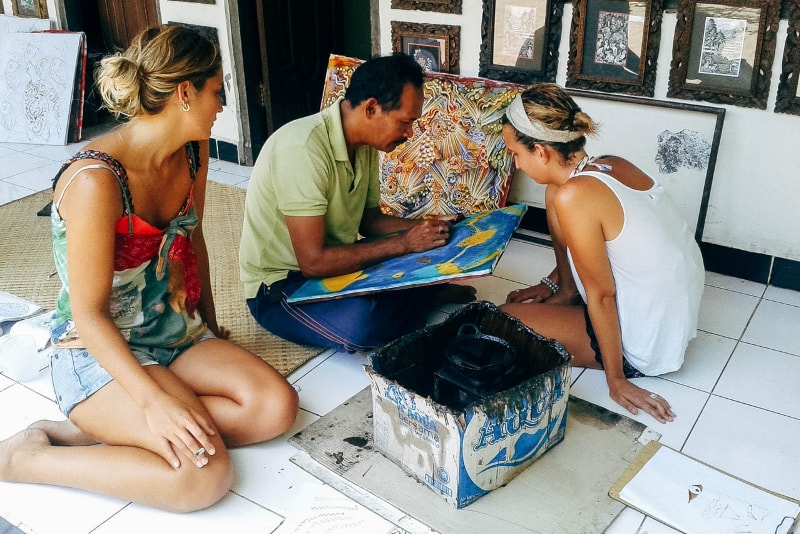 Time to get crafty, Bali style! So what is Batik? It's a method of producing colored designs on textiles by dyeing them. The process of making Bali Batik is very intensive, the wax is either applied with a thin bamboo pen or a stamp. Take a class at Nyoman Warta to learn about traditional Balinese Batik for three hours in Ubud and create your own cloth!
? Jl. Gootama No.12, Ubud, Kabupaten Gianyar, Bali 80571, Indonesia
56 – Make your own skin care product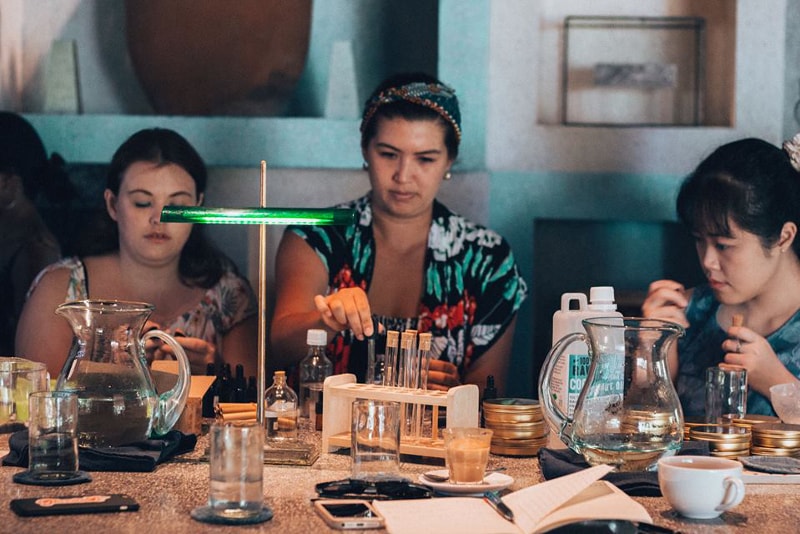 Learn about the different essential oils scents, how to use ingredients like cocoa butter, coconut oil, and beeswax. At Learn With Locals, you will gain the best local skills! Make your own skin care cream, Be Unique!
? Jl. Petitenget No.51B, Kerobokan Kelod, Kuta Utara, Kabupaten Badung, Bali 80361
Go Shopping in Bali 
57 – Shop a different way at Love Anchor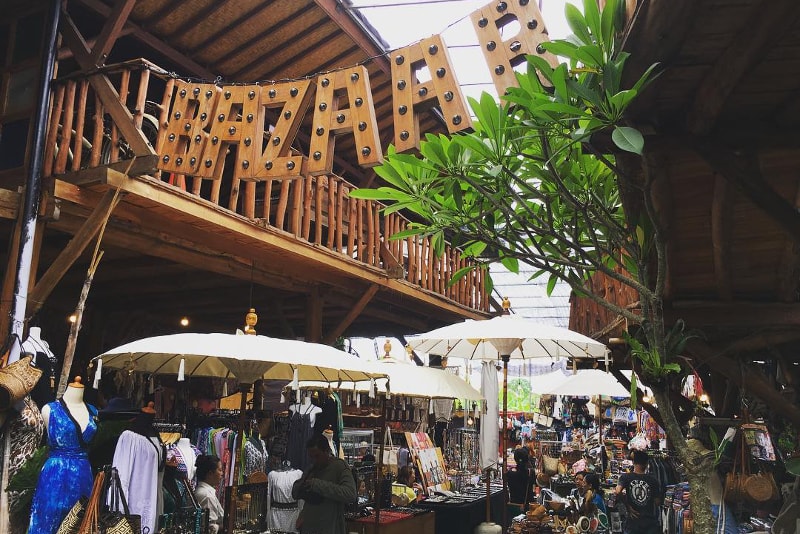 When it comes to the use of an anchor in design, you don't necessarily need to think about boats, sailors or rough ocean waters! Located in Canggu, the Love Anchor is a Cocktail Bar and a bazaar of fashion clothes, accessories, homeware, dreamcatchers, and trinkets.
? Jl. Pantai Batu Bolong No.56, Canggu, Kuta Utara, Kabupaten Badung, Bali 80351, Indonesia
58 – Feel fancy at Shop Operator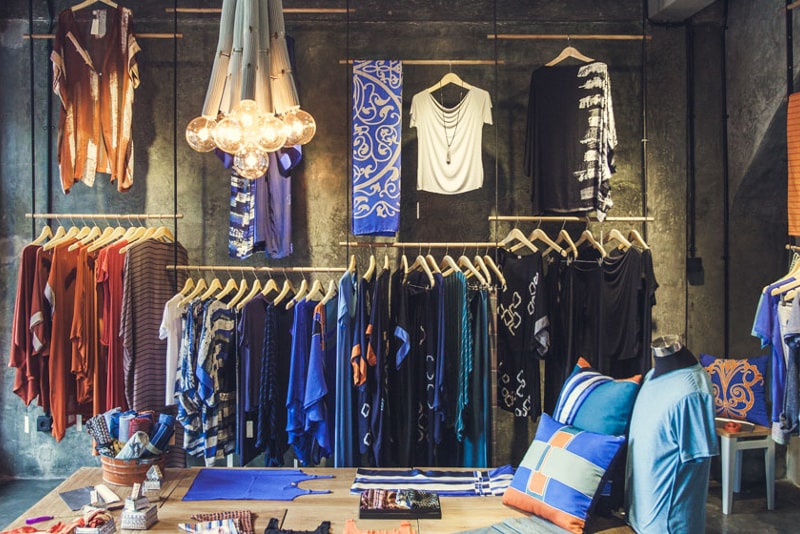 Located in Ubud The shop Operator is a brand designed by an Italian Couple Simonetta Quarti and Marco Lastrucci, and the Italian sense of beauty gives the traditional art of batik the whole new spin! Arriving at this shop will make you feel like discovering the Treasure of the Pacific Sea!
Enjoy Balinese lifestyle
59 – Experience the best beach clubs in the island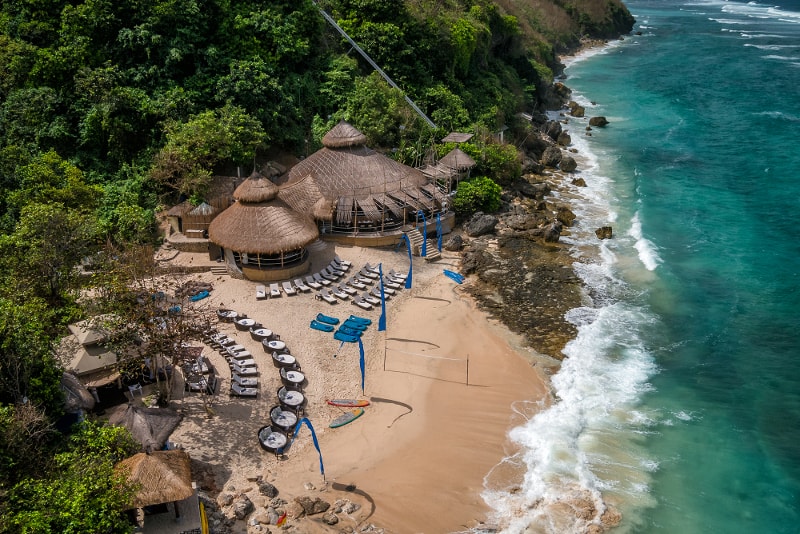 Karma Beach Bali is Karma Kandara's internationally renowned beachfront venue, elevating laid-back, jet-set style to new heights. With the comfy beach chairs, chilled out tunes, and scrumptious food that's where Bali's next level beach clubs will get you frothing.
? Karma Kandara Bali, Jalan Villa Kandara, Kuta Selatan, Ungasan, Kabupaten Badung, Bali 80362, Indonesia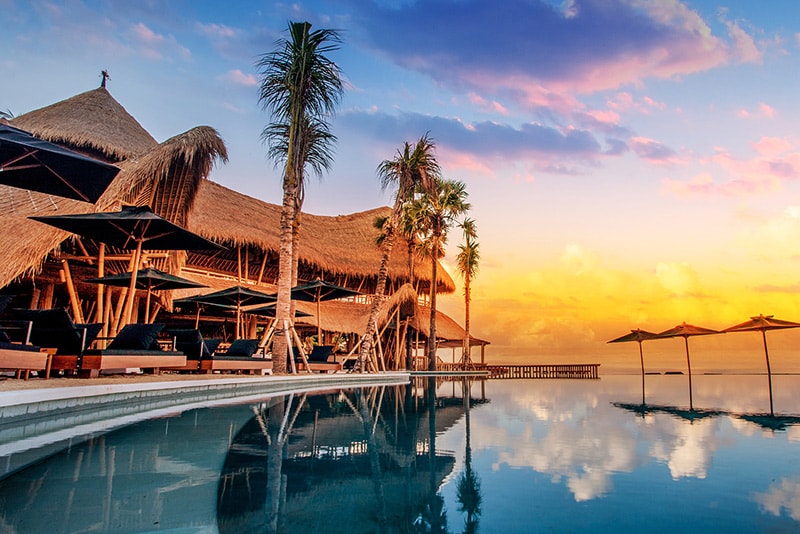 Finn's Beach Club is a chic hangout now located at Berawa Beach in Canggu. On the front of Berawa surf break, you can laze away the day in the sun from the comfort of single and double daybeds. It has established itself quite rapidly among the local and tourist crowd. A must do in Bali to take the aperitive in a festive atmosphere.
? Jl. Pantai Berawa, Tibubeneng, Kuta Utara, Kabupaten Badung, Bali 80361, Indonesia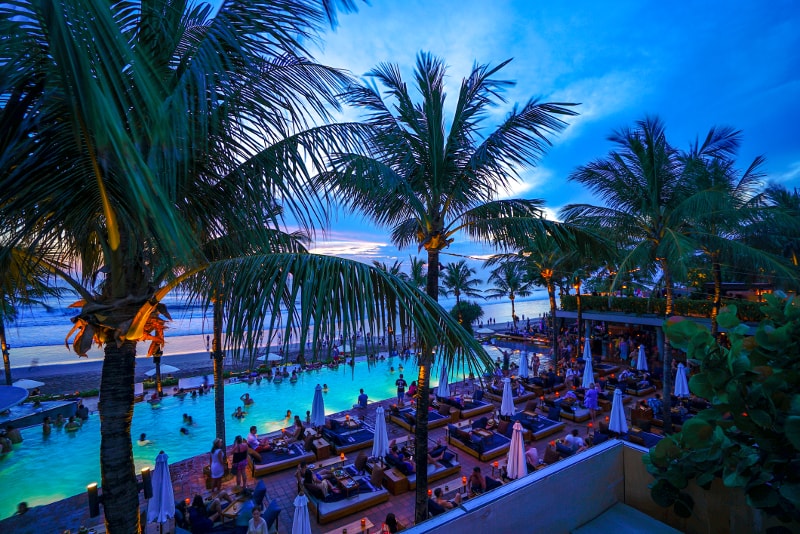 Who doesn't appreciate an afternoon lounging by the pool, sunbathing and having a drink or two with chill tunes in the background? Settling a large site on the prestigious stretch of Seminyak beachfront, the Potato Head beach club is modernly designed like a coliseum by the acclaimed architect Andra Matin.
? alan Petitenget No.51B, Kerobokan Kelod, Kuta Utara, Kabupaten Badung, Bali 80361, Indonesia
60 – Party in Seminyak
If you are looking for some places to party in Bali, head to Seminyak – home of the best night clubs in the island.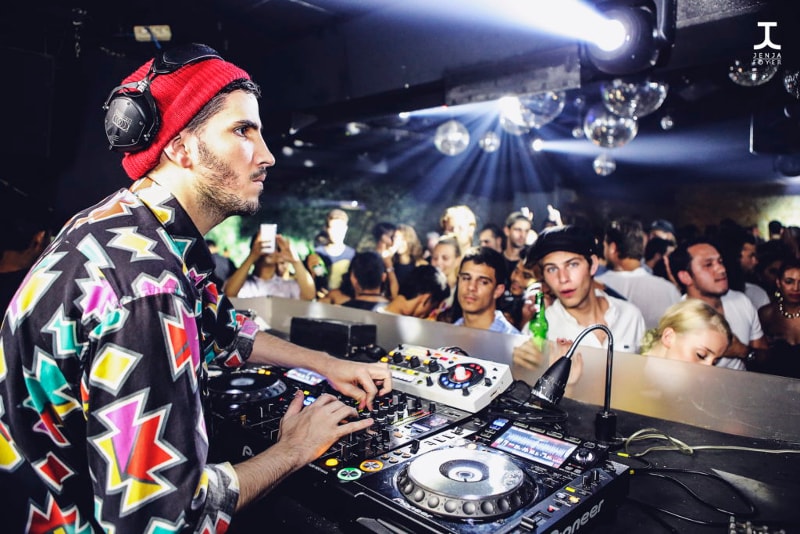 Jenja Bali is a late-night party venue in Seminyak with ultra-stylish interiors spread out over its two floors. It hosts one of the best DJs in Asia.
?  Townsquare Suites, Jl. Nakula 18, Seminyak, Kuta, Legian, Kabupaten Badung, Bali 80361, Indonesia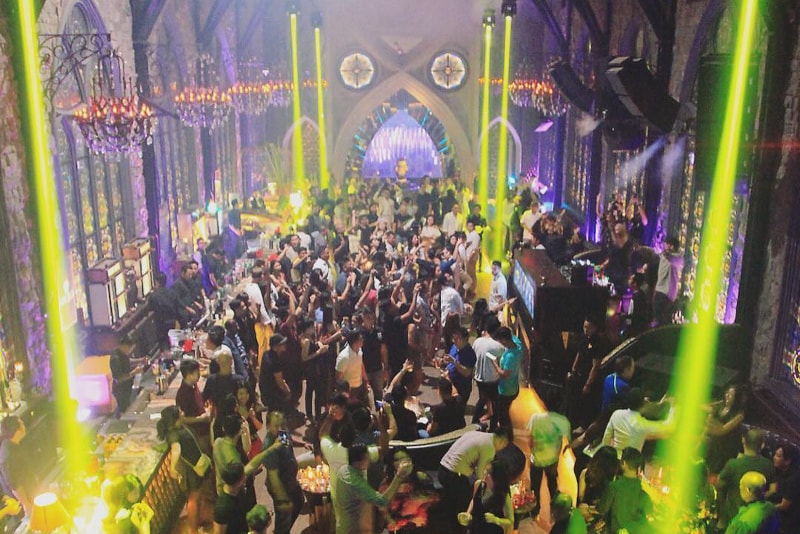 Located on Seminyak's main Petitenget route, Mirror Bali is a Gothic themed nightclub and one of the trendiest club in Seminyak. Enjoy a great soundsystem with stunning decor and party til morning.
? Seminyak, Jl. Petitenget No.106, Kerobokan Kelod, Kuta Utara, Kabupaten Badung, Bali 80361, Indonesia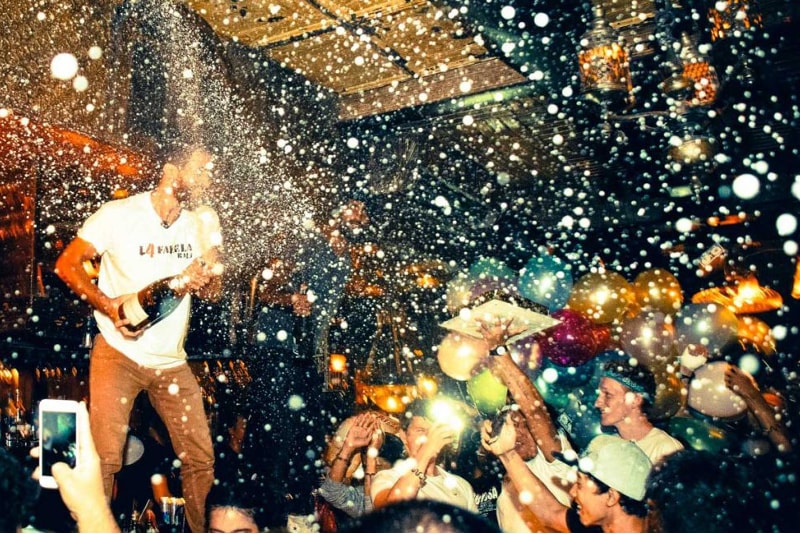 Located in the heart of Seminyak, La Favela is an excellent place for food with a plethora of choices and to have fun with fantastic decor and great music. Make your way inside, through a narrow, dark alley, to come out in an enormous, jungle-ish garden, and discover the ultimate Balinese nightlife!
? alan Laksamana Oboroi No.177X, Seminyak, Kuta, Kabupaten Badung, Bali 80561, Indonesia
unique Wildlife
61 – Take care of turtles at the Turtle breeding Sanctuary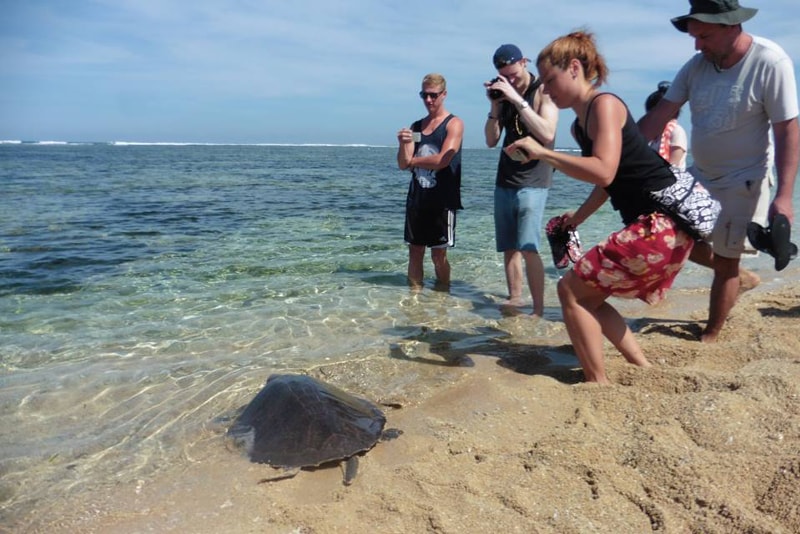 Ever dreamed of giving turtle their freedom? In the significant Turtle Conservation Center, Bali's aims to heal the ever-dwindling population of beautiful sea turtles. You can feed, take care of and liberate the protected animal.
? Jl. Tukad Punggawa, Serangan, Denpasar Sel., Kota Denpasar, Bali 80229, Indonesia
62 – Visit the Sacred Monkey Forest Sanctuary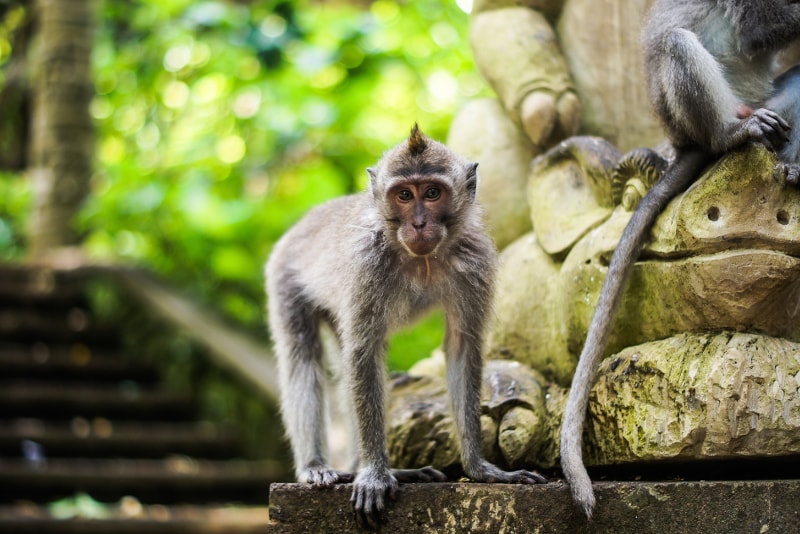 The Sacred Monkey Forest Sanctuary is a nature reserve and Hindu temple complex in Ubud. This jungle sanctuary is home to a tremendous amount of grey long-tailed macaques.
? Jl. Monkey Forest, Ubud, Kabupaten Gianyar, Bali 80571, Indonesia
63 – Go dolphin watching at Lovina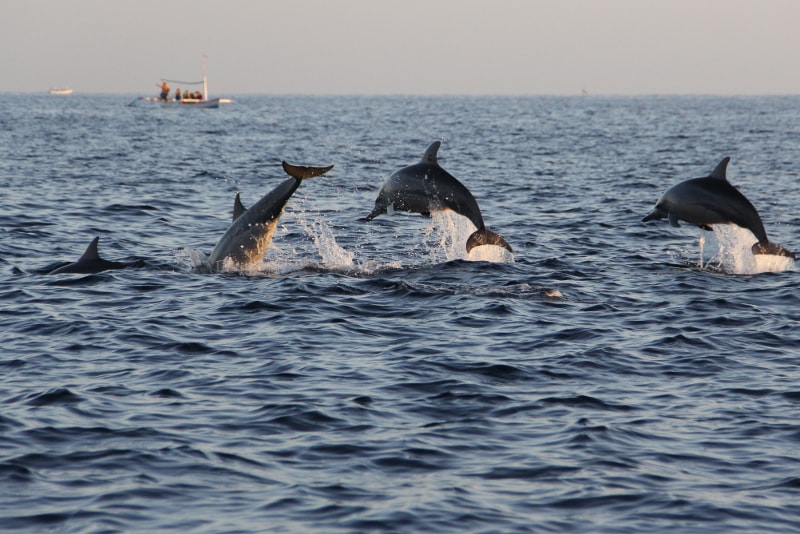 Dolphin watching tours at Lovina Beach remain one of the leading natural attractions of this quiet and laidback coastal town in North Bali. While the sun is rising on Lovina bay, go watch dolphins in their natural environment. With their playful and acrobatic natures, dolphins bring a smile to the faces of anyone who watches them.
64 – Face your fear on a snake tour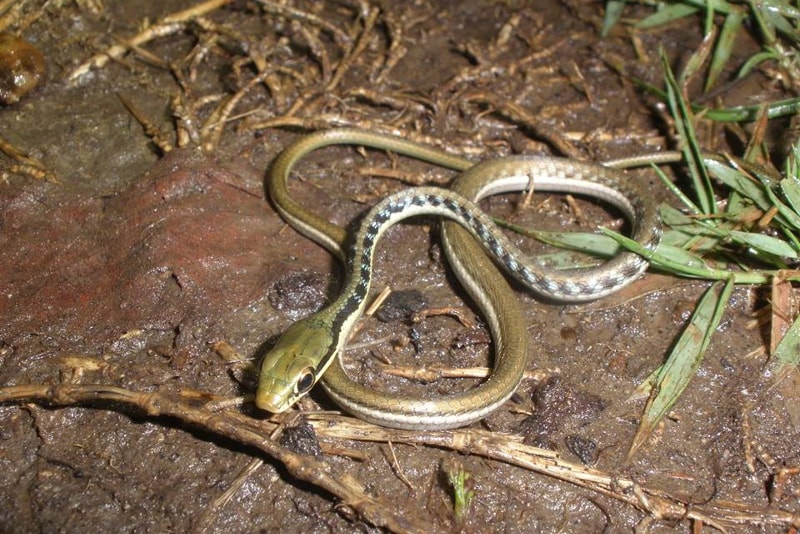 Bali Reptile Rescue is a Balinese organization whose aim is to protect the reptile of the island. One of the ways they earn money for their operating costs is to take visitors on snake tours, mostly in West Bali where there are still large wild populations of some amazing creatures such as cobras, vipers, pythons, rat snakes, and various other colubrids.
? Jl. Taman, Gumbrih, Pekutatan, Kabupaten Jembrana, Bali 82262, Indonesia
65 – Swim With Sharks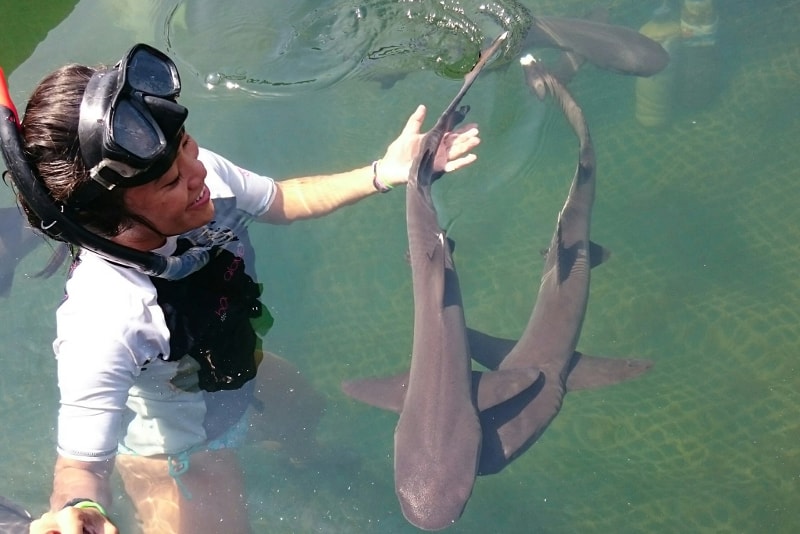 Nobody wants to swim with sharks. But in Bali, at the Conservation Center for Sharks, guests are allowed to feed sharks and swim with them. The best time is before noon when the water in the area is at its most transparent. Face your fear and enjoy a fantastic experience.
? Jl. Tukad Punggawa No.25, Serangan, Denpasar Sel., Kota Denpasar, Bali 80229, Indonesia
Dive on Bali's best underwater spots
66 – Dive on Temple Garden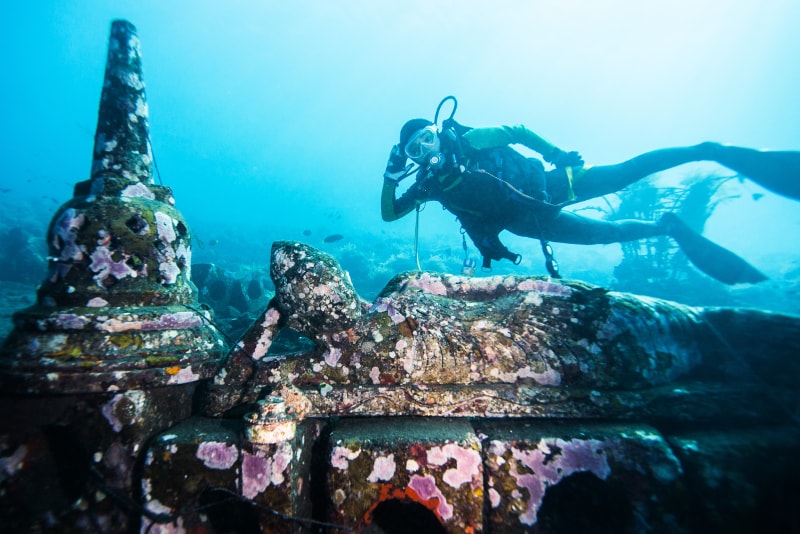 The underwater Temple Garden is a unique dive site located in Bali, near Pemuteran. This temple is very ancient, and scientists believe that it was built at least over a thousand years ago & was constructed in the sea only. This dive site is perhaps the most interesting human-made reef to dive on in the area. This is the perfect activity for diving lovers!
? Pemuteran, Gerokgak, Kabupaten de Buleleng, Bali, Indonésie
67 – Dive to USAT Liberty Wreck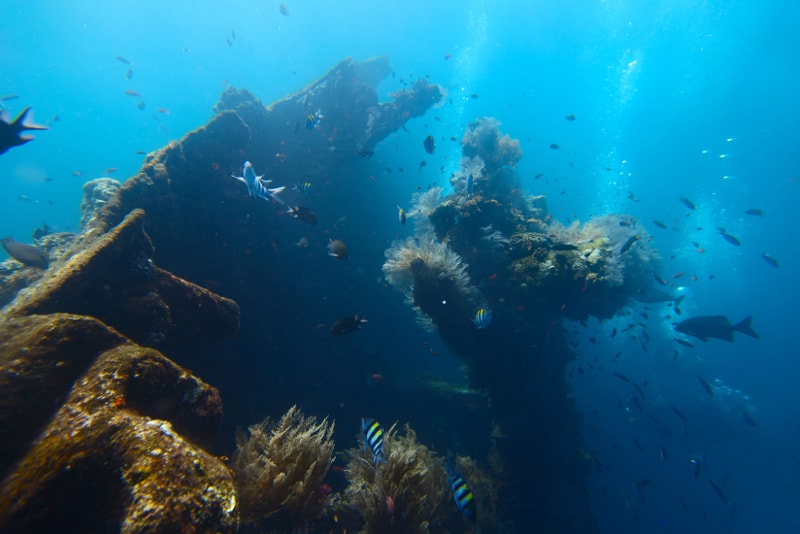 USAT Liberty was a US Army cargo ship torpedoed by Japanese submarine I-166 in January 1942 and beached on the island of Bali. As it lies close to shore of Tulamben, you can get to the wreck directly from the beach. It is definitely one of the most popular dive sites in Bali and also one of the most accessible wreck dives worldwide. Go there and swim with over thousands of beautiful animals from the great barrier reef.
? 8° 17′ 03″ South, 115° 35′ 21″ East
Eat Best Balinese Dishes
68 – Taste frozen yoghurt at Secret Spot Bali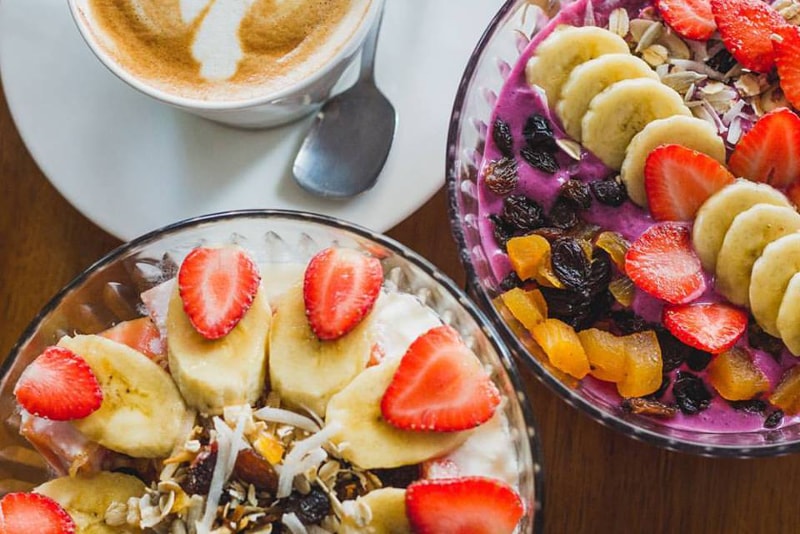 Located in Canggu, the Secret Spot Bali is a teeny place for yoghurt lover. This great café offers to its visitors fruity dishes.
? Jl. Raya Uluwatu No.68, Ungasan, Kuta Sel., Kabupaten Badung, Bali 80361, Indonesia
69 – Have an afternoon tea in Bambu Indah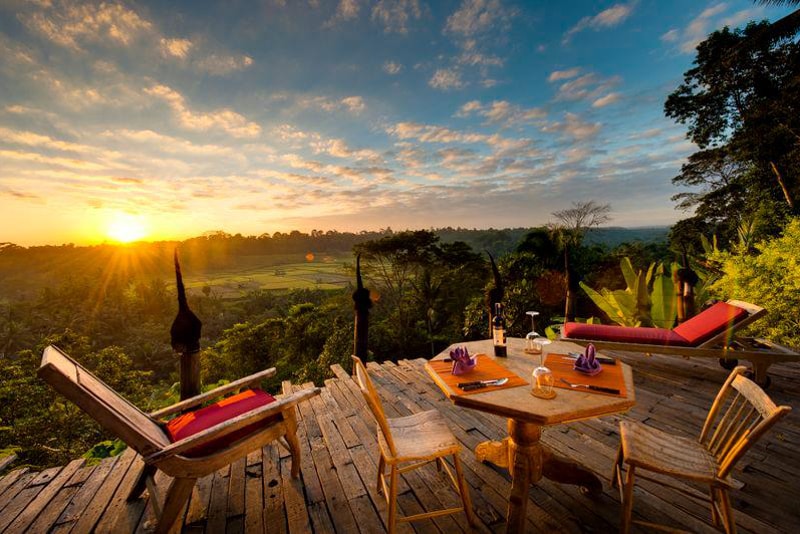 If crowded beachsides aren't your thing in Bali, then Bambu Indah, a little gem of Ubud may be what you're looking for. Either for a tea or a night, this hotel atop the tree offers an entirely novel approach to luxury. Swing in the cocoon chair with a cup of organic cacao and admire the view from the top of the tree.
? Jl. Banjar Baung, Desa, Sayan, Ubud, Kabupaten Gianyar, Bali 80571, Indonesia
70 – Relish unique flavors at the Locavore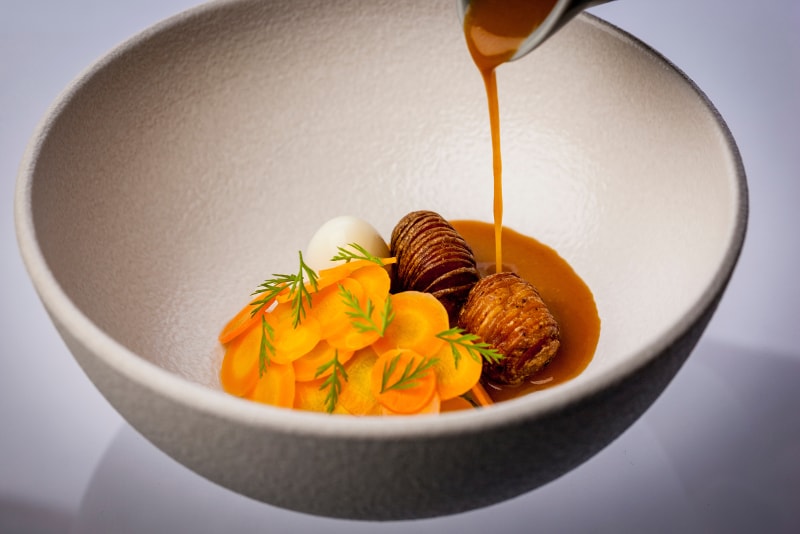 Locavore is a quirky and cozy restaurant operated by a team of highly dedicated food lovers whose primary goal is to provide artistically prepared and fresh cuisine.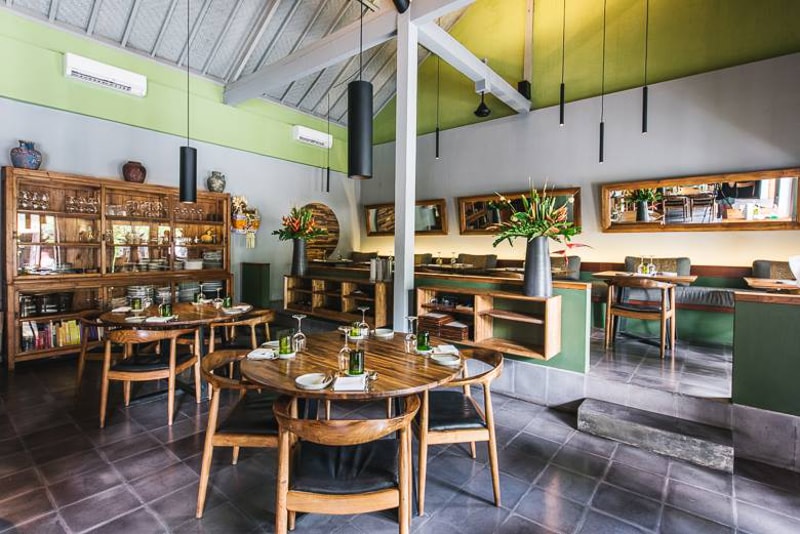 Handed by the chefs Ray Adriansyah and Eelke Plasmeijer, it has caused a massive buzz on the Bali's dining scene since it opened in Ubud in early 2013. They even propose a "Herbivore" menu designed for vegetarian people especially.
? Jl. Dewisita No.10, Banjar Padang, Tegal, Kabupaten Gianyar, Bali 80571, Indonesia
71 – Be healthy at the Café Organic
Raised on the shores of Seminyak and growing across Bali's coast, Café Organic offers health-conscious vegetarian meals with a passion for simple dishes. It is one of the most Instagram-able cafés in Bali and smoothie bowl pioneers. The Café Organic attracts all #GardenGangstas with its famous mouth-watering, vegetarian menu offering plenty of vegan and raw options.
? Jl. Petitenget No.99 X, Kerobokan Kelod, Kuta Utara, Kabupaten Badung, Bali 80361, Indonesia
72 – Try Balinese food during the Ubud food festival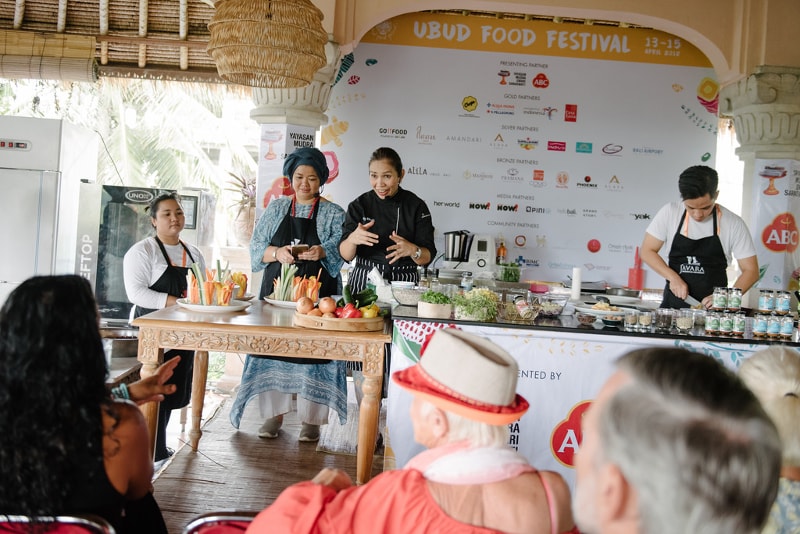 Bali is buzzing about Ubud Food Festival. Almost 100 chefs, restaurateurs, farmers, social entrepreneurs, and outstanding innovators will converge in Bali for three days. This food festival showcases traditional Balinese cuisine alongside excellent dining and raw food. If tropical islands and world-class food sound like your idea of paradise, Ubud Food Festival is THE festival you have to go!
73 – Enjoy the best coffee of the island at Revolver Espresso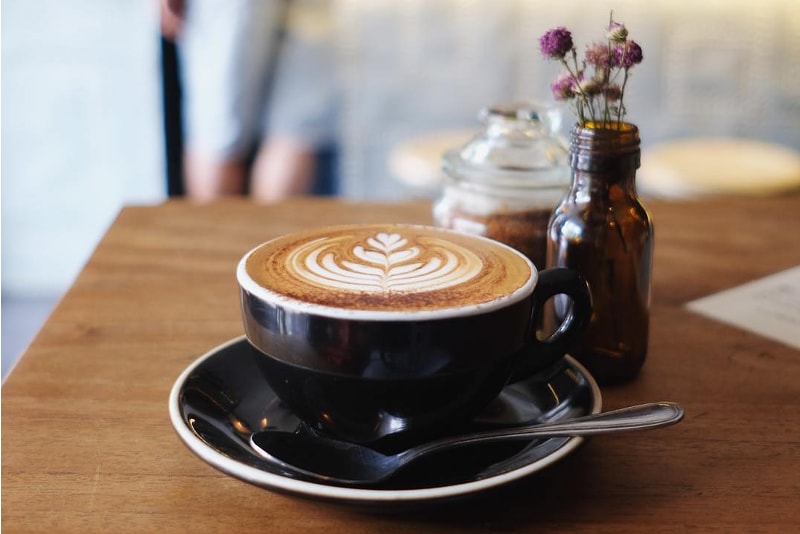 Located in Seminyak, Revolver Espresso is a typical Balinese coffee shop is the perfect place to start the afternoon with a shot of energy! Get to Revolver espresso and try handcrafted coffee in a relaxing atmosphere!
? Jl. Kayu Aya Gang 51, Seminyak, Kuta, Kabupaten Badung, Bali 80361, Indonesia
74 – Try Babi Guling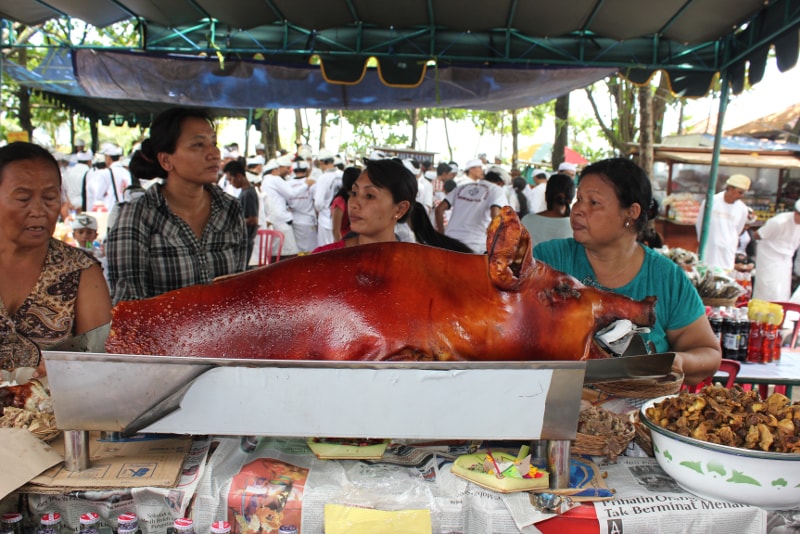 Bali's classic pork dish, Babi Guling, is an odd find in a country that has the largest Muslim majority population in the world. It is easily the most widely known Balinese dish, and tourists have even been known to come to Bali to sample it. Satisfy your desire with Bali's most famous suckling piglet, impeccably roasted with Balinese spices.
75 – Visit Jimbaran Fish Market and enjoy a romantic seafood dinner at the beach
Jimbaran fish market is a bustling, lively spot to purchase a range of fresh seafood from fisherman daily. Get your hands dirty, rub up against real life at this fish market by the sea where you can pick your seafood and take it to a nearby warung grill for cooking.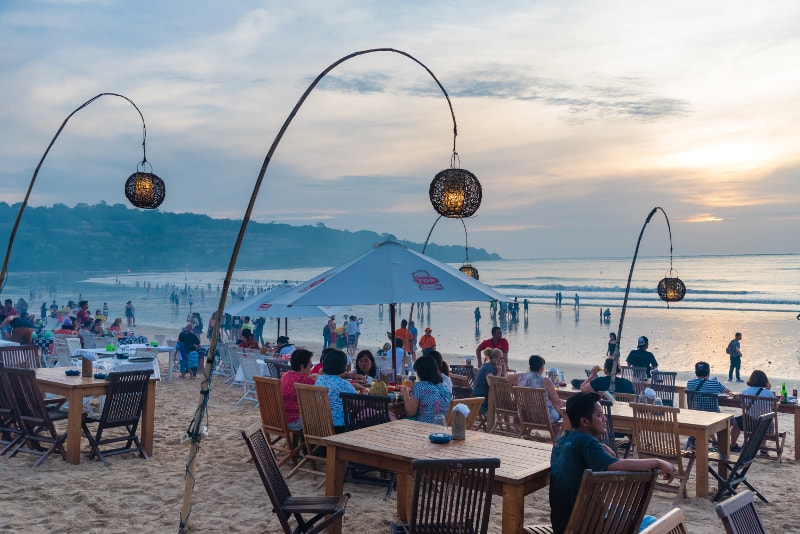 ? Jl. Pantai Kedonganan, Kedonganan, Kuta, Kabupaten Badung, Bali, Indonésie
Relax after the day
76 – Get a traditional massage at L Spa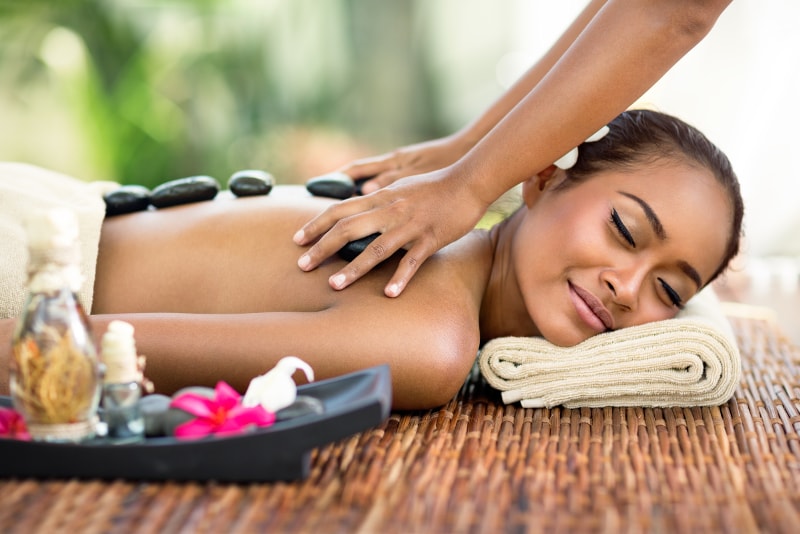 The art of massage in beautiful Bali and bagged herself a skill she'll be able to earn from forever. Balinese and Asian massage techniques are renowned theworld over for their relaxing and re-balancing benefits. Let the warm herbal oil drip to your chakra points to balance your energy flow and refresh the body, mind, and spirit.
? Jl. Raya Petitenget no. 8L, Seminyak 80361, Indonésie
77 – Take a yoga class at The Healing Village SPA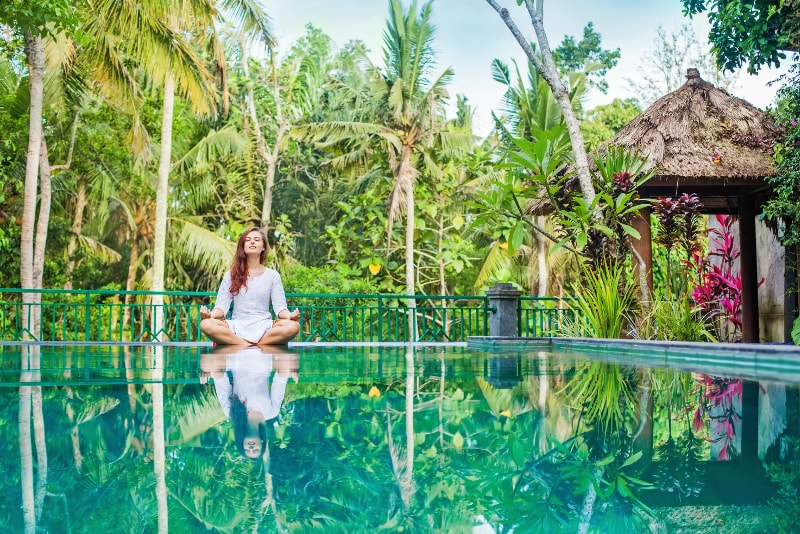 If you want to go for the ultimate zen getaway, take a yoga class in Bali to discover the Yoga in an untouched paradise. Find the yin to your yang, and try different yoga style like the Hatha Yoga (Based on posture and breath techniques) or the Vinyasa (transition between two positions).
? Bay, Jimbaran, South Kuta, Bali 80361, Indonésie
78 – Relax at Kupu Kupu Barong Villas and Tree Spa By L'Occitane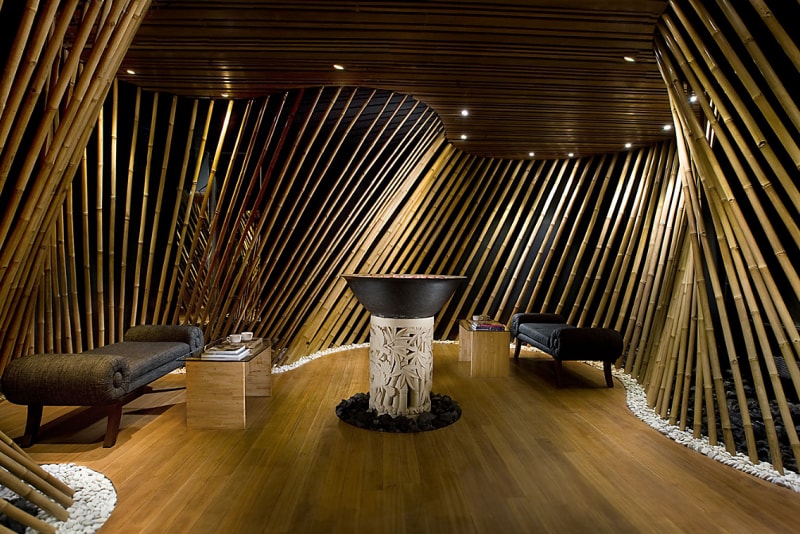 Known for rejuvenating your senses, having a day at the Spa is the best way to try traditional Balinese treatments, performed in an atmosphere of serenity and luxury. At Kupu Kupu Barong Villas and Tree Spa By L'Occitane all the staff will cocoon you from the hustle and bustle of mainstream tourism.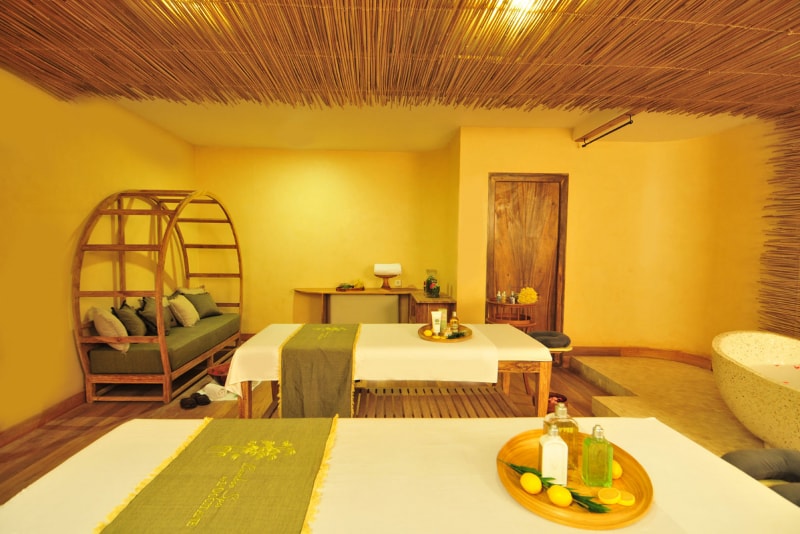 ? Jimbaran, South Kuta, Kabupaten de Badung, Bali, Indonésie
Enjoy Bali's breathtaking views
79 – Hike on Mount Batur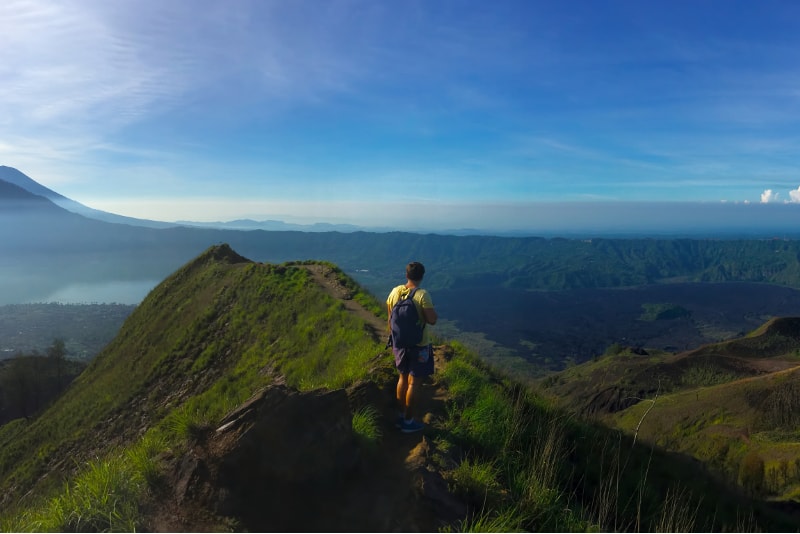 Mount Batur is the only climbable volcano on the Island and provides spectacular views of Lake Batur and the ocean. Located on the North West of Bali, this active volcano, is one of the best places to watch a magical sunrise. Put your hiking shoes on and let experimented guide show you this beautiful place.
80 – Try Paragliding at Timbis Beach
Have you ever wanted to fly like an eagle? With paragliding, you will get a birds-eye view over the incredible beauty of the whole island. Reach Timbis Beach and witness Bali best landscapes from the sky!
81 – Set yourself in a nest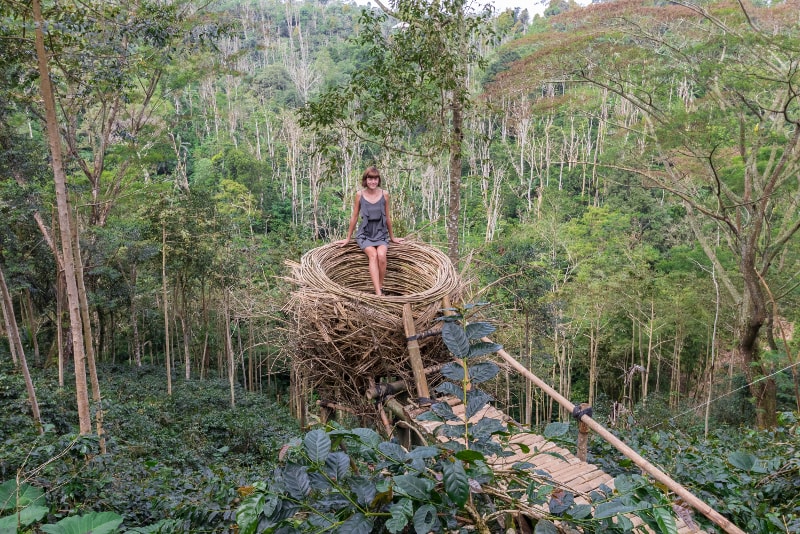 Climb the tree and nestle in this nest and start admiring one of the most breathtaking views of the lush forest of Bali Island. Laying in this nest will make you feel like a bird, but be careful you do not have wings!
? Abiansemal, Jalan Dewi Saraswati No.7, Bongkasa Pertiwi, Abiansemal, Bongkasa Pertiwi, Abiansemal, Kabupaten Badung, Bali 80352, Indonésie
Bonus – Swing over the Balinese Jungle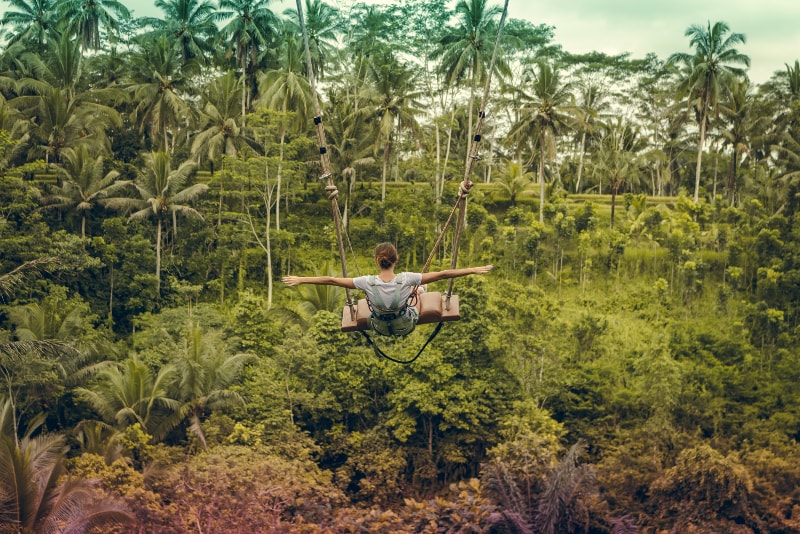 Looking for the best holiday picture? Located just a 30-minute drive from Ubud, you can find one of Bali's most instagramable attractions: The Bali Swing. Play on a swing atop the hills and admire the most breathtaking view of Bali.
? Abiansemal, Jalan Dewi Saraswati No.7, Bongkasa Pertiwi, Kabupaten Badung, Bali 80352, Indonésie
We hope you have enjoyed this list of fun things to do in Bali. Have you already picked a few? Don't hesitate to tell us in the comments what are your favorite ones, and don't hesitate to share other tips you may know! Enjoy Bali, and we wish you all a lot of fun! 😀
Share it on Pinterest