Do you wish to join a Boston whale watching cruise and see the majestic beauty of humpback whales?
In this post, you will learn everything you need to know about Boston whale watching cruises, including cruises price, how to book a cruise in advance, the best time to go whale watching in Boston, the different types of whales you may encounter, and some other useful tips.
Don't feel like reading ahead? Book a Boston whale watching cruise right now.
How much does a whale-watching cruise from Boston cost?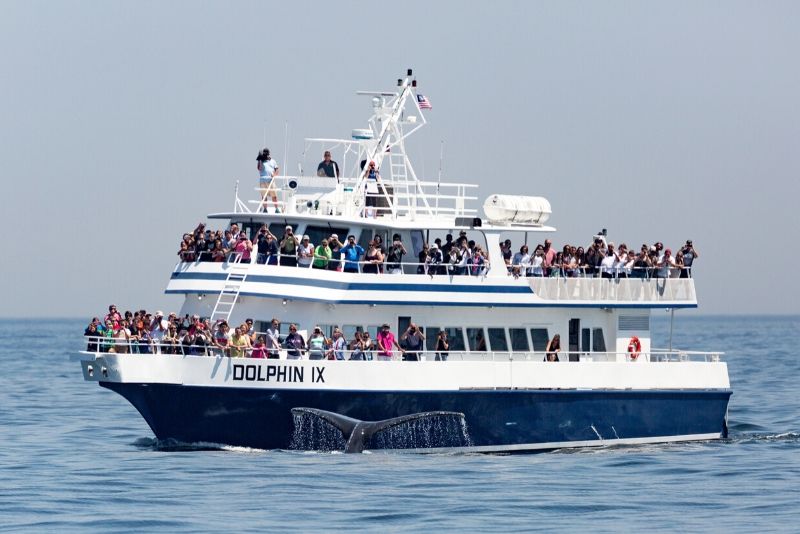 If you find yourself in Boston and want to do a spot of whale watching, you'll need to take a whale-watching cruise.
A Boston whale watching cruise cost on average 60 USD per person and lasts for around three hours.
The boats typically feature three outside decks so that you can maximize viewing time and take some great pictures of the whales. There's also an inside area with comfortable seating, sound and video systems, and a galley with snacks and beverages.
How can I book a whale-watching cruise from Boston online?
Plenty of online tour operators offer whale watching cruises from Boston, including Viator, GetYourGuide, or Headout to name a few.
Use our search engine, make sure to read the reviews, and compare all the deals available before booking the cruise that fits best your needs.
Book well in advance as whale watching is very popular in Boston and may be sold out for your desired date.
When is the best time of year for whale watching in Boston?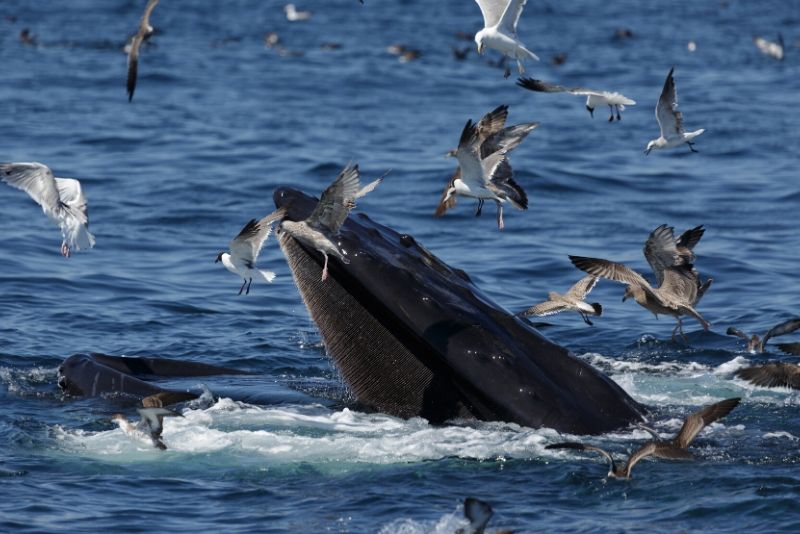 The months of May, June, July, August, September, and October are the best times during the year to see whale watching in Boston. Every summer the whales migrate towards Boston, between May and October, before heading back to warmer waters when it's colder.
When is the best time of the day for whale watching near Boston?
There's no sweet spot during the day for a Boston whale watching cruise. Whales appear throughout the day, whether it's daytime or in the evening. The cruise operators are experienced, however, and know the best parts of the waters to visit so that you get to see plenty of whales during your cruise.
Between June and September, tours typically start at 9 am and continue throughout the day. This is also the busiest time for whale watching, so it's a good idea to book tickets in advance. The months of May and October see tours starting a little later at 10 am.
Are there any tour guides on board?
Professional researchers from the Whale Center of New England are also on board to provide expert commentary. So you can enjoy in-depth analysis of the whales while you see them splashing about in the waters.
Essentially, you'll have access to the extensive information about the whales, why they come to Boston, their cultural behavior and lots of other interesting tidbits that will make your whale-watching experience even more immersive.
Having a professional researcher on board adds another dimension to your experience. You'll learn how to identify whales by species and can examine their general behavior as the researcher tells you everything you need to know.
Which types of whales can I expect to see during the cruise?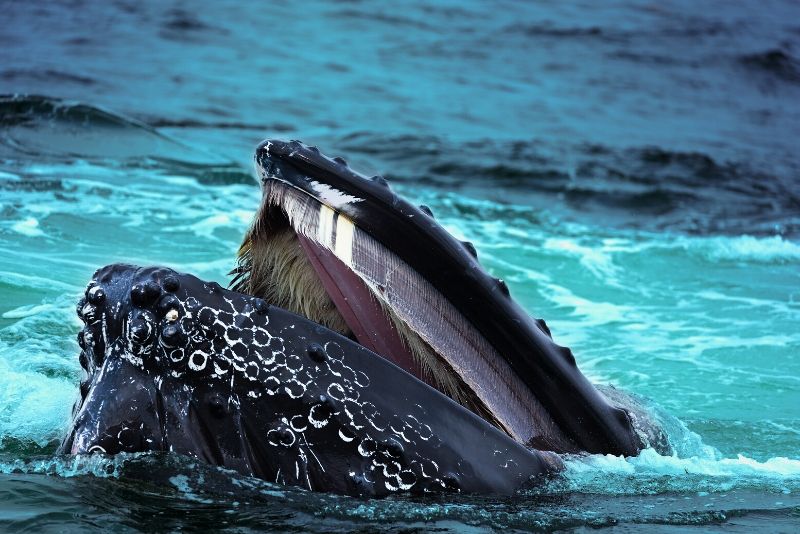 One of the best things about a Boston whale watching cruise is that you can see more than one type of whale. During the journey, there are several species, as well as the opportunity to spot dolphins. Below are the different species that you can expect to see.
Humpback whale
If you see a Humpback whale, look out for how its back arches out of the water when preparing for a deep dive. That's how they got their nickname, Humpback. The correct scientific name is Meapetra, which means large-winged and is in reference to the whale's long flippers.
Finback whale
Only the Blue Whales are larger than Finback Whales, making the Finback the second biggest species of whale in the world. They measure an incredible 45-70 feet in length and can reach 40 tons in weight when they're full-grown adults. That's around six-and-a-half times as heavy as the now-instinct Tyrannosaurus rex.
Minke whale
Minkes are smaller than your typical whale and are more akin to a sleek, small dolphin. They're actually the second smallest species of whale in the world and are also the most populous with a total population of one million worldwide. Expect to see plenty of them on the cruise.
Pilot whale
There are two species of Pilot whales: long-finned and short-finned – though it's hard to distinguish between the two at sea. Their name derives from the idea that Pilot whales are leaders of their group and therefore lead the way when swimming with others.
Southern Right whale
The Southern Right whale is also classified as a baleen whale and is one of three right whale species. There are around 10,000 spread out around the Southern Hemisphere, and they're distinguished from other whales by the callosities on their head. They are dark whales and usually have a very dark grey or black skin color.
White-Sided dolphins
You'll only find White Sided-Dolphins in the North Atlantic, in the waters just south of New England north to Norway. White Sided Dolphins are playful mammals and feed themselves on other sea creatures like squid. This sets them apart from whales, who like to feast on large numbers of small fish.
Where do whale-watching cruises depart from Boston?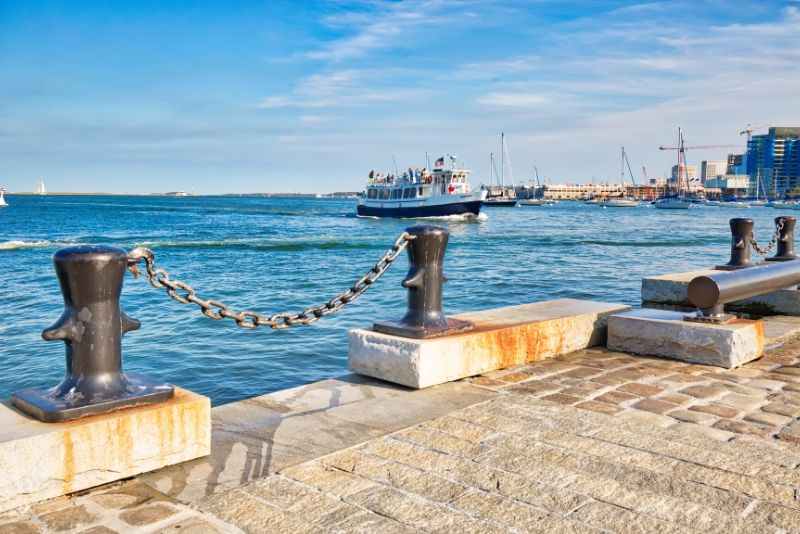 Boston whale watching cruises depart from Central Wharf, which is a historic pier in the city. It also serves as the home to the New England Aquarium, where you can see different sea life including penguins, turtles, and stingrays. There's also Simons IMAX theatre, which shows Sea Monsters: A Prehistoric Adventure.
How long do Boston whale watching cruises last?
Cruises take an average of 3 hours, though they can last longer if the boat needs to travel further out to find whales. Whales don't always stay in the same location, which means some searching may be a necessary part of the cruise. Therefore, you can expect the average trip duration to last between 3.5 and 4 hours, which includes leaving and returning to Central Wharf.
Travel tips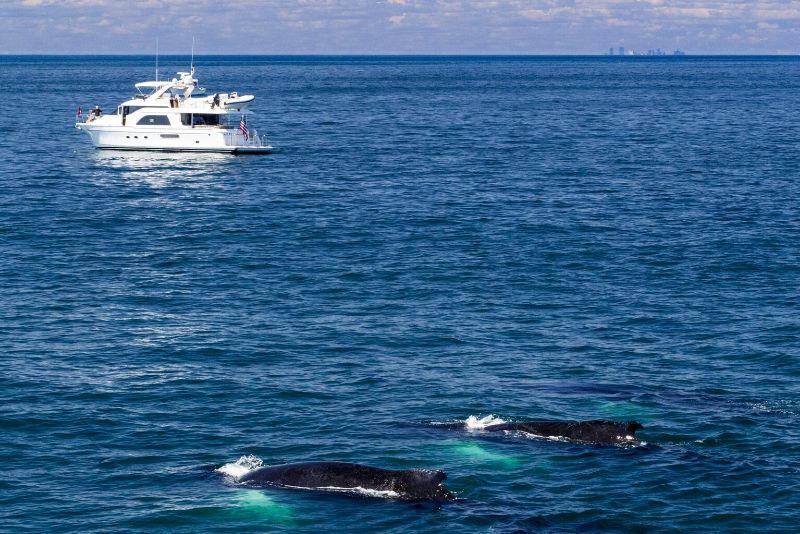 Wear waterproof clothes
Wear comfortable shoes
Bring a jacket and clothes that keep you warm, no matter the season
The best place to see whales is on the outer decks
Trips can extend beyond 3 hours as whale locations can vary
Bring a camera to take plenty of pictures
If possible, take a pair of binoculars so you can spot whales from far away
Bring sunscreen and sunglasses
You can ask the professional researchers questions about the whales
Be patient. Whales might not always appear straight away
Check out our list of fun things to do in Boston to discover other activities to do in the city.