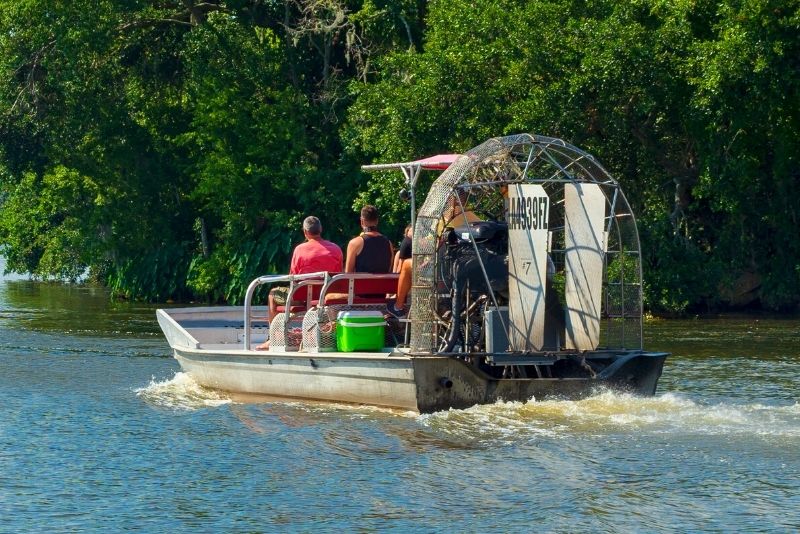 Adventure deep into Louisiana's protected wetlands on these popular New Orleans swamp tours. Explore hidden backwaters by boat or kayak, and come face to face with alligators, wild pigs, and other resident wildlife.
Stroll around elegant plantations, learning how the history of slavery has shaped the local region. Then sink your teeth into tasty favorites like Cajun sausages and crawfish for a real flavor of New Orleans hospitality.
Read on to discover some of the best New Orleans Swamp Tours.
1. Louisiana Bayous 2-Hour Swamp Tour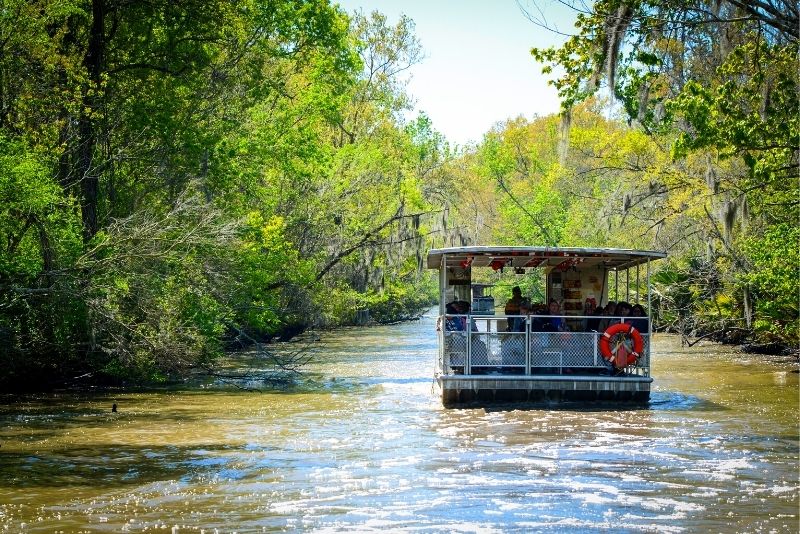 Operated by: Cajun Pride Swamp Tours
Climb on board a traditional swamp boat for a leisurely trip through the lush Louisiana wetlands. This family adventure takes in Manchac Swamp, where meandering bayous are home to all manner of creatures. If you want to come face to face with alligators, deer, and raccoons, this is the place to come.
Float through the atmospheric moss-draped marshes, listening as your captain recounts legends and tall tales of life in the swamps. Learn about the fascinating plant life that thrives in these enchanting waterways, and discover the history of Frenier, a Cajun ghost town with links to a voodoo priestess.
2. New Orleans Swamp and Bayou Boat Tour with Transportation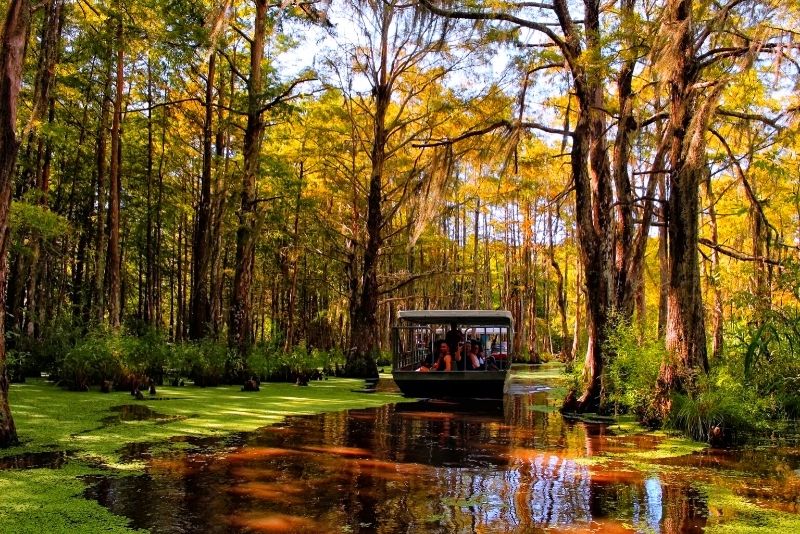 Operated by: Cajun Encounters Tour Co.
Glide through the mysterious waters of Honey Island Swamp on this 2-hour guided New Orleans swamp tour. The small flat-bottomed boat is designed to easily cut through the narrow passages of this protected wetland, getting you up close to wildlife.
Keep your eyes peeled for wild boars, snakes, eagles, and of course alligators. You will have the opportunity to meet these prehistoric giants, some of which can weigh up to 1,000 pounds. During this round-trip New Orleans boat tour you will visit an authentic Cajun village to discover how local people use the swamp for food, medicine, and housing.
3. New Orleans: High Speed 16 Passenger Airboat Ride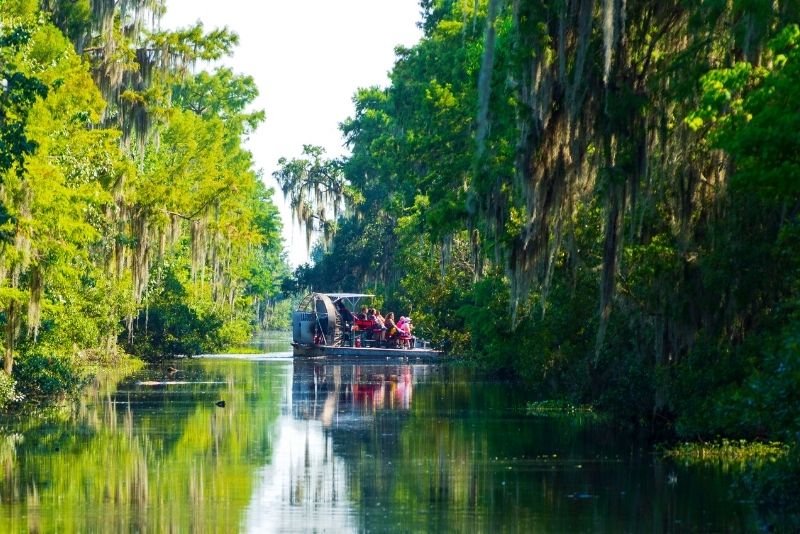 Operated by: Louisiana Tour Company
Hang onto your seats and whizz through the marshlands on this high-speed airboat, seeking out prime wildlife viewing spots. Powered by a giant fan, this streamlined boat can travel in shallow water, letting you explore areas beyond the range of traditional vessels.
Your captain will stop along the way so you can snap photos of raccoons, snakes, and wild pigs. The biggest thrill is entering alligator territory and staring into the eyes of these formidable beasts if you dare. Look skywards too, because this New Orleans swamp tour is also a great way to see bald eagles, pelicans, and ospreys.
4. Manchac Swamp Kayak Tour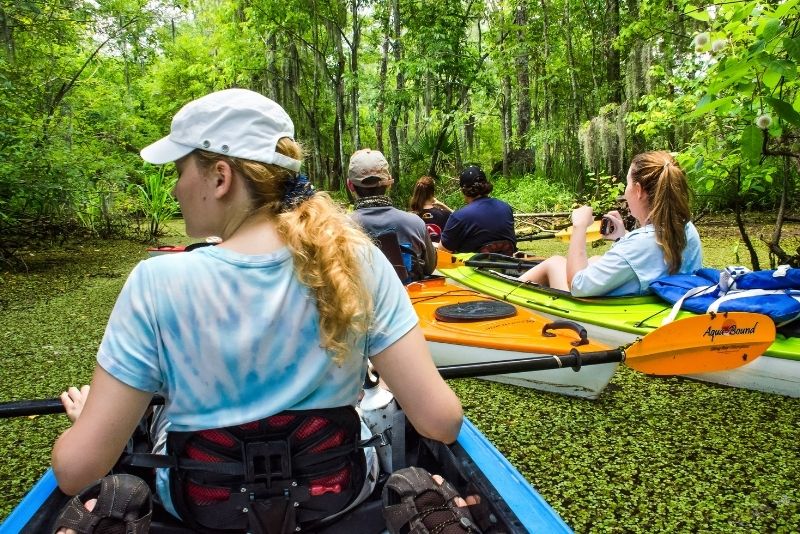 Operated by: New Orleans Kayak Swamp Tours
Paddle stealthily by tandem kayak through the Manchac and Maurepas swamps in search of resident alligators and other iconic local wildlife. This is one of the best swamp tours in New Orleans if you are looking for nature immersion because unlike motor vessels, kayaks can access narrow waterways and shallow pools.
Float through lush cypress forests as you venture deeper into the wilds of Louisiana's wetlands, stopping for photos and to learn more about this curious landscape. No previous kayaking experience is necessary, and you will be given a short lesson before heading into the swamp with an experienced guide.
5. New Orleans High Speed 6-9 Passenger Airboat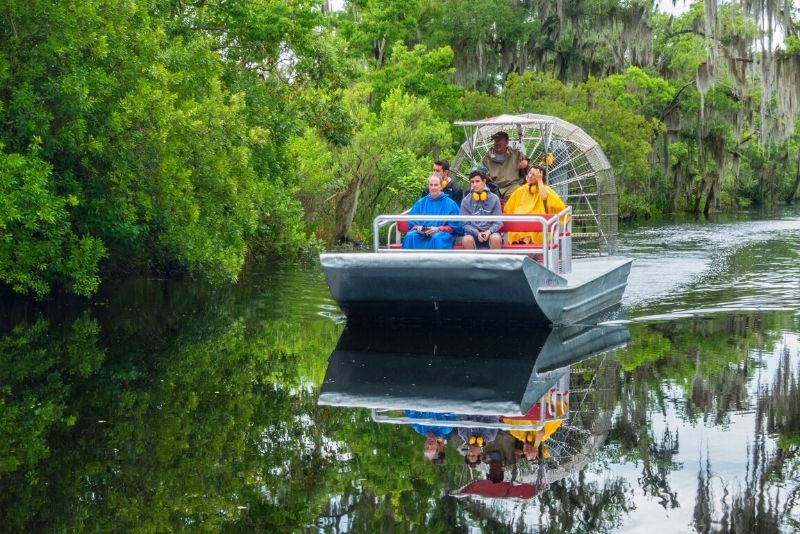 Operated by: Louisiana Tour Company
Get the adrenaline pumping during this high-speed adventure on board one of the fastest boats in the wetlands. The powerful vessel skims along the water giving you access to hidden corners. It features stadium seating so everyone has a great view.
Enjoy the best of both worlds on this New Orleans boat tour which combines a swamp excursion with an airboat ride for the ultimate Louisiana jaunt. Keep an eye out for gators lurking in the shallows, and wild pigs snuffling about in the marshlands. You might even see ospreys and owls swooping from above, on the hunt for dinner.
6. Experience Cajun Country: Swamp Boat Adventure and Plantations Full-Day Tour from New Orleans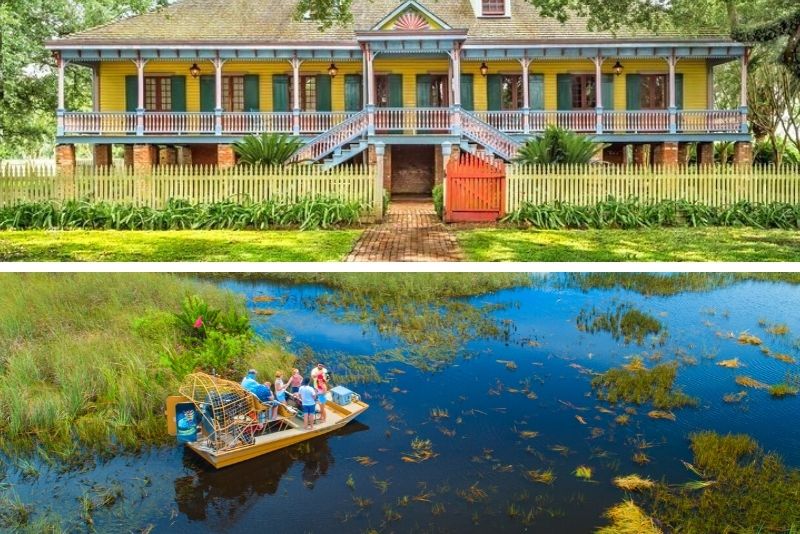 Operated by: Tours by Isabelle
Delve into the intriguing Cajun and Creole cultures of New Orleans on this full-day plantation and swamp tour. Go back in time at Laura Plantation where you will be regaled with the intertwined stories of several slaves and owners who once lived there. Admire the elegant architecture before heading to Houmas House for a decadent lunch and another plantation tour.
Cross the Mississippi River using the dramatic suspension bridge, and venture deep into the remote cypress swamps by boat, learning about the Cajun people and their use of healing plants. Keep your camera handy for taking up-close photos of wildlife.
7. 90-Minute Jean Lafitte Swamp and Bayou Tour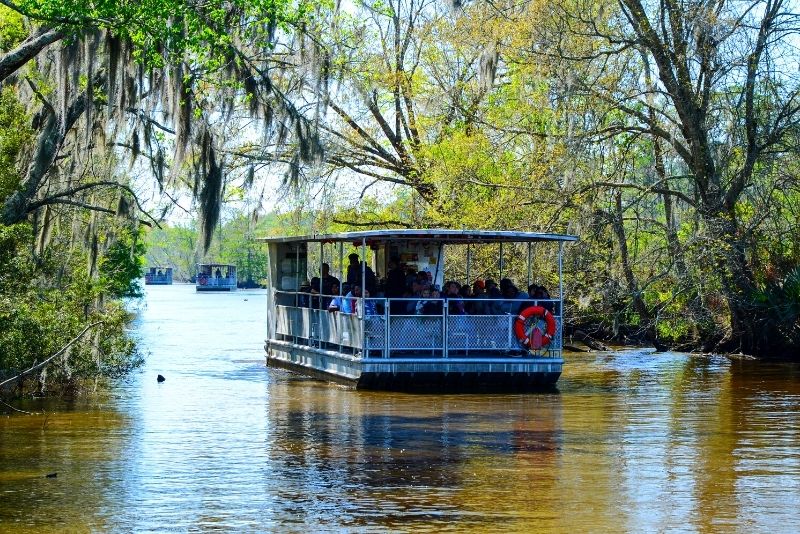 Operated by: New Orleans Paddlewheels Inc.
Step on board this spacious pontoon boat for a gentle ride into the heart of Jean Lafitte National Historical Park and Preserve. Make sure your camera batteries are fully charged to capture the regal poses of egrets as they wade along at the marsh edge. You will want to snap shots of gleaming alligator eyes too as these powerful reptiles glide towards you through the meandering bayou.
Relax in the welcoming shade of the boat canopy while learning about swamp lore from your knowledgeable local guide. Tours last 1.5 hours, with hotel pick-ups and lunch available for an additional cost.
8. Full-Day Oak Alley Plantation and Swamp Boat Tour from New Orleans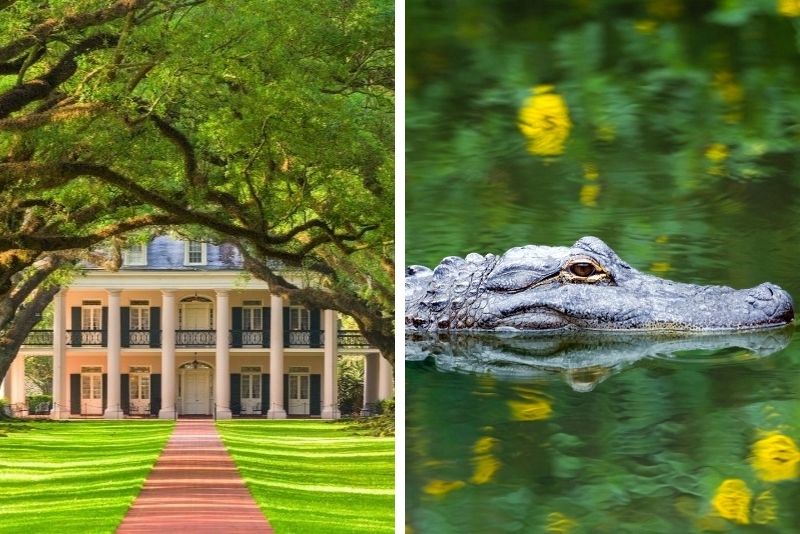 Operated by: Louisiana Tour company
Begin your day by walking in the footsteps of 19th-century blacksmiths, slaves, and plantation owners on a 2-hour cultural New Orleans tour. Explore the stately Oak Alley Plantation which dates back to 1837 and is styled with a Greek revival theme.
Take photos of the impressive oak avenue, and listen as your costumed guide spills the beans about the lives and secrets of previous plantation inhabitants. Then drift through the small waterways on a relaxing boat tour of Barataria Swamp, in search of alligators and other wild wetland residents. Round-trip transportation is included on this New Orleans swamp tour.
9. Swamp tour and Destrehan Plantation tour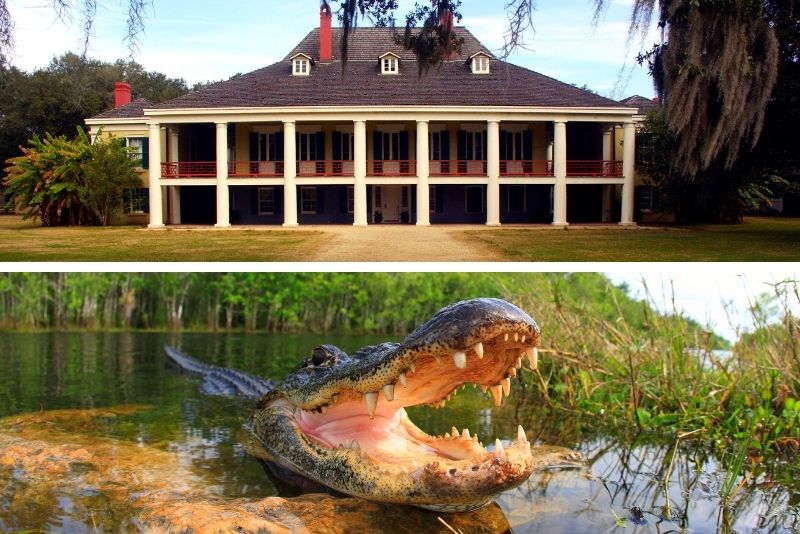 Operated by: Gray Line Louisiana
Discover the oldest French-Colonial style home in the lower Mississippi Valley and learn about the 1811 slave revolt during this New Orleans plantation tour. Delve deep behind the scenes of the Destrehan family's sugar dynasty and find out which other historic events occurred here at this site.
The 5-hour New Orleans swamp tour will then transport you into the moss-draped wetlands for a cruise through a privately-owned wildlife refuge. Enjoy hearing about "Rougarou" the legendary Cajun werewolf, and see if you can spot more earthly creatures lurking in the shadows. Alligator sightings are common here, so keep your camera ready.
10. Oak Alley Plantation brunch and swamp combo tour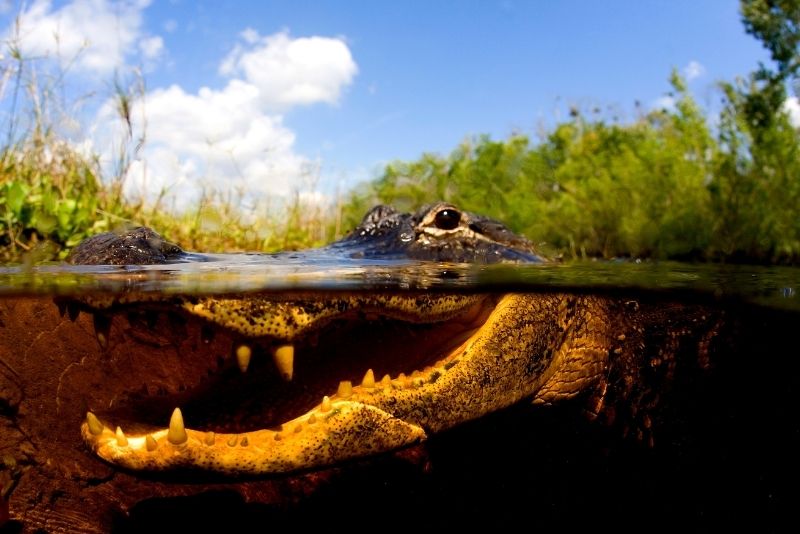 Operated by: Gray Line Louisiana
Get stuck into local brunch favorites such as crawfish etouffee and Cajun smoked sausage on this New Orleans swamp tour. The setting is Oak Alley, one of the most photographed plantations in the country. It has been used as a filming location for several motion pictures including Interview with a Vampire.
Explore the Big House and grounds before heading to Laura Plantation to discover the "best history tour in the US". Then meander through the Manchac Swamp by boat for close encounters with wildlife. Your guide knows the top places to find alligators so it will be a thrilling ride.
11. Whitney Plantation and Swamp Tour Combo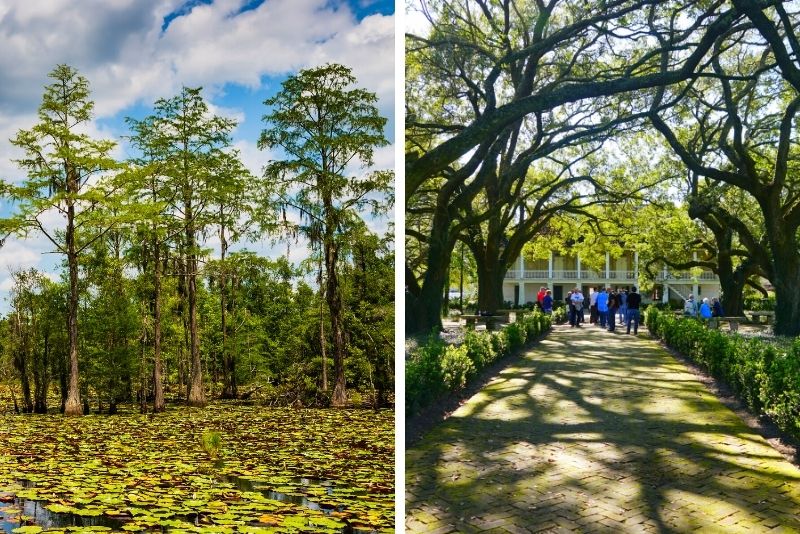 Operated by: Crescent City Tours & Transportation
Enjoy an insightful tour of the Whitney Plantation in the company of an expert local guide, before heading off to check out the museum exhibits at your own pace. This is the only museum in Louisiana that focuses exclusively on the lives of slaves.
During this 8-hour excursion, you will pass by Evergreen Plantation where Django Unchained was filmed, as well as Destrehan which in 1811 was the site of one of the largest slave revolts in US history. This New Orleans swamp tour also includes a boat trip into the wetlands in search of alligators, wild boar, and eagles.
12. N'awlins Luxury: Laura, Oak Alley or Whitney Plantation with Swamp Tour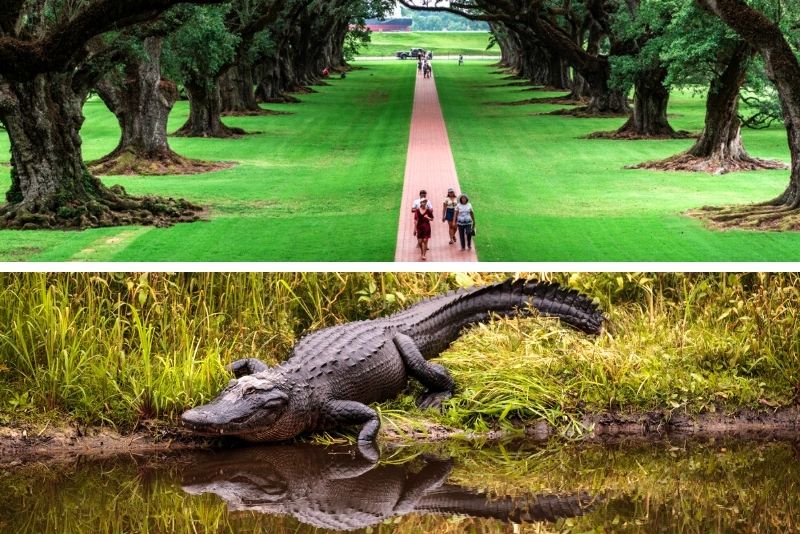 Operated by: Nawlins Luxury Tours
This combination excursion is one of the best New Orleans swamp tours in town. Begin your day trip with a stop at one of the top plantations in the area, choosing from either Whitney, Laura, or Oak Alley. Learn about the lives of the free and enslaved inhabitants, with house tours and museum visits included.
Sit down for a hearty feast (for additional expense) at a local Cajun restaurant before climbing on board your boat for an afternoon adventure in the wetlands. The swamps are home to an incredible range of wildlife, including alligators, turtles, and raccoons. Hotel pick-ups included.
13. Honey Island Swamp Private Tour with Transport from New Orleans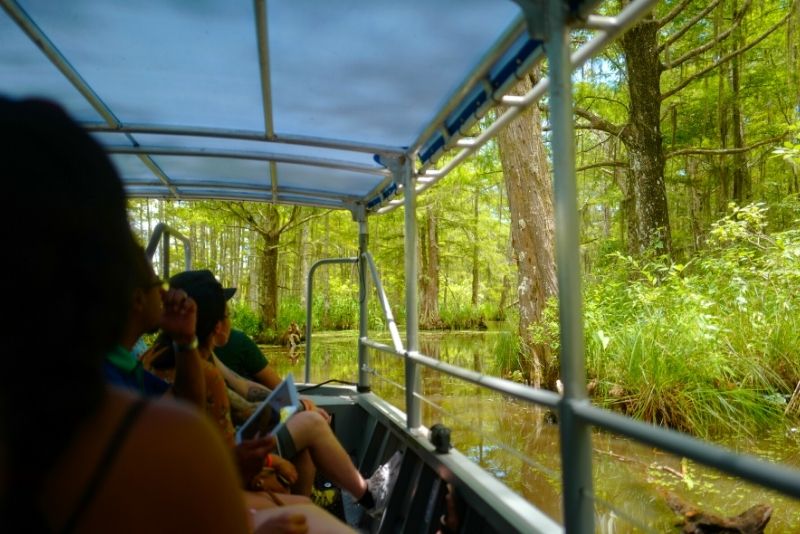 Operated by: Honey Island Swamp Tours
Drive alongside the vast Lake Pontchartrain on your way to Honey Island Swamp, where you will spend time with an ecologist guide who will divulge insider secrets about this intriguing wilderness. This is a 4-hour private New Orleans swamp tour, so you will receive plenty of personal attention and flexibility.
The flat-bottomed boat offers lots of shade to keep you cool during summer months, so you can spend time watching deer, otters, and alligators in their natural habitat. Enjoy tall tales of bigfoot sightings and prehistoric creatures, and watch Cajun fishermen expertly catching bluegill and sunfish. Multiple departure times available.
14. Whitney Plantation and Manchac Swamp Kayak Tour Combo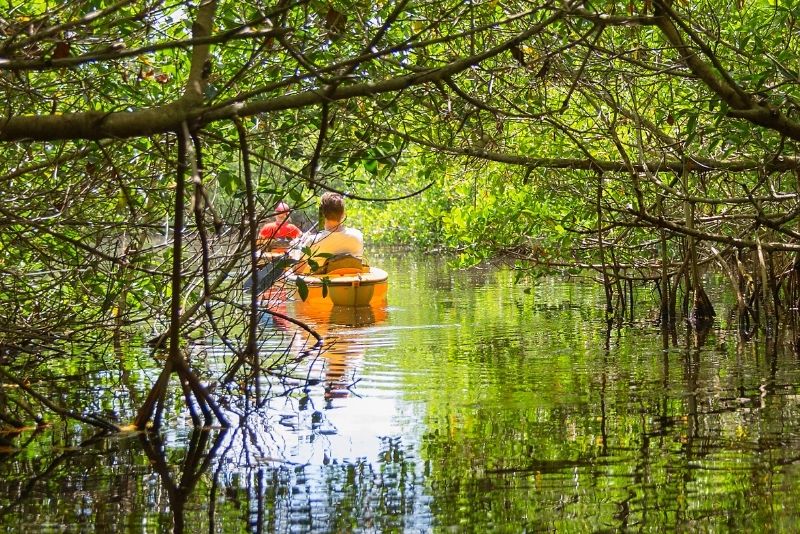 Operated by: New Orleans Kayak Swamp Tours
Kayak through secluded wetlands far from the busy New Orleans crowds on this 8-hour combination swamp tour. You will have a short lesson on how to paddle your single or tandem kayak, so this guided excursion is suitable for beginners and experts alike.
Float silently through the peaceful mossy swamp, meeting the local wildlife during safe and thrilling encounters. Reward yourself with a seafood lunch (not included) where those brave enough can try fried alligator, gulf oysters, and frog legs. Other southern staples are available. Finish your afternoon learning what life was like as a slave at the Whitney Plantation.
15. Full-Day New Orleans City Tour and Swamp Boat Tour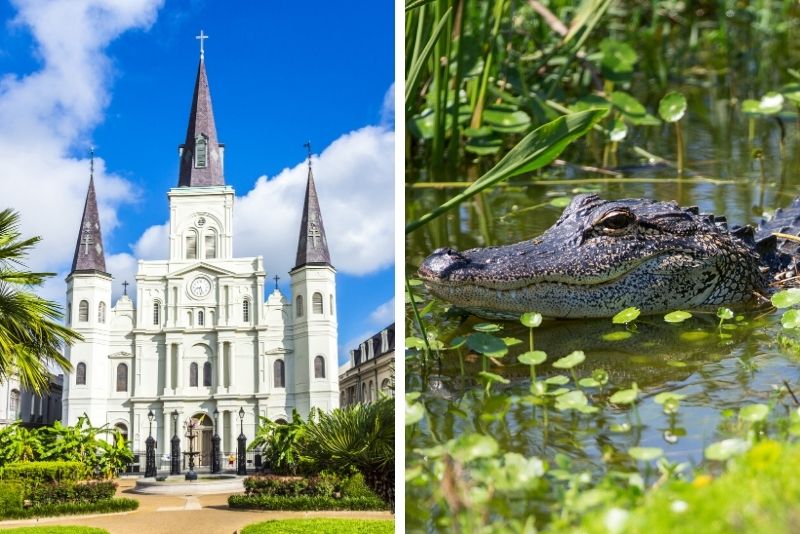 Operated by: Southern Style Tours and Transportation
Combine city highlights with wetland adventures on this 8-hour New Orleans swamp tour. Explore the streets in an air-conditioned minibus, taking in the sights and learning about local heritage from your guide. Admire the mansions along Esplanade Avenue and tuck into coffee and beignets at New Orleans City Park.
Take a spooky tour of St. Louis Cemetery for an insight into the unusual above-ground burial tradition. Then pass through the beautiful Garden District, one of the oldest African-American neighborhoods in the US.
This New Orleans tour includes a boat trip through the cypress swamps at Bayou Segnette, searching for gators.
16. Small-Group Bayou Airboat Ride with Transport from New Orleans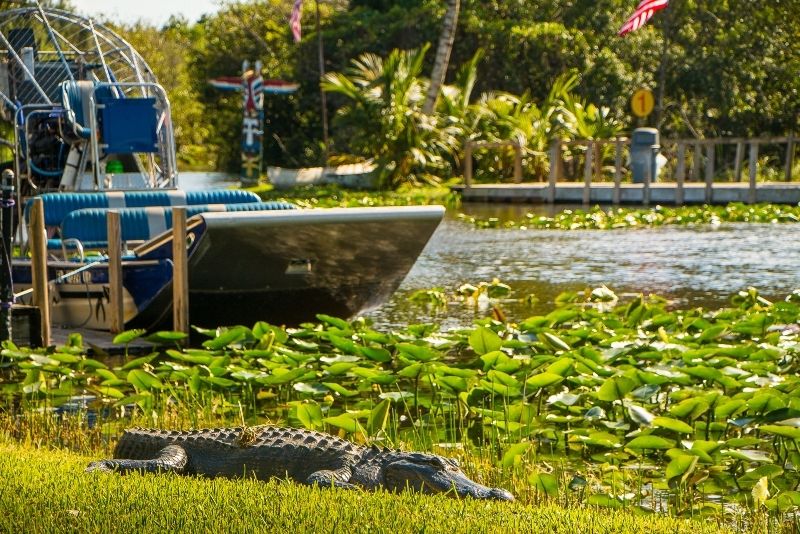 Operated by: Tours by Isabelle
Join a small group of like-minded adventurers to discover the secrets of Louisiana's wild bayous on this family-friendly New Orleans swamp tour. Hold on to your hats as the airboat zooms through the secluded tree-lined marshes of Bayou Segnette State Park, reaching speeds of 45 mph to get the adrenaline flowing.
See if you can spot beavers, snakes, and giant river rodents known as nutria hiding in the waterways. The Captain will stop the boat for wildlife viewing and photos so you will not miss a thing on this 4-hour tour. Hotel pick-ups and air-conditioned passenger van transportation are included.