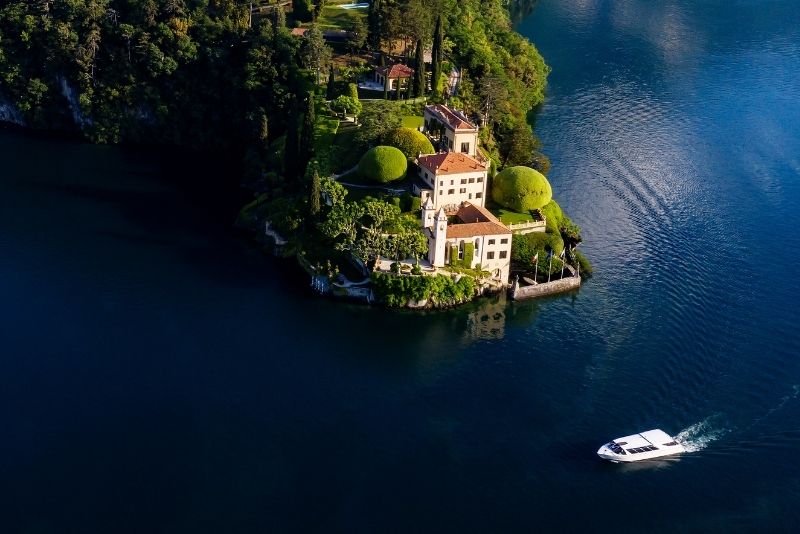 Whether you're taking a quick and convenient day trip from Milan or spending a few more days soaking up the sun and embodying that vacation lifestyle, one of the very best ways to explore Lake Como and all of its hidden treasures is from the water.
With myriad activities revolving around the lake itself, whether you prefer a slice of history, adventure, luxury, or a little mishmash of everything, there's a boat tour perfect for your itinerary and budget.
So, without further ado, here are seven of the best Lake Como boat tours that will help you make the most out of your time on this idyllic northern Italian lake.
Don't feel like reading ahead? Check our full catalog of boat tours in Lake Como right now!
A gorgeous slice of warm Italian paradise, Lake Como is perhaps most famous for being a vacation destination for the stars. Heralded by George Clooney's mega-mansion, this opulent oasis has been welcoming the elite for decades – and with the inviting combination of seclusion, natural beauty, year-round sun, the very finest Italian cuisine, and no shortage of fancy lakeside hotels to pamper you to within an inch of your life, this sparkling retreat has been one of the most popular destinations in the country for locals and tourists alike for decades.
On land, you're greeted with a go-slow lifestyle popping with splendid architecture and rich culture; as you meander around the winding streets of Como, take a moment to stop and appreciate the opulent touches that adorn many of the buildings. The Duomo di Como, for example, is a stunning cathedral flanked with intricate details both inside and out.
Or, if you're looking for something a little more unique, be sure to check out Villa Carlotta. This beautiful villa was once owned by royalty, now a botanical garden and museum that features an impressive collection of artwork around every corner.
What are the most popular boat tours in Lake Como?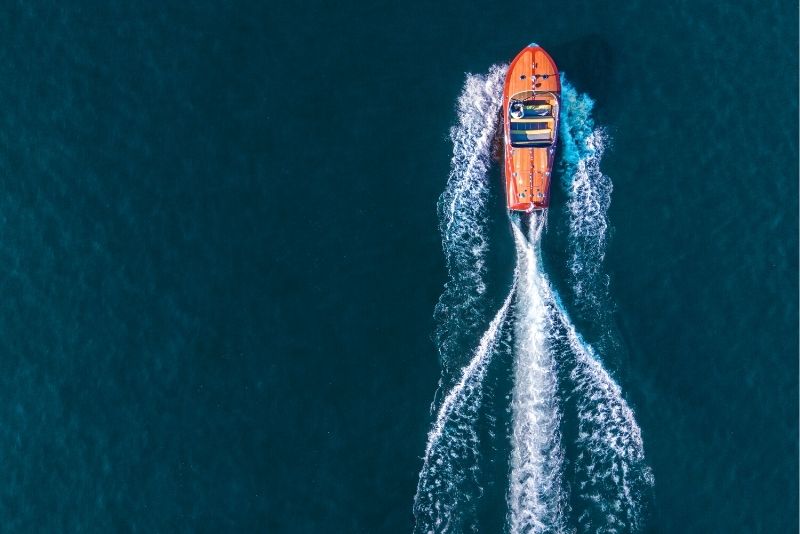 As you'll see, several types of Lake Como boat tours await. On the one hand, you can be on and off the water in just a couple of hours with a quick highlight reel of the lake's best bits. Or, if you're looking to take your time, there are full-day options that will let you explore at a more leisurely pace with plenty of stops along the way.
There are also several different types of boats available for hire, from sleek and speedy motorboats to charming old-fashioned wooden sailboats or big-bodied ferries made for large groups on a budget – it just depends on what kind of experience you're after.
One thing is for sure: no matter which tour or boat you choose, getting out onto Lake Como is an experience not to be missed. To help you decide which is best for you, we've curated a list of the best Lake Como boat tours, complete with their own distinct itineraries and price tags.
Which tour sounds like the perfect addition to your idyllic Italian vacation? Read on to find out!
1 – Lake Como public ferry boat tour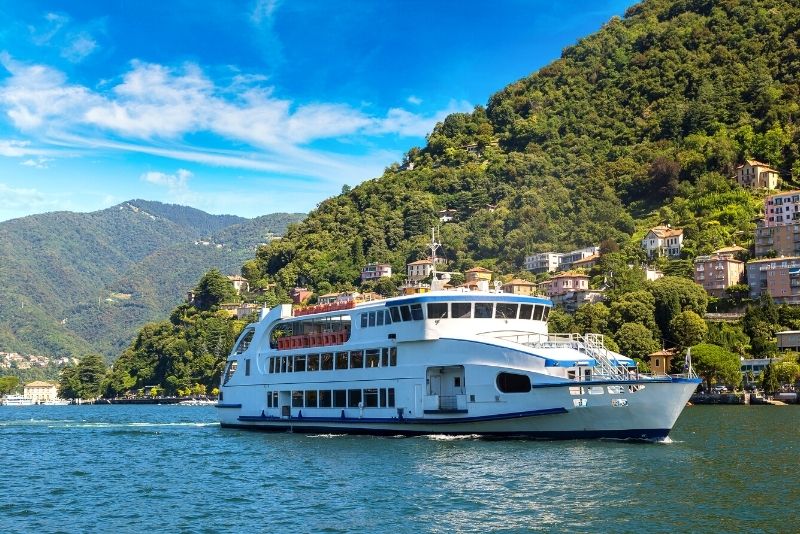 If you're looking for a tour that covers all of the bases and you don't want to break the bank, then hopping on one of the Lake Como public ferries is probably your best bet.
Run by the local transport service (the Navigazione Laghi), these big, budget-friendly boats run on set timetables throughout the day and make several stops at all of the most popular towns and villages dotted around the lake. Just to give you a taste of the stops on the routes, you can find yourself in Bellagio (dubbed the pearl of Lake Como), a town known for its luxury hotels and designer boutiques; the vibrant and steep hillside town of Varenna with its pastel-hued houses; Menaggio, a historic and lesser-known town dotted with walls that once bordered the ancient castle; or Cadenabbia, a small and laidback lakeside spot brimming with luxury resorts.
While those towns are all relatively close to one another, the ferries can also take you to northernmost spots like Colico and Domaso, Lecco in the southeast, or Como or Tavernola in the southwest. No matter which route you take, you'll be blessed with plenty of time to take in the stunning scenery as you cruise around what is arguable one of the most beautiful lakes in the world.
Plus, as an added bonus, you can use your ferry ticket to hop on and off at different stops along the lake as many times as you like over the course of the day. So, if you want to explore a particular town in more detail or simply take your time meandering around Lake Como's picturesque villages at your own pace, this is the tour for you.
Perfect for the penny-pinchers, the price for a ferry ticket is € 3.40 per person. If you want to bring along a bike, it'll cost you an extra euro; you can bring your car or motorbike too (on the bigger boats), but they'll set you back a few extra euros too (at least 4 for cars, increasing slightly depending on size).
It's a no-frills approach that gets you from A to B with sparkling views from departure to docking.
2 – Lake Como sailing tour
If your idea of a dream vacation is away from the crowds, focused on luxury, peacefulness, and a whole lot of stunning views without a worry in the world, then leave the crowded ferries behind and say hello to a day out sailing on Lake Como.
One of the most romantic ways to explore the lake, a sailing tour gives you access to secluded coves, hidden beaches, and cliffs that are only accessible by boat. You'll feel like you have the lake all to yourself as you soak up the tranquility with your significant other (or close friends).
As there's no set timetable or stops to make, a sailing tour is one of the best ways to really take your time and appreciate everything that Lake Como has to offer at a more leisurely pace. Your captain will be more than happy to show you around and point out all of the highlights, but they'll also give you plenty of time and space to just sit back, relax, sip on a glass (or four) of Prosecco, nibble some delectable Italian cheeses, and soak up the oh-so-good rays.
Prices for a sailing tour vary depending on the size of the boat and how long you want to be out on the water for, but you can expect to pay anything from €150 for a small group (up to six people) for a half-day tour to around €400 for a full day out on a larger boat. With a multitude of options – some setting sail from Bellagio, others Como, and others Lecco – there's always a sailing adventure nearby. (and if you're not staying in one of the major towns, most tour operators can arrange for you to be picked up from your hotel!)
For all of you foodies, consider one of the dinner options. It's not exactly a shock to hear that Italian food is delectable, but when combined with a private sail on the calm waters of Lake Como, it becomes an unforgettable experience.
What's not to love about a romantic dinner date with the one you love (or close friends), fresh air, and some of the best views in Europe?
If you're looking for an intimate and luxurious way to explore Lake Como, then this is most definitely the tour for you. Just make sure you pack your sunscreen!
3 – Lake Como villas sightseeing boat tour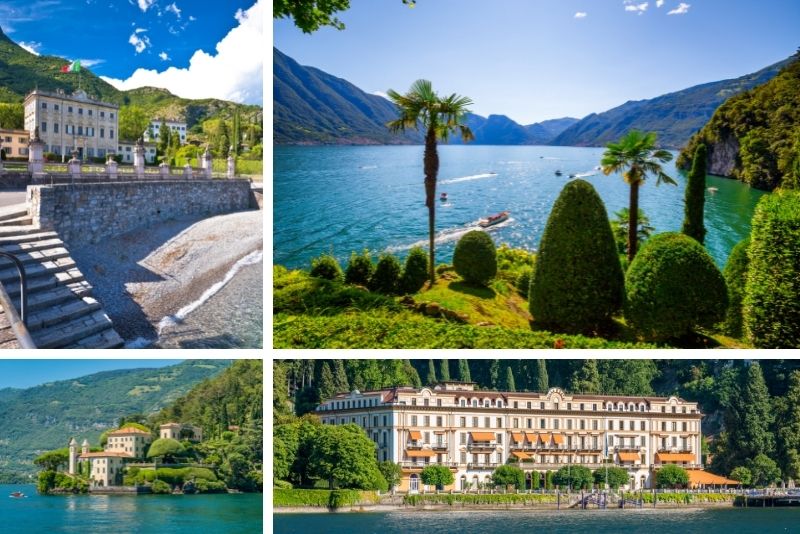 Nobody's arguing that a day out on the water isn't enchanting. However, what separates the best Lake Como boat tours from a typical day of sailing on any other lake, river, or ocean in Europe is what sits on the land which flanks the water.
Besides the towering and lush mountain ranges that provide a glowing contrast of green with the vibrant and clear blues of the water, the shores of this infamous Italian lake are renowned for their luxury, high-class villas.
As you explore the lake on a sightseeing tour, enjoying your Italian nibbles and sipping on your home-grown wine, your friendly captain will wax on fascinating details about all of the celebrity homes and opulent villas which dot the coast, giving you a bit of history behind each one.
So, what can you expect from a villa-focused tour? While each company takes an individual route, rest assured you'll cruise past at least a half-dozen of the most iconic and postcard-worthy (and expensive!) waterside abodes in the region.
Villa Balbianello near Lenno, for instance, dates back to the end of the 18th century and sits on the grounds of an old monastery. With its picturesque gardens and pair of yellow-hued, castle-like towers, it's impossible to miss (no wonder it was featured in Casino Royale!). The Villa Monastero in Varenna, on the other hand, is older still, build in the 12th century that's famed for its botanical gardens and terraced lemon groves. While renovated at the turn of the 20th century, it still stands out on the shoreline with its unique and eclectic Nordic style.
Of course, no Lake Como villa tour would be complete without a stop at the three-floor Villa Carlotta in Tremezzo. Set against the dramatic mountainous backdrop and above the road (which gifts it a panoramic position overlooking the lake), this stunning mansion has origins in the late 1600s and features an impressive art collection, many artistic events, as well as beautiful gardens with blooming flowers all year round.
Throw in both Villa d'Este and Villa Erba in Cernobbio, and the majestic Villa Olmo in Como (to name just a few) and it's clear that you won't soon run out of notable landmarks on your villa-hopping Lake Como boat tour!
Most tours are a minimum of three hours, with prices starting at around €50 per person, but can increase depending on the size of your group, whether or not you want to tour the villas as well, and any extras that you might want to add on (such as walking tours with an English-speaking guide). Either way, sleep sound knowing that any villa tour is not only picturesque but informative too.
4 – Lake Como luxury Venetian-style boat tour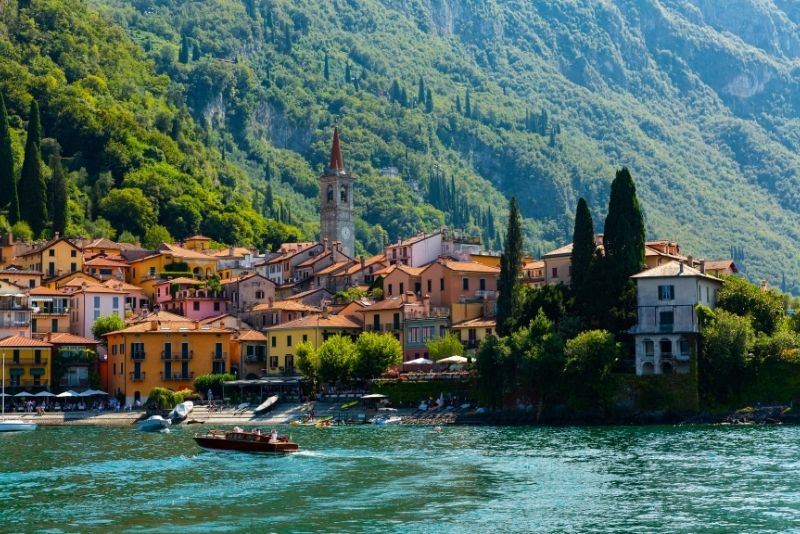 For convenience, you've got the ferries. For luxury, you've got sailboats. But if you're all about romance and style on your Lake Como boat tour, then you need a Venetian-style boat.
Your mind probably jumped to gondolas right? Gondolas have long been associated with Venice, and for good reason – they're the epitome of Italian romance. Yet what most people don't know is that Venitian boats come in different forms, and if you're all about luxury and romance, then the private, classic mahogany Riva limousines – the kind on which you'd see George Clooney riding – are found all over Lake Como too.
Most Venitian-style boat operators will be based in either Como, Lecco, or Bellagio, with some also found in Varenna and Menaggio. All offer similar experiences, though it's worth doing your research before you book so that you can find one which suits your needs best.
For example, if you're looking for a quick experience, then you can take a short and sweet ride out on the water without all the bells and whistles. For something a little more comprehensive, a host of tours operate with pre-planned routes that not only include short 15-minutes stops in towns like Varenna, and longer stops (close to an hour) in Bellagio, but also a bottle of Prosecco to set the mood.
Another popular spot on Venetian-style Lake Como boat tours is Isola Comacina, a small, tree-lined island just off the western shore.
On a private tour – tailormade for couples or small groups – you'll be rid of the crowds, the noise, and the stress; left to admire the sights, enjoy the sunshine, and pick the brain of your friendly, knowledgable driver. If that idea sounds like bliss, then book ahead and secure your spot!
5 – Lake Como private boat tour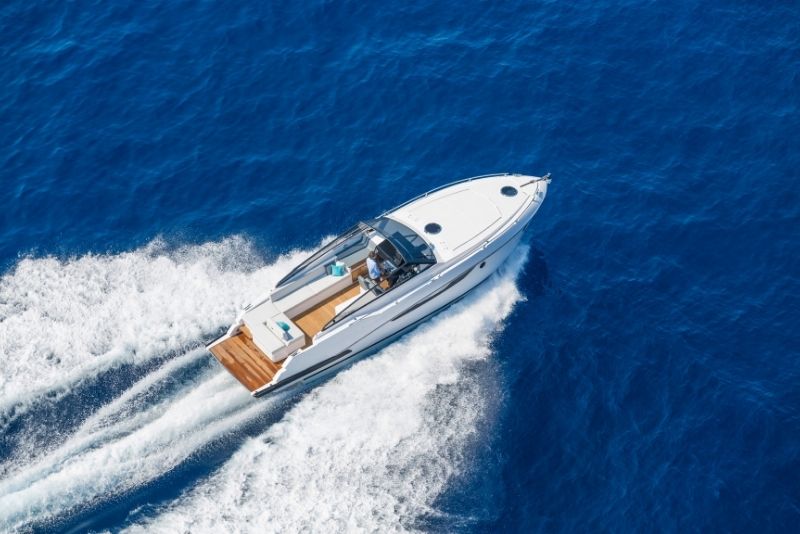 Nothing quite epitomizes a classy vacation than cruising past lush mountains, charming villages, calm waters, and Mediterranean villas on a private boat.
While most Lake Como boat tours are shared experiences with up to 30 other people, a private tour means that you can tailor the entire experience to your liking – whether that's stopping off at certain landmarks, enjoying a long lunch break in Bellagio, or just sipping Prosecco in the company of your nearest and dearest as you sit back, relax, and indulge in the unmatched serenity.
Lasting anywhere from an hour (a short and sweet cruise around the water) to nearly a full day (jam-packed with villa visits, lunch and/or dinner, cooking classes, soft trekking, or walking tours of different towns) a private Lake Como boat tour is the perfect way to see everything that this beautiful destination has to offer without being tied down to a group or a set schedule.
As the friendly captain waxes about the lake's top villas and gardens from the water, you can set your own course; just to give an example, let's say you're departing from Como. After setting sail, you can cruise past the grand Villa del Balbianello and Villa Carlotta, cruise onwards to the popular towns of Tremezzo and Bellagio for a spot of coffee, and then kick on to the lake's little-known island and waterfall, away from all the crowds.
Of course, all of this seclusion comes at a price. Private Lake Como boat tours don't come cheap, but if you're looking for a once-in-a-lifetime experience (or perhaps celebrating something special), then it's definitely worth splashing out.
6 – Lake Como dinner cruise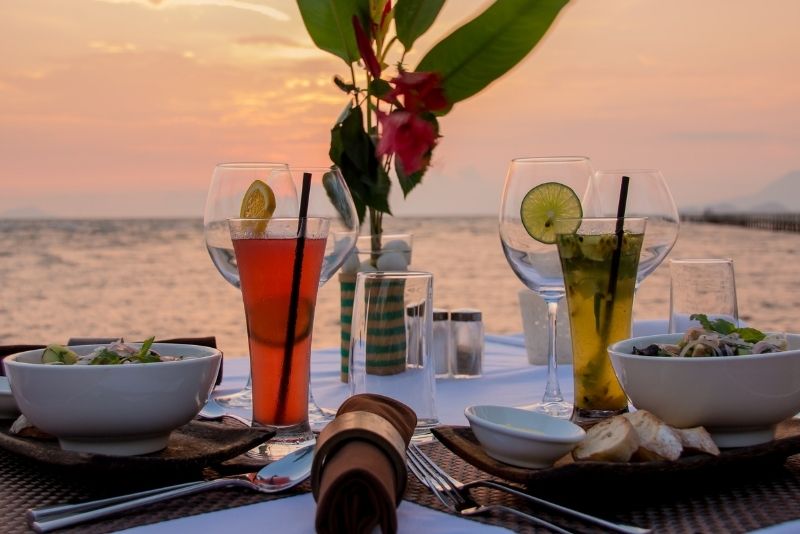 About as romantic as it gets, a Lake Como dinner cruise is the perfect way to spoil your significant other whilst on vacation.
As the sun sets over the water and twinkling lights begin to dot the shoreline, you'll be seated at an intimate table for two (or more, if you're in a group) where you can enjoy a delicious Italian meal as you sail past some of Lake Como's most picturesque villages.
Most dinner cruises last around three hours and include stops in pretty towns like Bellagio, Varenna, Tremezzo, and Menaggio; giving you plenty of time to explore each one before returning to your cozy table on board. And of course, what would an Italian dinner be without some good wine?
You'll be able to choose from a selection of red and white wines, as well as prosecco, to accompany your meal; the perfect way to toast to a magical evening spent cruising around one of Italy's most beautiful lakes.
Typically, the best Lake Como boat tours that include dinner go one of two ways. On the one hand, you're treated to a hearty feast on the deck or bow of the boat itself – nothing quite like dining al fresco as you sail past some of Lake Como's most iconic landmarks. On the other hand, you'll dock at a town like Moltrasio and be escorted to a charming and quiet restaurant where a tantalizing 3-course meal with wine awaits, allowing you to see a different part of the shoreline in the process.
Either way, if you're a foodie on the hunt for a truly unique and romantic experience during your time on Lake Como, then make sure to book ahead for a dinner cruise on a stylish open-top water taxi – it's an unforgettable (and delicious) way to spend an evening!
7 – Lake Como boat rental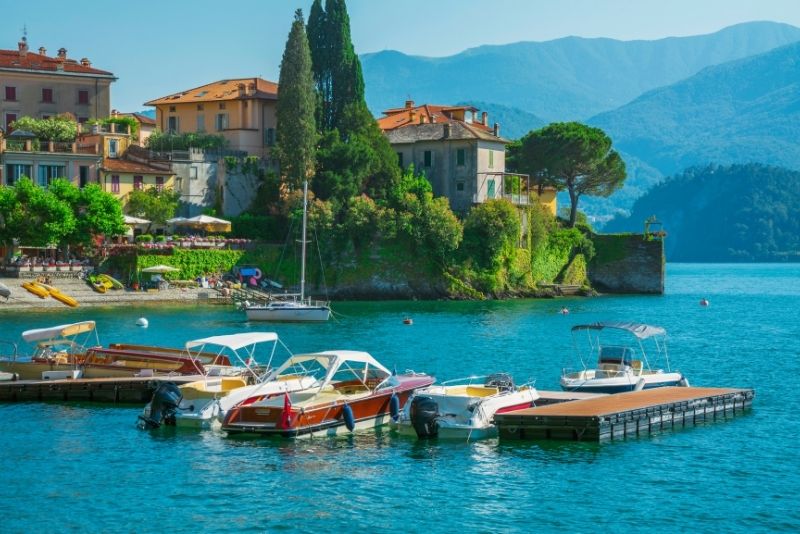 If you're craving the flexibility to do as you please, want to be rid of the tourists onshore, or simply love being out on the water, then a Lake Como boat rental is the perfect option for you.
With a boat rental, you're in complete control of your own itinerary; explore secluded coves and hidden beaches that can only be reached by water, drop anchor and take a dip in the refreshing lake waters, or cruise around at your leisure – it's entirely up to you!
Some boat rentals come with a captain (for an additional fee), who will be more than happy to show you around the lake and offer suggestions on where to go and what to see.
However, if you're confident enough to take the wheel yourself (and have the necessary boating license when relevant – note, it's not always needed), then you'll be able to explore Lake Como to your heart's content; the perfect way to see the region from a different perspective!
Whether you're looking for a relaxing day spent cruising around the lake with friends on a yacht, motorboat, or fancy water taxi limousine, or an adventurous afternoon exploring hidden caves and coves on a little motorized dinghy (typically the cheapest option), a boat rental on Lake Como is guaranteed to leave you with memories to last a lifetime.
How much do boat tours in Lake Como cost?
How much Lake Como boat tours cost entirely depends on your chosen tour and what is included.
For example, a dinner cruise will typically cost more than a standard boat tour of the lake as it includes the price of your meal and drinks. Similarly, a private boat tour or rental will usually be more expensive than a group tour as you're essentially paying for the whole boat (and sometimes captain) to yourself.
That being said, there are plenty of budget-friendly options available if you're looking to save some money; many group tours have discounts for students or seniors, while public transport boats (known as vaporetti in Italian) and ferries that cruise around Lake Como are very reasonably priced and offer great value for money.
So, whether you're on a tight budget or happy to splash out, there's definitely a Lake Como boat tour to suit your needs!
What are the best places to visit during a boat tour in Lake Como?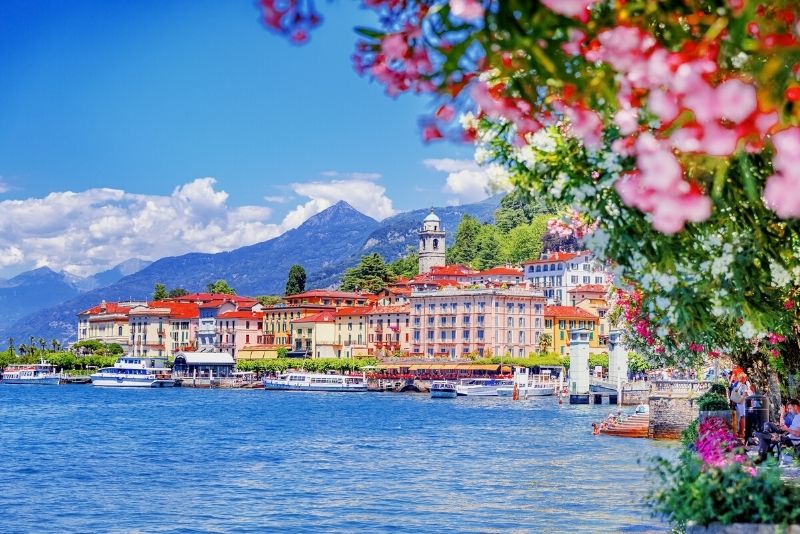 As Italy's third-largest lake, the variety of colorful and historic villages lining its sparkling shoreline is truly astounding.
On a Lake Como boat tour, you'll have the opportunity to visit some of the most popular towns and villages such as Bellagio (often referred to as the 'Pearl of Lake Como'), Varenna, Tremezzo, and Menaggio; each with their own unique charm and character.
Or, if you're looking to get off the beaten track, why not explore one of the lake's many uninhabited areas like Isola Comacina or meander down the Adda River that branches off south from Lecco? Down here, the tourists numbers drop off substantially, showing off the low-key lifestyle and natural beauty that northern Italy is renowned for.
With so much to see and do, it can be tough to decide where to go on a boat tour in Lake Como! To help you out, several boating companies have whipped together itineraries for you that cover the main villas, villages, and landmarks – so if you prefer to sit back and relax, a pre-organized tour is your best bet.
How long does a boat trip last?
The duration of your boat trip around Lake Como will, again, depend on the type of tour or rental you choose.
For instance, public transport boats such as the vaporetti and ferries typically only run for short periods throughout the day (usually every 30 minutes to one hour) and follow a set route with designated stops along the way. These types of tours are great if you're looking to hop off and explore one of the villages for a few hours before continuing your journey around the lake.
On the other hand, private boat rentals give you complete freedom to come and go as you please; most companies offer half-day (four hours) and full-day (eight hours) rentals, but it's also possible to hire a boat for longer periods of time if you're planning an extended stay on Lake Como.
If you're after a dinner tour, you'll typically have three hours between departure and docking, while the traditional sightseeing tours can last anywhere from two to four hours on the water – longer if you opt for one that gives you time to explore the shoreline on foot.
With a host of options to suit every itinerary and time constraint, whether you're looking for a quick jaunt around the lake or an all-day adventure, there's definitely a tour or rental to suit your needs!
Where do boat tours leave from?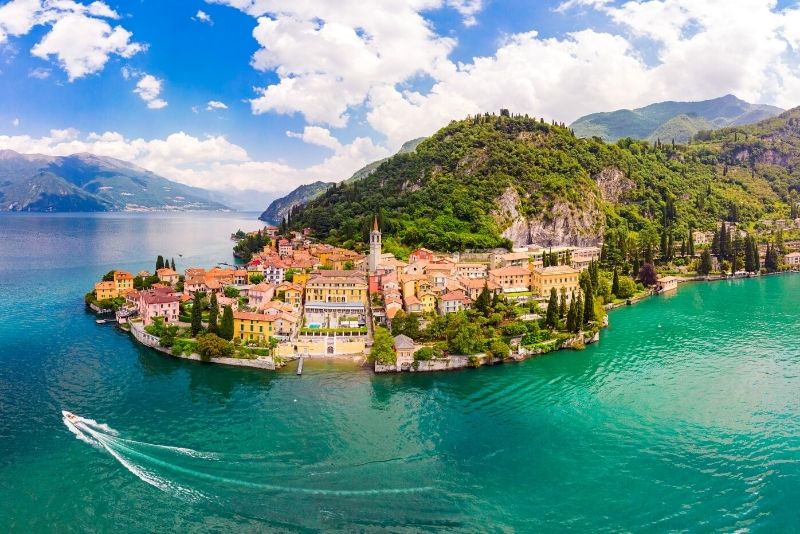 The start point of your tour will, again, depend on the type of tour or rental you choose.
For instance, public transport boats such as the vaporetti and ferries typically have several pick-up points located around the lake's perimeter (with Bellagio being one of the most popular), while private boat rentals usually depart from either Tremezzo or Menaggio.
Dinner cruises typically leave from Varenna, Como, or Bellagio, while sightseeing tours tend to depart from various locations depending on which landmarks and villas they're covering.
Most boating companies will provide full details of where your tour departs from when you book, so be sure to check this before setting off!
Keep in mind that, regardless of where your boat departs from, if you book a tour through a company online (i.e. a private tour or a sightseeing tour, not a ferry), they'll be able to provide transport to and from your accommodation assuming you're staying within the main tourist circles, or, at the very least, decide on a pick-up point that's more convenient for you!
As a general rule of thumb, it's always best to dress for the weather; if it's hot and sunny, be sure to pack sunscreen and a hat, while cooler days will call for layers that you can peel off as the temperature rises.
Of course, if you're planning on swimming or taking a dip in Lake Como (which is definitely worth doing!), you'll need to bring your swimsuit too!
Other than that, there's no real dress code for most boat tours around Lake Como; just make sure you're comfortable and able to move freely, as you'll likely be spending a lot of time sitting.
When is the best time for a boat trip in Lake Como?
When the sun is beating down and twinkling off the water, and when the air is toasty and warm, there's nothing quite like being on a boat on Lake Como. Between March and November, but particularly in the peak of summer, the conditions are just right for a leisurely day (or more!) spent cruising around the lake. You won't have to pack too many extra layers (maybe just a hat and some sunscreen) and you can take a dip in the refreshing waters without turning into an icicle.
That said, the lake is beautiful all year round, so don't feel like you have to wait for summer to enjoy a boating trip!
Spring and autumn are both lovely seasons for a tour or rental; the weather is milder (which makes for more comfortable conditions if you're planning on spending a lot of time outdoors), and the crowds are smaller too.
Of course, winter has its own charm; with the snow-capped mountains in the background and twinkling lights adorning the villas along the shoreline, it's easy to see why many people consider Lake Como to be even more magical during this time.
Which other water activities can be done in Lake Como?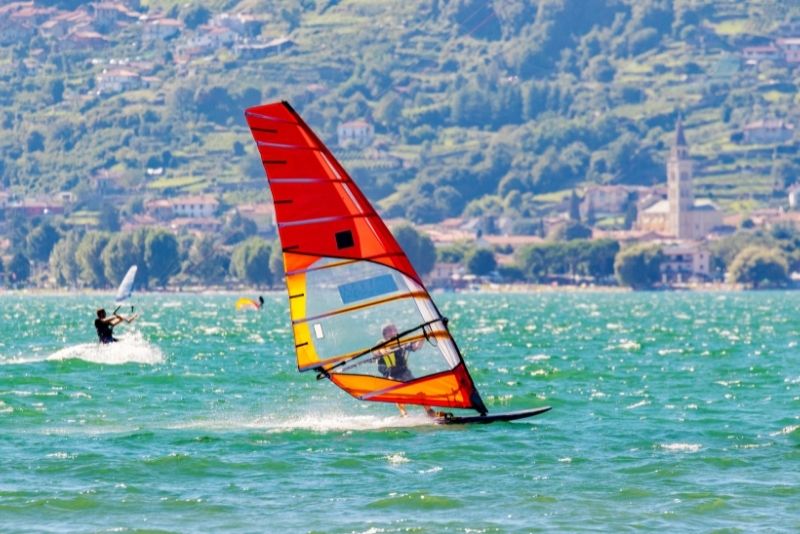 Who said this 146 km² lake was all about slow boats and lazy days? If you're feeling a little more active during your stay, there are plenty of other water-based activities to enjoy on and around Lake Como – including the typical ones like swimming, snorkeling, and diving, of course!
Fancy learning how to windsurf or kitesurfing? Or maybe you've always wanted to give stand-up paddleboarding or kayaking a try? With several companies offering lessons and rentals (often at very reasonable prices), it's easier than ever to get out on the water and have some fun!
And, if you really want to push the boat out (pun intended), why not try your hand at wakeboarding or waterskiing? A bounty of companies offer tows for both sports, so all you need is a bit of balance (and maybe a wetsuit if you're visiting in cooler months) and you're good to go!
Finally, for all the fearless thrillseekers, paragliding and parasailing await. Whether being pulled along by a boat or steering your own way through the air, the birds-eye views above this upside-down Y lake are second to none.
We can't overlook the land-based activities either; from horse riding and hiking to tennis, golf, and much more, there's something to keep everyone entertained during a stay in Lake Como.
Travel tips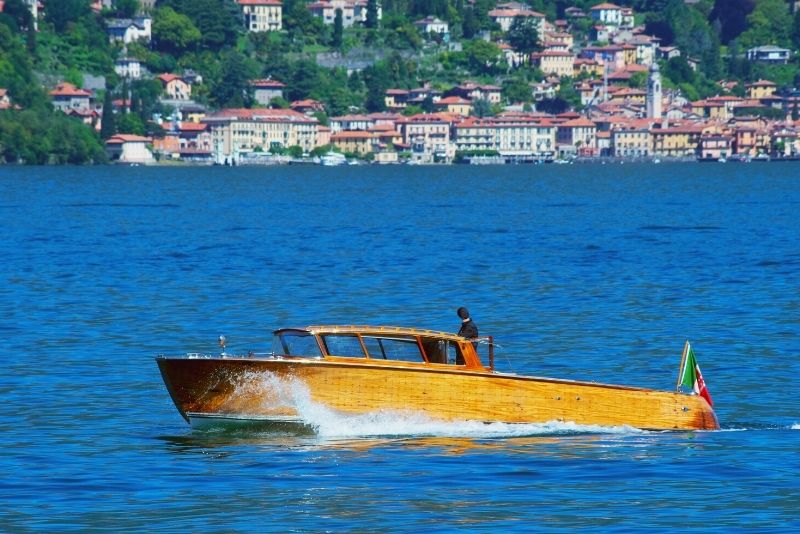 Spend at least 3-4 days at the lake. With so many picturesque towns and villages to explore, as well as plenty of activities to keep you occupied, a longer stay is always better!
Don't be afraid to venture away from the main tourist areas; while they're lovely, it's often the smaller towns and villages that offer the most authentic experience.
Be sure to pack comfortable shoes; even if you don't plan on doing too much walking, you'll likely end up exploring more than you anticipated!
Make sure you have a good camera (or at least your phone's camera) with you at all times; Lake Como is one of those places that's just begging to be photographed and it's guaranteed to leave your social media fans teeming with jealousy!
Check out Milan! At just an hour's drive from Bellagio (one of the most popular towns on Lake Como), it's the perfect stop before or after your time in Como. Depending on where you're traveling from, flying into Milan and then driving or training to Como may well be your best and cheapest option.
Book your accommodation in advance with a comparison site. Particularly in the summertime, prices for hotels and Airbnbs skyrocket, so it's always best to plan ahead.
And, last but not least, try to learn a few basic phrases in Italian before you go; while many people in tourist areas speak English, it's always nice to be able to say a few words in the local language. Arrivederci! (That means "goodbye" in case you were wondering.)
Final thoughts
So, there you have it; everything you need to know about boating around Lake Como!
Whether you're looking for a leisurely day spent taking in the sights or something a little more active, there's definitely something for everyone. And if you're keen on all-out fancy, rest assured you'll find it in this beloved celebrity getaway. Just be sure to dress for the weather, pack sunscreen and a hat (if it's sunny), and most importantly, enjoy your time on the water!
Have you ever been on a boat tour around Lake Como? What was your favorite part? Let us know in the comments below! And if you're planning a trip to Lake Como, be sure to check out our other blog posts for more insider tips and information!