Bali is synonymous with breathtaking natural beauty and fascinating cultural heritage. Its sweeping coastlines and culinary delights bring visitors from far and wide.
Walking tours in Bali will allow you to get up close and personal with the historic and cultural delights of Ubud, a UNESCO World Heritage site. Discover its scenic rice paddy fields, monkey forests and awe-inspiring Hindu temples.
Explore bustling night markets and mouth-watering street food in Denpasar, the throbbing heart of the island province.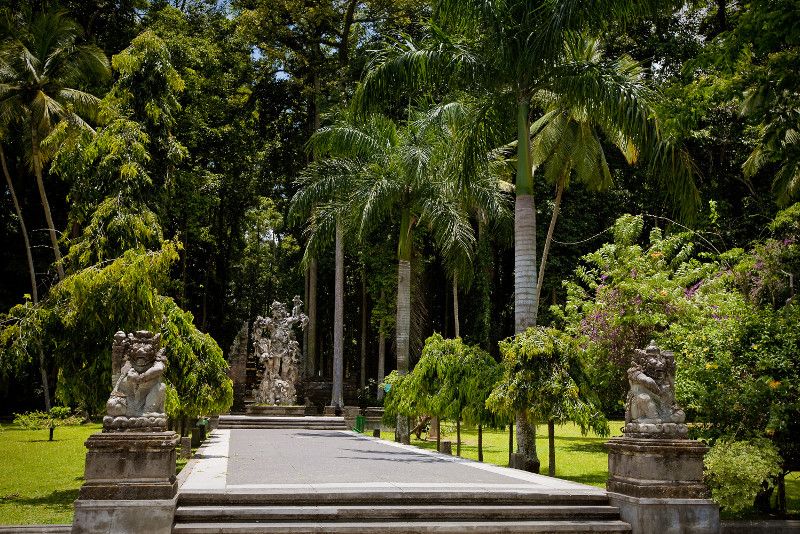 Here's all you need to know about walking tours, one of the most interesting experiences for sightseeing in Bali.
What are the best walking tours in Bali?
Bali old city walking tour
Go on an exciting tour through the historic city of Denpasar with an expert guide. Discover the lifestyles of the local communities, check out delightful local shops and witness colorful flower markets.
With some insider tips from your guide, you can explore hidden gems and convenient shortcuts for a richer experience.
Stroll through the Gajah Mada and Sulawesi Street, keeping an eye out for their majestic old buildings. Navigate the winding lanes of Art Market Kumbasari and buy traditional batik and silk items.
Badung Market, one of the largest markets in Denpasar, is a treasure trove of local produce, souvenirs and fabrics.
Ubud walking tours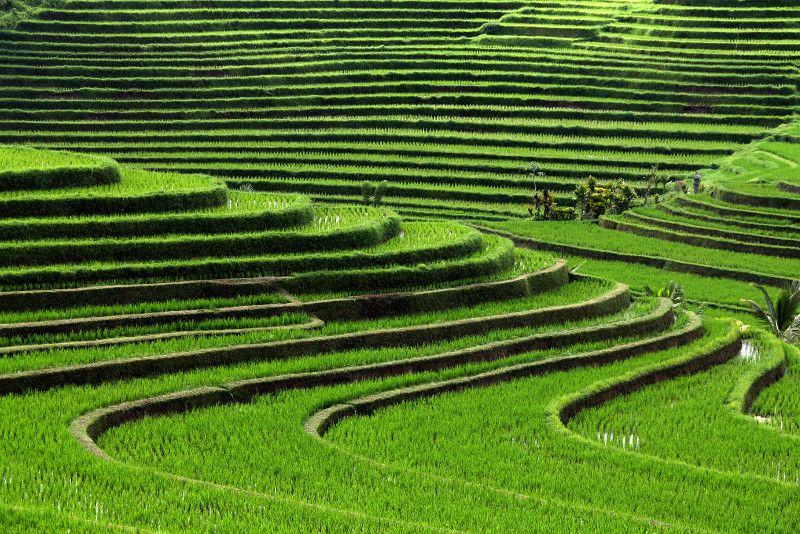 Get a taste of Bali's rural life and interact with locals on a 3-hour walking tour of Ubud. Traverse through lush rainforests and explore archaeological wonders along the Pakerisan River, one of the island's UNESCO World Heritage sites.
You'll then take a dip in the holy spring of Tirta Empul and witness the morning rituals of Gunung Kawi Temples. Stroll through scenic coffee plantations and sample fragrant herbal teas.
End your tour with a visit to lush rice terraces and the ever-popular Ubud Monkey Forest. Some tours provide lunch so that you can indulge in the flavors in rural Bali, after hiking through the rolling countryside and exploring quaint villages.
Cultural walking tours in Bali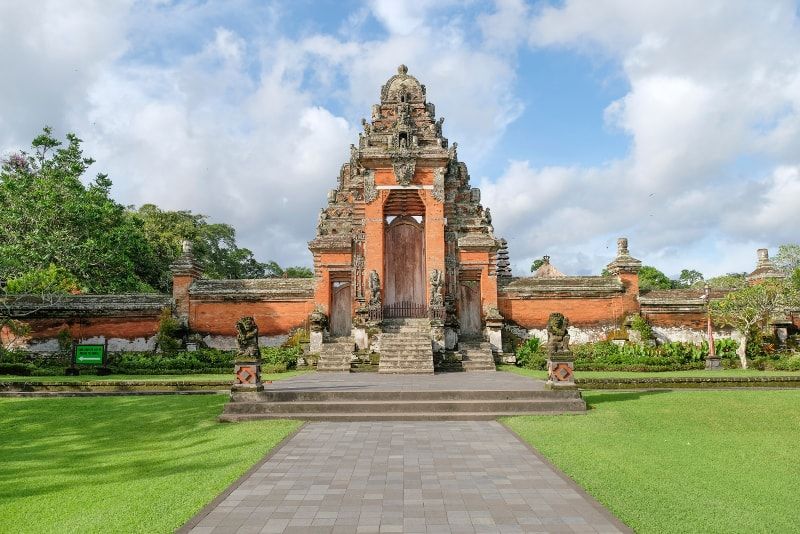 Visit all UNESCO World Heritage sites and experience the rice-cultivating culture of Bali on this 6-hour cultural walking tour. The tour covers the Subak Landscape of Pakerisan Watershed and rice terraces, as well as historical sites such as Taman Ayun Temple and Ulun Danu Temple.
Night street food walking tour in Denpasar
Experience the intoxicating charm of Denpasar's nightlife and get a whole new glimpse of its culture on a 4-hour night walking tour. Treat your palette to a profusion of flavors at the various street-food markets.
Dig into traditional rice cakes, satay, suckling pork and the Indonesian traditional soup called soto, and try out irresistible local desserts and tropical fruits.
Private walking tours in Bali
Get a quick introduction to Bali and its highlights on a 90-minute private walking tour, seeing major temples, markets and restaurants just to kickstart your adventure.
Private romantic walking tours are tailor-made for couples and honeymooners over some of the most romantic spots in the city in the company of an expert local guide.
Renowned for its idyllic beauty and deep spirituality, Bali is a perfect place for romantic getaways. Listen to the fascinating mythologies of Manikliyu Village, explore its jaw-dropping scenery and enjoy many photo-worthy locales of the city center.
Which places are visited on walking tours in Bali?
Ubud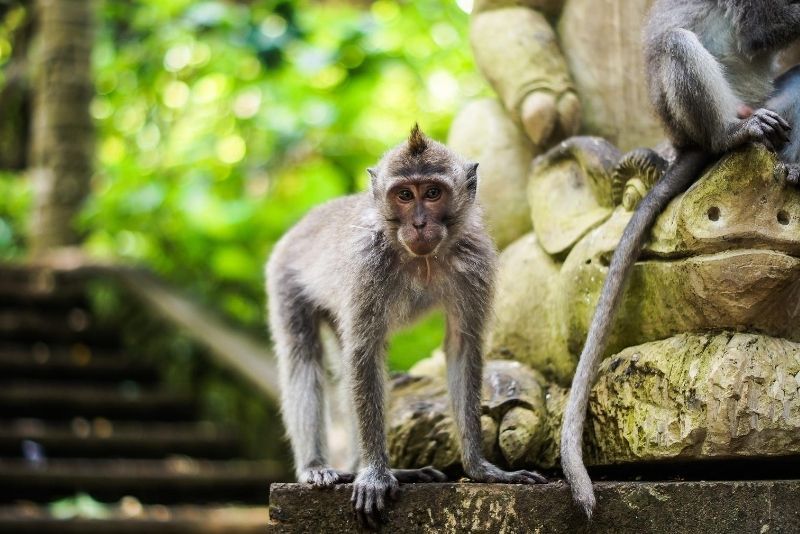 One of Bali's most sought-after destinations, Ubud is a treasure trove of rolling rice paddy fields, majestic Hindu temples and the famous monkey forest that brings tourists from far and wide. Spend time foraging its vibrant bazaars and explore a myriad of local art galleries.
Denpasar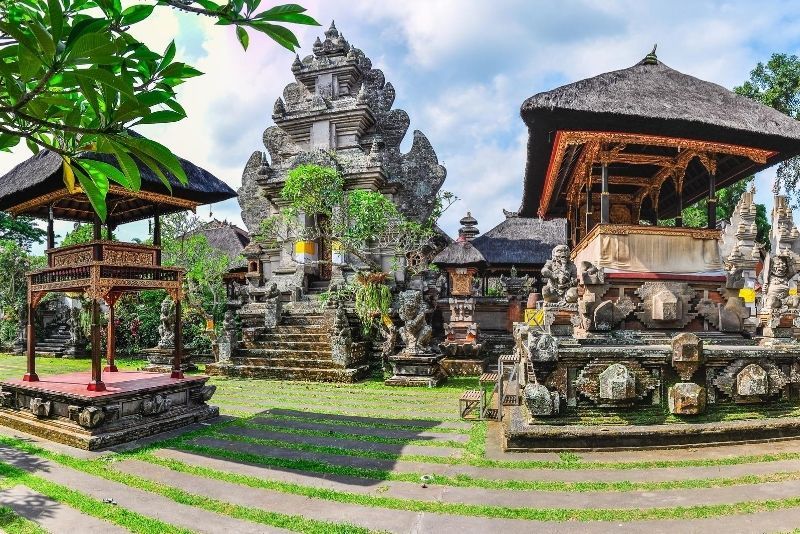 The capital city of Bali province, Denpasar is home to the stunning Royal Palace of Bali. Kids will have an enriching time at Bali Museum and Cultural Park. Learn about the fascinating history of the island in Old City and spend hours at the local bird market of Pasar Burung.
Subak Pulagan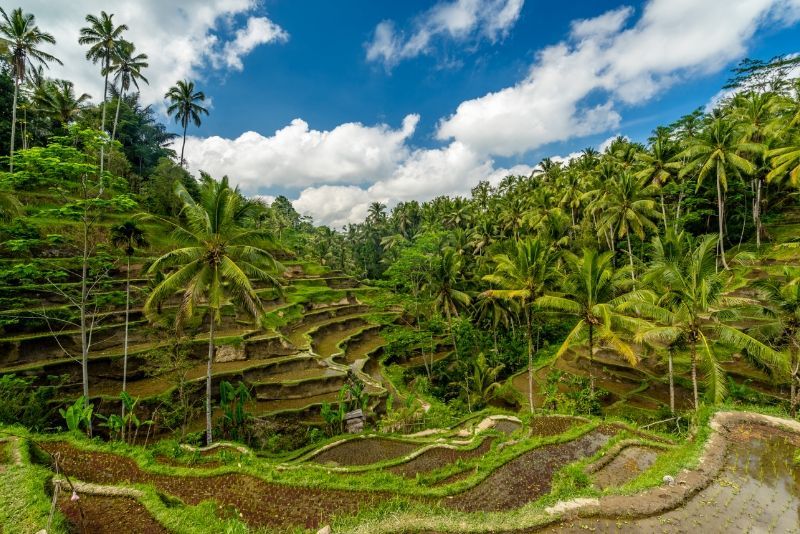 Recognized as a World Cultural Heritage by UNESCO, Subak Pulagan is a unique irrigation system used for rice paddies in the region of Tampaksiring. Connected to the water temples, this water management system plays an important role in the farming community in Bali.
Temples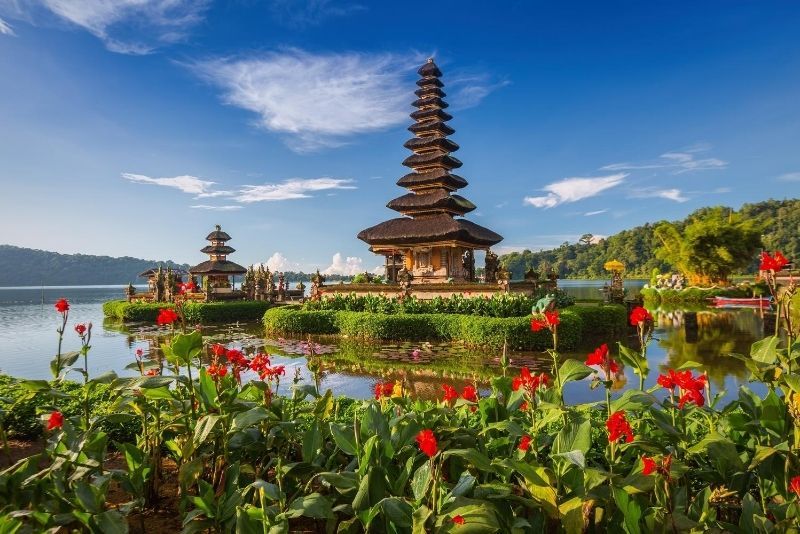 Ulun Danu Bratan is one of the most iconic temples of Bali that sits on the shores of Lake Bratan. It was built in honor of the goddess Devi Danu more than thirty thousand years ago. Taman Ayun, on the other hand, is a royal temple of the Mengwi Empire.
Among the island's most visited landmarks, it's located about 20 kilometers north of Denpasar. Rightly known as "Garden Temple in the Water," it boasts sprawling gardens, fish ponds and scenic water landscapes.
How much does it cost?
Walking tours in Bali vary in price, depending on the itinerary, the duration of the tour and the number of participants.
Ubud walking tours cost US$10 and include a private 90-minute tour. An expert guide will take you to attractions such as the famous Ubud market and Saraswati temple.
Denpasar walking tours cost US$15 per person and include a 2-hour self-guided audio walking tour of its vibrant streets.
Cultural walking tours in Bali cost US$ 50 per person and include a 6-hour long tour of UNESCO Heritage Sites like the famous holy spring of Tirta Empul and Gunung Kawi Temples.
Night street food walking tours in Denpasar cost US$60 with tastings of authentic dishes of the region, including Balinese rice cakes, satay and locally-grown tropical fruits.
Private walking tours for a city kickstart cost US$10 per person for a group of at least two people, while private romantic walking tours cost around US$400 per group of up to 15 persons.
What is included?
Walking tours are mostly led by highly-trained professional guides with great insights and lived experiences of Bali. Your guide will take you to little-known gems of the cities and regale you with fascinating stories and local information. Some of the tours include hotel pick-ups, while others also offer food tasting.
Where does it start?
Walking tours in Bali begin from a variety of locations, including Denpasar and Ubud which are popular starting points. You can expect hotel pickups or meet your tour guide at a common spot. Most guides wear or hold something that makes them easily identifiable to you.
No matter where your tour departs from, the meeting point is always pre-decided for your convenience.
How long does it last?
Walking tours in Bali last anytime from 1.5 hours to a full day.
An average tour of Ubud is 2 to 3 hours. For a more fulfilling experience, however, choose those that are 5 to 6 hours long. Denpasar tours with food tasting are from 3 to 4 hours.
When is the best time to experience walking tours in Bali?
Walking tours cover outdoor activities and scenic points. They are best enjoyed early morning, before the harsh sun. Those with food and meal inclusions should be scheduled for the evening.
Are there any combos available with walking tours in Bali?
Walking tour plus food tasting in Denpasar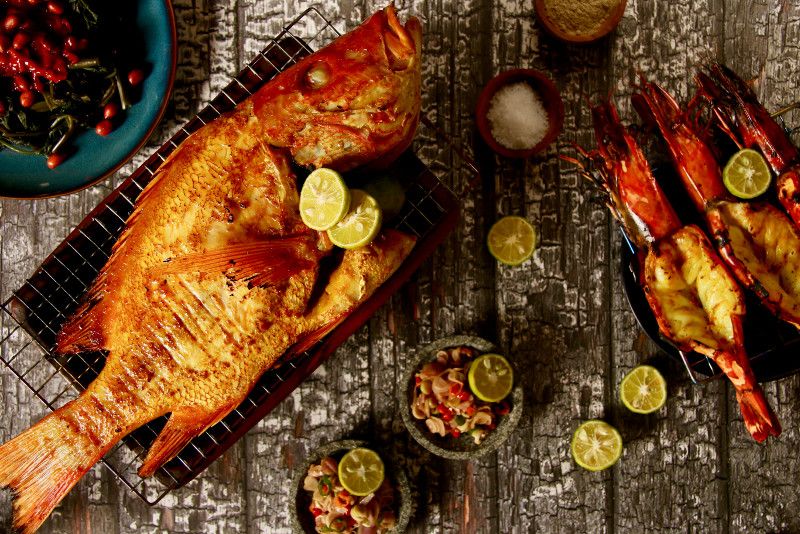 Food lovers are in for a treat with small-group tours with food tastings in Bali. Head to charming local cafés and sip on Indonesian coffees, gorge on traditional desserts and sample various authentic delicacies, such as satay, roasted meats and fish cakes.
Travel tips
Plan your walking tour in Bali in advance for the best deals.
Wear comfortable shoes and sunscreen.
Make sure to carry your camera to capture the serenity of the region.
Walking tours in Bali are subject to favorable conditions.