Tirta Empul Temple tickets and tours give you access to a hidden world, where ancient tradition and iconic scenery will have you in awe. This Hindu water temple is one of the most poignant places to visit in Bali and is popular with international and domestic tourists alike.
Book your tour and explore the temple compound on a guided tour and learn about the significance of Tirta Empul through the ages. It's photogenic and moving in equal measure.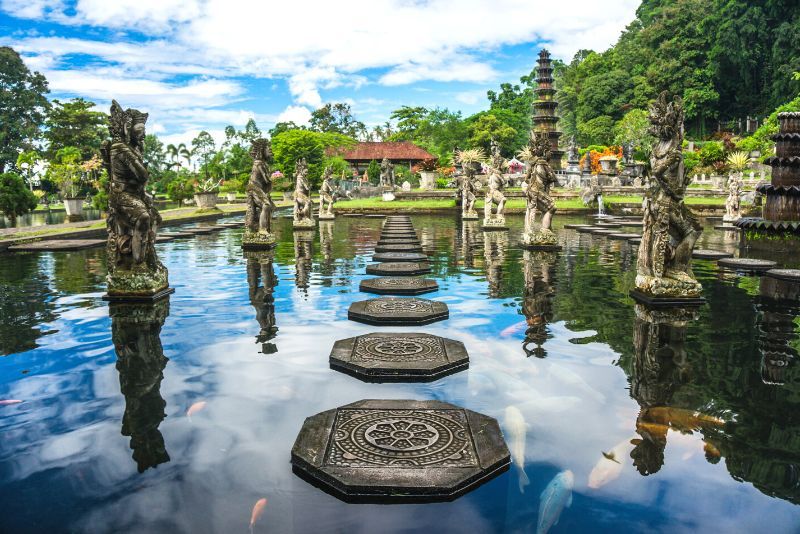 Here's all you need to know about Tirta Empul Temple tours, one of the most popular attractions in Bali.
How much does the ticket cost?
The Tirta Empul Temple ticket price varies according to visitor age. You can purchase entry on arrival, or if you are on a guided tour, this is usually covered in the package cost.
Tirta Empul Temple entrance fees are as follows and must be paid for in cash:
Adult: IDR50,000 (US$3)
Child (5 – 11 years): IDR25,000 (US$1.50)
If you don't have a sarong to wear around the Tirta Empul Temple, you can rent one at the entry gate. This costs IDR15,000 (US$1) per person - the sarong will need to be returned after your visit. Lockers are also available to hire at the temple for IDR20,000 (US$1.50) if you need to store personal belongings.
You can also purchase bags of fish food for IDR5,000 (US$0.50) if you want to feed the koi carp in the temple pond. Please don't feed them anything else.
What are the best Tirta Empul Temple tours?
Small group tours
The most popular Tirta Empul Temple guided tour is this one because traveling in a group keeps prices low. It's a fun experience and you'll come away with new friends who share your interests too. Return transport from your hotel is provided.
Tour sizes are kept small to ensure that the trip remains personal, and you can ask your guide questions throughout the day. You can expect between 10 and 20 people on each trip so check the provider details carefully if group size is important to you.
Cycling trips
See the temple and surrounding countryside differently by joining a cycling tour - it's the ultimate way to travel. The bikes are electric, so you won't need to do all the hard work when riding up those hills! The views are epic and you'll enjoy the experience even more because of the effort you've put in during the ride.
These excursions take you well off the beaten track, avoiding the busy roads and sticking to peaceful trails. Hotel pickups and drop-offs are included for door-to-door convenience.
Private excursions
If you prefer a more exclusive experience, then a private tour of Tirta Empul Temple is for you. You'll have a personal car transfer and your own guide throughout the trip, as well as hotel transfers.
These tours are more expensive, but the price is worth it for the VIP treatment. If you're traveling with a group of friends or family, a private excursion is very affordable.
Are there any combo tours available?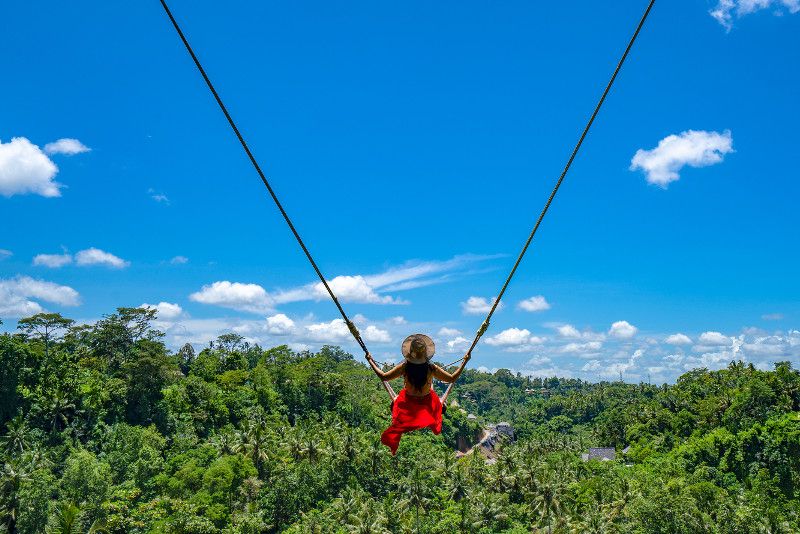 Tirta Empul Temple tours plus rice terraces and swing: Combine some essential elements of Bali with a temple visit, a Tegalalang Rice Terrace walk and a photo opportunity on an iconic jungle swing.
Should you book the tickets in advance?
Always! Buying your Tirta Empul Temple tickets online ahead of your visit to Bali is the best way to secure the date of your choice. It's a popular place so it pays to plan in advance.
Skip-the-line options are also available to online bookers who don't fancy waiting in a queue at the entrance.
What will you see inside?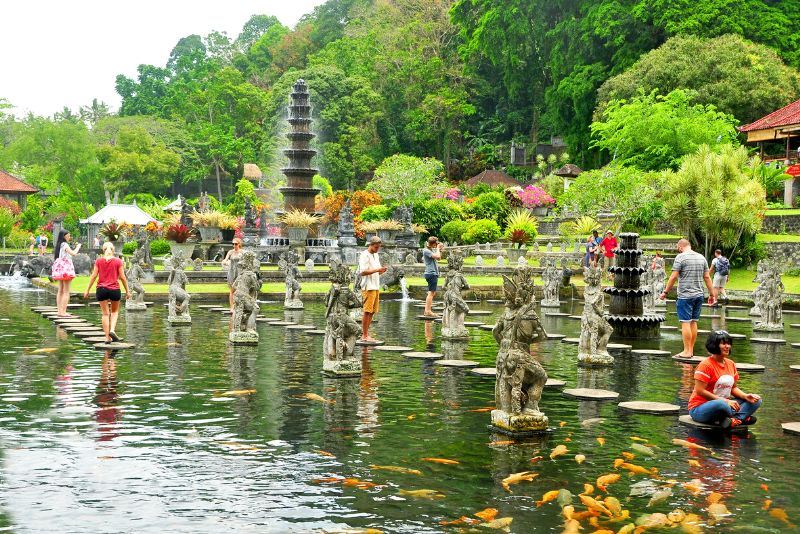 The Tirta Empul Temple is one of the most-visited attractions in Bali. Named after the natural springs that keep the local area irrigated, this ancient temple is revered by devout locals. It comprises three courtyards, all of which are surrounded by intricately carved statues, gates and shrines.
Hindus believe that the God Indra created the temple springs and that the water is holy. Bathing rituals are performed here, to cleanse both body and soul. Your Tirta Empul Temple tickets will give you access to this purification experience – tourists are welcome to join in.
There are 30 natural showers in the Jaba Tengah courtyard, each with different healing properties. Take your pick depending on what you require, whether that's protection from evil curses or being cured of a deadly disease. A sarong must be worn for bathing.
After the bathing ritual, you can proceed to the inner courtyard for a moment of prayer and reflection. You don't need to be religious to feel a spiritual connection here, and visitors are very welcome to observe. See if you can spot the priests splashing holy water on the foreheads of worshipers.
Just before you leave, visit the fishpond and feed the koi carp if you wish.
How to get to the Tirta Empul Temple?
The Tirta Empul Temple is located in the village of Manukayak, not far from Tampaksiring town. It's not easy to reach on public transport, so taking a guided tour or self-driving is advised. Hotel pickups are offered with most excursions.
From nearby Ubud, it takes half an hour to reach the Tirta Empul Temple on the Jl. Raya Tampaksiring Road.
When is the best time to visit the Tirta Empul Temple?
Tirta Empul Temple entry is between 7 AM and 6 PM – the site is busy throughout the day.
For a quieter experience with smaller crowds, try to time your Tirta Empul Temple visit for early morning or just before the complex closes. It's busier at weekends so come in the week if you can.
Which other attractions can be visited in Bali?
Travel tips
You will need to cover your shoulders and legs down to the knees when entering the temple. Sarongs can be hired at the gate.
If you want to do the bathing ritual, you will need two sarongs – one to wear in the water, and one to change into afterward.
Book your Tirta Empul Temple tickets online so you can compare prices and find the best deals for your preferred date.
Restrooms are available at the site, and there are restaurants and souvenir shops just outside the temple complex.