With nicknames like Paradise Island and the Island of the Gods, Bali serves up romantic energy unlike anywhere else in the region. Blessed by serene sunsets, gorgeous beaches, and verdant forests, this Indonesian oasis has long been considered the perfect destination for a romantic getaway.
And after a day of exploring the island's attractions or getting pampered at a spa, there's no better finishing touch than a romantic dinner in Bali — whether by sunset, moon or candle light.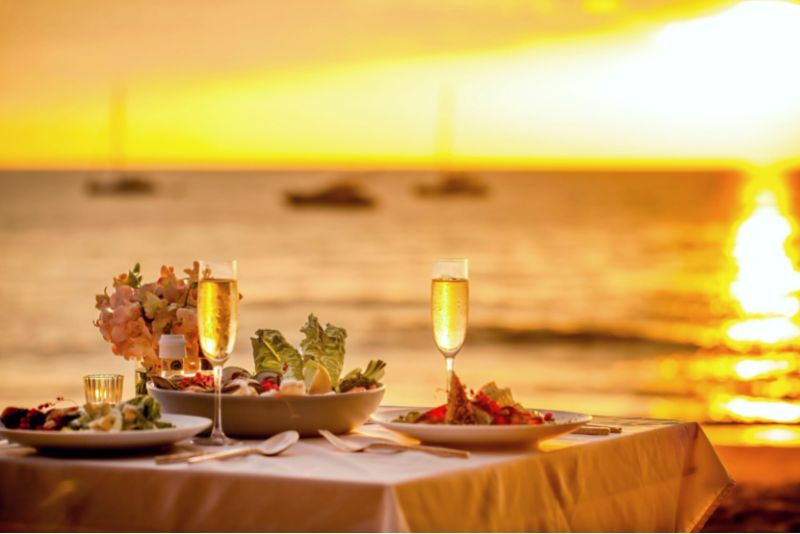 Here's all you need to know about romantic dinners, one of the most unforgettable food and wine experiences in Bali.
What are the best romantic dinners in Bali?
Romantic Bali dinner at the beach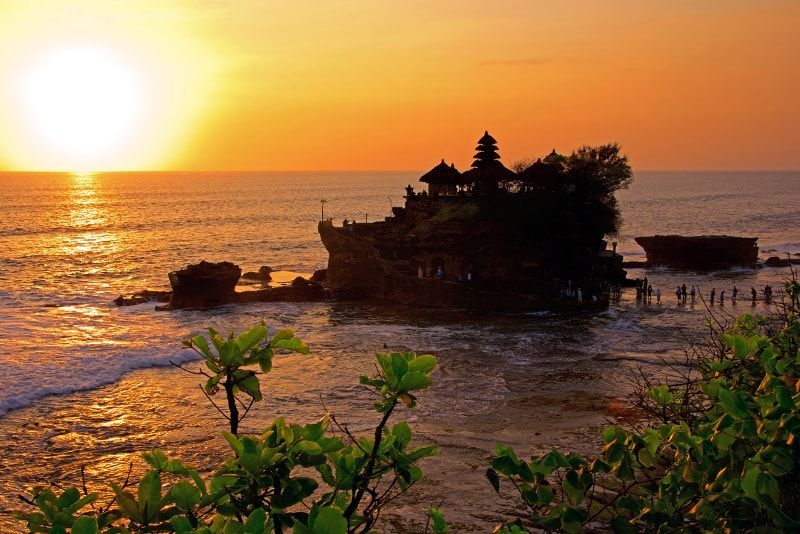 Thanks to the colorful sunsets and refreshing sea breeze, the beaches of Bali are a spectacular setting for any romantic dinner.
Whether you choose to dine at one of the many restaurants that line Kuta Beach or simply pack a picnic and set up your own table on Seminyak Beach, dining under the stars is sure to be an unforgettable experience.
Romantic dinner tours are also held at places like Jimbaran and Uluwatu, where the crowds are usually smaller than you'll find in the larger tourist hubs. These tours typically include a gourmet meal with fresh seafood as part of a romantic multi-course dinner expertly prepared by talented local chefs.
Some of the most popular beachfront restaurants for a romantic couples' dinner in Bali include Oceane Restaurant & Bar on Kelan beach in Jimbaran Bay and De Jukung Resto & Bar on the west side of the Tanah Lot Temple.
Romantic Bali dinner in the forest or rice fields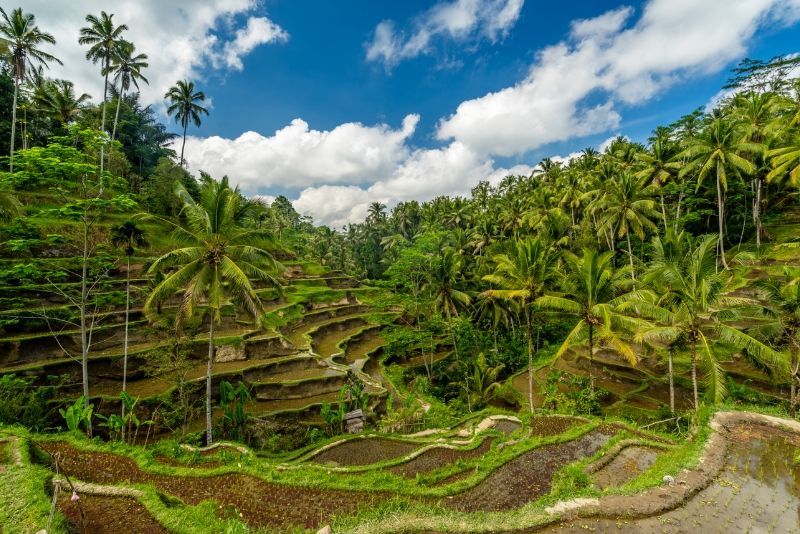 For a different kind of romance to the sunset meal, look no further than a dinner date in the forest. Typically taking place in the jungle area in or around Ubud, these multi-course meals are candlelit and set against the stunning backdrop of the lush, verdant vegetation.
You can opt for a romantic dinner tour that includes transportation and guides to help you get there and back safely. Once you're seated on the Balinese tree deck, expect the food and drinks to flow and the conversation to get lively as you dine in the heart of nature.
Other great options for a romantic dinner in Bali include dining on top of a rice paddy, or under the stars at one of the many restaurants nestled along the sacred Ayung River.
Which places are visited on romantic dinner tours in Bali?
Depending on which tour you choose, there are a number of different places that could be visited as part of your romantic dinner in Bali. Some popular options include the seafront restaurants that line Kuta Beach, Seminyak Beach, Jimbaran Bay and the rocky cliffs around Uluwatu Temple.
Other scenic spots for a romantic dinner in Bali include the forested areas around Ubud where you exchange the sunset for a canopy of twinkling stars. Here, surrounded by lush greenery, you can sit on private Balinese tree decks and enjoy a gourmet meal prepared by talented local chefs.
If you book a Bali day trip featuring a romantic dinner you will also check off several local attractions in the morning and/or afternoon prior to your romantic meal. This may include the Uluwatu Temple, Tanah Lot, and/or the rice fields near the Ayung River.
How much does a romantic dinner in Bali cost?
The price of your dinner will depend on a variety of factors, including the location, menu options, transport inclusion and type of restaurant. Generally speaking, you can expect to pay anywhere from US$70 to $250 per couple (2 people) for a romantic dinner in Bali.
Romantic Bali dinner at the beach — starting at US$70 per couple (2 persons).
Romantic Bali dinner in the forest or rice fields — starting at about US$140 per couple (2 persons).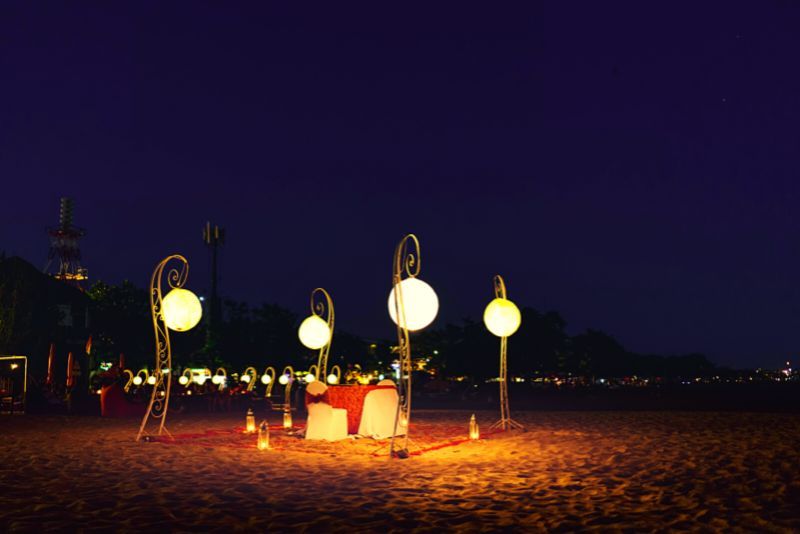 What is included?
The majority of romantic dinners in Bali feature a multi-course meal (between three and six courses) accompanied by drinks like wine, cocktails, soft drinks and/or beer. Depending on the restaurant, you may also get a welcome drink or other complimentary items like dessert.
Most romantic dinner packages in Bali also include transport to and from the restaurant as well as any necessary permits and fees.
If you book a day tour, the cost of the tickets covers activities and transport but not always the dinner itself, so make sure to confirm beforehand.
Where does it start?
If you are booking a romantic dinner package rather than simply going to a romantic restaurant, the experience often starts with convenient pickup from your hotel.
How long does it last?
A standalone romantic dinner will last anywhere from 2 to 4 hours in most cases. There is usually not a strict time limit, so you have plenty of time to enjoy each other's company and the rich flavors on offer.
When is the best time for a romantic dinner tour in Bali?
The best time to book your romantic dinner tour is in the late afternoon. This way, you can experience the sunset and the magical twilight colors. Then once the sun's down, soak in the atmosphere under the moonlight.
Are there any combos available with romantic dinners in Bali?
Yes, many half-day or full-day Bali tours feature a romantic dinner as part of the itinerary. This can be a great way to experience multiple attractions and activities in one day, while also spending quality time with your partner at the end of the trip.
Bali day tour plus romantic dinner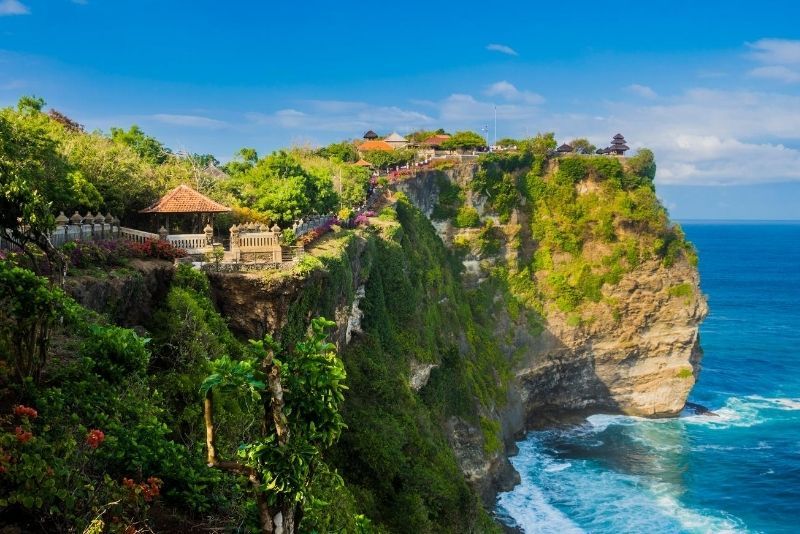 An excellent option for those who want to experience as much of Bali in a day as possible notwithstanding a touch of romance, these tours typically include stops at some of the most popular attractions on the island, like Tanah Lot and Uluwatu Temple.
But to really top off your day, many of these tours also include a romantic dinner at one of Bali's best restaurants. Whether you choose a traditional Balinese feast or an indulgent western-style meal, you're sure to finish off the day on a high note.
Bali day tours finishing with a romantic dinner start at around US$20 to US$40 per person. Sometimes these combination-style tours include time for a romantic dinner experience at your own expense.
They may appear cheaper than at face value but are not inclusive of the dinner itself, only the activities and transportation. Make sure to double-check beforehand and be sure to factor that into your budget.
Travel tips
Book in advance, especially if you're planning on going during the high season. Many popular restaurants fill up quickly, so it's a good idea to secure your spot as soon as possible.
Dress up for your dinner date! This doesn't mean that you need to wear suits or high heels, but it's best to avoid wearing casual clothing like t-shirts and shorts.