Bali and beaches go together like macaroni and cheese, with sandy swathes punctuating the coast all around this dreamy Indonesian island. If you're after water sports with a side helping of adrenaline, Benoa day tours from Bali will really blow you away.
In Benoa, you can get stuck into all manner of aquatic adventures. Scuba diving and banana boats are the stars of the show, while parasailing and jet ski rides come a close second.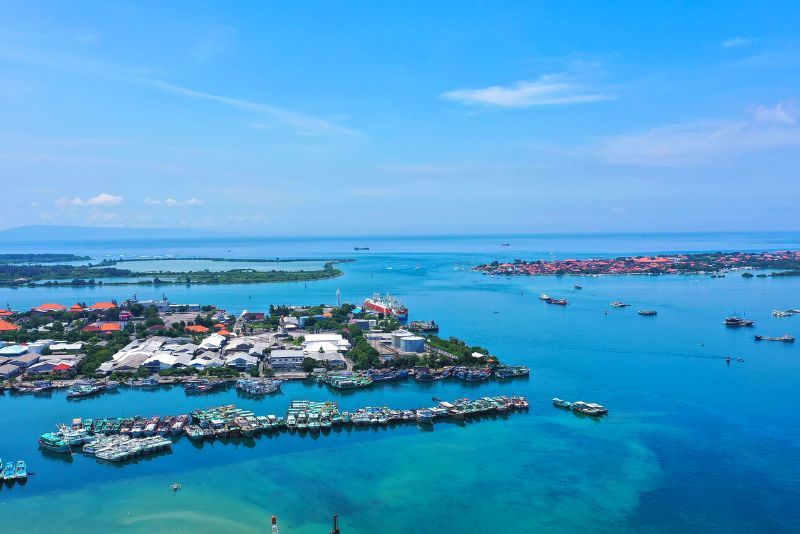 Here's all you need to know about Tanjung Benoa, one of the most incredible destinations for day trips in Bali.
Where is Benoa located?
You'll find the Tanjung Benoa Peninsula in the southeast of Bali, just north of Nusa Dua. It's easy to reach if you're staying in the Kuta area.
It takes just half an hour to travel between Denpasar and Benoa so you can come straight from the airport if you like. Travelers with a car should drive south and continue on the Mandara Toll Road to Benoa Bay.
If you don't fancy driving, there are plenty of tours to Benoa that include transportation from your hotel.
What are the best things to do in Benoa?
There are plenty of fun water activities in Benoa to try, with everything from snorkeling to parasailing in the cards. Here's a rundown of the best things to experience during your visit to Benoa:
Swim around with tropical fish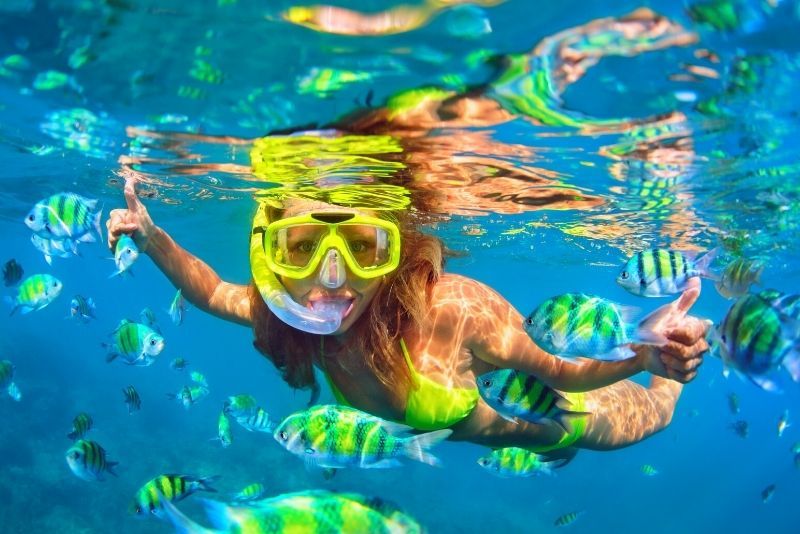 Snorkeling day tours to Benoa are popular because they are suitable for almost all types of travelers. On these excursions, you'll float over colorful reefs and feel at one with nature as the fish pass by.
Scuba diving is also great for first-timers who want to dip their toes in the water so to speak. Participants will learn the basics before venturing out into the open ocean for a real-life sea dive.
The sheltered bay is the perfect place to try out your new moves while discovering the delights of the reef down below.
Zoom around on inflatables
If you want to let your hair down, then there are plenty of inflatable toys to play with here in Benoa. Bouncing around on the water is great fun with a group of friends – who will hang on the longest?
Whether you fancy your chances on a donut, a flying fish or a banana boat, you'll be sure to have a blast.
Parasailing around the bay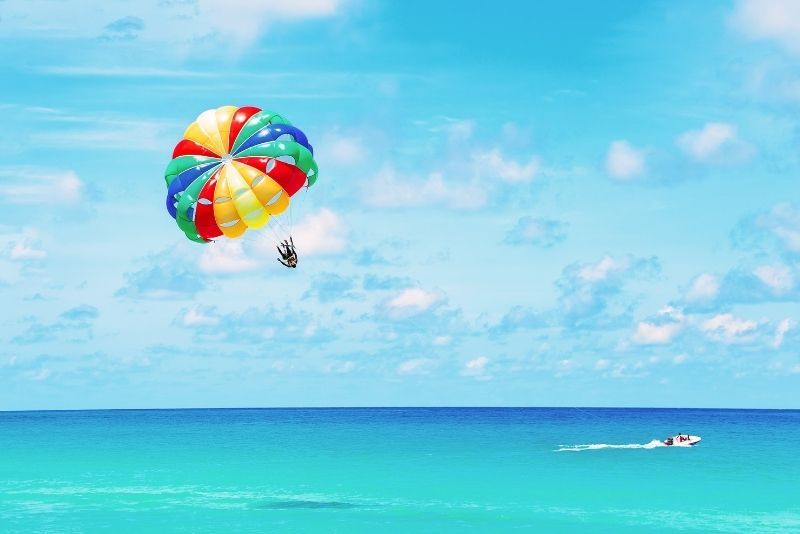 Parasailing is one of the most famous Benoa activities, offering thrills and views in equal measure. You'll fly high while being pulled behind a speedboat, soaring over the bay in style.
The best thing about parasailing is that you don't need any experience. You can just sit back and enjoy the ride!
What are the best tours to visit Benoa?
There are dozens of excursions in Benoa to choose from, with something available for everyone. Some tours are dedicated to a single activity while others pack in several different experiences for a fully rounded day out.
Multi-activity excursions in Benoa
If you want to experience several adventures in one adrenaline-packed day out, these multi-activity tours in Benoa are the way to go. You can tailor the package to your interests, with a long list of pursuits to choose from including snorkeling and jet skiing. Most operators will let you combine two or three activities for a bit of variety.
Feel the thrills as you skim over the waves on a banana boat and hold tight as you bounce along on a giant inflatable doughnut. Another inflatable toy called the "Flying Fish" will surely get the heart pumping as you glide through the air.
Meanwhile, wannabe secret agents can test their balance on a futuristic flyboard – will you be able to stay upright? These multi-activity days out in Benoa are your chance to experience something new and have a laugh with your friends at the same time. One thing is for sure – you will be getting wet!
Scuba diving tours in Benoa
Beginner scuba diving tours in Benoa are a fun way to discover what this popular sport is all about. Introductory classes last between 2 and 4 hours and are suitable for those who have never dived before.
There will be a safety briefing on land followed by an instructional session in the local swimming pool. Once you're comfortable with the equipment and commands it's time to head to the beach.
The dive at the Tanjung Benoa reef will be your first foray into open water, with tropical fish all around for company. Your instructor will be with you throughout the dive, so you'll always be in safe hands.
Sea walker experiences in Benoa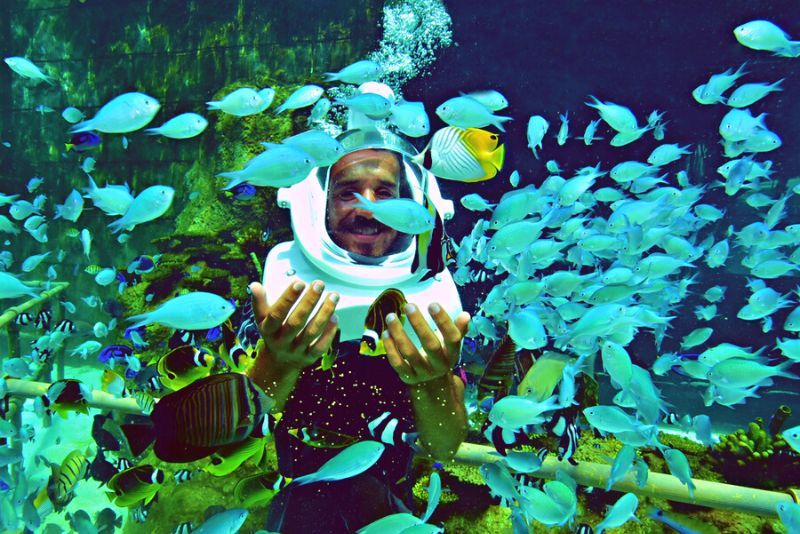 If you fancy exploring the underwater kingdom but aren't a fan of snorkeling or diving, then why not try sea walking? This unusual experience lets you stroll across the seabed without needing to hold your breath!
You'll be wearing a special breathing helmet, so you can concentrate on meeting the marine residents without worrying about safety. This is a great option for families and nervous swimmers who don't want to miss out on one of nature's greatest aquariums.
What are the prices of Benoa tours?
Benoa day tours range from US$30 to US$60 depending on the activities you wish to try and how long you will spend at the bay.
Scuba diving tours in Benoa cost US$60 per participant for a 4-hour session. This includes all equipment and instruction, plus company insurance for peace of mind.
Multi-activity excursions in Benoa are US$70 per person. These packages offer several different activities of your choice over 2 hours.
An hour's parasailing is priced at US$30 while for a jet ski session you can expect to pay US$40 each. Instruction and kit are included in the price. Meanwhile, for the seawalker experience, prices start at US$50 for a 1.5-hour tour.
All Benoa day trips include hotel transfers, depending on where you are staying on the island. See below for more details.
Where do Benoa tours start?
Most Benoa tour packages include pickups and drop-offs at your hotel if you are staying in the Nusa Dua area. You can also opt to meet at the beach if your accommodation is close to where the activities start.
For those based further away in places like Kuta, Legian, Seminyak, Jimbaran and Sanur, return journeys are available for US$15 per car. You will need to pay the driver directly in cash.
When is the best time to visit Benoa?
The best time for a Benoa day trip is between April and October. This is when both rainfall and humidity levels are low. There is also plenty of sun during this period, which is just what you want for enjoying some time at the beach.
Tours in Benoa take place all year round, with activities running throughout the day. Water visibility tends to be better in the mornings so bear this in mind if you're considering a diving or snorkeling tour.
Travel tips
Book your excursions to Benoa well in advance during the peak season to avoid missing out.
If the weather is poor your tour may be canceled or the activity changed to suit the conditions.
Take swimwear and a towel for the water activities, plus sunscreen and a hat to prevent sunburn. A change of clothes is advisable for after your tour.
Food and drinks aren't generally included in the price – take some money so you can purchase refreshments at the beach.