Chania is a historic city in Crete famous for its Old Venetian Harbor, beautiful beaches and crystal-clear waters. Boat tours from Chania are one of the best ways of exploring the coast of Crete.
Take a sunset cruise while you sip on traditional Greek raki or visit the world-famous Balos Lagoon. Whatever you choose, a Chania boat tour is an unforgettable experience.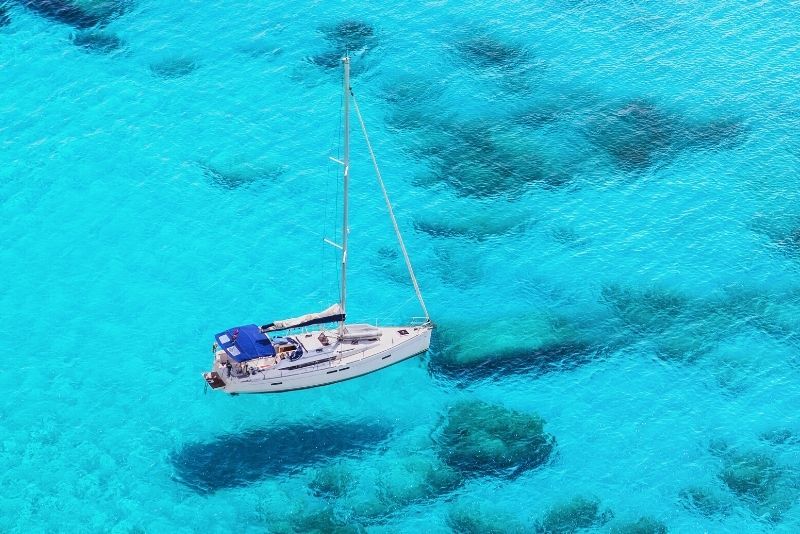 You will find below everything you need to know about taking a boat tour from Chania, one of the must-do outdoor activities in Chania.
What are the most popular boat tours in Chania?
Group Chania boat tours
Most Chania boat tours are private boat rides lasting a few hours. The boats can carry small groups of between eight and 12 people. Therefore, even if the activity is in a group, the number of participants is quite small, and you can enjoy the boat excursion in peace.
Sunset cruise
Shorter sunset Chania cruises are an affordable way to admire the city from the water. Take a 35-minute or 2-hour sunset cruise from the Old Venetian Port of Chania. You can choose a private tour or go in a group. Relax on the deck and look out at the old Venetian Lighthouse as you cruise along the coast of Crete.
Longer boat tours in Chania will see you sail towards Lazaretta Island and Theodorou or Macherida. You will typically get to try raki or wine from Chania's distilleries.
There may also be graviera cheese and seasonal fruit. You may get the chance to take a half-hour swim in the sea. The boat will then take you back to the Old Port with the setting sun.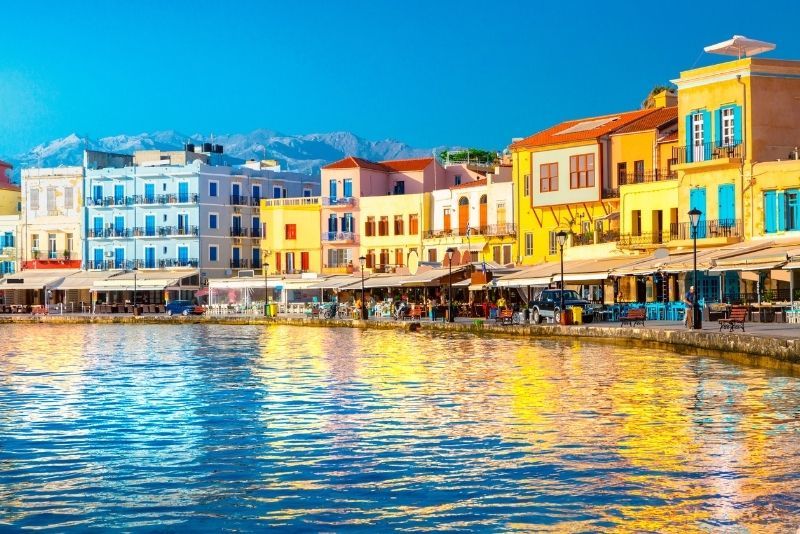 Half-day boat tour with Lazaretta and Theodorou Island
You can choose to do either a group or private Chania boat tour that lasts between 3 and 5 hours. You will meet at the Old Venetian Port of Chania. From there, you will typically go to Theodorou Island, opposite the beach of Agia Marina.
This beautiful, small island is perfect for swimming, snorkeling and diving. Longer tours will then take you to Lazaretta, a stunning tiny island opposite Nea Chora, which is close to the old Town of Chania.
Full-day boat tour including a Balos, Menies and one or two islands
You can choose to do either a group or private Chania boat tour that lasts between 6 and 11 hours. You will typically be given use of snorkeling equipment. Soda, bottled water and snacks are included.
You will meet at either the Old Venetian Port or Balos beach. You will then go to the hidden cove Menies for a refreshing swim on the pebbly beach.
Some tours will stop at Chironisia Bay. You will sail to Theodorou Island, a protected park home to the Cretan Ibex, called "Kri-Kri." You will then be taken back to the Old Port.
Private Chania boat tours
Private Chania boat excursions offer an excellent experience for those looking for privacy and personalization. You can decide your itinerary with private boat trips and have a captain available to guide you throughout the tour.
Private boat tours are an excellent choice for groups of friends, large families or couples looking for privacy.
How much do boat tours in Chania cost?
A group sunset Chania cruise between 35 minutes and an hour costs about €15 per person. A two-hour private cruise will cost you between €410 and €450 for a group of up to ten.
A half-day group Chania boat tour will cost you between €30 and €60 per person. A private half-day cruise costs €500 for a group of up to seven people.
A full-day group Chania boat excursion will cost between €20 and €260 per person. A private full-day boat trip can cost €1,000 for a group of up to four people.
Which places are visited with a boat tour from Chania?
Balos Beach
It's been described as one of the best beaches in the world and is famous for its pink-white sand and turquoise water. This lagoon on the Gramvoussa peninsula is protected for conservation purposes and is a beautiful place for swimming.
Menies Cove
Sometimes referred to as Diktinna beach, this is a beautiful hidden cove parallel to Gramvoussa. Visitors enjoy the pebbly sand and snorkeling opportunities. It's located on the site of ancient Diktynna, the most important temple of the goddess Vritomartis.
Theodorou Island
A protected, uninhabited conservation area, Theodorou Island is also a haven for the endangered wild Cretan Ibex.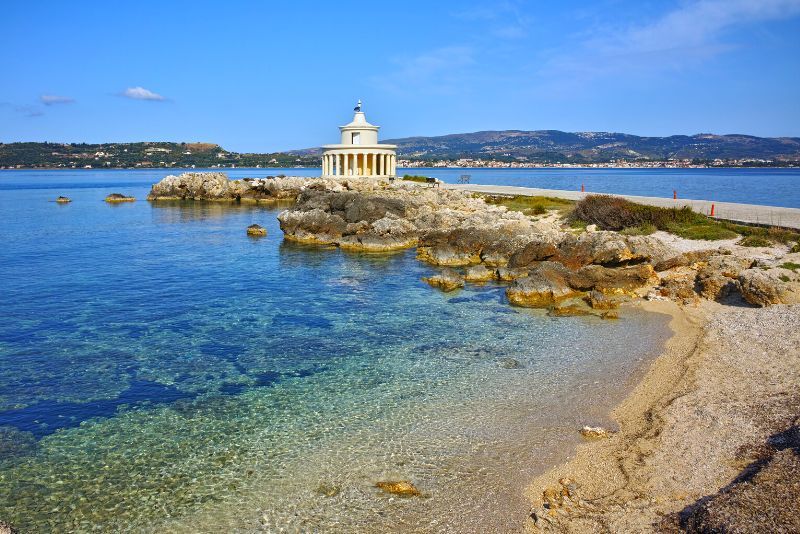 Lazaretta Island
A small island close to the old town of Chania. The Venetians used it as a leper colony in the 17th century, but today it's used for snorkeling, paddle boarding, diving and swimming.
How long does a boat trip last?
There are half-hour, one-hour and two-hour Chania boat cruises, but most boat tours from Chania last half a day, around 4 to 5 hours. Full-day Chania boat tours last between 6 and 11 hours.
Where do boat tours leave from?
Most group boat trips from Chania depart from the Old Venetian Port of Chania. Private Chania boat trips will offer hotel pickup or ask you to meet at a predetermined spot. The boat will return to the same port you started from.
When is the best time for a boat trip from Chania?
The best period to enjoy a Chania boat tour is in the summer. The weather can be hot, but there's often a nice sea breeze. The water is warm, and you can swim. Spring and autumn are enjoyable times to explore the islands and coast of Crete by boat, but the water may be a bit cold to swim in.
Which other water activities can be done in Chania?
Travel tips
Boats will only go out in favorable weather conditions. In case of bad weather, your tour may be postponed or canceled. If canceled, you'll receive a refund.
Wear comfortable shoes so that you can move easily on the deck.
Remember to bring your swimwear and towel for boat trips that allow swimming.
Take along sunscreen, sunglasses and a camera.