After you've admired the red rocks and discovered your spiritual self, there's just one thing left to experience in Sedona – and that's wine! Vortexes and vineyards may seem unlikely bedfellows, but here in Arizona, they harmonize perfectly.
Wine tours and tastings in Sedona will introduce you to a different side of this rocky wilderness. You'll visit boutique wineries and indulge in plenty of tastings on your grape-based adventure in the desert.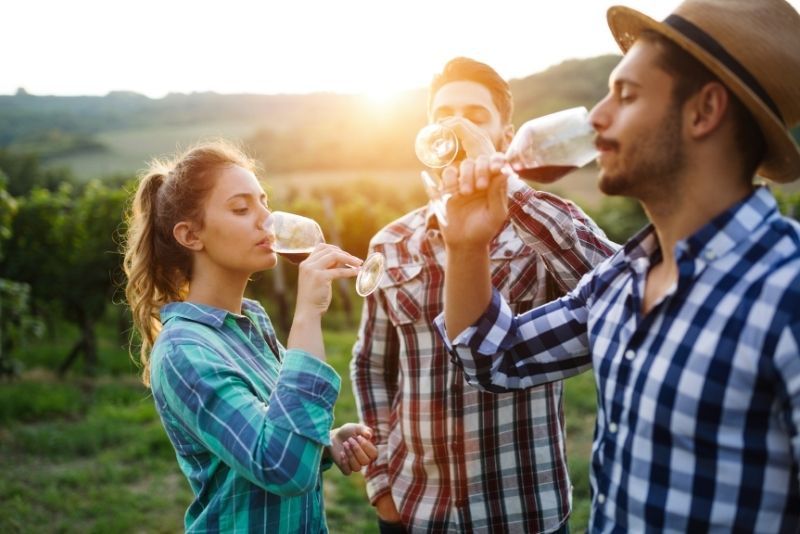 You will find below everything you need know about wine tours and tastings, one of the most buzzing culinary experiences in Sedona.
What are the best wine tours in Sedona?
Verde Valley group wine tasting tours
These popular trips take in the most famous wine region in Arizona – the Verde Valley. You'll be traveling in a group, so this is an economical way to explore.
Hotel pickups are offered, making for a smooth start to your day. There will be a 25-minute drive from Sedona to the Verde Valley, where the vineyards await your pleasure.
You'll visit four wineries during your excursion, with tours of the production facilities and barrel rooms giving you a peep behind the scenes. Locations include the Alcantara Vineyards, Page Springs Cellars, Javelina Leap Vineyard and the Oak Creek Winery.
Tuck into a tray of charcuterie treats for lunch, admiring the views out across the valley. There will be lots of opportunities to taste the local wine, buy souvenirs and explore some of the estates.
Your guide will drop you back at your hotel after a relaxing day out.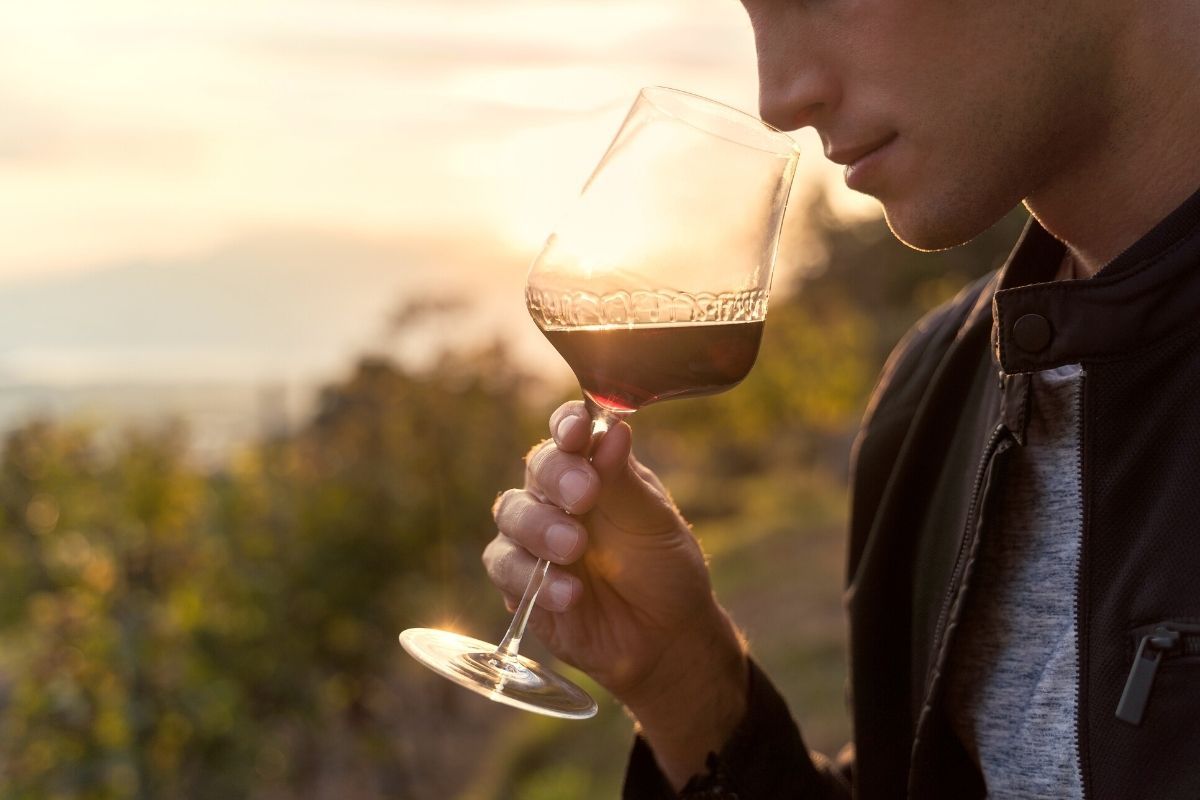 Private Sedona wine tours in the Verde Valley
You can explore the Verde Valley without the crowds if you fancy treating yourself to a bit of exclusivity. The private tour itinerary is similar to the group one above, with visits to four vineyards during the half-day trip.
You'll enjoy private transport with hotel pickups, as well as your own personal guide from start to finish. You'll feel like a VIP wine connoisseur in no time!
Wine tasting and vortex excursions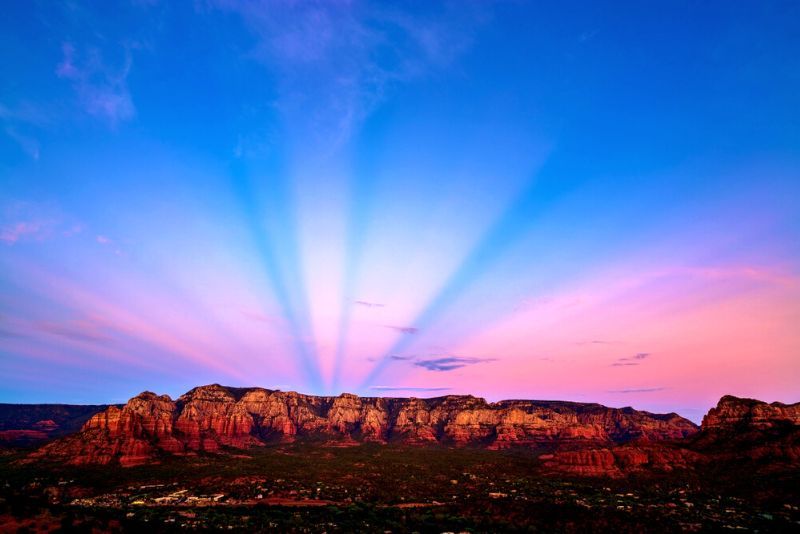 Sedona is famed for its spiritual vibe, and no visit is complete without enjoying a vortex tour. Couple this with a bit of wine tasting for a fun take on Sedona.
After being collected in Sedona, you'll start the day with a pricky pear mimosa to get you into the mood. Then there's a visit to a local vortex site to soak up some of the famous desert energy. Whether you're a believer or not, it's a powerful experience.
Next up are the Verde Valley vineyards – you'll be exploring three of them! Enjoy a charcuterie lunch with meats, cheeses and breads to tantalize the tastebuds. Tours and tastings round off this half-day excursion in splendid style.
Kayaking and wine tasting tours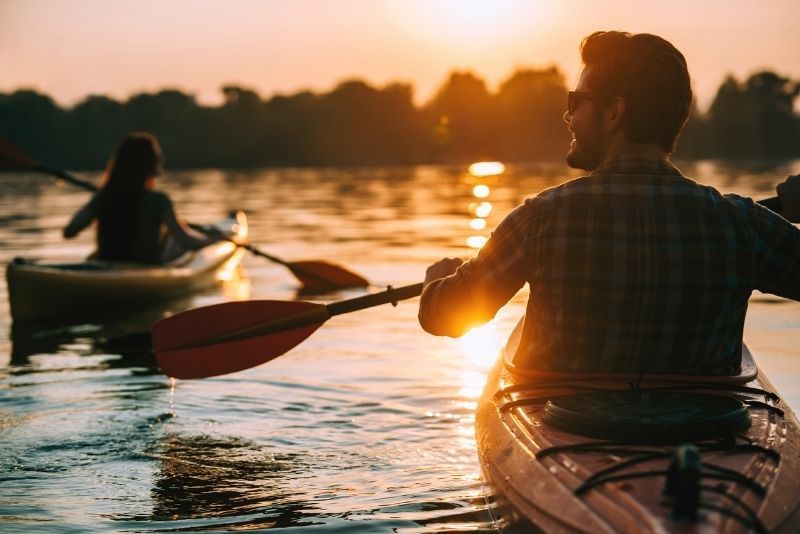 Mix things up a bit by combining two of the best activities in Sedona – wine tasting and kayaking. The perfect blend of adventure and relaxation, these wine tasting tours in Sedona take place in Arizona's Verde Valley.
After making your way to the Alcantara Vineyards just outside Sedona, you'll be transferred down to the riverbank by shuttle. Once you're kitted up with an inflatable kayak, you're good to go!
If you've not paddled before, don't worry. The guide will be on hand to help throughout the tour. The river is tranquil, with a sprinkling of easy chutes to run for a little added excitement. You'll spend 1.5 hours on the water.
Your paddle ends where the Verde River merges with Oak Creek. Then there's a scenic stroll up through the Alcantara Vineyards for some well-earned wine tastings. This is where the tour ends.
How much do wine tours in Sedona cost?
The Verde Valley wine trips in Sedona cost US$100 per person for a group tour and US$200 for a private excursion. There will be up to 29 participants on the group experiences.
The wine and vortex tours are run in small groups of 12 participants. Tickets cost US$190 each and include a guide, lunch and an alcoholic beverage.
Sedona wine tours with kayaking cost US$130 per paddler. This is a small group tour – there will be a maximum of 10 participants to keep things intimate.
What is included on a wine tour in Sedona?
Sedona wine excursions usually come with these inclusions:
Transport from your hotel in an air-conditioned vehicle.
Snacks and bottled water.
Lunch is provided on some tours (often a charcuterie-style picnic platter).
Discounts for wine tasting at selected wineries.
Wine tasting is payable separately at the vineyards, so make sure you take your wallet. Tastings cost between US$13 and US$16 each.
The kayaking and wine tasting tours include the following:
Inflatable kayaks and paddles.
Personal floatation devices.
Kayak guide.
Landing fees.
US$20 wine tasting credit.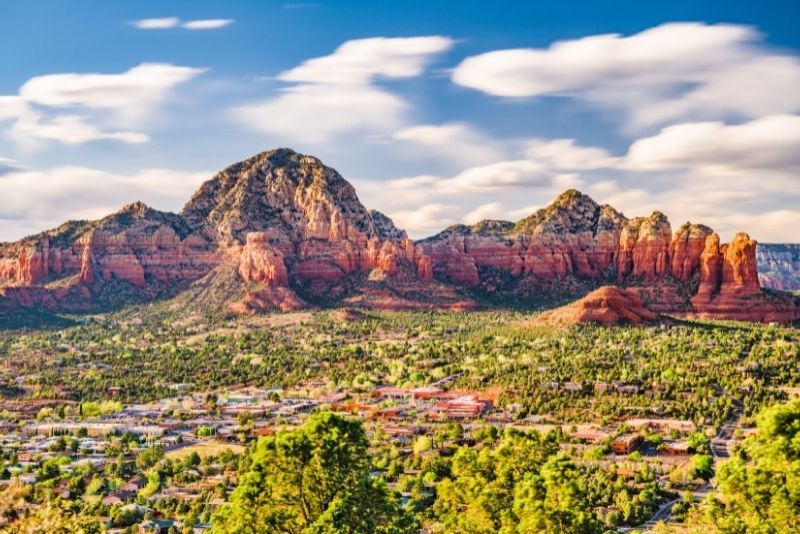 Where do wine tours in Sedona start?
Verde Valley winery excursions often come with hotel pickups from Sedona and Oak Creek Village. Collection times are between 10 AM and 11 AM.
For the wine and vortexes tour, Sedona Pines Resort is the meeting point – it's just 10 minutes west of the town center. The trips finish here too.
The kayaking and wine tours in Sedona set off from the Alcantara Vineyards in Cottonwood, just half an hour's drive from Sedona. Parking is available on site.
How long do wine tours in Sedona last?
Sedona wine tasting tours last between 1 and 6 hours, depending on the number of vineyards visited and other activities offered.
If you opt for a shorter excursion, why not fill the rest of the day with a Sedona jeep tour or quad bike adventure?
When is the best time for a wine tour in Sedona?
You can enjoy Sedona wine tours all year round, as the wineries are open and waiting to welcome you.
To see the vineyards at their finest, come during the summer when they are green and lush. Harvest usually takes place in August and September, depending on the weather.
Are children allowed on a wine tour in Sedona?
Yes, children are permitted on most wine tours in Sedona. However, anyone wanting to take part in the wine tasting must be at least 21 years old. ID will be required.
Travel tips
Wine tasting excursions in Sedona should be booked in advance as places are limited. By reserving online you'll be able to search for the best deals.
Charge up your camera batteries because those vineyard views are to die for.
During the tastings, make a note of your favorite wine so you can buy a bottle or two to take home.