Each corner of Bali offers a new and exciting adventure and your Bali holiday promises nothing but thrills. But Bali is just one of the thousands of inhabited islands that make up Indonesia and there are many captivating places to explore beyond Bali's edges.
A 3-day trip from Bali is the perfect way to round off your holiday to this section of the Indian Ocean. A quick boat ride transports you to wonderful new places you might otherwise never have thought of visiting so consider super-sizing your Bali adventure with an extra trip on the side.
Here are some of the best 3-day trips you can take from Bali to make the most of your time in Indonesia:
3-Day Trips from Bali: Java - Bromo - Kawah Ijen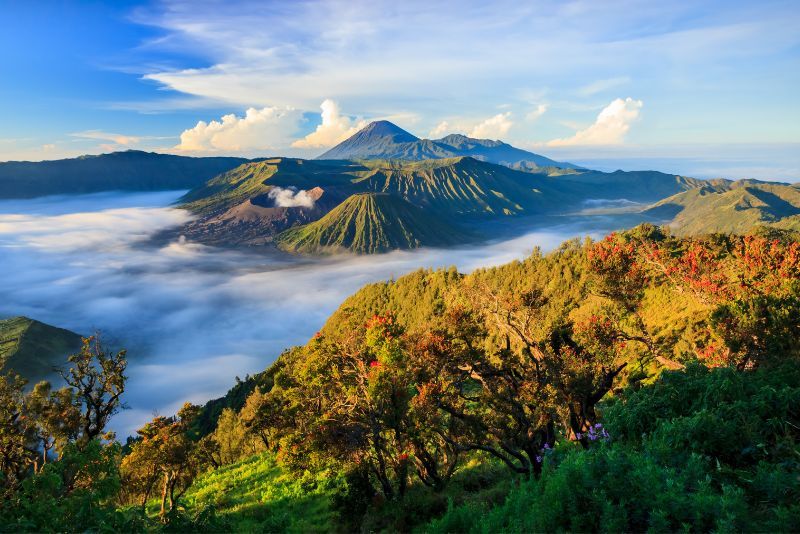 Bali is already a fully loaded adventure but a 3-day trip to East Java takes it into the stratosphere. On Java, you will conquer volcanoes and sip coffee to your heart's content.
The grandeur of Java's volcanoes and natural splendor goes beyond anything you have seen before and is the perfect complement to your Indonesian holiday.
What is the typical itinerary of a 3-day trip to Java, Bromo and Kawah Ijen from Bali?
Take a ferry west of Bali to the grand island of Java. The transfer takes only about an hour from Bali's western port to Banyuwangi in Java. The jam-packed 3-day itinerary looks somewhat like this:
Day 1- Bromo Tengger Semeru National Park
The first day of the tour is largely spent transferring to Java and Bromo Tengger Semeru National Park. You will be transported from southern Bali to the west, gross the ocean with a ferry and drive another 2 hours from the port before enjoying a delicious Indonesian lunch.
Another 4-hour drive lies ahead before you reach the high-altitude village of Bromo. Welcome in the chilly evening with dinner at a warung before getting some sleep at a charming homestay.
Day 2 - Mount Bromo
While the night sky still dominates the early morning hours you will make your way to Tengger caldera. As the sun starts to creep up on the horizon you will be spellbound by the panoramic scenes that come into view including the active volcano, Mount Semeru.
Climb the 240 steps to the top of Mount Bromo and enjoy breakfast back at the hotel. Banyuwangi is the next destination and you will have lunch on route before checking into the next hotel.
Day 3 - Blue Fire Ijen Crater
Day three starts shortly after midnight as you are whisked away to the Ijen crater. You will descend into the majestic crater to see the otherworldy scene of blue sulfur flames up close. Breakfast is served back at the hotel before you start the journey back to Bali.
What is the price of a 3-day tour to Java - Bromo - Kawah Ijen from Bali?
These 3-day tours from Bali cost between US$300 and US$400 per person and include your ferry transport between the islands. They also include accommodation and breakfast with some more meals included in more expensive tours.
3-Day Trips from Bali to Gili Islands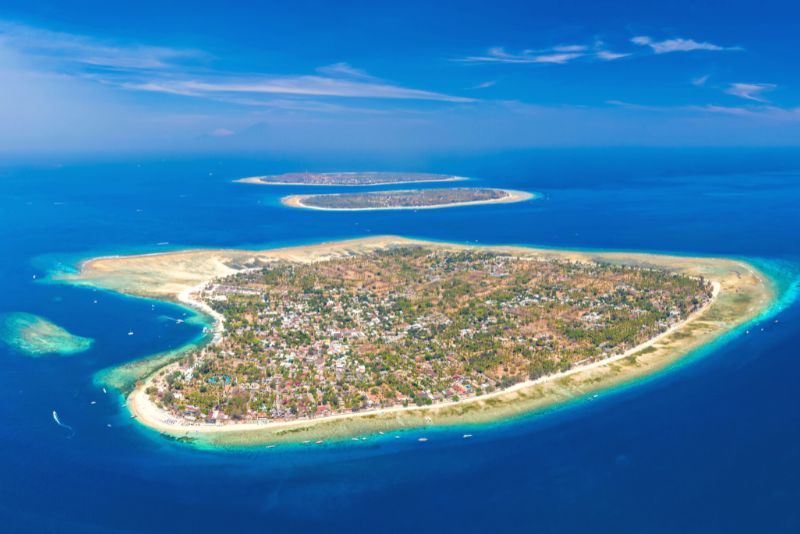 The Gili islands are 3 coral islands nestled between Lombok and Bali. Step into the pages of a travel magazine with white sandy beaches, crystal clear turquoise water and lush beach resorts. Not to even mention the unspoiled underwater worlds that surround the islands…
A 3-day trip to the Gili Islands promises ample time for relaxation, away from the crowds, but also tons of adventures in some of the most magnificent landscapes in Indonesia. Gili Trawangan, Gili Meno, and Gili Air are without traffic and offer nothing but fresh air and island vibes.
What is the typical itinerary of a 3-day trip to the Gili Islands from Bali?
The trip between Bali and the Gili Islands is an adventure in itself. Cruise on a speedboat from Bali's harbor to Gili Trawangan to start your journey. This is what you can look forward to when visiting the islands from Bali:
Day 1 Gili Trawangan
On the first day, you will have lots of free time to explore the island of Gili Trawangan or just relax at the enchanting resort. Enjoy the spa, cycle around the island or lounge by the pool, but whatever you do, don't miss the fantastic sunset.
Day 2 Gili Air
Your second day takes you to the most eastern of the three islands, Gili Air. Embark on an epic private 3-hour snorkeling adventure where you get to swim with giant sea turtles and explore the vibrant reefs off the coast.
Spend the rest of the afternoon sunbathing, sipping on cocktails and enjoying the slow pace of island life.
Day 3 Back to Bali
You still have a few hours left to make the most of your time on Gili Air. Wake up early to see the sunrise and take one last dip in the crystal waters. You will return to Bali in a speedboat and be dropped off at your hotel by shuttle bus.
What is the price of a 3-day tour to the Gili Islands from Bali?
The multi-day trips from Bali to the Gili Islands cost around US$400 per person. This includes 2 nights' accommodation at a premier beach resort, hotel transfers, speedboat transport, a snorkeling experience and breakfast.
3-Day Trips from Bali: Nusa Lembongan surf and yoga retreat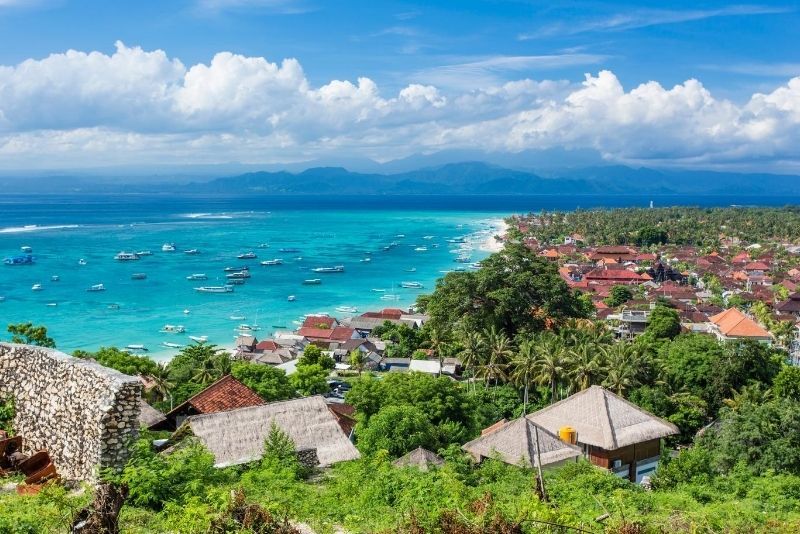 Southeast of Bali is another cluster of islands that are miles removed from the bustling locations of Bali. Nusa Lembongan is a tranquil escape where time is not a factor and beauty surrounds you in every direction.
For three days you will experience nothing but sun, sea, and good vibes as you learn to surf and switch off with some yoga sessions on one of the most idyllic islands in the world.
What is the typical itinerary of a 3-day trip to Nusa Lembongan from Bali?
At the crack of dawn, you are picked up from your hotel in Bali and then travel by boat to Nusa Lembongan. Here is a taste of what a 3-day trip to Nusa Lembongan will look like:
Day 1 Nusa Lembongan
Day one sees you take off from your hotel in Bali just after 6 AM. A boat takes you to Nusa Lembongan where you will check into the hotel. You won't waste any time and soon head out to the beach to start your surf lesson.
After 2 and half hours of surfing, you can enjoy some free time to explore the island by bike or scooter. A relaxing yoga session happens at 5 PM after which you can enjoy the rest of the evening to yourself.
Day 2 Nusa Lembongan
Enjoy breakfast at the hotel and head out for a surfing session to work more on your technique. Explore the paradise even further before enjoying another tranquil yoga and meditation session.
Catch a glimpse of the sunset as you enjoy the evening at your own pace, relaxing at the comfortable hotel.
Day 3 Nusa Lembongan
Your last day on the island kicks off with a 3-hour snorkeling session after breakfast. After exploring below the surface, you get one last chance to hit the waves with another 2-hour surfing lesson. After a full day of activities, you will leave the resort around 4 PM and reach your hotel back in Bali around 6 PM.
What is the price of a 3-day tour to Nusa Lembongan from Bali?
This action-filled 3-day trip from Bali costs US$180 per person. This includes 2 nights' stay at The Green Groves Hotel in Nusa Lembongan, transport, breakfast, 6 hours of surfing lessons, 2 yoga classes, snorkeling equipment and scooter and bike rentals.