Blessed by year-round sunshine, Bali is a playground for all kinds of water-loving visitors. With its many beaches, rivers and water parks, there is no shortage of ways to cool off in Bali.
If you're looking for an action-packed day out, then snagging some Waterbom Park tickets should be at the top of your list!
Found in a landscaped tropical setting with state-of-the-art thrill and kiddie rides, plus a swim-up bar and plenty of places to work on the tan, Waterbom has long been a family-favorite destination in Kuta.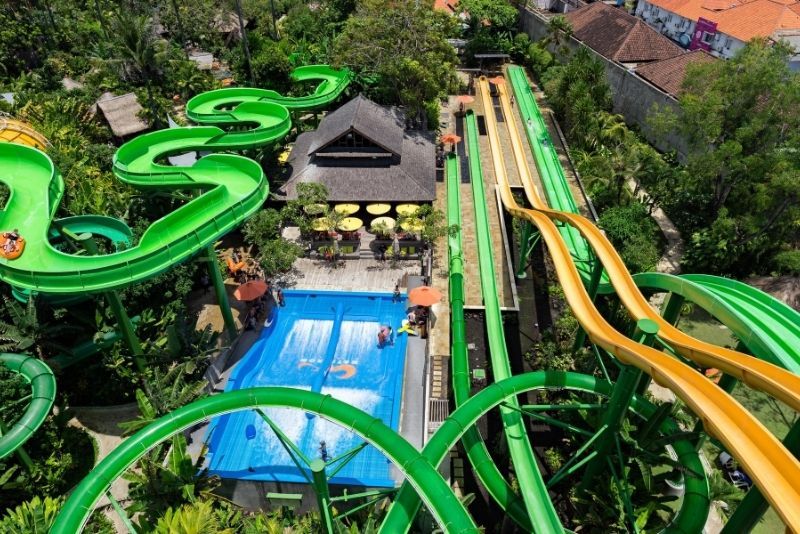 Here's all you need to know about Waterbom, one of the most fun option for theme parks in Bali.
How much do Waterbom tickets cost?
Waterbom Single Day Pass
Adults: IDR535,000 (US$35)
Children (2-11 years old): IDR385,000 (US$25)
Family (2 Adults and 2 Children): IDR1,690,000 (US$110)
Take note that you can save 15% off the above prices if you book online.
Gazebo Rental
Half of Waterbom's gazebos are sold online and the rest are via walk-in booking. So, if you want to secure a shade, it's recommended to book beforehand.
Regular size gazebo (multiple locations): IDR350,000 (US$23)
Family size gazebo (multiple locations):  IDR450,000 (US$30)
VIP gazebo (poolside): IDR1,500,000 (US$98)
In-Park Credit
Waterbom uses cashless wristband technology for all transactions made inside the park. This means that you can load your wristband with credit before entering the park, and then use it to pay for food, drinks, rides and souvenirs. You won't have to carry around a phone, wallet or cash.
Topping up your wristband is easy – just head to one of the Top Up Stations located around the park. However, you can also top up your wristband in advance, from IDR300,000 (US$20) to IDR 5,000,000 (US$325). This will save you time on the day of your visit.
Who is eligible for discounts?
Discounts for Waterbom theme park tickets are offered to Indonesian residents (KTP / KITAP / KITAS) as well as Business visa or Social visa holders. To access the discount you must be able to provide proof with a valid Indonesian ID or the relevant visa (or with a photo of such on your phone).
Should you book the tickets in advance?
While you can buy Waterbom tickets at the gate, it is advised to purchase your tickets online in advance, especially during the high season. Not only will this save you time, but you may also get a discount (usually 15%) on your ticket cost.
By booking online you can also reserve private gazebos and top up your wristband with IDR.
What are the best Waterbom tours?
Besides the option to buy a simple Waterbom entry ticket, you can also find a number of different Waterbom tours. These usually include return transfers from your hotel, as well as other activities such as a Balinese massage or dinner at a nearby exotic restaurant.
If you're looking for the best value for money and to see the most of Bali, it's recommended to book a tour that includes return transfers and meals.
Waterbom Bali And South Bali Day Tour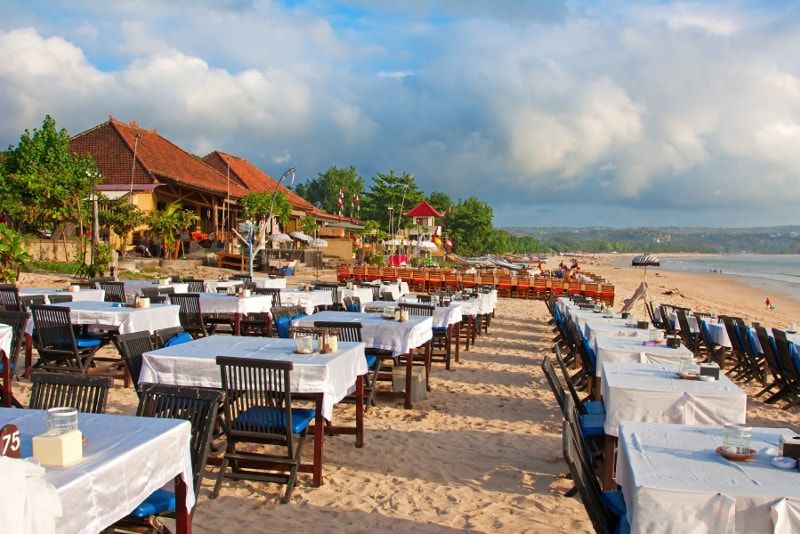 Combining all the fun of Bali Waterbom with sightseeing, relaxation (at locations such as Anika Spa), and a sunset dinner, this full-day tour provides an overview of all of Bali's tourist-favorite offerings.
Waterbom Bali Day Pass with Private Hotel Transfers
Whisking you away from the hustle and bustle of South Bali, this day pass private tour provides you full-day access to all the rides and slides and get inside tips from your friendly driver.
Bali Waterbom with 2 Hour Spa and Romantic Jimbaran Dinner
After spending the day zooming down waterslides and floating down the lazy river, you'll be ready for a well-deserved pampering. This tour includes a 2-hour Balinese massage at a spa in Jimbaran Bay, followed by a sunset dinner overlooking the beach.
What are the best things to do in Waterbom?
Spread across 3.8 hectares and boasting no fewer than 15 rides and attractions, Waterbom Bali is one of the largest water parks in Asia. From adrenaline-pumping slides to a lazy river and even a kids' play area, Waterbom has something for everyone to enjoy.
A crowd favorite, the lazy river twists and winds its way around the park, providing a relaxing respite from the more adrenaline-inducing slides.
For those looking for an adventure, there are a number of slides to choose from, such as the Climax - a near-vertical drop slide, the Smashdown 2.0 (starting at a height of 26 meters), or the Twin Racers, which takes you on a heart-pounding race against your friends.
The Boomerang, a 20m slide features a freefall that makes you hold your breath, while the Flow Rider Double lets you play surfer on 5-foot stationary waves. If you're traveling with young kids, they'll be sure to enjoy the Funtastic zone where you'll find smaller waves, drenching buckets, and pint-sized slides.
For an extra fee — IDR 65,000 (US$4) for children 2-12, IDR 75.000 (US$5) for adults — the Euro Bungy propels riders 9 meters into the sky where you can practice somersaults and backflips.
Rides aside, Waterbom also offers on-site eateries, including The Shack, Cafe Illy, Bali Banana and the main food court, as well as retail outlets for souvenirs. There's also a swim-up bar for adults.
How to get to Waterbom?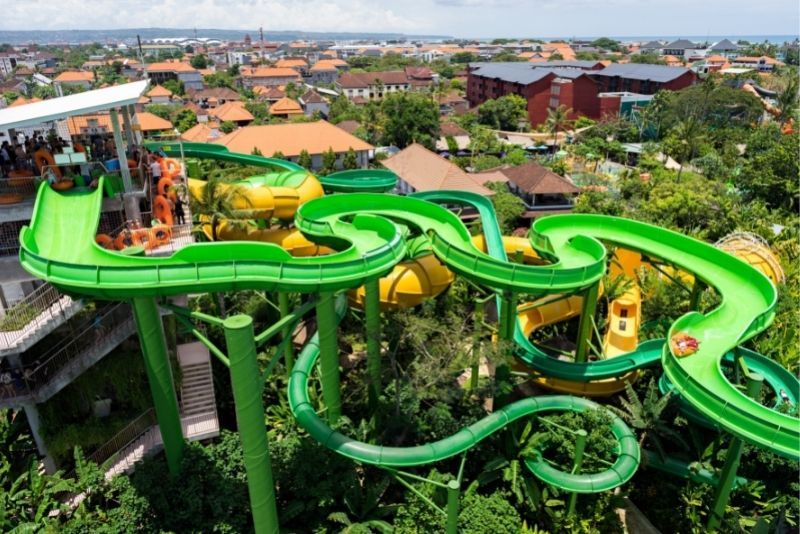 Thanks to its central location in Kuta, Waterbom Bali is easy to get to whether you're staying in the area or further afield. You can reach the theme park by foot, taxi or even scooter — every Balinese local driver will know its location.
Alternatively, book a tour that includes hotel pickup and drop-off.
What are the opening times?
The park is open every day from 9 AM to 6 PM. Try to arrive first thing in the morning when the park opens — this way, you can tick off many rides before big lines form.
When is the best time to visit Waterbom?
Thanks to year-round warm weather, there's never a bad time to visit Waterbom Bali. However, if you want to avoid crowds, it's best to visit during the week as weekends tend to be the busiest.
Which other theme parks can be visited in Bali?
Travel tips
Bring sunscreen, water, a towel and a change of clothes. You will get wet, no matter how careful you are.
Be mindful of the Australian school holiday periods, when the park will be busier.
Book tickets online in advance to save time, hassle and money.
Consider renting an on-site locker so you don't have to worry about your belongings — this has an extra cost of IDR 35,000 (US$2.5).