Westminster Abbey has been an active place of worship for the English ever since it was founded by Benedictine monks in 960 A.D. The stunning Abbey has been used for royal coronations since 1066 and is the official resting place for kings, queens, politicians, scientists, musicians and poets of the country's past.
Book your Westminster Abbey tickets to see exciting historical artifacts, galleries, cloisters and tombs that make it a fascinating place for a tour.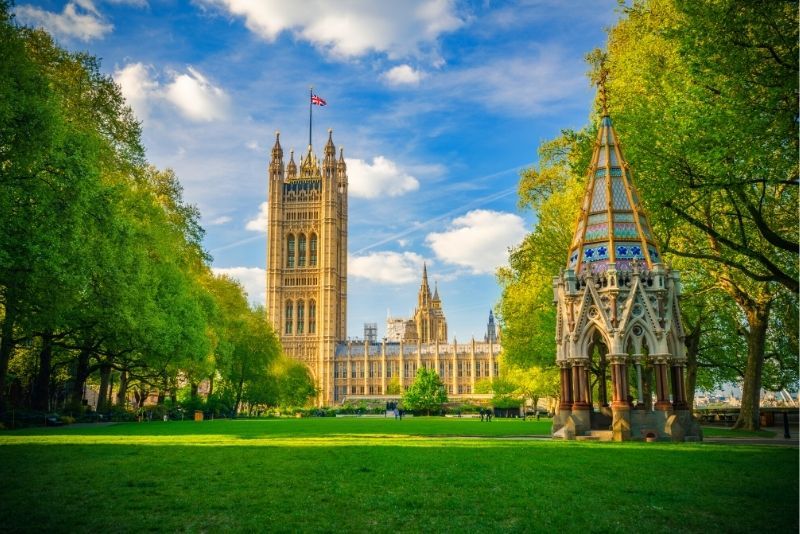 Here's all information you need to know about Westminster Abbey, one of the most popular attractions in London.
How much do Westminster Abbey tickets cost?
Westminster Abbey entrance fee:
Adults (18 and above): £27
Children (6-17): £12
Children (0-5): Free
Seniors (over 65): £24
Families (1 adult & 1 child): £27
Association Members: Free entry
Additional fee to enter the Queen's Diamond Jubilee Galleries
Adults (18 and above): £5
Children (17 and under): Free
Assosciation Members: Free
Tickets to Abbey Lates - Self-led tour of the Abbey with map
Adults (18 and above): £19
Children (6-17): £8
Children (0-6): Free
Assosciation Members: Free
Who is eligible for discounts?
Adults who receive Universal Credit and can present a letter of proof at the ticket office are eligible for a discounted price of £7. A family of one adult plus one child with Universal Credit may enter with a family ticket for £7 total.
What are the best Westminster Tours?
Self-guided tour with an audio guide
On this tour of Westminster Abbey, you'll explore the incredible gothic architecture at your own leisure. An audio guide will lead you through the hallowed halls where you'll be immersed in over 1,000 years of English history.
Westminster Abbey walking tour
An expert guide will take you on a discovery walking tour with skip-the-line access. You'll learn fascinating information about one of London's most notable landmarks with a professional at your service.
Private tour of Westminster Abbey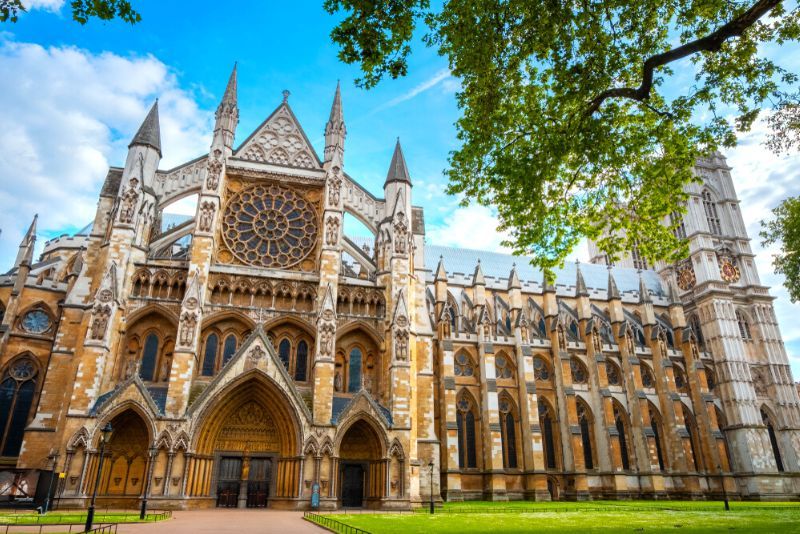 On this intimate private tour, you and your group will be led by a private guide through the impressive 3,000-square-meter Abbey. Your guide will offer rich descriptions of the vibrant history from inside the holy place.
This tour will take you inside the ancient Abbey, where you'll learn all the hidden mysteries from decades past. On this excursion, you'll have the opportunity to visit the tombs of Charles Dickens and Sir Isaac Newton.
Kid-friendly Westminster Abbey tour
If you're hoping to keep your little ones engaged throughout your tour of Westminster, opt for a stress-free children-friendly excursion. Your guide will include important facts for the whole family to enjoy.
British Royalty in Westminster Abbey tour
This tour will focus on the tombs of the 17 British monarchs that were laid to rest in the Abbey. A seasoned guide will explain the incredible significance of Westminster in regard to the royals.
Are there any combined tickets or tours including Westminster and other attractions?

Westminster Abbey plus Buckingham Palace: After exploring Westminster, head to Buckingham Palace to watch the iconic changing of the guards.
Westminster Abbey plus Houses of Parliament: This tour includes a detailed look at the Houses of Parliament, where the famous Big Ben clocktower resides.
Westminster Abbey plus Churchill War Rooms: Visit the underground bunker that housed England's WWII operation. Learn about the infamous Blitz of bombs and see Churchill War Rooms.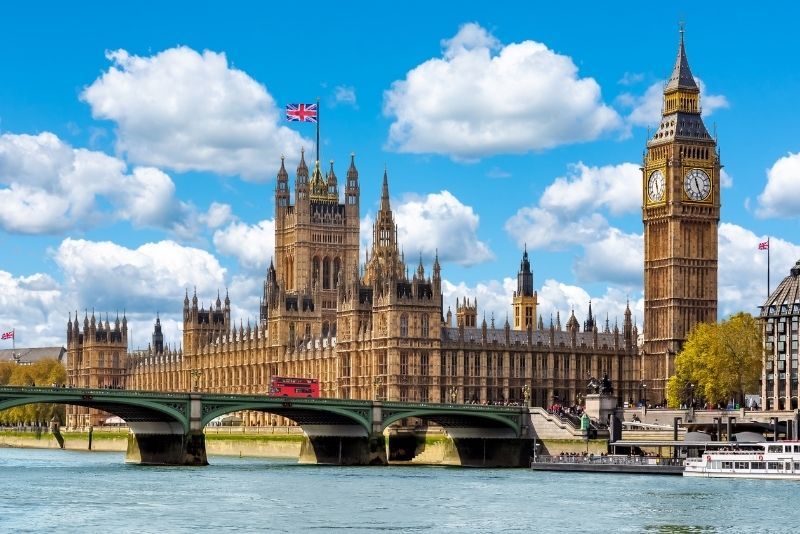 Is it possible to visit Westminster for free?
Individual prayer and daily service via the Great West door are free of charge. Westminster also offers free entry for certain parts of the Abbey with credentials. Abbey Association members are always granted free entry.
Members of the clergy from Member Churches Together in Britain and Ireland are able to apply for a Church pass. This pass allows admission for up to four adults, students or children between the ages of 6 and 16 for free.
Children under the age of 5 may be admitted alongside an adult with a Church pass. The pass can be used a maximum of six times a year.
Serving members of the UK clergy are able to visit the Abbey free of charge. Residents of the City of Westminster are eligible for free entry with the City Save card.
UK Armed Forces personnel and up to four of their family members can enter the Abbey free of charge if a valid ID is presented at the time of purchase. London Pass holders, NHS staff, persons with disabilities and their caretakers are all able to enter for free.
Should you book Westminster Abbey tickets in advance?
All Westminster Abbey tickets come with a guaranteed timed entry for arrival, so all tickets should be booked in advance. Limited tickets are available for purchase at the door each day. A multimedia guide is included with every ticket.
What will you see inside Westminster Abbey?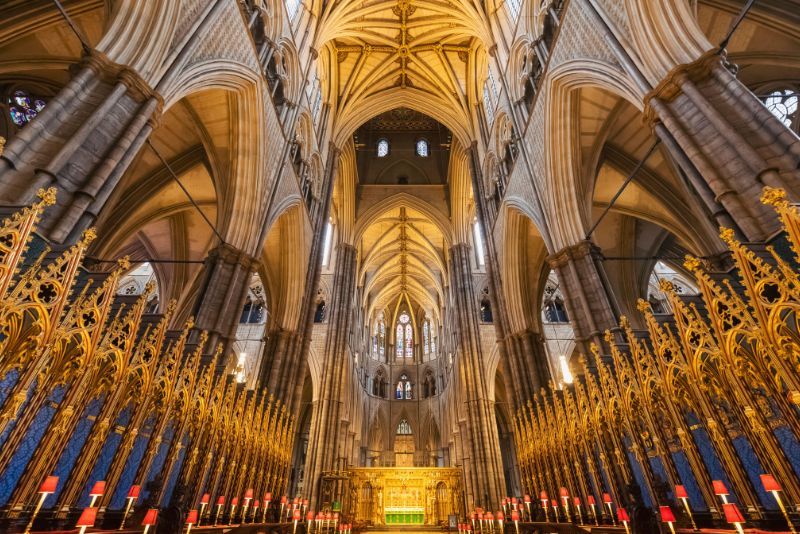 Westminster Abbey is filled with incredible artifacts gathered over the course of a thousand years.
Some of the highlights include the British monarch's coronation chair, the Tomb of the Unknown Warrior, the cloisters, the tomb of Elizabeth I and the Queen's Diamond Jubilee Galleries.
Exploring the entire Abbey takes about 1.5 hours, including a look at the Royal tombs, the Poet's Corner and the Naves. The incredible building holds the coffins of some of Britain's more important intellects like Mary Queen of Scots and Charles Darwin.
While on a tour of Westminster Abbey, you'll also be able to spot an oak door in the Chapter House.
This piece of history dates back to the time of Edward the Confessor and is said to be the only remaining Anglo-Saxon door in England.
The Garth, The Little Cloister and College and St. Catherine's are three lovely gardens that can be also visited in the Abbey, some nearly 900 years old.
How to get to Westminster Abbey?
The Abbey is located in Westminster, London, just a short walk from the River Thames and the Big Ben clocktower. The stately place of worship lies just West of the Houses of Parliament and stands on the land of what was once a Benedictine Monastery.
When is the best time to visit Westminster Abbey?
Westminster Abbey is best visited in the late springtime of March or May when the weather begins to warm in London.
The Abbey gardens will be in full bloom after the winter hibernation at this time of year. Summer is also a popular time, but crowds will be larger as the city is a tourist hotspot in the warmer months.
Arrive at the Abbey first thing in the morning to add ease to your travels and to avoid a long entrance line.
Which other attractions can be visited in London?
Travel tips
The Abbey requires that visitors follow a dress code of "respect and sensitivity," so plan accordingly. Gentlemen must remove hats upon entry.
During fall, winter and spring, it can be cold inside the building, so bring a sweater to keep warm.
The floor is ancient and uneven, so make sure to wear sensible shoes.
Video recording and the use of camera flashes, selfie sticks and tripods are also prohibited inside the Abbey.