Take your SeaQuest tickets and go on a voyage around the world's oceans and continents at one of the best wildlife attractions in Las Vegas. You'll meet mysterious creatures of the deep and encounter spritely land animals scampering about the enclosures.
Feeling brave? Then head to the stingray touch pool or discover what it's like to have a macaw sitting on your shoulder. Feeding sessions and hands-on encounters are available too, including sleeping with sharks!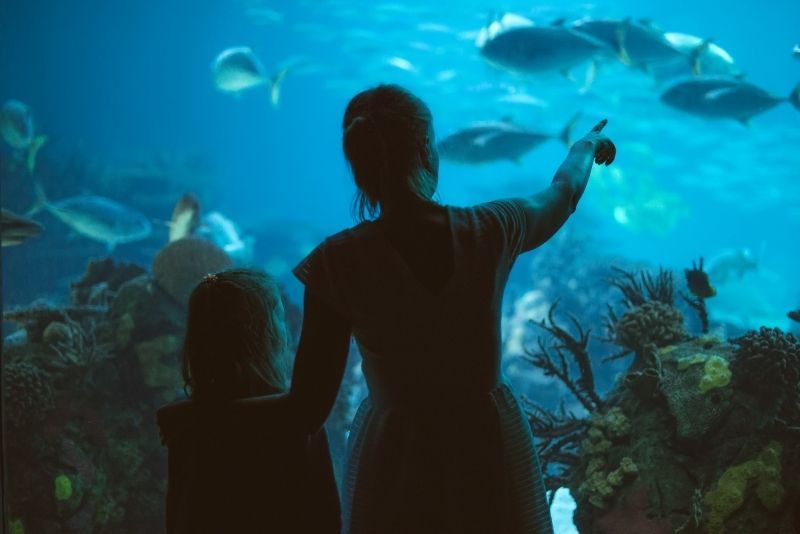 How much do SeaQuest tickets cost?
You have several options when it comes to purchasing your SeaQuest tickets. Here's the low-down on the different choices available:
Standard Aquarium Entry
The SeaQuest entrance fee is as follows:
Adult (aged 12+ years): $16.99
Senior (aged 55+ years): $13.99
Child: $10.99
Annual Passport
If you think you'll be visiting SeaQuest multiple times, then you might like to consider purchasing an Annual Passport. Benefits include unlimited entry, free feeding tokens, and discounts on animal interactions.
Animal Feeding Tokens
The SeaQuest tickets price does not include animal food. This can be purchased separately in the form of tokens:
15 pack: $24.99
25 pack: $39.99
40 pack: $59.99
60 pack: $79.99
Activities and Encounters
Enhanced interaction sessions are available at an additional cost:
Otter and kinkajou interactions: $19.99 each
Snorkel with stingrays: $49.99 (includes wetsuit and snorkel gear)
Animal whisperer tour: $4
Fish pedicure: $19.99
Sleep with the Sharks: $1,299.99 (for up to 25 guests)
Who is eligible for discounts?
Discounted SeaQuest tickets are available for adults aged 55 years and above, as well as students and those in the military. If you fall into one of these categories, the SeaQuest rate of entry is $13.99 on production of valid ID.
Should you book SeaQuest tickets in advance?
Definitely! Having your SeaQuest tickets already in the bag will give you peace of mind about your visit, with minimal hassle to contend with on the day.
In peak season the aquarium may limit admissions to cope with demand so it's advisable to book in advance if you want to avoid potentially missing out.
What will you see inside SeaQuest?
The animals
SeaQuest isn't just about the ocean, it's about the earth too. Expect to see everything from sharks and turtles to snakes and wallabies, with all five of the world's continents represented by wildlife.
Animal encounters
If you want a closer look at some of the inhabitants, the animal encounters are heaps of fun. You can feed otters, snorkel with stingrays, and cuddle up with a kinkajou during your enhanced SeaQuest visit.
Animal whisperer tour
This short foray behind the scenes is a great add-on if you want to discover more about food preparation and habitat maintenance at SeaQuest. You'll get to participate in activities and even a bit of teaching as you assist at feeding time.
Fish pedicures
For something different, you can enjoy an authentic fish foot massage! Just dip your feet into a specially prepared tank and the toothless feeders will gently nibble away at any dead skin. If you're ticklish, expect plenty of giggles!
Sleep with the sharks
If you have a large group, this nocturnal sleepover tour is a fun way to discover what the aquarium inhabitants get up to at night. Your special SeaQuest ticket includes animal encounters, shark feeding, a movie, and breakfast right beside the tank.
Where is SeaQuest located?
SeaQuest is conveniently situated in Las Vegas city center, just off South Maryland Parkway.
You can get there using the 109, 202, and 203 buses, alighting at the Northbound Maryland after Twain stop. From there, it's just an eight-minute walk to SeaQuest.
When is the best time to visit SeaQuest?
To avoid the busiest periods, time your SeaQuest entry for the early morning or late afternoon. Just remember to leave yourself at least a couple of hours to enjoy all the exhibits. Weekdays tend to be quieter than weekends too.
SeaQuest is open daily from 11 AM - 7 PM.
Which other theme parks can be visited in Las Vegas?
Travel tips
Plan to spend a couple of hours at SeaQuest, or longer if you have purchased one of the animal encounters.
Book your SeaQuest tickets in good time so you can find the best online prices for your preferred date.
If you want to participate in an animal experience, these need to be reserved before your visit as places are limited.
Charge up your camera batteries so you don't miss a moment of the action during the interactive sessions.
If you are eligible for a discounted ticket, remember to take your ID with you.