One of the joys of a Las Vegas vacation is that some of the country's top national parks are easily accessible from the city. In just a few days, you can tick off some of the greats, including Zion, Monument Valley and of course the Grand Canyon.
Most 3-day trips from Las Vegas follow a similar schedule, with a few variations on offer along the way. Here's what you can expect during your "Grand Circle" tour.
What is the typical itinerary of a 3-day trip to Zion, Bryce, Antelope Canyon, Monument Valley, Grand Canyon, Sedona from Las Vegas?
These 3-day tours from Las Vegas operate in either a clockwise or counterclockwise direction, so you can choose which way round you want to travel. The most comprehensive trips stop at seven different locations, as outlined below.
Day 1 - Zion National Park & Bryce Canyon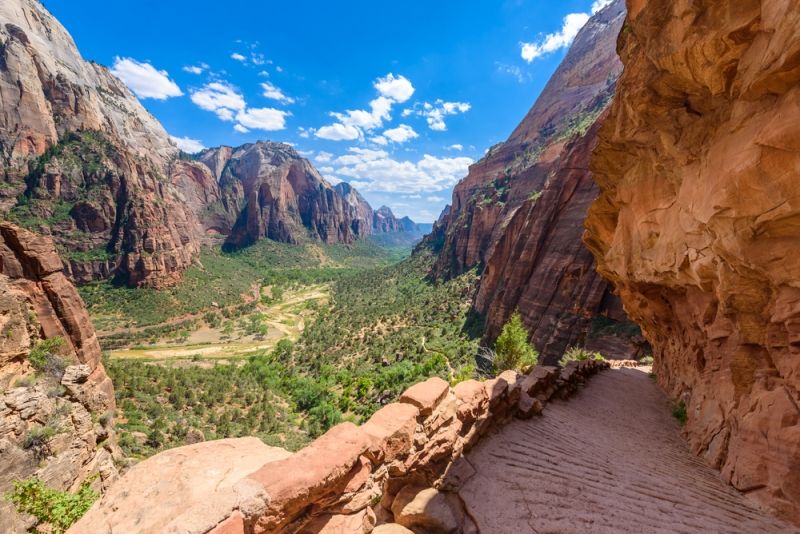 You'll depart Las Vegas after breakfast, traveling by minivan or bus, depending on the group size. The first stop is Zion National Park, where the pinks, whites and reds of the towering sandstone cliffs will have you grabbing for your camera.
There will be free time to hike the trails with routes for all fitness levels. Highlights include the Emerald Pools, the Temple of Sinawava and Weeping Rock. Wildlife is abundant so keep your eyes peeled as you explore the forests.
Next up after a short drive is Bryce Canyon, which is famous for its natural rock amphitheater. Carved over time by the elements, this vast canyon is dotted with strange rock formations called hoodoos.
Legend has it that fairies dwell in these striking red spires, and casting your eye around this otherworldly landscape, you'll be inclined to agree! Enjoy a few hours exploring the trails and viewpoints at Bryce Canyon, as well as walking right among the hoodoos. Then it's time to head to your hotel or campground for the night.
Day 2 - Antelope Canyon, Horseshoe Bend & Monument Valley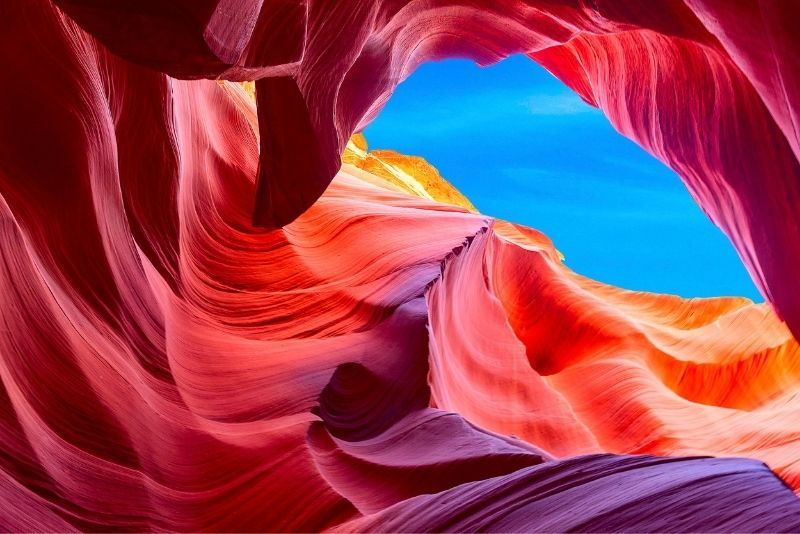 As with many overnight tours from Las Vegas, Antelope Canyon is a popular stop, and you'll get to see it after breakfast. The visit is included on several trips and is optional on others, so check your itinerary carefully.
Sculpted by water and wind over the centuries, Antelope Canyon is famed for the cascades of light that penetrate its dark interior. The resulting colors that swirl along the rock walls are a big draw for photographers. This world-renowned slot canyon is deep in Navajo land, so it's a real privilege to be granted access.
Some excursions also take in the dramatic Horseshoe Bend where you can enjoy breathtaking views over the Colorado River after a short hike to the overlook.
Your final stop of the day is the iconic symbol of the American West – Monument Valley. It's one of the most photographed sites in the country, with mighty sandstone formations up to 1,000 feet high.
Get up close to the mesas and buttes on a jeep tour of the valley led by Navajo Indians, before being driven to your hotel or camp.
Day 3 - Grand Canyon & Sedona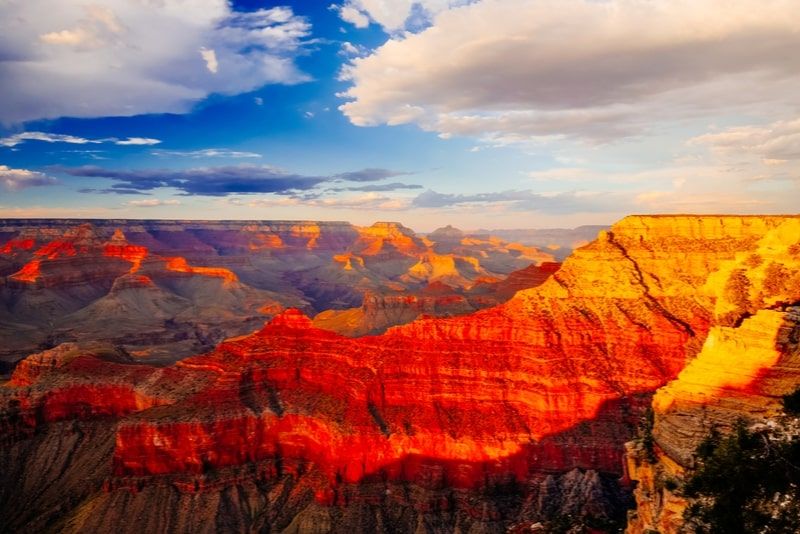 The grand finale of your 3-day trip from Las Vegas begins with a scenic drive through the Painted Desert to the Grand Canyon National Park. Here, you have free time to walk along the South Rim, check out the viewpoints, or even take to the skies on an optional helicopter ride. This is the largest canyon in the world and has to be seen to be believed!
At this point, some tours head back to Las Vegas, while others linger a little longer and throw in a bonus visit to Sedona. This jewel in the desert offers contrasting landscapes with scenic canyon drives and red sandstone formations like Cathedral Rock and Courthouse Butte to admire.
The town itself is a gem with Indian arts and crafts, boutique stores, and art galleries to discover. The icing on the cake is a visit to the Chapel of the Holy Cross where the spiritual energy of the desert never fails to move visitors.
Another short stop off for a few tours is the Valley of Fire State Park. Known for its red sandstone formations, this geological wonderland is also home to ancient petroglyphs carved into the rocks by Native American Indians.
Finally, after a few thrilling days in the wild, it's time to head back to the city where you'll arrive in time for dinner.
Which activities can be done during a 3-day tour to Zion, Bryce, Antelope Canyon, Monument Valley, Grand Canyon, Sedona from Las Vegas
Hiking
Although there isn't time for long treks during these packed 3-day trips from Las Vegas, you have plenty of opportunities to stretch your legs. The most scenic short hikes on the tour include the 1-mile trail at Horseshoe Bend and the routes that meander through Bryce Canyon and Zion National Park. Of course, you'll also get to stroll along the rim of the Grand Canyon too.
Helicopter Flights
It's possible to take a helicopter flight over the Grand Canyon during some tours at an additional cost. This gives you the chance to enjoy a bird's-eye view of the national park and appreciate just how vast it really is. Flights should be booked in advance to avoid disappointment.
Camping
Falling asleep under the twinkling stars is a truly natural way to explore the American West, giving you a sense of how the pioneers of old must have felt during their expeditions. You have rather more creature comforts than they did though. After spending a day sightseeing, sit around the campfire for dinner, while sharing tales with your camp companions.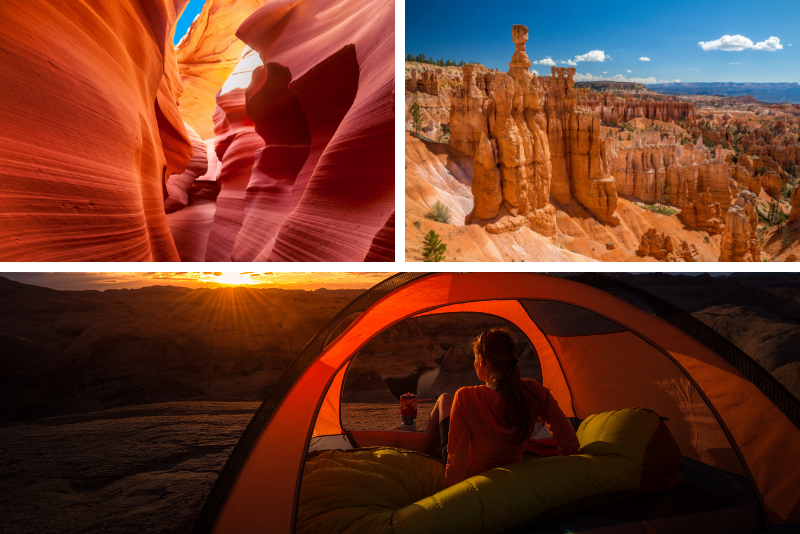 Which types of 3-day trips to Zion, Bryce, Antelope Canyon, Monument Valley, Grand Canyon, Sedona from Las Vegas are available?
Camping-based tours: These trips offer value for money and a dash of adventure with nights spent under canvas at designated campgrounds.
Hotel-based tours: For superior comfort and facilities, opt for hotel accommodation during your jaunt. The properties are usually 3-star standard.
Small group tours: Traveling in a group is the cheapest and most sociable way to explore. Group sizes vary dramatically — check the tour details so you know what to expect.
Private tours: For more exclusivity and your own vehicle and guide, a private tour is the way to go. Itineraries can often be customized too.
What is the price of a 3-day tour to Zion, Bryce, Antelope Canyon, Monument Valley, Grand Canyon, Sedona from Las Vegas?
Camping tours: Small group 3-day trips from Las Vegas with camping cost $710 per person. This includes camping equipment, breakfast and lunch, guide, minibus transport, and a jeep tour in Monument Valley.
Hotel trips: Group tours with hotel accommodation range from $530 - $1620 per person, depending on inclusions. The more expensive excursions provide hotel pick-ups, all entrance fees, breakfast and either lunch or dinner, plus the Monument Valley jeep tour.

They also offer two guides for more personal attention and groups sizes will be smaller for an intimate experience.
Private excursions: Private tours cost $5,730 for six passengers and include all of the above, as well as an exclusive vehicle and guide. You have the option to add a Grand Canyon helicopter flight which starts at $220 per person.