Take a Korcula island day trip from Dubrovnik to experience the Venetian heritage in the Adriatic coast. Wine and dine on the local cuisine, visit old towns, and enjoy the beach in this medieval walled town.
Enjoy a dip in the blue sea and sample some wines on a Korcula tour which leads you to admire 14th-century towers, town walls and gates, and Renaissance palaces.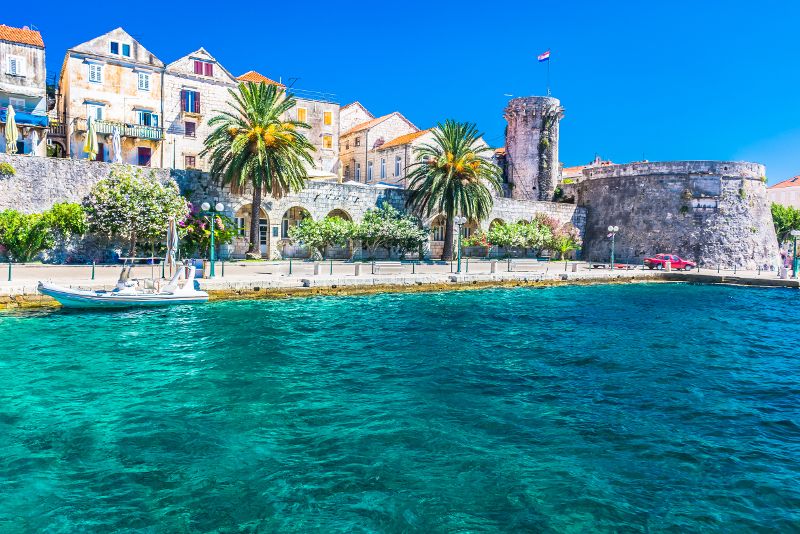 How to get to Korcula island from Dubrovnik?
Korcula Island, also known as "Little Dubrovnik," stands on the Mediterranean Sea, south of Hvar. It's accessible from Dubrovnik by driving to Port Orebic first and, from there, taking a 15-minute ferry ride to reach the island.
From Dubrovnik to Korcula island by car/ferry
To reach Korcula by car, you can drive to Port Orebic for two hours using highways D8 or D414. Then, take a car ferry to Port Domince on Korcula which takes 15 minutes. The ferry leaves from Orebic at least every hour from early morning to midnight.
From Dubrovnik to Korcula island by bus/public transport
There's a bus that leaves from Dubrovnik to Korcula at least once a day during the low seasons. It drives to Port Orebic and takes the car ferry to Port Domince, and then takes the passengers to the bus stops at the station in Korcula town about a six-minute drive from the port.
Guided tour to Korcula island from Dubrovnik
Make your day trip to Korcula more comfortable and fun by joining a guided tour. It means you don't need to drive or take public transport, and someone is taking care of your itinerary.
Tours usually include hotel pickup and drop-off, transport by coach and boat, a local guide and a tour escort, as well as wine tastings depending on your choice of Korcula excursions.
How much does the entrance ticket to Korcula island cost?
To enter the island is free, however, you may have to pay for entrance tickets to some attractions, including museums and old buildings.
Tickets to Korcula Town Museum:
Adults: HRK40 (US$5.60)
Children: HRK15 (US$2.10)
Groups of 10 or more: HRK25 (US$3.50)
What is a typical day tour itinerary to Korcula island from Dubrovnik?
The typical itinerary of a day trip to Korcula Island starts early in the morning, depending on the mode of transport. If you booked a guided tour, you'll start your Korcula day trip around 6:30 AM for hotel pickup.
You'll have a relaxed two-hour drive from Dubrovnik to Port Orebic on a private bus. Then, you'll enjoy a short cruise along the Adriatic Sea on a chartered boat to see the fishing village and the walled town of Korcula.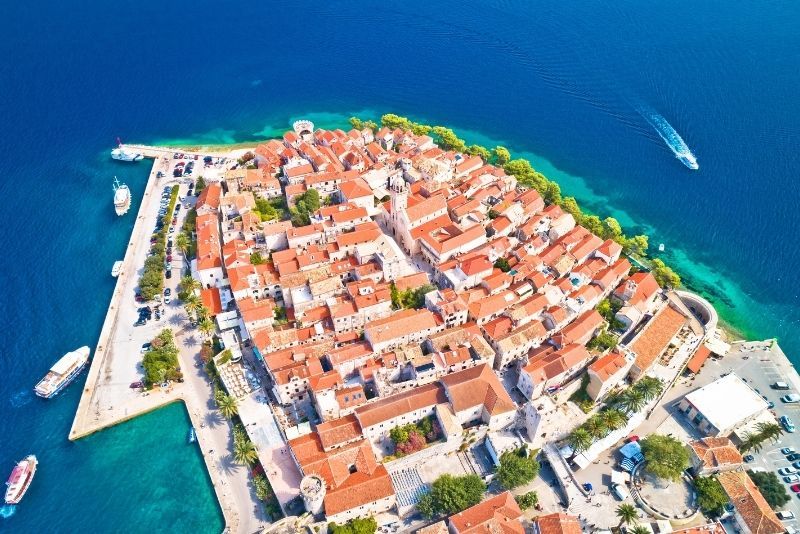 Once you arrive on the island, you'll explore the medieval town on a walking tour, while learning about the history through the narratives of your local guide. Admire the Renaissance architecture, as you stroll around the area, checking out cathedrals, palaces and towers.
Along the way, stop at a local cafe for coffee or a glass of wine, as you take in the beauty and history of this Venetian town. You have enough time to dip into the blue sea or continue exploring the island.
If your tour includes a wine tasting, you'll stop at a shop to sample a few kinds of local wine on the Peljesac Peninsula before heading back to Dubrovnik. You'll be delivered back to your hotel or accommodation after nine to 11 hours of adventure and fun.
What kinds of tours are available to go to Korcula island?
There are various day trips and tours to Korcula, and most of them involve wine tasting. Korcula is home to exquisite wines, olives and old architecture that you can enjoy during the tour. Depending on the day trip, you may visit wine cellars, restaurants or old Croatian towns.
Day trip to Korcula from Dubrovnik with wine tasting
This tour will have you visiting wine villages, Peljesac Peninsula, Ston and Korcula. You'll get an English-speaking guide and explore several locations during a 10-hour day trip. While the tour focuses on seeing various places, there's enough time to swim, shop and enjoy the scenery.  
Day trip to Korcula plus Peljesac Peninsula from Dubrovnik
On this trip, you'll sail the Adriatic coast and tour Korcula and Peljesac, and their well-known attractions. You'll visit old settlements, taste wine, liquors and brandy, and learn about the local way of life in a 12-hour day trip.  
Group tour to Korcula from Dubrovnik
You'll be in a group of eight people for this Korcula tour, visiting the town of Ston and Korcula, Korcula Town Museum, St.Mark's Church, and Matusko Winery.
Boat tours to Korcula from Dubrovnik
Take a boat tour to Korcula from Dubrovnik with a boat or a yacht. The boat tour lasts for several hours, and you'll get a chance to explore the Adriatic coast. Some boat tours have several stops at Ston with same-day return to Dubrovnik.
Private tours to Korcula from Dubrovnik
Take a private tour to Korcula around the Adriatic coast. Private tours have several stops and include lunch and additional activities throughout your Korcula excursion. If you are looking for deep exploration, private tours is a perfect chance for you.
How much does a tour to Korcula island from Dubrovnik cost?
An average tour to Korcula Island costs from €60 to around €230, and the prices vary depending on the the size of the group, itinerary which includes places to visit and things to do such as winery visits and wine tastings.
Private tours can cost more than €300 which include a tour guide, cruise from Port Orebic to Korcula, and sampling of seafood and wine at Ston, as well as hotel pickup and drop-off in Dubrovnik.  
What will you see and do on Korcula island?
Korcula allows you to taste specific wines, sightsee and experience the old lifestyle of the Adriatic coast. Trips to Korcula are about enjoying nature, drinking wine, eating the local cuisine and visiting local villages.
Korcula Old Town
The old town center of Korcula sits on the northeastern tip of the island, welcoming visitors sailing from Port Orebic. Explore its medieval walls with two gates approached by wide stone staircases.
The land gate is found within Veliki Revelin Tower, and the sea gate is found on the west side known as Kula Morska Vrata.
Check out several museums that house various artifacts and artworks to learn about Korcula's history and rich cultural heritage.
These include Korcula Town Museum, Icon Museum, Bishop's Treasury Museum, collections in the Vela Luka Cultural Center and Marco Polo Museum. You can also discover ethnographic collections in Blato, Znorvo and Vela Luka.
House of Marco Polo
Now under the authority of Korcula town, the House of Marco Polo was believed to be where the Venetian merchant, known for his travels to Asia, was born. The tower of the house provides an overlooking view of the town.
St. Mark's Cathedral
Built in the 15th century, St. Mark's Cathedral is the largest church in Korcula. Admire the Gothic and Renaissance styles of the building, and check out the views from the church's tower.
Ston Old Town
Nestled on the Peljesac Peninsula, Ston has the world's second longest city walls. Enjoy the vineyards and old settlements as you stroll around this beautiful town.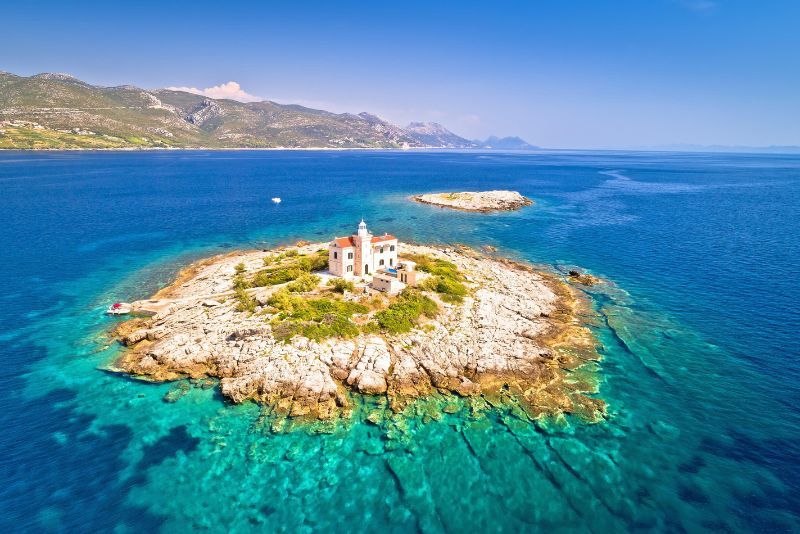 When is the best time to visit Korcula island?
The best time to visit Korcula Island is in summer from June to September, which is also the peak season for tourists. While you can visit the island any time of the year, choose the months with the best temperature for you.
During the hot season, temperatures can reach between 26 and 30 degrees Celsius, while the coldest month which is in January can reach as low as 6 degrees Celsius.
Travel tips
Make sure to get tickets in advance and prepare for early morning trips to the island.
Wear comfortable clothes for the day trip and bring your swimwear along.
Pack enough water to stay hydrated, especially if you visit wineries.
Pack some seasickness medicine if this is your first time traveling on a ferry.