One of the peaks that tower over Chamonix, France, Aiguille du Midi's jagged summit tops out at nearly 4,000 meters above sea level.
On an Aiguille du Midi day trip from Geneva, hop on a cable car and coast up the slopes for unparalleled vistas of France's highest mountains.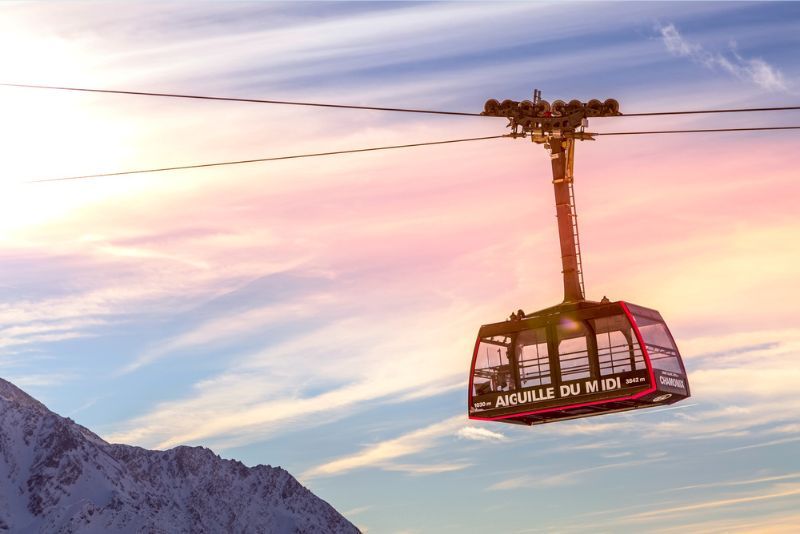 Here's all you need to know about Aiguille du Midi, one of the most exciting day trips from Geneva.
How to get to Aiguille du Midi from Geneva?
From Geneva to Aiguille du Midi by car
A scenic drive of around 70 minutes from Geneva, reach Chamonix by taking the A40 southeast from Geneva.
From Geneva to Aiguille du Midi Chamonix by bus
Coach travel is convenient between Geneva and Chamonix. The bus station is located in the Place Dorciere in central Geneva, and buses run regularly throughout the day. The trip takes around 90 minutes each way.
Guided tour to Aiguille du Midi from Geneva
Combine transportation and entry tickets by booking a guided tour to Aiguille du Midi. You'll have the benefit of an expert guide to fill the 90-minute drive with stories about the region and make sure you don't miss a thing on your visit to the mountain.
How much does the entrance ticket to Aiguille du Midi cost?
Entrance to Aiguille du Midi costs around €75 per person for visitors aged 15 to 64. A reduced price of around €65 per person is available for children and seniors.
What is the typical itinerary?
Small group tours start in the morning at the bus station in Geneva's Place Dorciere, or enjoy door-to-door transportation on a private tour. Relax on the 90-minute drive to Chamonix as your guide entertains you with information about the area.
Board the cable car in central Chamonix for a 20-minute ride nearly to the summit. An elevator will take you to a viewing platform for unforgettable vistas. If it's open, try the "Step into the Void" experience for a knee-knocking thrill.
Tours to Aiguille du Midi include another activity or destination in the Chamonix area. Many packages offer a train ride to La Mer de Glace, Europe's largest glacier. More adventurous travelers may choose to ski or go paragliding during their day tour.
What kinds of tours are available to go to Aiguille du Midi?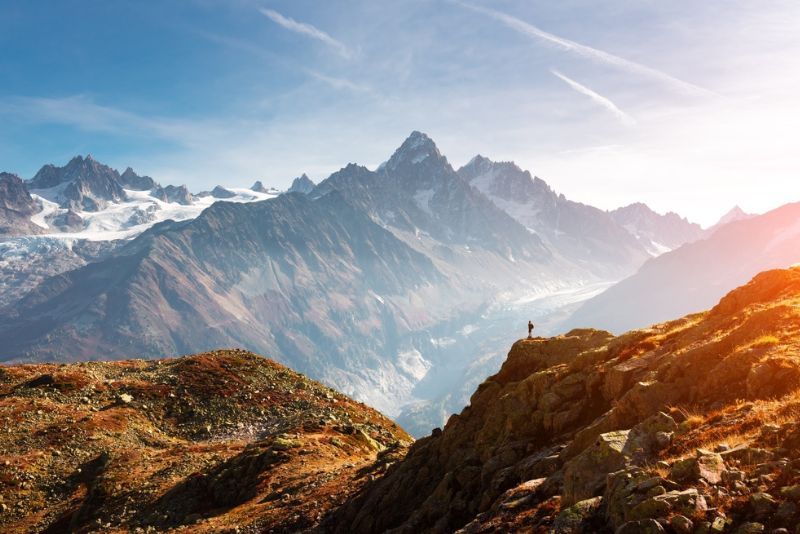 Join a guided tour that combines transportation, tickets to Aiguille du Midi and a knowledgeable guide on your visit to this Chamonix attraction.
Choose a tour that bundles a visit to Aiguille du Midi with another activity or destination for a day filled with variety. Choices include small-group and private tours.
How much does a day trip to Aiguille du Midi from Geneva cost?
A small-group 9-hour tour that includes transportation to Chamonix with a guide starts at €200 per person and includes transportation, cable car ride to Aiguille du Midi and a train ride to La Mer de Glace.
Aiguille du Midi tours with paragliding cost around €400 per person, while tours with skiing cost €200 per person.
What will you see and do?
Let your excitement build as you pass from Switzerland into France. The road through the Arve Valley will lead you to Chamonix as your guide fills you with facts about your surroundings.
From the summit, take in the 360-degree panorama that reaches into Switzerland, Italy and the French Alps. Snap photos of the sawtooth ridges of les Aiguilles Rouges and the snowy slopes of Mont Blanc. On a clear day, you may spy Switzerland's famous Matterhorn.
Test your courage with the "Step into the Void" experience. Enter the glass viewing box with three glass walls, ceiling and floor for a gasp-inducing sight of more than 1,000 meters of open air between you and the mountainside.
What are the opening times?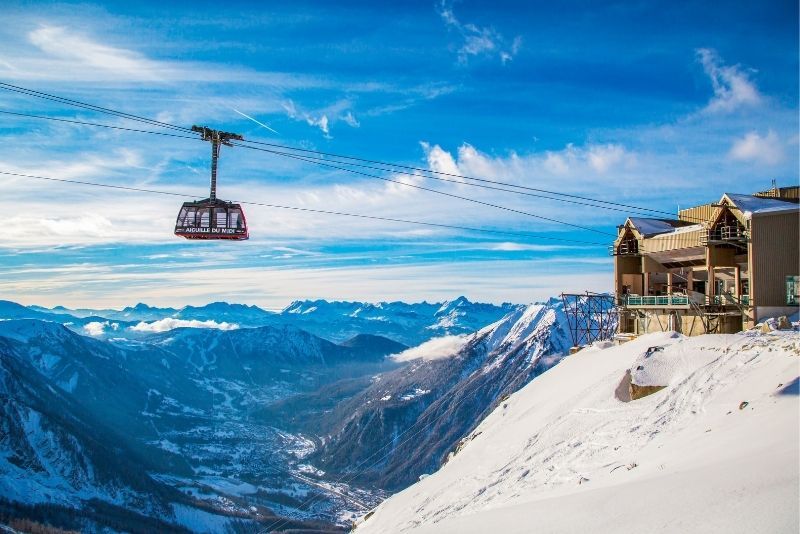 The first cable rides up the Aiguille du Midi are at 8:10 AM, and the final ascent is at 4:40 PM.
When is the best time to visit Aiguille du Midi?
A visit to Aiguille du Midi can be great at any time of year. If you live close to sea level, take the tour closer to the end of your visit. Give yourself several days to acclimate to the higher elevation in Geneva before making the trip to the 3,842-meter summit.
Travel tips
Avoid altitude sickness by staying well-hydrated and having a sweet snack during your visit.
The Aiguille du Midi cable car is closed annually during November for maintenance.
Children under the age of 5 are not permitted on the cable car.