Geneva, the largest French-speaking city in Switzerland, is a center of finance and diplomacy. However, its alpine setting on the edges of Lac Leman add the draw of immeasurable beauty to the practical city.
The region's food, history and outdoor attractions combined with convenient travel options make day trips from Geneva appealing and easy. Reach sublime villages along the banks of Lake Geneva in little more than an hour, and visit French mountain towns in less than 2 hours.
Savor fondue made from the local Gruyère cheese paired with wines from Lavaux. Get your adrenaline pumping at high altitudes in Chamonix or Glacier 3000. Explore sites made famous by artists, or relax on a lake cruise.
Lake Geneva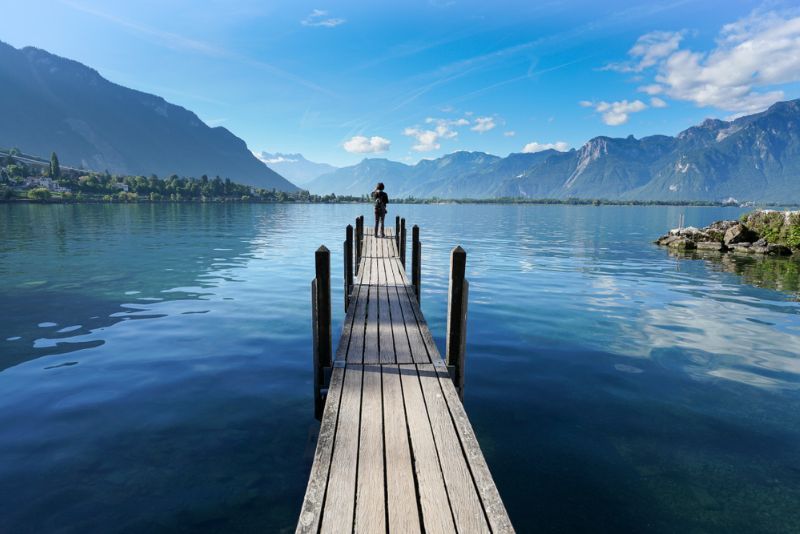 Called Lac Leman in French, crescent-shaped Lake Geneva touches both Switzerland and France. Boating day trips are popular in the lake, as well as tours along the lake shore.
Don't miss the Jet d'Eau, one of the world's largest fountains located in the lake. The Jet d'Eau shoots 500 liters of water per second to a height of nearly 150 meters.
Cut out some road travel on a day trip that ushers you to your lakeside destination by traveling by boat. Appreciate the pristine beauty of the clear water, charming villages and the verdant mountainsides.
Swiss Riviera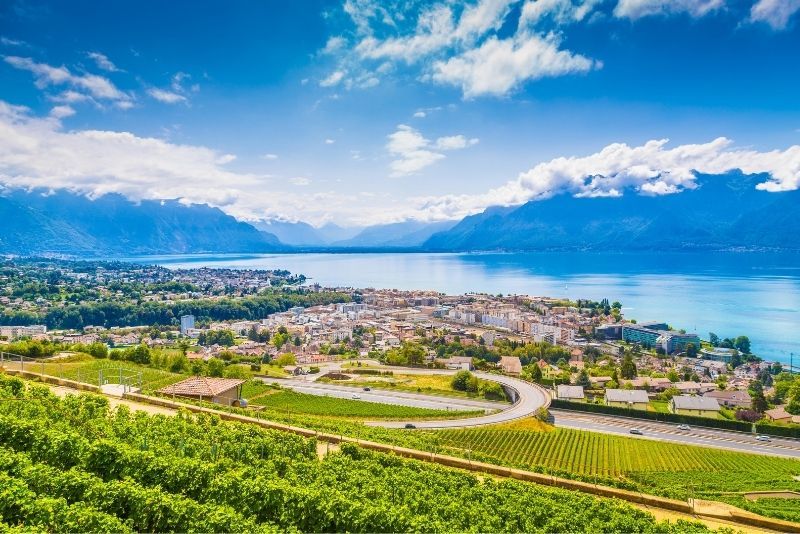 From Lausanne to Montreux, the Swiss Riviera spans the northeast coast of Lake Geneva. Its mild climate hosts vineyards and beckons visitors to extend their stay.
Day trips include stops in Lausanne and Lavaux to taste regional specialties and locally-produced wines and pause in Vevey at Chaplin's World, which highlights the life and career of Charlie Chaplin.
Montreux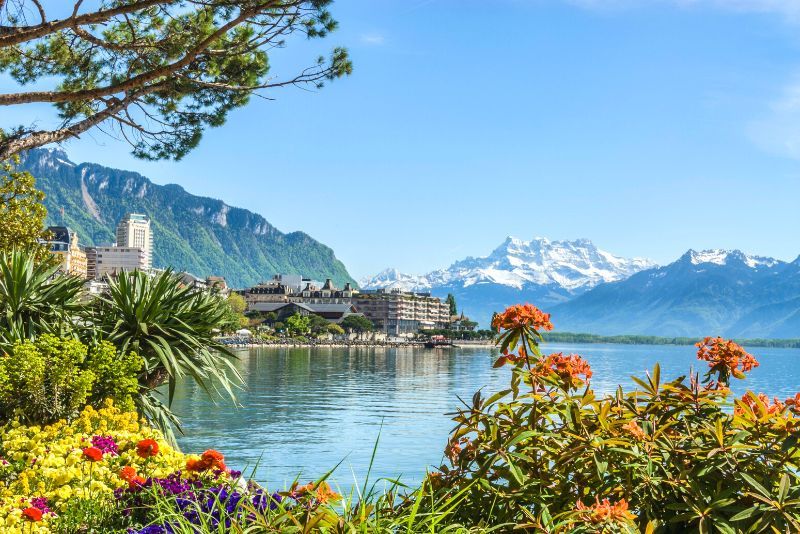 Made famous by its eponymous jazz festival, Montreux has enticed famous musicians to create and live here. From Tchaikovsky to David Bowie, stars have left their marks on the town that fans will not want to miss.
Montreux stretches along 16 kilometers of Lake Geneva's eastern shoreline, and it's not hard to see how views from Montreux have been so inspiring.
Freddie Mercury spent several decades living in Montreux. Mercury recorded many albums at the Montreux Casino's Mountain Studios, including Queen's last album. Today, visitors can take a Freddie Tour to walk in the star's footsteps.
Château de Chillon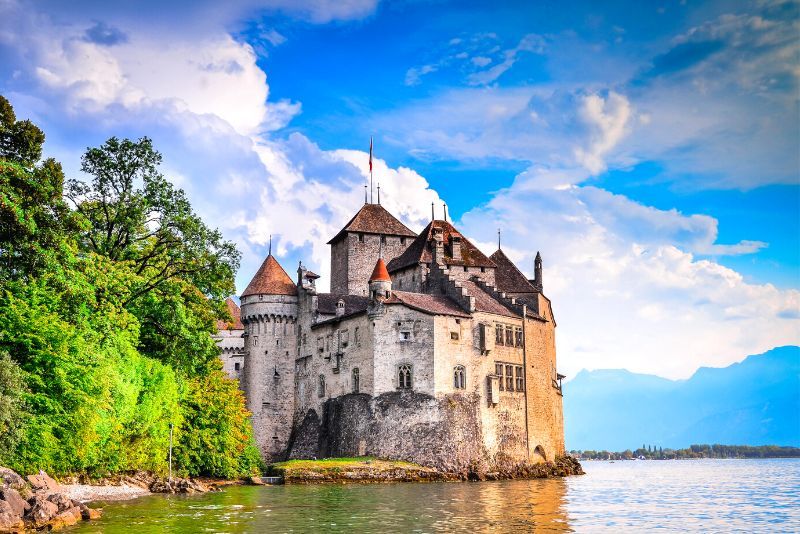 Take a 10-minute walk from Montreux to the 11th century island fortress of Chateau de Chillon. One-hour tours of the complex take you through its thousand-year legacy. Let the period furniture and art, rich history and architecture transport you to ancient times.
Glacier 3000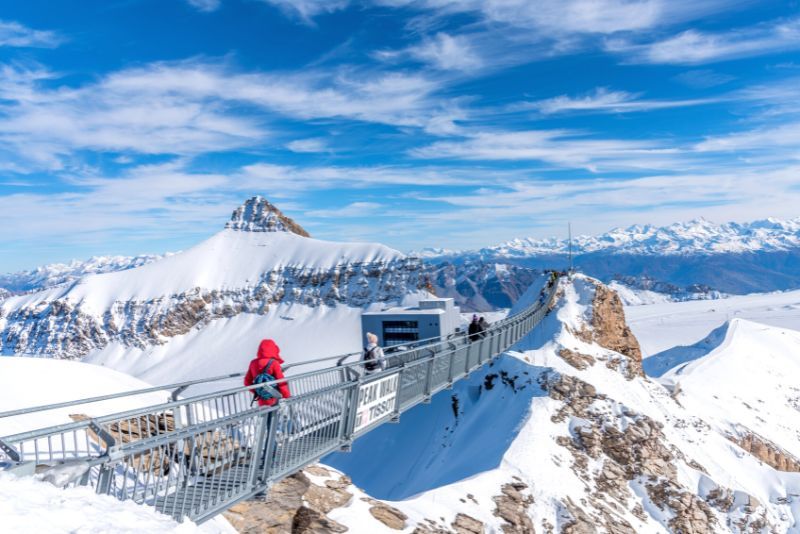 The massive Tsanfleuron Glacier looms over the medieval village of Les Diablerets to the east of Lake Geneva. Located about 40 minutes from Montreux and 1.5 hours from Geneva by car, Glacier 3000 is a year-round attraction that combines views, thrills and tons of ice.
The 3,000-meter-high glacier is tunneled with ice caves that the daring can enter, and you can ride Europe's highest tracked toboggan run, the Alpine Coaster. For the truly intrepid, step onto the Peak Walk, a suspension bridge that connects the peaks of View Point and Scex Rouge.
Local food tours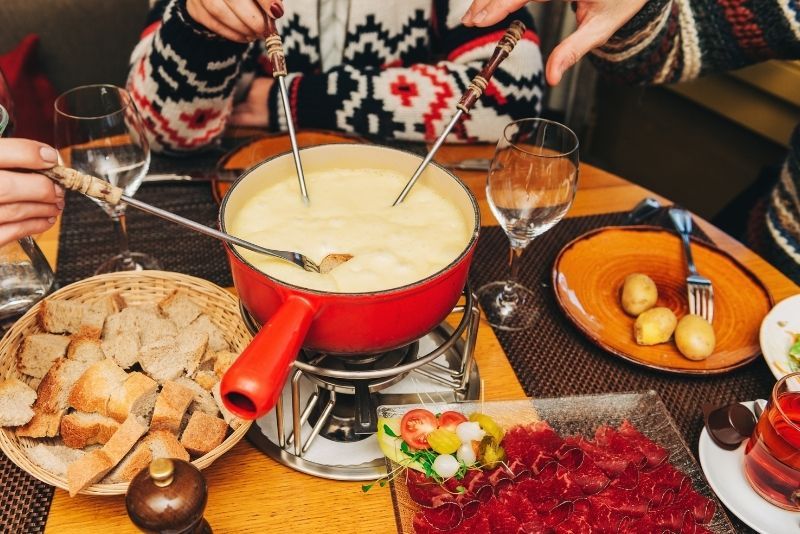 Cheese, chocolate, meats and more are ready for you to taste on excursions to Geneva's nearby towns. Book a food tour in Lausanne, a scenic 50-minute drive from Geneva.
Sample local honey and chocolate, regional pastries and cured meats and of course Swiss wines. Board a tour bus on an 80-minute journey through verdant mountain valleys to Gruyères, home of the cheese that bears the village's name.
See how this sharp cheese is fabricated, and taste it in its best form, fondue. Included on trips to Gruyères is a stop for a tour and unlimited chocolate tastings at Maison Cailler in the neighboring village of Broc.
Chamonix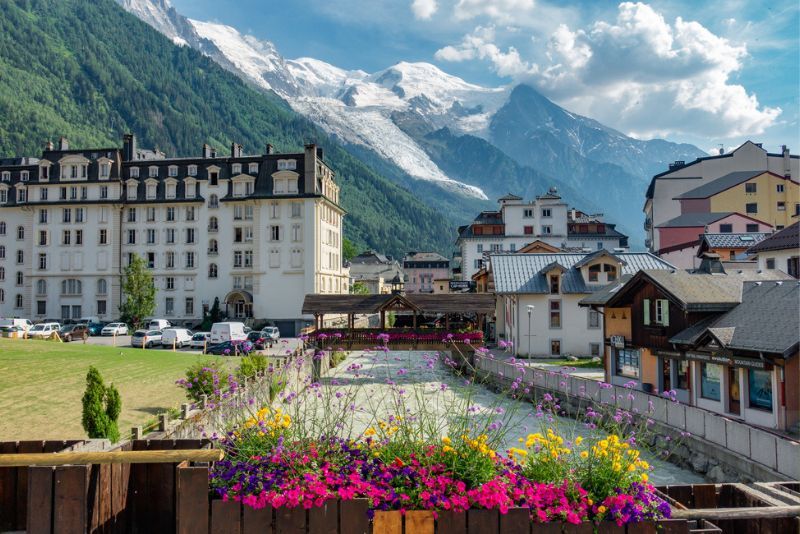 Spend a day on a tour in France's most famous ski destination. The 4,800-meter Mont Blanc massif and other towering summits encircle the town, offering unforgettable hiking, biking, skiing and paragliding along the slopes.
Wander the cobbled streets of Chamonix in search of ideal photos and souvenirs. Stroll along the banks of the Arve River. Enjoy the hearty mountain cuisine of Haute-Savoie in one of Chamonix's restaurants, or sip a coffee or cocktail in one of the town's sun-soaked "places."
Gain altitude without need of hiking boots by taking the Aiguille du Midi cable car to a viewing terrace at the dizzying height of over 3,800 meters. Or take the cog rail to la Mer de Glace, to experience Europe's largest glacier. The 7-kilometer "sea of ice" features caves throughout its interior that visitors can wander if the conditions are right.
Annecy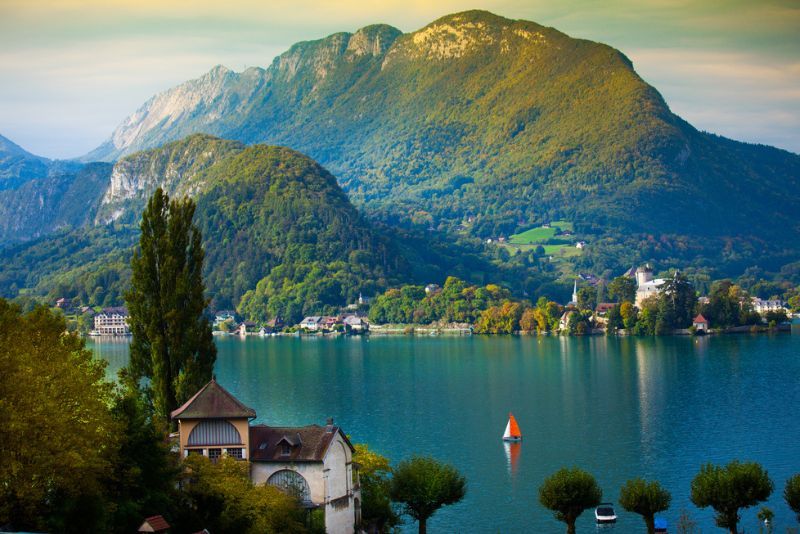 Laid-back Annecy is a lesser-known French mountain retreat, perfect for a day trip from Geneva. The city is known for its colorful medieval buildings with flower-adorned balconies that line the streets and canals.
A summer escape to Annecy is perfect for boating or swimming in Lake Annecy's pure waters. Take advantage of local skiing and the Christmas Market in the winter months.