Florence is regarded as one of the most beautiful cities in the world, and there's no better way to see it than from the seat of a Vespa.
Vespa's have become an iconic symbol of Italy, synonymous with fresh mozzarella pizza and olive groves. Whether you're cruising down streets lined with ancient monuments or whizzing past vineyards in the Tuscan countryside, a Vespa tour in Florence is an unforgettable experience.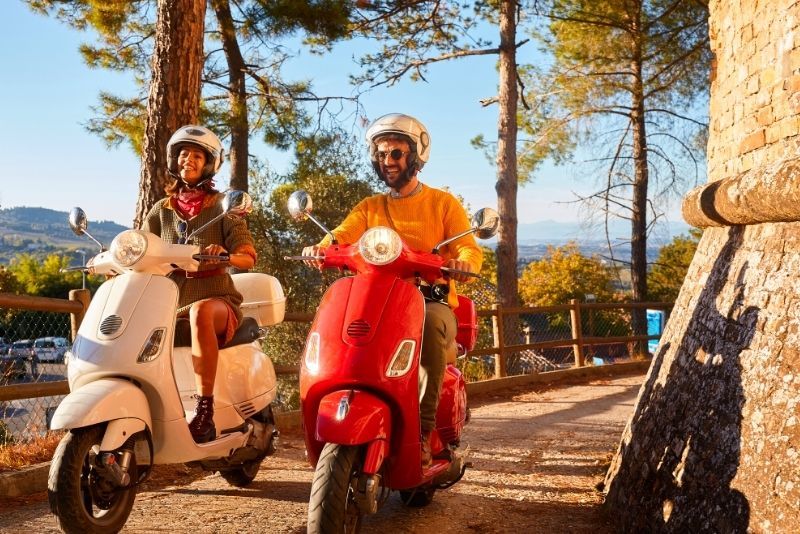 Put on your sunglasses on and get set for a vespa ride, one of the most classic Italian outdoor experiences in Florence.
What are the best Vespa tours in Florence?
Chianti day trip on an original Vespa
This tour transports you out of the noisy center of Florence to the peaceful rolling hills of Chianti. You can choose to drive yourself through the olive groves and winding lanes of the Italian countryside or take in the views from the passenger seat.
Either way, you'll see ancient castles, vineyards brimming with ripe, juicy grapes and medieval villages as you travel through this picturesque part of the country.
You'll take a break for a wine tasting amidst the postcard-worthy landscape, and enjoy a stroll surrounded by perfectly-manicured cypress trees.
Tuscany sunset Vespa tour
If you wish to see the Tuscan Hills sing, take a sunset Vespa tour to Tuscany from Florence. You'll be transported to a quiet, Tuscan hilltop village where your scooter tour commences. You'll have a driving lesson to get acquainted with your Vespa and feel confident taking charge of the two-wheeler vehicle.
From there, you'll enjoy a peaceful drive down tranquil country roads, far away from the thousands of scooters that litter the roads of Florence. You'll pass by opulent villas, olive groves and striking vineyards as the sun sinks beyond the horizon.
Along the way, you'll stop at a traditional Italian farmhouse, where you'll try local Tuscan wine.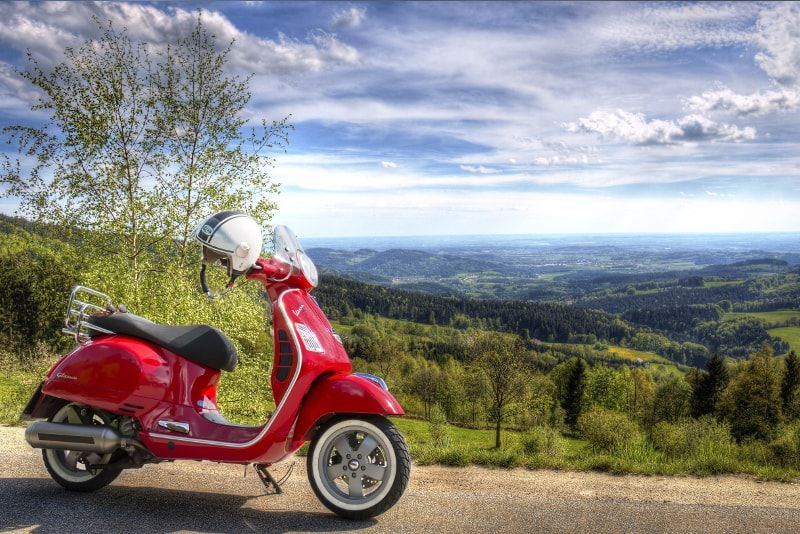 Electric Vespa self-drive tour of Florence hills
Those who are making an effort to be more eco-friendly may enjoy taking an electric Vespa tour of Florence. You'll have the best of both worlds as you enjoy a solo ride out of the city, with an app to guide you along the most scenic route.
You'll see iconic landmarks as you drive towards the Florence Hills, including the town of Fiesole and Piazzale Michelangelo. You won't need to worry about revving your engine as you travel up the hills surrounding Florence, where you'll be met with panoramic views over the city.
Your app will guide you to the final stop on your tour, where you'll have the opportunity to taste local products.
How much do Vespa tours in Florence cost?
Sunset Vespa tours in Florence cost approximately €140.
Vespa tours to Chianti range from €150 to €310. You can expect excursions on the higher end of this price range to visit more sites than those on the lower end.
If you wish to take an electric scooter on a spin around the Florence Hills, you'll pay around €60.
You can expect to pay €190 for combination Vespa and wine-tasting tours.
What is included in a Vespa tour in Florence?
Vespa tours in Florence always include vehicle rental, safety equipment and a briefing. You'll usually have a guide on hand to direct you, although you can take a self-guided tour, which includes the use of a dedicated app.
You can avoid panicking about driving in the heart of Florence, as most private tours transport you to a quiet Tuscan village to begin your excursion.
Many tours include a wine tasting session, and those that cost more often provide lunch too.
Where do Vespa tours in Florence start?
Vespa tours in Florence meet at a host of different points across the city. No matter which tour you take, your starting point will be at an easy-to-reach location in the heart of Florence. Your guide will always be identifiable, usually with a bright t-shirt, an umbrella or a sign.
You can see where the meeting point is before booking your trip so that you can arrange your own transportation there.
How long do Vespa tours in Florence last?
Vespa tours in Florence typically last between 5 and 6 hours, and travel out of the city into the Tuscan countryside. This gives you plenty of time to enjoy a panoramic drive across the region.
If your itinerary is tight and you have only a little time to spare in Florence, you can arrange a guided Vespa tour of the city that lasts only 2 hours.
When is the best time for a Vespa tour in Florence?
Most Florence Vespa excursions start around 10 AM, which allows you to get a full day of driving from your scooter and return to the city in time for dinner.
While it is possible and incredibly charming to take a sunset Vespa tour, remember you will be finishing your drive in the dark. For this reason, you should have plenty of scooter-riding experience if you choose to embark on an dusk adventure.
Take a Vespa tour after exploring the center of the city, to get acquainted with the area surrounding Florence.
Are there any combo available with Vespa tours in Florence?
Florence Vespa tour plus wine tasting
This wine-tasting Vespa tour also takes place in the Tuscan countryside. You'll drive through the verdant hills and medieval villages of Italy, before taking a walking tour of San Gimignano.
You'll also have free time to explore the village alone before enjoying a local three-course meal. You'll pay a visit to an organic winery, where you'll sample nine varieties of the staple Italian tipple, before returning to Florence.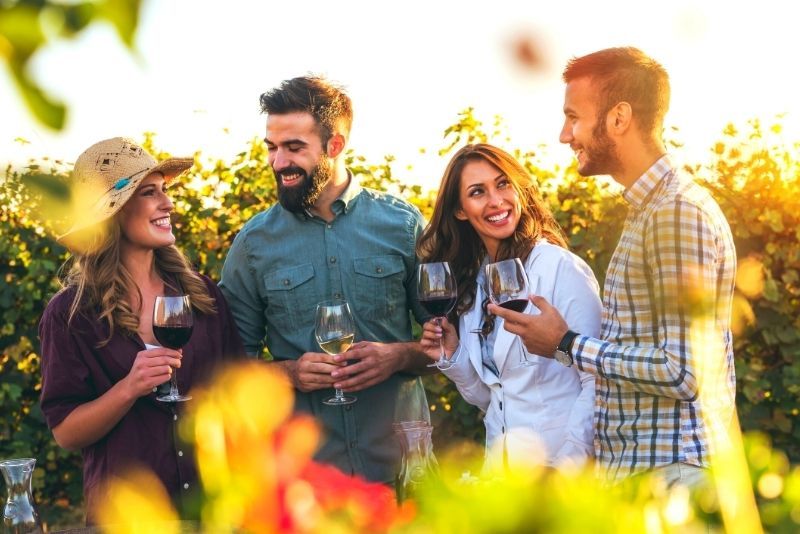 Is it safe to take a Vespa tour in Florence?
Vespa trips in Florence are safe for most tourists. However, it is not recommended for pregnant travelers to participate.
Are children allowed on a Vespa tour in Florence?
Some Vespa riding tours in Florence prohibit anyone under 18 from participating. However, many tours allow children to join in as a passenger with an accompanying adult.
All excursions differ in age requirements — some allow children over the age of 5 to participate, while others permit those over 13 to join. You should check the conditions of your individual tour before booking.
Do I need a driving license to take a Vespa tour in Florence?
You need to show a valid driving license to your tour provider, in order to operate a Vespa. You also must be aged 18 or over in order to drive the vehicle.
Additionally, it is recommended that you have some experience driving a scooter or motorcycle before participating. Operators may terminate your excursion at any point if you are not driving safely.
What happens in case of bad weather?
Some Vespa driving tours in Florence operate regardless of the weather. However, many only run in dry conditions. If the weather is poor, your trip may be rescheduled for another day. If this doesn't suit you, you can claim a full refund.
Travel tips
Remember to bring your driving license on your Vespa tour, if you wish to operate the scooter yourself.
Many Vespa tours in Florence operate in rainy conditions. Bring a light waterproof jacket with you, just in case.
If you are not comfortable driving a Vespa, you can choose to participate in an excursion as a passenger.