Known appropriately as the Island of the Gods, Bali is made up of some of the world's most stunning landscapes — rolling hills, verdant rice terraces, and pristine beaches. And what better way to experience its beauty than from above?
Parasailing tours in Bali are a quintessential adventure, and one of the many ways to spend your time in and around the island. Not only will you get to enjoy breathtaking bird's-eye views, but you'll also get a mighty adrenaline rush!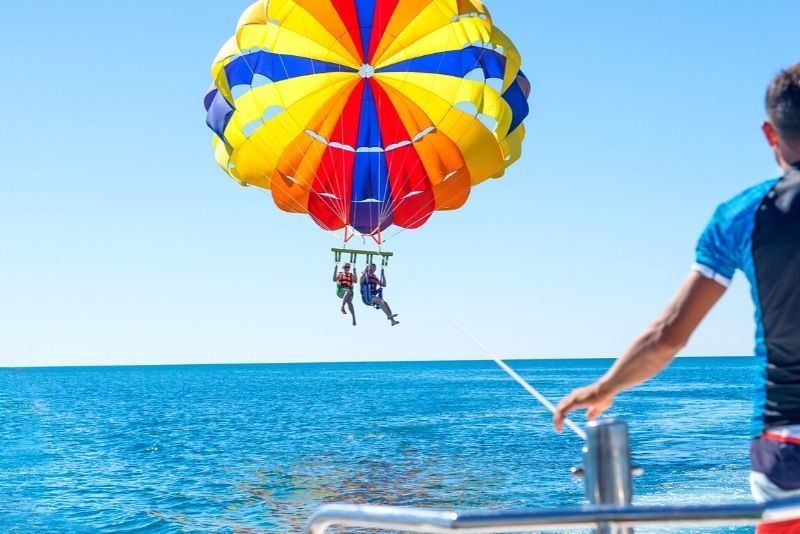 Here's all you need to know about parasailing tours, one of the most exhilarating outdoor activities in Bali.
What are the best parasailing tours in Bali?
Thanks to its year-round warm weather, you're blessed with a wide selection of parasailing tours. Usually taking place at Tanjung Benoa beach or Nusa Dua, parasailing adventures can either be purchased standalone or as part of a multi-activity water sports package.
The standalone parasailing tour will take you high up in the air, where you can feel the wind in your face and soak up the views as you're gently pulled along by a boat below. You can either ride solo or book a tandem sail, which has room for two people.
In addition to parasailing, some water sports tours can include the banana boat, flying fish, jet skiing, flyboarding and seawalking. These are typically great value for money as you can save up to 50% off the standalone price of each activity.
If you prefer to avoid the hassle, opt for one of the parasailing tours with hotel pickup and drop-off.
Are there any combo available with parasailing tours in Bali?
Parasailing plus water sports package
Why only parasail when you can have the full water sports experience? Many tour operators offer parasailing as part of an action-packed package that includes other popular activities such as banana boat rides, wakeboarding and jet skiing. These comprehensive tours are great value for money and an ideal way to try a range of watersports in one day.
Parasailing plus sightseeing tour
If you want to see more of the island than just the coastline, book a tour that combines parasailing with a sightseeing tour of some of Bali's most popular attractions. These tours typically visit places like the Uluwatu Temple and Padang Padang Beach, with a seafood dinner with live music on Jimbaran Beach.
Romantic couples day tour plus parasailing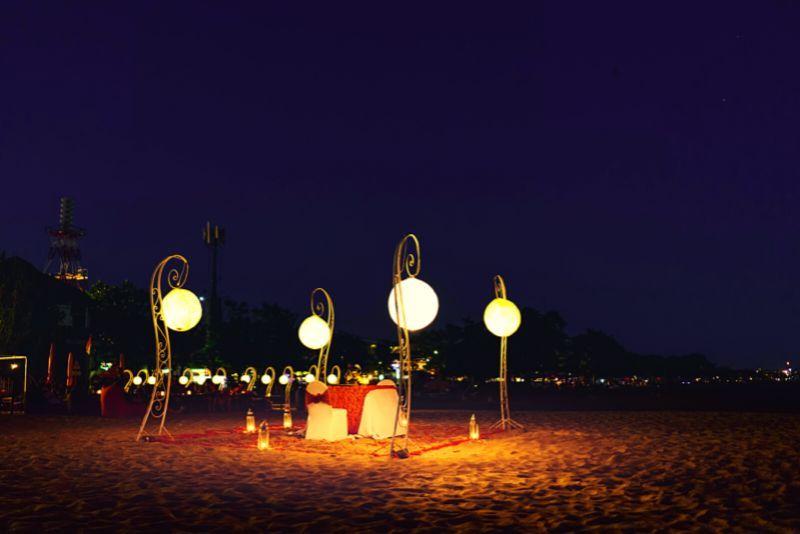 Sure to add a spark to any trip, these private excursions combine parasailing with a candlelit beach dinner and a romantic sunset at the Uluwatu Temple.
How much do parasailing tours in Bali cost?
The price of your Bali parasailing tour depends on a few factors, including the length of the ride and the number of people (solo or tandem).
Standalone parasailing tour: a standing session (8-10 minutes) typically costs around US$35 per person. Many operators will offer discounts for packages of two or more people.
Parasailing tours with hotel pickup and drop-off: From US$45 for standalone parasailing, increasing with any extra water sports activities.
Full-day southern Bali tour with parasailing: around US$100.
Private Bali romantic couples tour with parasailing: around US$50.
What is included?
Everything you need for a safe and enjoyable parasailing experience is included in the price. This typically includes the parasailing equipment, a safety briefing, life jackets, and an experienced boat captain and crew.
Depending on which Bali parasailing tour you book, you may also have hotel transfers and a selection of other water sports activities included in the price.
Where does it start?
Most parasailing tours in Bali are held at Tanjung Benoa beach which is located in the Nusa Dua area. Some tour operators also offer parasailing at other beaches on the island, such as Sanur and Kuta.
Regardless of where your tour starts, you can expect stunning views of the coastline, jungle-clad mountains and nearby islands.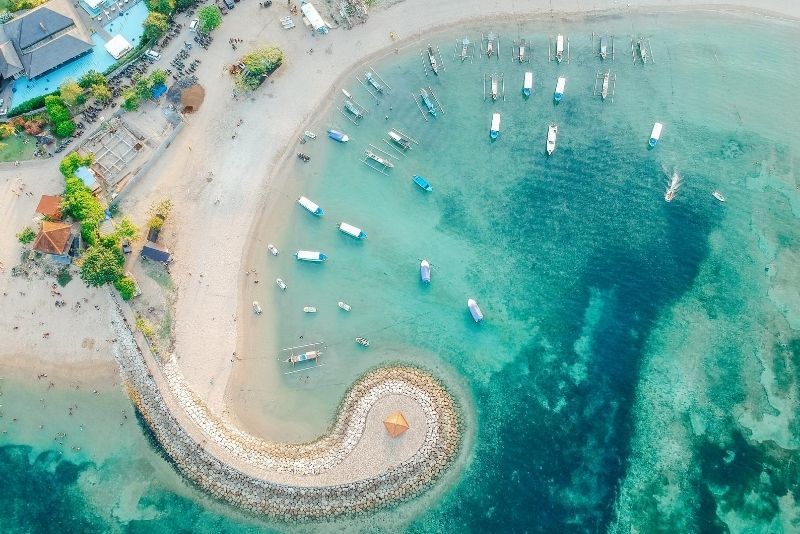 How long does it last?
You can expect to spend around 8-10 minutes in the air. Including setup, safety briefing and getting changed, the whole experience will last around 1 to 1.5 hours.
If you book a tour that includes transport and more water sports as part of a package, your parasailing experience will be just one of many activities on offer. These comprehensive options can last anywhere from 3-6 hours.
When is the best time for a parasailing tour in Bali?
Generally speaking, the weather is good for parasailing all year round in Bali. However, the best time to go is during the dry season which runs from April to September. During this period, you can expect sunny skies and little-to-no rain. The water conditions will also be ideal for other water sports activities such as ocean walking.
As for time of day, many people prefer the morning or afternoon to avoid the hottest hours.
Is it safe to take a parasailing tour in Bali?
Yes, parasailing is safe when done with a reputable and experienced tour operator. All equipment is regularly checked and maintained to ensure it meets safety standards, and you will be given a safety briefing before take-off.
Are children allowed on a parasailing tour in Bali?
The majority of parasailing tours at Tanjung Benoa only allow children above 13 years to fly. Children must be accompanied by an adult.
What happens in case of bad weather?
In the case of bad weather, such as high winds or heavy rain, the tour may be postponed or canceled. Your tour operator should offer an alternative date or a full refund.
Which other water activities can be done in Bali?
Travel tips
For the best value for money, book a tour that includes other water sports activities as well as hotel transfers.
Book your tour in advance to secure your preferred time and date, especially if you're visiting during the high season (July-August).
Finally, don't forget to pack your sunscreen, hat and sunglasses.