Central Bali is the sacred heartland of this evergreen island and outdoor activities are the name of the game when it comes to exploring. A bicycle tour of Bali is an amazing way to enjoy the countryside at a slow pace, seeing all the charm on offer from rice paddies, crafty communities, rainforests and farms.
This is also one of the most sustainable and eco-friendly ways to experience Bali, preserving all the natural wonders that make this one of the most beloved travel destinations in the world.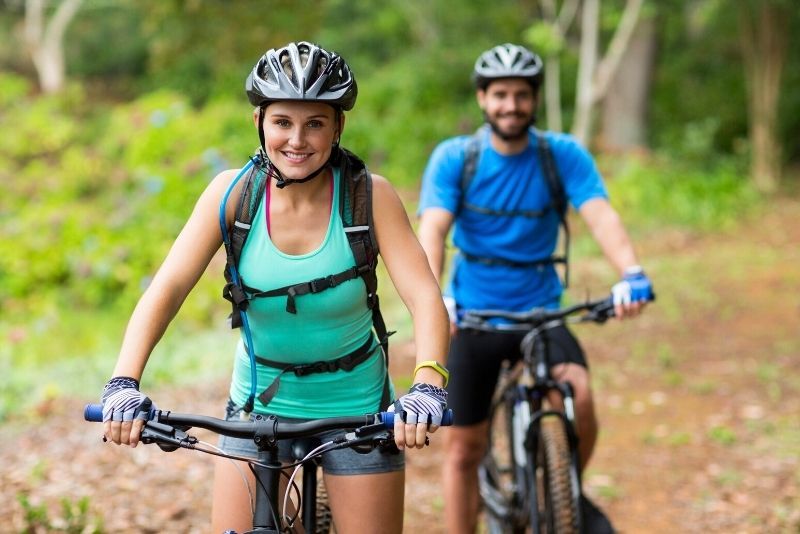 Here's all you need to know about bicycle tours, one of the most fun outdoor activities in Bali.
What are the best bike tours in Bali?
Downhill bike tour in Ubud
Cruise down the scenic slopes of the Kintamani volcano and through the lush rice paddies of the spiritual center of Bali. This bike tour in Bali is low on effort but high on reward as gravity does most of the work and you can simply enjoy the marvels of island life.
You will cycle down through the lush rainforest where the greenery envelops your senses around every corner. Stop at the UNESCO World Heritage rice terraces where you will take a walk among them and learn about the pioneering subak irrigation system that makes this such a valuable resource.
The last section of this unforgettable cycle tour takes you through the handicraft villages of Ubud. Here you can appreciate the delicate handiwork of local artisans and enjoy a delectable lunch to top off the day.
Bali Countryside Bike Tour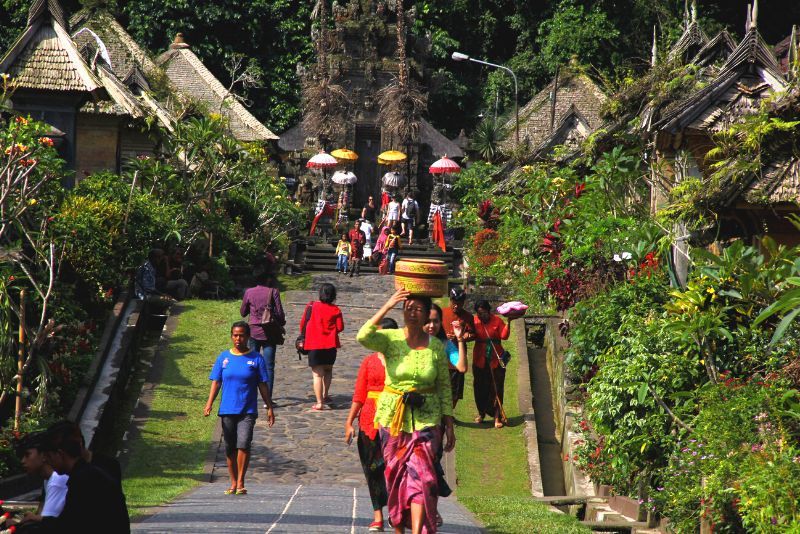 Get off the beaten track and cycle into the heart of the real Bali. A countryside bike tour of Ubud showcases the diverse communities around the area it taps into agriculture, nature, culture and religion.
Start the day right with breakfast in Tegalalang where you will be spoiled with unbeatable rice-terrace views. Cycle through 70 acres of enchanting bamboo forest and see craftsmen and farmers going about their daily lives.
One of the most unforgettable stops on the route is the Balinese traditional Penglipuran Village. You will also eat lunch in the middle of the rice paddies, visit a colorful temple and learn about the rich culinary traditions of Balinese cuisine.
Mount Batur Cycle Tour
Swop the lush green rice paddies of Ubud for the otherworldly volcanic landscape surrounding Mount Batur. This unique bike tour in Bali takes you on an 11-kilometer ride around sacred Mount Batur. See the destructive forces of nature up-close as you cycle through black lava planes with mountain and sea views all around.
Rest your tired body after the ride in a natural hot spring overlooking the serene caldera lake. End this captivating adventure with a hearty Balinese breakfast with breathtaking views peering over the rim of your coffee cup.
How much does it cost?
Basic bicycle tours in Ubud that follow the downhill route cost between US$40 and US$45 per person.
Countryside bike tours in Bali cost between US$35 and US$50 per person for a jam-packed full-day experience.
To visit Mount Batur by bicycle you can expect to pay around US$60 per person for an adventure away from the main tourist hotspots.
What it is included?
All tours include the use of a bicycle and helmet. Most tours include your breakfast and lunch and you will get some water and coconut juice as a refreshment.
Some tours also include extras like a cooling face towel or a sarong to use if you visit a temple.
Where does it start?
Most bicycle tours in Bali center around the villages and mountains in and around Ubud. Tour operators usually offer hotel-pick up in Ubud or direct you to their offices as a central meeting point.
It is easy to reach Ubud and tour operators can also arrange affordable transfers from Sanur, Kuta, Seminyak, Nusa Dua, Candidasa and Amed if you need it.
How long does it last?
There are several options for bike tours in Bali, perfect for everyone from beginners to more advanced riders. You can take a short 1 or 2-hour e-bike ride or commit to a long 10-hour countryside cruise with lots of stops and meals in between.
Consult with the tour operator about the length of the tour and if it is suitable for your fitness and skill level.
When is the best time for a bike tour in Bali?
Early morning bike tours in Bali are by far the most popular. You can wake up with nature and see farmers manning their fields before it becomes too hot. This time of the day also has the most manageable conditions for cycling.
Longer tours also happen over breakfast and lunch so they start early in the morning to fit in as many stops as possible.
Take a bike tour early in your visit to get a deep appreciation and understanding of the Balinese countryside and way of life. These tours allow you the chance to see tons of magnificent vistas which you might want to revisit during the rest of your holiday.
Are there any combos package available?
Bike tour and white water rafting combo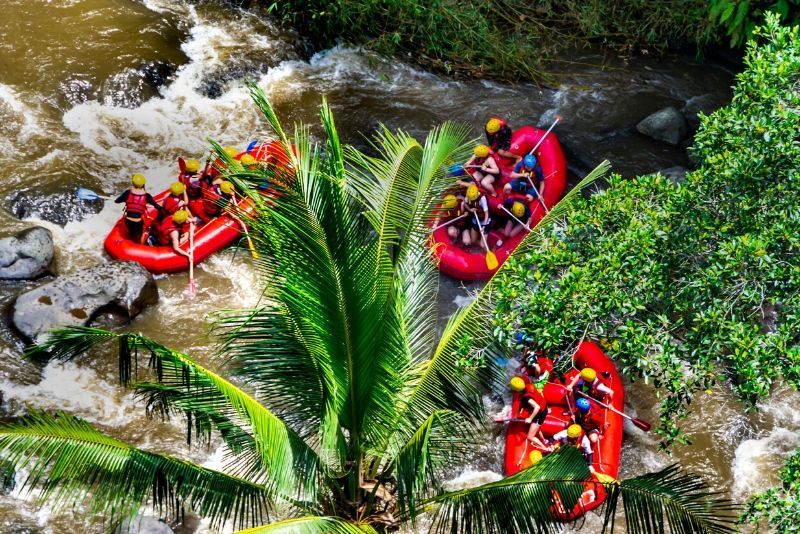 Start the adventure with a blissful bike ride through the rice paddies and villages of western Ubud. After exploring the subtleties of village life, you will put your adrenaline threshold to the test in this rafting adventure. Hop in an inflatable raft and take on the thrashing water of the river, paddling for dear life as you try to make it to the finish line.
At the end, you are rewarded with an idyllic afternoon at the Dtukad river club with its swimming pools and wooden towers in the heart of the jungle.
Which other outdoor activities can be done in Bali?
What happens in case of bad weather?
Bike tours in Bali require good weather and you will be given the choice to reschedule your trip or get a refund if there is bad weather. Contact your tour operator ahead of time if the forecast does not look favorable as they are familiar with the conditions and can give you advice on the best course of action.
Is it safe?
Most bike tours are not recommended for pregnant women and it is advisable to have a moderate level of fitness if you take on longer tours. Some bike tours have a weight limit of around 120 kilograms and are not advisable for people with heart or back problems.
Some tour companies do have a supporting vehicle that follows the tour and the guides are experts on road safety and road conditions making it safer for participants.
Are children allowed?
Most children can participate in bicycle tours in Bali. Some operators have minimum height limits set around 150 centimeters and riders should have previous bike riding experience. Speak to your tour operator to see if they have infant seats available.
Travel tips
Wear sunscreen and insect repellent to help you have a comfortable experience.
Be aware of local customs and dress appropriately, especially if you will visit a temple on your tour.
Bring a small backpack with extra water, your camera and a snack.
Make your booking ahead of time to secure a spot as tours have limited capacity.