From glamorous rooftop bars to rowdy beer digs, the nightlife scene in Austin, Texas is varied, offering a drink and a dive for every crowd — whether you're here for a birthday party, a college reunion, visiting a friend or just for a good time.
Discover the best local bars in town on guided pub crawls in Austin, while visiting haunted places and iconic landmarks, and learning about the history and evolution of the city.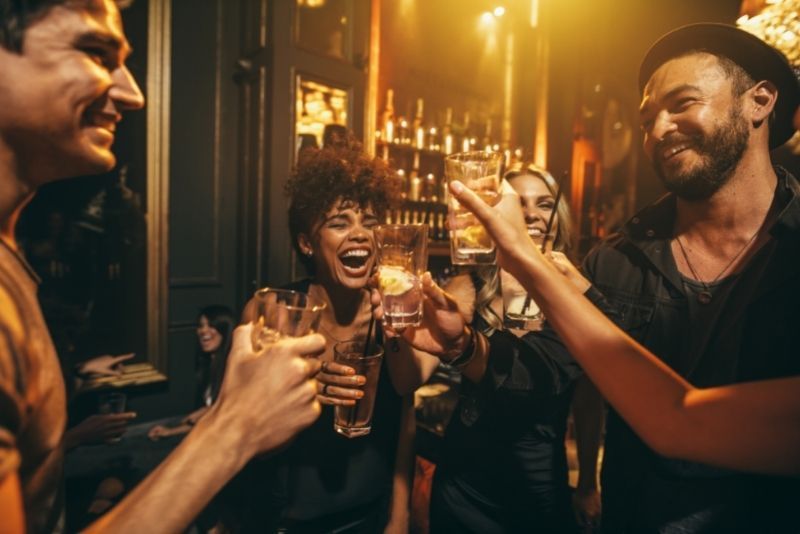 Here's all you need to know about pub crawls, one of the most fun options for nightlife in Austin.
What are the best pub crawl tours in Austin?
True crime walking tour and pub crawl in Austin
If you want to dive into Austin's haunted past, then this true crime walking tour and pub crawl is a good option. Prepare to be spooked as you discover the Texas capital's notorious murder stories on a guided walking tour with plenty of pitstops to drink along the way.
Visit local rooftop bars with stunning city-light vistas from above with a crafted cocktail in hand.
Sixth Street spree Bar hunt in Austin
If you want to get your mental juices flowing, then you can't go wrong with this sixth street spree: bar crawl and hunt in Austin. Discover all of the best landmarks and monuments the city has to offer, as well as its secret jaunts that only the locals know about.
Work with a tight-knit team or compete against them, as you unravel clues, learn new facts, and create many new memories.
Lost legends of Texas pub crawl in Austin
If you're a cocktail enthusiast, then this lost legends of Texas pub crawl in Austin is the tour for you. Venture off the beaten track and get to know Austin's bustling nightlife scene as you visit four of the trendiest cocktail bars in town.
Listen to your guide as they tell you fascinating tales of the founding of Texas, its history and the evolution of Texas we know today.
Which places are visited?
The Driskill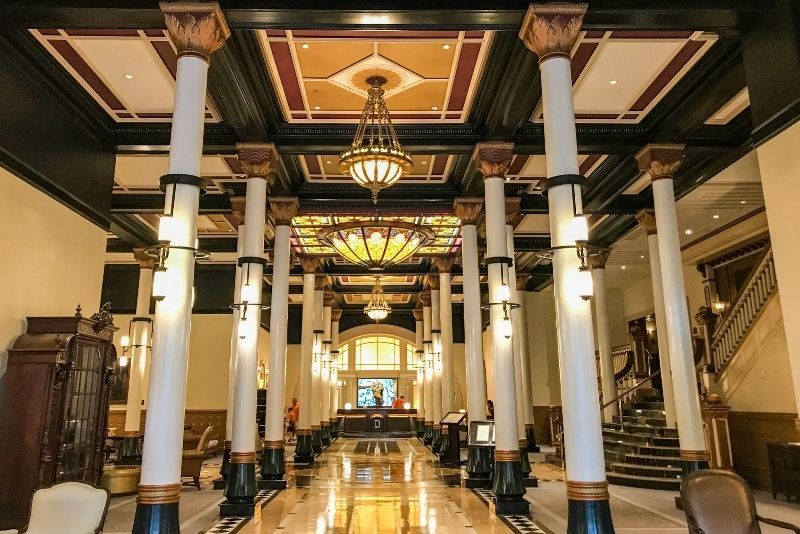 One of the oldest hotels in the city, The Driskill is an iconic establishment that has a haunted past and is rumored to be home to a poltergeist. The hotel boasts a plush Romanesque-style facade and interiors featuring lavish bridal suites, a grand ballroom and two restaurants.
Many notable celebrities and politicians have attended events here —  apparently not deterred by its spooky history.
Azul Rooftop
The highest rooftop bar in the city, Azul Rooftop is an open-air lounge on the 20-story hotel, The Westin Austin Downtown, at Sixth Street. Take a moment to unwind on your pub crawl with a drink in hand.
Lounge in a cabin or settle down in front of the fire pits, while taking in the beautiful pink and orange-hued sunset. If this rooftop wasn't already a showstopper, its hotel pool has also been dubbed "the world's coolest."
Rules & Regs
On the seventh floor of the Fairmont Hotel and overlooking Austin's glittering skyline lies Rules & Regs – a unique Latin-inspired rooftop bar with its own philosophy.
A visit to this bar is all about breaking the rules and bending the regulations in style. Here is where you can create your own adventure while tasting tropical, crafted cocktails made to perfection.
Shiner's Saloon
A trip to Shiner's Saloon will take you back to the old western cowboy days. This friendly and upbeat neighborhood bar has a cowboy vibe, and its gorgeous rooftop patio offers spectacular views of Austin's skyline. Sip on one of 32 different beer varieties on the menu, savor a hand-crafted cocktail or tuck into some American-style grub.
How much does it cost?
Tickets for pub crawls in Austin vary in price depending on the type of trip you choose and the duration of your excursion.
True crime walking tour and pub crawl in Austin tickets start at around US$35 per person and include a knowledgeable local guide.
Sixth Street spree bar crawl and hunt in Austin tickets cost as little as about US$10 per person and include digital copies of your scavenger hunt photographs.
Lost legends of Texas pub crawl tickets in Texas cost approximately US$35 per person for a 2-hour guided tour.
What is included?
On most pub crawls in Austin, you'll have an expert live tour guide on hand to show you the best places in the city and tell you stories about Austin's fascinating past. However, food and drinks are not usually included in the ticket price of tours of this nature.
Where does it start?
Starting points for pub crawls in Austin are usually at an accessible meeting point in the city center. Before booking your tour, you can view the precise location of your excursion in advance.
How long does it last?
You can expect a pub crawl in Austin to last between 2 and 3 hours, and visit a handful of Austin neighborhoods and bars.
When is the best time for a pub crawl in Austin?
Pub crawls in Austin are a great option year-round. However, first-time visitors that are not accustomed to the red-hot temperatures and the high humidity of the Texan summer might consider visiting in spring or winter.
Many rooftop bars have outdoor heaters or fire pits making the winter months, from September to November, particularly pleasant times of the year for pub crawls in Austin.
Are children allowed?
Given that the consumption of alcohol takes place on pub crawls in Austin, visitors must be at least 21 years old.
Travel tips
Bring your passport or a form of photo ID if you plan on consuming alcohol during your trip.
Wear comfortable walking boots for strolling along Austin's neighborhoods and streets.
Bring cash along with you as many establishments on your tour only accept this payment method.