Eels, octopuses and schools of vibrant fish are just some of the creatures that you can get close to on scuba diving tours from Athens.
Scuba diving can seem daunting if you're unfamiliar with the activity. However, once you've participated in one dive, you might be itching to hit the ocean again as soon as possible.
With its transparent waters and calm conditions, the sea around Athens is an ideal diving spot for beginners and experts alike.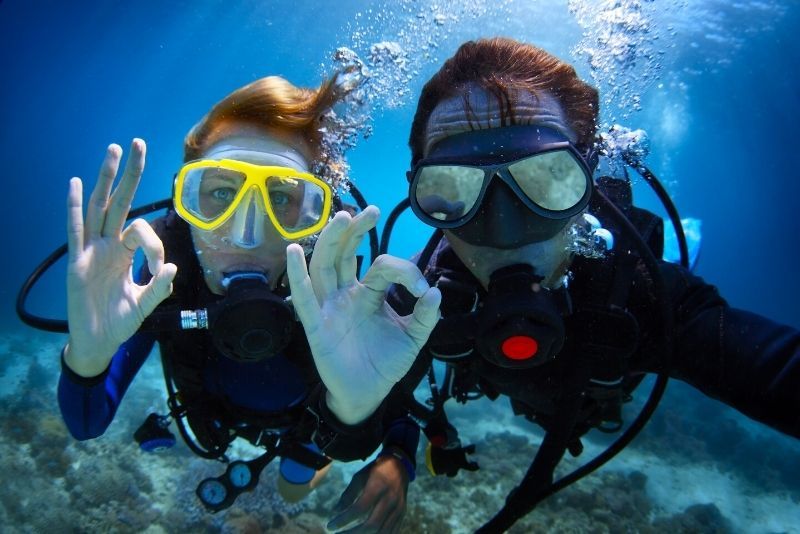 What are the best scuba diving tours in Athens?
Nea Makri scuba diving experience
This scuba diving experience, one of the most exciting outdoor activities from Athens takes place just off the coast of Nea Makri, an hour outside of Athens. It is a popular diving spot and for good reason — with views that stretch out to the Saronic Islands and a plethora of marine life.
This tour is aimed at beginners who will learn the basics before entering the sea. You'll learn breathing techniques, safety measures and how to use your diving equipment before plunging into the waters and scouting out the abundant sea life.
Vouliagmeni private scuba diving tour
Aimed for beginners, this tour provides a pickup from your hotel and transport to the Vouliagmeni region where you'll take part in a safety briefing. Once you've learned how to use your diving equipment, you'll jump in to explore the turquoise waters.
In this part of the ocean, you might be lucky enough to see an octopus or eel, along with several species of fish. You'll be in the capable handle of a licensed professional at all times and discover a newfound appreciation of the ocean within yourself.
Blue Hole scuba diving tour
If you want to explore an unusual dive site, take a tour to the Blue Hole located next to Vouliagmeni Lake. The hole is over 10 meters deep and home to various sea life.
It is thought that the hole is connected to the neighboring lake through an underwater cave system. The water is so clear that you'll enjoy visibility of about 30 meters, all the way to the sea bed.
Legrena tuna dive safari
This scuba diving trip from Athens takes you to the beautiful shores of Legrena, where you'll dive into its tuna-filled waters. You won't believe your eyes when you see the sheer enormity of these sea creatures that can weigh up to 150 kilograms.
Alongside these big beasts, you'll see various other marine life thriving in the ocean. Once your dive is over, you'll return to dry land for a rest or swim in the sun.
How much do scuba diving tours in Athens cost?
The cost of scuba diving tours in Athens vary, depending on the diving locations and your diving experience. You can pay as little as €40 for a double-shore fun dive if you're a certified diver, or around €60 for a three-hour experience in Nea Makri if you're a beginner.
However, if you wish to take part in a private dive, you'll pay significantly more — approximately €160 to €180.
The most expensive excursions are for beginners who wish to participate in a private discovery tour, and these can run to €580.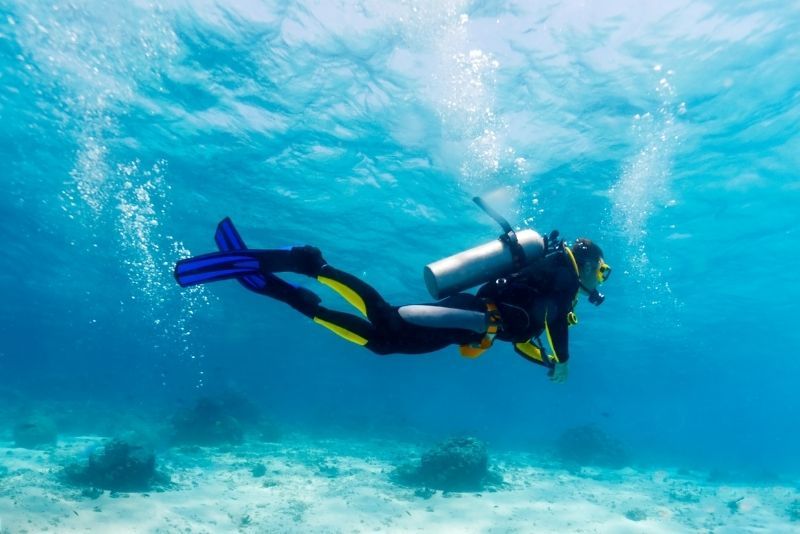 What is included in a scuba diving tour in Athens?
Scuba diving tours in Athens provide diving equipment, professional instructors and photo opportunities. Many of them include DAN insurance and hotel pickup and drop-off services in the tour package. They may also supply you with drinks and snacks during the tour.
Where do scuba diving tours in Athens start?
You will normally begin your Athens scuba diving trip at your tour provider's dive shop. This is often in Nea Makri around 40 kilometers from the city center or near the Ilioupolis metro station in Athens.
How long do scuba diving tours in Athens last?
Scuba diving tours in Athens typically last between four and five hours. This gives you enough time to complete the necessary dive briefing if you're a beginner. If you are a certified diver, you'll have plenty of time to explore the underwater world in a dive of your choice.
Is it safe to take a scuba diving tour in Athens?
Scuba diving is a safe activity as long as you have a professional guide with you and you follow their instructions. Most tours offer insurance that will cover you in the unlikely event of an injury. If you are pregnant or have severe health conditions, you cannot participate in any diving excursions in Athens.
What happens in case of bad weather?
Your tour will be cancelled or rebooked for another day in case of bad weather. If the new date is not suitable for you, you'll be offered a full refund.
When is the best time for a scuba diving tour in Athens?
The best time to go scuba diving from Athens is from late May to November when the water conditions are mild and the visibility is great. Visit between September and October if you want to skip the crowd.  
Book your dive for the first few days of your trip so that you have time to participate in another dive if the mood strikes you.
Travel tips
If you enjoy your beginner diving excursion, consider taking a PADI course that will allow you to dive to greater depths.
Make sure to listen fully during your safety briefing and complete the diving theory properly.