Mykonos is famous for its beaches, luxury shopping, waterfront restaurants and lively nightlife. Saunter through its maze-like streets, relax on the beach or party the night away in some of its world-renowned clubs. Book a Mykonos day trip from Athens to tick one of Greece's most popular islands off your bucket list.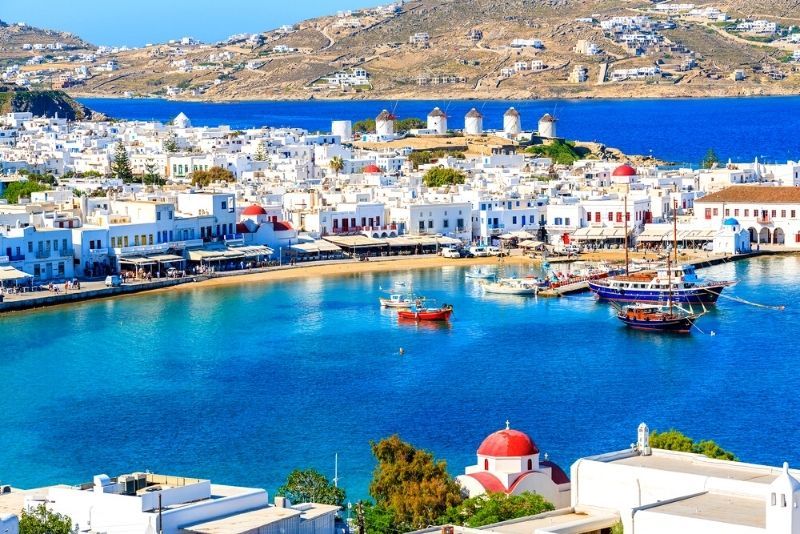 You will find below everything you need to know about Mykonos, one of the best destinations for multi-day trips from Athens.
How to get to Mykonos from Athens?
This small island of Mykonos lies about 150 kilometers east of Athens in the Aegean Sea. The port of Mykonos is located 2 kilometers away from the main town of Chora.
From Athens to Mykonos by plane
The fastest and most convenient jaunt to Mykonos is by plane. You can take a 45-minute flight directly from Athens Airport. Flights can vary between €140 and €250 in the summer, and may be cheaper in the winter or if you book well in advance.
From Athens to Mykonos by ferry
The most popular way of getting from Athens to Mykonos is by ferry. It takes about 2.5 to 4 hours, depending on whether you take the faster Seajets or the slower Blue Star ferry. You can travel to Mykonos from three ports, but Piraeus and Rafina are the most used.
While Piraeus port is larger, Rafina is closer to the airport and the recommended option. It has nine ferries a day in the summer (April to October) compared to Piraeus, which only has four. There are less ferry options in the winter (November to March).
Guided tour to Mykonos from Athens
There are plenty of guided tours that go to Mykonos, including day trips, round trips and multi-day trips that include visits to other islands.
What is the typical itinerary of a day tour to Mykonos from Athens?
There are various day tours to Mykonos from Athens, and they typically offer you between five and six hours on the island. You will have a pickup service at your hotel or a predefined meeting point, and will then travel by taxi to either Rafina or Piraeus to board a ferry.
In Mykonos, you will visit the central town of Chora to see popular attractions like the Paraportiani church, the mills or the Alefkándra neighborhood, known as Little Venice.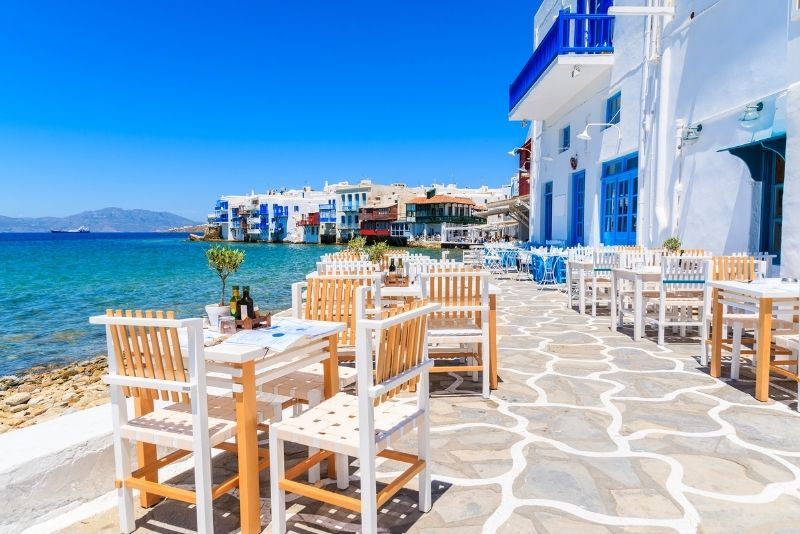 You will usually get some free time to explore, shop or walk along the beach. You will then meet at the departure spot where you'll take a ferry back to your port, and then a bus back to Athens.
What kinds of tours are available to go to Mykonos?
Whether you want a private tour or simply want to take the ferry from Athens to Mykonos, there's a variety of excursions for you. Choose from private transfers, private tours or multi-day trips that combine several islands – most notably Santorini.
Guided Mykonos day trip from Athens
Several tours allow you to discover Mykonos with the aid of an experienced guide. They usually include hotel pickup from Athens city center. Once on the island, your guide will take you to the white-washed hamlet of Chora in the center of Mykonos.
You may also visit Matogiannia and take a stroll through its lanes. You can also take a bus journey to Mykonos's popular beaches where you can enjoy a cocktail and relax on the island's famous golden sands.
You'll finish your journey at the Port of Mykonos, where a ferry will transport you back to Rafina. From there, you will board a bus back to Athens.
Round trip to Mykonos from Athens without guide
You can catch any of the ferries sailing from Rafina or Piraeus for a simple drop-off and pickup option. A slow ferry ticket to Mykonos costs around €40 one way. The fast ferry costs between €70 and €80 one way — depending on the seat you choose.
Private Mykonos day trip from Athens
You can take a private speed boat tour from Athens to Mykonos, reducing travel time to 2.5 hours. You'll get to spend four hours on the island, and all transportation and ferry tickets are included in the price. Private tours also last from two to eight days and allow you to visit several other islands in the region.
2-Day trip to Mykonos from Athens
These 2-day trips typically offer overnight accommodation and breakfast, as well as hotel pickup. Travel to Mykonos on a ferry and spend a relaxing day touring the island at your leisure.
You can spend your first-day shopping, looking at the picturesque buildings and churches, or lounging on the beach.
On the second day, you may want to take an excursion to the nearby island of Delos — a UNESCO World Heritage site. There you can check out sacred archaeological sites, including stone huts dating back to the 3000 B.C.
3-day trip to Mykonos plus Santorini from Athens
Mykonos and Santorini are known as two of the most beautiful islands in the Aegean Sea. These 3-day tours will allow you to see these two islands and typically include transport, activities, accommodation and breakfast.
You can take a dip in the sea or enjoy the sights in Santorini. Be sure to visit the thermal springs of Palea Kamen. You can opt in for extra tours on Mykonos or Santorini at your own cost.
5-Day tour to Mykonos plus Syros and Santorini from Athens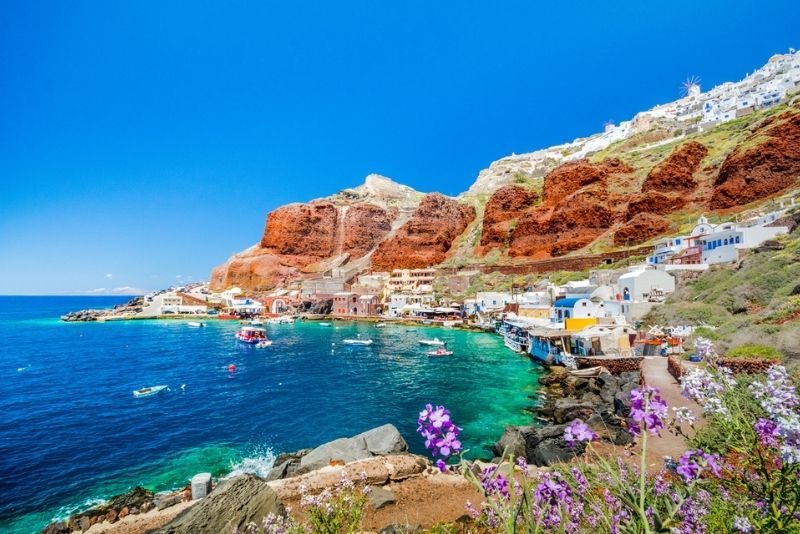 If you have five days to spare, you can either book a trip that allows you to stay on Mykonos for a 5-day trip that includes other islands.
During a multi-day tour like this one, you can island-hop some of Greece's top spots. Depending on your tour, you'll get to see Mykonos, Santorini, Syros, Paros, Delphi, Meteora and Delos.
These tours typically include hotels, transportation and sightseeing. There are also tours that include many more islands that can go up to nine days — it's all dependent on your time and budget.
How much does a tour to Mykonos from Athens cost?
Most of the day tours from Athens to Mykonos cost between €130 and €210, typically including all of your transportation. However, it's best to confirm with your tour operator if they offer hotel pickups and drop-offs.
These 2-day Mykonos tours from Athens cost between €280 and €500. Multi-day tours cost between €580 and €2,080.
Private Mykonos day trips from Athens cost around €350 per group, but the prices may change based on the group size. If you're stretching the tour across a few days and visiting multiple islands, you can expect to pay between €740 and €1,540.
If you want to experience Mykonos by boat but don't want to do the tour, you can take a boat transfer from Athens to Mykonos for around €60.
What will you see and do on a Mykonos day trip from Athens?
Apart from marveling at the white and blue architecture so closely associated with the Greek islands, you have plenty of options to enjoy your Mykonos day trip from Athens.
Beaches
A day trip to Mykonos wouldn't be complete without a visit to its expansive, golden shorelines, which draw thousands of tourists and provide buzzing beach bars. Crowds are common, and online sunbeds reservations are strongly advised!
Watersports
The beaches of Mykonos, particularly Super Paradise Beach, make the perfect watersports playground that will give you the ideal chance to spice up an otherwise leisurely day at the sea.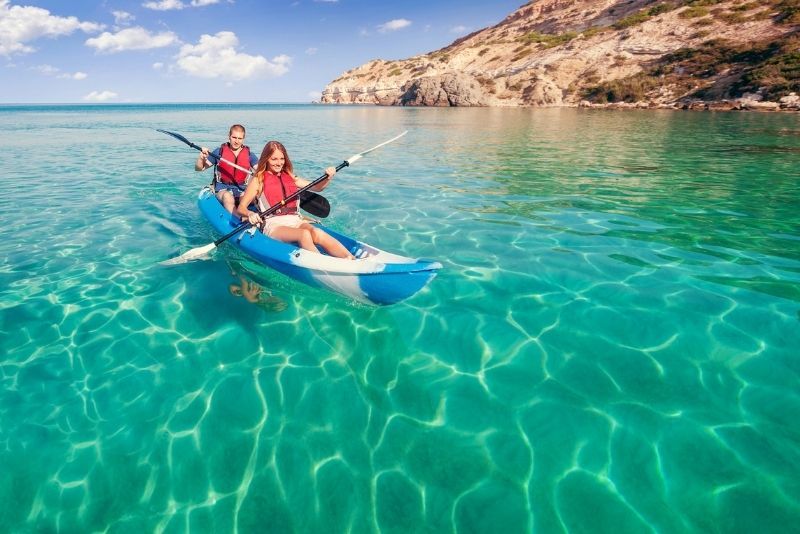 Nightlife
The island's nightlife is what makes it so well known worldwide. Try a cocktail at one of the many bars or dance the night away at its famous clubs. Parties at Mykonos's clubs may easily draw over 3,000 people, thanks to world-famous DJs who frequently perform there.
When is the best time to do a Mykonos day trip from Athens?
The high season in Mykonos runs from the beginning of June to the end of September. This is when the weather is the best, and all shops and attractions are open.
Visit in the months of April, May and October to explore without the crowds, but just be aware that some tours, restaurants and activities may not be fully open.
November to March is off-season in Mykonos when most venues are closed, but the upside is that accommodation prices can drop by 50%.
Travel tips
Use the local buses to get around on the island. They're affordable, clean, reliable and have Wi-Fi and air conditioning.
Hiring a quad bike is a fun and unique way of exploring the island, especially when the weather is good. You can hire one for the day for between €20 and €30.
Most places accept credit cards, but it's advised to carry cash for small purchases, such as bus tickets.