Athens is the perfect place to try as many Grecian delicacies as possible. Take a food tour of Athens to learn about the local cuisine and taste the city's "green treasures." Mushrooms, herbs, traditionally made pasta and salamis are what make Athens a foodie's dream.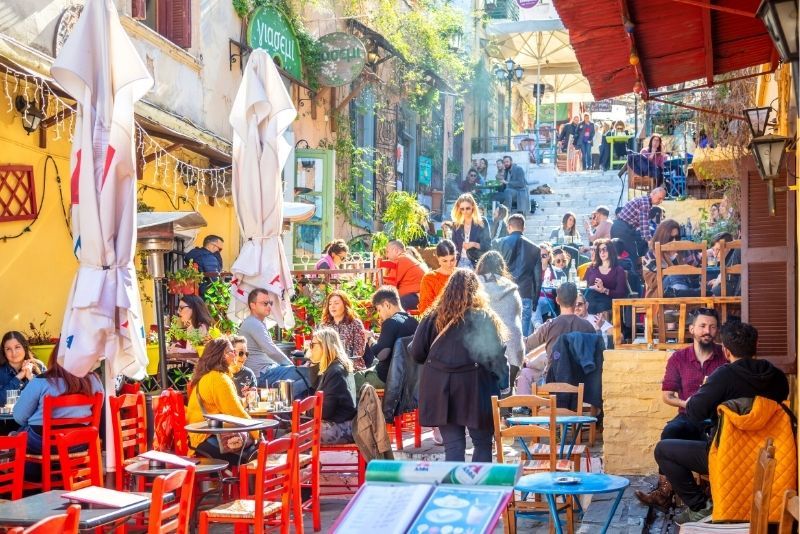 Join an expert guide to explore all the flavors of the Mediterranean that make dining in Athens so unique.
What are the best food tours in Athens?
Walking food tour
Embark on a 4-hour walking food tour of Athens with an experienced guide. On this tour, you will investigate the city's streets, stopping at cafés, markets, delicatessens and street food vendors along the way.
In addition to learning the secrets of Greek cuisine, you'll also gain valuable knowledge of the cultural heritage of Athens. Most walking tours will visit local markets and specialty food stores where you can taste treats local cheese, bread, sweet donuts, wine and coffee.
Food and wine tour
A food and wine tour of Athens is perfect if you're keen to taste the sweet wines of Greece while on your trip. On this 4-hour tour, you'll visit local cafés, patisseries, bakeries and cheese stores. You'll then sip on the sweet red wine of the region while tasting homemade olive oils, honey and Greek yogurt.
On this excursion, you'll be led by an experienced guide who will take you through the winding streets of the ancient city to discover the delicious cuisine and wine of Athens.
E-bike or scooter food tour
Take an electric bike or scooter food tour of Athens to cover a greater distance while on your journey. These excursions allow you to see the most important attractions of the city while also indulging in the flavorful food fare. A live tour guide will lead the ride through the cobblestoned streets of Athens, where you'll catch breathtaking views of the Acropolis and Temple of Zeus.
You'll make stops along the way to taste traditional souvlaki, pita and loukoumades.
Food tasting and market tour
On this food tour of Athens, you'll get to experience the vibrant market culture of the locals. Explore the lively Central Athens Food Market while sampling mouth-watering snacks like tyropita, loukoumades, Greek Yogurt, olive oil and honey along the way.
Your guide will lead you through stalls while explaining the connection of Greek cuisine to the history and mythology of the region.
Private food tour
For a more personal food tour of Athens, opt for a private guide to lead you to the best destinations. On this excursion, you'll peruse the Central Market of Athens while tasting delicious bites with the expert knowledge of a local.
This tour provides a unique one-on-one jaunt with your guide who will blend mythology, history and gastronomy for your pleasure.
How much do food tours in Athens cost?
Food tours in Athens cost between €30 to €200 per person, depending on the length of the trip and the type of experience. All food tours include tastings, though some might offer beverages at an additional charge.
Private tours of the capital city range between €90 and €500 per person, with the more pricey options offering pickup and drop-off transportation.
Walking tours are the most affordable, costing around €50 per person for a 4-hour experience. For about €10 more, you can take a food tour that includes wine from Greek vineyards. Electric bike and scooter tours will cost about €80 per person and will provide greater ease on your journey.
A tour of the Central Market of Athens will only cost €40 per person and will include delicious bites from several stands along the way.
Private food tours are priced from €100 to €500 per person but will cover a greater area and include transportation. The pricier private tours will visit a long list of ancient attractions and will include entry tickets.
What is included in a food tour in Athens?
Food tours in Athens will always include tastings of the local delicacies, and many will also include either wine or liquor to accompany the dishes. Several tours include a visit to the Central Market of Athens and others that involve a traditional Greek cooking class.
Private tours will include transportation to and from your destinations, as well as an expert guide who will lead the journey. Most tours will also provide priceless information on the history of Athens, and some will include entry into some of the most important landmarks.
Where do food tours in Athens start?
Food tours in Athens begin primarily in the center of the city. Walking tours will start either near the Acropolis or in Monastiraki Square, whereas market tours might meet at a cooking school in Athens.
Private tours will either include hotel pickup and drop-off, or you'll meet in a central location such as Omonia Square.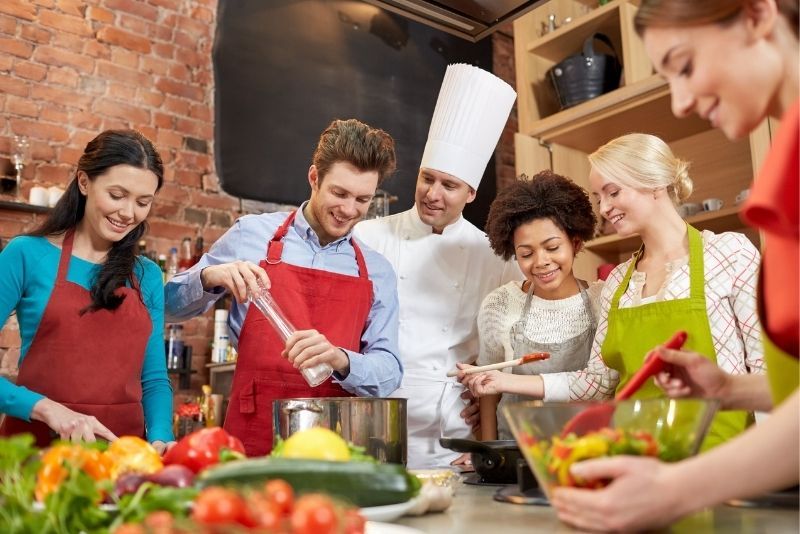 How long do food tours in Athens last?
Most food tours last between 2 and 4 hours, allowing enough time to explore the city and try many different food and beverages. Some walking tours run a bit longer depending on how much of Athens you would like to cover. If you're tight on time, opt for a short market tour to try Grecian snacks in under an hour.
When is the best time for a food tour in Athens?
Choose either a daytime or nighttime food tour of Athens, depending on your itinerary preference. If you're hoping to visit the Central Market, see the streets in the daylight or ride on an electric bike or scooter, choose a daytime tour. If you prefer to take a break from the sun while enjoying Greek wines, select a nighttime tour.
Tours that include a cooking class typically begin in the afternoon, as you'll prepare a traditional Athenian meal for dinner.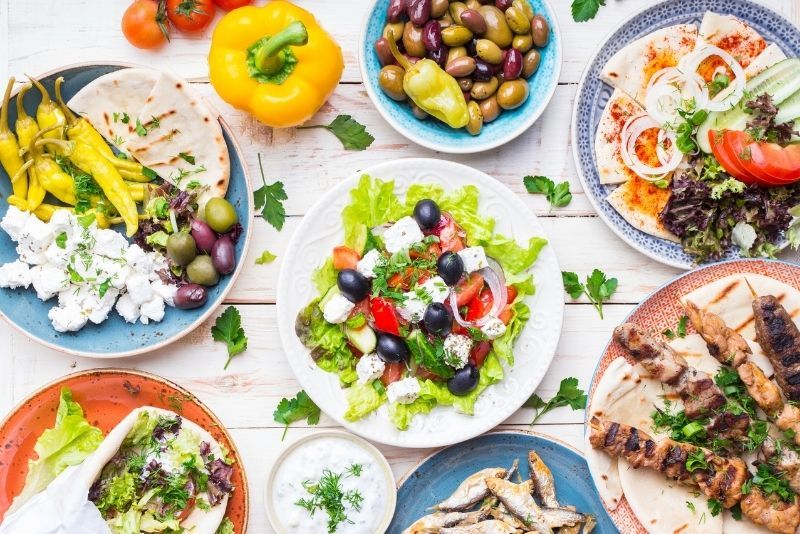 Are there any combos available with food tours in Athens?
Food market visit plus cooking class with wine
Take a trip to the market before heading back to a classroom to learn how to prepare the ingredients you selected. You'll cook a gourmet Grecian meal before sipping wine and drinks to close out the tour.
Food tour plus liquor tasting
On this food tour, you'll maneuver through the market, cafés, restaurants and street food vendors to try all the dishes that Athens has to offer. You'll pair your snacks with locally distilled liquor provided by your tour guide.
Market tour plus Greek taverna lunch
Explore the Central Market before heading to lunch at a Greek taverna. You'll indulge in a delicious meal of Athenian tapas paired with house wine. This tour also includes visiting one of the oldest family-owned distilleries in Athens.
Travel tips
Most food tours in Athens are done by foot, so make sure to wear comfortable walking shoes.
Arrive on an empty stomach, so you'll be ready to try as many Greek delicacies as possible.