Fez is home to the largest car-free urban zone in the world, and a free walking tour of Fez's walled medina is the ideal way to get familiar with this labyrinthine city.
Founded in the 9th century, Fez is filled with ornate medieval architecture and is home to the world's oldest university. The city provides a feast for the senses and is often referred to as Morocco's cultural capital.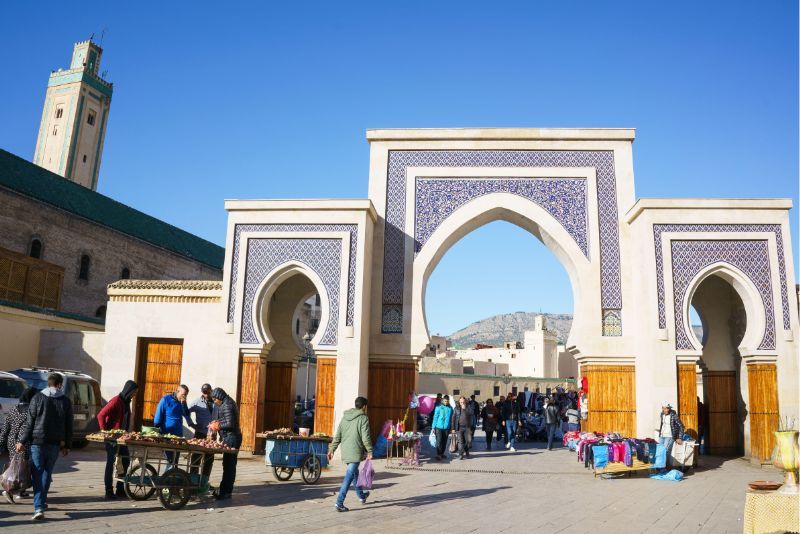 Below you'll find all the information you need to prepare for a free walking tour, one of the most affordable sightseeing activities in Fez.
How do free walking tours in Fez work?
When you book a free walking tour in Fez, you do not need to pay an online booking fee and the tour itself is also free. However, tour participants are encouraged to tip their tour guides at the end of the tour.
The amount that you decide to tip your tour guide is entirely up to you as there is no obligatory amount. Be sure to bring some extra cash along with you so that you'll be able to tip your guide at the end of your free walking tour.
The only other cost that you can expect to encounter during your tour is your entrance fee to popular attractions, such as Madrasa al Attarine, which costs around €2 per person.
How much should you tip for a free walking tour in Fez?
There are no rules when it comes to how much you should tip your guide, but most tour participants tend to tip between €10 and €15 per person.
Consider how much you would be prepared to pay for the tour if it wasn't free. Also, consider how much you enjoyed the tour and the value that was provided by your guide.
Ultimately you can tip however much you want to, so tip what you feel is fair.
What are the best free walking tours in Fez?
There are a few different free walking tours available in Fez. While most of these tours take place in Fez's walled medina, each tour has something unique to offer tour participants.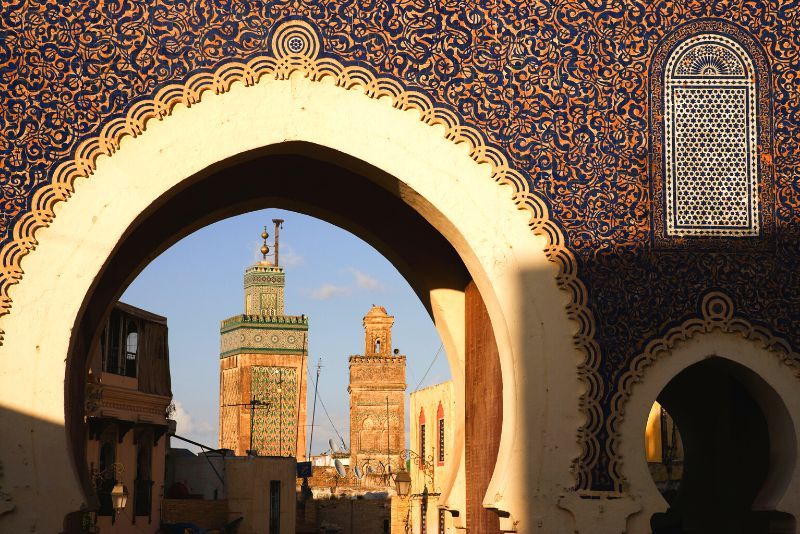 Uncover hidden secrets scattered across the many alleyways of the ancient city of Fez. Take this opportunity to get to know one of the oldest cities in the world on a deeper level as you explore Fez with a local guide.
Itinerary
The walking tour begins at the famous Bleu Gate, where you'll meet your experienced local guide.
The tour's itinerary includes Université Al Quaraouiyine, Madrasa al Attarine, the oldest tannery in the world, various spice cooperatives and other important areas that you'll find interesting.
As you walk through Fez's alleyways with your guide, you'll learn about the city's cultures, religion, food, artisanal crafts, lifestyle and more.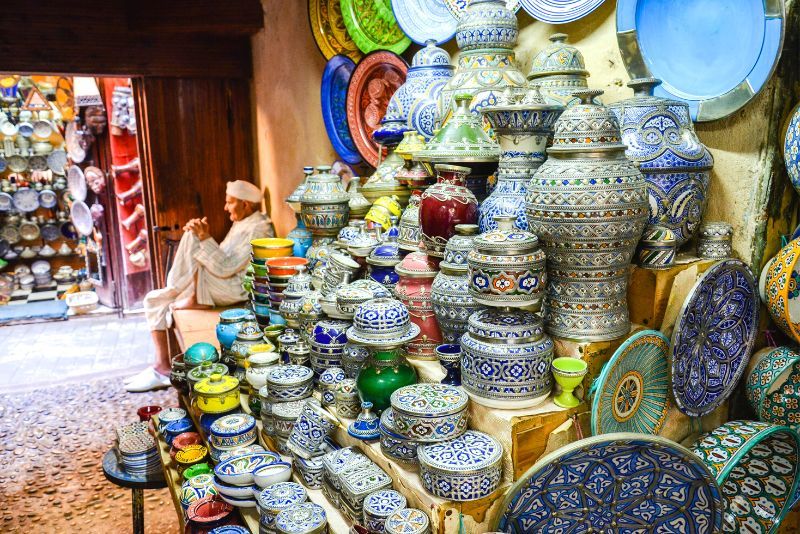 Join a passionate local guide as you walk through Fez's ancient medina, learning about the three most important components of the local architecture— ceramic mosaic, plaster carving and wood carving.
Itinerary
Follow your local tour guide through Fez's medina where you'll discover markets, medieval schools and the oldest tannery in the world. Along the way, you'll enjoy anecdotes, commentary and interesting information provided by your guide.
In addition to learning about Fez's history and traditions, you'll also get the opportunity to shop for gifts and souvenirs. Your guide will take you to some of the most authentic artisanal stores in Fez, and can assist you in finding specific items that you may be looking for.
Funky free walking tour in Fez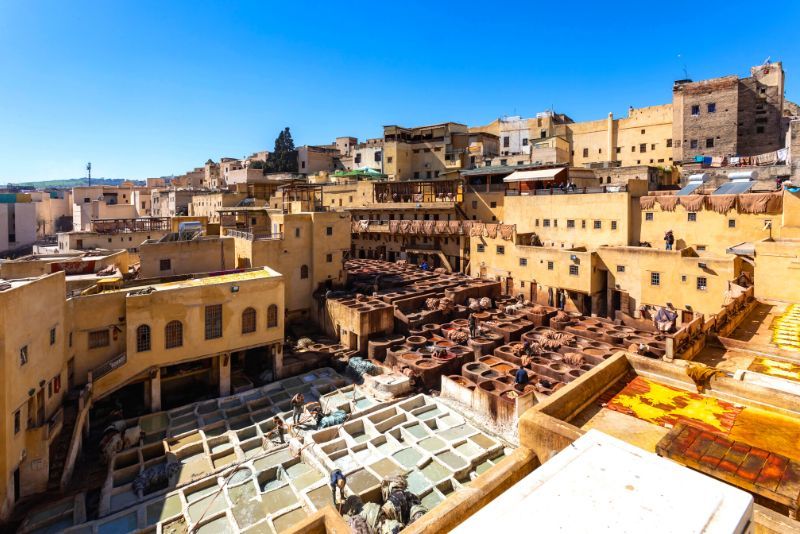 Enjoy an unforgettable experience of exploring the biggest labyrinth in the world with this free walking tour in Fez. You'll see all the most popular landmarks and attractions, as well as a few of the city's lesser-known gems.
Itinerary
Meet your tour guide at the Funky Fes Hostel in the city center, where you'll begin your walking tour.
Expect to visit all of the city's most popular attractions, including the Andalusian Mosque, Tannery Chouara, Al Karaouine University, Madrassa Attarine, the local food market and the oldest library in the world among other attractions.
End your tour with a magnificent, panoramic view of the city's old town — the perfect place to take some photos.
In which languages are free walking tours in Fez operated?
Most free walking tours in Fez are available in English, but many tours are operated in other languages too.
The shopping and handicrafts tour is by far the most inclusive and there are tours available in English, German, French, Italian, Japanese and Portuguese.
Arabic is one of the national languages of Morocco and the funky walking tours are available in Arabic, as well as French and English.
Where do free walking tours in Fez start?
All free walking tours in Fez begin at central meeting points such as Bleu Gate, Funky Fes Hostel and Hotel Batha. These locations are easy to find, even if it is your first time in Fez.
Remember to arrive at the meeting point at least 5 minutes before the tour's starting time.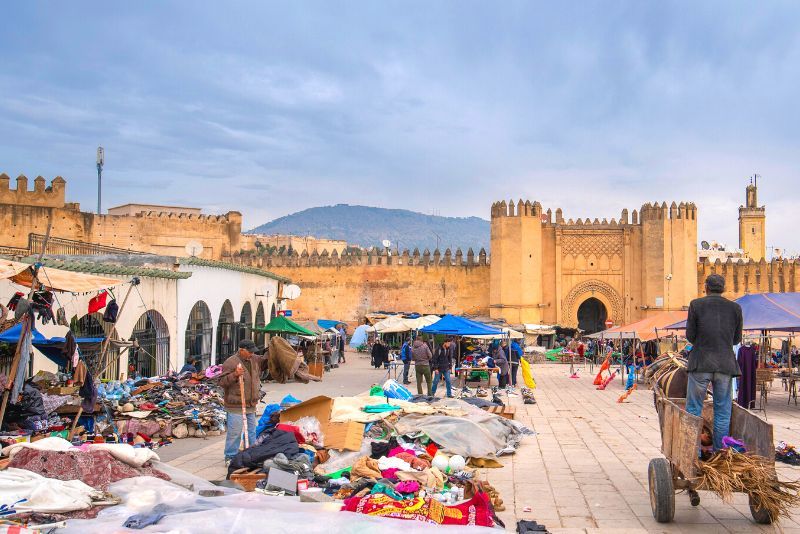 How long do free walking tours in Fez last?
Most free walking tours in Fez last 3 hours, so be sure to wear comfortable walking shoes. There are a couple of 5-hour tours available, as well as a few 4-hour tours.
When is the best time to join a free walking tour in Fez?
There are morning and afternoon time slots available for free walking tours in Fez. Most tour participants prefer to take morning tours before the heat of the day sets in so that they have the rest of their day free.
You should book a free walking tour at the beginning of your stay in Fez. This way, you gain insight into the city's layout and are introduced to attractions that you may want to go back and visit again during your stay.
Should Fez free walking tours be booked online?
Fez is a very popular city and it is visited by thousands of tourists each year. For this reason, free walking tours in Fez tend to fill up fairly quickly.
Free walking tours should be booked in advance if you want to avoid disappointment. Making a book online is very easy and there are no booking costs involved.