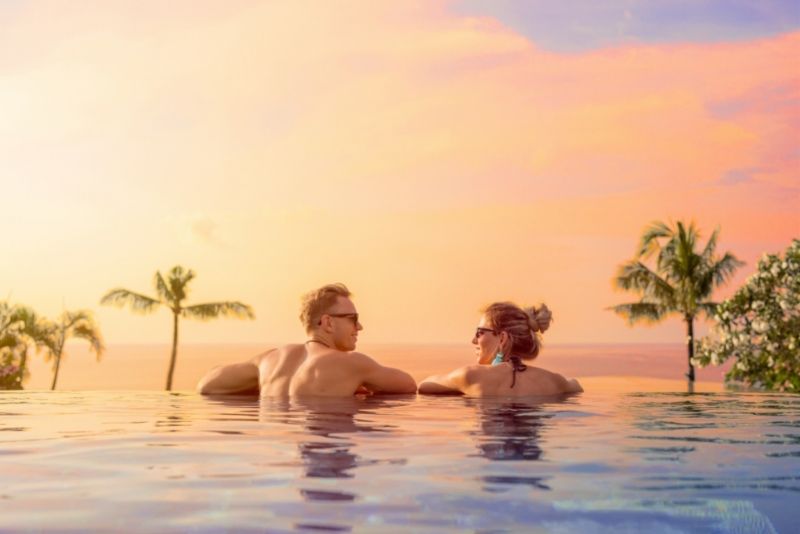 Looking for romantic Valentine's Day getaways in the US?
Finding the perfect place to take that special someone this Valentine's Day can be a tricky business.
We've narrowed it down to thirty of the best destinations in the U.S to make it easier for you to choose — leaving you free to concentrate on the romance.
From tropical islands to rocky mountain resorts, you'll find plenty of fun and romantic things to do that are sure to make the day a memorable one, wherever you are.
1 – Oahu, Hawaii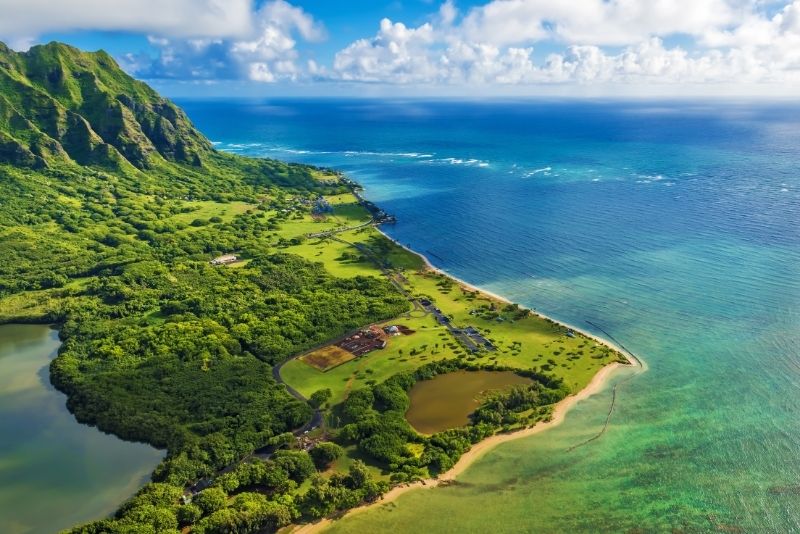 If you really want to wow your partner on a romantic Valentine's getaway, Oahu, Hawaii's third-largest island, is guaranteed to do that. With the rare perfect mixture of sun-drenched golden beaches, a bustling capital city (Honolulu) and lush tropical forests and national parks, Oahu really is an ideal island paradise.
If the scenery alone doesn't blow your socks off, you can find plenty of romantic activities to try together. Start the day with a hike up to the Manoa Falls before taking a surf lesson at the famous Waikiki Beach. Spend a long afternoon snorkeling with turtles at Laniakea Beach before you head off on a sunset cocktail cruise to do some whale watching.
You'll be ready to sample some of the best Hawaiian foods by this point. The island's traditional dishes often include servings of rice, seafood and meat served with a light fresh salad. Some of the must-try dishes include Lau Lau, steamed meat and fish inside a taro leaf parcel, Kalua Pork, smoky tender meat served with almost everything from sandwiches to burritos, and Huli Huli chicken, barbequed chicken in a sweet and sour sauce.
If you really want to impress why not treat your date to a helicopter tour of the island. There couldn't be a more grand romantic gesture than whisking your beloved off to grab uninterrupted views of those glorious beaches, rainforests and turquoise oceans as you soar high above the exquisite island of Oahu.
See also: fun things to do in Oahu, best things to do in Hawaii
2 – Napa Valley, California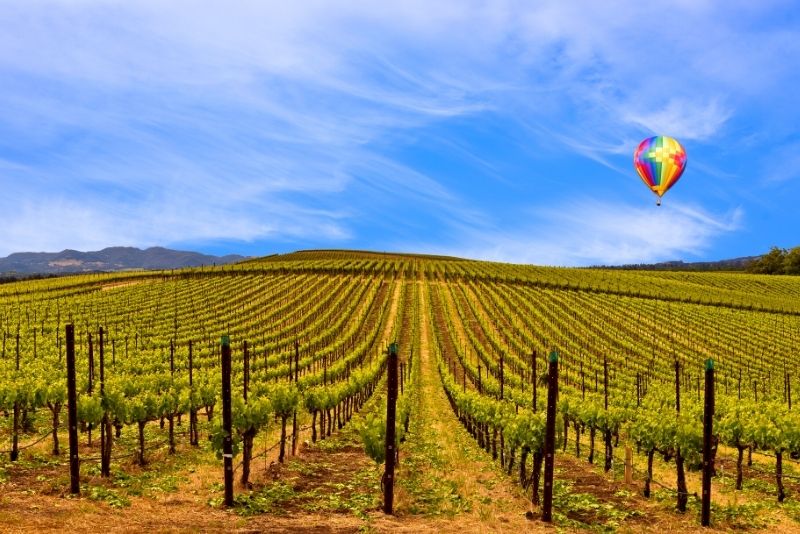 Rolling hills and endless vineyards — as well as a fantastic gourmet restaurant scene, make Napa Valley one of California's best romantic getaways.
A stunning way to begin your day is to take a hot air balloon ride over the valley. Take in the sights and sounds at sunrise as the county comes to life. See spectacular panoramas of the Napa Valley countryside as you float peacefully on the breeze in the arms of your loved one.
You're sure to want to grab some breakfast by now so head on over to the Oxbow Public Market to grab a coffee and pastry at one of its excellent riverside cafes.
The region's famous vineyards are just a stone's throw away so why not start your tour at the Castello di Amorosa, an old-world winery and restaurant in a truly stunning Italianate 13th century-style castle.
For those who want to explore the region in style, a trip on the Napa Valley Wine Train is the perfect way to take in the sights in total comfort and vintage luxury. This is one train ride that is sure to impress that special someone.
See also: fun things to do in Napa Valley
3 – Islamorada, Florida Keys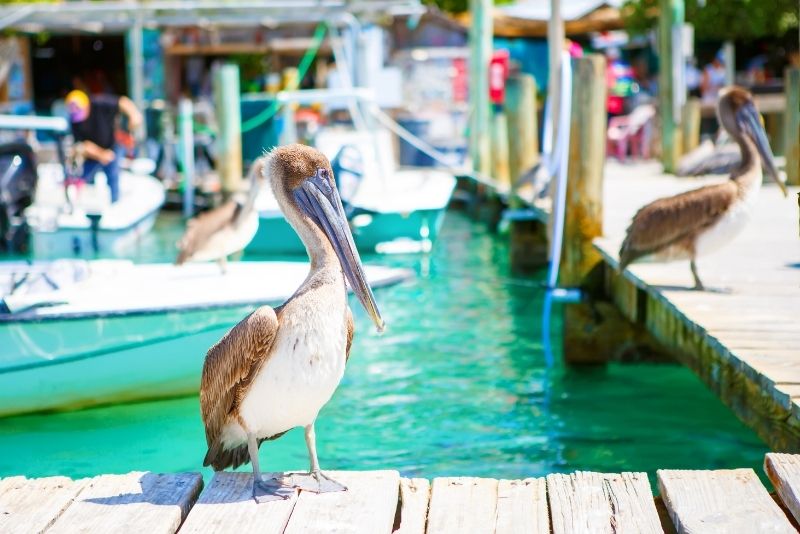 If you're looking for one of the best romantic Valentine's Day getaways in the Florida Keys, Islamorada is a great choice. Though the whole region is abundant with beautiful turquoise seas and paradisiacal beaches, Islamorada has a quaint charm all of its own.
Lovers of the great outdoors will find plenty to enjoy here. The village is known as one of the best spots for sportfishing in the country and is spread across six islands. The coral reefs are brimming with sea life making them an excellent place to dive as well as spot dolphins, sea turtles and other wildlife on a boat cruise.
It almost goes without saying that the sunsets here are absolutely epic. One of the most romantic things to do in Islamorada is to take a sunset drive. You'll find plenty of cozy restaurants here as well as pristine beaches to cuddle up on with a picnic as the sun fades from the sky.
See also: fun things to do in Key West, fun things to do in Key Largo, best things to do in the Florida Keys
4 – Fairbanks, Alaska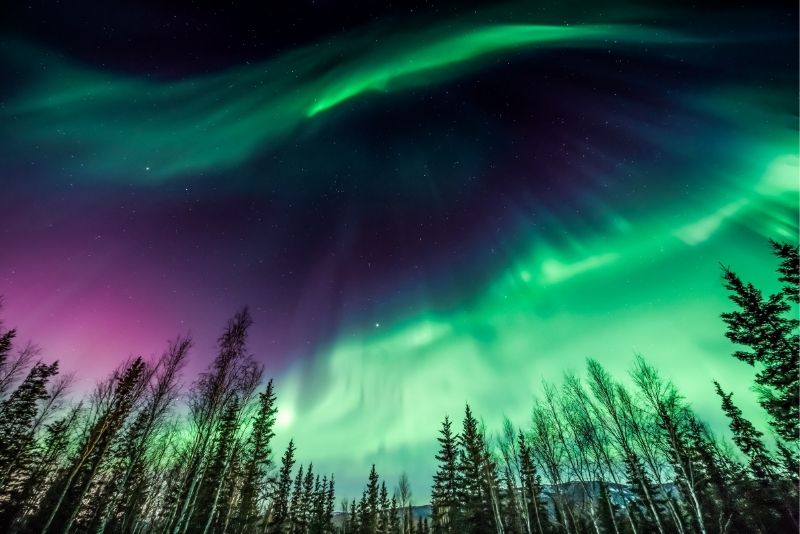 The chilly mid-February in Fairbanks is the ideal time to cuddle up with your loved one by a roaring fire. There are also tons of romantic day trips and activities in and around the city that you'll want to try before settling in for a cozy evening.
Explore the wilderness on a snowshoe trek through the pristine wonderland of Denali National Park or see snow sculptures at Fairbank's Ice Art Park. Huddle close together as you try a spot of ice fishing or catch a glimpse of reindeer frolicking in the boreal forest.
The February evenings are magical in Fairbanks and are the ideal time to spot Aurora Borealis. Why not take a Northern Lights Hunting Tour with a local guide who'll give you the best chance of spotting this epic natural light show.
After a long day in the chilly outdoors you'll be ready to enjoy some of the best local restaurants, such as Chena's Alaskan Grill, to try fresh salmon and smoked mountain lamb in beautiful waterfront surroundings.
See also: fun things to do in Fairbanks
5 – Big Sur, California
A land of rugged coastlines, dramatic mountains, heavenly waterfalls and giant redwoods, Big Sur is the perfect place for a romantic getaway you'll never forget.
If you love to be outdoors, Big Sur offers some of the most fantastic scenery in California and the West Coast. The drive along Highway 1, which hugs the coastline through the Pfeiffer Big Sur State Park, is nothing short of breathtaking.
Call in at Carmel-by-the-Sea to soak up its quaint shops and European-style cottages before heading off to one of the best road trip destinations the country has to offer. Explore Santa Catalina Island on a romantic escape for two or stroll through the ancient giant redwoods at Limekiln State Park.
Feel the cool Pacific water between your toes at Sand Dollar Beach and then head inland to hike the trails of Garrapata State Park. Wrap up the perfect day by spending a long evening stargazing in the Ventana wilderness as you relax in the hot springs. Big Sur is both wild and wonderful!
6 – Hilton Head Island, South Carolina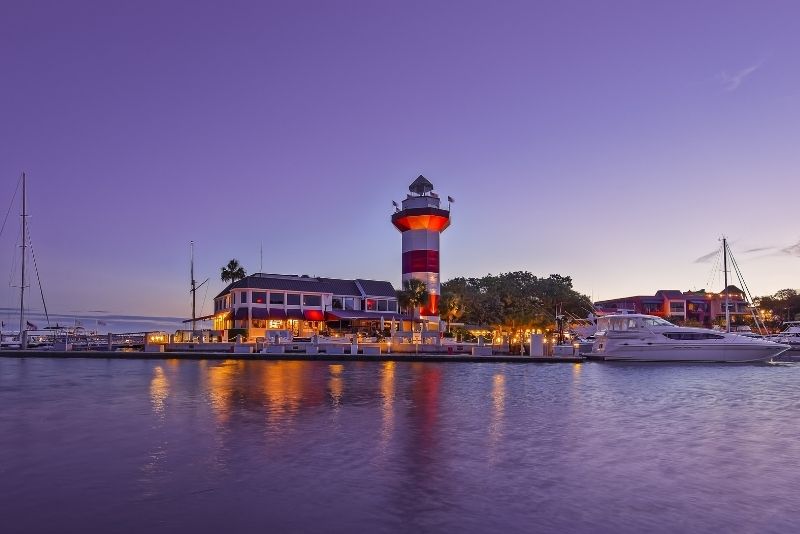 With 12 miles of Atlantic coastline on its doorstep, Hilton Head Island is one of the most picturesque resorts on the South Carolina coast.
From here you can take a romantic stroll along the island's white sandy beaches, including the beautiful Folly Field and Driessen beaches.  Next, take a picnic and cycle the paths and tracks through the Sea Pines Forest and Audobon Newhall preserves to see local plants and wildlife.
Enjoy a round of golf together at one of the island's five top courses or explore the historic ruins of Stoney Baynard. You are sure to be enchanted by the unspoiled beauty of Hilton Head, one of South Carolina's most romantic destinations.
Take some time to visit the best local restaurants and sample some Low Country specialty dishes, including gumbo, fresh seafood such as shrimp and oysters and traditional peach cobbler. Wrap up your Valentine's Day vacation with a lazy sunset dinner cruise on a traditional sailboat.
See also: fun & unusual things to do in Hilton Head Island
7 – Las Vegas, Nevada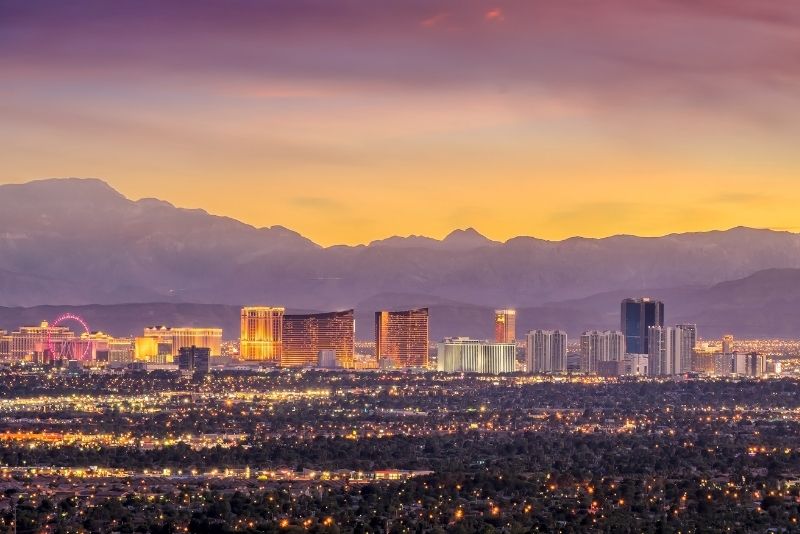 What is there to do in Vegas on Valentine's Day you ask? So much! Presuming you already know about the many casinos, let's concentrate on fun things that won't land you in a heap of trouble.
Elvis didn't call the Strip "bright light city" for no reason. If it's your first trip to Sin City it will probably be pretty memorable whatever you choose to do. To spark off your Valentine's vacay, why not take an early morning balloon ride over Red Rock to see the golden hues of the sunrise light up the arid and dramatic landscape around you.
If you're in search of some culture, you could check out the Bellagio Gallery of Fine Art or see a performance by the Cirque du Soleil. A stroll around the 180-acre park and botanical garden, Springs Preserve, is sure to get you in a relaxed state of mind before you head out for a night on the town to try the city's best bars.
There are plenty of excellent eateries to choose from but for incredible views, you can't go wrong with Top of the World, located on the 106th floor of Stratosphere Tower. Serving New American cuisine and offering panoramic views over the Strip, TOTW is an unforgettable place for a dinner date. Viva Las Vegas indeed!
See also: romantic things to do in Las Vegas for couples
8 – Boston, Massachusetts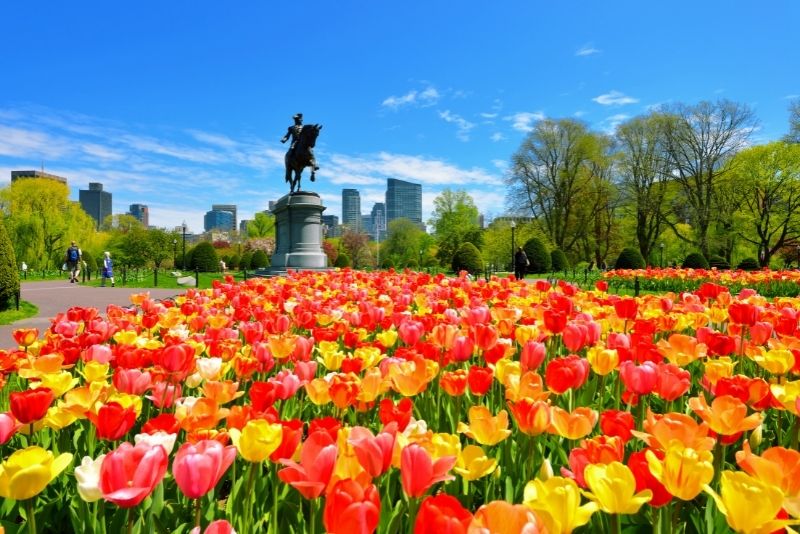 Hanging out in Boston on Valentine's Day and wondering where to take your beloved? Well, you are truly spoiled for choice in the City of Champions.
Take in one of the many world-class shows playing in the Boston Theatre District or see fine art at the lavish Venetian-style Isabella Stewart Gardner Museum. Tour The Breakers Museum, which is the opulent former home of the Vanderbilt Family, or stroll through the centuries-old streets of the North End.
Sample some classic Italian delicacies in the Little Italy district or dress up warm and pack a picnic as you head off to Boston Common to wine and dine in the fresh February air. You don't need to splash lots of cash in this city. Stroll along the Charles River Esplanade hand-in-hand or walk along the waterfront to Christopher Columbus Park for beautiful views of the downtown skyline.
To round off the day, indulge your sweetheart with a romantic harbor cruise onboard a classy 1920s-style yacht. Relax and sip champagne while you enjoy the sultry sounds of a live jazz band and views of the Boston Harbor lights.
See also: things to do in Boston, Boston whale watching cruise
9 – Joshua Tree National Park, California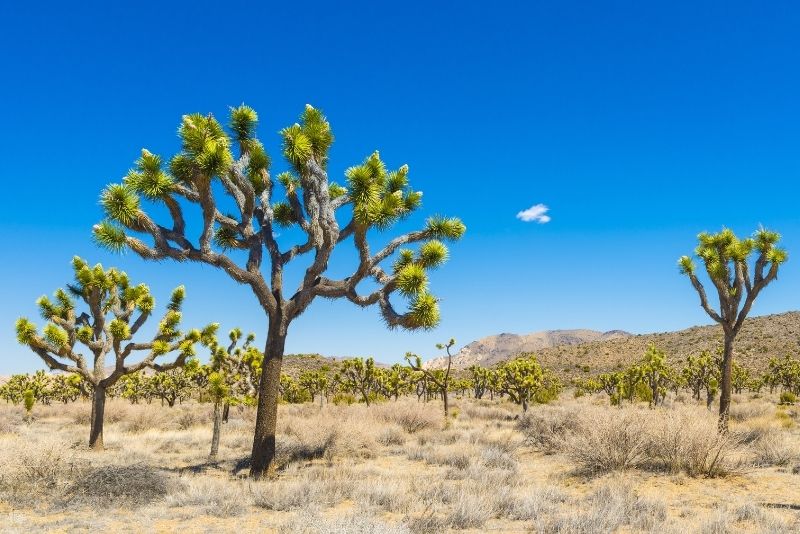 February is one of the very best times to visit Joshua Tree National Park when the weather is at its mildest and the desert is most forgiving. What to do for lovebirds in the park though?
The most obvious thing to do is spend the day hiking together in the unspoiled beauty of the California desert. The area around Skull Rock is a great place for short hikes and has some picturesque trails that extend to a couple of miles. The Panorama Loop and Lost Horse Mine trails take in some outstanding views and interesting historic sites.
The Hidden Valley Nature Trail has some of the best scenery in the park with just rugged rock formations, desert dust and those funky-looking Joshua trees for miles around. To enter the valley you pass through a large portal-like rock formation, hence the name.
If hiking is not on your to-do list you can drive up to Keys View to see some of the best panoramas in the park with views over Coachella Valley. This is a great place to throw down a blanket and cuddle up beneath the wide-open sky for some stargazing with your special someone.
A night beneath the stars wouldn't be complete without a spot of glamping. Joshua Tree Moon Camp offers the most unique accommodation with its off-grid futuristic cottages complete with a telescope and king-size bed. This super-special location is sure to score you serious points in the romance game.
10 – Sedona, Arizona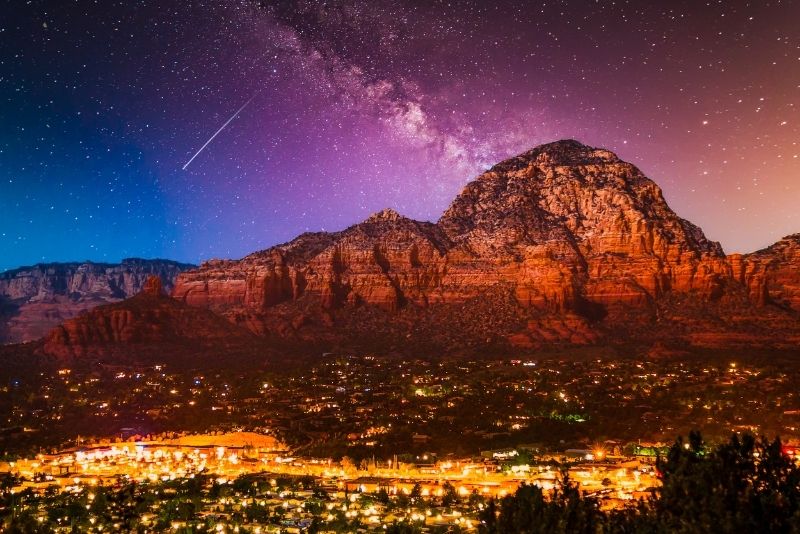 Slap bang in the middle of cowboy country, the red rock canyons, healing desert air and dense pine forests of Sedona provide the perfect backdrop to any Valentine's getaway.
If you really want to impress your significant other, take a romantic horseback riding tour of the Sedona countryside. Sample the cowboy life and feel your stress melt away as you explore the Old West trails on the backs of your four-legged companions.
For the spiritually inclined, you can get in touch with the region's energies on a Sedona Vortex Tour. If your date is an adventure-seeker, discover the iconic red rocks on an adventure Jeep tour through the desert.
Take a relaxing trip to the Verde Valley for a wine tasting tour before exploring the city's many boutique stores and galleries. Sedona is well-known for its fantastic spa facilities so why not pamper yourself with a couples massage or saltwater pool swim. Take the chance to dine in style at the Mariposa Latin Inspired Grill for tasty South American flavors and fantastic views from the patio.
With those cloudless desert skies, Sedona is a great place to snuggle up to your sweetheart and stare up into the great beyond, that's right, stargazing! This is a perfect way to wrap up your evening, it's super-romantic and affordable, even for those on a very tight budget!
See also: fun things to do in Sedona
11 – Glenwood Springs, Colorado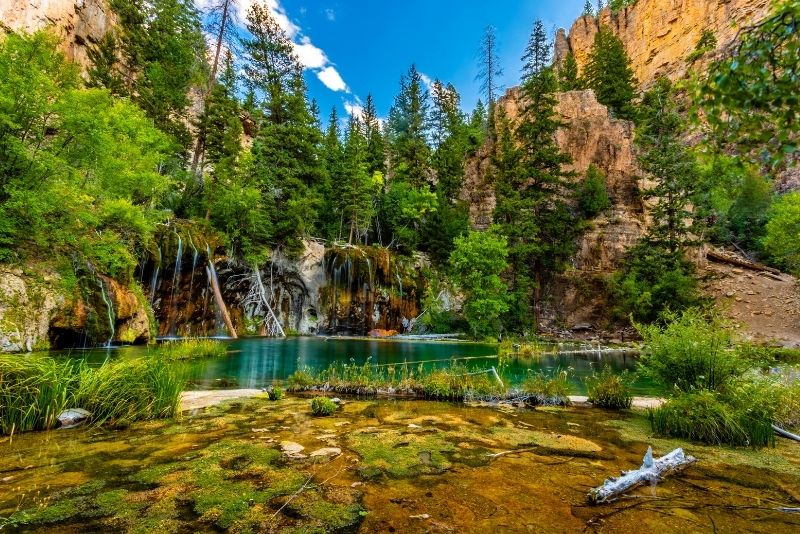 If you're planning some romance in the rocky mountains, You already know Glenwood Springs is a great choice!
You've no doubt heard of Glenwood's awesome natural hot springs. Its 30,000 square foot spring-fed pool stays at a comfortable 90-105 degrees all year round and is 100% naturally heated. It may be snowing outside but it's toasty warm in those pools!
After relaxing away your aches and stresses you'll want to get out in the Colorado countryside for some fresh air and adventure. Take in the impressive natural sights of Hanging Lake and the epic ice formations of Bridal Veil Falls or tour the underground wonder that is Glenwood Caverns.
If your date is an outdoor enthusiast you'll probably want to strap on your snowboards and carve the slopes or maybe take a snowshoeing trek up to Sunlight Mountain. The Yampah Caves are a great place to soothe your aching muscles afterward. These cave saunas are a unique natural phenomenon and a wonderful way to unwind together after a busy day.
Grab a cozy dinner in one of the city's best restaurants to end a great day in the great outdoors. The Slope and Hatch is an excellent taco spot with a casual ambiance and terrific food. The Pullman is an ideal place for modern-American comfort dishes and cocktails. Your Valentine's Day in Glenwood Springs is sure to be a day to remember.
12 – New York City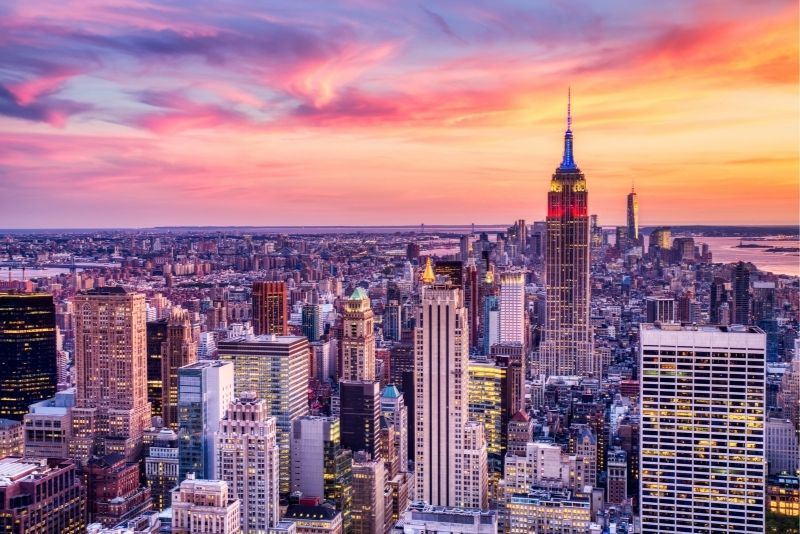 New York really goes all out for the most romantic day of the year. You'll find plenty of delightful ways to surprise your valentine in "the city that never sleeps".
Whisk your date off for a morning stroll through Central Park and grab some breakfast at Sarabeth's. This West 59th St restaurant is renowned for its great views of Central Park and the classic American dishes it serves.
After a hearty meal, try a spot of ice skating at the Rockefeller Center followed by a trip to the Top of the Rock to see panoramic views of the city. Take an adults-only tour around the  Museum of Sex followed by cute heart-shaped "Valentini" cocktails at Loulou.
Looking for a super-romantic and memorable thing to do in NYC on Valentine's Day? Take your loved one to a candlelight orchestral concert in one of the city's beautiful churches. This is bound to impress that special someone and is the perfect way to start the evening.
Head off to Linden's in Arlo Soho to experience an extra special meal right in the heart of the city.  Enjoy dinner for two in your own private cozy cabin before a leisurely stroll through the historic streets of Greenwich Village, perhaps stopping at the chic Up & Up on McDougal Street for a cocktail.
See also: fun things to do in NYC
13 – New Orleans, Louisiana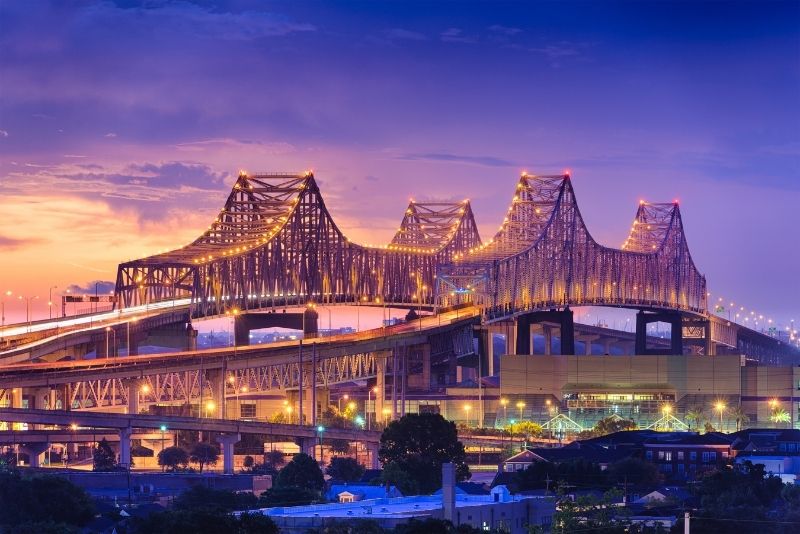 Wild, weird, and wonderful, New Orleans has a unique and fun vibe that offers lots to do on St. Valentine's Day.
Start your day with a carriage tour of the city's historic French Quarter. These horse-drawn carriages for two are the ideal place to cuddle up to your partner as you take in the sights and sounds of the city.
Take a leisurely stroll down to the French Market where you can grab a drink in one of the delightful cafes or shop for unique antiques and hand-made jewelry at the many diverse stalls.
Next, take a trip to the Mardi Gras Museum of Costumes & Culture to explore one of the city's largest costume collections. Have fun trying on some outlandish garbs for yourselves in the museum's costume closet.
World-renowned as the birthplace of Jazz, why not experience a romantic Jazz Cruise in the Big Easy. If you're looking for the most unforgettable place to stare into the eyes of your sweetheart, this could be it. Board the historic Natchez paddle steamer and be transported back in time as you float off down the Mississippi to the sounds of a live jazz band.
See also: fun things to do in New Orleans, Steamboat Natchez cruise
14 – Yellowstone National Park, Wyoming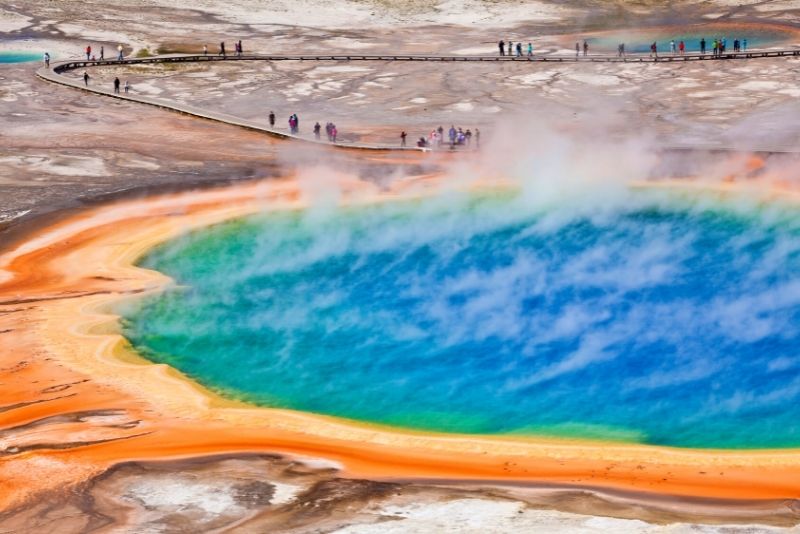 Where better to celebrate this special day than one of the country's grandest natural theaters, Yellowstone National Park. There is so much to do in this vast and wild terrain even in the colder month of February, but where to begin?
A perfect start to the day could include an invigorating dip in the Hot Springs at Boiling River. Here the steaming hot thermal waters mix with the cool Gardner river water to create the ideal temperatures for bathing. The surrounding hills are usually covered with snow at this time of year but you'll be perfectly warm in the heated waters.
There are some great snowshoeing routes in the park for those active and adventurous couples to try out. You can rent snowshoes from The Bear Den at both Mammoth Hot Springs and Old Faithful Snow Lodge or take a ranger-led trek from the Albright Visitor Center.
There are plenty of opportunities to ski in the park or you could venture out on a super-fun snowmobiling trip. Alternatively, cuddle up on a snow coach tour to spot bison, wolves and other wildlife.
Grab amazing views of Yellowstone Park from Jackson Hole Aerial Tram and grab some sweet snacks from Corbet's Cabin some 4,000 meters up at the peak of the Tetons Mountains.
Round off your romantic Yellowstone Valentine's date with a night under the stars. Try a unique glamping experience as you cozy up under canvas to enjoy this peaceful wild paradise.
See also: fun things to do in Yellowstone National Park
15 – Washington D.C., Columbia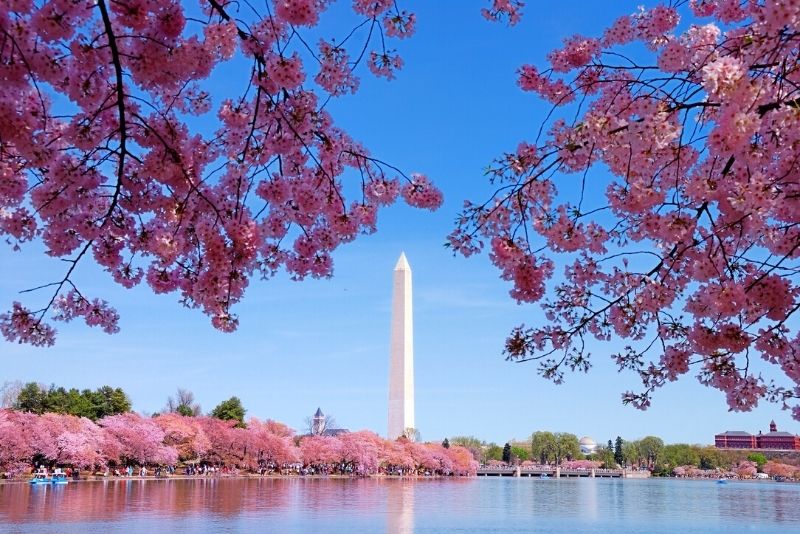 Culture, history, and grand architecture, there's tons to explore in Washinton, DC with your beau this Valentine's Day.
Why not begin your day with a walk around the National Gallery of Art. See the collection of artworks, including significant pieces by Leonardo da Vinci and Edgar Degas before touring the Sculpture Garden. Take some time to ice skate at the fountain and grab a warm drink in the Pavilion cafe.
The Tidal Basin is a great place for a rowboat ride with your beloved as you take in some of the city's most popular landmarks. Located between the National Mall and memorials to Martin Luther King Jr, Thomas Jefferson and Frankin D. Roosevelt it is one of the scenic highlights of DC.
Later, enjoy a fireside meal at 1789 Restaurant, where you can appreciate fine dining in a converted Federalist home. The Iron gate and Maydan are two other DC restaurants with roaring hearths to cozy up by in the chilly February weather.
See also: things to do in Washington, D.C.
16 – Whitefish, Montana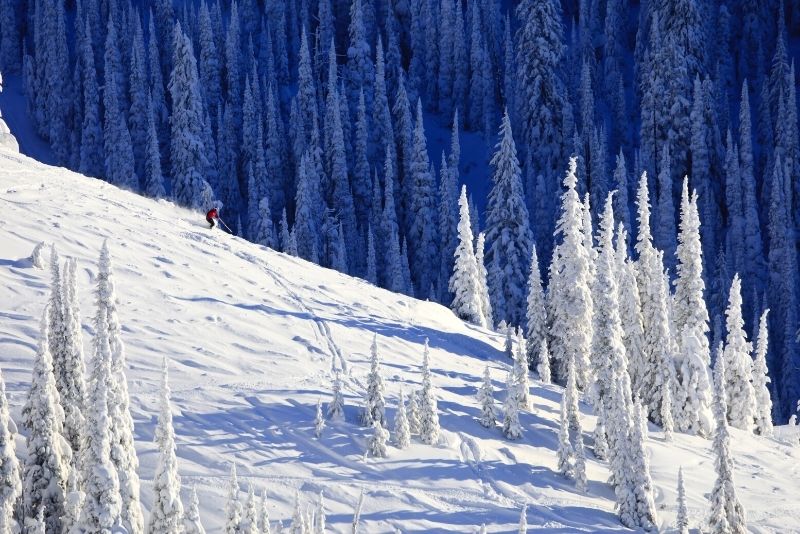 The picturesque and tranquil town of Whitefish is an idyllic mountain escape for lovers.
Located in the shadow of Big Mountain, the area has excellent ski facilities and resorts for those with adventure on their mind. The Whitefish Mountain Resort includes over 3,000 acres of soft powdery slopes to enjoy which can be accessed with a free shuttle bus from the town.
A drive over to Glacier National Park will be at the top of your romantic things to do in Whitefish. Check out the dreamy snow-capped peaks of the Rocky Mountains and the wild and untamed splendor of its many lakes and waterfalls.
The town of Whitefish has lots to offer and you'll find plenty of family-owned stores and restaurants here. The small town is packed with charm and its friendly atmosphere is sure to make your stay in Whitefish a happy one.
The Tupelo Grille is an attractive place to dine and serves up southern-style foods with mountain hospitality. Alternatively, Whitefish Lake Restaurant delivers classic American cuisine and is blessed with some of the most outstanding views around.
17 – Savannah, Georgia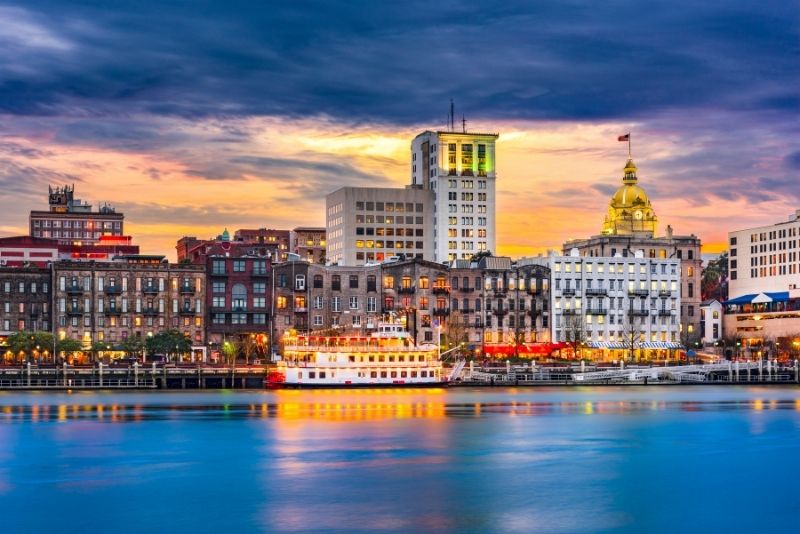 Slow down and settle into the pace of things on your romantic trip to sleepy Savannah. This charming southern city is best explored on foot and is rife with picturesque squares waiting to be discovered.
Chippewa Square is home to some of the oldest buildings in the city, including The Savannah Theatre and the First Baptist Church. It was also the filming location of the famous bench scene from the movie Forrest Gump. This is a must-visit location to take your sweetheart and maybe surprise them with a box of chocolates?
You couldn't visit Savannah and not take a trip to Forsyth Park. Try a leisurely stroll through this 30-acre park with its iconic fountains and large gnarled oak trees. Take the time to grab a snack at Collin's Quarter cafe and sample tasty Australian-inspired dishes.
Next, try a trolley tour through the historic district to pick up some local history. See the extravagant facades of mansion homes from a by-gone era centered around the upmarket Broughton Street.
Wrap up your day with a romantic cruise onboard a traditional southern riverboat. Enjoy dinner and entertainment as you steam wistfully down the Savannah River hand in hand with that special someone.
See also: fun & unusual things to do in Savannah
18 – Aspen, Colorado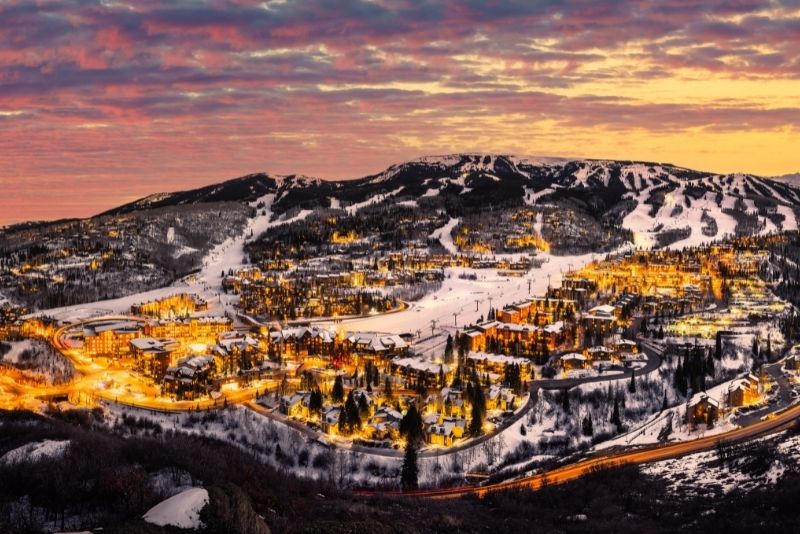 If you and your partner are outdoor enthusiasts who love hitting the slopes for some serious ski action, Aspen, Colorado cannot be beaten.
Home to the world-famous Aspen Snowmass resort, this is the ultimate winter adventure-sport paradise. The Snowmass resort is spread across four mountains and has a wide variety of terrain to explore. Whether you're total noobs or pro-shredders, you'll find a trail for you here.
Pick up a bouquet from Mountain Flowers of Aspen for that special someone before you head off for a couples massage at one of the town's upmarket spa resorts.
A romantic short hike to the Pine Creek Cookhouse is sure to wrap up your day nicely. This cozy cabin restaurant is tucked away at the bottom of the Elk Mountains and provides fresh fish and game dishes in an idyllic valley setting.
19 – Clearwater, Florida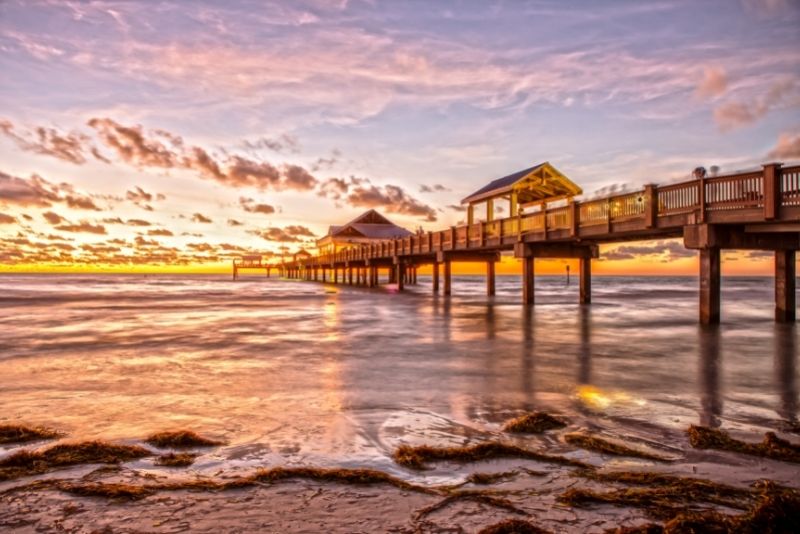 One of the most romantic places on the Florida coast to vacation, Clearwater is blessed with gorgeous white sandy beaches and glassy turquoise seas to bathe in, even in February!
Why not start your special day with a trip to Honeymoon Island? With a name like that you know it's the perfect place for romance, and it doesn't disappoint. Enjoy a picnic by the sea and spend some time walking hand-in-hand while collecting shells on the beach.
Next, maybe go for lunch and a little window shopping at Westfield Countryside Mall before visiting the amazing sea creatures at Clearwater Marine Aquarium. Watching the loggerhead sea turtles and otters play is sure to bring lots of laughs on your Valentine's Date.
Head out onto the water for a romantic dinner cruise onboard one of the city's popular tour boats. Go sleek and chic with a yacht cruise or take a guide boat trip to spot bottlenose dolphins on an experience your sweetheart will never forget.
Take a stroll along Pier 60 to watch the sunset and take in the views. This popular Clearwater landmark is always a lively spot and, for nature lovers, is a great place to see pelicans. What a perfect way to end the day!
See also: fun things to do in Clearwater
20 – Salt Lake City, Utah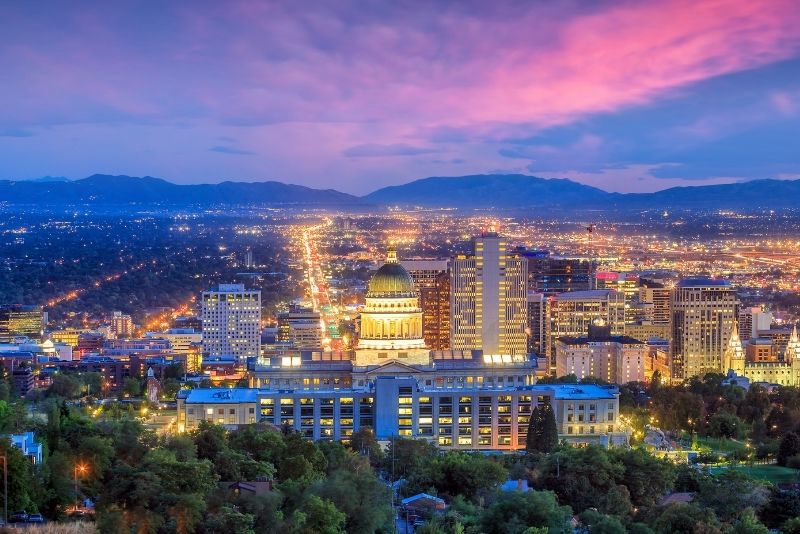 If it's your first time in Salt Lake City, a romantic walk around the Temple Square district is an absolute must. The impressive granite temple dominates the city center skyline and is set in acres of beautiful gardens.
Why not try a trolley tour of the city to discover a bit about its history and culture? Visit the city's best landmarks and cruise the streets in style in a vintage carriage. This is great fun for residents and tourists alike.
For SLC natives who have seen the major tourist spots, a trip to the Utah Museum of Contemporary Art is a fun and romantic thing you can do with your date on Valentine's Day. Wrap up your afternoon with a concert by the world-renowned Tabernacle Choir or a Broadway show at the captivating and classy Eccles theater.
The Midway Ice Castles are one of the most amazing winter things to visit around Salt Lake City. These fantastic ice sculptures are about an hour's drive from the city but are sure to wow and enchant your special someone.
Finally, grab some dinner at one of the city's best restaurants. Squatters Pub Brewery is a great casual place for a beer and a burger and Red Iguana serves up award-winning Mexican dishes that are sure to delight. If you want to go fancier you can't beat Manoli's for its chic but comfortable surroundings and excellent Greek cuisine.
See also: fun things to do in Salt Lake City
21 – Charleston, South Carolina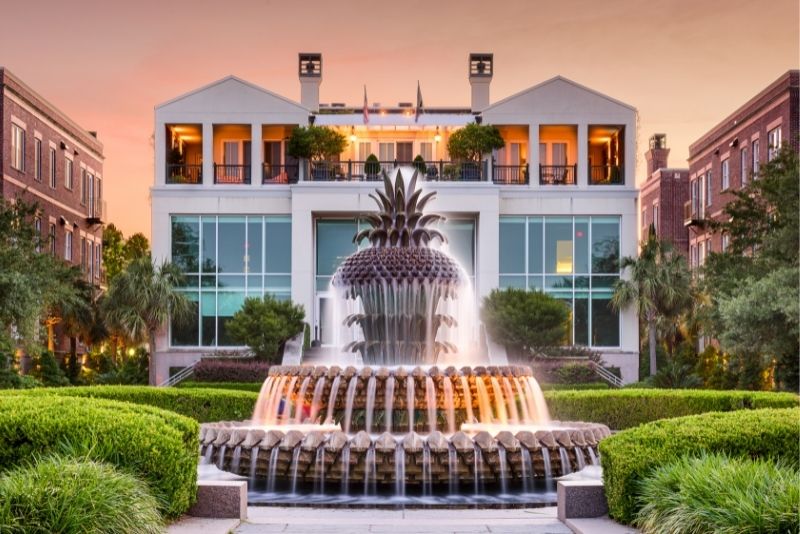 With its small-town vibe, quaint cobbled streets and historic houses, Charleston, SC is a great place for a Valentine's date.
Start your day off right with a stroll through one of the city's classic landscaped gardens. Joe Riley Waterfront Park is a great waterfront destination and the beautiful 100-acre gardens of Middleton Place are thought to be the oldest of their type in America.
A trip to East Bay Street — also known as Rainbow Row, to see the pastel-colored buildings is a must on your walk down to the famous Pineapple Fountain. Head into the city's French Quarter to check out some of its attractive historic buildings, including Dock Street Theater, Philadelphia Alley and Circular Congregational Church.
With a charming style that dates back to the roaring twenties, The Spectator Hotel is a classy place to woo that special someone. Stop in for midday bites and a cocktail to refresh your senses.
For something a bit different, why not join a Valentine's Day cooking class at one of the city's private culinary schools. Prepare a romantic meal for two and gain skills and memories you'll keep forever.
An evening out at the Black Fedora Comedy Mystery Theatre is a fun way to round off your Charleston Valentine. For a more romantic scene, book a sunset boat cruise around Charleston Harbor and cuddle up to your darling as you enjoy the city's sweet southern charm.
See also: fun & unusual things to do in Charleston
22 – Jackson Hole, Wyoming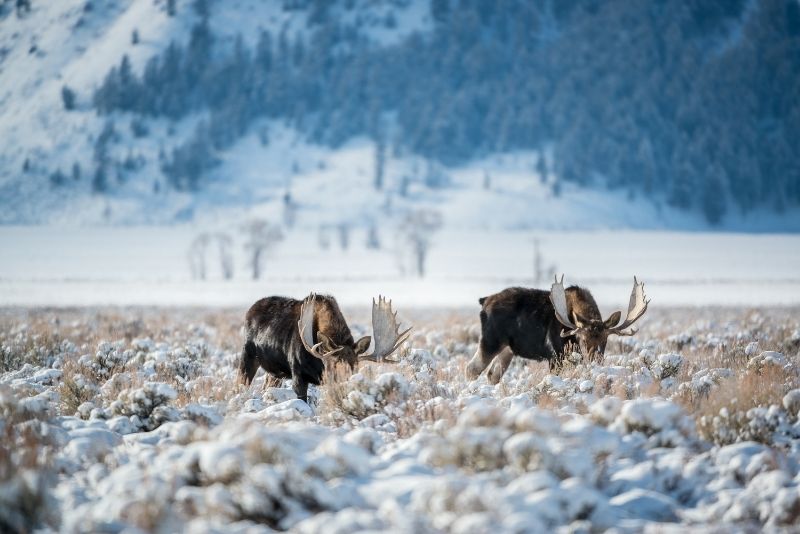 Considered to be the last real mountain town, at least by locals, Jackson Hole is a wild and majestic place — perfect for an unforgettable date.
Known as one of the top winter-sports destinations in the country, Skiing at Jackson Hole this Valentine's Day is an absolute must-try romantic activity. February in Jackson Hole has, on average, more snow than any other month. Hit up the local ski resorts, including the epic Snow King Mountain, with that special someone for a Valentine's date you will remember always.
Next, warm your bones with a dip at one of the town's celebrated hot springs. The popular Granite Hot Springs and Astoria Hot Springs are two popular developed pools but if you're brave there are free natural ones to seek out too.
Visit the town of Jackson Hole for some souvenir shopping in its locally-owned stores and be sure to see the four antler arches which mark the corners of the main square. Persephone Bakery is a good spot to stop for a coffee and snack that will tide you over until dinner.
You'll be raring to get back outdoors by now so take a fat tire bike ride through the winter landscape or perhaps a cross-country Nordic Skiing trip. The Elk Refuge is a great place to visit for nature lovers or you could take a wildlife safari to see moose, bighorn sheep and bald eagles.
There's a big selection of eateries in Jackson Hole serving a variety of international cuisine. For that perfect romantic spot why not try Cafe Genevieve for brunch in a cozy log cabin setting or Miazga's for classic European-style home cooking.
See also: fun things to do in Jackson Hole
23 – Newport, Oregon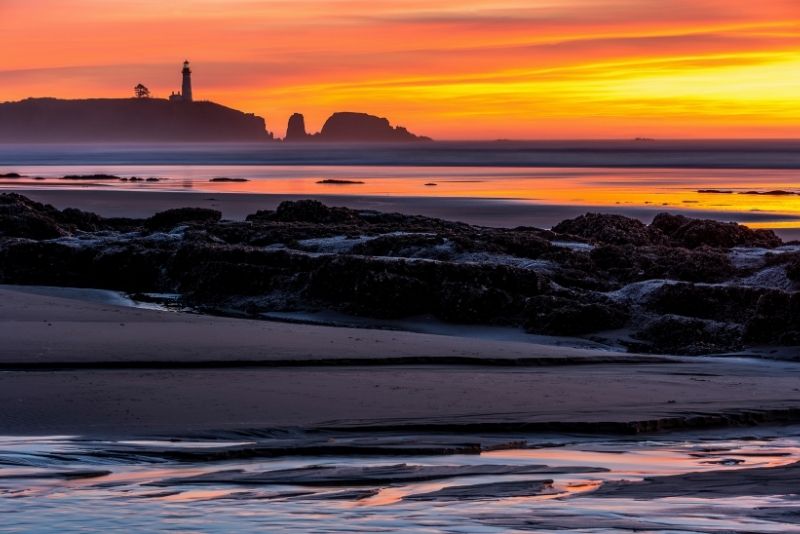 Once just a humble fishing village, Newport is now a highlight for visitors to the Oregon Coast. What Romantic things are there to do for lovers though?
Start your day with a bang by heading out bright and early for a romantic walk along Beverley Beach. The beach is part of the Beverley Beach State Park and has year-round oceanside camping for those tough outdoors types. Wrap up warm and bring a hot drink to enjoy together before driving up to Yaquina Head Lighthouse to see the fantastic views from its observation deck.
The Oregon Coast Aquarium is a great place to visit with your partner to see some of the most beautiful exotic and native sea creatures. Walk through the underwater tunnels to get up close to elegant sharks and rays. See adorable otters and inquisitive octopuses and marvel at the underwater artifacts in the Secrets of Shipwrecks exhibit.
The lively and picturesque Historic Bayfront is a fun place to visit for a lazy day shopping and sightseeing. There are plenty of boutique stores and restaurants and the area gets additional points because you can often spot sea lions hanging out by the docks.
As you would hope from a fishing town Newport has plenty of excellent seafood restaurants to check out and perhaps try the oysters? Georgie's Beachside Grill and Local Ocean Seafoods are two popular places to dine in the city.
You're sure to find plenty of things to do on Valentine's Day in Newport.
24 – Monterey, California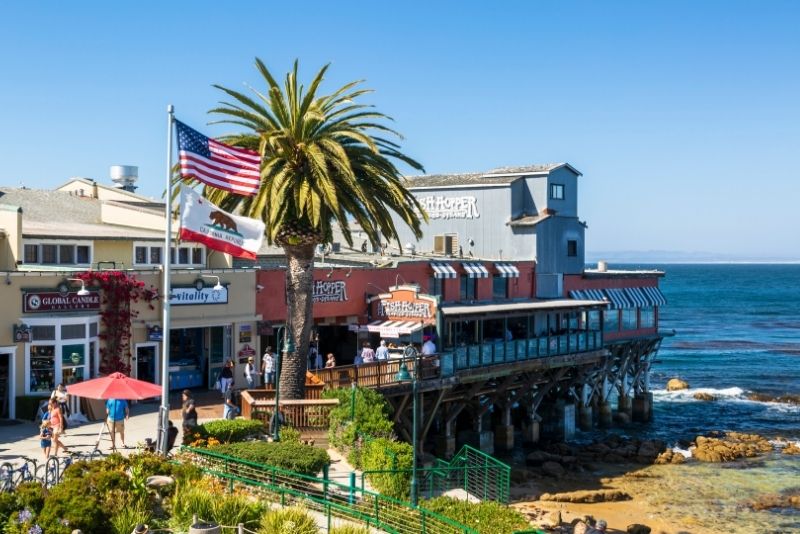 Set on a picturesque stretch of coastline and packed with Spanish-colonial architecture, Monterey is a captivating place to take your date this Valentine.
Lover's Point Park would be the obvious choice for a romantic stroll or picnic in the city. There are marvelous views from Lookout Point, a sandy beach to sunbathe on and acres of meadows and forest to explore.
If you know about Monterey you may have heard it's a great destination to spot whales. What better way to say "I love you" than to take your sweetheart on a whale-watching boat trip? There are many to choose from and they usually last from 2-6 hours.
If you don't fancy heading out onto the deep blue you can check out Monterey Bay Aquarium instead. Get up close to incredible sea creatures, including African penguins, sea otters, and unusual sea life, such as the fangtooth and bloody belly comb jelly.
There are lots of historic and quaint sights to see in the city itself. Head up to Old Fisherman's Wharf which has lots of small shops, restaurants and museums which you could spend all day wandering through.
One of the city's best-known landmarks is Cannery Row, which was made famous by the author John Steinbeck. This historic warehouse district is now a hip shopping and dining destination and is also home to some lovely waterfront hotels.
For a fun and unique thing to try, surprise your date with a trip to the Monterey Mirror Maze. This luminous mind-melting attraction is sure to have you both in fits of laughter.
mention whale watching, Monterey Bay Aquarium & Lovers Point Park & Beach
See also: fun things to do in Monterey
25 – San Antonio, Texas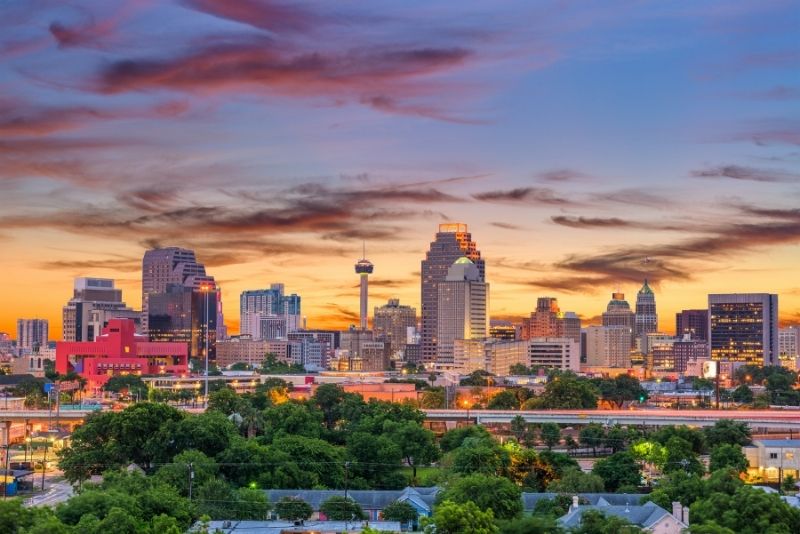 For lovers in search of a romantic day out, San Antonio has tons of southern charm, history and delicious dishes to sample.
One of the most romantic places in the city has to be the Tower of the Americas for its incredible views. If one were to consider popping "THE" question this Valentine's Day, this would surely be a memorable place to do it.
For a relaxing time in the company of your beloved, a boat cruise on the San Antonio River is a lot of fun. There are a lot of options for boat trips here including glass-bottomed boats for a unique river experience.
The picture-perfect San Antonio River Walk is a great place to wander in the city. It has some nice bars and restaurants to laze outside of while you sip margaritas and stare into each other's eyes.
If your partner is a bit of a science-dork, you could treat them to a tour of the Witte Museum. See dinosaur skeletons, interactive exhibits and experience millions of years of local history with the Texas Deep Time exhibit.
If you want to step out of Texas for a while, check out the enchanting Japanese Tea Gardens in Brackenridge Park. This is a great thing to do for those on a budget and the park's Koi ponds and rustic stone constructions are sure to bring you a serene sense of peace.
Don't forget to try those sizzling Tex Mex Flavors while you're in San Antonio. Enjoy a romantic meal for two at one of the city's best restaurants and sample the best of local cuisine. Bohanan's Steak and Seafood is a popular local joint for classic American dishes and Pollos Asados Los Nortenos is great for Mexican and Latin specialties.
See also: fun things to do in San Antonio
26 – Stowe, Vermont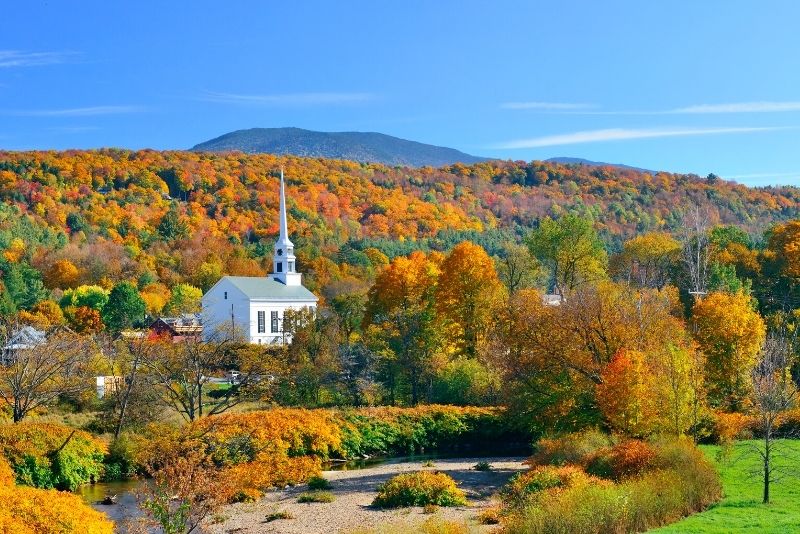 Small-town charm, a picture-perfect highstreet and a friendly atmosphere make Stowe, Vermont an idyllic mountain Valentine's destination.
Start your day in Stowe by walking hand-in-hand down its beautiful historic highstreet. The Stowe Community Church is located here and its iconic design is very popular with photographers and tourists. Shaw's General Store is a great place to grab groceries and you can also shop for fine handmade chocolates, glassware and furniture in the local stores.
Whether you're musical fans or not you have to take time to explore the Trapp Family Lodge. This wonderful Austrian-inspired home was built by the real-life Trapp Family that inspired the movie.
If you're an adventurous kind of couple, Stowe Mountain Resort has excellent ski runs. The resort is located on Mount Mansfield, which is the largest in Vermont, and looms dramatically up to the rear of the town. As well as offering top notch slopes, the resort has luxurious shopping dining and spa services to indulge yourselves with.
Nothing says love like ice cream so where better for a Valentine's Day visit than the Ben & Jerry's factory! Just outside of Stowe in the town of Waterbury, you can visit the original first factory of the iconic ice cream brand. See where the magic's made on a tour of the factory, sample scoops in the shop and visit the Flavor Graveyard to remember the taste combo's that just didn't make it.
If you need a good restaurant recommendation to make your sweetheart swoon, Piecasso Pizzeria & Lounge is excellent as is Harrison's Restaurant & Bar for gourmet American dishes.
27 – Baltimore, Maryland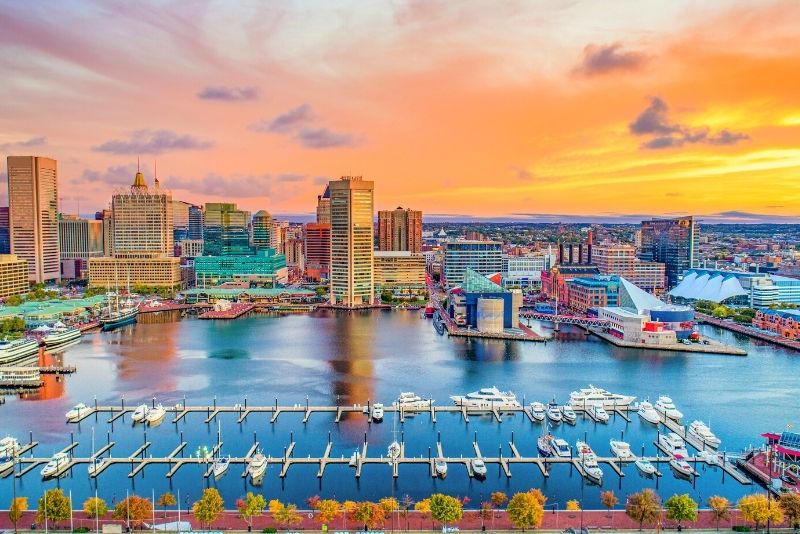 Where history and hipness combine, Baltimore is a fun place to visit with your darling this Valentine.
Why not start the day with breakfast at Miss Shirley's Cafe which is a true local favorite. This Inner Harbor cafe serves up classic American breakfast in a waterside location. If you fancy something a bit lighter grab coffee and cannoli to go from Vaccaro's Italian Pastry Shop.
Catch the Harbor Connector ferry over to Federal Hill and pay a visit to the American Visionary Art Museum. Displaying thought-provoking and non-traditional works of art, the AVAM is a whole lot of fun and is not your usual stuffy art museum. Maybe visit the gift shop to pick up a unique souvenir of your special day together.
Call into Sagamore Spirit Distillery this Valentine's Day for a tour and craft-your-own cocktails tasting session. Get discounts in the Sagamore store and learn the history and tradition that goes into crafting the finest whiskies.
Next head uptown to take a walk around the city's historic Fell's Point district. Check out the many small shops, cafes and restaurants that line the streets here. You can find some great seafood spots serving the freshest crab and oyster dishes from the Chesapeake Bay as well as independent record and book stores and much more.
If you're looking for a fun way to round off your day in "Charm City" you could see a show at one of the excellent theaters. Some of the city's best smaller theaters are Center Stage and Fell's Point Corner Theatre. Alternatively, catch a romantic movie at the very vintage and classy Senator Theatre.
See also: fun things to do in Baltimore
28 – Santa Fe, New Mexico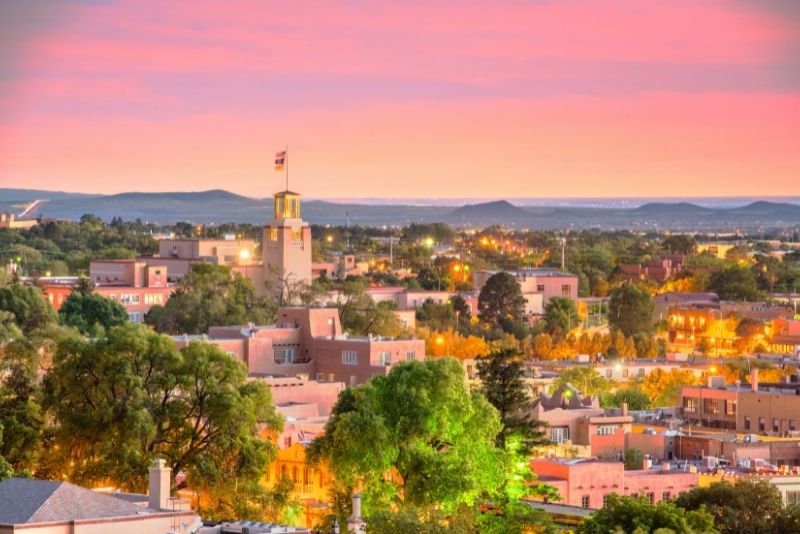 Blessed with year-round blue skies, mountain views and a colorful diverse culture, Santa Fe is a great place for lovers this Valentine's Day.
Kick off your day with a stroll through the bustling center of the city. The Santa Fe Plaza is a picturesque and leafy square that has been the pulsing heart of the city for 400 years. Around it, there are lots of restaurants, cafes and galleries to explore, including the Museum of Contemporary Native Arts and the Boone gallery.
If you like to make a lasting impression, who doesn't? Take a trip to Meow Wolf, Santa Fe's unusual and immersive art gallery. Step into an interactive parallel universe and make it a surreal date you're sweetheart will never forget.
Indulge yourselves with some handmade sweets from Kakawa Chocolate House or grab a southwestern brunch in a local cafe. Two of the best spots in Santa Fe serving Mexican American dishes are Cafe Pasqual's and La Plazuela.
why not treat your significant other to a spa day at the elegant and exotic Ten Thousand Waves? This Santa Fe spa will make you feel like you're in a Japanese mountain resort with its many pools and baths and its wide range of spa and massage treatments.
To end your romantic day in Santa Fe you could head on over to the Violet Crown Theater to cuddle up together in front of a classic movie. If you really want to wow this Valentine's Day, get dressed up and hit the Santa Fe Opera to see a show. This iconic and world-class venue will not disappoint.
29 – Chattanooga, Tennessee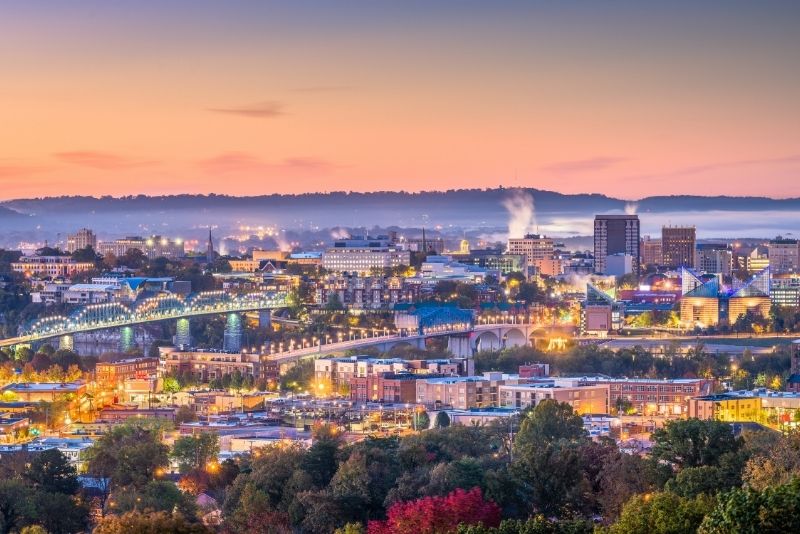 Chattanooga has a big city culture in the heart of nature. There is lots to see and do here on your Valentine's Day vacation.
You don't have to spend a ton of money to have fun in Chattanooga. The Downtown area has some great free attractions such as Coolidge Park, a great place for a picnic, and the attractive Chattanooga River Walk. Take a tour of the city to see over 150 public artworks or check out the First Street Sculpture Garden.
If your sweetheart is a bit of a gear head, they will love the Coker Museum. Equipped with a  custom shop and a large collection of super-cool vintage cars and motorcycles, this place is one of the most fun museums in the city.
To make the most of this special day, escape the city for a while and take a trip to Lookout Mountain.  Ride the historic Incline Railway to explore the fabulous views over Chattanooga and the stony trails of Rock City. Visit the famous Lover's Leap, the Fairyland Cavern, the Swing-a-long Bridge and stop for lunch at Cafe 7, which has, arguably, the best views around.
Ruby Falls is fun to visit at any time of the year and would be a great place for a Valentine's Date with that special someone. This enchanting underground cave system is home to the country's tallest underground waterfall open to the public. Take a romantic lamplight tour of the caves or, for those wild-at-heart couples, try the park's zipline adventure course.
For a fairly chill yet romantic place to visit, Tennessee Aquarium is always fantastic. It is home to the largest freshwater aquarium in the US, as well as saltwater exhibitions and an IMAX Theater. This popular Tennessee attraction will have you totally in awe as you glimpse elegant jellyfish, adorable otters and terrific turtles.
There are some wonderful places to grab a bite in Chattanooga too. For fantastic breakfast and brunch options be sure to call in at Maple Street Biscuit Company. For a cozy dinner check out the Public House which serves up tasty American dishes or Urban Stack for burgers and beers in a casual but stylish environment.
See also: fun things to do in Chattanooga
30 – Chicago, Illinois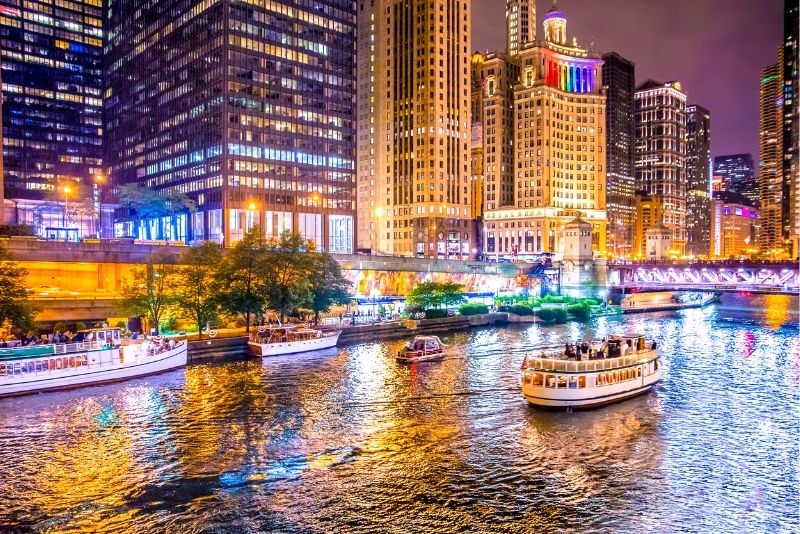 In bustling Chicago, there are so many things to do on Valentine's Day that it can be hard to choose. Here are some of the best things to try with your darling for a super special day.
For a romantic lunch or dinner destination, The Signature Room cannot be beaten for location, views and its mouthwatering selection of dishes. Located on the 95th floor of the historic 875 North Michigan Ave, its views are equaled only by the nearby 360 Chicago Observation Deck.
There are many more magical places to grab epic views of Chicago's Downtown district. Enjoy a romantic ride on the Centennial Wheel at Chicago Harbor or take photos in front of the city skyline at the Adler Planetarium Skyline Walk.
For locals and visitors alike, why not take a cruise up the Chicago River to see the impressive city architecture. For a really romantic trip, book a Valentine's Dinner Cruise and enjoy an evening of cocktails and dancing against the buzzing backdrop of the city.
The Chicago Riverwalk is one of the nicest places to stroll in the Downtown area and the Magnificent Mile with its iconic skyscrapers is a shoppers paradise as well as a great place to dine. The elegant Richard H. Driehaus Museum is a romantic cultural spot to visit with its outstanding collection of late 19th-century furnishings.
Looking for something a bit different? Take your date to Love Bites at 13th Floor Haunted House. This Valentine's-themed spookfest is sure to have you clutching each other tightly as you escape vampires and monsters galore.
See also: fun things to do in Chicago
Hopefully, you enjoyed reading this selection of Romantic Valentine's Day Getaways in the US. If you have other places to recommend don't hesitate to leave a message.
May your Valentine's Day be fantastic wherever you are.
Happy travels!