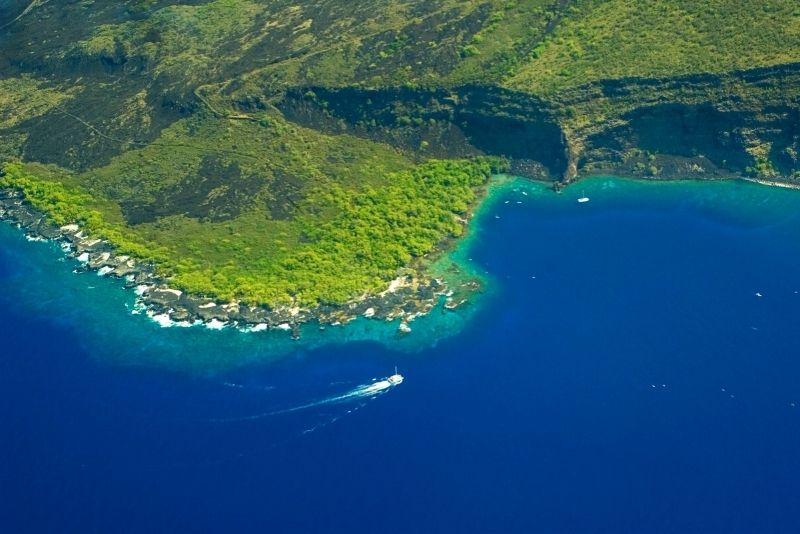 Despite being underrated compared to its neighbors of Oahu, Maui, and Kaua'i; the island of Hawaii (or, as well all know it, the Big Island) is rapidly gaining traction in the travel and tourism community.
No matter what kind of traveler you are — whether you're on the hunt for adventure, relaxation, or anything in between — with a near-endless list of and things to see, Hawaii's Big Island will not disappoint.
From stargazing tours to glass-bottom boat cruises, ziplines adventure, and Luau shows, as you're about to see, you'll be spoiled for choice when it comes to things to do on the Big Island.
1 –  Cruise the Kealakekua Bay and go on a snorkeling tour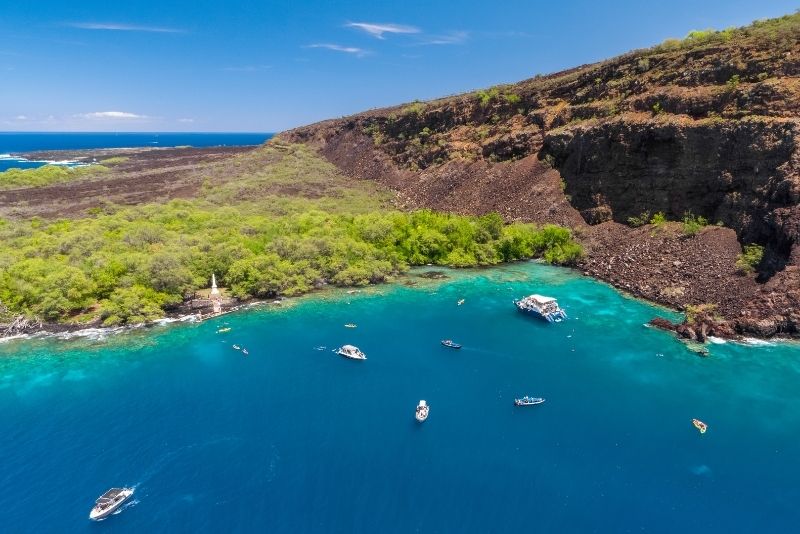 Admire the crystal clear waters as you cruise the Kealakekua Bay — a natural oasis abundant in colorful corals and brimming with marine life.
Travelers are often impressed by the likes of friendly dolphins and turtles, with whales making an appearance in the winter months as well.
If you're an animal lover, this is your chance to come face to face with these magnificent creatures and make your trip one to remember!
2 – Go whale-watching!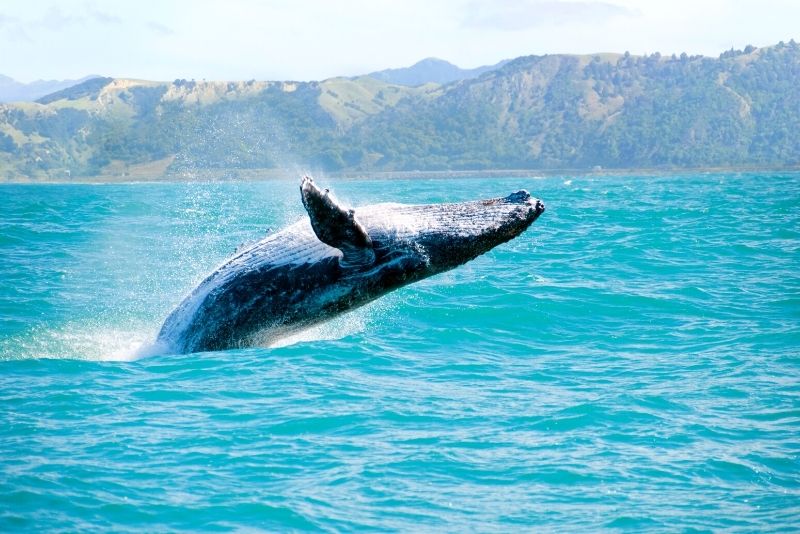 Whales are magnificent creatures and the biggest animals in the world — typically, however, despite their size, they're notoriously hard to spot.
Not on the Big Island, though! On a whale-watching tour, these gentle giants love to pop up and say hello.
Most activities last about 2.5-3 hours, so don't forget to pack some sunscreen and water.
3 – Marvel at nature at Hawaii Volcanoes National Park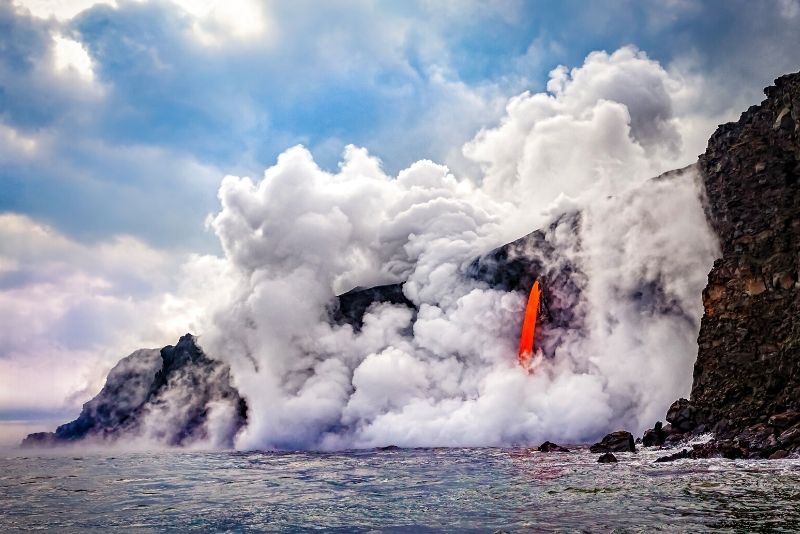 Volcanoes are something that everyone needs to see at least once in their lifetime — and there's arguably no better place to do so than the Hawaii Volcanoes National Park.
The park offers many different hiking trails and scenic driving routes that not only scratch that adventure itch, but can also lead you to discover some of Hawaii's sacred historic sites.
4 – Soar above the rainforest and zipLine over a waterfall (or three)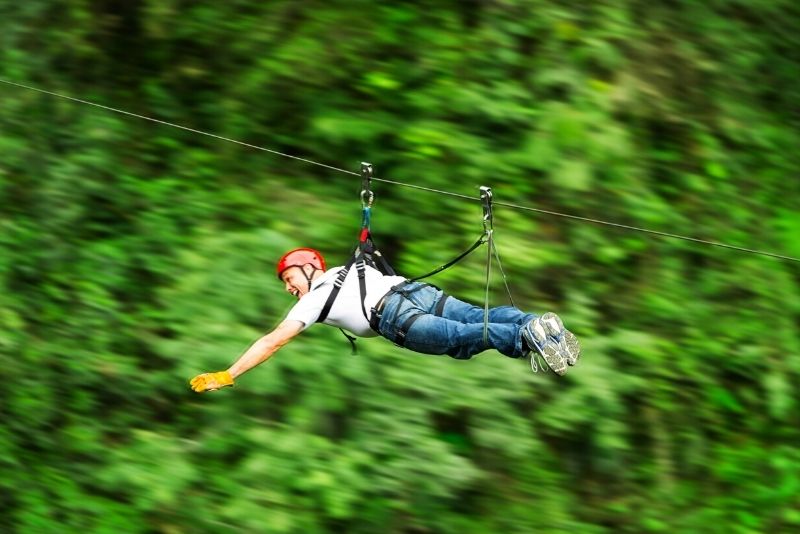 Certainly without any shortage of adventure destinations, the Big Island offers almost too many heart-pumping zipline tours to count!
Contrary to popular belief, most zipline activities offer more than one zipline, meaning that you can choose whether you want to zoom over the luscious rainforest, or get wet ziplining over a waterfall or roaring river.
For the best bang for your buck, consider combining a zipline tour with other adventure activities.
5 –  Get up close are personal with manta rays on a night snorkeling trip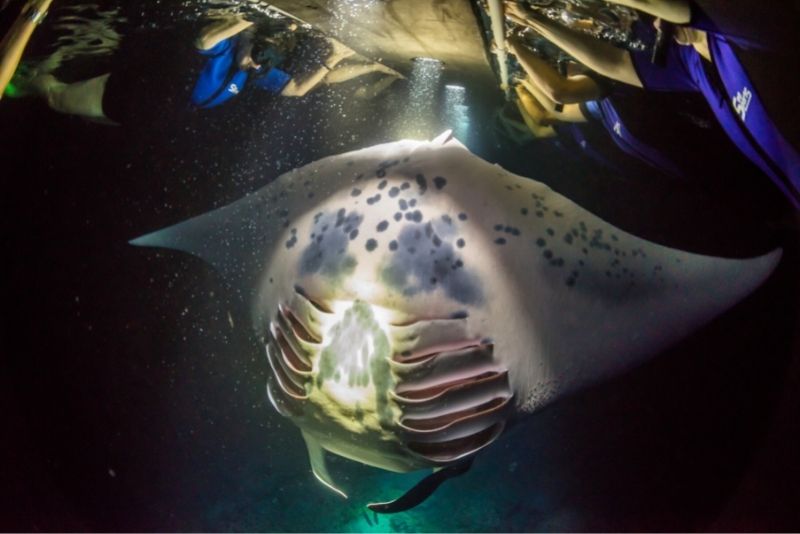 It's safe to say that getting within touching distance of manta rays (although don't touch!) is not something you get to do every day.
Tours can range from one hour up to three, but you will get to feed and interact with marine life no matter the duration — plus, you'll learn all about the local ecosystem from the tour guide.
To top it all off, the clear water is lit up with neon lights making this a truly unique experience.
6 – Wine and dine on a dinner cruise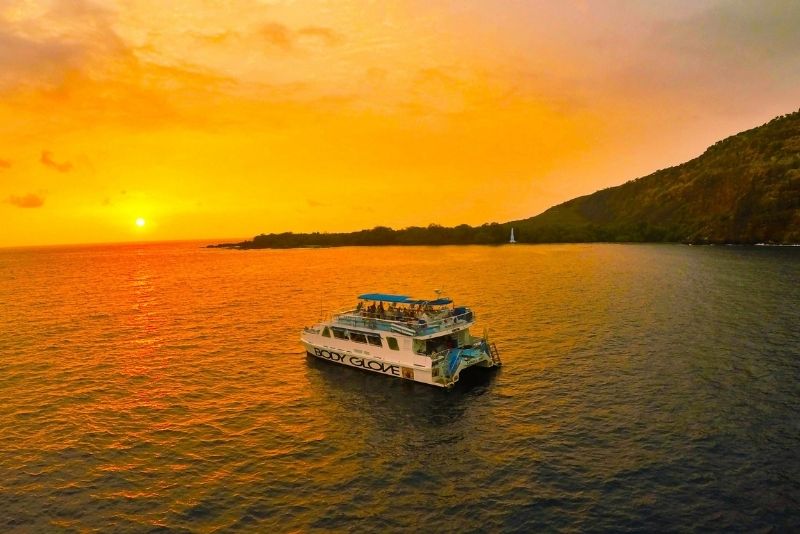 Take a cruise around the stunning Kealakekua bay while you sip on cocktails and enjoy a Hawaiin-style buffet dinner!
Most cruises last about three hours and offer live entertainment and free flowing drinks— a combination sure to get the party started.
Not only will you get to live it up in style, but you'll also learn a lot about the history and culture of the island.
7 – Get the best views of the island on a helicopter tour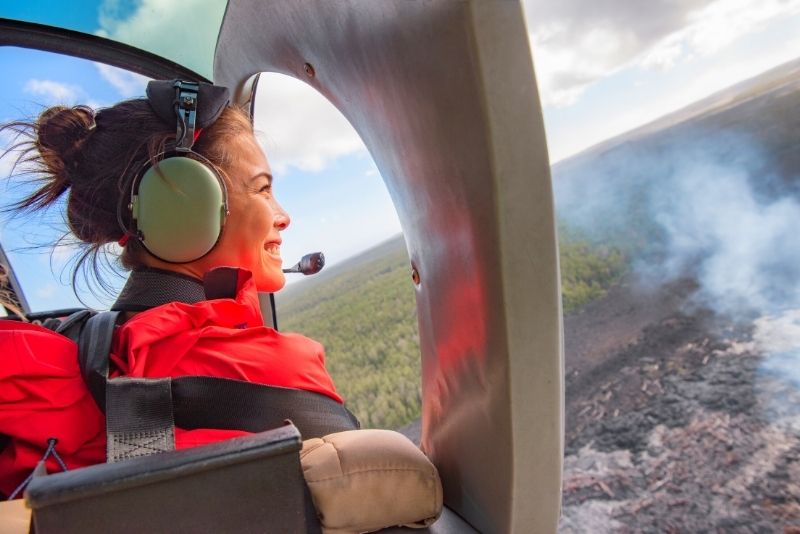 An absolute must for all tourists and the only way to really see the whole island, a helicopter tour is easily one of the best things to do on the Big Island.
Watch as lava bubbles and spews from the volcano tops, enjoy astonishing views of the rainforests, and snap some photos of the spectacular waterfalls.
If you're lucky enough you might even get to catch a glimpse of lava flowing into ocean waters — a true feat of Mother Nature!
Read more about helicopter tours on the Big Island.
8 – Experience incredible nighttime views on a Mauna Kea stargazing tour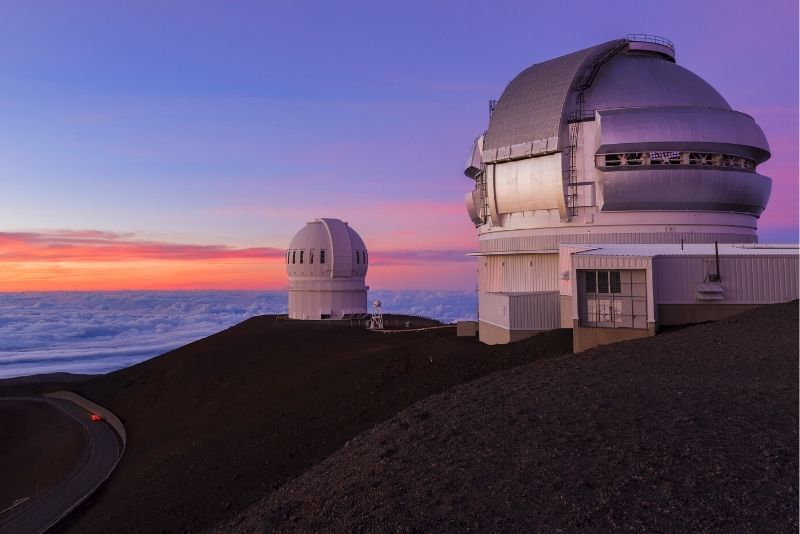 An unforgettable experience that will get you up close and personal with the stars, travelers regularly rave about the out-of-this-world Mauna Kea stargazing tour!
While you're there, if time permits, consider taking a trip up to the Maunakea summit to see the W.M. Keck Observatory.
Hot tip: pack warm clothes as temperatures are known to drop to frosty temperatures on the summit.
9 – Go on an aquatic kayaking adventure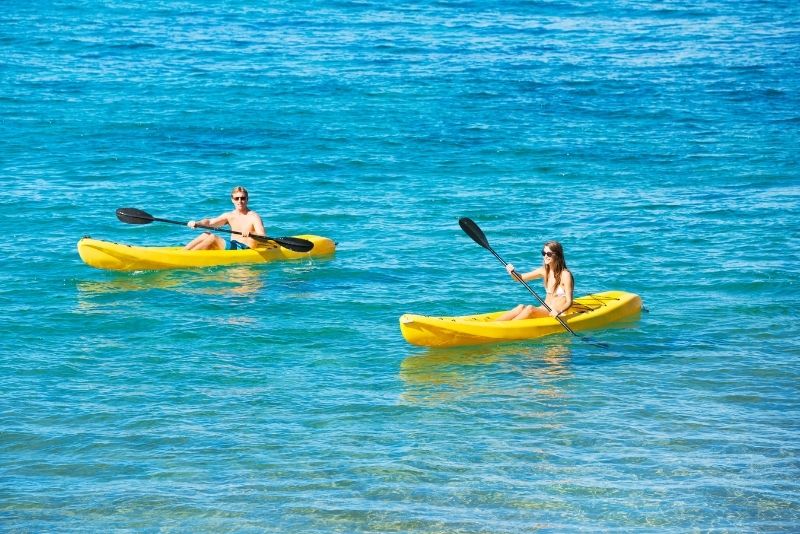 Ask any tourist and they'll all agree: an idyllic kayak adventure is the perfect way to relax and enjoy the pristine waters on the Big Island.
Watch in amazement as the marine life frolics beneath you — but since you'll be in the open water, don't forget the sunscreen.
Most kayaking tours (which last between four and five hours) are led by local guides, who are more than happy to dish out a few recommendations.
10 – Discover an underwater paradise and go dolphin watching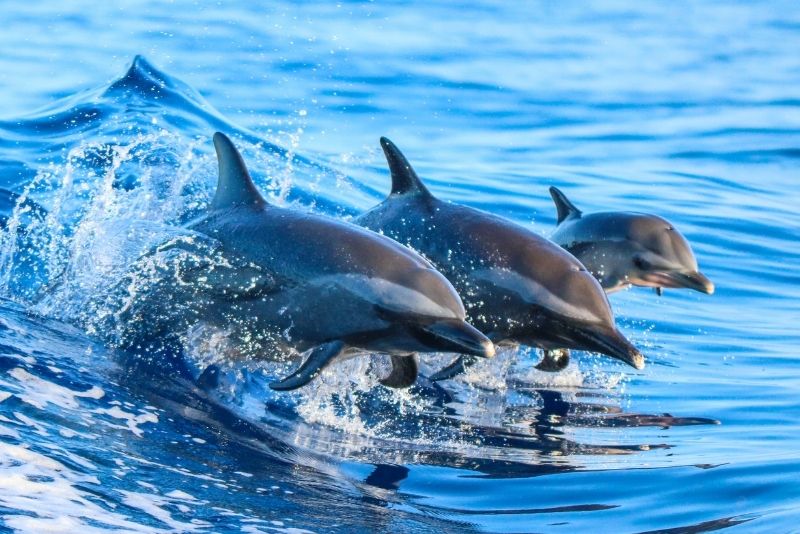 Nature lovers, take note: there are plenty of great dolphin-watching tours available on the Big Island.
Guests will get to explore hidden caves, go dolphin watching, snorkeling, and explore protected marine sanctuaries — all in one hassle-free tour.
All the gear you might need is available onboard, plus a great selection of food and fruity cocktails. If this is sounding like one of the most enjoyable things to do on the Big Island, that's because it is!
11 – Learn how to surf in the world's surfing capital!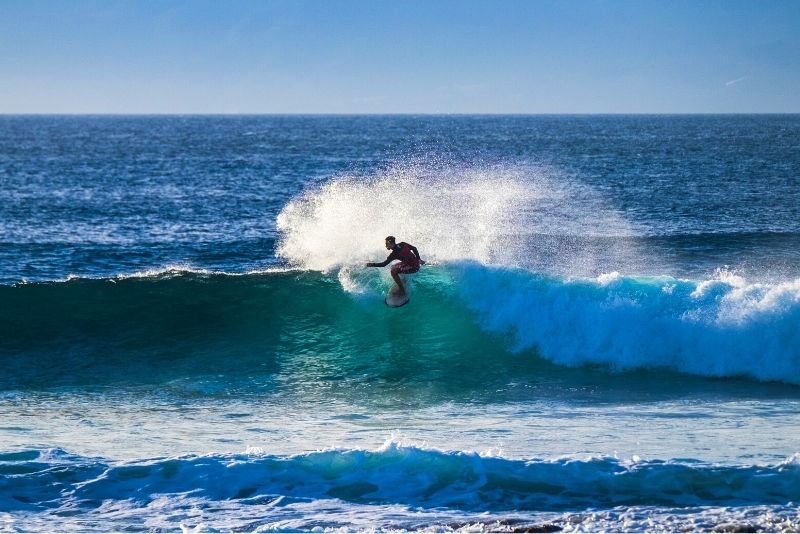 Learning to surf is a big bucket list item for millions of travelers — with beaches that stretch for miles and waves as tall as houses, Hawaii is the perfect place for anyone wanting to learn the ropes.
With great instructors dotted all over the island, even total newbies can be riding the waves in no time!
12 – Discover Hawaii on a traditional outrigger canoe tour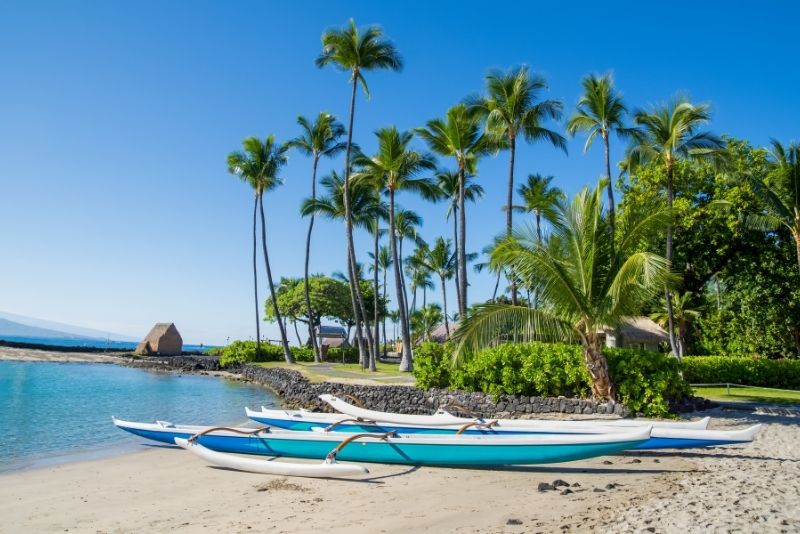 A fantastic alternative to crowded tour ships and stuffy buses, an outrigger canoe is not only a fresh-air way to see the sights, but it's also an insight into local customs (do as the locals do!).
The thoughtful guides are full of information about the rich history and culture of the island, and this is a great way to relax and hear all about it.
13 – Explore the rainforest on an ATV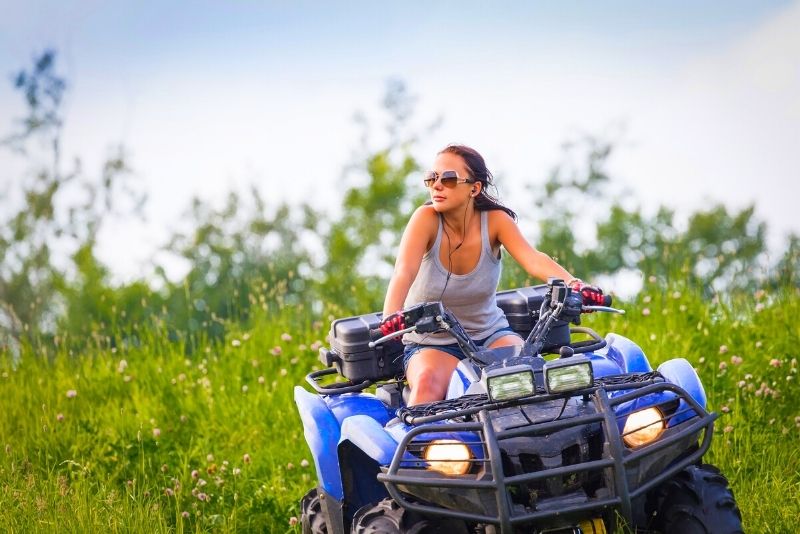 Adrenaline junkies, this one's for you!
Exploring on an ATV is not for the faint-hearted, and with high speeds and plenty of bumps, it's definitely a thrill!
If you're someone who enjoys exploring the land around you and seeing what there is on offer, then this locally-run activity is easily one of the best things to do on the Big Island.
Despite cruising down some paved streets, you'll also go off-road, exploring deep into the wilderness and seeing places on the island most tourists don't even realize exist.
14 – Try scuba diving (or even get certified)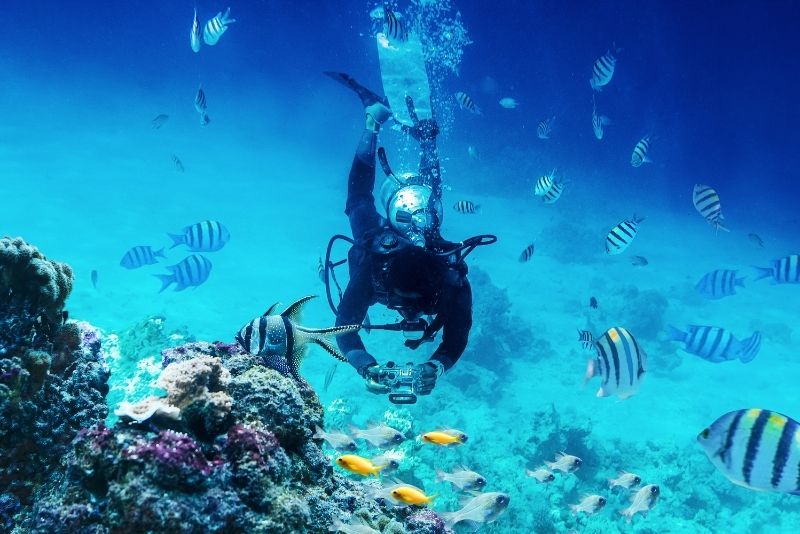 There are plenty of scuba diving experiences available on the island and, not to worry, you don't have to be a certified diver!
With an abundance of tours to choose from — ranging from shallow dives to deeper waters, and even freediving adventures — there's something for every level of expertise.
Bring an underwater camera; you might even catch a glimpse of a sea turtle in the pristine Pacific waters.
15 – Glide along the water on a stand-up paddleboard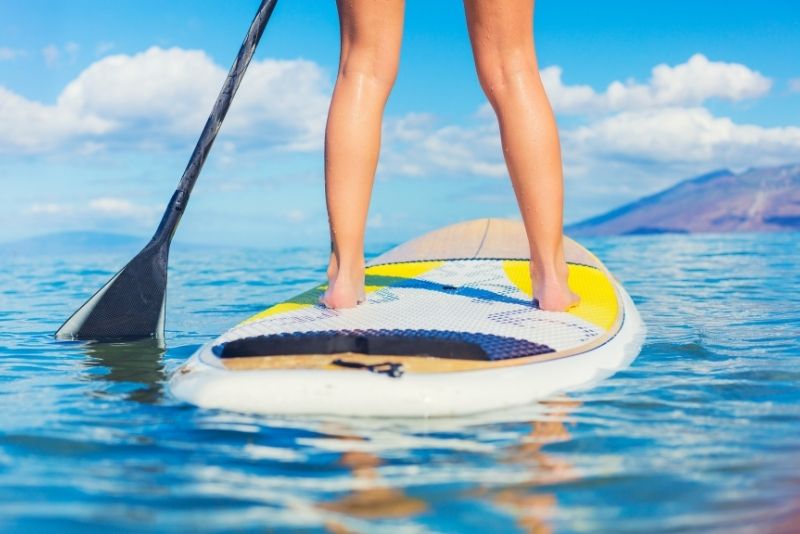 A relaxing experience that offers magnificent views of the shore, paddleboarding is a regular hit for locals and tourists alike.
While they take a few minutes to get used to, paddleboards are highly beginner-friendly so it won't matter if you have experience or not — you can learn to stand at your own pace and be enjoying the view in no time.
Rent out paddleboards as a group, hire an instructor, or go at it alone — whatever floats your boat!
16 – Discover Hawaiian culture at a luau show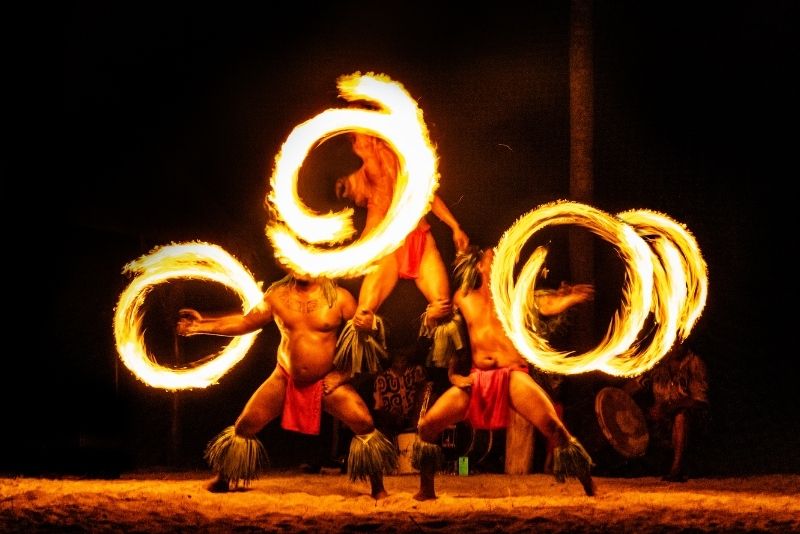 Looking to immerse yourself in Hawaiian culture? Then make a booking for a luau show ASAP — it's a must for visitors and arguably one of (if not the) best things to see on the Big Island.
Most luau shows include a buffet of traditional Hawaiian food, fruity cocktails, and of course, traditional music.
The usual highlight? Dancers performing different kinds of traditional routines — including the daring fire knife dance!
17 – Learn to fish like a pro by going deep-sea fishing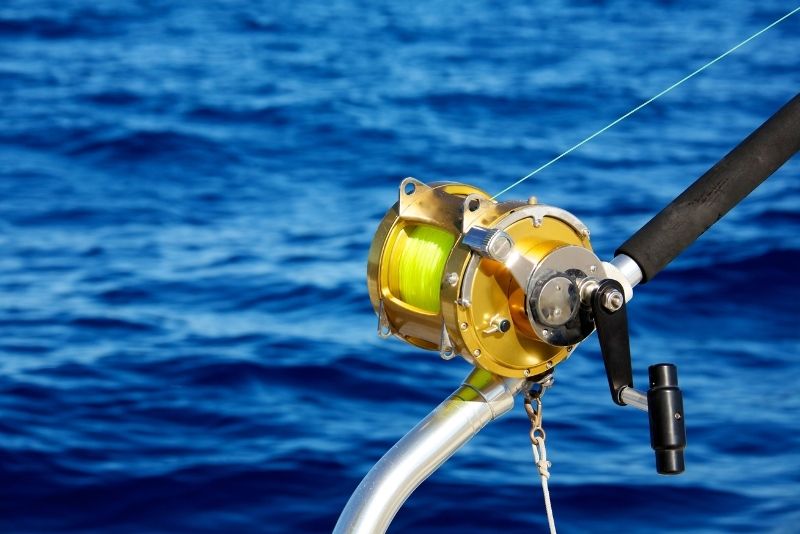 A change of pace from hiking or exploring the big cities, why not take a day out on the ocean to experience some world-class deep-sea fishing?
You can find charters and tours that cater to newbies and more experienced fishermen alike.
A captain and crew will be aboard to take care of everyone's needs, and, of course, all fishing equipment will be provided — all you need to bring is yourself!
18 – See the Big Island's famous Waipio Valley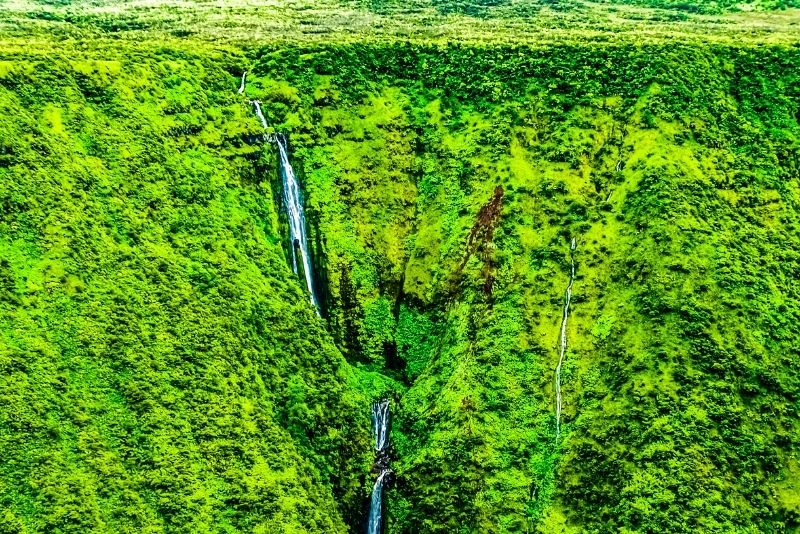 Ready for some killer views? Travel along the Hamakua coast and explore the famous waterfalls that Big Island is known for!
Tours will introduce you to the stunning Rainbow Falls, Hi'ilawe Falls, and Akaka Falls — with plenty of flora and fauna in between.
Learn about the rich history, legends, and myths of the place, before finishing off the day with a swim in a private, serene waterfall.
19 – Spend the day snorkeling on a sailing boat tour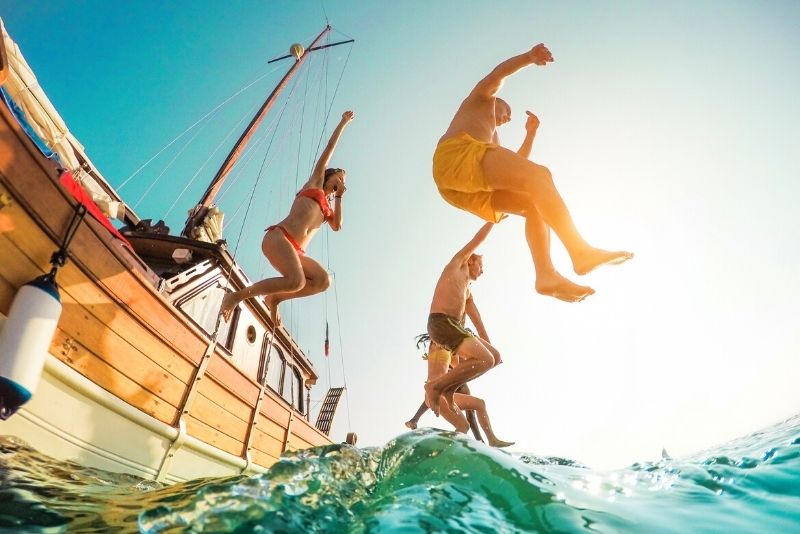 This is a 3-hour tour you don't want to miss! Spend the day snorkeling the pristine waters and reefs, and spend a few hours exploring the ancient lava flows in the area too.
The abundant marine life will be sure to make an appearance — some tourists even manage to spot a few dolphins if they're lucky!
20 – Hike up the trail to the Pololu Valley Lookout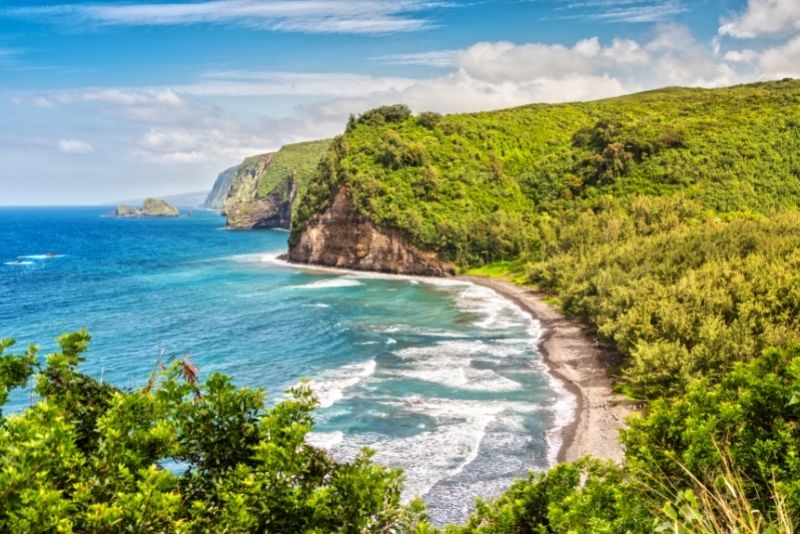 Enjoy the great outdoors and hike up to the stunning Pololu Valley lookout! The trail will take about 30 minutes to conquer, but the stunning view of the ocean at the end is well worth it.
Don't forget to charge the camera — the gorgeous backdrops in the area are tenfold, so plenty of jealousy-inducing vacation photos await.
21 – Explore the Akaka Falls State Park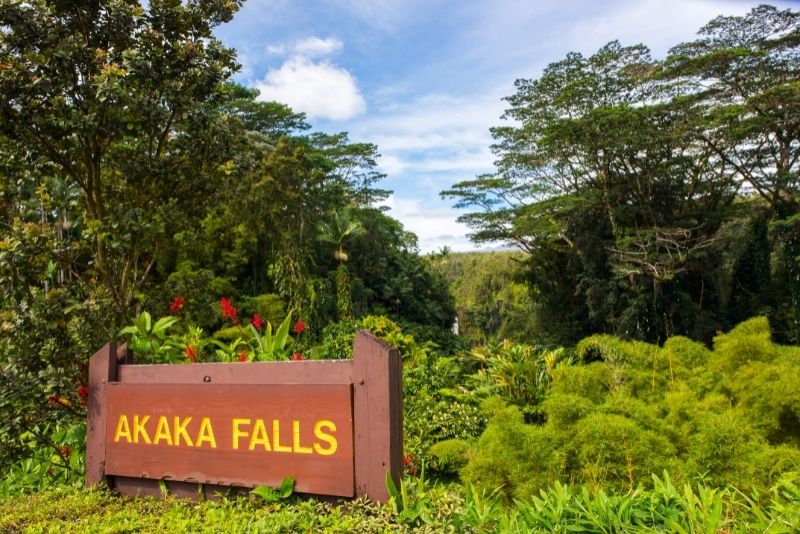 If you're not already sick of the bountiful fresh air and nature, why not spend the day exploring the Akaka Falls State Park?
Walk around in the lush green forest grounds and make your way to the majestic waterfalls, before taking a dip to cool off.
A fantastic day out for the whole family, this is the perfect way to relax and be one with nature after you've already checked off all the usual tourist hubs.
22 – Take in the beauty of the majestic Akaka Falls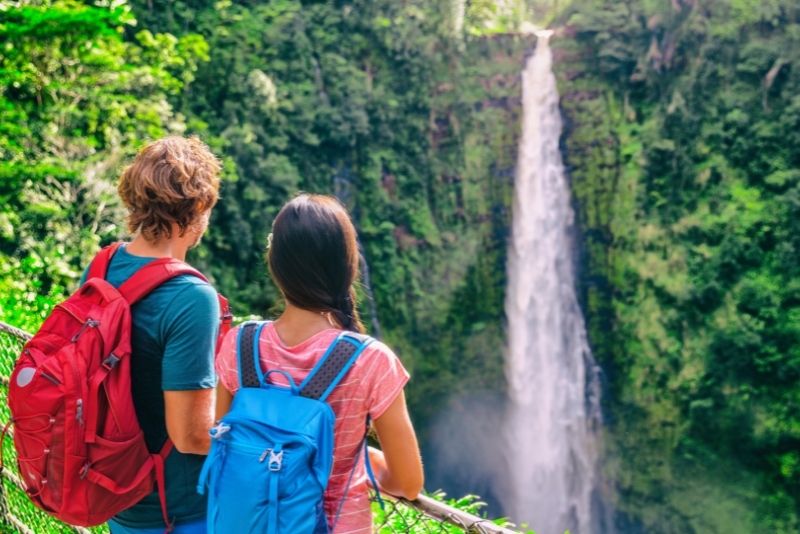 Why not take the less-beaten track and go wandering down the path that leads to the gorgeous Akaka Falls?
Towering at over 400 feet tall, this majestic waterfall is definitely one of the most impressive things to see on the Big Island, so be sure to add it to your itinerary!
23 – Sunbathe with turtles on Black Sand Beach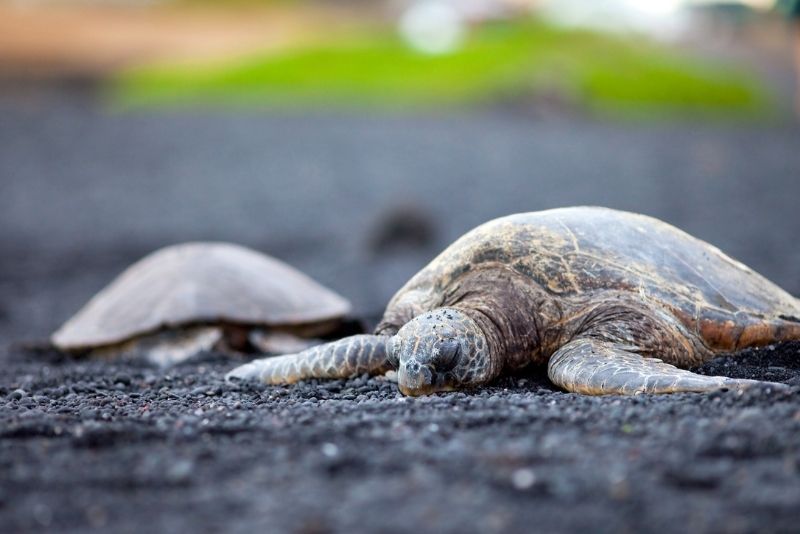 No, your eyes aren't deceiving you; the stunning Black Sand Beach looks like something plucked straight out of a dream!
A must-visit spot for visitors (that's little-known to most tourists), this underrated and unique spot is usually quiet and peaceful.
As the cherry on top, turtles often come to relax on the shore too.
24 – Find a pot of gold at Rainbow Falls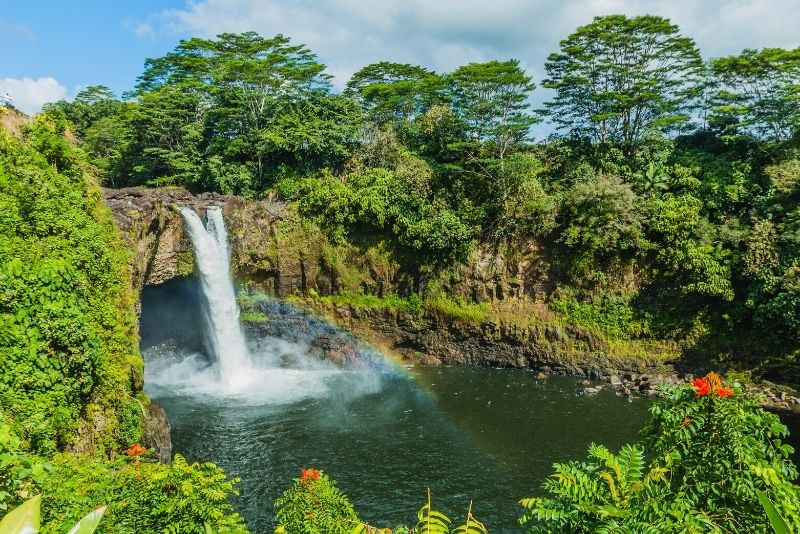 Rainbow Falls is a fantastic option for tourists who want to see waterfalls but don't have the time or endurance to tackle long hiking trails.
Thanks to its location smack-bang in the middle of town, it's an easy addition to most tourist itineraries.
While the falls are iconic, the lush forest around them is also worth exploring.
25 – Relax on the white sands at Manini'owali Beach (Kua Bay)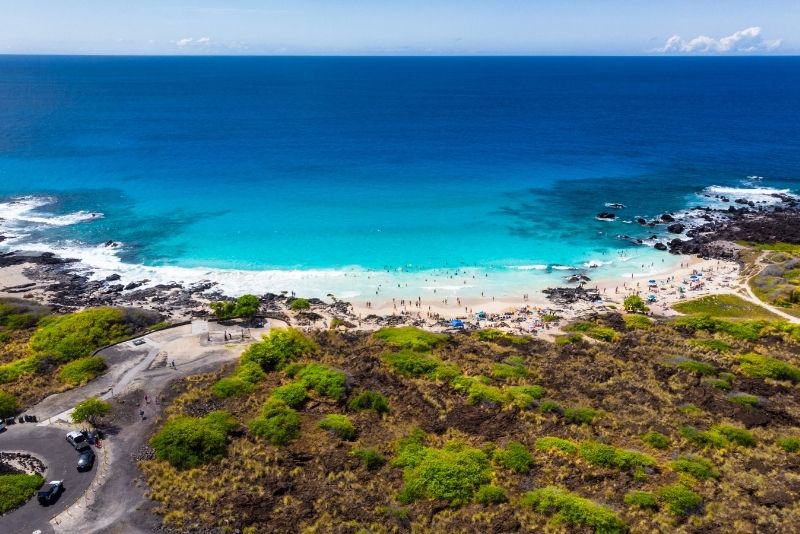 As anyone who's been here will attest, Manini'owali Beach looks like it jumped straight out of a painting — rarely could a beach appear any more perfect.
The gorgeous white sand makes for the ideal tanning bed; the water is a sparkling crystal blue color, great for a quick splash; and turtles have been known to stop here from time to time.
26 – See lava first hand at the Kapoho Tide Pools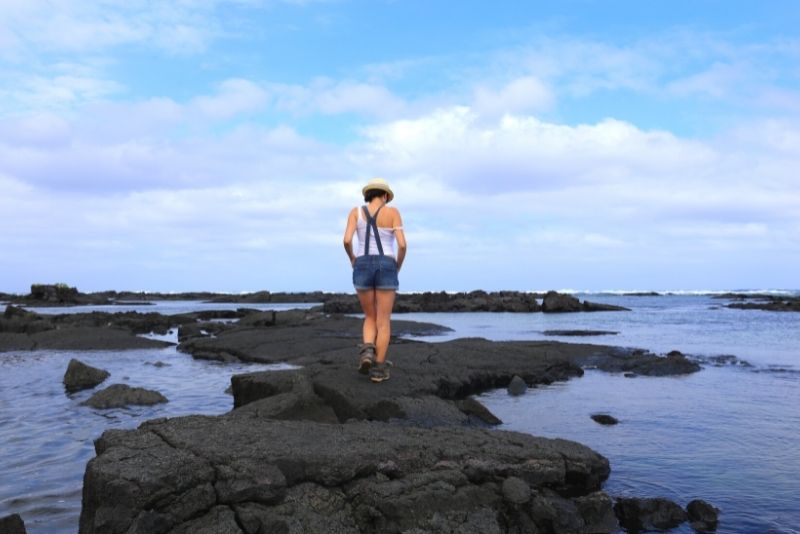 Once a very popular diving spot that crowds of tourists fled to while visiting the Big Island, these days, the Kapoho Tide Pools welcome visitors who go to see the eye-opening ruins of the Kilauea 2018 eruption.
The lava that sits in this spot now is a stark reminder of how powerful Mother Earth can be.
27 – Relax around a campfire at Kahua Ranch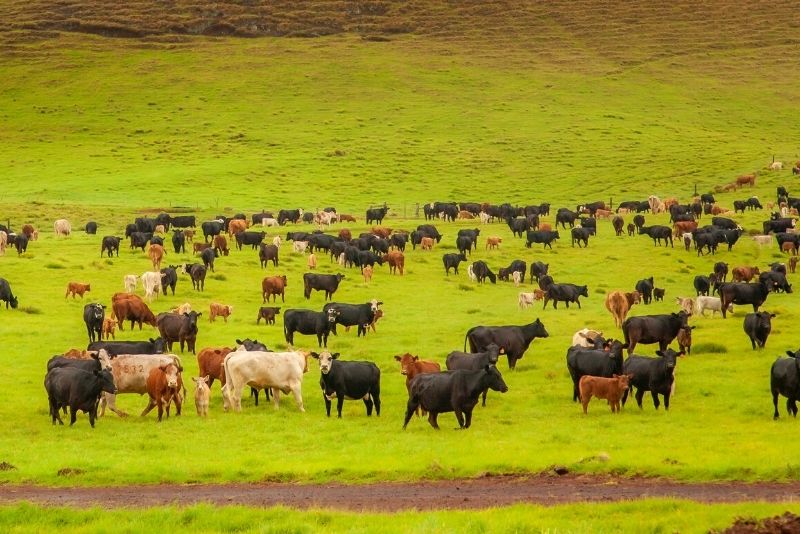 A popular place for families to sit, camp, and unwind, Kahua Ranch boasts no shortage of fresh air.
Spend time learning all about the ranch from the thoughtful hosts — understanding all about how they rotate the pastures at the ranch and much more — laugh and talk over dinner and drinks, and enjoy the views of the unobstructed night's sky!
28 – Camp in the wilderness at Hāpuna Beach State Park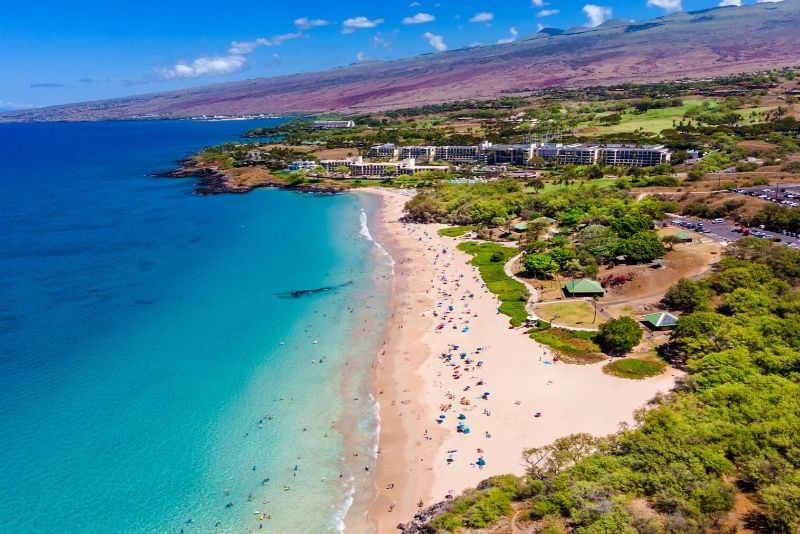 Who's ready to go deep into the wilderness on a camping trip at Hāpuna Beach State Park?
In addition to the hiking trails and recreation area, there are also many archaeological sites that are open to visitors throughout the area, plus beach-related activities and delightful picnicking spots.
29 – Sip on a warm cup of coffee at coffee farms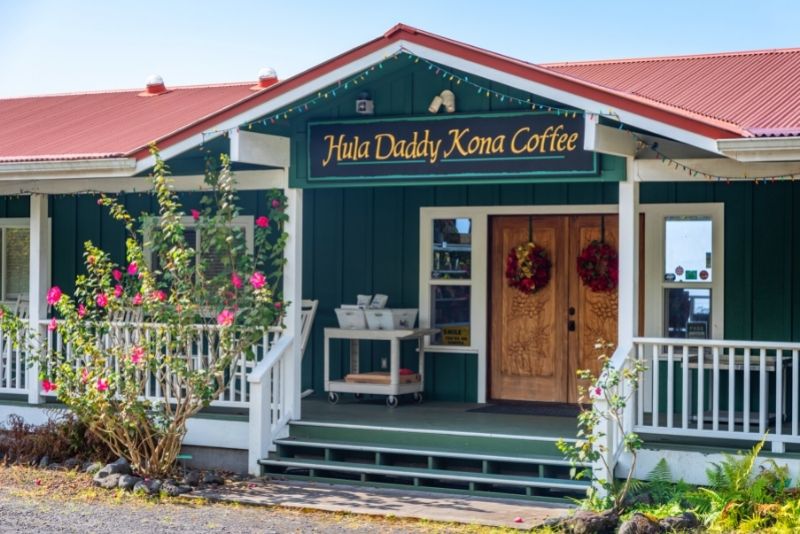 Do you rely on a hot cup of coffee to start the day? Or maybe you're a coffee enthusiast looking for your next best brew?
Well, you're in luck! The Big Island has an abundance of coffee farms that are welcome to visitors.
You can easily book guided tours at Greenwell Farms, Hula Daddy Kona Coffee, and Kona Coffee Living History Farm — all of which, among others, are worth a visit.
30 – Stroll through Liliʻuokalani Park and Gardens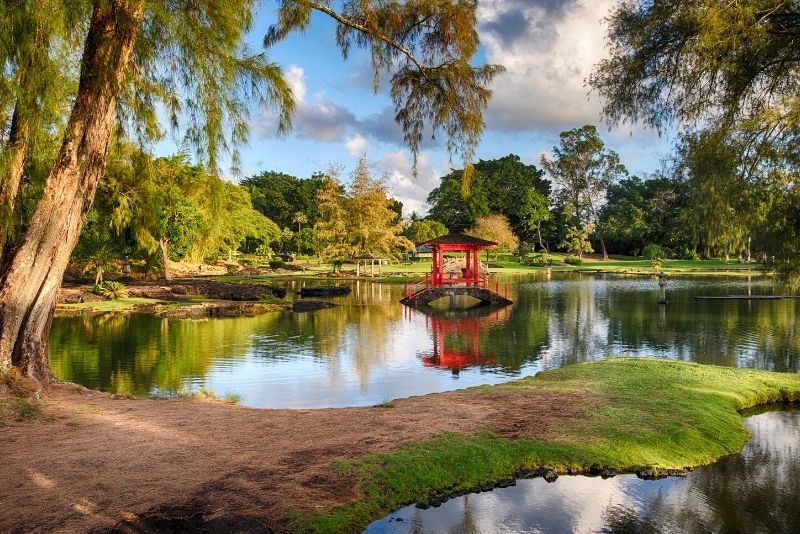 Reach a state of zen and bliss by strolling through Liliʻuokalani Park and Gardens!
The park is filled with charming ponds, luscious greenery, interesting bridges, fun statues, and sweet-smelling flowers — with so much to see, it's easy to get lost in its beauty and lose track of time in the gardens.
31 – Relive the past at Pu'uhonua O Hōnaunau National Historical Park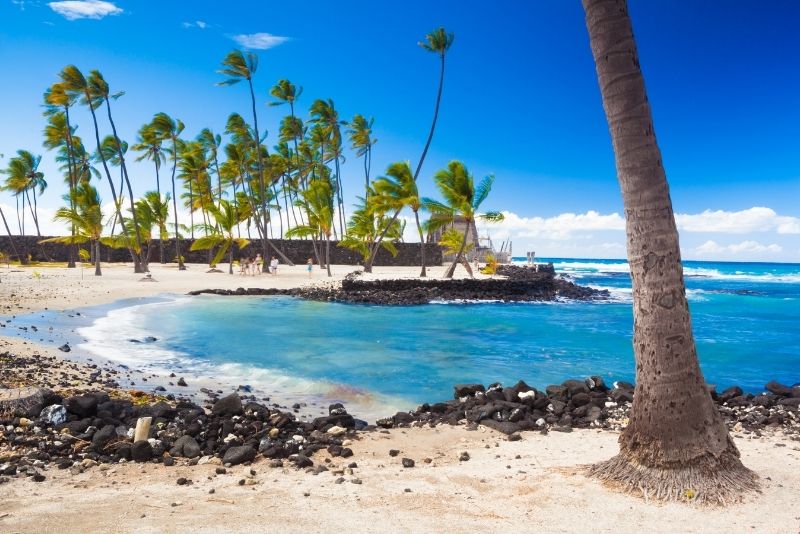 One for the history buffs, there's no better place to learn about centuries gone by than Pu'uhonua O Hōnaunau National Historical Park.
Once a place of refuge, it is now considered a national treasure, full of both natural beauty and cultural significance.
On a guided tour, insightful locals will teach you all about the rich history, culture, and traditions of the Hawaiian people that lived here long ago.
32 – Climb a coconut tree at Punaluʻu Beach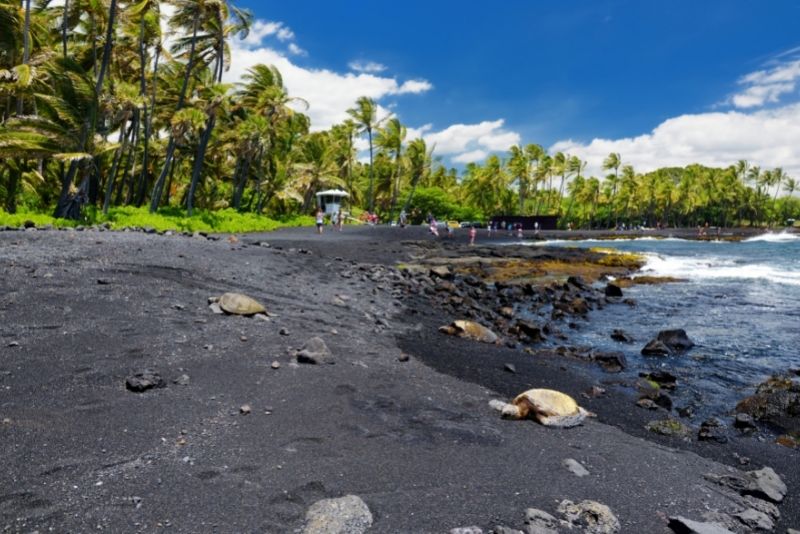 A gorgeous strip of sand tucked away from the beaten track and surrounded by coconut trees, Punaluʻu Beach is considered one of the best beaches in all of Hawaii.
Besides being a popular place to spot some turtles soaking up the sun and frolicking in the water, it's also known for its big waves, so it's perfect if you love to surf.
33 – Eat fresh fruit at Hilo Farmers Market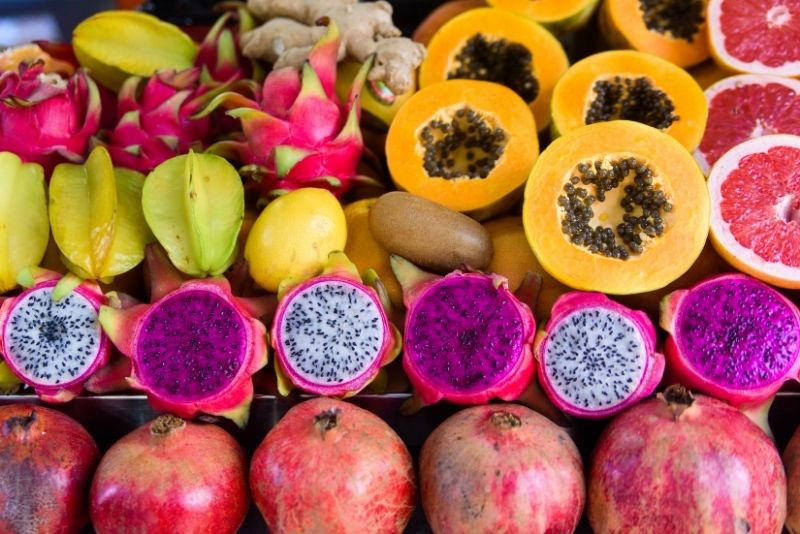 Despite the name, fruit is far from the only thing you can find at Hilo Farmers Market!
There is an abundant supply of fruits, vegetables, baked goods, souvenirs, and so much more.
Not to mention that it's all brought in by the people who live locally — so a few bucks spent here on something tasty is a great way to support the local economy.
34 – Save the seahorses at Ocean Rider Seahorse Farm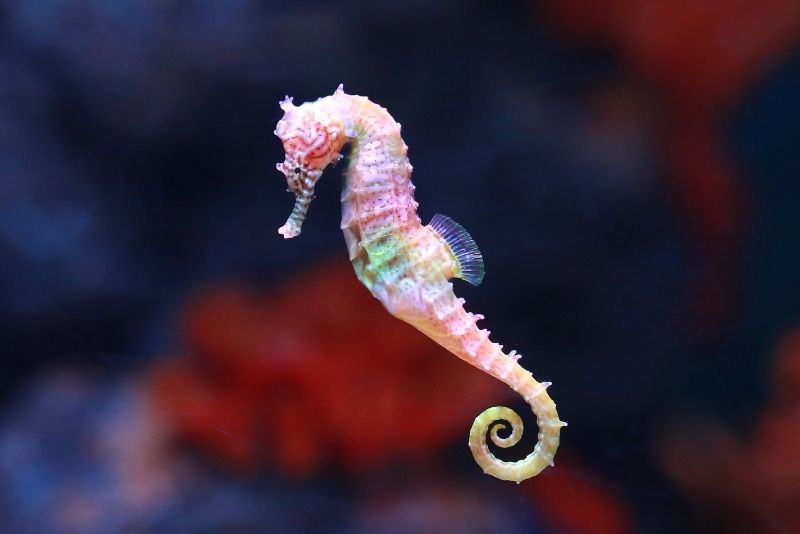 As you'd guess, Ocean Rider Seahorse Farm is a farm where seahorses are born and bred so that they can be saved from extinction.
While you can explore at your own pace, they also offer tours where the knowledgeable guides can tell you all about seahorses and other marine life.
Both educational and fun, Ocean Rider is one of the most popular family-friendly things to do on the Big Island.
35 – Admire the wild animals at Panaewa Rainforest Zoo and Gardens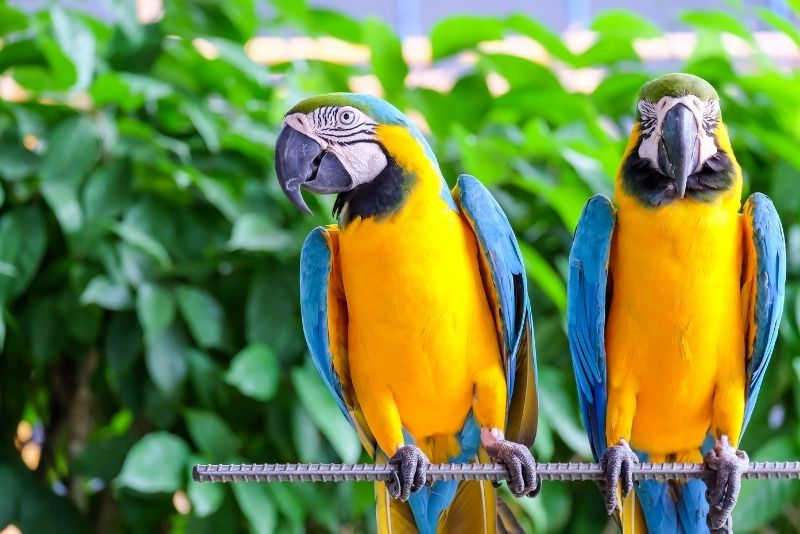 Are you obsessed with seeing wild animals up close? Then the Panaewa Rainforest Zoo and Gardens should sit high atop the bucket list.
With a large variety of animals in their care including monkeys, birds, crocodiles, snakes, turtles, lizards, and even roaring great tigers, it's a marvelous outing for the whole family!
36 – Go shopping for souvenirs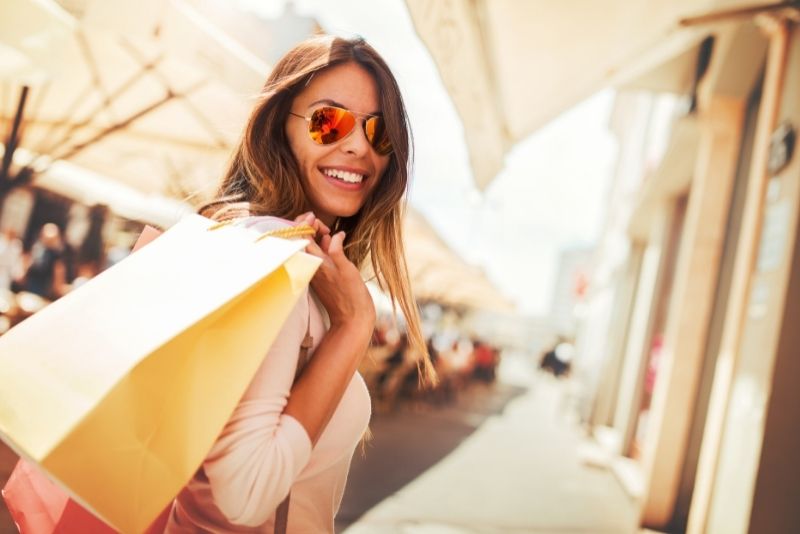 If you're hoping to pick up some souvenirs before you head home, The Shops at Mauna Lani are where to do it.
A popular place that's chock-full of local businesses — ranging from coffee shops to trinket stores, hair salons, clothing retailers, fitness centers, and much more — you'll be sure to find an abundance of one-of-a-kind souvenirs to make the family happy.
37 – Visit the natural greenhouse that is the Hawaii Tropical Bioreserve and Garden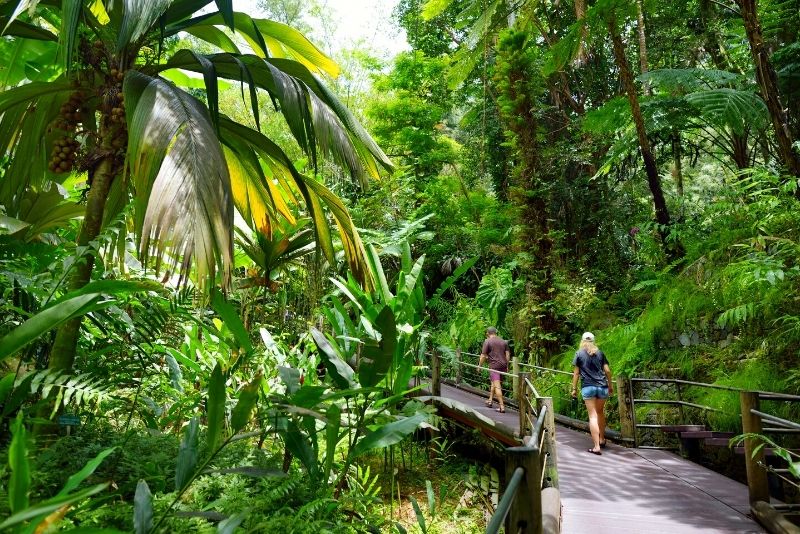 The Hawaii Tropical Bioreserve and Garden contains over 2000 species of plants! That's why so many different kinds of people come to visit it every year. Gardeners, photographers, botanists, and scientists are all drawn to the beauty of this place and is a must-see while here on vacation.
For those higher-end stores (Michael Kors, Tiffany & Co., and Tori Richard – to name a few), check out Kings' Shops in the Waikoloa Beach Resort.
38 – Stroll the halls of royalty at Hulihe'e Palace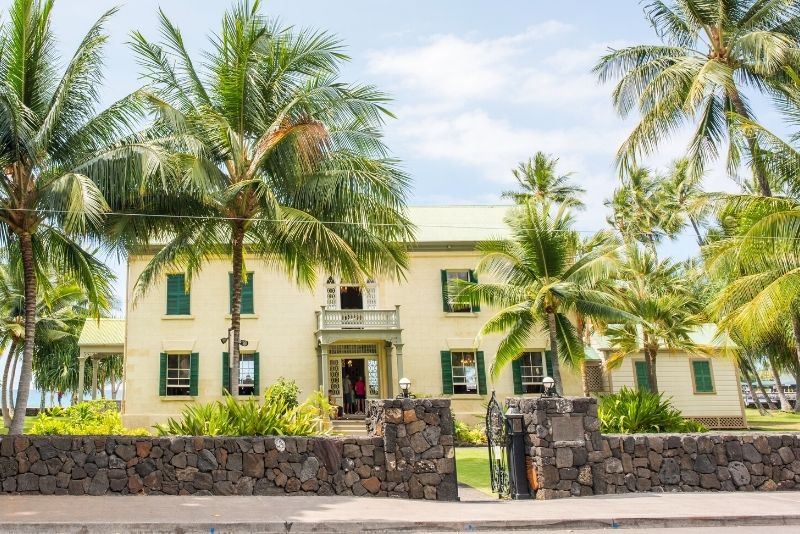 Hulihe'e Palace was founded in 1903 by seven women who wanted to keep and preserve their culture and traditions — and until this day it's considered a national treasure.
The palace has opened its doors for locals and tourists alike in hopes to keep those traditions, values, and culture alive and thriving. It's obviously working well because this place is always a hit amongst visitors!
39 – Practice your skill and go golfing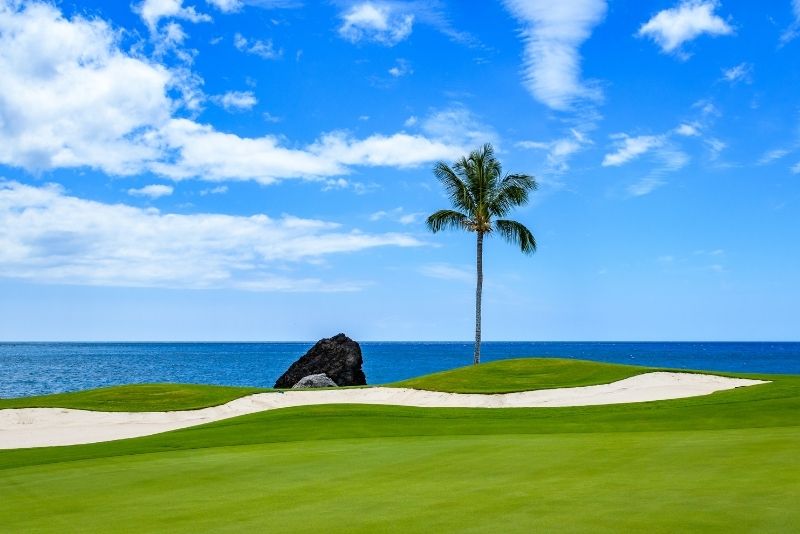 The Big Island has no shortage of world-class golf courses (and if you follow the sport then you'll know how many pros have played here). So, why not try your own hand at these fairways?
While there's plenty to choose from, the crowd favorites include the Mauna Kea Beach Hotel Championship Golf Course; Hualalai; Mauna Lani Resort North Course, and the Waikoloa Kings' Course.
40 – Saddle up for a horse riding adventure!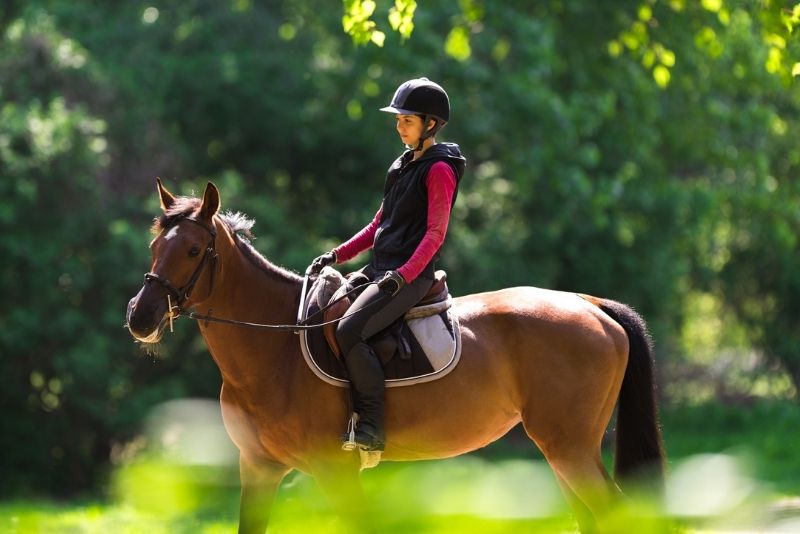 Get a breath of fresh air and enjoy spectacular scenic views of the local forests by going on a horse riding tour!
Whether you have horse riding experience or not, there are tours that cater to both beginners and more experienced riders.
Choose from adventures in Waipiʻo Valley; the Waimea and Kohala region; Hilo; or South Kona — then become a Hawaiian cowboy for a day and ride like the wind!
41 – Satisfy the sweet tooth at Punalu'u Bake Shop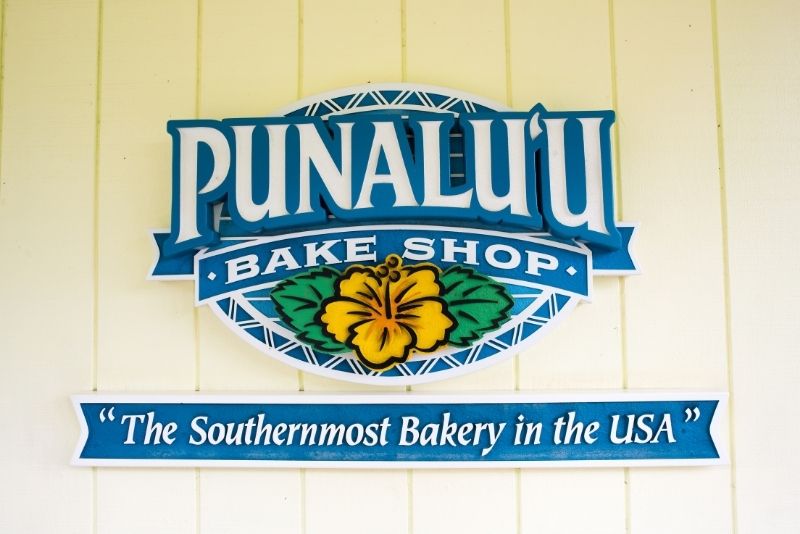 Punalu'u Bake Shop is famous on the Big Island for its sweet bread — and after one bite, you'll quickly understand why.
Not only do they have (arguably) the best sweet bread on the island, but they boast so many other mouth-watering treats as well (namely the Malasadas).
Pop over for a bite to eat for breakfast, lunch, or dinner while exploring other parts of the island.
42 – Find tranquility at Papakolea Green Sand Beach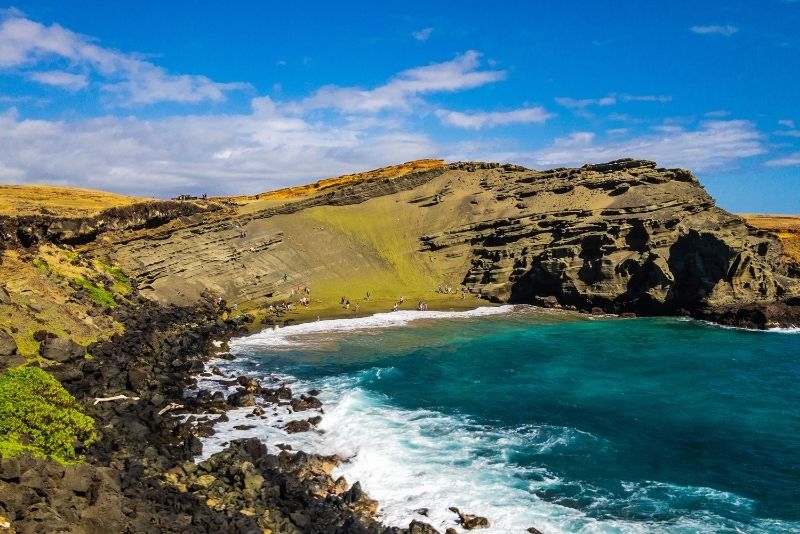 A hidden gem that most run-of-the-mill tourists don't know about, Papakolea Green Sand Beach is easily one of the best beaches on the island.
Not only is it peaceful and tucked away, but — as you can see — there are no other beaches quite like it thanks to its green-colored sand.
It's worth noting that getting there requires a short but definitely-doable hike.
43 – Explore Hilo town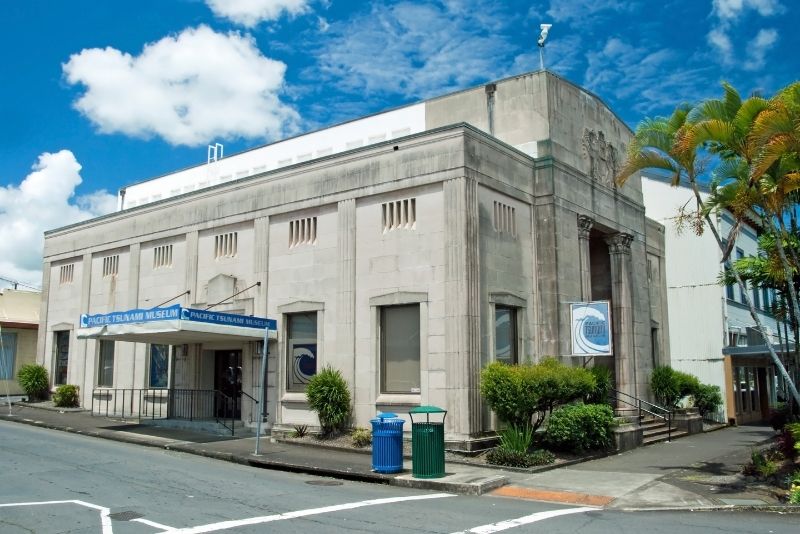 Hilo town is full of all sorts of places to see, eat, and enjoy — making it one of the essential things to see on the Big Island. With so much to do, travelers often decide to book a day tour — adventures that often include stops at different beaches, restaurants, waterfalls, and much more.
With near to endless things to do, you can explore volcanoes, visit art museums, go to a spa, or anything in between!
44 – Hike along the Captain Cook Monument Trail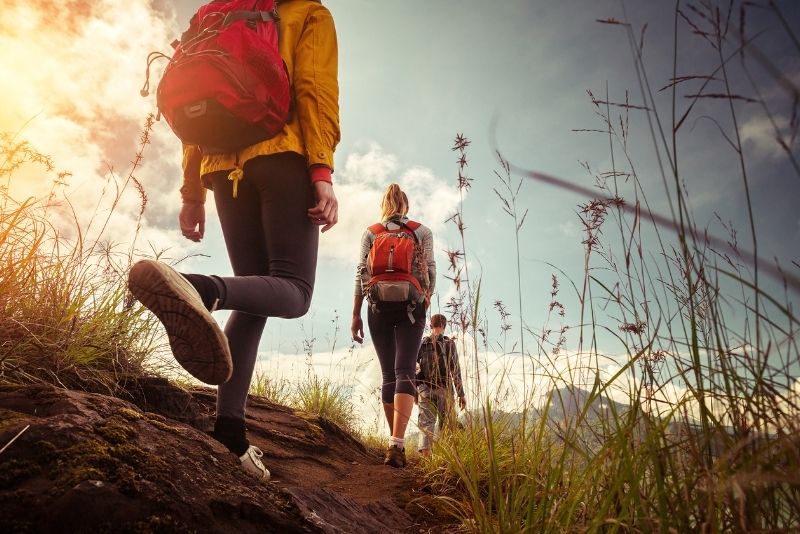 Boasting spectacular views in every direction, the 6.4-kilometer Captain Cook Monument Trail finishes up with a monument to Captain Cook — one which has been standing, remarkably, since 1874!
Far from an easy walk in the park, make sure to bring water and wear good hiking shoes
45 – Take a trip to the Lava Tree State Monument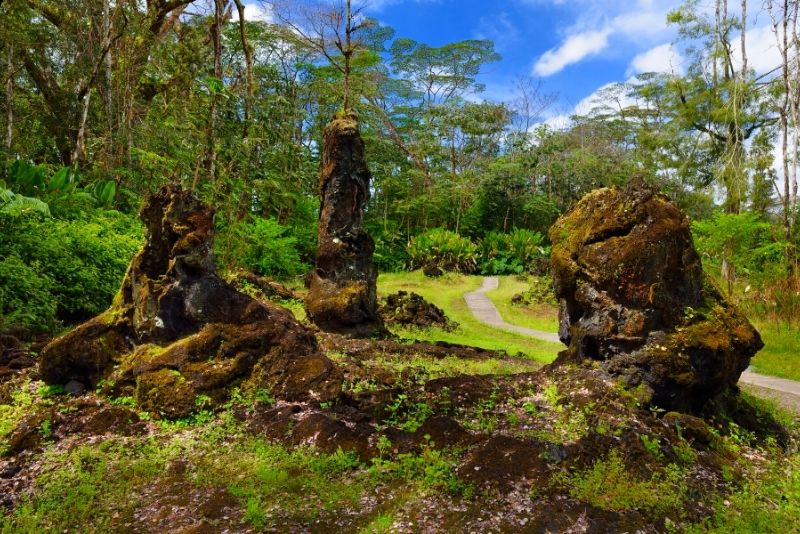 A wonderful opportunity to see unique archeological structures, this park presents an array of tree trunk lava molds.
What are those, exactly? The park's famous trunks were encapsulated by a volcano eruption all the way back in 1790 and have remained standing until today in all their glory.
The trail to see the lava trees is just 0.7 miles, making it accessible for people of all ages.
46 – Jump down a lava tube at the Kaumana Caves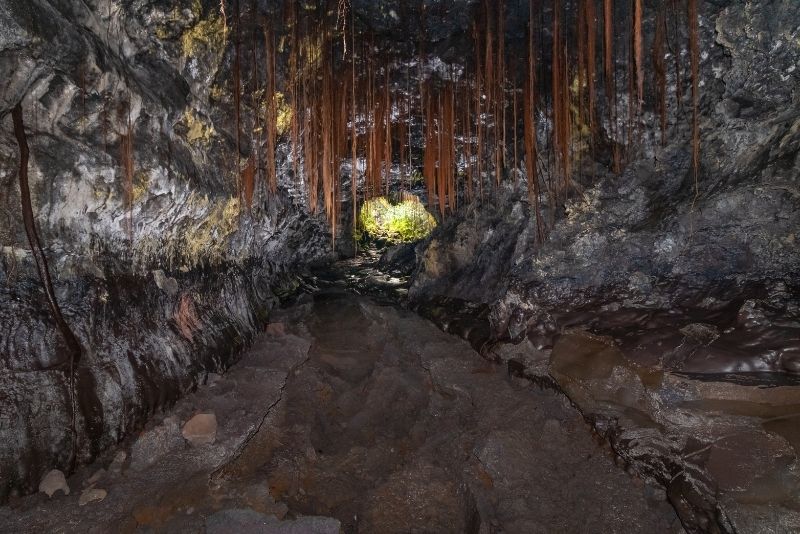 A lava tube?! That's right, at the stunning Kaumana Caves guests can hike into the wilderness and climb down a unique lava tube.
Just make sure that you pack water, food, and wear sturdy hiking shoes as the terrain can get a bit challenging.
An afternoon here isn't just a one-of-a-kind experience, it's also one of the best things to do on the Big Island.
47 – Admire the colorful birds at Hakalau Forest Reserve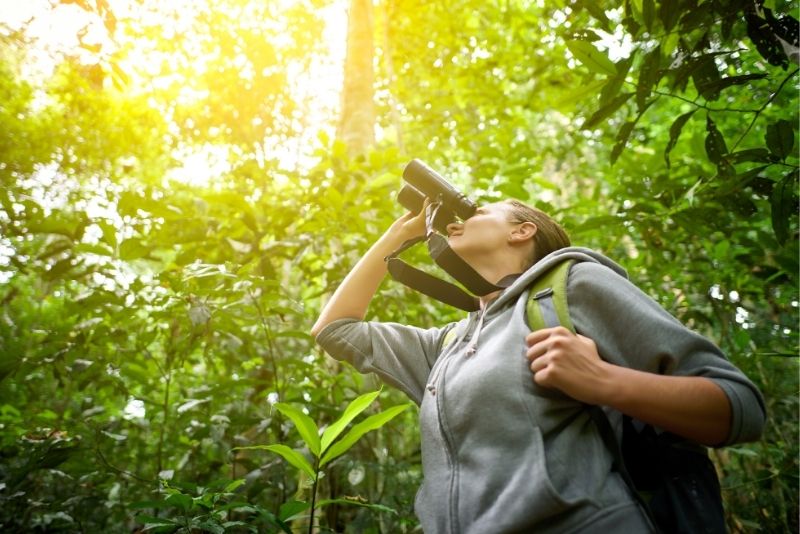 Any eager bird-watchers among us? Well, this full-day tour at the Hakalau Forest Reserve is right for you!
Enjoy first-class comfort as the guide takes you to the best spots to go bird watching, with food and drinks included along the way.
Since the guides are well-versed in the local wildlife, there's plenty to be learned (even if you already consider yourself an aviary expert).
48 – Appreciate the outdoors in Kohala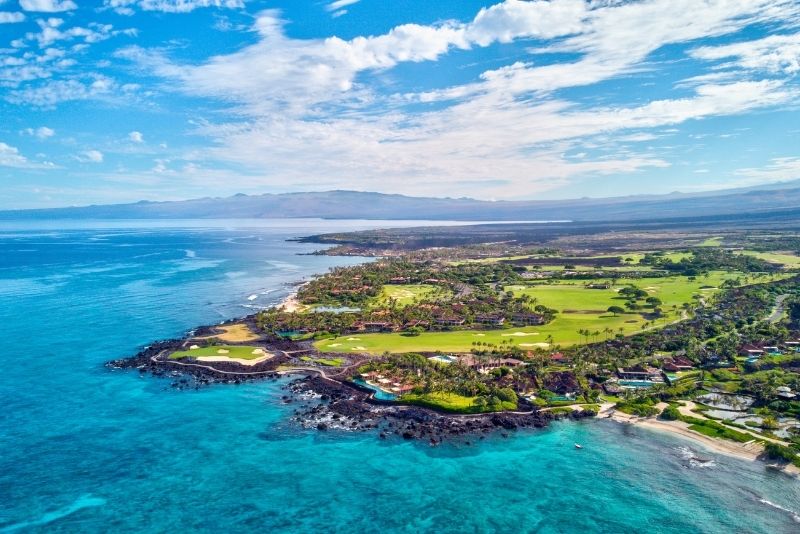 The definition of natural beauty, Kohala boasts so many different ways to appreciate the great outdoors.
Go ziplining through the soaring canopies; hike through all the glistening waterfalls; soar through the skies on a helicopter, and so much more.
For the best bang for your buck, why not combine two or more experiences on a combination tour?
49 – Delve deep into the Kula Kai Caverns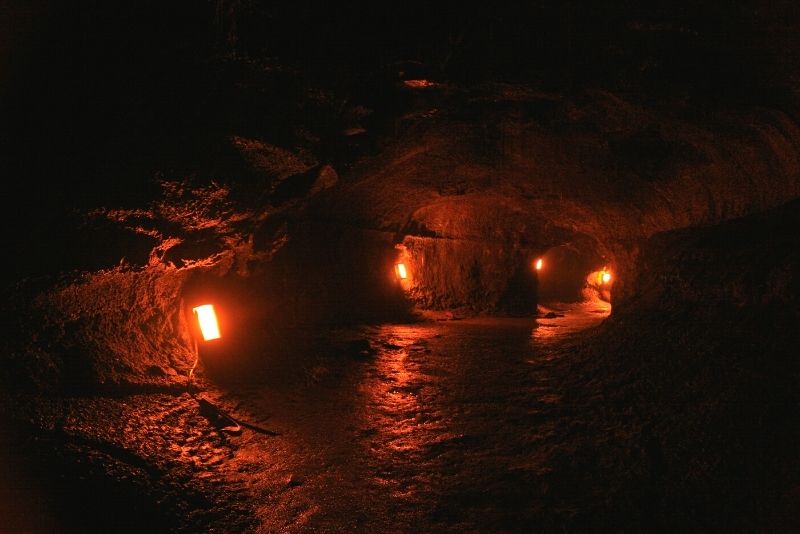 An experience unlike any other, here, travelers get the chance to delve deep into the center of the earth (well, almost).
With both short and long tours available, each of which is led by locals, there's plenty to see and learn regardless of your caving experience at the Kula Kei Caverns.
Keep in mind that crawling into certain spaces is required (knee pads will be provided), so claustrophobics might want to sit this one out.
50 – Go cliff jumping at South Point!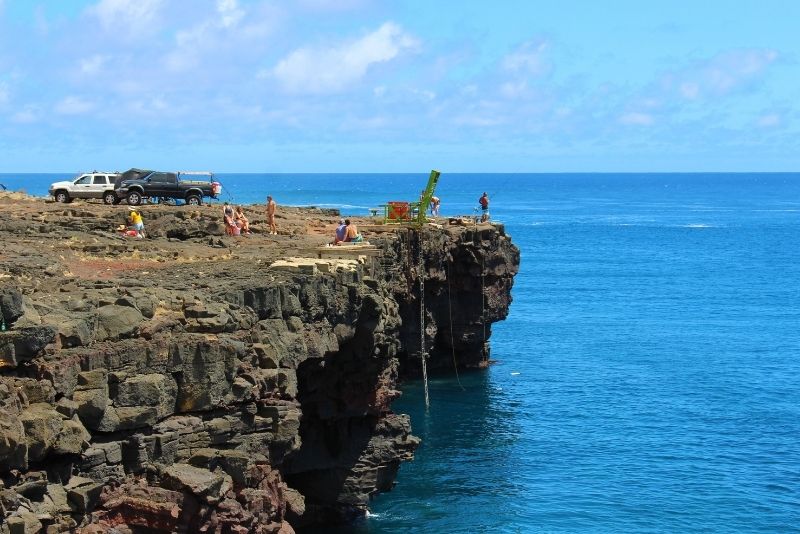 Do you fancy yourself to be somewhat of an adrenaline junkie? Well, then this 40-foot cliff jump is perfect for you!
Most visitors have said that while it can look quite scary, it's not as bad once you take the leap — plus, with 20 feet of water below, there's plenty of room to land.
So what are you waiting for? Why not go and take a leap of faith while on vacation?
51 – Dive underwater in an Atlantis submarine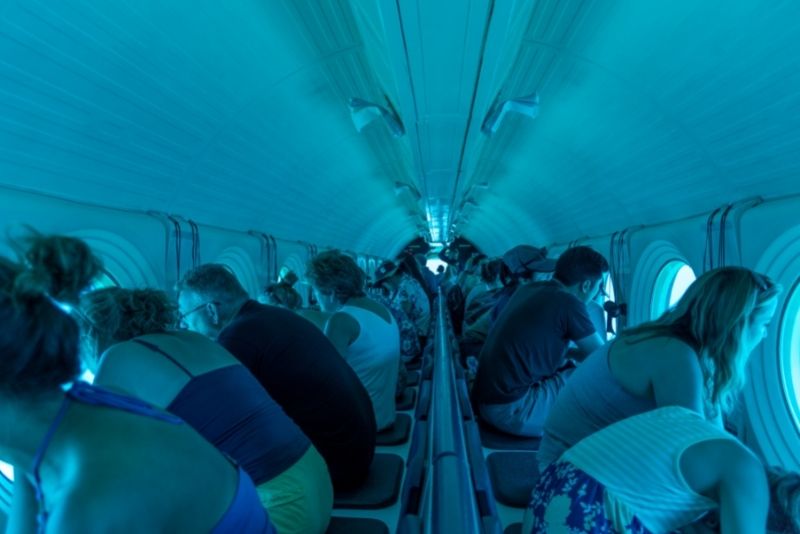 For a chance to witness a new perspective of the Big Island that most people would never get to see, a deep-sea dive in an Atlantis sub is the way to go.
The submarine goes 100 feet below the surface, where visitors are greeted with a colorful, vibrant experience that would be impossible to replicate above the surface.
As you'll see, marine life is abundant below the water — turtles, fish, rays, and plenty more — which makes the experience captivating.
52 – Soak in the famous 'hot ponds'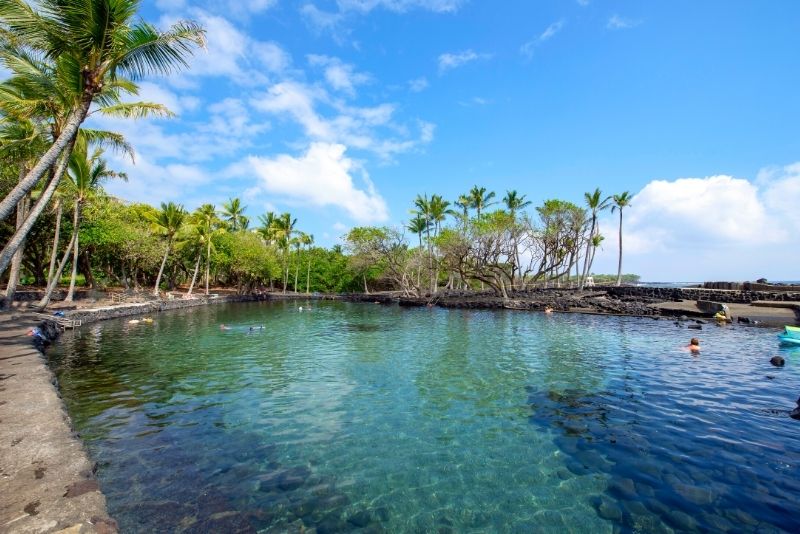 While there are many hot springs on the Big Island to choose from, the "Hot Pond" is the most accessible, making it a great choice for families or those short on time.
The volcanoes in the area are what actually make the hot springs hot.
Besides the obvious serenity, it's said that a hot spring quick soak also welcomes plenty of health benefits.
53 – Wind the windows down for a road trip!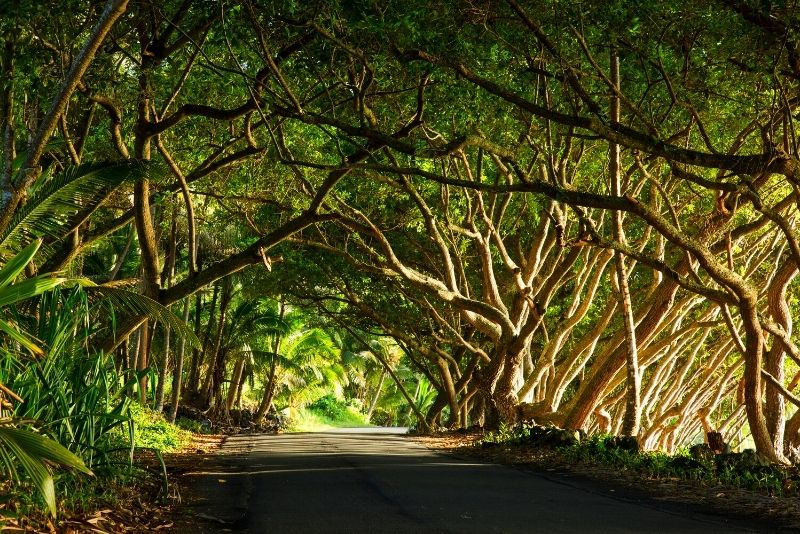 Road trip playlist at the ready, folks!
Let your hair down and discover a whole new side of Hawaii by going on a scenic drive.
While there are many absolutely stunning routes all over the Big Island, our top choices are Mauna Loa Road, Coffee Country, Onomea, Kapoho Kalapana, and Chain of Craters Road — any one of these popular routes will ensure wonderful views.
54 – Join a glass-bottom boat reef tour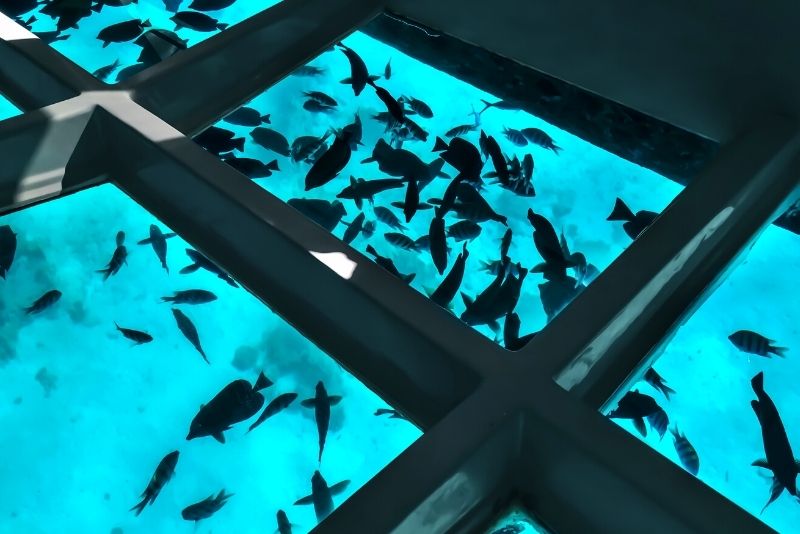 Enjoy the coral reef and all its beauty in an unconventional way by going on a glass-bottom reef tour!
If you don't particularly enjoy snorkeling or diving, this is a great way to see what lurks under the water without actually getting wet.
Most tours only take about an hour, with hotel pickup and dropoff optional.
55 – Have a bite at the Kona Brewing Company Pub & Brewery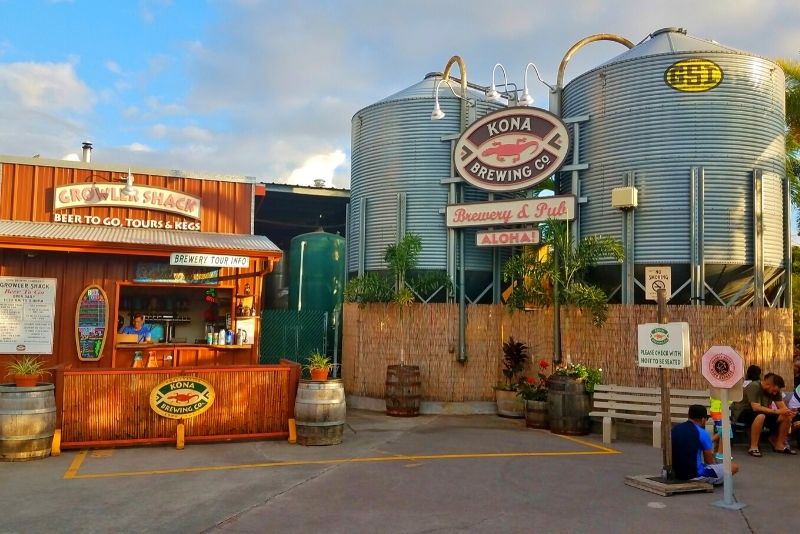 The Kona Brewing Company Pub & Brewery opened in 1998 on the Big Island and has been a hit with the locals and tourists ever since.
Not only is it known for the beer, but the pizza — according to thousands upon thousands of past visitors — is to die for!
Tours of the brewery are also available if that's something up your alley.
Whether you're eating, drinking, or just hanging out, this place is easily one of the best places to see on the Big Island.
56 – Soak in the sun on Kona Magic Sand Beach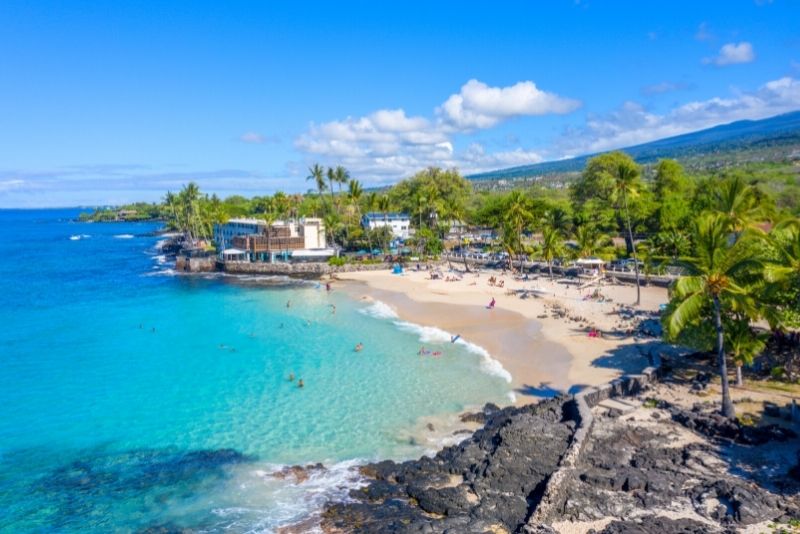 With warm white sands and sparkling turquoise waters, it's no surprise that this magical beach attracts hundreds of people every day.
A fair warning though: the waves and tides can be quite strong — and there's limited shade, so make sure to pack sunscreen!
If you're someone who loves to surf (or just work on the tan) then this is the beach for you.
57 – Explore the 500-year-old Thurston Lava Tube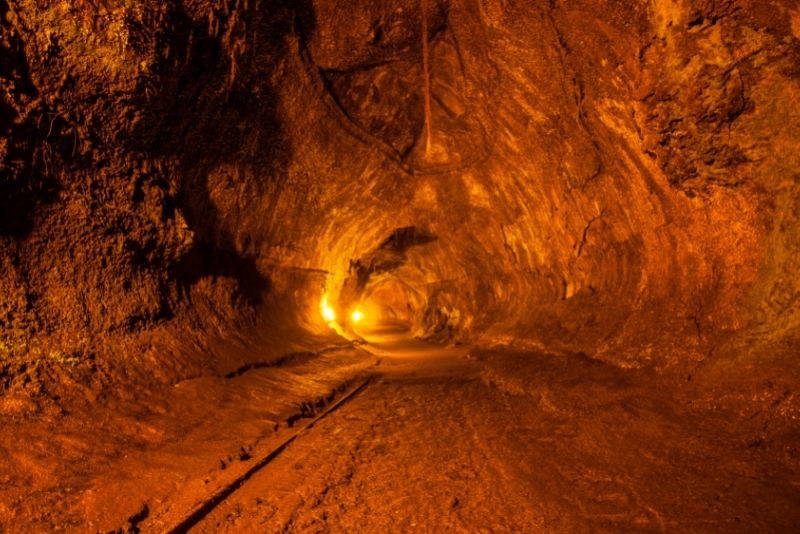 Nature-lovers, add this one to the bucket list!
Remarkably, the 500-year-old Thurston lava tube (which sits at an altitude of 3,900 feet on the Kilauea Crater) is surrounded by a big, heavenly rainforest just waiting to be explored — one abundant with native wildlife.
Keep in mind that a trip to this lava tube will take up almost a whole day, so try not to plan too much before or after.
58 – Stroll through enchanting tree tunnels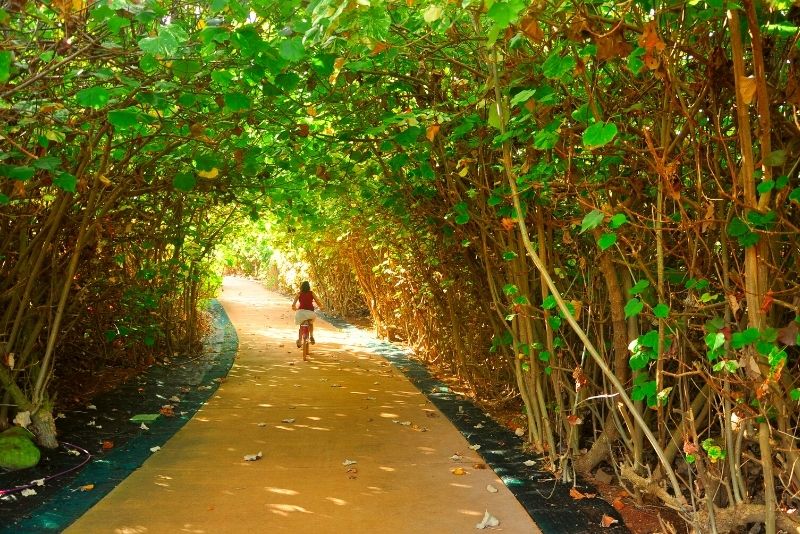 While the beaches, waterfalls, volcanoes, and mountains are something that everyone wants to see in Hawaii, the road less traveled offers a different, equally magical experience.
If you're looking for some content for the 'gram, there are quite a few tree tunnels on the island that can create a whimsical backdrop.
Whether you decide to go by car or bike, it's unmissable either way.
59 – Tackle the Kilauea Iki Trail in Volcanoes National Park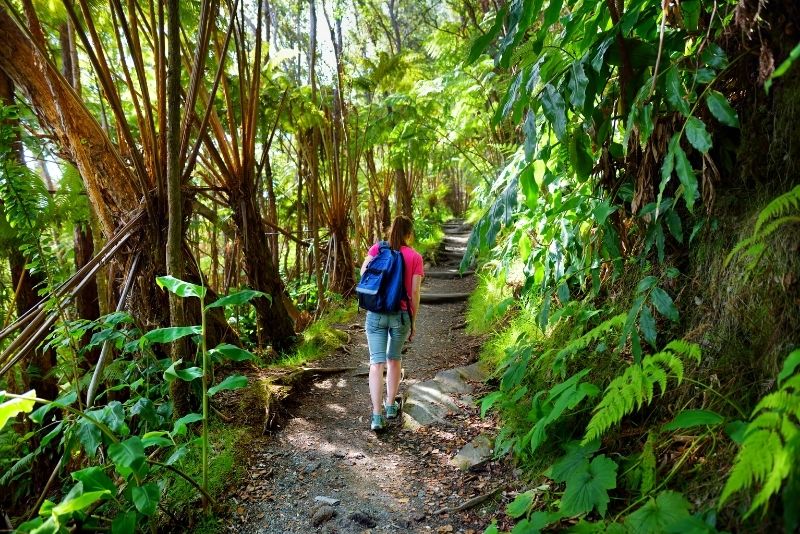 A hike in nature is wonderful almost anywhere, but this one differs from others in a very special way.
This trail offers the unique experience of climbing and exploring volcanic craters (an experience nothing short of incredible), which is certainly not something you get to do on most other trails.
The trek takes between two and three hours, leading to a lookout with the most breathtaking views.
Hot tip: since the crater is, well, volcanic, expect it to be very warm — be sure to pack enough water and sunscreen, and a hat.
60 – Step inside South Kona's painted church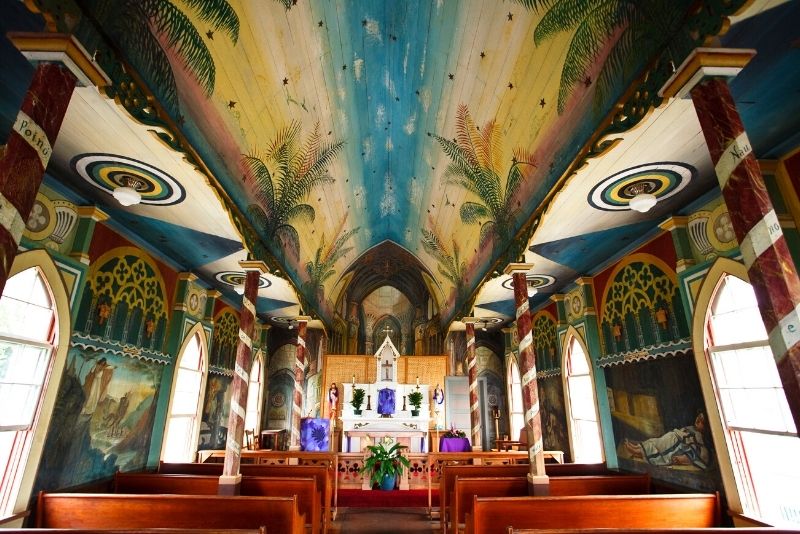 Whether you're religious or not, this centuries-old church is a visual masterpiece worthy of a visit.
What separates it from most churches is its interior; a Belgian priest painted the inner walls with depictions of saints and bible stories.
Back when they were painted, many people couldn't read or write, so the artistic representations made telling bible stories easier.
61 – See everything at once on a Circle Island tour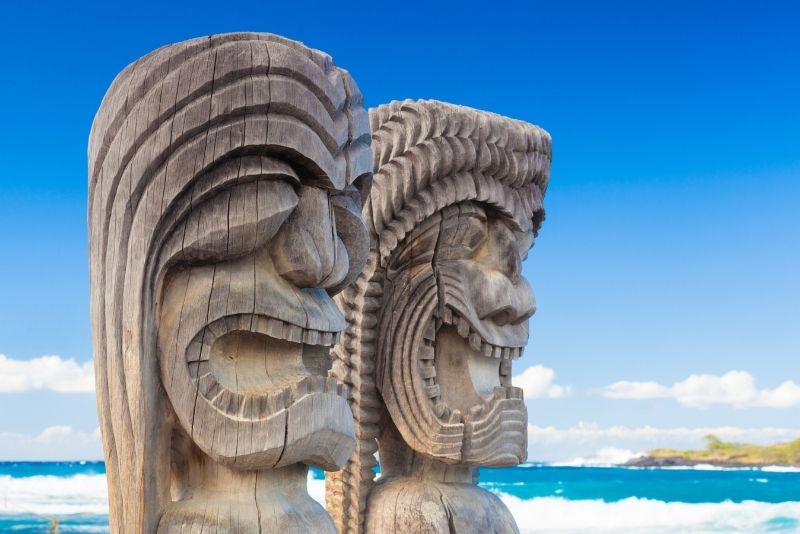 A circle island tour is perfect for visitors who have no time to waste!
In one hassle-free experience, the circle tour will show you all the beaches, waterfalls, coffee spots, breweries, and more, all in one day.
Throughout the day you'll learn about the island's history, geology, and culture, with plenty of jealousy-evoking photo ops along the way!
We hope you've enjoyed our list of things to do on the Big Island in Hawaii. If you have any other must-see suggestions, feel free to let us know in the comments!
Visiting other Hawaiian islands? Don't miss our selections of things to do in Oahu, things to do in Kauai, things to do in Maui, and our bucket list of the best things to do in Hawaii.
As always, happy travels!