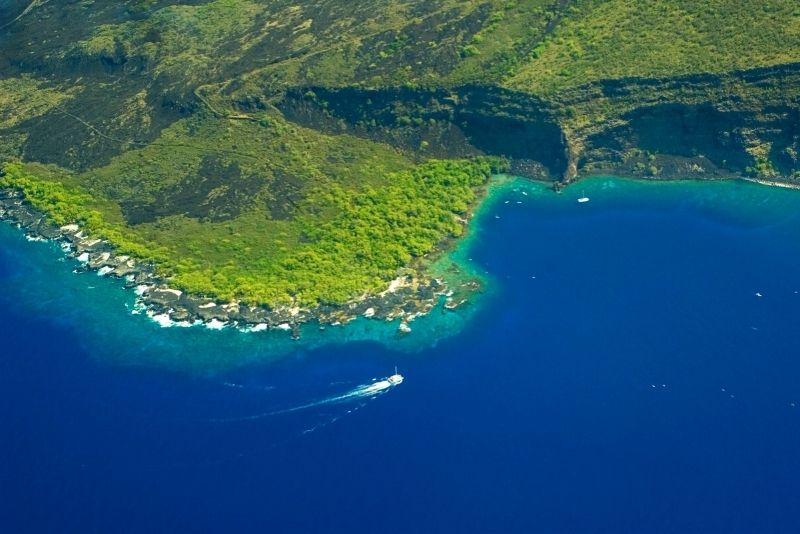 Placarded by a pair of towering volcanoes – one the tallest on earth (Mauna Kea), the other the most active (Kilauea) – and flanked by sparkling coastline that blends rocky lava features with turtle-frequented beaches, the Big Island of Hawaii is one heck of an amazing place.
As the largest, and arguably most geographically diverse island in the Hawaiian chain, Big Island is a nature-lover's paradise. Lush and verdant rainforest contrast with harsh, rocky lava fields; and towering mountains (read: volcanoes) give way to sunny, sandy coastline. And then there's the food: fresh seafood, enormous tropical fruits, infamous Kona coffee, macadamia nut farms, local breweries, and unique Hawaiian cuisine await.
While still underrated compared to its neighbors of Oahu, Maui, and Kaua'i; the island of Hawaii is now rapidly gaining traction in the travel and tourism community for both its adventure and culture-focused activities:
From stargazing tours to glass-bottom boat cruises, ziplines adventure, and Luau shows, not to mention myriad spectacular hiking trails and black-sand beaches, as you're about to see, you'll be spoiled for choice when it comes to things to do on the Big Island.
No matter what kind of traveler you are — whether you're on the hunt for nature, relaxation, or anything in between — with a near-endless list of and things to see, Hawaii's Big Island will not disappoint.
1 – Join a snorkeling tour in pristine Kealakekua Bay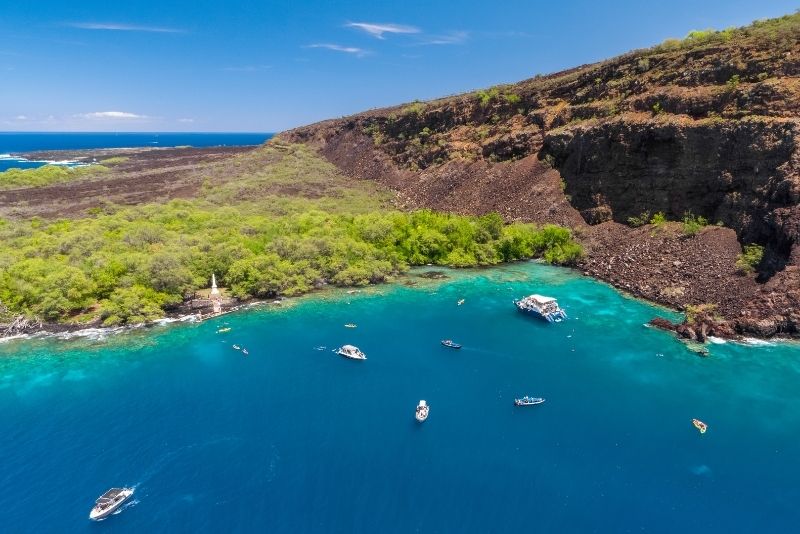 The thing about the Big Island is you can pretty much choose any coastline or beach bay and chances are, you're treated to ample snorkeling opportunities. However, some are hard to reach (this is when a jet boat excursion comes in handy), and non-locals don't always know where to begin.
Join a dedicated tour, or hunt down the best snorkeling spots on the Big Island yourself. Naturally, Kealakekua Bay Park is the most obvious choice, located on the southwestern side. It's famed for its sheltered cove and incredible underwater visibility.
Or, cruise around the sea caves in Kailua-Kona (doable with speedboat tours).
Is it your first time testing out the snorkeling waters, or are you hunting down kid-friendly locales? Check out Honaunau (Two Step Beach), Kahaluʻu Beach Park or King Kam beach.
Hapuna Beach and Waialea Bay (also known as Beach 69) are savored for more advanced snorkelers.
Kauna'oa Bay (part of Mauna Kea Beach) is a very special site because it has great snorkeling, and from this beach, you can go snorkeling with mantas!
Discover the best snorkeling spots on the Big Island.
2 – Marvel at nature's powers at Hawaii Volcanoes National Park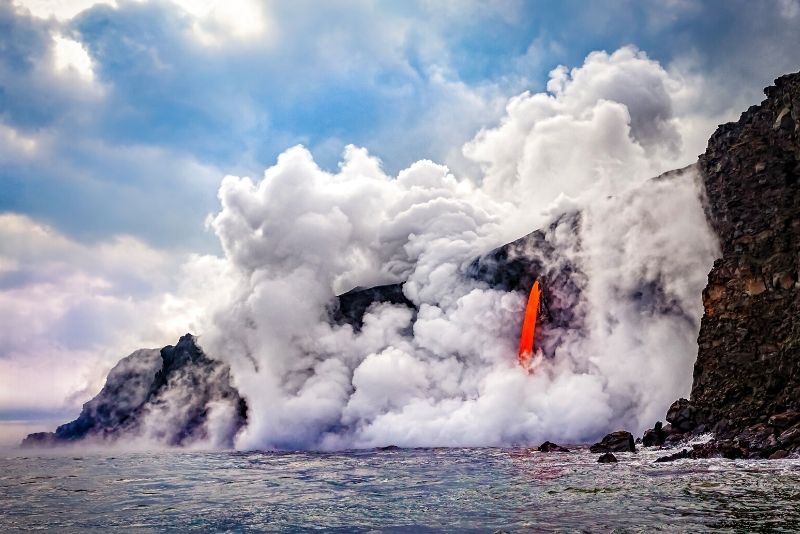 The Big Island's main attraction, and an astounding display of Mother Nature's sheer power (and raw beauty), is the Hawaii Volcanoes National Park. As one of the most unique national parks in the United States, it's home to two of the world's most active volcanoes – Kilauea and Mauna Loa.
The former, towering 4,090 feet above sea level and has been continuously erupting since 1983, is objectively one of the most active volcanoes on Earth.
The latter, at 13,677 feet tall, is the world's largest subaerial volcano – and, if measured from its base on the ocean floor (33,500 feet), is actually taller than Mount Everest!
The Hawaii Volcanoes National Park covers a staggering 333,000 acres – that's almost half of the Big Island! As you can imagine, in addition to the two behemoths, there's plenty more to see and do here. From lava tubes and rainforests to steam vents, hiking trails, and astronomy tours, there's something for everyone.
Most visitors make a beeline straight for the Kilauea Visitor Center, located just inside the park entrance.
Tour options are aplenty; from all-day hiking adventures deep into the crater to helicopter flights, twilight stargazing activities, waterfall adventures, cave exploring, ranger-led programs, and biking trips.
3 – Appreciate the magic of Rainbow Falls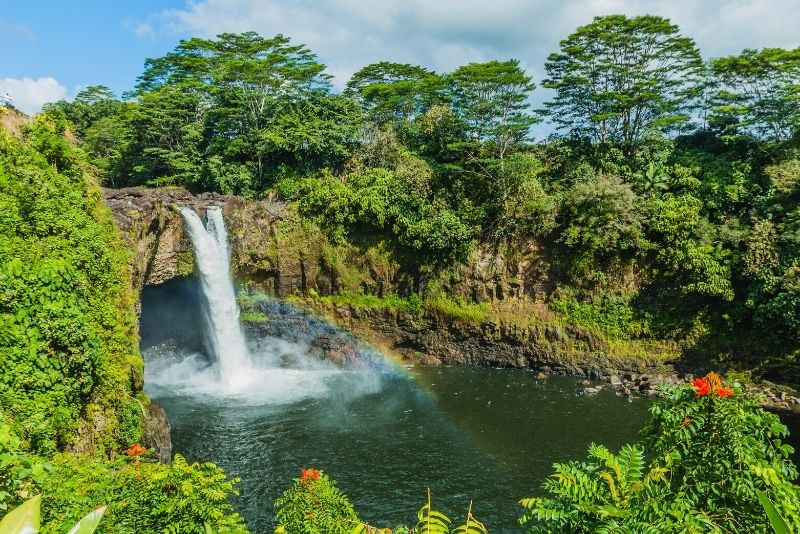 Hidden within the Wailuku River State Park, Rainbow Falls is one of the most popular (and easily accessible) waterfalls on the Big Island. Beloved by photographers, the 80-foot (24 m) drop results in a spectacular rainbow (hence the name) that bounces off the list – which is best seen early in the morning, when the sun is at just the right angle.
But even if you don't catch a glimpse of the rainbow, the falls themselves are still worth checking out, as they flow into a large, turquoise-colored pool that's perfect for cooling off in on a hot day.
All in all, Rainbow Falls is a fantastic option for tourists who want to see waterfalls but don't have the time or endurance to tackle long hiking trails. And while the falls are iconic, the lush forest around them is also worth exploring.
For those short on time, it's conveniently located less than a 10-minute drive from the middle of Hilo town, making it an easy addition to any Big Island itinerary. The perfect partner in crime to the falls is the Boiling Pots. Just around the corner, these natural pools are the result of cooled lava flows which have created a series of impressive (yet dangerous) 'bubbling' jacuzzis.
4 – Get up close and personal with manta rays on a night dive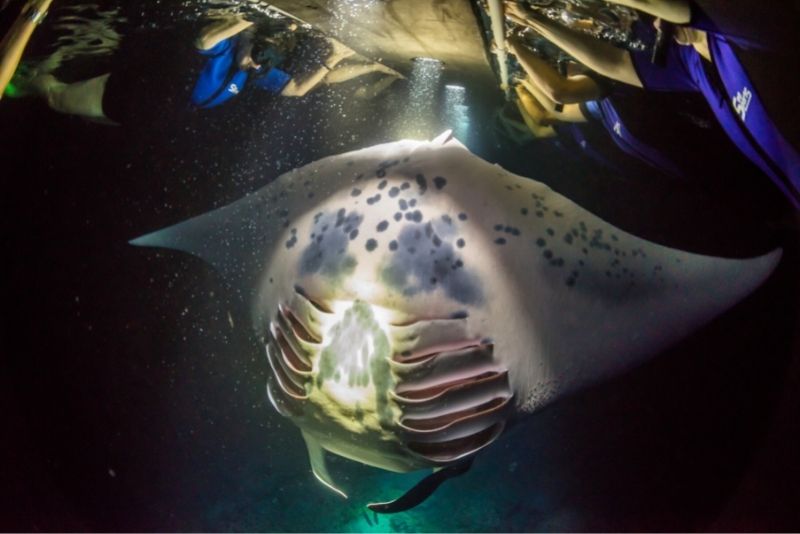 Teeming with color and wildlife, the surrounding waters of the Big Island offer some of the best snorkeling and diving experiences in Hawaii. By day, the aquaramine waters are popular with those keen to catch a glimpse of tropical fish, turtles, and coral reefs; but by night, the focus shifts as the gentle giants – the manta rays – come out to play.
These majestic ocean dwellers congregate offshore around certain areas where they feed on plankton that's attracted to powerful spotlights illuminating the water – jump right in the thick of the action, getting up close (but not too personal) with these majestic animals as they glide effortlessly through the water beneath you.
Tours range from one hour up to three, but you will get to feed and interact with marine life no matter the duration — plus, you'll learn all about the local ecosystem from the tour guide, diving into topics such as ocean conservation and the impacts of climate change.
Manta ray night snorkeling trips are available all along the Kohala Coast.
5 – Sunbathe with turtles on Black Sand Beach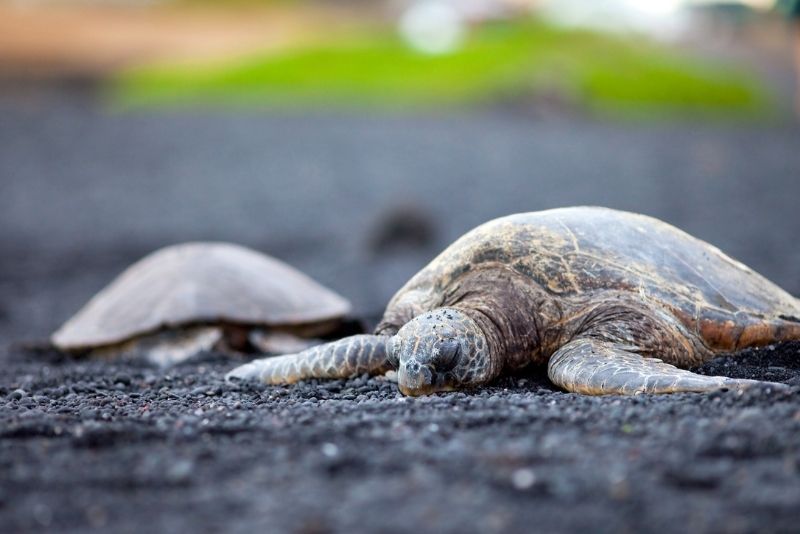 With close to 266 miles of coastline (428 km) – significantly more than any of the other Hawaiian islands – it's no surprise that the Big Island is home to some of the best beaches in all of Hawaii.
But while you'll find plenty of pristine stretches of sand to lounge on, with golden and white sand aplenty, thanks to the volcanic activity on the island, you'll also find a handful of rare, absolutely stunning black-sand beaches – formed when lava enters the ocean and cools almost instantly, resulting in smooth, jet-black pebbles.
There are several of these beaches to choose from (Kehena Beach, Pohoiki Beach and Kaimu Beach, to name a few). One particular place where your chances of sunbathing with turtles are oh-so-high is at Punalu'u Black Sand Beach – the largest, most easily accessible of all black sand beaches on the island.
Tucked away on the southern tip of the island, about 90 minutes drive from both Hilo and Kona (your two main towns), this secluded spot is a marine life oasis. In addition to these gentle giants, find a whole host of other marine life here – from manta rays and dolphins to colorful fish and coral reefs (remember to pack your snorkel!).
6 – Cruise around on a sailboat (with a heavy dose of snorkeling)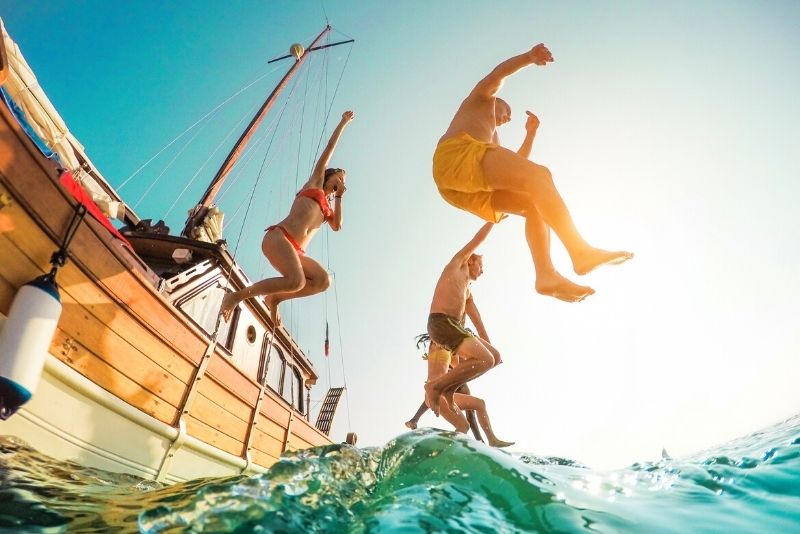 Nothing quite screams vacation like a day out on the open water, living that sailor life with the refreshing sea breeze flowing through your hair and the warm Hawaiian sun on your skin.
And, if you're lucky enough to be visiting the Big Island, you can make that dream a reality with a sailing boat tour! Typically setting sail from historic Kailua Bay, these full-day (or half-day) tours will take you on an unforgettable snorkeling adventure around the bright blue waters of the Pacific – and there's no better place to do it than Hawaii. With its warm weather, gentle waves, and diverse marine life, the Big Island is a snorkeler's paradise.
One of the best ways to experience all that the island has to offer is by booking a spot on a sailing boat tour. These tours will take you to
This is a 3-hour tour you don't want to miss! Spend the day snorkeling the pristine waters and reefs, and spend a few hours exploring the ancient lava flows in the area too.
The abundant marine life will be sure to make an appearance — some tourists even manage to spot a few dolphins if they're lucky!
7 – Zoom through the rainforest with a zipline adventure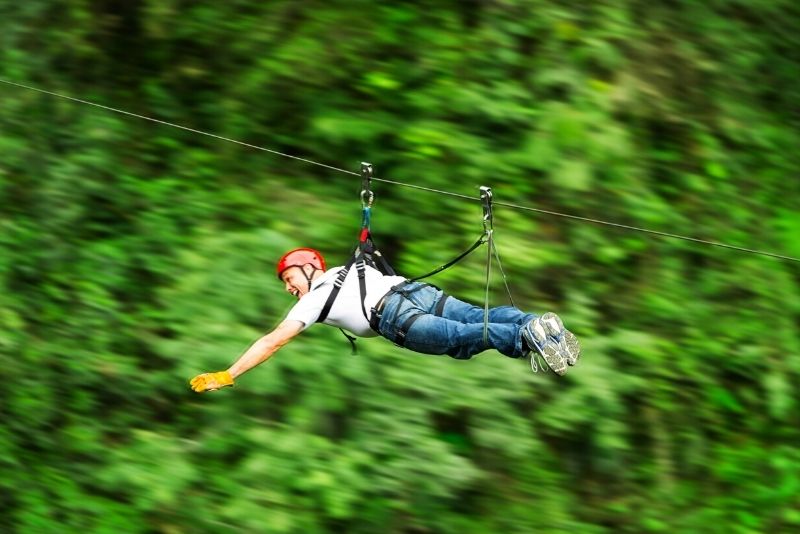 Certainly without any shortage of adventure destinations, the Big Island offers almost too many heart-pumping zipline tours to count! You can find zipline courses all over the island, from North Kohala to Hamakua and Hilo – so, where to begin?
If you're staying in Kona, a handful of zipline courses are tucked away in the rolling hills in North Kohala. Kohala Zipline boasts eight lines and crosses six suspension bridges over the verdant trees of Halawa, and is a top choice for a reason.
Staying on the eastern side of the island? Make your way to the nine-line 'Zip-N-Dip Experience,' set around the Umauma River.
Then there's Hawaii Zipline Tours just next to Akaka Falls State Park on the Honomu Coast – featuring 7 different zooming ziplines, including one that propels you over the majestic 250-feet-tall KoleKole Waterfall!
About 20 minutes north of Hilo, you'll find Botanical World Adventures – another sublime option for those based on the eastern side of this paradise island.
8 – Relax on Manini'owali Beach's soft white sands (Kua Bay)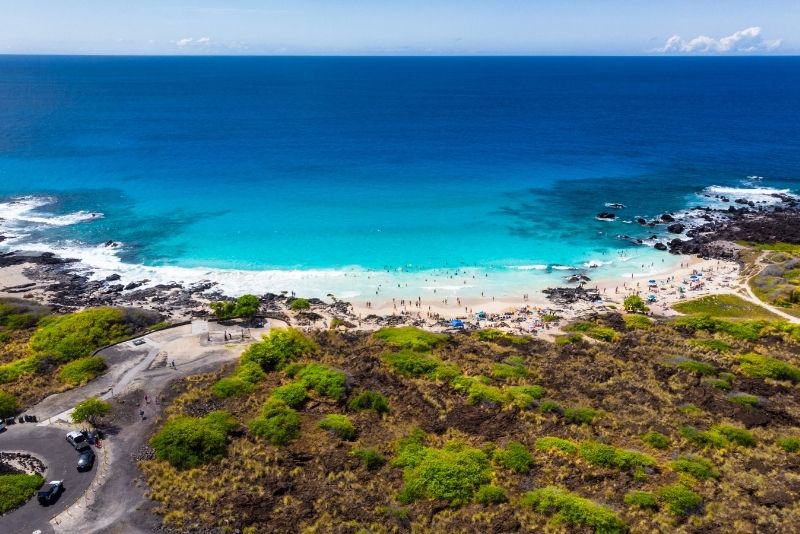 As anyone who's been here will attest, Manini'owali Beach looks like it jumped straight out of a painting. Found within the Kekaha Kai State Park on the island's west coast (about 20 minutes drive north of Kailua-Kona), this secluded and small white-sand strip welcomes far fewer visitors than some of the other beaches on this list.
The gorgeous white sand makes for the ideal tanning bed; the water is a sparkling crystal blue color, very calm and transparent, making it a hot spot for swimmers and excellent for families (especially with lifeguards on duty), and the schools of vibrant tropical fish unsurprisingly draw many a snorkeler. If you don't have your own gear, vendors line the beach from which you can rent equipment.
As a little bonus, turtles have been known to stop here from time to time, and if you're lucky, you might just see one or two basking in the sun on the sand.
After you've dried off, if you want to stretch the legs, Kua Bay is also known for its selection of hiking trails. The 7.8-mile out-and-back Mahai'ula to Kua Bay is a popular choice, likewise the shorter 2.5-mile track to Makalawena Beach (this spot can't be reached by road, making for a peaceful stretch of sand!).
9 – Sample the infamous Kona coffee at at least one local farm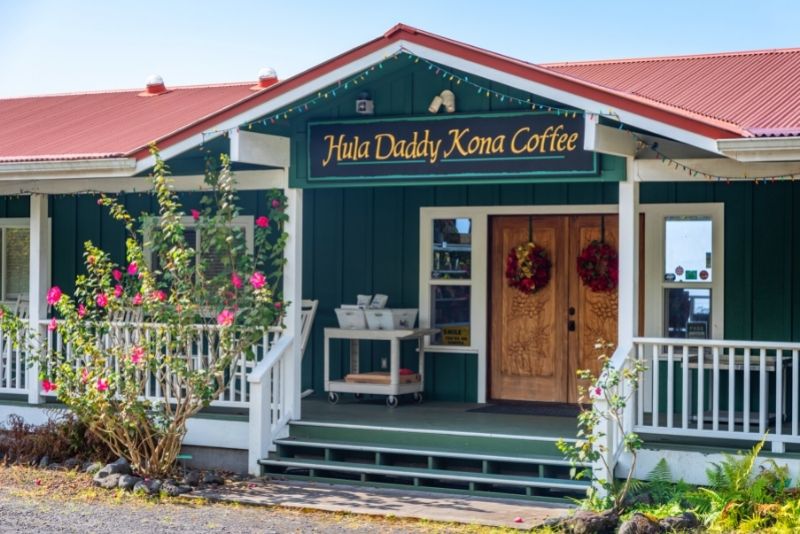 Do you rely on a hot cup of coffee to start the day? Perhaps you're a coffee enthusiast looking for your next best brew? Well, you're in luck! The Big Island has an abundance of coffee farms open to visitors.
Boasting a reputation as one of the best coffee-growing regions in the world, largely due to the unique soil found on the Hualalai and Mauna Loa slopes, Kona is home to more than 600 (!) small family farms that produce rich, flavorful, energizing coffee.
During your visit, tour one of the many farms, learning about the coffee-making process from start to finish.
Book guided tours at Greenwell Farms, Hula Daddy Kona Coffee and Kona Coffee Living History Farm. While each farm has its own distinct flavors and processes, regardless of where you go, you'll walk away with newfound insights into the harvesting, roasting, and brewing of this beloved beverage.
And of course, no visit to a coffee farm is complete without tasting the product! Most farms offer free tastings (or, at least have an on-site cafe) so you can sample a variety of brews and find your favorite. Don't forget to buy some beans to take home with you as well.
10 – Spend the morning wandering through the Akaka Falls State Park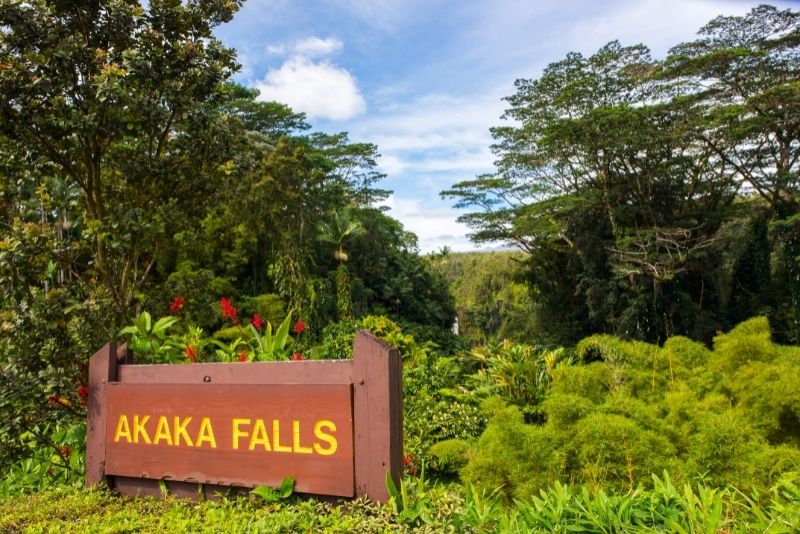 A lush slice of paradise sitting about 10 miles north of Hilo, the Akaka Falls State Park is home to not one, but two of the Big Island's most iconic waterfalls – not to mention bamboo groves, verdant greenery, and hiking trails aplenty.
The first and most popular, of course, is the titular Akaka Falls — a towering 420-foot (130-meter) cascade that tumbles down from the rainforest treetops in a series of dramatic steps.
Remarkably, that's more than double the size of Niagara Falls The best part? An easy, 0.40-mile trail will take you right to the base of the falls, where you can cool off with a misty spray (just be careful, as the rocks can be slippery).
But Akaka Falls isn't the only natural wonder in the park — just a short walk away (and on the same trail) is the equally impressive Kahuna Falls. This 100-foot (30-meter) cascade may not be as tall as Akaka, but it more than makes up for it with its wide, dramatic plunge pool and serene rainforest setting.
A fantastic day out for the whole family, this is the perfect way to relax and be one with nature after you've already checked off all the usual tourist hubs. And at just $5 per vehicle, it serves as one of the more affordable things to do on the Big Island.
11 – Check out the Hawaii Tropical Bioreserve and Garden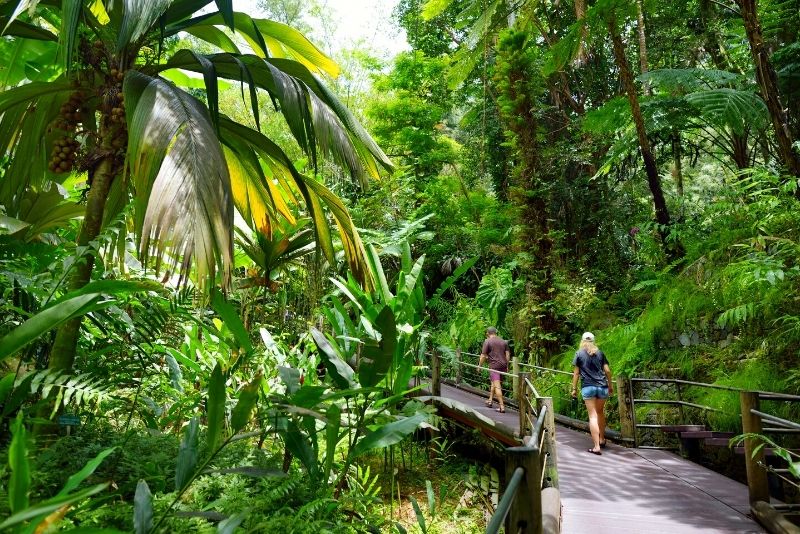 A bucket-list-worthy destination for nature lovers, the Hawaii Tropical Bioreserve and Garden (sometimes called the Hawaii Tropical Botanical Garden) contains close to 2,000 species of plants! Endemic, international, and native – you'll find it all here.
Situated on the beautiful Hamakua Coast and open every day from dawn until dusk (9am to 5pm), this 17-acre property is home to a plethora of gorgeous flowers (including some very rare orchids), trees, vines, ferns, and shrubs; as well as chirpy colorful birdlife that will have you feeling as though you've been transported to a lost paradise.
Winding through the jungle-like setting are a series of well-maintained walking trails, each providing visitors with different vantage points and photo ops galore. And, if all that wasn't enough to wet your whistle, there's also a lovely little waterfall – the three-tiered Onomea Falls – on site.
That's why so many different kinds of people come to visit it every year: Gardeners, photographers, botanists, and scientists alike are all drawn to the beauty of this place, where the natural and the man-made come together to create something quite special.
12 – Go whale-watching!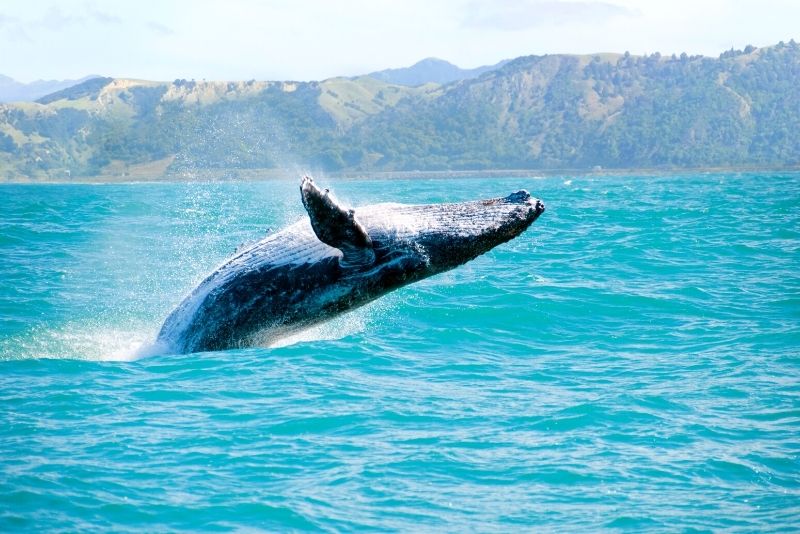 Whales are magnificent creatures and, at almost 50 feet long, the biggest animals in the world, despite their size, are notoriously hard to spot. Not on the Big Island, though! On a whale-watching tour, these gentle giants love to pop up and say hello.
Every year, between November and May, between 8,000 and 10,000 humpback whales migrate all the way from the frosty Alaskan waters to the Hawaiian Islands to give birth and mate in the warmer waters.
During peak season (January to March), you have a pretty good chance of spotting one of these impressive mammals breaching or even better, tail slapping.
You'll find several options when it comes to whale-watching tours, from small sailboats and private charters to large boat excursions – most of which typically depart from Honokohau Harbor in Kona on the west coast. Activities last about 2.5 to three hours.
If you prefer to stay on land, make your way up to the Kohala Coast on the northwest side of the island. Here, the dramatic cliffs and lookout points offer some of the best whale-watching vantage points on the Big Island.
13 – Appreciate the best views of the island on a helicopter tour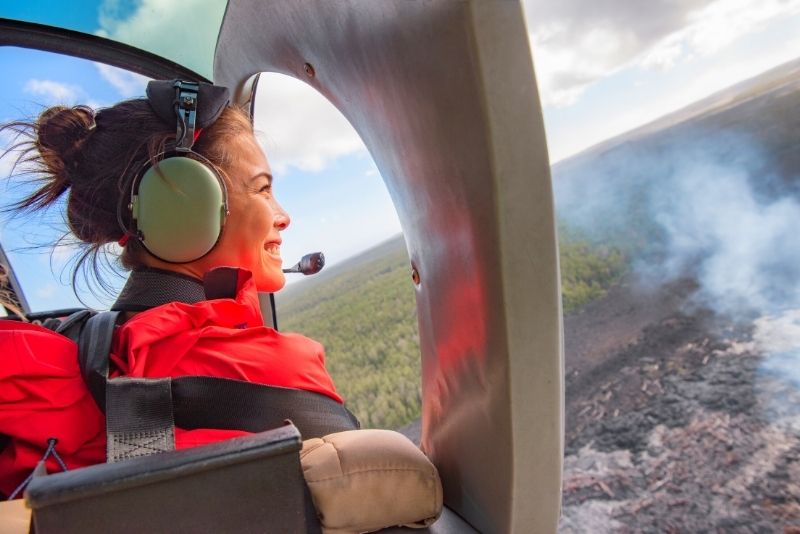 An absolute must for all tourists and the only way to really see the whole island, a helicopter tour is easily one of the best things to do on the Big Island. Watch as lava bubbles and spews from the volcano tops, enjoy astonishing views of the rainforests, snap some photos of the spectacular waterfalls from an entirely new perspective, and take in the sheer size of the island as you fly over miles and miles of unbroken black lava fields.
Throw in a rainbow of beaches (black, green, and white sand), and a stark juxtaposition between rich forest and bright coastline, and you've got one seriously photogenic island on your hands.
There's a handful of different helicopter tour companies to choose from, all offering slightly different experiences lasting anywhere from 30 minutes to an entire day.
Some fly close to the dramatic Kilauea and Mauna Loa volcanoes and twisting Wailuku River, some include a stop on the ground for lunch or a nature walk, while others focus mainly on aerial views with a few quick stops along the way.
Craving serious thrills? Consider one of the doors-off options — with the wind whipping through your hair, you'll feel like you're flying.
Read more about helicopter tours on the Big Island.
14 – Take a pleasant stroll through Liliʻuokalani Park and Gardens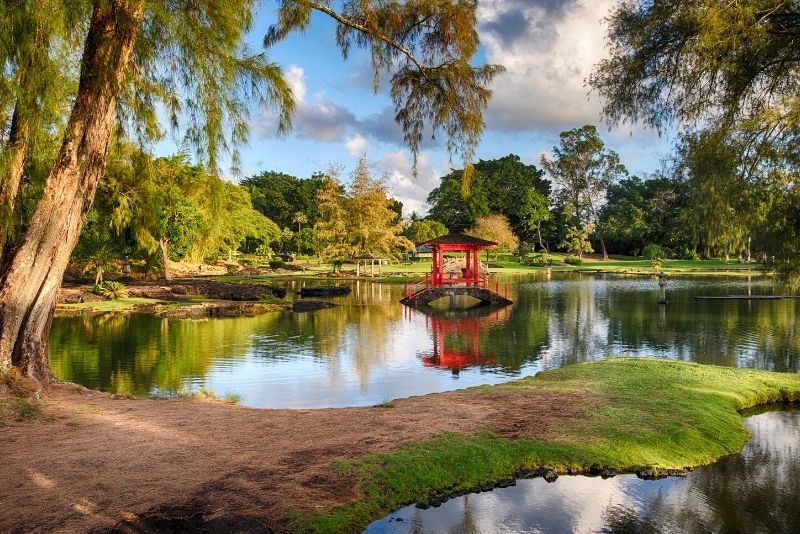 Reach a state of zen and bliss by strolling through Liliʻuokalani Park and Gardens – a wonderful spot to relax, unwind, and appreciate Japanese architecture; all a stone's throw from downtown Hilo.
Dating all the way back to 1917 to honor Queen Liliuokalani (Hawaii's last reigning monarch) the exceptionally well-groomed 25-acre park is filled with charming ponds, luscious greenery, interesting bridges, intricate statues, koi ponds, towering banyan trees (some of which are as old as Queen Lili'uokalani herself) and sweet-smelling flowers in between — with so much to see, it's easy to get lost in its beauty and lose track of time in the gardens.
The striking red torii gate at the gardens' entrance makes for an Insta-worthy snap or two, while the grassy area invites a wholesome picnic lunch.
Hot tip: after wandering around the gardens, consider popping into the Hilo Bay Cafe or the Suisan Fish Market (within walking distance) for some authentic Hawaiian grub.
15 – Hike up to the magnificent Pololu Valley Lookout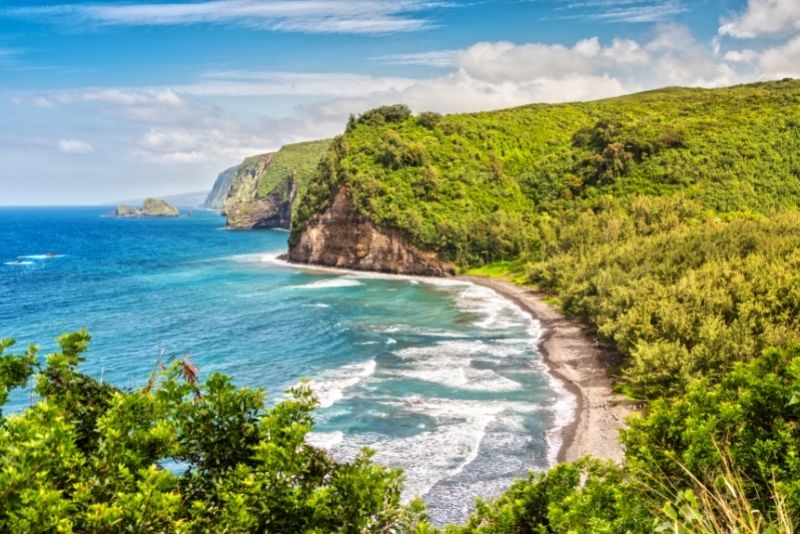 Nestled on the northern tip of the island, about an hour and a half's drive from Kona on the breathtaking northern Kohala Coast, the secluded and pristine Pololu Valley Lookout is well worth the trek.
From the top of the cliffs overlooking the crashing waves of the ocean, you're blessed with incredible panoramas of the Maui Channel and the horizon – and, in the distance, on a clear day, Maui itself.
And while the up-top views are postcard worthy, the short and sweet hike down to the black sand beach delivers an experience and a setting that's arguably even more impressive.
The trail to the lookout point is only about 0.75 miles (one way), but it's a steady and steep climb down the whole way (and then back up) — so be prepared for a bit of a workout, and make sure to bring extra water! Don't forget to charge the camera either — the gorgeous backdrops in the area are tenfold.
Day plan: You'll have to drive through Hawi to get to the lookout, so why not pop into the Lokahi Garden Sanctuary, see the old tank at Kamehameha Park, and ride the Kohala Zipline?
16 – See lava firsthand at the former Kapoho Tide Pools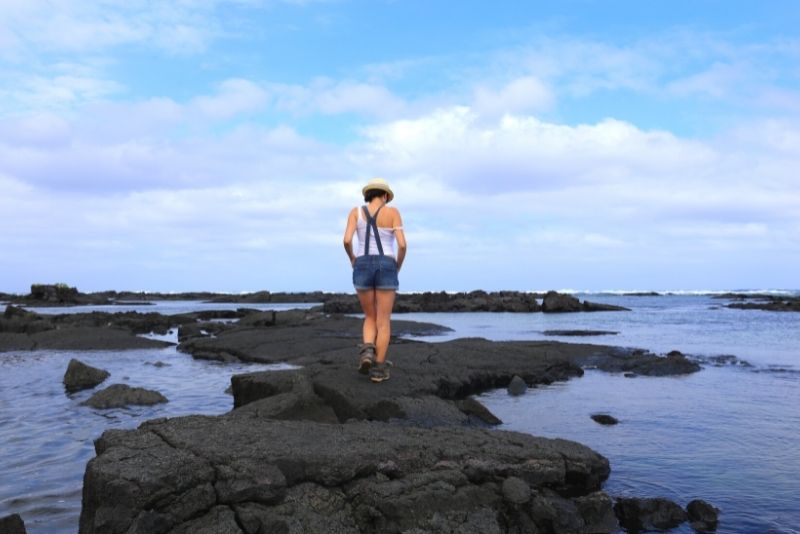 Once a very popular diving, snorkeling, and swimming spot that crowds of tourists fled to, these days, the Kapoho Tide Pools welcome visitors who go to admire the eye-opening ruins of the landscape-shifting Kilauea 2018 eruption.
The former tide pools now sit under some 60 feet of volcanic rock; but as one door closes, another opens, and the vibrant colors and patterns of the rocks now make for some pretty incredible photo opportunities.
The area's coastline is now dotted with lava rocks of all different sizes and colors.
The pools-turned-rockbed is located in the Puna district on the east coast of the Big Island, about a 45-minute drive south of Hilo. If you do venture down to this area, continue driving to Isaac Hale Park to the park's hot springs ponds and black sand beach.
While this area isn't exactly 'hidden,' it definitely flies under the radar in comparison to some of the other attractions on this list.
17 – Spend a couple relaxing hours in a kayak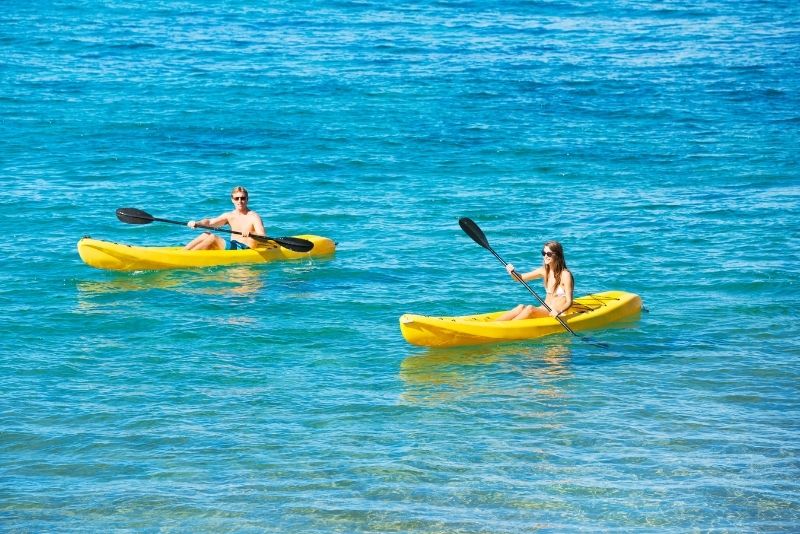 Ask any tourist and they'll all agree: an idyllic kayak adventure – an ideal mix of adventure with relaxation – is the perfect way to affordably make the most of the pristine waters on the Big Island.
In Hilo, you're spoiled for choice when it comes to pristine paddling spots. Journey down the Wailoa River to catch notable sights like the King Kamehameha Statue and a handful of Japanese-style bridges. Or make your way out to Coconut Island – where calm waters and views of Mauna Kea towering in the distance make for an envy-evoking photo backdrop.
On the Kohala Coast, check out the Anaehoomalu Bay and meander through a maze of lava rocks and overgrown vegetation near the shoreline.
In Kona town, and if you're feeling extra adventurous, make your way over to the Kealakekua Bay – a place of equal beauty and historical significance (it was here that Captain James Cook first landed on the islands in 1778), as well an excellent spot for snorkeling and swimming.
Rent a clear-bottom kayak or opt for an insightful guided tour instead. Learn about the area's history and ecology, with a good chance of spotting dolphins, turtles, and other wildlife in their natural habitat!
18 – Explore the rugged rainforest on an ATV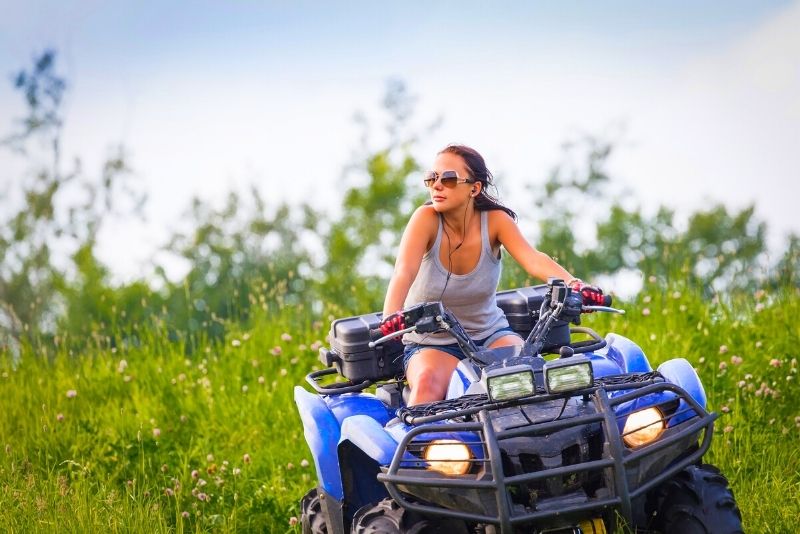 Adrenaline junkies, this one has your name on it. Thanks to a landscape that's as diverse as it is wild, the Big Island is an off-roading paradise. From secluded black sand beaches to dense rainforests and bubbling lava fields, there's an otherworldly beauty to be found at every turn.
One of the best ways to explore this natural wonderland is on an ATV. Not only will you get to see parts of the island that most tourists never see, but you'll also have a blast doing it.
Make no mistake though: Exploring on an ATV is not for the faint-hearted. But, if you're looking for an authentic way to get off the beaten path, then this is one of the best things to do on the Big Island.
Example itinerary: The Holualoa Polynesian tour route, which skirts its way from the Kona coast up into the rainforest, is a great place to start. Revving your engine along the way, you'll stop at an award-winning coffee farm, drive through a remarkable Rainbow Eucalyptus tree grove, and taste some of the freshest coconut water before heading through dense jungle and up the mountains of Holualoa. Once you're there, panoramic views of the Kona Coast await.
19 – Descend lava tubes at the Kaumana Caves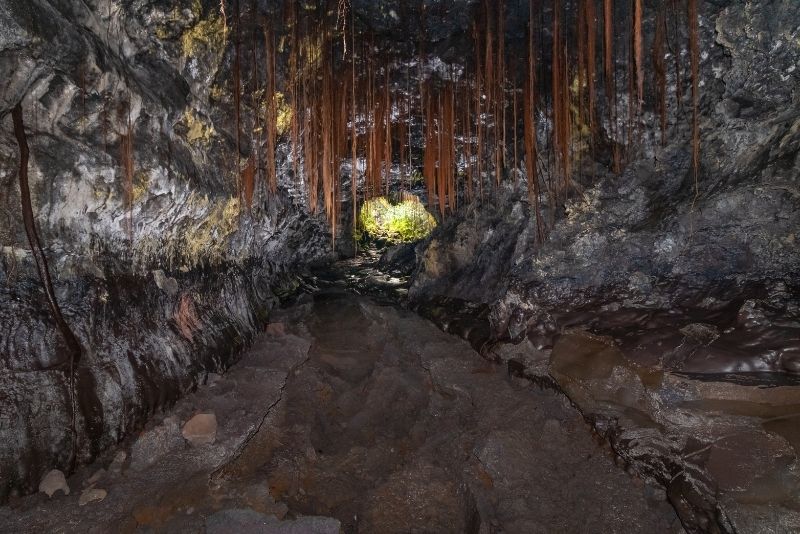 A short drive from Hilo town will take you to the Kaumana Caves – a lava tube that formed during an eruption of Mauna Loa back in 1881. Measuring in at over 24 miles long, this is one of the longest known lava tubes on Earth.
Visitors enter the cave system through a collapsed skylight; once you're in the cave's mouth, you can literally walk for miles through the dark and hauntingly beautiful landscape.
As you make your way through, you'll find dramatic lava stalactites and stalagmites, rocky statues, low-hanging vines and indigenous plants, with eerie silence and darkness broken only by the drip-drip of water or pitter-patter of footsteps.
Open from sunrise to sunset and free to visit, this natural feat serves as one of the most impressive things to do on the Big Island. Bring sturdy shoes, and at least two sources of light (including a head torch).
How to get there: Head inland from Hilo on Waianuenue Avenue, and once you arrive at the fork in the road that leads to Rainbow Falls, take a left instead, continuing three miles down Kaumana Drive.
20 – Set up camp at Hāpuna Beach State Park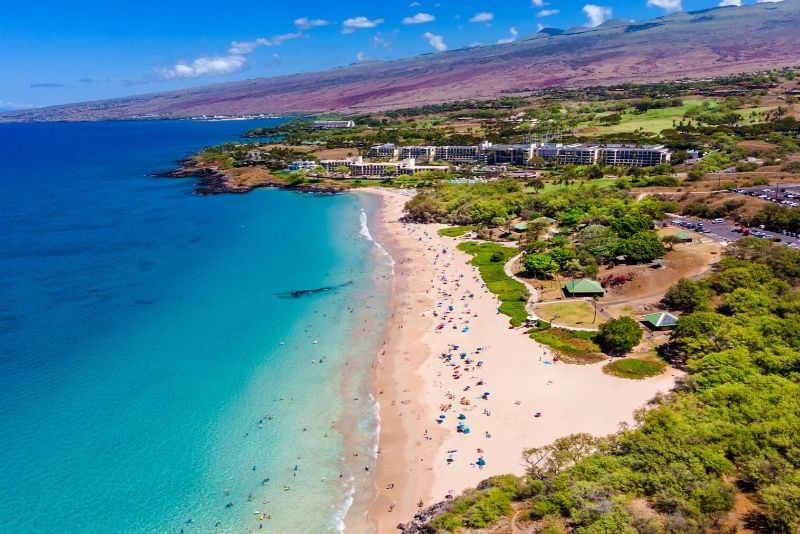 A white-sand beach that's routinely rated as one of the most beautiful in the world, this crescent-shaped stretch of coastline sits on the Kohala Coast, about 30 minutes north of Kona International Airport. Known for its water sports, especially surfing; hiking trails, and camping, this gorgeous, pay-to-enter beach beckons outdoor enthusiasts from near and far.
Only a few hundred yards long, it's more than enough to enjoy some quality time in the sun; especially considering its crystal-clear water and (usually) gentle waves make for excellent swimming and snorkeling conditions.
As for hiking, the coastline here is made up of black lava rock polished over time by the waves, delivering some rather rare scenery that you wouldn't traditionally find on your typical coastal or forest trek!
Want to make the most of your experience? Go deep into the wilderness on a Hāpuna Beach State Park camping trip! With several 4-person A-frame shelters, refrigerators, restrooms and cold showers available, you're all set for a great outdoor experience. Bring your own food, water and camping gear.
There are also a handful of archaeological sites open to visitors throughout the area, plus delightful picnicking spots under plenty of shade.
21 – Learn how to surf in the world's surfing capital!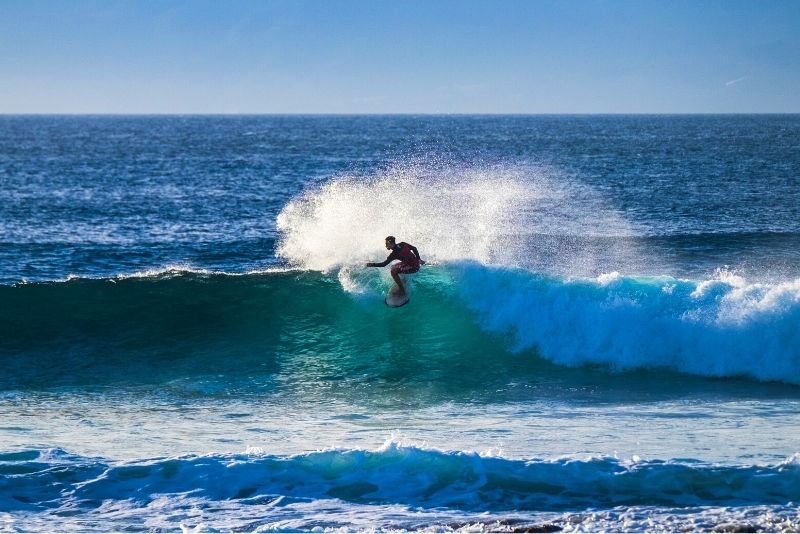 As the coveted Sport of Kings, learning to surf is a big bucket list item for millions of travelers — with beaches that stretch for miles and waves as tall as houses (in some areas – don't fret, you'll find myriad beginner waves and sheltered bays too), Hawaii is the perfect place for anyone wanting to learn the ropes.
If you're looking for a place that offers both great beginner surf and an authentic Hawaiian experience, look no further than the Big Island.
Staying in Kailua-Kona or somewhere on the West Coast? Find excellent beginners' waves at Kahalu'u Bay and Pine Trees (Kohanaiki Beach Park). At the former, semi-private lessons are aplenty during which the friendly, certified instructors will have you standing up on your board in no time.
Meanwhile, Pine Trees doesn't have as many local surf schools, but the waves remain gentle – great for those who've surfed a couple of times before. Once you've got the hang of it, more advanced spots like Lyman's, Banyans Beach and Kohanaiki Beach dish up a bit more of a hang-ten challenge.
In Hilo are a handful of hidden gems along the Hamakua Coast.
22 – Mingle with the friendly animals at Panaewa Rainforest Zoo and Gardens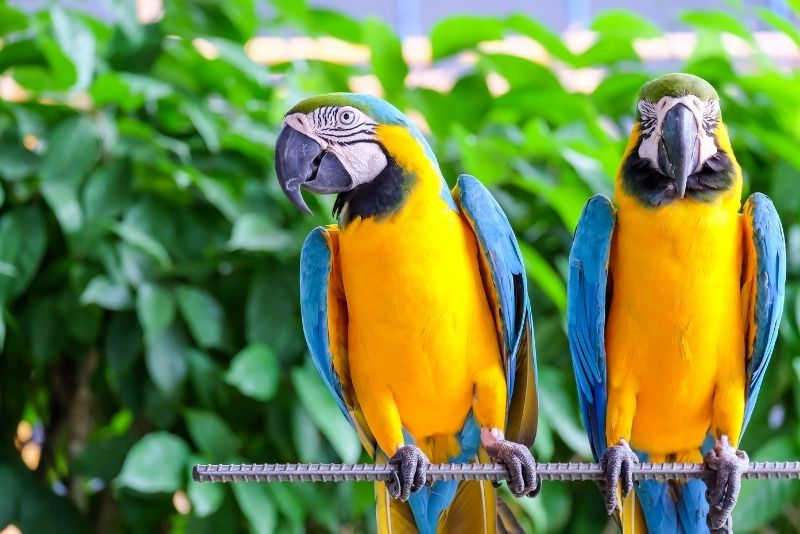 Are you obsessed with seeing wild animals up close? Then the Panaewa Rainforest Zoo and Gardens should sit high atop the bucket list. Spread across 12 acres of lush greenery and open from 10am to 3pm every day and conveniently located just 4 miles from downtown Hilo, this free attraction is home to a number of furry, scaly, and feathered friends.
From the endangered nene goose (Hawaii's state bird) to Burmese pythons, llamas, and everything in between (think monkeys, birds, crocodiles, snakes, turtles, lizards, and even roaring great tigers).
All up, some 80 species of all different shapes and sizes (and origins) call this place home. As you explore, take note of the various plant life and flowers (like orchids, anthuriums, bromeliads, the Giant Victoria Waterlily, and no less than 100 varieties of palms) that also blanket the area – adding even more color and vibrancy to an already picturesque setting.
Thanks to the extra features like the enchanting butterfly house, reptile zone, kids playground, and family-friendly petting zoo, a visit to the Panaewa Rainforest Zoo and Gardens is ideal for travelers of all ages.
23 – See all the main highlights in one day with a Circle Island tour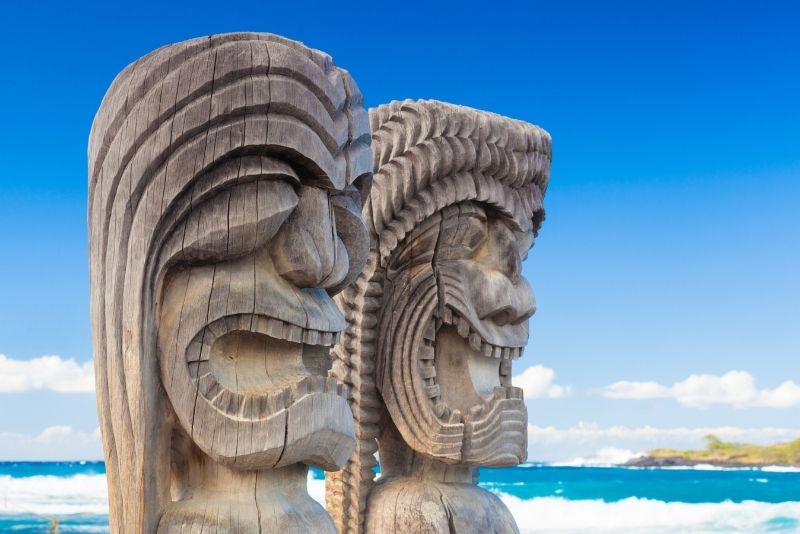 Want to check off the island's main attractions all in one go? Perhaps you're short on time or simply want the best bang for your buck. Then a Circle Island tour is perfect for you. These days, there are plenty of options to choose from too – whether you're after a luxury experience with all the bells and whistles or something more low-key (but no less magical).
On most tours, expect to see places like the Hawaii Tropical Botanical Garden, Rainbow Falls, Black Sand Beach, and of course, active Kilauea.
With plenty of local delicacies along the way – treats from Big Island Candies in Hilo, classic Kona coffee (with a stop at a local farm), and chocolate-covered macadamias at the Mauna Loa Macadamia Nut Factory, you won't go hungry either.
Throughout the day, a local guide is with you every step of the way; you'll learn about the island's history, geology, and culture, with plenty of jealousy-evoking photo ops en route.
Typically lasting close to 12 hours, these all-encompassing tours are capped off with a visit to the quintessential Big Island experience: Hawaii Volcanoes National Park (including the Kilauea Iki Crater Overlook, the Steaming Bluffs, and the Kilauea Caldera).
24 – Discover Hawaii's coastline on a traditional outrigger canoe tour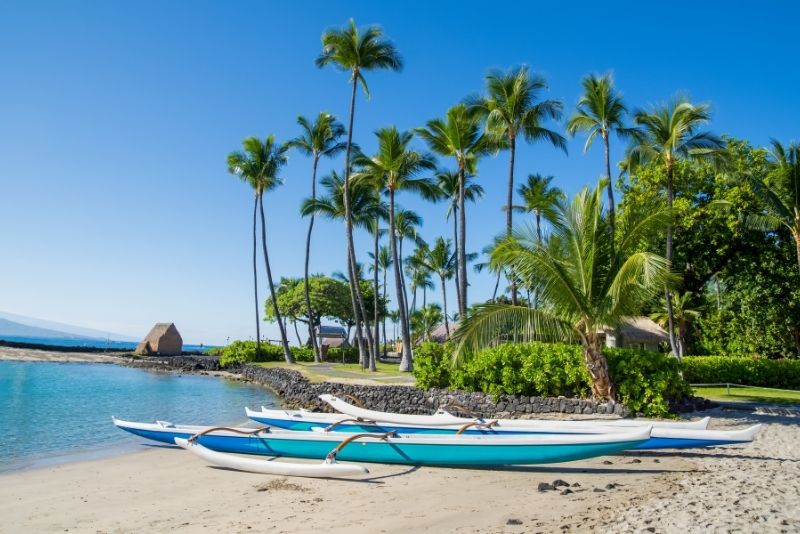 A fantastic alternative to crowded tour ships and stuffy buses, an outrigger canoe is not only a fresh-air way to see the sights, but it's also an insight into local customs (do as the locals do!). A tradition that dates back centuries, the outrigger canoe was an integral part of Hawaiian life, used for everything from fishing and transportation to warfare.
These days, they're mostly used for leisure (and tourist) purposes; however, you'll still find a handful of local fishermen plying their trade in these iconic vessels. While you can find tours departing from all around Hawaii, the Big Island – and, specifically, its western coast – boasts some of the best.
Discover places like Kamakahonu Cove, Kailua Bay, and Ahu'ena Heiau on a historic tour, or opt for something a little more adventurous and sign up for a snorkeling or dolphin-watching tour.
Whichever you choose, you're in for an authentic Hawaiian experience (and some Insta-worthy snaps too). Plus, the thoughtful guides are full of information about the rich history and culture of the island, and, as the warm Hawaiian sun beats down, this is a great way to relax and hear all about it!
25 – Stop by the beatuiful black-sand Punaluʻu Beach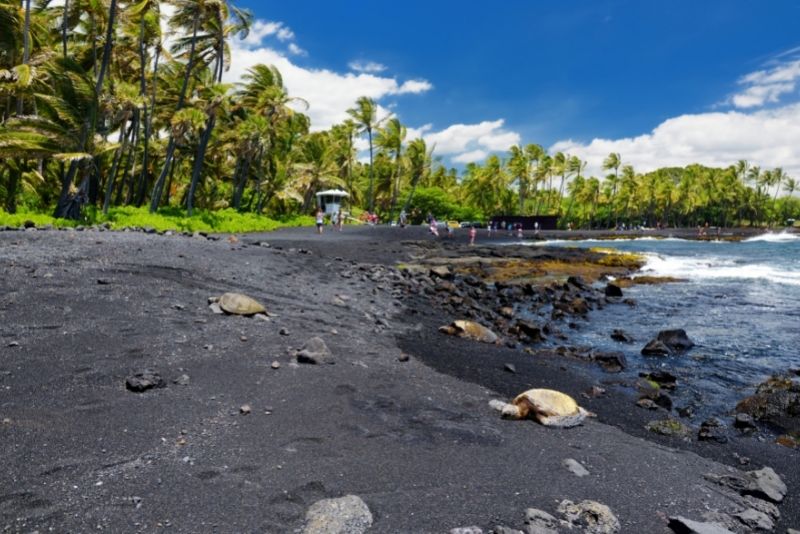 A gorgeous strip of sand tucked away from the beaten track and surrounded by coconut trees, Punaluʻu Beach is certainly the most famous black-sand beach on the Big Island. With its black shores contrasting the backdrop of verdant green hills, and the sparkling ocean water, it looks like something off a postcard (or desktop screensaver).
Punalu'u is also one of the only places in Hawaii where you can find Hawaiian green sea turtles basking on the shoreline or swimming in the water too.
And if you find yourself getting a little peckish, make sure to stop by one of the food trucks typically parked near the beach serving up some delicious Hawaiian specialties. In the summertime, traditional Hawaiian shave ice goes down a treat.
Besides being a popular place to spot turtles soaking up the sun and frolicking in the water, it's also known for its big waves, so it's certainly one to consider if you love to surf.
You'll find this natural haven on the southernmost tip of Hawaii, in between the charming small towns of Pahala and Naalehu. Plus, it's not far from the Punalu'u Bake Shop – an excellent place to stop for some famous Hawaiian sweet bread.
26 – Get a new perspective on marine life with a ride in the Atlantis submarine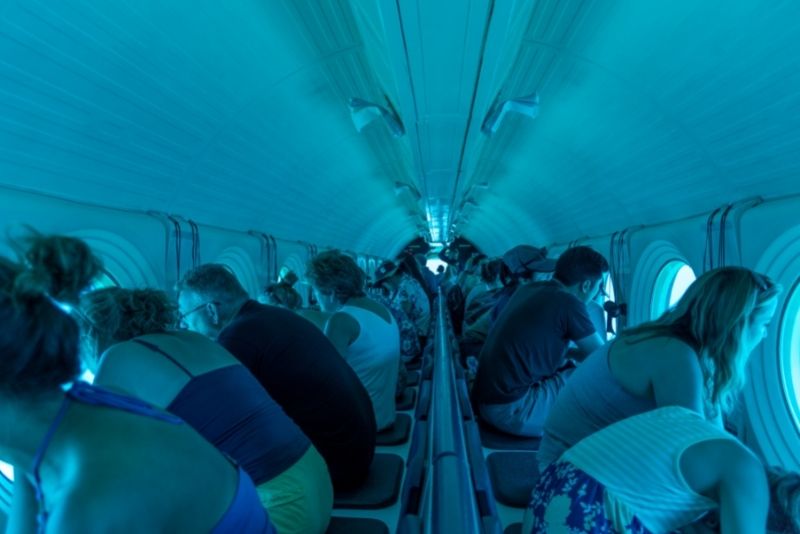 For a chance to witness a new perspective of the Big Island that most people would never get to see, a deep-sea dive in an Atlantis Submarine is the way to go. The submarine goes 100 feet below the surface, where visitors are greeted with a colorful, vibrant experience that would be impossible to replicate above the surface.
As you'll see, marine life is abundant below the water — turtles, fish, rays, and plenty more — which makes the experience all the more captivating, particularly when cruising through the 25-acre coral reef garden.
These 45-minute undersea adventures (which are popular enough to have been featured in various National Geographic television specials) depart from Kailua-Kona, offer the option of hotel pick-up and drop-off, and feature live narration the whole way through (available in multiple languages).
27 – Step back in time at the Pu'uhonua O Hōnaunau National Historical Park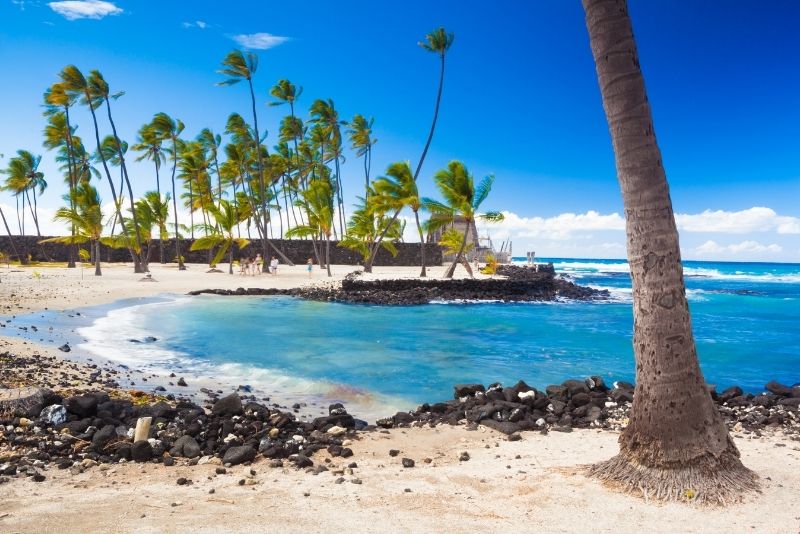 One for the history buffs, there's no better place to learn about centuries gone by than Pu'uhonua O Hōnaunau National Historical Park. Once a place of refuge, it is now considered a national treasure, full of both natural beauty and cultural significance (not to mention traditional buildings).
As you make your way along the shoreline, you'll have the chance to check out a selection of reconstructed village huts as well as ancient burial grounds. And if you feel like stretching the legs some more, hiking trails like The 1871 Trail to Kiʻilae Village are within easy access.
And the best way to learn about its bygone decades is, unsurprisingly, on a guided tour. Following expert historians on foot, the insightful locals will teach you all about the rich history, culture, and traditions of the Hawaiian people that lived here long ago, diving into themes such as the area's ceremonial importance, its role in Hawaiian warfare, and the legends that surround it.
28 – Sample sea salt made from 900-year-old ocean water at Kona Sea Salt Farm
Um, hello, you're on an island (one of seven) completely surrounded by the ocean … of course, sea salt farming is totally a thing! If you've yet to ever visit one in your lifetime, now is the chance, and there's plenty to do, see and learn at the Kona Sea Salt Farm.
From tours to tastings to stocking up on all sorts of different salts, it's insightful and definitely one of the interesting things to do on the Big Island.
Drawing sea salt from 670 meters below the surface of the ocean, their grains are packed full of minerals and flavor. These salts are then harvested and procured and used for both gourmet salts as well as deep ocean minerals like magnesium supplements. (Shop for both here).
Enjoy a 45-minute salt farm tour around the pans, learning about salt harvesting processes and the different kinds of salt, as well as production methods. The tour also includes an overview of the site (former ancient Hawaiian fishing grounds).
Don't leave without trying a 20-minute deep ocean water salt foot soak!
29 – Driving the wheel, take the road less traveled with buggy tours
Beach babes, cruising around in an old-school VW Manx-style buggy for the day (or half) is like, totally groovy, and is an adventurous way to get around Big Island. Renting out your own vehicle for the day (there are no tour guides for this one), you have the freedom to veer to wherever you wish, and thanks to the build of the buggy, that includes cruising along beach sands!
Plug in your phones, pump up the tunes (all are equipped with Bluetooth) and embrace the wind in your hair and the beating sun on your skin. There are multiple buggy options to take your pick.
The Yellow Tang is a manual (stickshift) two-seater, whereas the Blue Mako is a bigger four-seater. The Red Tiki is also a manual four-seater, but slightly more spacious in the back. The only automatic rider is the four-seater Green Honu. Pick your poison and off you go!
(Rentals are available as four or eight hour options and a valid driver's license is required.)
30 – Go inland; check out the traditional Kahua Ranch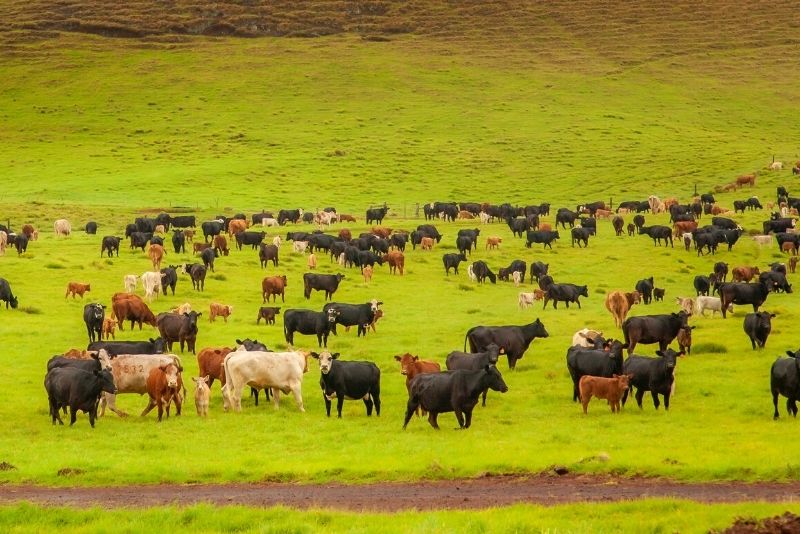 A popular place for families to sit back and relax, set up camp for a quiet evening, and unwind, lovely Kahua Ranch boasts no shortage of fresh air. Located on the North Kohala highcountry, amidst rolling hills about halfway between Waimea and Hawi (or about an hour's drive from Kona), Kahua Ranch is a working cattle ranch covering some 8,500 acres of land.
Past down through generations and operating for close to a century, this authentic ranching experience provides a real insight into how locals live and work on the Big Island.
Take part in a number of activities, from horseback riding (suitable for all ages and levels of experience) to hiking, fishing, swimming in waterfalls, or simply enjoying a leisurely walk around the sprawling property.
Embracing the cowboy lifestyle, visitors can also partake in cattle drives and trail rides (a great way to see some of the more inaccessible areas of the property), or enjoy paniolo cooking lessons.
Spend time learning all about the ranch from the thoughtful hosts — understanding all about how they rotate the pastures at the ranch and much more.
31 – Join a food tour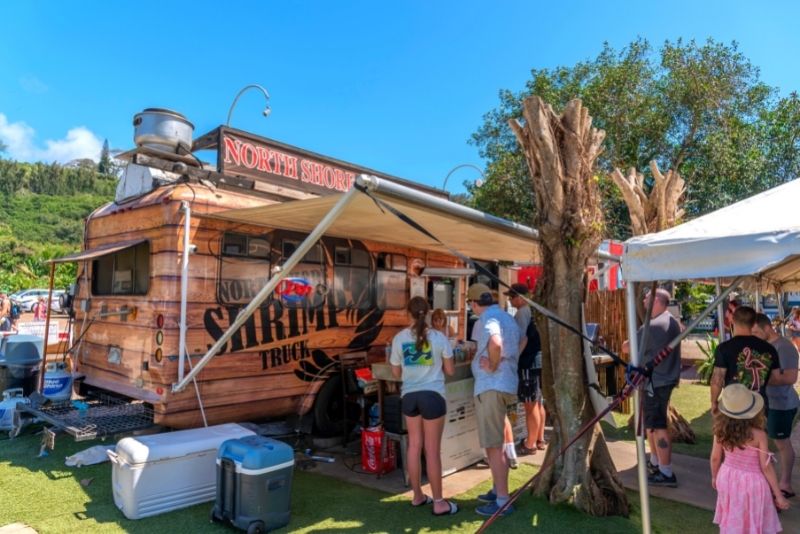 Boasting a unique culinary flair carved over centuries of various cultures and ethnicities coming together, the Big Island is a foodie's paradise. Kailua-Kona, Hilo, and Waimea (and countless other towns across the archipelago) all offer great food tours.
While you'll find a handful of tantalizing restaurants serving up local staples (like poke, acai bowls, mochi, Kona coffee, and homegrown chocolate treats), the tastiest insights come from locally-led food tours, which will introduce you to unique dishes, beloved bakeries, and hole-in-the-wall joints that you would have never found on your own.
Oh, and did we mention the macadamia nut farms? Because Hawaii is the largest producer of these nuts in the entire USA, you can bet your bottom dollar that there will be plenty of samples (and even recipes) to take home with you.
Sample itinerary: in Kona-specific adventures, foodies can expect to check out over half a dozen different eateries, including award-winning ice cream parlors, local seafood markets, and chocolate farms, while diving into the local culture and history along the way. As you learn about the Polynesian influence on the island's menu, you'll get to try mixing cocktails. So, who's hungry?
32 – Buy super rare honey and learn how it's made at Big Island Bees
Did you know that without bees, humans are technically not able to survive according to the ecosystem? (Next time you go to swat one, think about this fact first!) Dedicated to the buzzing creatures, Big Island Bees is a family-operated honey farm that's been running since 1972.
Following ethical practices and procuring the delectably sweet nectar from their own hives on the property, all of this honey is 100% organic (completely free from pesticides), and eco-friendly (packed in glass jars), and the farm is proud to be part of the slow-food movement.
The honey farm bottles three specific honey varietals.
These are Ohi'a Lehua honey (one of the world's rarest types), which is fab in a cup of tea; a premium darker syrup known as Macadamia Nut honey (produced in Macadamia Nut orchards); and Wilelaiki honey that pairs fantastically with cheese, veg and meat.
Enjoy a beekeeping tour, visit the museum, and don't leave without visiting the on-site store for a world of honey-goods, from raw to beeswax products.
33 – Learn to fish like a pro with a guided deep-sea fishing excursion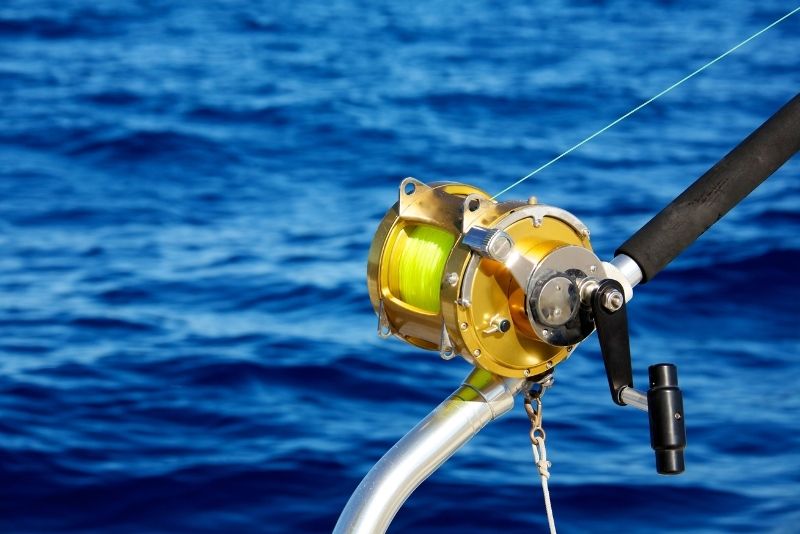 A change of pace from hiking or exploring the big cities, why not take a day out on the ocean to experience some world-class deep-sea fishing? Known for housing the most species of all the Hawaiian islands (no fewer than 1,100 different breeds, big and small), the Big Island boasts an impressive array of game fish just waiting to be found, including mahi-mahi, marlin, swordfish, ono (wahoo), and ahi tuna.
With the help of a professional guide (which most charter companies will provide), you can learn everything there is to know about deep-sea fishing in Hawaii, from the best techniques for reeling in a big one to the types of bait that work best in these waters, and admire views of the Kona Coast the whole way through.
And, if the stars align, you might even get to see some dolphins or a breaching whale or two!
You can find charters and tours that cater to newbies and more experienced fishermen alike.
A captain and crew will be aboard to take care of everyone's needs, and, of course, all fishing equipment will be provided — all you need to bring is yourself!
34 – Bite into the freshest fruit at the Hilo Farmers Market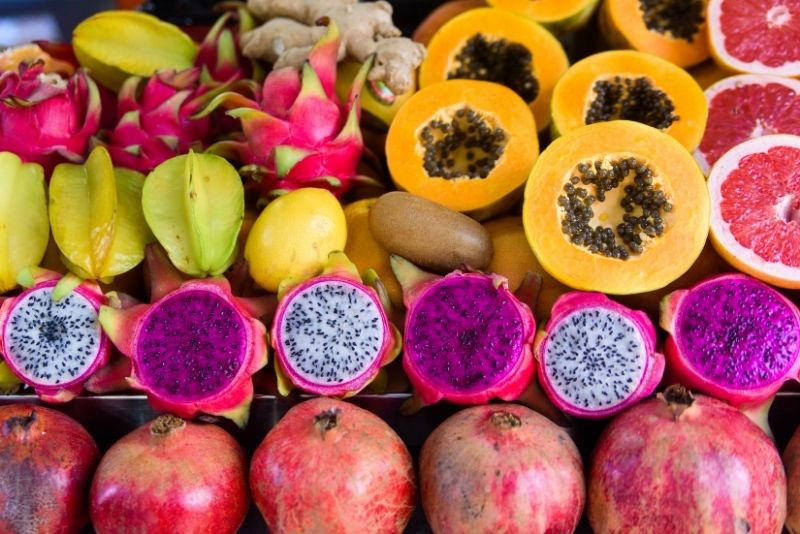 A longstanding tradition in Hilo, the Farmers Market is open every day of the week (from 7am to 3pm) and sells an array of fresh, locally sourced produce. Running since 1974, it takes up a full city block, with over 200 vendors plying their wares.
You'll find everything from tropical fruits (the pineapples are enormous) and vegetables to homemade jams, jellies and sauces, souvenirs, as well as fresh seafood caught that morning.
One of the best things about the Hilo Farmers Market is that it's not just a place to do your grocery shopping; it's also a great spot to mingle with locals and get a real sense of the community. There's always something going on, whether it's live music or dance performances.
Despite being the most popular farmers market in the area, this Hilo staple is far from the only one. Close by is also the Kinoole Farmers Market, the Hilo Town Market (great for Friday nights), the Keaau Village Farmers Market and the aptly-named Mountain View Farmers Market.
35 – See how royals once lived at the Hulihe'e Palace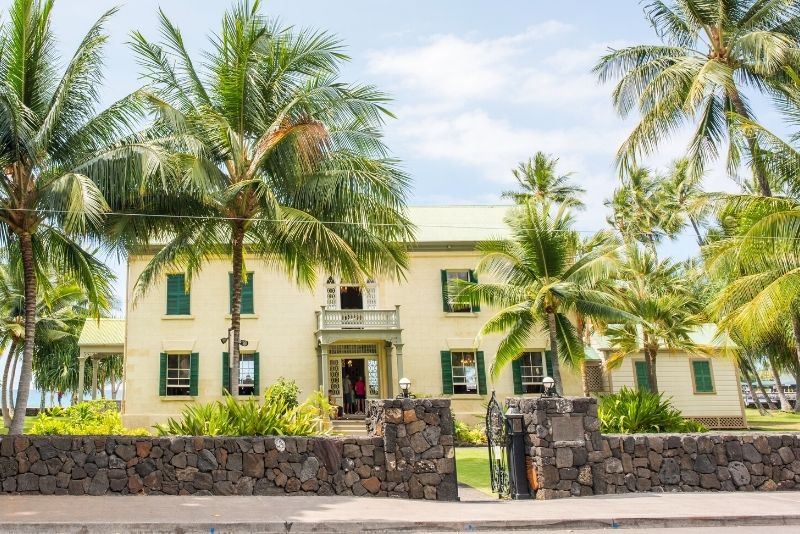 Sitting on Ali'i Drive, right on Kailua Bay in the middle of the lovely Kailua-Kona town, and dating all the way back to 1838, the historic Hulihe'e Palace is one of the most significant buildings on the Big Island.
For almost a century, it was the vacation home of Hawaiian royalty (last inhabited by King David Kalakaua and Queen Kapiolani), and over time has been transformed into a museum that shed light on the important role the Hawaiian monarchy played in the islands' history.
Filled with beautiful Victorian-era artifacts, furnishings, portraits, feather work, Hawaiian quilts, and works of art (many of which belonged to Hawaii's ali'i), a visit to Hulihe'e Palace is a must for anyone interested in learning more about the islands' rich past.
And while it was once exclusive to the elite, these days, the palace is open to the public as a museum, acting as a time capsule into a bygone time.
Popular among architecture buffs too, the 19th-century dwelling is decked out with beautiful woodwork; a half-dozen grand rooms, and charming gardens to boot.
Prefer a guided tour? Then visit Wednesday to Friday for pre-arranged walkthroughs. Alternatively, visit on Saturdays to explore at your own pace.
36 – Join a glass-bottom boat reef tour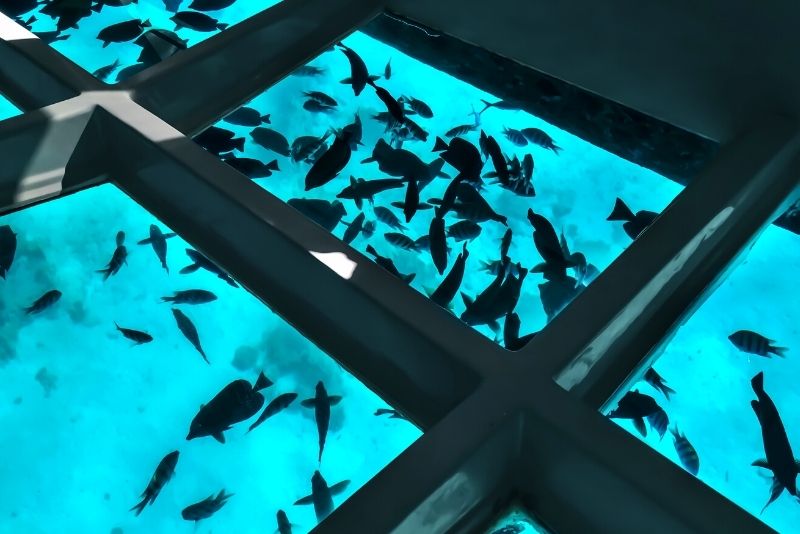 Beneath the surface of the Big Island's waters lies a thriving world of vibrant corals, curious fish, and other exotic marine life. Some of the species are indigenous to the island too, which makes for a pretty unique experience.
While it's possible to go snorkeling or diving to see this natural wonderland for yourself, another (slightly less adventurous) option is to join a glass-bottom boat reef tour.
These tours depart from many of the major resort areas, including Kailua-Kona and Waikōloa, and allow you to see the coral and marine life without getting wet. The boats usually have a sun deck where you can relax and soak up the rays too.
So, what can you expect? On any given day you might encounter Hawaiian green sea turtles, manta rays, and even the occasional dolphin or whale (during migration season) – but for the most part, it's a rainbow of schools of various fish, big and small.
Most tours only take about an hour, with hotel pickup and dropoff optional, making it a relatively easy addition to any day of sightseeing.
37 – Embark on a dolphin-watching cruise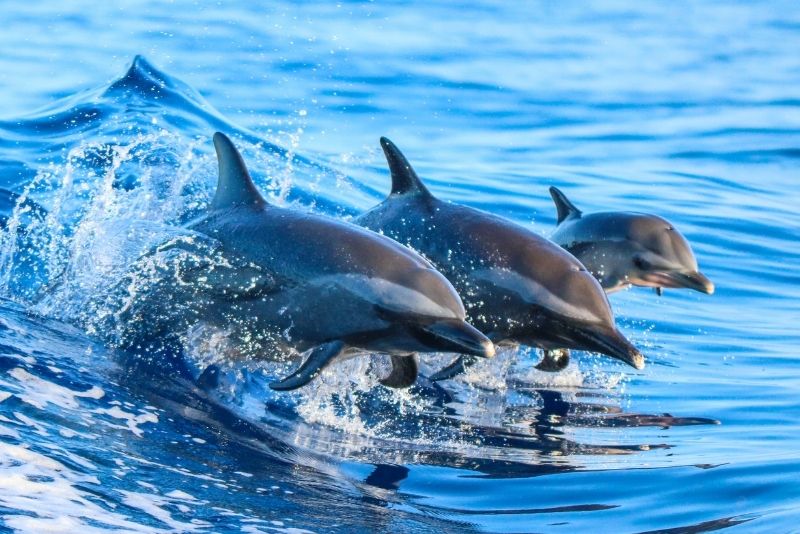 Nature lovers, take note: there's perhaps no better place to go dolphin watching than the Big Island. From the shores of Kailua-Kona town and Kohala Coast to the sheltered bays of Hilo and beyond, you'll find plenty of chances to get up close and personal with these magnificent creatures in their natural habitat.
While there are several ways to do it (charter your own boat or rent a kayak and cross your fingers), a pre-organized dolphin-watching adventure essentially guarantees sightings.
Most tours take place in the morning when the dolphins are most active. After a quick safety briefing, it's straight out into the open water where you'll spend the next few hours cruising around in search of pods of spinner, spotted and bottlenose dolphins.
Keep your eyes peeled for breaching and other playful antics as you learn about these fascinating creatures from the onboard naturalist guide. If you're lucky, you might even spot a humpback whale or two (November to May is the prime whale-watching season).
Prefer to get even closer to the action? Then consider a tour that includes a reef swim!
38 – Hike along the Captain Cook Monument Trail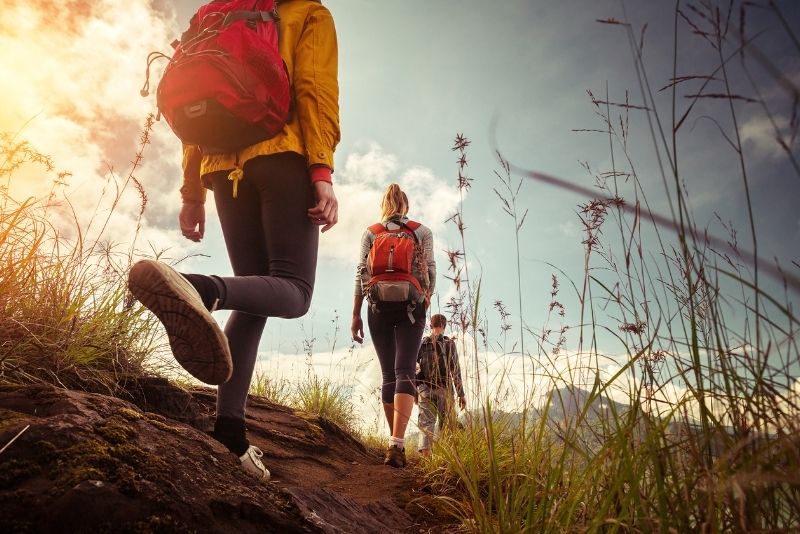 Situated on the Kealakekua Bay, within the equally beautiful and culturally significant Kaloko-Honokōhau National Historical Park, the Captain Cook Monument obelisk is one of the Big Island's most popular landmarks.
Most visitors come here to snorkel and dive (or join a boat cruise) in the bay's pristine waters (said to be some of the best in Hawaii), but few know that there's a scenic hike that leads up to incredible panoramic views of the bay below too.
Boasting spectacular views in every direction, the 4-mile out-and-back (about 6.4-kilometer) Captain Cook Monument Trail winds its way through both native forest and rocky shoreline before it finishes up – as you might expect – at the monument to Captain Cook.
At 27 feet tall, the obelisk has stood since 1874, marking the very spot where Captain James Cook stepped onto Hawaiian shores back in 1778.
Far from an easy walk in the park, make sure to bring water and wear good hiking shoes – expect the adventure to take about two and a half hours.
39 – Create a souvenir with your very own hands with a carving workshop
Fun fact: Tiki masks are a long-time Hawaiian tradition, utilized in Hawaii and ancient Polynesian culture for centuries, used to represent deities or ward off evil spirits (each one has a specific meaning). What could be more authentic for your time on Big Island than getting involved in a carving lesson, crafting your very own wooden creations to take home with you?
Join a two-hour workshop in a tiny village on the Big Island's western coast (in Holualoa), or at a local farm in Kona inside a typical carving hut.
First, personally select your piece of wood, which will be your canvas (an important part of the process), and then the design you wish to create.
A fourth-generation Master Carver from Tonga leads the class and is there to aid with showing you techniques and different styles, as well as sharing the history of tiki carvings and backstories.
By the end of it, you'll have your own tiki souvenir to treasure forever.
40 – Saddle up for a horse riding adventure!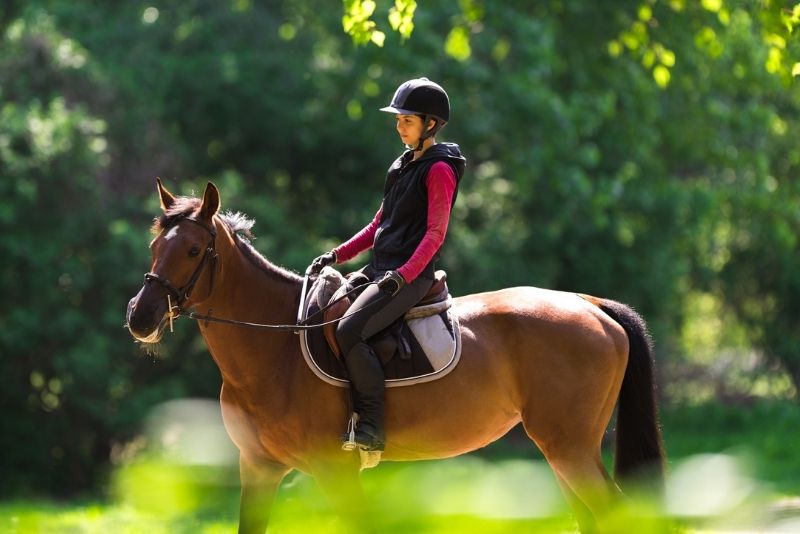 Get a breath of fresh air and enjoy spectacular scenic views of the local forests by going on a horse riding tour! Whether you have horse riding experience or not, you'll find a range of locally-led tours catering to both beginners and more experienced riders.
Choose from adventures in the Waipiʻo Valley, like Waipi'o on Horseback, starting at WOH Ranch. After you're saddled up, enjoy a two to 2.5-canter through banana groves, a coconut orchard, flower fields, guava tree tunnels, Ironwoods and past fishponds.
Open seven days a week (since 1981), Kohala Na'alapa Stables is set up at a working cattle and sheep ranch in North Kohala (one of the oldest around) and offers 1.5 or 2.5-hour rides. Trot between pastures with vistas of the coast and mountains as your backdrop.
Choose between morning, afternoon or sunset horse backing with Paniolo Adventures. Or opt for something different with the Wrangler, City Slicker and Exclusive ride options, venturing across an 11,000 acre cattle ranch.
41 – Satisfy the sweet tooth at the beloved Punalu'u Bake Shop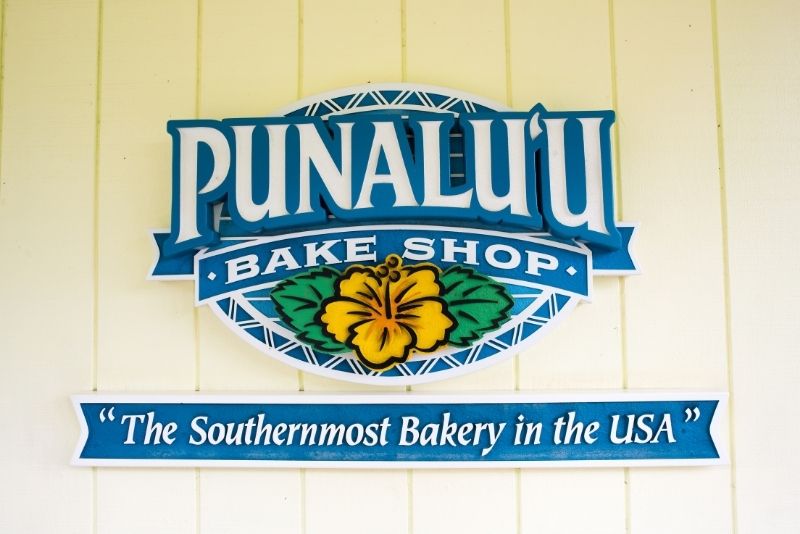 One of those quintessential eateries that's known by each and every local like the back of their hand, the Punalu'u Bake Shop is famous on the Big Island for its sweet bread — and after one bite, you'll quickly understand why.
Not only do they have (arguably) the best sweet bread on the island (scratch that, in the entire state), but they boast so many other mouth-watering treats as well (namely the Malasadas).
You'll find this beloved locale on the southern shores of the Big Island in the town of Na'alehu, and whether you stop in for breakfast, lunch, or dinner — you're guaranteed to leave with a belly full of happiness (and maybe even a loaf or two of their delectable sweet bread to take home with you).
While you're in the area – make a day of it! Nearby, you'll find the black sand beaches of Punalu'u and Papakolea, as well as Hawaii Volcanoes National Park, a nature-lover's region that needs no introduction.
And, if you're one for ticking quirky landmarks off the bucket list, just 25 minutes away is the official 'Southernmost Point in the United States'.
42 – Try scuba diving (or even get certified)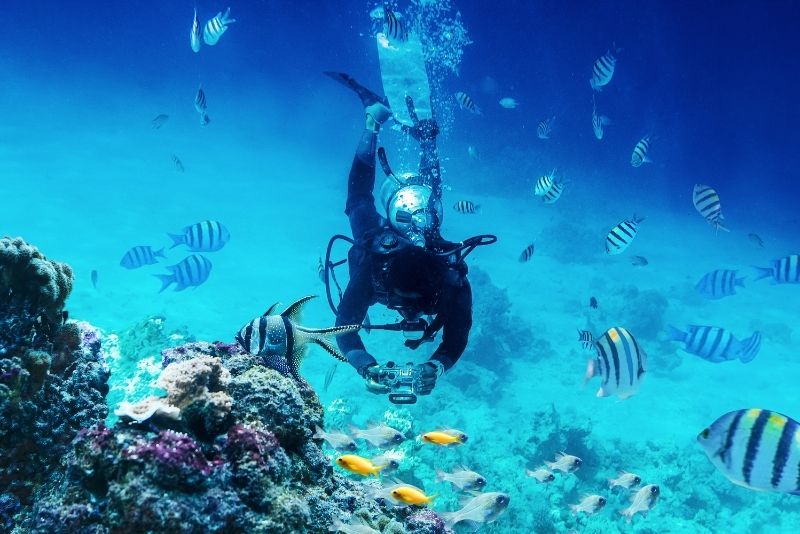 Teeming with vibrant underwater life — hundreds of species of colorful fish, friendly sea turtles, majestic manta rays, spinner dolphins, and even humpbacks come winter migration — the Big Island's waters offer some of the best scuba diving in Hawaii.
With warm water temperatures (around 77-84 degrees Fahrenheit year-round), good visibility (usually between 50 and 100 feet), and a variety of dive sites to choose from, it should come as no surprise that the Big Island is renowned among scuba divers.
Big Island boasts the most species of fish of all the Hawaii Islands thanks to its impressive reefs—in total, over 1,100, with roughly 130 being endemic to the island chain.
Whether you're a certified diver looking for an unforgettable experience or a first-time explorer, you've got something up your alley. Go on a guided tour with an experienced instructor, take a discovery dive (a shallow intro dive for beginners), or even get certified for PADI open water if you want to go all in.
Among the island's most popular dive sites are Crescent Beach (with drop-offs up to 80 feet), aptly-named Manta Ray Heaven, Pu'uhonua / Honaunau (with amazing underwater architecture), Honokohau (featuring lava tubes and sea caves), and Kaiwi Point (only accessible by boat).
43 – Witness the Big Island's famous Waipio Valley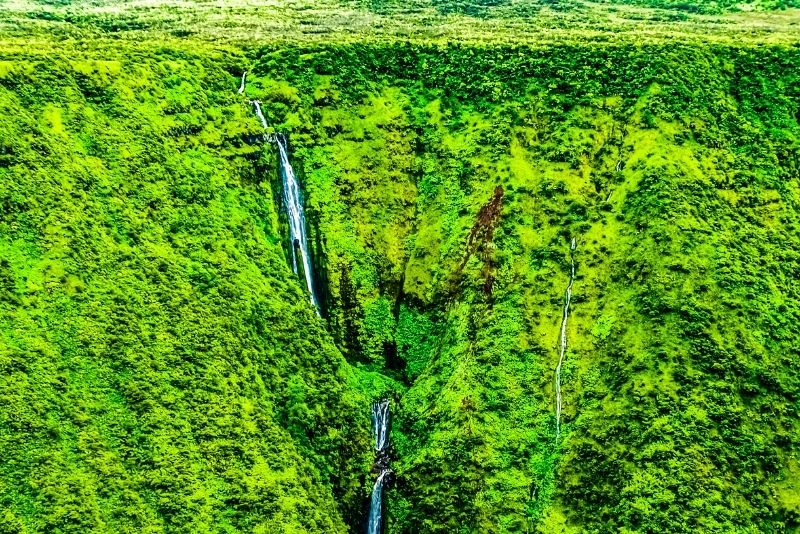 Ready for some killer views? Travel along the Hamakua coast and explore the famous waterfalls that Big Island is known for! Looking like something ripped out of a travel magazine, the majestic Waipio Valley is one of Hawaii's most popular tourist destinations for a reason — and it's not just because of the jaw-dropping views.
This valley was once home to Hawaiian royalty (hence the nickname, The Valley of The Kings), and you can still see ancient terraces and a handful of sacred sites that are important to Hawaiian culture and history.
Whether you're an adventurer or prefer to take it a little slow, there are plenty of ways to explore Waipio Valley. You can take a self-guided tour on foot or by car (if you have a four-wheel drive vehicle), or book a guided hike or offroad tour. Most tours will introduce you to the stunning Rainbow Falls, Hi'ilawe Falls, and Akaka Falls — with plenty of flora and fauna in between — and often include pickup and drop-off from your Hilo hotel.
And, if you opt for a locally-led experience, you'll walk away having learned about the rich history, the longstanding legends, and the myths of the place, before finishing off the day with a swim in a serene waterfall. What's not to love?
44 – Escape the crowds at Papakolea Green Sand Beach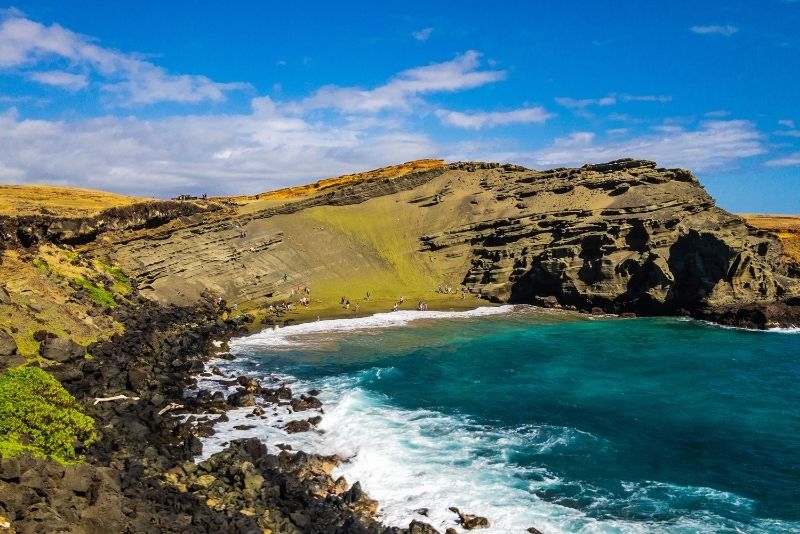 Perhaps after you've checked off the Southernmost Point in the United States; or dug into a bite of the famous sweet bread from the Punalu'u Bake Shop (see #41), it's time to head to the island's Papakolea Green Sand Beach – one of only four green sand beaches in the world! (The remaining three are in Guam, Norway, and the Galapagos.)
Situated on the southern tip of the Big Island, this unique coastline is blanketed in olive-hued olivine crystals, formed from the erosion of a nearby cinder cone that erupted some 50,000 years ago.
While it's long been a hidden gem that most run-of-the-mill tourists wouldn't have known about, thanks to its slowly increasing popularity, it's advised to arrive before noon on a weekday for the most peace and quiet.
Because of its seclusion, there are two main ways of reaching this unique spot: either tackle the 4-mile roundtrip hike if you want to burn a few calories, or jump in one of the local shuttle jeeps – the experience of riding over the rocky terrain is memorable in and of itself.
45 – Learn all about seahorses at the Ocean Rider Seahorse Farm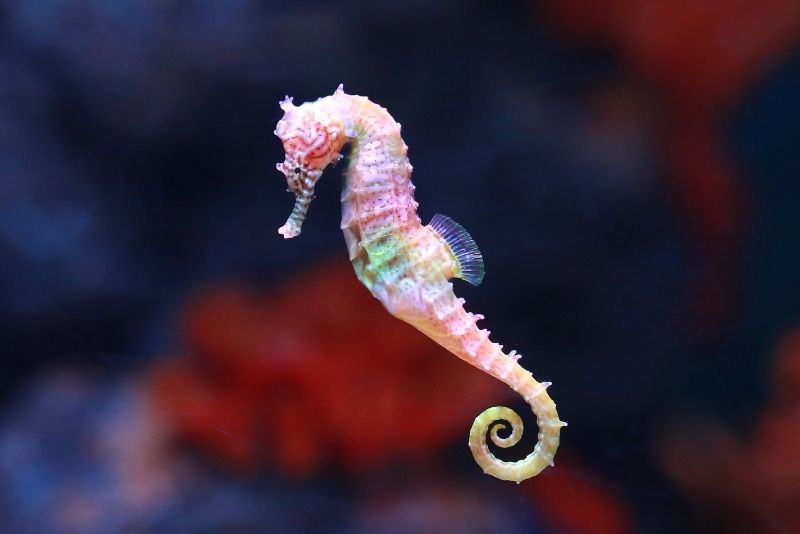 As you'd guess, Ocean Rider Seahorse Farm is a farm where seahorses are born and bred so that they – and the coral reefs which they call home – can be saved from damage and extinction.
With thousands of seahorses of all different shapes and sizes, from no fewer than 25 different species on site (ranging from the distinctive leafy seadragon to the fast-moving tiger tail seahorse), this conservation-focused attraction blends education with entertainment, making it one of the more popular things to do on the Big Island for traveling families.
While you can explore the 3-acre oceanfront farm at your own pace, they also offer daily (private or group) tours where knowledgeable guides wax all about seahorses – diving into their eating habits, socializing practices, mating routines, and more – and other marine life that roam around Hawaii's diverse waters.
While you're making your way through America's only seahorse aqua-farm, take a moment to browse the on-site gift shop. Selling a range of apparel, souvenirs, and seahorse plush toys, you'll seldom walk away empty-handed.
46 – Explore the vibrant town of Hilo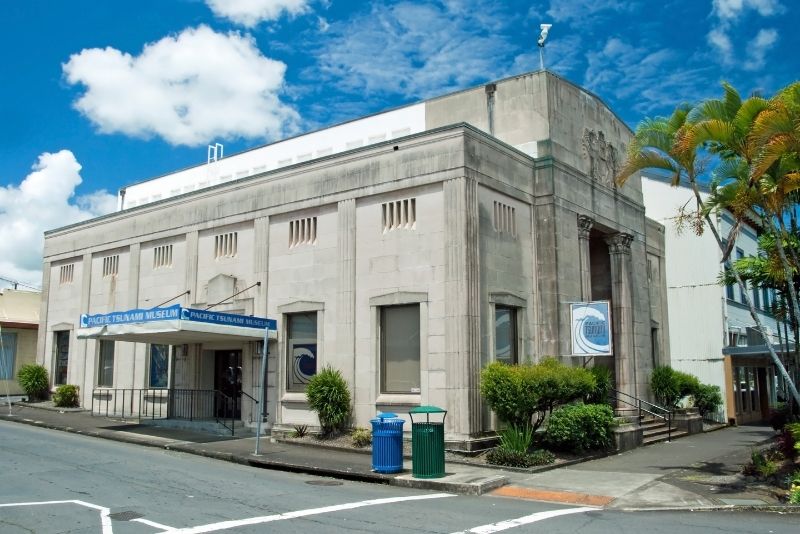 Housing the Big Island's main airport, as well as hosting many of its most popular festivals, Hilo town is often thought of as the downtown heart of the island. Still, there's so much more to this riverside community than meets the eye!
Wander through Downtown Hilo and find a plethora of charming shops and restaurants, as well as quaint cafes and art galleries around every corner.
Hilo is home to plenty lush parks and gardens, including Akaka Falls State Park, the Liliuokalani Gardens and the famous Rainbow Falls State Park (straddling the Wailuku River). Meanwhile, a short drive out of town takes you to Hawaii Tropical Botanical Garden – a 17-acre paradise boasting some 2000 rare and exotic plants and flowers from all over the world.
Fascinating and eye-opening, The Pacific Tsunami Museum is also located in Hilo town, while the Hilo Farmers Market provides an insight into the local culture and flavors. If you're traveling with kids, check out the 'Imiloa Astronomy Center' – an interactive museum all about Hawaiian culture and its connection to the stars.
With so much to do, travelers often decide to book a day tour — adventures include stops at different beaches, restaurants, waterfalls, and much more.
47 – Glide along the water on a stand-up paddleboard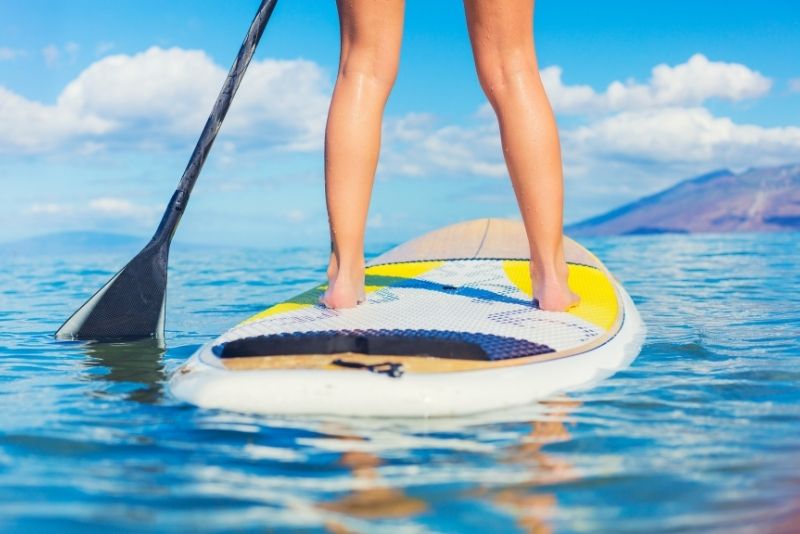 A relaxing experience that offers magnificent views of the shore, stand-up paddleboarding (SUPing) is a regular hit for locals and tourists alike. Paddleboarding dates back centuries, heavily intertwined with the Hawaiian culture and early days of surfing.
While they can certainly take a few minutes to get used to, paddleboards are highly beginner-friendly so it won't matter if you have experience or not — learn to stand at your own pace and then enjoy the view in no time.
Rent out SUPs as a group, hire an instructor, or go at it alone — whatever floats your boat!
Staying on the West Coast? Then any of Kealakekua Bay, Kailua Bay (and Kamakahonu Beach), Kukio Beach, and Anaeho'omalu Beach are excellent places to start. If you're based in Hilo, on the other hand, Coconut Island is your best bet, where you'll be greeted to sublime vistas of downtown Hilo with the Mauna Kea volcano hanging in the distance.
Hot tip: For the best conditions, try paddleboarding early in the morning.
48 – Spend at least a day in the magnificent Kohala region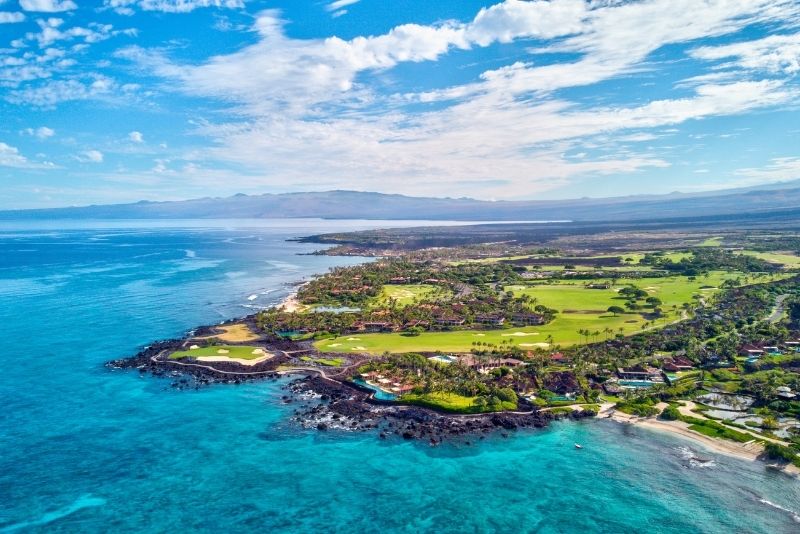 The definition of natural beauty, Kohala – the furthest northwest portion of the island – boasts so many different ways to appreciate the great outdoors. The coastline is framed by black-lava cliffs and secluded coves, while the interior of the island is lush and green, with verdant valleys and dramatic waterfalls.
There's plenty to do in Kohala, whether you want to take a dip in one of the many freshwater pools (like Mahai'ula Beach), go for a hike through the Pololu Valley Lookout, or simply relax on pristine beaches like Hapuna Beach State Park, Spencer Beach Park and Pololu Valley Beach.
Feeling adventurous? There's even ATV and horseback riding available in some parts. Go ziplining through the soaring canopies; trek through all the glistening waterfalls; or soar through the skies on a helicopter adventure.
While its nature is sublime, it'd be a sin to overlook the towns; Hawi is the northernmost city on the island with art galleries, boutique shops and great places to eat.
The nearby town of Waimea is the go-to for Hawaiian cowboy culture (paniolos), while Kapa'au is another must-see, not only for its picturesque location and gorgeous views but also because it's where you'll find the King Kamehameha Statue.
49 – Make your way to the Lava Tree State Monument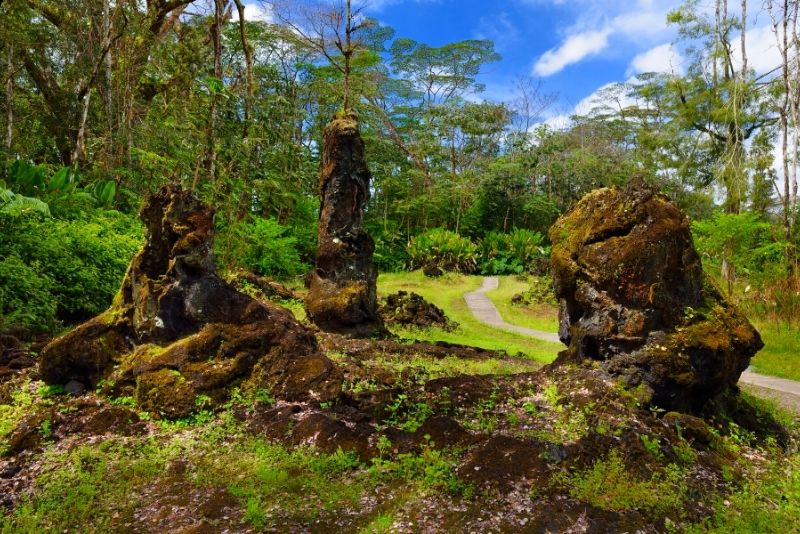 Due to an unmatched series of environmental factors — volcanoes, wind, rain, and erosion from the sea — and the fact that it continues to transform with every subsequent eruption, the Big Island is one of the most geographically diverse places on Earth. And while there are plenty of places that showcase this diversity, few do it quite as impressively as the Lava Tree State Monument.
A wonderful opportunity to see unique archeological structures – tree trunk lava molds that have been petrified by molten lava – the Lava Tree State Monument park is a must-visit for anyone interested in the power of volcanoes.
You might be thinking, 'but how'? The park's famous trunks were encapsulated by a volcano eruption all the way back in 1790 and have remained standing until today in all their glory.
The trail to see the lava trees is just 0.7 miles, making it accessible for people of all ages. The monument itself is easy to get to too, located just off Highway 130 (the main road that runs through the Puna district), and best of all, admission is free!
To make the most of your visit, check out the Fissure 8 viewing area next door, and consider popping down to the Pohoiki Black Sand Beach nearby.
50 – Delve deep into the Kula Kai Caverns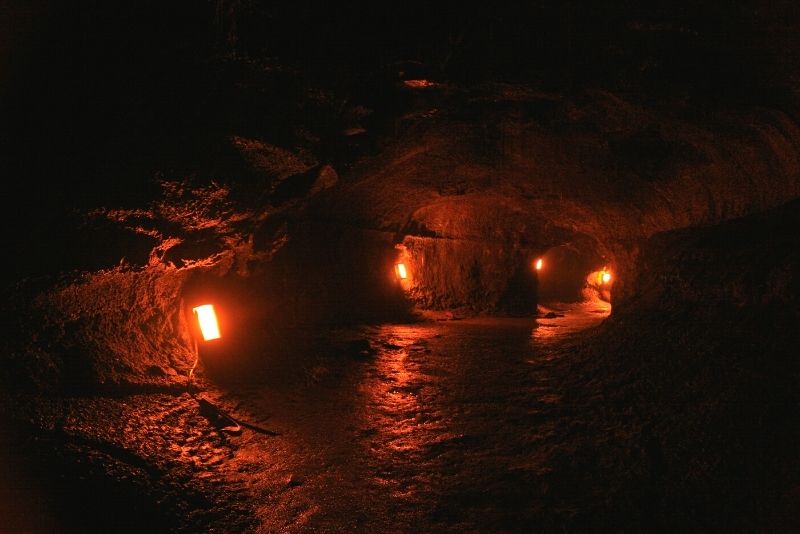 Located on the southeast coast of Hawaii Island, the Kula Kai Caverns are a must-see for any budding spelunker or anyone who's interested in exploring one of Hawaii's many hidden gems. The caverns were formed close to 1,000 years ago – and while that sounds like n eternity ago, it actually makes this system one of the youngest caves on the planet.
While dramatically heated lava flows from Mauna Loa and Hualalai volcanoes created them, today they provide a cool underground respite from the island's often-intense summer heat, which makes them the perfect place to take a break from exploring the rest of Hawaii.
With both short and long tours available, each of which is led by locals, there's plenty to see and learn regardless of your caving experience at the Kula Kei Caverns. If you want a quick highlight reel, the 30-45 minute experiences explore a small section of the cave in a lighted area, while the more extensive adventures require helmets, lights, and gloves, and are far more of a physical challenge.
Keep in mind that crawling into certain spaces is required (knee pads will be provided), so claustrophobics might want to sit this one out.
51 – Cycle around volcanoes and other exciting spots during bike tours
For when your time is limited or you have your heart set on exploring parts of Big Island that usually require some trekking, but you're just so not in the mood to go on foot, bike tours come in handy – plus, most are electric bicycles!
A popular destination for e-bike excursions is within the famous Hawaii Volcanoes National Park, mainly around the Kilauea Volcano. For this, fat-tire bikes are utilized, making it easier and more stable to traverse the lava-y terrains.
Instead of ambling deep into the park, there are private bike tours around Pahoa neighborhood and you're shown Fissure 8 from the 2018 eruption, meeting locals along the way that endured the event.
Alternatively, adventure to the Hilton Waikoloa Village to its black sand beach, a petroglyph reserve and the site of where the former King Kamehameha lived (now fishponds).
Self-guided and powered by an audio GPS app, you will need at least one fully charged mobile to direct you along your chosen route.
52 – Go cliff jumping at South Point (if you dare)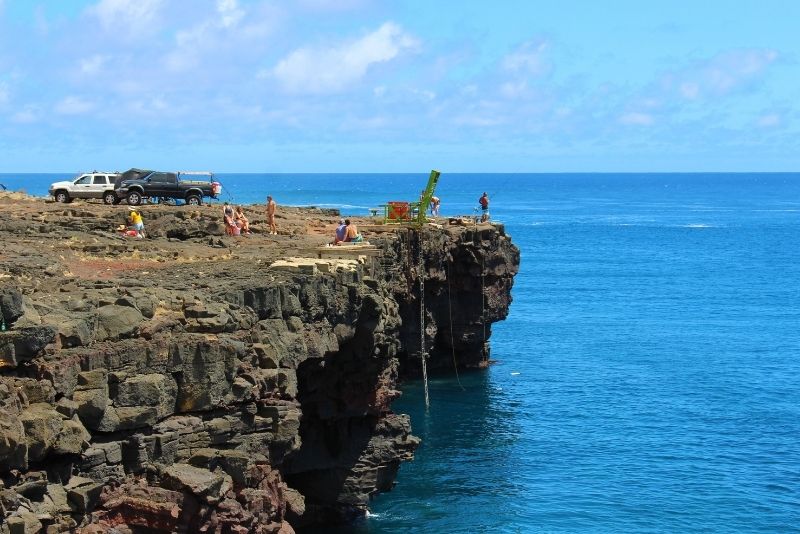 Do you fancy yourself to be somewhat of an adrenaline junkie? Well, then this 40-foot cliff jump is perfect for you! Ka Lae – whose claim to fame is being the southernmost point in the United States – or South Point as it's otherwise known isn't just a picturesque setting; it's also home to some of the best cliff jumping on the island.
This activity is definitely not for the faint of heart, but if you're looking for an adventure and are willing to take the plunge, then it's well worth it! Most visitors have said that while it can look quite scary, it's not as bad once you take the leap — plus, with 20 feet of water below, there's plenty of room to land.
Itinerary suggestion: The island's most famous black-tinted, turtle-frequented stretch of sand, Punaluʻu Beach is about 23 miles up the round (40 minutes by car). With a tailormade stop at Punalu'u Bake Shop en route, these two natural wonders make for a terrific duo.
53 – Grab lunch at the Kona Brewing Company Pub & Brewery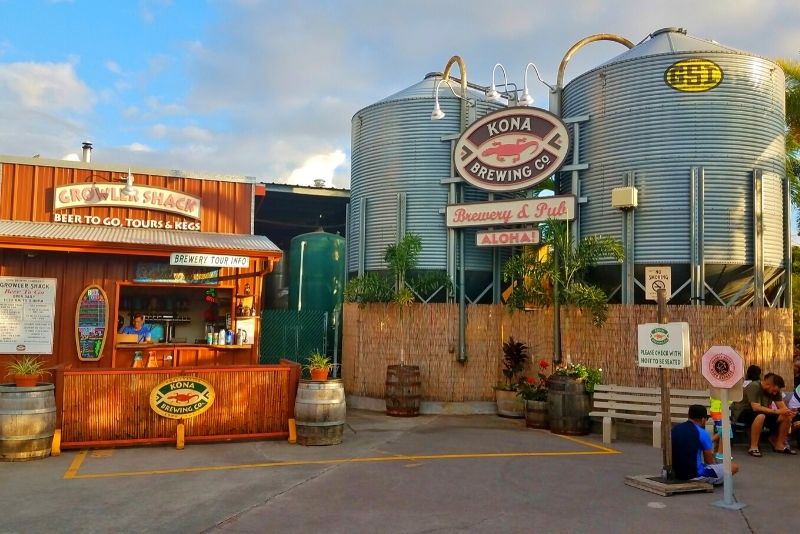 A sublime spot to wet your whistle and dive head-first into that vacation lifestyle, the Kona Brewing Company Pub & Brewery opened in 1998 on the Big Island and has been a hit with the locals and tourists ever since.
Not only is it known for the local flavors of home-grown beer, but the pizza — according to thousands upon thousands of past visitors — is to die for!
Wash it down with staples like the Big Wave Golden Ale, Hanalei Island IPA (infused with sweet passionfruit, orange, and guava), the Longboard Island Lager, and the Mai time Light (made with orange, pineapple, and lime).
Tours of the brewery are also available if that's something up your alley – and yes, samples are included. So whether you're eating, drinking, or just hanging out and embracing the aloha spirit, a visit here serves as one of many quintessential things to do on the Big Island.
54 – See cats and sheep living in harmony at the Magical Creatures Sanctuary
Now this is a place that we can dig, and unlike zoos where animals are kept in enclosures and small spaces for a lifetime, the Magical Creatures Sanctuary is just as it states – "a safe haven for farmed animals."
Unlike humans, animals don't speak English and are unfairly treated in many parts of our world. Where all creatures big and small are treasured and respected, this is an amazing farm led by an incredible bunch of people – if animal activism is something close to your heart, join their volunteer program!
Operating as a volunteer-run organization since founded in 2018, meet adorable goats, fuzzy sheep, cute pigs, gentle cows, chickens and their babies, ducks and the resident cats.
There are public (available on Saturday only) and private (available daily) sanctuary tours where you'll meet and greet the rescued and rehabilitated animals in the pastures, hearing of their special rescue stories.
55 – Take a dip in the famous 'hot ponds'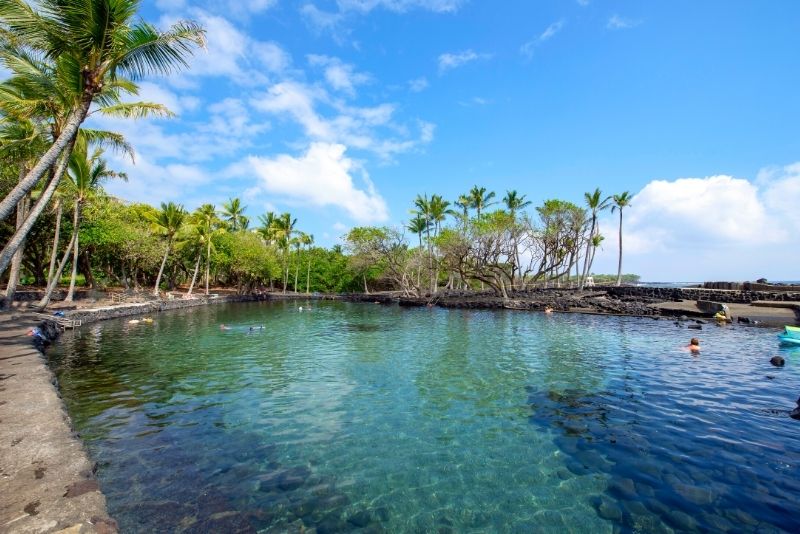 First thing first: what on earth are the hot ponds? The hot ponds, or puʻuhonua o Hōnaunau, are a series of tide pools that have been heated by volcanic vents below the water. This naturally occurring phenomenon can be found on the south coast of Hawaii Island (not too far from South Point), and is totally free to check out.
As you'd expect from a volcanic island, these natural jacuzzis are a dime a dozen. Over at Isaac Hale Beach Park, for example, which became the island's newest black sand beach after the 2018 eruption, you'll find the Pohoiki Warm Spring as well as four more natural ocean thermal ponds.
Besides the obvious serenity, it's said that a hot spring quick soak also welcomes plenty of health benefits. Sadly, many of the old popular springs (like the Ahalanui Hot Springs and the Kapoho Tide Pools) were effectively destroyed in 2018 – and while fascinating new lava structures have been formed, the old pools are covered up.
56 – Interactive and exciting, use scavenger games to go sightseeing
If you're traveling with the entire pack and are searching for interesting ways to sightsee the Big Island with young kids or teens, scavenger games are a thrilling, unusual and fun way to get to know the landmarks and attractions.
What's the deal? Powered by a mobile (using a virtual host via WhatsApp), you're given a set of challenges to complete in order to win the hunt. Each one involves hunting down a different monument or point of interest – but you will have to solve the clue first to uncover what this is, and with this, individual challenges.
Without realizing it, you're navigating your way around the city streets in no time!
It's kinda like a mix of The Amazing Race and a classic Escape Room vibe.
Choose between a two-hour scavenger game around Downton Kona or Hawaiʻi Volcanoes National Park instead. Along the way, you may even spot other players – in which case, try to beat their time! Or, race against your friends instead, playing as two individual teams.
57 – Spend a day golfing on lush fairways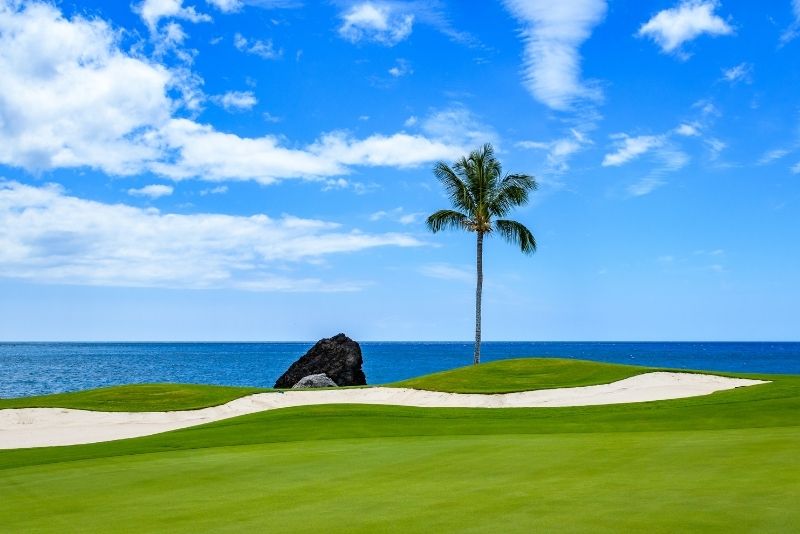 Thanks to a rugged landscape that blends verdant greens with rocky black lava outcrops and views of the deep blue ocean, the Big Island has no shortage of visually spectacular world-class golf courses (and if you follow the sport then you'll know how many pros have played here). So, why not try your own hand at these fairways?
While there's plenty to choose from, the crowd favorites include the Mauna Kea Beach Hotel Championship Golf Course, Hualalai Golf Course, Mauna Lani Resort North Course, and the Waikoloa Kings' Course.
If you're staying near Hilo, the Hilo Municipal Golf Course is an affordable (just $44 with carts included) introduction to the island's golfing culture. Just 10 minutes drive from downtown, this par-71 course stretches 6,325 yards, with ample water hazards and slopes to keep you on your toes, and the foreboding Mauna Kea volcano looming in the background.
Throwing a couple more into the mix; the Makani Golf Club sits some 3,000 ft. above sea level in the foothills of Mauna Kea, while the Kona Country Club – a convenient distance from Kona town – blends excellent coastal views with fairways suited to every skill level.
58 – Pick a playlist and head off on a road trip!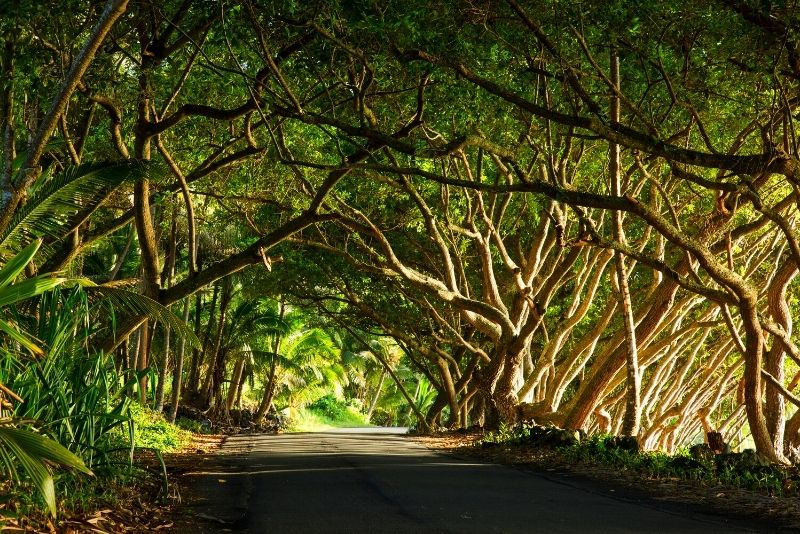 Let your hair down and discover a whole new side of Hawaii by going on a scenic drive. Being one of the most diverse geological islands and landscapes on the planet – with verdant forests, towering volcanoes, crashing coastline and eerie lava fields – Hawaii boasts arrays of incredible scenery.
What better way to take it all in than on a road trip? The Saddle Road is real unique. Journey from Kailua-Kona all the way down to Hilo through the heart of the island's interior, stretching some 54 miles. A rare feat, it's one of the only places that transitions from rainforest to desert in the space of 45 minutes, peaking at 6,632 feet above sea level.
If volcanoes are your jam, the Chain of Craters Scenic Drive connects Kilauea's summit with the sea-level streets, boasting lava flows, craters and ancient petroglyphs en route.
Combining coast with country, the Mountain Road from Waimea to Hawi (Highway 250) is considered truly incredible, twisting its way up the side of Kohala Mountain.
Staying in Hilo? The short and sweet Pepe'ekeo Scenic Drive is an easy one for the list, while, a little further out, the Kapoho Kalapana Road Scenic Drive delights many.
59 – Meet ghouls and specters roaming Big Island on ghost tours
One for the history buffs and paranormal geeks, believe or not, Hawaii does have a dark past, and ghost tours are a unique way to explore this side of tropical paradise.
There are a few haunted adventures, ranging from one to two-hour ghost-hunting endeavors. Hear ancient stories about Hawaiian gods, visit landmarks shrouded in wrongdoings from centuries before and become clued up on local supernatural encounters.
Get to know the eerie side of Kona, for example, hunting down cursed locations down Ali'i Drive such as Mokuaikaua Church and Kona Inn Shopping Village (a former human sacrifice site).
Or, navigate Hilo's streets at nightfall, uncovering its spooky heritage, like the tale of the sacred Mauna Kea Mountain.
Naha Stone, the Pacific Tsunami Museum, Queen Liliuokalani Gardens and Banyan Drive are some pitstops on this ghostly itinerary. Get educated on the mysteries surrounding the annual Merrie Monarch Festival and even get to use ghostbusting equipment!
60 – Work on the tan at Kona Magic Sands Beach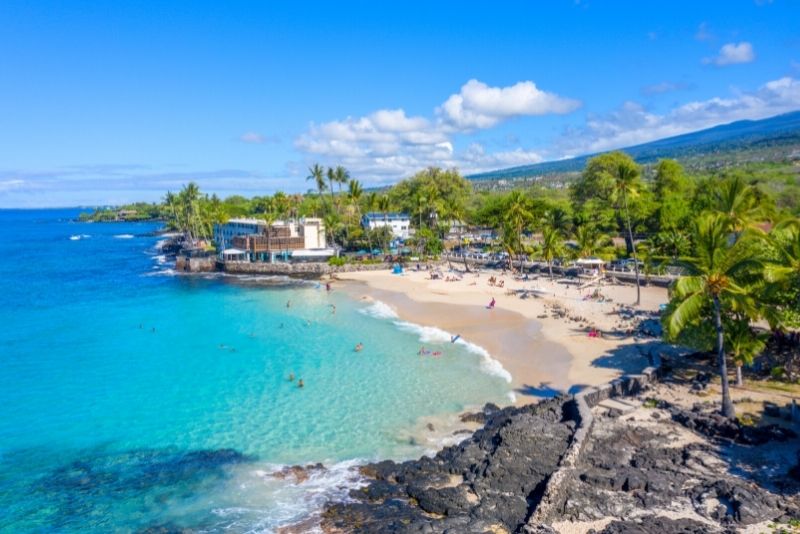 With warm white sands and sparkling turquoise waters, it's no surprise that this magical beach – locally known as La'aloa Beach Park – attracts hundreds of people every day. While it's certainly known for its world-famous bodyboarding waves and killer sunsets, this stretch of sand has a special feature: the sand totally vanishes overnight during high surf, revealing the black rock below.
A fair warning though: the waves and tides can be quite strong (lucky for us, it's lifeguard-overseen)— and there's limited shade, so make sure to pack sunscreen! If you're someone who loves to surf (or just work on the tan) then this is the beach for you.
You'll find this slice of paradise just a 10-minute drive south of downtown Kona, close to Kahalu'u Beach Park (a popular snorkeling spot). Even if you plan on staying dry, the epic sunsets, picnic areas, and Magics Beach Grill restaurant are reason enough to consider a quick pop-by.
61 – Listen to the sounds of nature at the Hakalau Forest Reserve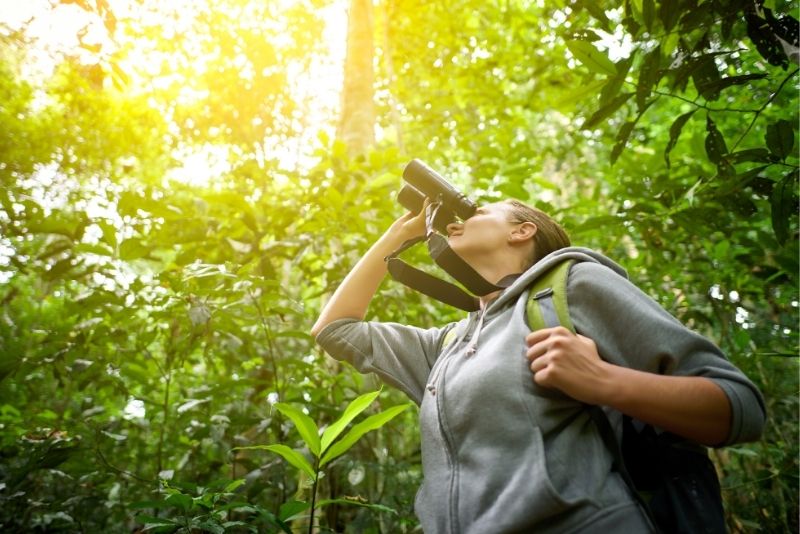 Comprising the 33,000-acre Hakalau Forest Unit and the 5,300-acre Kona Forest Unit, the Hakalau Forest National Wildlife Refuge is a treasure trove of Hawaii's endemic flora and fauna. While access to the latter is restricted due to the high volume of endangered species, the former section – sitting on the windward slope of Mauna Kea – is a visitor's delight.
The Hakalau Forest Unit is known for its wide variety of 200 species of colorful birds – including the endangered fiery red Hawaiian 'i'iwi (as well as Amakihi, Apapane, Elepaio, Akepa and Akiapolaau). With miles of hiking trails to explore (some easy, some difficult), the reserve is a great place for it.
Admission to the Hakalau Forest National Wildlife Refuge is tricky without a guided tour (due to both the protection of the species and a disease in the soil) so it's essential to book in advance, but definitely worth it.
Any eager bird-watchers among us? Full-day tour options should be right up your alley. Enjoy being guided to the best spots to go bird-watching, and since the guides are well-versed in the local wildlife, there's plenty to be learned (even if you already consider yourself an aviary expert).
62 – Stroll (or drive) through enchanting tree tunnels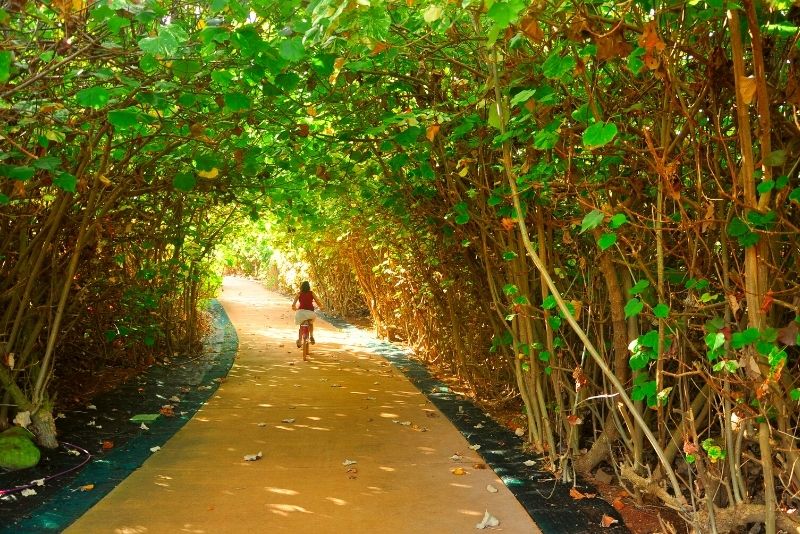 While the beaches, waterfalls, volcanoes, and mountains are something that everyone wants to see in Hawaii, the road less traveled offers a different, equally magical experience. If you're looking for some content for the 'gram, there are quite a few tree tunnels on the island that can create a whimsical backdrop.
Case in point: Kapoho Kalapana Road. Otherwise known as Red Road or Route 137, this coastal route connects Kalapana and Kapoho and is lined with ohia trees down the main stretch, with hidden coves and beaches along the way, collectively making for a very picturesque 15-mile drive.
As you cruise your way down, consider stopping into hidden gems like Kaimu Black Sand Beach, Kehena beach, MacKenzie State Park, and the Painted Church at Kalapana.
Whether you decide to go by car or bike, it's unmissable either way.
63 – Wine and dine on a romantic dinner cruise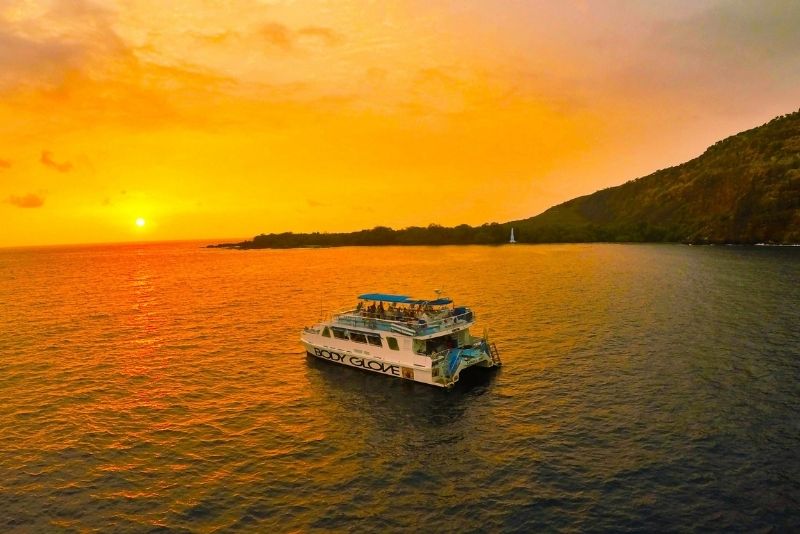 Nothing quite screams vacation like a dinner cruise. And when that dinner cruise is set against the backdrop of a gorgeous Hawaiian sunset? Well, you can consider your expectations well and truly exceeded.
There are plenty of different types of dinner cruises on offer around the island – from luxurious catamarans with an open bar to more relaxed affairs where you can BYOB (bring your own booze).
One thing they all have in common is that they offer an unforgettable dining experience as you sail along the coast, enjoying front-row seats to some of Hawaii's most stunning scenery – notably, the dramatic lava cliffs of the Kohala Coast and the snow-capped Mauna Kea volcano.
Some dinner cruises come with a side of live music, free-flowing drinks and entertainment. For something a little more low-key, there are private charters where you can simply sit back and soak up the warm Hawaiian night air with your special someone.
Dinner cruises depart in the early evening and last between two to four hours, depending on the route.
Cruise around the stunning Kealakekua Bay sipping on cocktails and enjoying a Hawaiian-style buffet dinner. On the other hand, find something a little further off the tourist trail in places like Waikoloa.
64 – Master new culinary skills during cooking classes
Big Island has something to suit the needs of all travelers, including our foodies out there (or anyone with a passion for learning new skills, this time, in the kitchen). Enjoy a four-hour farm-to-table cooking class at Kulaniapia Falls, where one of the most rewarding facets is harvesting your own ingredients from the farm.
Once you're done picking your fresh produce, next, it's time to get your hands dirty in the kitchen space (set up inside of an old barn). All recipes are plant-based.
If you're keen to try something a little more challenging, go with a French-Hawaiian fusion cooking class – because we all know that French cooking and its techniques is a skill to master on its own.
Over the course of three hours, learn how to roll, make and bake your own baguettes and churn your own butter, plus how to put together the most mouth-watering charcuterie board.
Traveling through France, whip up French crepes too, and you're even shown how to saber a bottle of bubbles – there for the drinking afterward.
65 – Explore the 500-year-old Thurston Lava Tube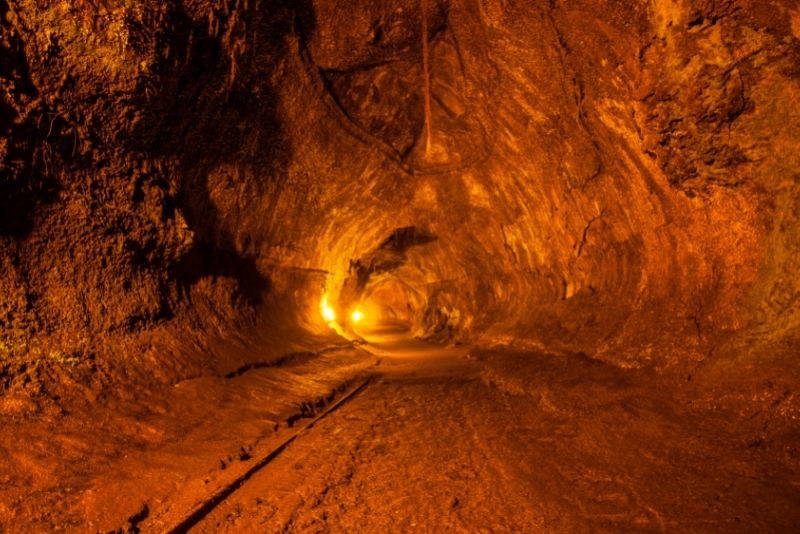 Nature-lovers, add this one to the bucket list! Remarkably, the 500-year-old Thurston lava tube (which sits at an altitude of 3,900 feet on the Kilauea Crater) is surrounded by a big, heavenly rainforest just waiting to be explored — one abundant with native wildlife.
Nahuku, as the locals call it, is accessed by a 0.4-mile loop trail that (unlike the Kaumana Caves) is paved and well-lit, making this a terrific activity for families. Located in Hawaii Volcanoes National Park (45 minutes from Hilo or about 2 hours from Kona), this natural marvel is a must-see for anyone visiting the Big Island.
Admission to the park costs $30 per car or $15 per pedestrian/bicycle, and is valid for a week if you want to come back and see more of the volcanoes.
Keep in mind that a trip to this lava tube (if you want to do it right) will take up almost a whole day, so try not to plan too much before or after.
66 – Tackle the challenging Kilauea Iki Trail in Volcanoes National Park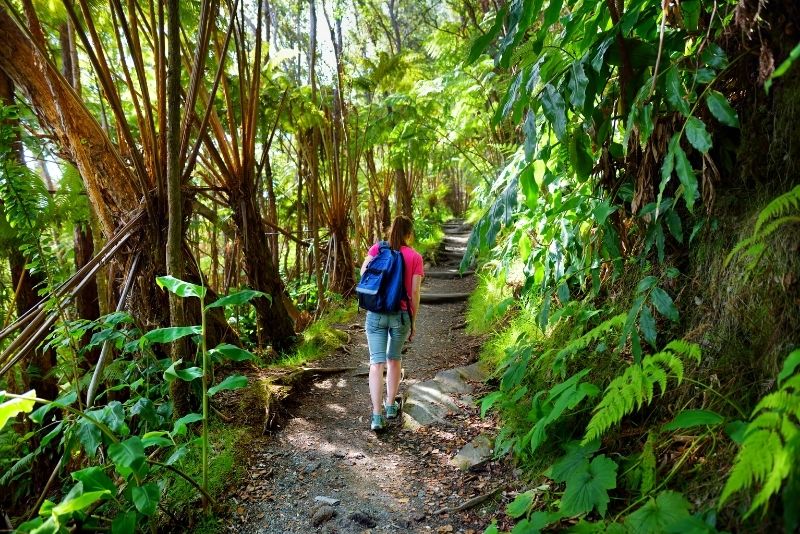 A hike in nature is wonderful almost anywhere, but this one differs from others in a very special way. This trail offers the unique experience of climbing and exploring both volcanic craters (an experience nothing short of incredible) and rainforest, which is certainly not something you get to do on most other trails.
The 3.2-mile loop trek, which makes its way across rocky landscapes dotted with fifty-year-old lava, typically takes between two and three hours, leading to a lookout with the most breathtaking views – think grey rocky terrain as far as the eye can see.
Of course, since the crater is, well, volcanic, expect it to be very warm — be sure to pack enough water and sunscreen, and a hat.
You can find this trailhead inside Hawaii Volcanoes National Park, which also contains a few other must-sees like the Jaggar Museum (all about volcano science) and the informative Kilauea Visitor Center.
67 – Embrace traditional Hawaiian culture at a luau show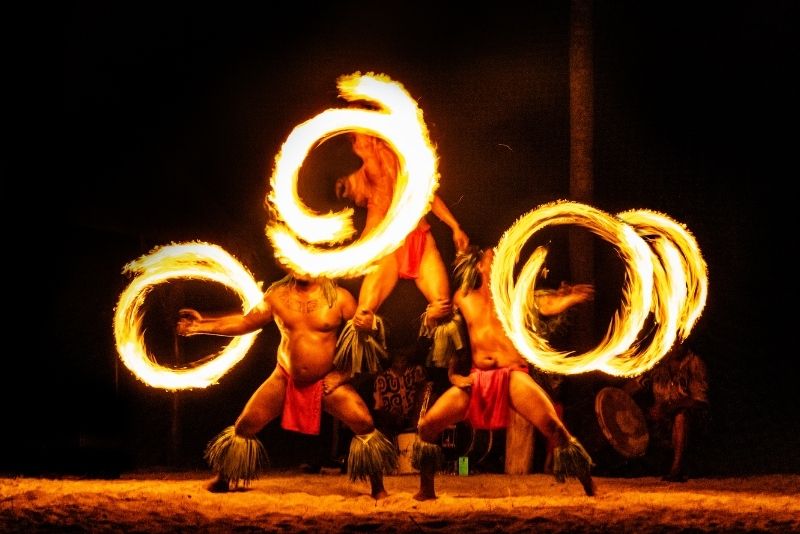 Looking to immerse yourself in Hawaiian culture? Then make a booking for a luau show ASAP. A surefire delight of upbeat music, customary dance, high energy, fire-twirling, and so much more, a luau is the epitome of what many people envision when they think of Hawaii — and, as such, it's often the first stop on any visitors' Hawaiian cultural journey.
While each authentic luau show has its own unique flair, you can typically expect the dinner-and-show combo to feature a buffet of traditional Hawaiian fare (think poi, fruit kabobs, Aloha burgers, and more), as well as an alluring array of fresh seafood.
As the sun begins to set, take your seat and get ready for a riotous performance that includes Samoan fire-knife dancing, Tahitian drumming and hula, Maori stick games, authentic traditional costumes, and much more — it's an experience you won't soon forget.
Of course, there'll be more than enough fruity (and strong!) cocktails to go around.
The Voyagers of the Pacific Luau show in Kailua Bay is a crowd favorite; however, many resorts also offer their own smaller in-house luau experiences too.
68 – Go shopping for quintessential souvenirs!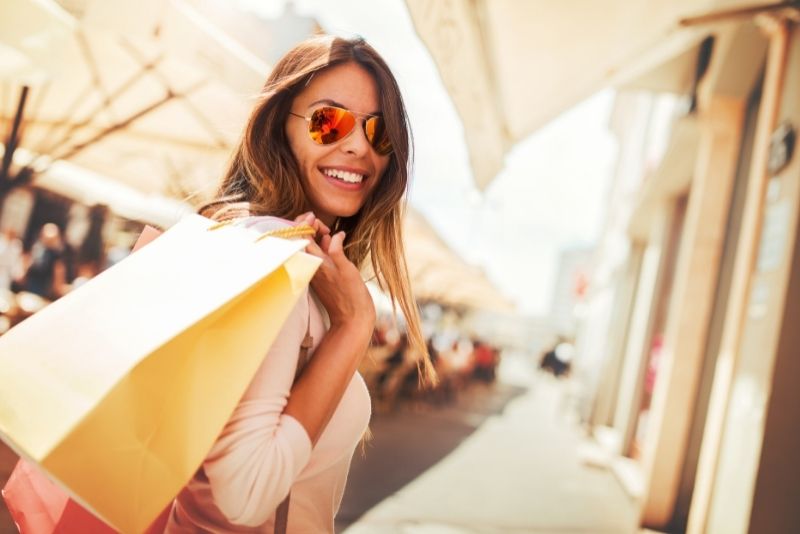 You wouldn't want to come back home empty-handed, would you? If you're hoping to pick up some souvenirs before you head home, a handful of particular locales beckon – each offering a unique range of goods.
On the hunt for Hawaiian-made arts and crafts? Swing by one (or all) of the following: Kailua Village Artists Gallery, Hilo Hattie's (the largest retailer of Hawaiian fashion and souvenirs in the state) or the Hawaii Volcanoes Art Center.
Stocking everything from swimwear and island-inspired jewelry to beautiful flower leis, fragrant soaps, and delectable foodstuffs, Hilo Hattie's is the one-stop shop for all your Big Island souvenir needs.
If you're on the western side of Big Island, then The Shops at Mauna Lani in Waimea is where you'll want to go. With over 30 boutique stores ranging from coffee shops to trinket stores, hair salons, clothing retailers, fitness centers, and much more, you'll be sure to find an abundance of one-of-a-kind souvenirs to make the family happy.
For those higher-end stores (Michael Kors, Tiffany & Co. and Tori Richard – to name a few), check out Kings' Shops in the Waikoloa Beach Resort.
69 – From sushi to steak to wood-fired pizzas, feast at the best restaurants with views
From typical Hawaiian flavors to international bites, here are the best restaurants around the Big Island. Boasting a fusion-style menu with a lot of Hawaiian flair, for the best sushi in town, the freshest seafood and an even better oceanic setting, head to award-winning 'Ulu Ocean Grill.
Umekes Fish Market Bar & Grill is less fancy but delivers on flavor tenfold. The casual eatery wins the vote for the best poke bowl in town! For farm-to-table style dining, book a table at Canoe House, directly overlooking the sea.
In the mood for Italian? Pueo's Osteria is a sure-fire winner! Or, for authentic mouth-watering pupus (Hawaiian appetizers), book a table at Huggo's On The Rocks. Also at the Four Seasons is the gorgeous Beach Tree bar and lounge, serving up plates of Italian and delish cocktails to boot.
Couples, Manta is a famous restaurant on the bay, acclaimed for its breakfast buffet, and Merriman's is another amazing, long-standing restaurant.
70 – Step inside South Kona's painted church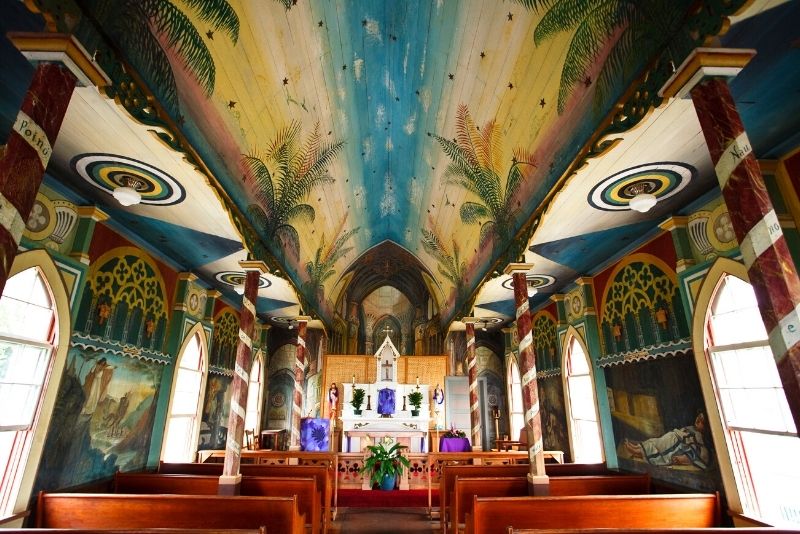 Modern church tourist draws are all about sheer size, stained glass, and intricate architecture — but there's something special about a church with a more personal story. Set on the Big Island's South Kona coast (in the famous Kona coffee-growing region) and overlooking historic Kealakekua Bay, Saint Benedict's Painted Church is just that.
The charming little house of worship was built in 1899 by Father John Berchmans Velghe, who painted its interior with remarkable 3D depictions from the bible, documenting the lives of the saints.
Not just a pretty face, however, these intricate drawings served as a means of education during a period where literacy was yet to be mainstream – so the artistic representations made telling bible stories easier.
Open Tuesday, Wednesday, and Thursday from 9.30am til 3.30pm, the landmark continues to be an active Roman Catholic church; Whether you're religious or not, this centuries-old institution is a visual masterpiece worthy of a visit.
Sitting on the hilltop, Saint Benedict's is a stone's throw from Two steps and Captain Cook's Monument – two formidable snorkeling spots that beckon many an adventure-seeking traveler.
71 – Experience incredible night skies with a Mauna Kea stargazing tour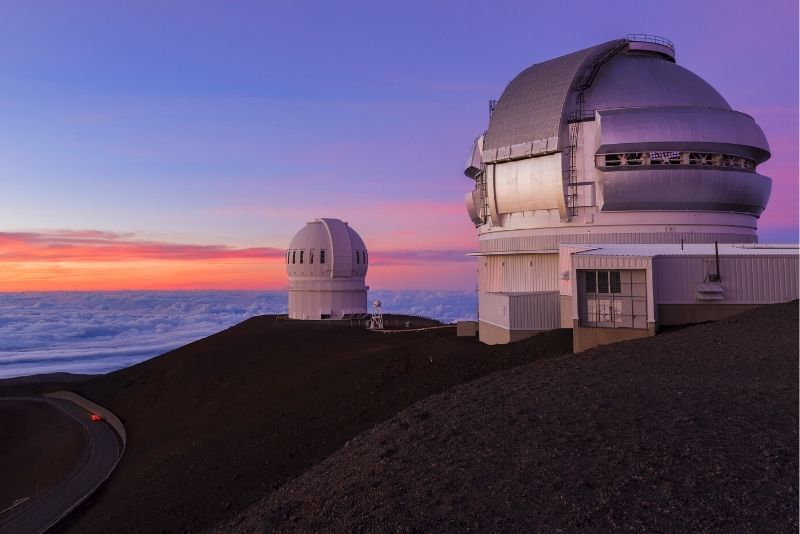 An unforgettable experience that will get you up close and personal with the stars, travelers regularly rave about the out-of-this-world Mauna Kea stargazing tour. On an island where light pollution is practically nonexistent, the starry night skies are truly something to behold, with the Milky Way, its constellations, planets, and the odd shooting star in all their glory.
It should come as no surprise that Mauna Kea (towering at 13,796 feet high) is home to some of the world's most important astronomical observatories, with 13 telescopes lining its slopes.
Each guided twilight adventure is a little different (some include a dinner at the Humuula Sheep Station and a visit to the Onizuka Center for the International Astronomy Visitor Information Station).
After a scenic drive up to the volcano's summit, you'll be kitted out with warm clothing and given a crash course in astronomy. From there, it's straight to the stargazing, where you'll spend the next few hours marveling at the infinite blanket of stars above you.
Want to learn more? Consider visiting the W.M. Keck Observatory headquarters in downtown Waimea – a fascinating museum featuring stacks of equipment and informative displays.
How to get to Big Island?
Did you know there are two major airports to fly into on the Big Island: Kona International Airport (on the west side of Kailua-Kona) and Hilo International Airport (on the east side of Hilo Town)?
For a convenient and efficient way to arrive at your accommodation, consider airport transfers on the Big Island from either one. With your private driver awaiting your arrival at the exit gates, you're transported directly to your stay in comfort and ease. (Forget about haggling taxi drivers in a new country.)
Alternatively, if you're arriving by boat from another island for the day or night, or vice-versa, there are shore excursions on the Big Island to take advantage of.
Where to stay on the Big Island?
On the hunt for Big Island accommodation? Fortunately, whether you're into all-that-jazz resort life, something more low-key and authentic, or a humble hotel somewhere in between, this paradise island has got you covered.
If you're basing yourself on the west coast (Kailua-Kona, the Kona Coast, or the Kohola Coast), then beachfront resorts are aplenty.
The Courtyard by Marriott King Kamehameha's Kona Beach Hotel boasts its own lagoon-style infinity pool, sitting within arm's reach of the Hulihe'e Palace and the main downtown Kona landmarks. Not too far, yet more budget-conscious, is the casual Uncle Billy's Kona Bay Hotel – aloha hospitality is served in spades.
Then there's the Fairmont Orchid Hawaii on the stunning Kohala Coast; with a full-service spa and five various restaurants and bars, you'll have everything you need. Both north of Kona, the Four Seasons Resort Hualalai, and the Hilton Waikoloa Village each boast an impressive array of facilities (including waterslides for the latter!).
Staying in Hilo? The Grand Naniloa Hotel Hilo, with its own golf course and oceanfront location, is hard to beat if you're craving luxury. Moving the needle toward traditional and authentic, the Lotus Garden Hilo Ranch is classic and exotic, with a tropical theme, and sitting not too far from the Hilo Farmers' Market.
Found within Hawaii Volcanoes National Park, aptly-named Volcano House is the go-to for hikers, with both luxurious lodge suites and semi-rustic cabins – the onsite Rim Restaurant dishes up crater and caldera views unmatched
For the ultimate pampering, take note of the eco-conscious Hawaiian Sanctuary Retreat Center in Pāhoa (the East Hawaiian jungle); for the ultimate nature experience, head to The Inn at Kulaniapia Falls.
Where to go next?
The Big Island is a nature-lover's paradise where you could spend weeks. If you're heading to the west coast, make sure you check all of the fun things to do in Kona, great for both a relaxing beach vacation and endless adventures surrounded by nature. On the east coast, there are many things to do in Hilo as well, with dramatic waterfalls and bubbling lava fields.
In reality, however, it's still just one slice of the incredible pie that is Hawaii. If you're short on time but keen to explore more of the archipelago, then Oahu and Maui are both excellent options – each with its own unique character.
Oahu is the most populous of all the Hawaiian islands, where the bustling Honolulu streets and infamous Waikiki Beach contrast historic sites such as Pearl Harbor, you'll find plenty of things to do in Oahu. Maui, on the other hand, is all about natural beauty; from Haleakala National Park to the Road to Hana, there's no shortage of things to do in Maui either.
Or, if you're after an even more diverse Hawaiian experience, why not add Kauai or Lanai to the mix? Dubbed the 'Garden Isle' thanks to its lush landscapes, you'll discover bucketloads of nature-focused things to do in Kauai, making is a top choice for outdoor enthusiasts. Meanwhile, Lanai – the sixth largest island in Hawaii – boasts luxury resorts, almost zero traffic lights, and feels like a private beach vacation.
Want a general overview of everything that this sun-kissed state has to offer? Check out our comprehensive guide to the best things to do in Hawaii. From Jurassic Park tours to Luau shows, snorkeling with turtles, hiking volcanoes, browsing pineapple plantations, or dining on sunset cruises, you'll never run out of choices.
Final thoughts
From snorkeling with the most incredible underwater friends to volcanic treks to stargazing to whale-watching to learning how to surf, and, and, and … Hawaii's largest island is a playground for outdoor lovers, oceanic souls and anyone who loves diving into new cultures.
We hope you've enjoyed our list of things to do on the Big Island in Hawaii. If you have any other must-see suggestions, feel free to let us know in the comments!
As always, Ahola, and happy travels!