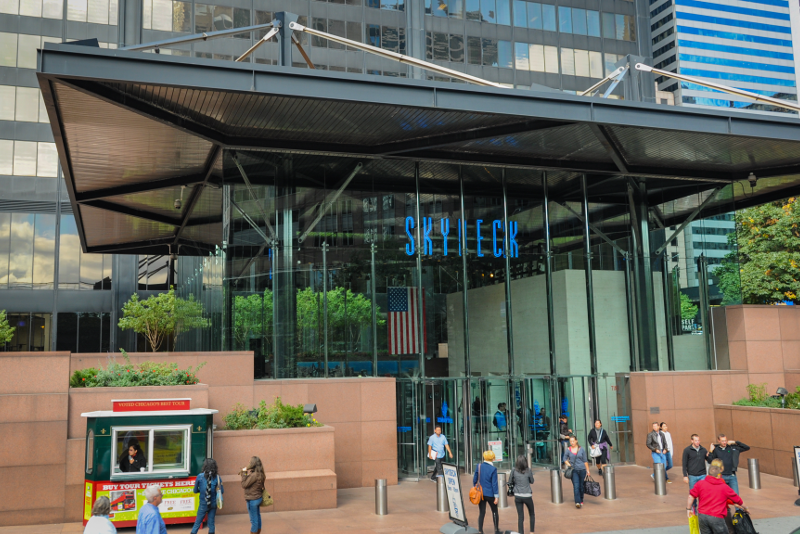 Do you want to treat yourself to a stunning view over the whole of Chicago from the top of the Willis Tower? Learn how to book cheap Skydeck Chicago tickets online and save up to 20%, how to skip the line, and some useful travel tips. 
On this page, you will find a complete guide to getting tickets for the Skydeck Chicago, including:
Are you ready to ride 103 floors to the Skydeck and step out onto The Ledge? Click on the following link to book Chicago Skydeck tickets right now.
How much do Skydeck Chicago tickets cost?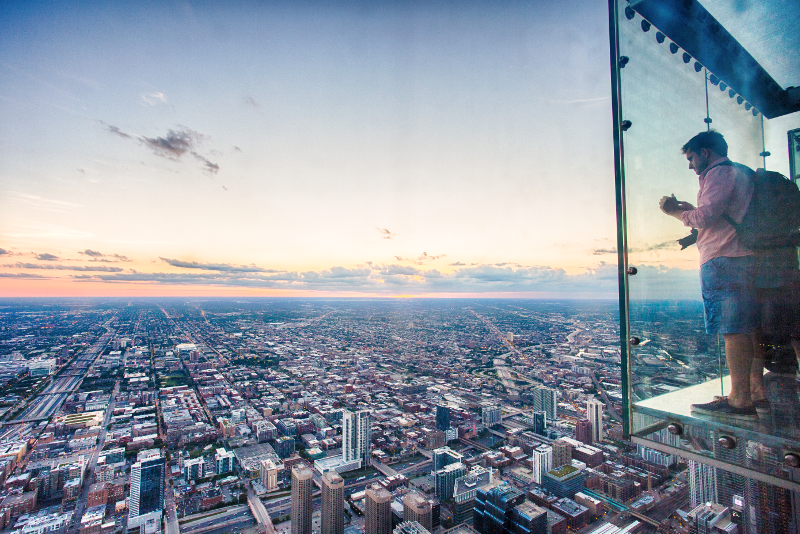 There are different types of tickets. Find below tickets price and details.
General admission tickets cost $25  for visitors aged over 12 years old and $17 for children aged between 3 to 11 years old. 
Day/night tickets cost $45 and includes two entries within a 24 hour period. 
Fast Pass tickets cost $75 and let you skip the line at the Ledge.
VIP Early Bird tickets cost $80 and let you

enter before it is open to the public and skip all the lines and crowds. Only available during weekends.
Tickets gives you access to the following:
Museum-worthy exhibits at the Skydeck
Access to the Skydeck elevator ride up 103 floors
A 9-minute documentary called Reaching for the Sky
Access to The Ledge, a see-through glass balcony that stretches 4.3 feet out
Should you book online Skydeck Chicago tickets in advance?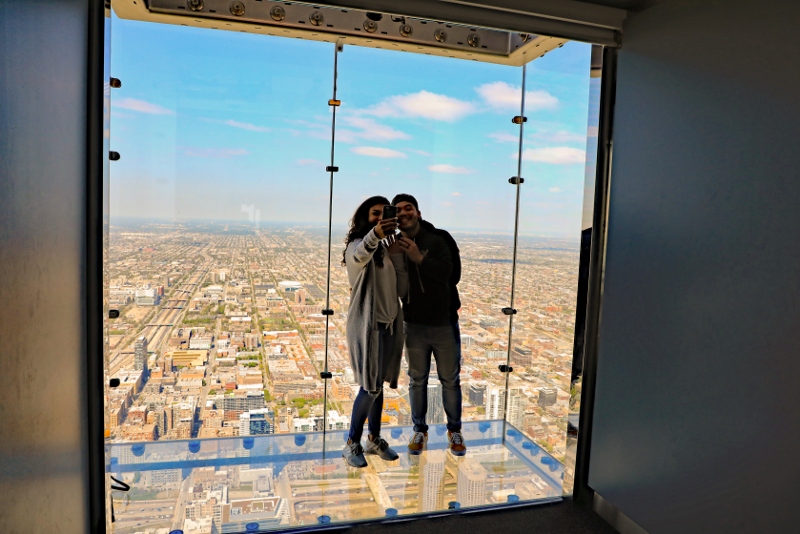 Absolutely. You should book online your Skydeck Chicago tickets in advance for 2 reasons:
Save money: you may book your tickets on the official website but we strongly recommend you to book your tickets with an online travel agency such as Viator, Getyourguide or Tiqets. Most of them sell cheaper tickets as they offer discounted prices, up to 20% depending on the seasons.
Save time: Skydeck Chicago is one of the most visited attractions in Chicago. If you book your tickets online, you will skip the line at the entrance gate and not waste your precious holiday time.
What are you waiting for? 🙂
Use TourScanner's search to compare ticket prices at a glance, and squeeze even more pleasure out of your visit while spending less money.
Are there any combined tickets including Skydeck Chicago tickets and other attractions?
When you're visiting a famous city and you have multiple attractions you'd like to see, a combined ticket can help you do more in less time. Check out all the offers available and pick the one which suits best your needs.
What will you see?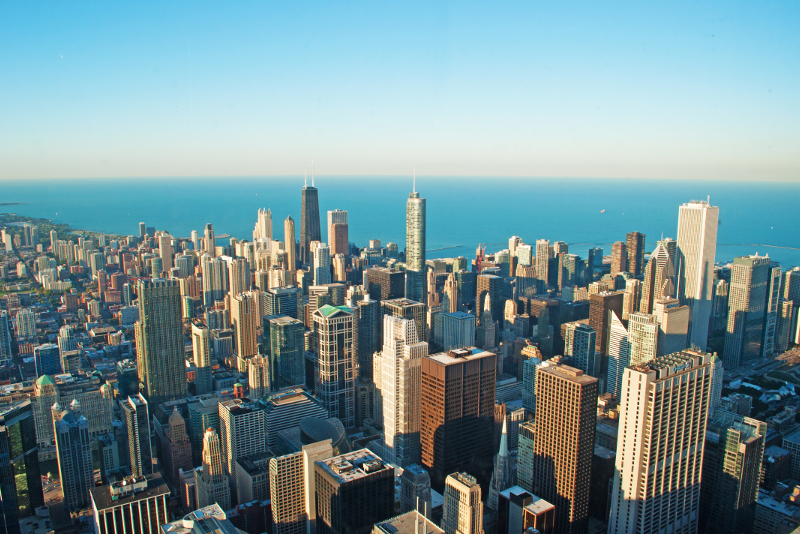 Formerly known as Sears Tower, the Willis Tower is the first office skyscrapper in Chicago, home to over one hundred companies. This world-famous building is the second tallest in the Western Hemisphere, attracting more than 1.7 million visitors every year.
Once you have reached the 103rd floor, you will admire the entire Chicago skyline and enjoy an incredible view panning over 50 miles and across 4 states.
The main highlight of the tower is The Ledge, a see-through glass balcony that stretches 4.3 feet off the 103rd. It offers views from 1,353 feet up, and you can enjoy it for 60 seconds (in groups of 3 people) or 90 seconds (in groups of 4 people or more).
You can also enjoy other Willis Towers' attractions, including:
Interactive quizzes about Chicago
A 9-minute theatrical experience on the history of Chicago's architecture
Simulated overhead views of six top attraction in Chicago
Museum-level exhibits
Are Skydeck Chicago tickets included in any attractions city passes?
City Passes aren't free – they're not even especially cheap. But they're still a great way to save money, because they give you access to multiple tourist sites and amenities. Here are a few examples of Chicago City passes that allow you 'free' access to Willis Towers.
Chicago City Pass will let you visit the Skydeck Chicago using a Day/Night ticket, so you can visit both floors twice in the same day and get daylight and starlit views of the city. The pass also covers Shedd Aquarium, All-Access Field Museum, Art Institute of Chicago, or Museum of Science and Industry. These last two are optional so you have to pick between them and the 360 Deck / Adler Planetarium. The Chicago City Pass costs $108 for adults and $89 for kids aged 3 to 11. It gives you discounts of 50% on up to 5 selected Chicago attractions.
Art Institute of Chicago pass includes Skydeck tickets plus access to the Art Institute Museum, voted as the top US museum (according to Trip Advisor). It's especially well known for its impressionist collection, second only to Paris. Museum passes cost $48 for adults, and museum entry is free if you're under 14 years old.
Skyscraper Combo passes are great if Willis Tower simulations aren't enough to sate you. On top of Skydeck tickets, this two-day pass covers hop-on-hop-off bus tickets. The first stop on the route is Chicago Architecture Centre, while The Ledge is the third stop. Passes cost $75 for ages 12 and up, and $45 for ages 3 to 11.
Go Chicago Card lets you buy a customized package or choose your own selection from Chicago's top 25 attractions. To choose your own attraction, buy the Go Select Chicago Card instead. These cards can save you up to between 25% and 55% on admission fees to various venues, and you get to skip the lines too!
Blue Man Group is theatrical, a multisensory show with music, comedy, drama, technology, and art. If you use Code Ledge as you buy your Blue Man Group ticket, you'll get free tickets to Skydeck Chicago.
What is the best time to visit the Skydeck Chicago? How can you avoid the crowd?
For most tourist venues, early morning and late evening are good times to visit – crowds are smallest just after opening and just before closing. But at Skydeck Chicago, crowds chase the sunrise and sunset views, so you may want to pay extra for Early Bird weekend access if you want to avoid crowds.
Remember, you'll spend less than two minutes at the Ledge – but the lines are quite long (you'll be waiting 1 to 2 hours sometimes), so plan your time wisely. The crowds slow down after the sunrise/sunset rush though, so any time from 9 am to 11 am or 3 pm to 4 pm is good.
What are the Skydeck Chicago opening hours?
October to February: 10 am to 8 pm
March to September: 9 am to 10 pm
Travel tips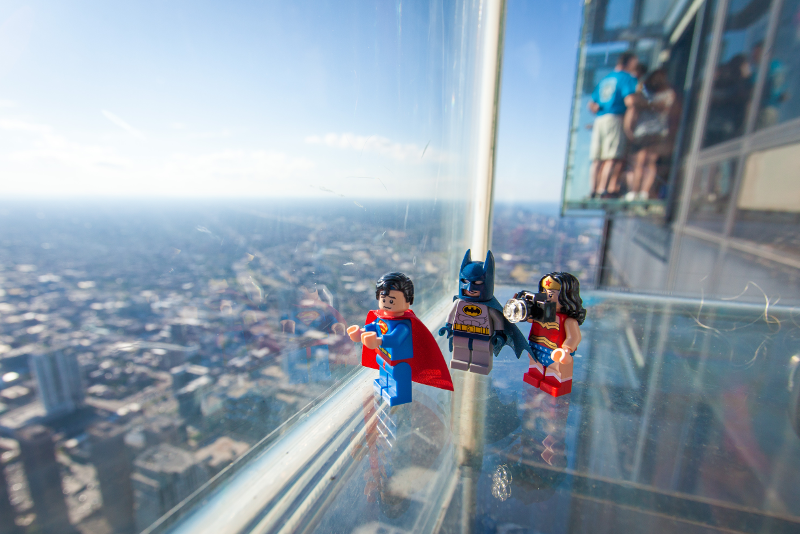 If you're worried the heights will scare you, check out the views using interactive screens on the ground floor before you board the elevator. It will give you a better idea of what to expect.
Wait times can be frustrating, and you'll only stay on The Ledge for a minute to a minute-and-a-half, so set your expectations accordingly.
There are no storage lockers at Skydeck, so carry minimal luggage.
The latest you can enter the venue is 30 minutes before it closes.
That backdrop just screams for selfies, but remember to turn off your flash, opt for 'backlight', and/or use a polarizing filter. You can also ask Skydeck staff to take the photo for you at no extra charge.
It's a glass case, so no tripods allowed, but you can bring a monopod.
Skydeck is child-friendly and wheel-chair accessible. There are a few free wheel-chairs available, but it's first come, first served.