Want to scratch the city of lights off your bucket list once and for all? Well, embark on a Seine river cruise tour and discover Paris in all its splendor!
In this article we'll compare Seine river cruises in Paris available. From sightseeing boat tours to romantic dinner cruises, you're sure to find what you're looking for!
Included on the UNESCO World Heritage list since 1991, the Seine banks have inspired countless artists. From Monet's "Bain à la grenouillère" painting to Flaubert's "Sentimental Education" novel: the famous river is a strong symbol of Paris and part of its international cultural influence.
There are many activities linked to the Seine river that make it the essential starting point of your great French adventure. What is especially great with TourScanner is that we'll gather the most interesting offers for foreigners. That way, you won't be lost in a city you don't know with people you can't understand. A stress-free vacation, it's almost too good to be true!
If you want to see it by yourself, wait no more and click here!
Which Seine river cruise tour to choose?
1. Standard sightseeing cruises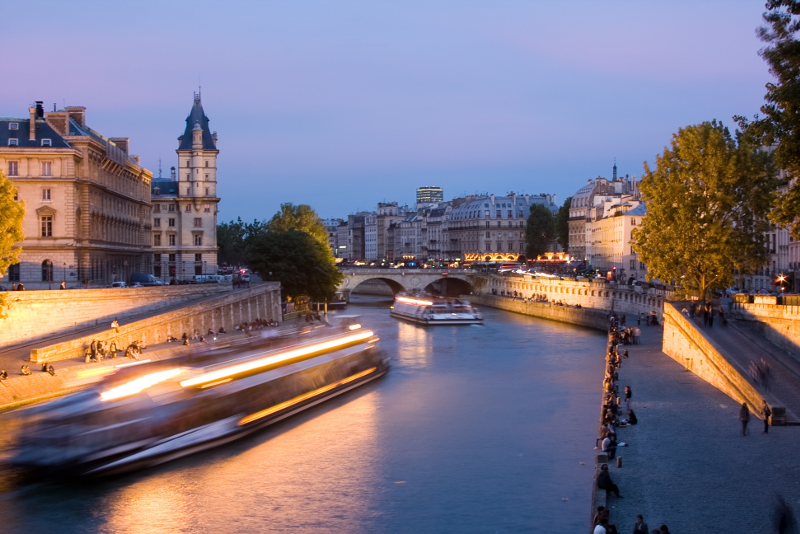 If cruising on the Seine river is a dream of yours, you might have thought about the different companies offering the same services. If not, here's a quick recap of the most famous companies for you to assess your options!
Bateaux Parisiens
What is their starting point?
The "Bateaux Parisiens" company has two starting points for their river cruise: the Eiffel Tower and Notre-Dame Cathedral.
What type of boats?
They also have two types of boats, all fully covered with glass windows. The first one is what they call "Bateau-promenade" which is mainly used for tourists to sightsee. The second one is called "Bateau-restaurant" which is mainly used for tourists to eat (we'll go into more details later for these ones). They have 5 bateaux-restaurants and 8 bateaux-promenade with both offering a panoramic view of Paris.
Their bateaux-promenade are all named after famous French personalities. You could hop on the audacious Pierre Bellon (entrepreneur), the glamorous Isabelle Adjani (actress) or the brooding Yves Montand (singer). Most of these are trimaran boats which are characterized by a central hull attached to two other smaller hulls on each side. Some of them are as old as 35 years!
Important information: timetable and languages available
Commentaries inside are available in 13 languages among which French, English, German, Spanish, Italian, Portuguese, Russian, Chinese and Japanese. Sightseeing cruises are possible every day of the year from 10.30 am to 10pm with a frequency of one boat for every hour.
Bateaux Mouches
What is their starting point?
The "Bateaux Mouches" company's starting point is located on the Port de la Conférence near the Alma Bridge.
What type of boats?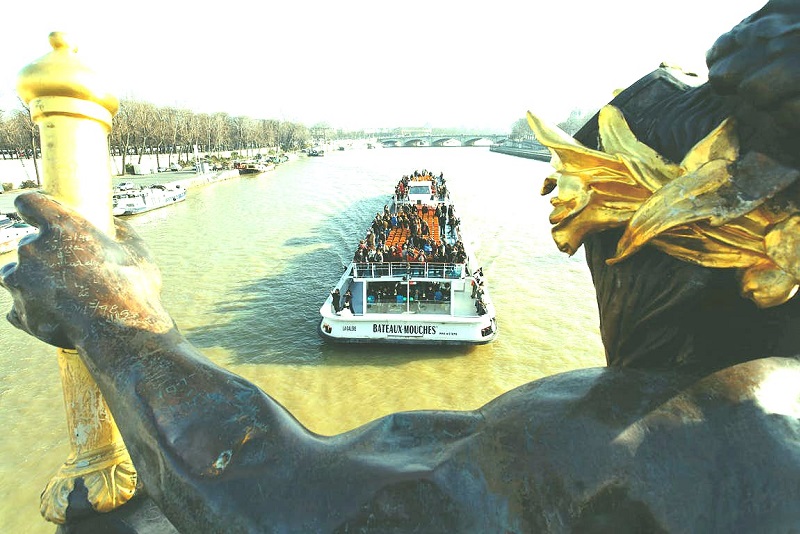 Just like "Bateaux Parisiens", they have two types of boats: 5 to dine on and 6 for sightseeing which their inventor Jean Bruel described as being "all glass and light". They also pride themselves in being able to offer a 360° view of Paris.
Their boats all sport interesting names such as "La Patache", "La Galiote" or "Le Coche d'Eau". They're historically charged and a vestige of the "Parler parisien" (or old Parisian dialect) but don't think they're old for all that! The equipment has top-notch technology and the boats are regularly renovated and decorated to corresponds to modern standards.
Important information: timetable and languages available
Commentaries inside are available in several languages and it's possible to ask questions to the crew on board. The river cruise last approximatively 1 hour and 10 minutes. There are two seasons: the high season from April to September with a departure every 30 minutes from 10am to 10.30pm. Then there is the low season from October to March with a departure every 40 minutes from 11am to 9.20pm.
Vedette du Pont Neuf
What is their starting point?
The « Vedette du Pont Neuf » company's starting point is, as its name indicates, located near the Pont Neuf.
What type of boats?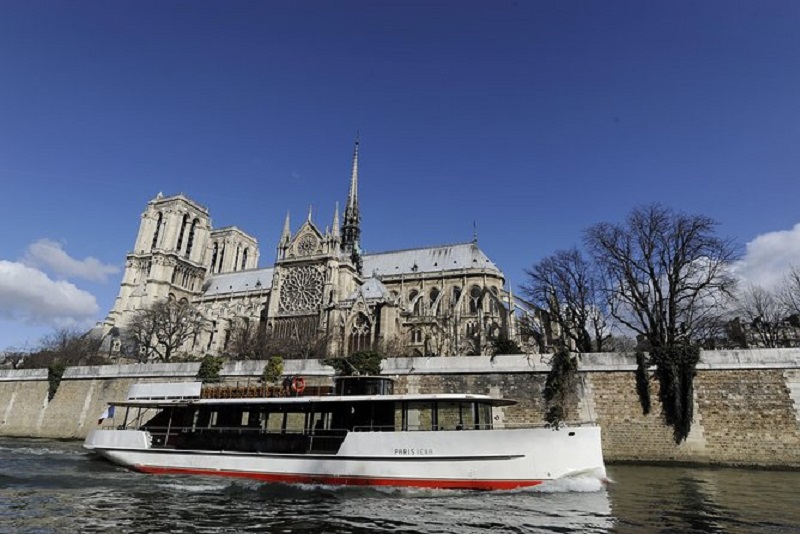 What differentiates it from the two other companies is that the boats are much smaller. Also, the guide is an actual human as opposed to an audio-guide. That might be the selling point for you if you're looking for a more authentic experience.
Important information: timetable and languages available
However, this comes with a price: because it's an actual person speaking to you, commentaries are only available in French and English. The river cruise lasts approximately an hour. Just like the previous company, there are two seasons. First, the high season from March 15th to October 31st with roughly a departure every 30 minutes from 10.30am to 10.30pm. Then, the low season from October 1st to March 14th with a departure every 45 minutes from 10.30am to 8pm
2. Seine river cruise lunches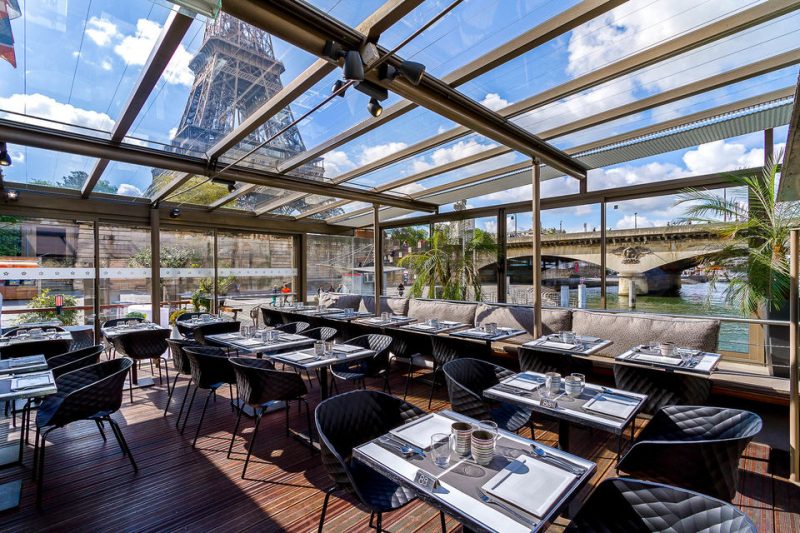 Are you looking for a nice meal but want to have the whole afternoon to yourself? Then booking a river cruise with a lunch option might be for you! From 42€, you can find plenty of offers that suggest different types of lunch. Gourmet-style, bistro-style… different styles of French cuisine for one promised delicious experience!
3. Seine river cruise dinners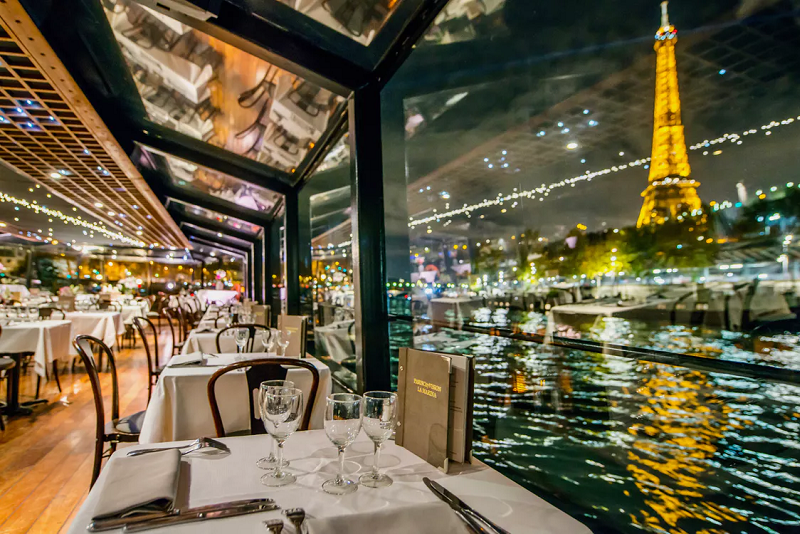 Are you looking for a nice evening on the Seine, alone or with your partner? Then booking a river cruise with a dinner option might be for you! From 42€, you can also find plenty of offers that suggest different types of dinner. Keep in mind that a gourmet dinner will cost significantly more than a bistro-style dinner. Count approximately 60€ to 100€ for a gourmet dinner as opposed to a bistro dinner (around 40€).
4. Batobus Seine river cruises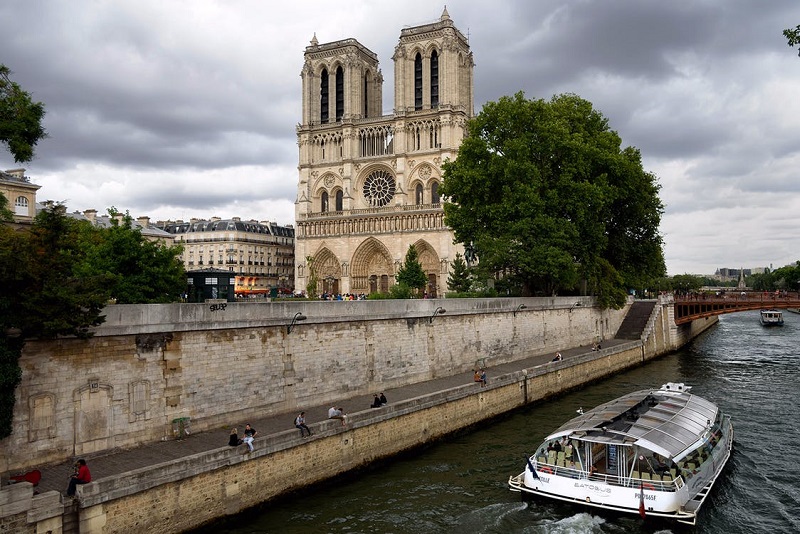 Do you feel like the soul of a modern times adventurer? Then hop on a Batobus and explore Paris by water! With offers starting at 17 euros, you'll encounter 9 exciting stopovers: Eiffel Tower, Pont Alexandre III, Orsay Museum, Jardin des Plantes, Hôtel de Ville, Louvre Museum and finally, the iconic Champs-Elysées. C'est parti!
How do you book a Seine river cruise?
TourScanner will gather for you all the offers likely to match your criteria. Filter them by price if you're on a budget. Filter them by selecting a preferred date if you're short on time.  It's that simple! The brief descriptions will also allow you to promptly decide whether an offer corresponds to your need or not.
And fear not! If you're unsure about which offer to choose from, we've established a rating system to help you decide and reassure you on the quality of the suggested products. Amongst our collaborators, you'll find trusted travel companies such as, for instance, GetYourGuide, Ticketbar, Headout and Musement. All of them enjoy a great reputation among customers!
Is there any Seine river cruise combined tours?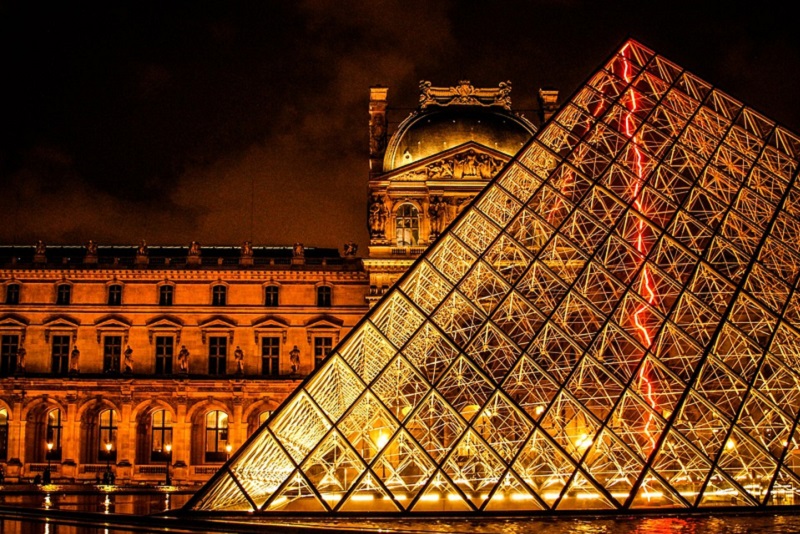 There is plenty to see in Paris! The French capital is known for its marvelous monuments and historical spots. It only makes sense that you'd want to make the most of your stay there and see everything! Here are the most popular spots usually combined with river cruise tours.
Do we really need to introduce you to the Eiffel Tower? The 1,063ft tall tower was inaugurated on March 31st, 1889 by its engineer, Gustave Eiffel. That was 130 years ago! Three levels are opened for visitors with restaurants on the two first ones. It offers a spectacular and breath-taking view of Paris. With more than 250 million of people since its inauguration, it's the most visited-paid monument in the world! Starting at 69€ for a combined offer, be one of them too!
It's only the biggest art and antique museum in the whole world! Every self-respecting art lover needs to wander through its 226-year-old halls. There, you'll find more than 554 731 work of arts. Among those, several art collections that include: ancient oriental antiquities, Egyptian antiquities, Islamic arts, Greek, Etruscan and Roman antiquities, graphic arts and many more! With combined offers starting at 29€ … get a taste of history!
Are you a burlesque afficionado? Then, seeing a Moulin Rouge show is a must! Founded 130 years ago by Joseph Oller and Charles Zigler, the Parisian cabaret is the birthplace of the can-can dance. The vestige of another period, a show at the Moulin Rouge will grant you a fantastic time. With combined offers starting at 125€, you can too, party like it's 1889
If it's the architecture of Paris that is calling you, then a hop-on/hop-off offer might be for you! Take in the sight of the sumptuous Haussman architecture, the iconic streets of Montmartre, the breath-taking illuminations and various historical buildings… with combined offers starting at 30€, there's plenty to see and feel
Is there any Seine river cruise tour included in the Paris Pass?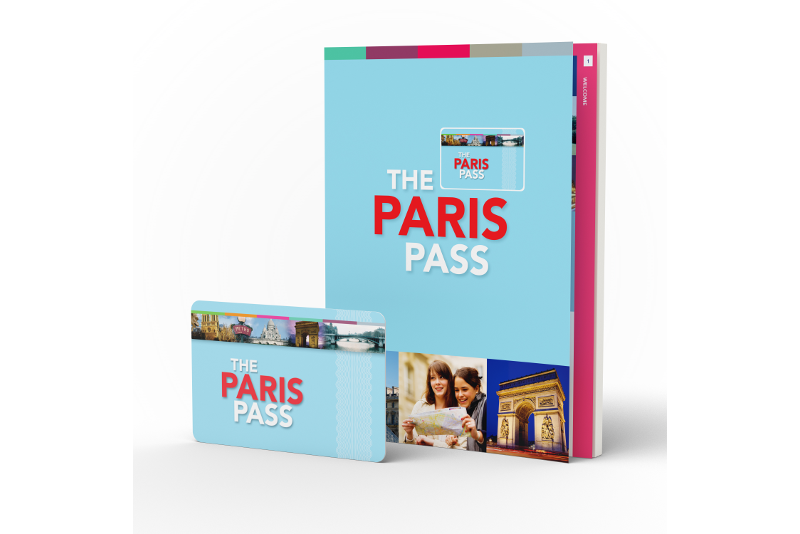 What is a Paris Pass?  
The Paris Pass gives you access to over 60 Parisian attractions among which museums, monuments, transports and yes, even a Seine river cruise tour!
Places which are the most frequented with the Paris Pass include: the Louvre Museum, Versailles Palace, Arc de Triomphe, Montparnasse Tower, Pompidou Center, Paris Opera and many more!
But how does a Paris Pass work?
Well, you buy a Paris pass that matches the number of days you'll stay in Paris. If your stay is 3-days long, then buy a 3-days long pass. Passes are available from 2 to 6 consecutive days and auto-activate when you visit your first attraction. It's that simple!
However, keep in mind that you can visit an attraction only once!
How much does it cost and where can I buy it?
On TourScanner, Paris Pass offers start at 130€. Beware! In order to have your money's worth, you need to stay at least two days in Paris. Remember, it's a big city! Even the most determined tourist will never have the time to visit everything in one day. At the end of it, you'll undeniably lose money.
You can buy your Paris Pass on its official website (where prices start at 139€) or check TourScanner to see our collaborators' offers. They routinely suggest interesting discounts so keep an eye on them!
Is there any discounted Seine river cruise tour? 
Book via TourScanner with a trusted online travel agency such as Viator, Getyourguide, Headout or Musement (to name a few). Prices are extremely competitive and discounts are offered on a regular basis. Make sure to compare the prices prior to booking as you will often find generous discounts.
What attractions will you see during your Seine river cruise tour?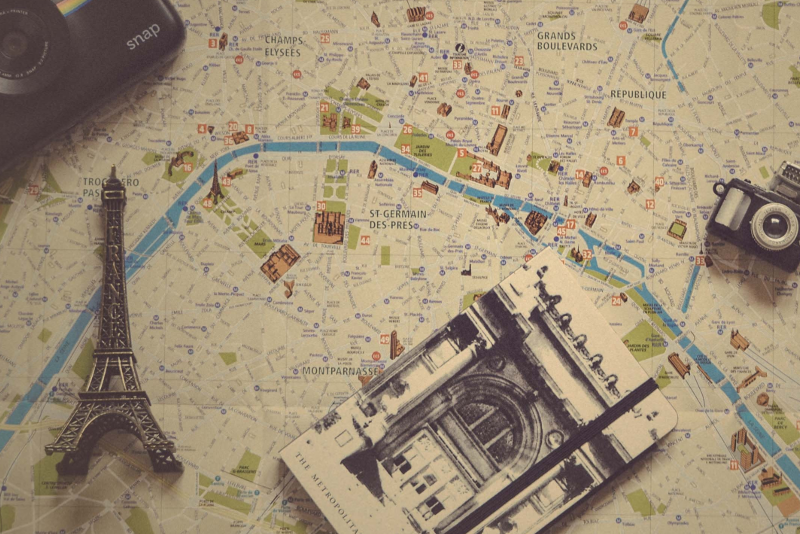 River cruise companies each take different routes. There are monuments that are common to all of them, such as (of course) the Eiffel Tower, the Louvre or Notre-Dame. Some will only be seeable with a given company. Here is a list of all the possible monuments, buildings and places you'll be able to see during your river cruise!
Hôtel de ville
Built from 1873 to 1892, the Hotel de Ville is a beautiful Neo-Renaissance building housing Paris' administration. The current building is a reconstruction: it was burnt down in 1871 by the Paris Commune, a group of radical socialists that ruled the city for 3 months. It is beautifully illuminated at night!
Conciergerie
The Conciergerie is a 14th century Gothic-style building. Originally built as a royal palace by Philippe the Fair, it earnt its gloomy reputation during the Revolution. Indeed, it was converted into a prison. Countless prisoners held and then taken to be executed by guillotine. Queen Marie-Antoinette and politicians Danton and Robespierre were among its infamous prisoners.
Place de la Concorde
Concorde means "harmony" or "peace" in French. An ironic name for this historical 7.6-hectare public square! Indeed, it is the place were prisoners were taken to be guillotined during the French Revolution. Heads will roll, they said…
Musée d'Orsay
It's an art museum built in 1898. It mainly focuses on French art between 1848 and 1915. It hosts the biggest collection of impressionist and post-impressionist art. Monet, Gaugin, Van Gogh and Renoir's artworks are all displayed there. The stunning building's architecture is styled after the Beaux-Arts movement.
Les Invalides
It's an impressive baroque-style building complex built between 1671 and 1978 by King Louis XIV. Originally a military hospital, it was meant to showcase France's military power. Napoleon's grave is located right under the dome of the Dome Church.
Le Panthéon
This neoclassic-style mausoleum was completed in 1758. It hosts the grave of important Parisian figures such as philosophers Rousseau and Voltaire but also writers Victor Hugo and Emile Zola. Intended to look like its Italian homonym, it's an impressive building full of history!
And many more!
The Arab World Institute, Place de la Bastille, Place du Trocadero, Chaillot Palace… as much places and buildings that will know how to retain your attention! Book your Seine river cruise tour now so you too, can marvel at Paris' various surroundings.
What is the best time to do a Seine river cruise tour?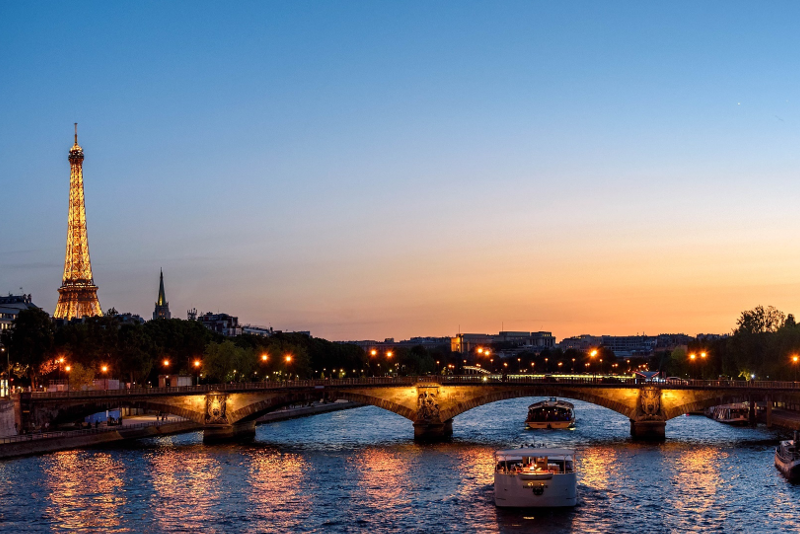 Most river cruise boats are equipped with hoods that should keep you dry in case of bad weather. However, we understand that a cloudy sky, a dry wind and heavy rain could make your experience less magical. That is why we advise you check the weather before booking a river cruise! Opt for a day with stable weather so you make the most of your experience. And don't worry! If the weather is too unreliable, the company will probably cancel the cruise themselves and reschedule it at your convenience.
Travel tips
Don't randomly book your tour! If you've planned to visit museums in the afternoon, maybe opt for a dinner instead of a lunch tour. That way, you'll end your day on a high note! Paris is a big city, and if you want to make the most of your stay there, you better have a tight schedule.
Try to book ahead! Paris is popular with tourists but it's also an extremely active city. River cruise boats are one of the top choice for various business and companies. Book in advance! That way, you'll not be disappointed to discover your cruise of choice has been fully booked in one go.
Wear comfortable clothes! Some river cruises (such as dinner ones) can have a strict dress code so forget about hiking shoes. But it doesn't mean you have to suffer through the whole cruise! Wear nice flat shoes and in case it gets windy, bring an elegant jacket with you.
Be patient! The Seine is a very busy river and there can be a lot of traffic. Expect the cruise to be a bit slow going at time! Sometimes, the ship will have to navigate through passages with other boats. It's completely normal and the ship will promptly get back to its normal pace.