As if Mother Nature took her paintbrush and had a moment of sublime creativity, that's what you'll find in America's southwestern national parks. From canyons and deserts to mountains and forests, there's a little bit of everything within driving distance from Las Vegas. And whether you're looking for a quick day trip or an extended camping adventure, there's sure to be a park that suits your fancy.
From the popular, infamous Grand Canyon right next door, where mile-deep gorges and snaking rivers meet bright red rock formations, to the lesser-known (but equally impressive) Valley of Fire State Park, just a short drive away in Nevada, there's no shortage of natural beauty to explore. If you're prepared to venture a little further, beyond the Nevada borders, then California, Utah, and Arizona are teeming with postcard-worthy landscapes waiting to be discovered.
With names like Zion National Park, Arches National Park, Joshua Tree National Park, and the harsh and otherworldly plains of Death Valley making headlines (to name but a few), as well as underrated yet utterly beautiful pieces of land like the Tule Springs Fossil Beds or Lake Mead, there's definitely no shortage of variety when it comes to exploring the great outdoors.
How this article works: To give you the widest selection of national parks near Las Vegas, we've also added state parks, national monuments, conservation areas, and national forests, in order of closest to furthest from Las Vegas — some are perfect for day tours, while others are ideal for a short multi-day trip (did someone say weekend getaway?).
So what are you waiting for? Get out there and start planning your once-in-a-lifetime adventure!
1 – Red Rock Canyon National Conservation Area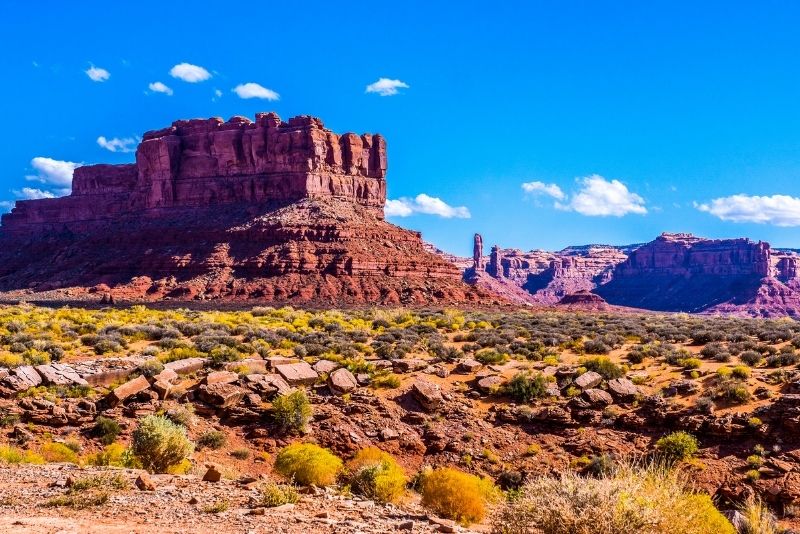 Driving time from Las Vegas: 25 minutes
The closest slice of Mother Nature to Sin City, beautiful and scorching Red Rock Canyon spans nearly 200,000 acres of harsh — yet beautiful — Mojave Desert wilderness, beckoning tourists who are looking for a half- or full-day reprieve from the chaos that is the Strip.
With myriad spectacular hiking routes and adventure activities throughout the Conservation Area (read: not technically a park, although it certainly feels like one), there's no shortage of ways to get off the beaten track and soak in the strong-hued sandstone cliffs.
If you're up for a hike, the three-mile round-trip Calico Tanks Trail is a moderate, family-friendly option that zags through towering sandstone rock formations that look like they're straight out of a Dr. Seuss book. For something seriously more expert, with seasonal waterfalls to boot (December through April), the Ice Box trail is reserved for those who crave a challenge.
If you want to get your heart racing, on the other hand, consider signing up for one of the Bureau of Land Management's recommended Red Rock guided climbing tours.
Or, if you prefer to stay in the comfort of your air-conditioned car (we wouldn't hold it against you), the one-way 13-mile scenic drive seldom disappoints – or, to burn a few calories, take the bike path instead! Either way, you're in for a beautiful day in the great outdoors, and don't forget to pop into the Visitor Center where you can learn all about local plants and wildlife (including desert tortoises) from the friendly staff.
See also: 10 Best Red Rock Canyon Tours from Las Vegas
2 – Lake Mead National Recreation Area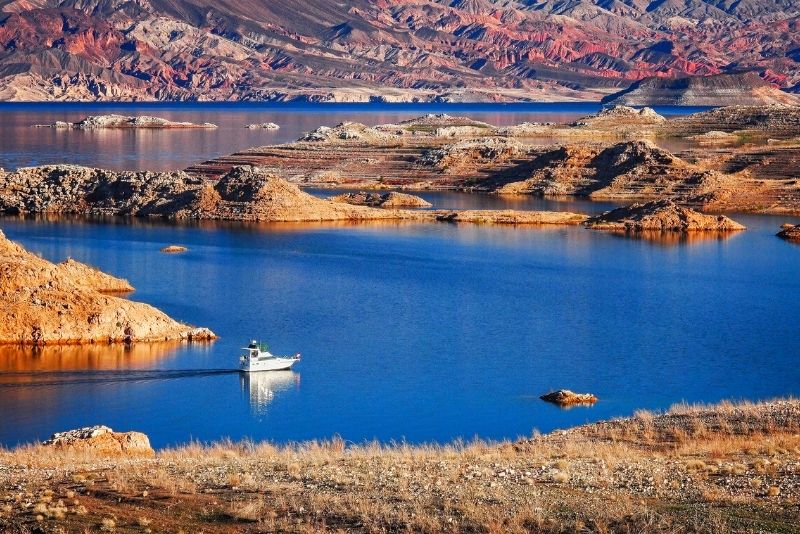 Driving time from Las Vegas: 30 minutes
Dishing up year-round adventure and jaw-dropping natural scenery, Lake Mead National Recreation Area is just a hop, skip, and a jump from Sin City, straddling the famed Colorado River and serving up wonderful photo opportunities as a result.
Boasting the state's largest reservoir (Lake Mead), as well as mountains, slot canyons, wildlife refuges, and oh so much more, this sprawling piece of Mother Nature is one of the most diverse protected areas in the United States — and perfect for outdoors enthusiasts of all levels of interest and expertise.
Kickstart your trip by kayaking or SUPing (stand-up paddleboarding) on the glassy waters of Boulder Basin; hiking the easy and dog-friendly Railroad Tunnel Trail to walk in the footsteps of a former railroad grade, or tackle the Lake View route for gorgeous vistas of the area. Craving something more challenging? Both considered strenuous (the latter being very much so), the Liberty Bell Arch and Gold Strike Canyon hikes — which require rock scrambling and climbing — are popular for a reason.
The prime hiking season is November through March when temperatures are cooler, however, outside of these months, you can still score a great day out if you start early in the morning.
For something a little different, check out the Arizona Hot Spring (note that the hike here is no easy feat, and requires climbing a 10-foot ladder in a waterfall if you don't mind), sign up for an old-school horseriding excursion, or simply put your patience to the test along the 700-plus miles of fishable shoreline.
No matter how you choose to fill your time in Lake Mead National Recreation Area, be sure to keep an eye out for wildlife — including bighorn sheep, coyotes, desert tortoises, and bald eagles!
3 – Tule Springs Fossil Beds National Monument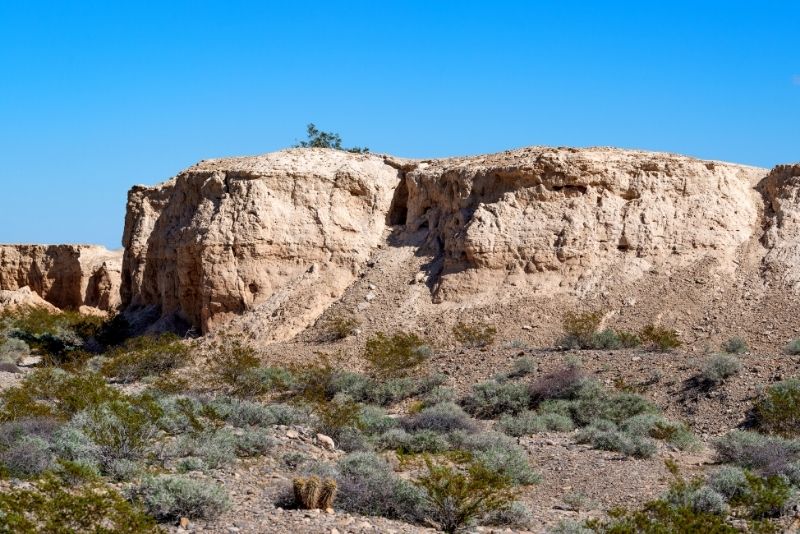 Driving time from Las Vegas: 30 minutes
Tule Springs Fossil Beds National Monument is a relatively new national monument, having only been established in 2014. However, the fossil beds themselves are anything but new, with some of the bones dating back to the last ice age!
Home to one of the largest deposits of Ice Age fossils on the planet, the monument protects a sprawling area of over 20,000 acres — back in the day, made up of lakes and springs as well as rock — that were once home to all sorts of now-extinct animals, including the big Columbian mammoths, camels, saber-tooth cats, giant sloths, and more.
Today, it's a popular spot for hiking, scenic drives, picnicking, and wildlife watching (bighorn sheep are often seen here), and remains a Nevada hidden gem because of its bigger, more famous neighbors (looking at you, Grand Canyon).
Since the park is new, permanent hiking trails are still being carved out as of 2022, however, the 3.25-mile Aliante Loop Temporary Trail promises a good overview of the area and is easily accessible for those with limited time. Another highlight — especially for budding archeologists — is the group of trenches (some stretch a mile long) that scientists have dug in search of ancient fossils.
For a more in-depth experience into the dry, desolate, otherworldly area, consider joining one of the science programs.
4 – Valley of Fire State Park
Driving time from Las Vegas: 50 minutes
Serene, surreal, and straight out of a sci-fi movie, Valley of Fire State Park is one of Nevada's most popular state parks for good reason.
Comprised of close to 46,000 acres of fiery red Aztec sandstone outcrops (formed from shifting sand dunes 150 million years ago), the park is home to some of the most incredible rock formations in the world — as well as petrified wood (wood so old it's become fossilized) and 2,5000-year-old petroglyphs (best viewed on the impressive Petroglyph Canyon Trail).
A favorite spot for hiking, camping, picnicking, and wildlife watching, Nevada's oldest state park also boasts beautiful views throughout — arguably none more so than Fire Wave, with its iconic red and white zebra-like stripes — making it the perfect spot to watch a sunset.
With dozens of miles of hiking trails, there's something here for everyone, whether you're looking for an easy stroll or a challenging hike. Conquerable by all ages, the short and scenic Rainbow Visa Trail winds its way to the Fire Canyon Overlook, with spellbinding color combinations the whole way through. On the flip side, the Prospect Trail is challenging yet rewarding with blissful views of the valley.
For those wanting to spend time beyond the trails, campsites are set up around the park, while day tours of the park can be booked through local tour companies. Or, if you just feel like browsing at your own pace, the park only charges $5.00 a car to get in.
5 – Snow Canyon & Red Cliffs Conservation Area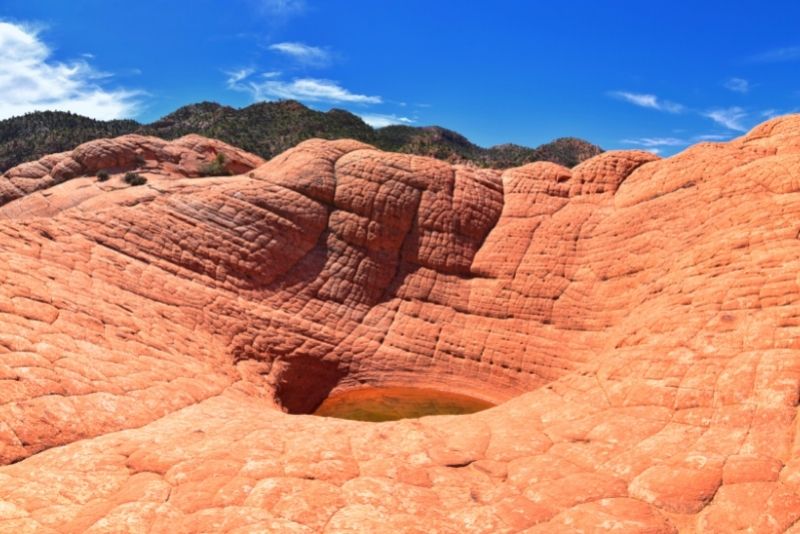 Driving time from Las Vegas: 2h
Delivering a magical landscape of towering red sandstone cliffs, and evergreen junipers and pinyon pines, the side-by-side Snow Canyon State Park and Red Cliffs Conservation Area combine as a beautiful stop on your journey to or from Las Vegas.
Covering over 7,000 acres just north of St. George in southwestern Utah (about halfway between Vegas and the Grand Canyon via the I-15), this dynamic duo offers a mix of adventure, relaxation, and stone-cold beauty all rolled into one (well, technically two, but you get the point).
Snow Canyon State Park, first and foremost, often overlooked due to its close proximity to Zion National Park, is an undisputed hidden gem. Despite the misleading moniker (you'll rarely see any powder here), it dazzles visitors with towering red sandstone cliffs, black lava rock caps, and playful sand dunes. While hiking and biking are aplenty, those craving a little extra can soar over Snow Canyon's multi-colored peaks in a hot air balloon or fuse adventure with education on a guided backcountry Jeep tour.
Meanwhile, spanning 45,000 acres, Red Cliffs National Conservation Area is a veritable playground for hikers, mountain bikers, and adventurers alike with miles of trails that wind through the area's signature sandstone cliffs (hence the name).
Fancy a stroll? The Western and Red Mountain portions of the area serve up jaw-dropping views from the first step to the last, and, thanks to their proximity to charming Kayenta, you can browse the tourist-friendly artists' village once you're done!
Both areas are perfect for a day visit or an overnight stay, with campgrounds available in both parks. And, hot tip: If you're venturing in the wintertime, also hit up the nearby Brian Head Resort for some skiing and snowboarding!
6 – Death Valley National Park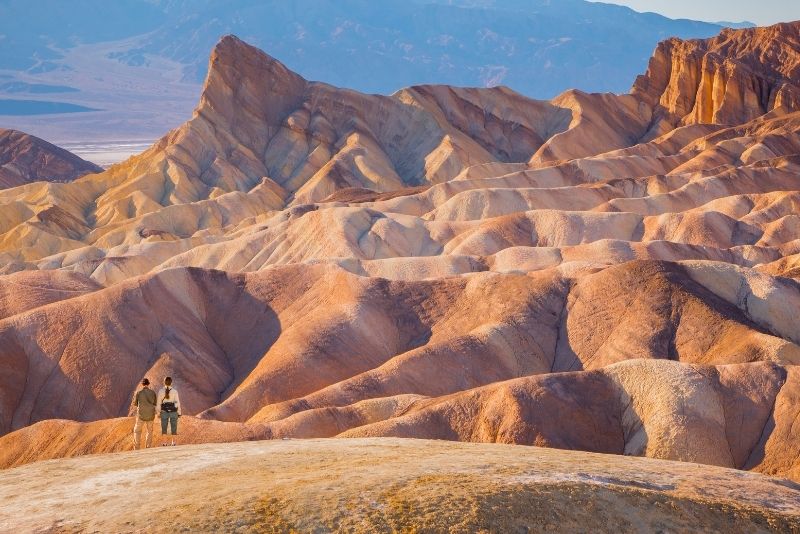 Driving time from Las Vegas: 2h30
Infamous around the world for its baron landscapes and record-breaking temperatures, Death Valley National Park is one of the most unique — and underrated — pieces of nature across the US of A. Perhaps after the Grand Canyon, it's also one of the most famous national parks near Las Vegas, with a reputation that precedes it.
Located on the border of California and Nevada, this massive park (the largest in the lower 48) spans over three million acres and offers a glimpse into a rare, untouched world.
Severely underrated and overlooked because of its searing heat, it delivers plenty to write home about if you time your visit in the cooler months. Whether you're a history buff, hiker, or just looking to escape the hustle and bustle of Las Vegas for a day, you'll find something to love in not-so-sinister Death Valley.
With elevations that range from below sea level (-282 feet at the Badwater Basin salt flat!) to 11,049 feet at Telescope Peak, it's no wonder that hikers find an incredible variety of landscapes here. From salt flats to sand dunes to craggy peaks, there's hardly a dull moment as you soak in the scenery — and, despite being the hottest and driest spot in the country, it remains home to a large and unique selection of plants and wildlife.
Given the harsh nature – and sheer size – of the landscape, most visitors prefer (and justifiably so) to join a guided tour. While each company's itinerary is unique, expect to explore gold mines, the old ghost town of Rhyolite, soak in the view from aptly-named Hell's Gate, and a whole lot more.
7 – Mojave National Preserve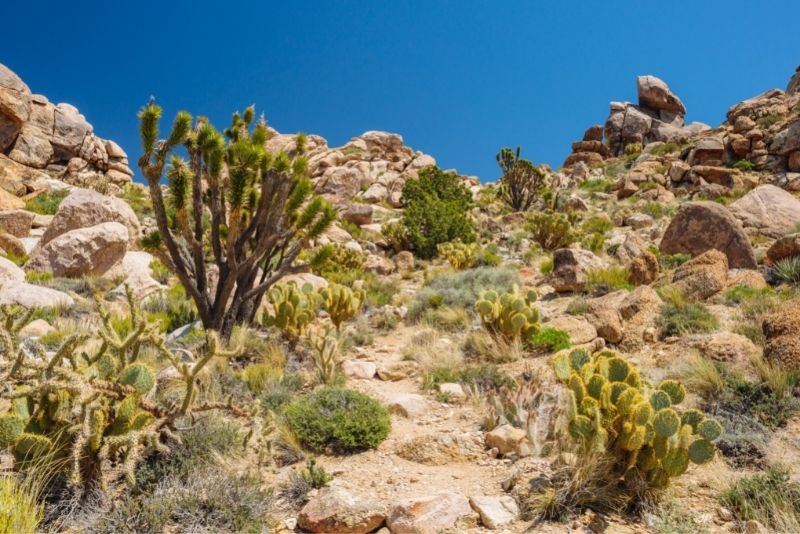 Driving time from Las Vegas: 2h30 minutes
While most think of the Mojave as nothing more than a desert (don't get us wrong, it can get mighty hot here, and there are sand dunes and dry rock aplenty), it typically surprises with its impressive variety of natural — and heavily photogenic — elements; from water-sculpted canyons and limestone caverns, to Joshua tree forests and ancient lava flows,  the Mojave has something for everyone.
At over one and a half million acres, it's also one of the most expansive national parks in the country, making it perfect for those who love to explore on two feet (with plenty of trails available ranging from easy strolls to strenuous hikes that offer views few ever see), two wheels, or as part of a jeep tour — no matter your method of madness, thanks to its sheer enormity you'll never feel crowded.
The preserve is also home to the Kelso Dunes, which at over 700 feet high make for an impressive sight (and a challenging hike, if you're up for it) and offer some of the best views in the area — with nothing but sand for 45 square miles!
If photography is your thing, consider a star-gazing adventure, or if you're more of a historian, check out the old Kelso Depot for a peek into the preserve's past.
8 – Cathedral Gorge State Park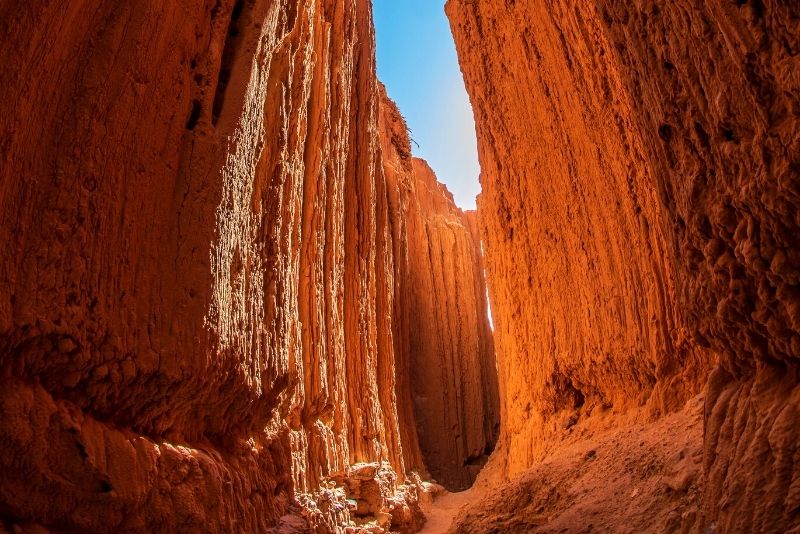 Driving time from Las Vegas: 2h30 minutes
Dramatic views and striking rock formations abound at this geologic wonderland located in the eastern Nevada desert — one of the four inaugural Nevada State Parks.
The canyon was carved over millions of years by the meandering of a long-gone river, leaving behind an incredible natural playground for those who love to hike, camp, or just explore — a playground full of slot canyon-like formations, natural spires, caves, and the undisputed highlight, the astonishing natural amphitheater at Cathedral Gorge itself.
There are plenty of easy trails perfect for a quick jaunt (including one that meanders its way to a cemetery that's been around since the 1800s), as well as longer options that will take you deep into the heart of the gorge (the 4-mile Juniper Draw Loop is the longest and most diverse, just be sure to bring plenty of water!).
The Cathedral Gorge State Park is also home to several unique caves and caverns — divided up into the Moon Caves, Canyon Caves, and Cathedral Caves — that offer an up-close look at some truly fascinating geological features.
Not sure where to start? Pop into the visitor center (open from 9 a.m. to 4:30 p.m. daily) as your first point of call for maps, trail suggestions, and more.
9 – Zion National Park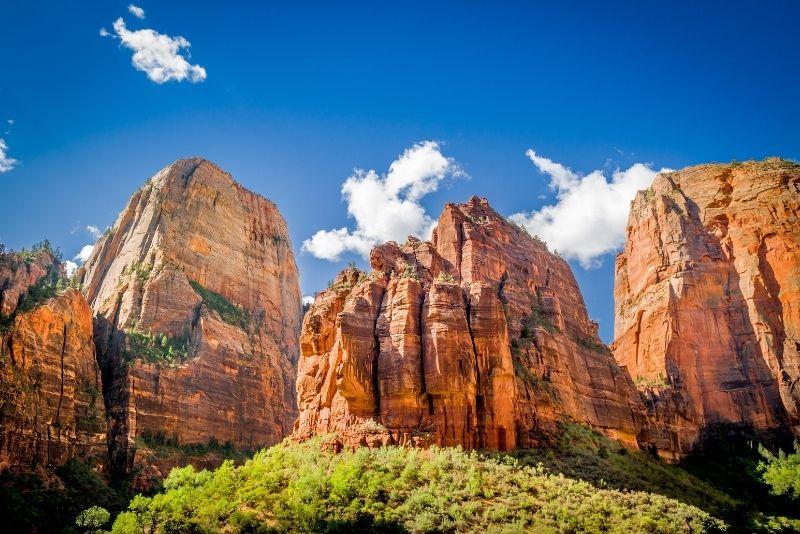 Driving time from Las Vegas: 2h50 minutes
As postcard-worthy as they come, Zion National Park is one of the crown jewels in America's national park system.
The park, located in southwest Utah and stretching over 229 square miles, encompasses a dizzying variety of terrain and ecosystems that offer something for everyone; red sandstone cliffs, narrow canyons, soaring peaks, lush river valleys, and even desert all make an appearance here.
Zion is particularly well-known for its impressive array of slot canyons (including The Narrows) as well as its world-famous hike to Angels Landing — a strenuous but rewarding journey up a sheer cliff face with jaw-dropping views at every turn.
While there are plenty of hikes to be had (the park has hundreds of miles of trails!), Zion is also great for those who prefer to take it easy, with plenty of scenic drive options that wind their way through the park's dramatic landscapes. Just hop on Highway 9 from the I-15 to Mt. Carmel Junction — a 54-mile scenic byway that twists and turns its way through the park for about 90 minutes of rolling rocks and desert hues.
Luckily for travelers, thanks to the park's fame and popularity, a plethora of tour options depart to and fro Las Vegas every day. While the single-day option is a crowd favorite, if you're hoping to tick off a few of the best national parks near Las Vegas without all the planning, multi-day adventures take in other sights like Bryce Canyon, Antelope Canyon, or the Grand Canyon, with accommodation, transport and most meals included in the ticket!
See also: Fun things to do in Zion National Park
10 – Joshua Tree National Park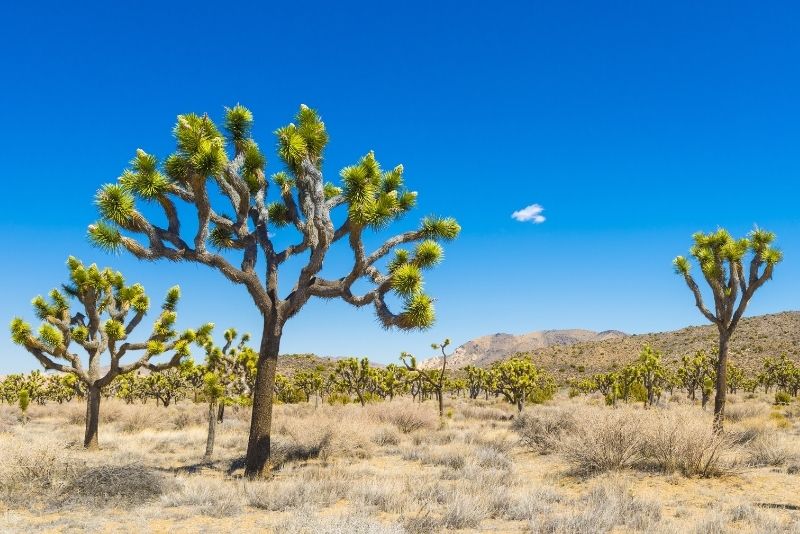 Driving time from Las Vegas: 3h
The unique and otherworldly Joshua trees — for which the park is named, and more scientifically called Yucca brevifolia — are just one of the many reasons to add this southern California national park to your open-air USA bucket list.
A mecca for avid rock climbers, hikers, and nature-lovers alike, Joshua Tree was designated a national monument in 1936 before being upgraded to full national park status in 1994. The park spans a whopping 800,000 acres (an area larger than the state of Rhode Island!) and is home to two distinct desert ecosystems: the higher Colorado Desert and the lower Mojave Desert.
This means that in addition to seeing those iconic Joshua Trees (which only grow in the Mojave Desert portion of the park), you can also expect sprawling vistas of sand and rocks, twisted cacti, and the occasional watery oasis. And, because of this use combination of ecosystems, the animals who call Joshua Tree home are equally varied, with everything from coyotes and black-tailed jackrabbits to kangaroo rats, snakes, and roadrunners (yes, they're real!).
The park is also home to several historic sites, including Barker Dam (also called the Big Horn Dam, built way back in 1900), Keys View (as Joshua Tree's highest viewpoint, it's a killer spot for sunrise and sunset photography overlooking the Coachella Valley), and Skull Rock (an eerie natural formation right off the main road which you can't miss thanks to its, well, uncanny resemblance to a giant human skull).
Choices are aplenty in Joshua Tree National Park, so whether you're looking for a casual nature walk to admire the rare plants or a challenging backcountry overnight hike, there's something for everyone. And we mean it; there are rock climbing excursions, rappelling courses, cave meditations, driving tours, guided hikes, scavenger hunts, and a whole lot more!
11 – Coconino National Forest
Driving time from Las Vegas: 3h30
What comes to mind when you think of Arizona? The Grand Canyon? Saguaro cacti? Red rocks and canyons? Either way, it's big and red and a desolate dry desert, right?
Wrong. Contrary to what the majority of visitors expect, Arizona is flush with greenery right here in the Coconino National Forest.
The largest contiguous Ponderosa pine forest in North America, this huge swath of protected land spans over 1.8 million acres and is one of the most biodiverse forests in the country. In fact, it's home to a half-dozen or so different ecosystems: desert, grassland, alpine tundra, riparian (a.k.a river), chaparral (a.k.a scrubland), and the green ponderosa pine forest.
What makes it particularly remarkable, besides its sheer size, is its landscape diversity: because the Coconino ranges in elevation from 12,633 feet (at the top of Humphreys Peak, Arizona's highest point), down to 2,600 feet in the Mazatzal Wilderness, explorers are gifted a menu of different landscapes to enjoy, each with their own unique flora and fauna.
Bordering both the Grand Canyon National Park (to the north) and the underrated outdoor-oriented city of Flagstaff, Coconino is a nature-lover's dream, with over 300 different trails for hikers, bikers, and horseback riders to choose from. And, of course, the park is also well-known for its excellent opportunities for camping, fishing, rock-climbing, and bird-watching.
When wintertime rolls around, the higher elevations become blanketed in snow, making it a playground for cross-country skiers, snowshoers, and sledders, while the lower areas are still relatively warm and perfect for a spot of hiking or mountain biking. So whether you're looking to hit the slopes or just enjoy some fresh air and scenic views, Coconino should definitely be at the top of your list.
12 – Grand Staircase-Escalante National Monument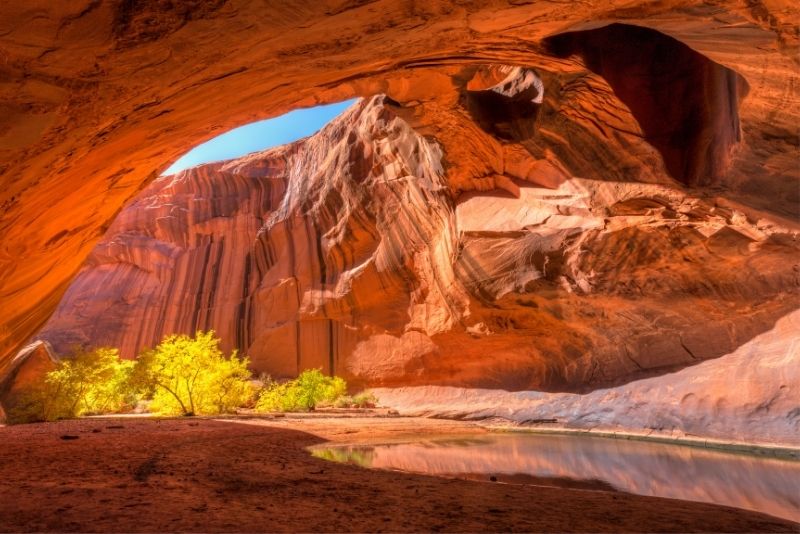 Driving time from Las Vegas: 3h30
Nestled between Bryce Canyon and Capitol Reef in southwestern Utah, the Grand Staircase-Escalante National Monument is a geological wonderland.
Formed by the erosion of the Escalante River and its tributaries, this massive national monument (it's nearly two million acres in size) encompasses a wide variety of landscapes, from slickrock canyons and sandstone cliffs to slot canyons and lush river valleys. And because it's so big, there myriad things to do — whether that be solo or as part of a pre-arranged guided tour.
As you might expect, the most popular activity in the wild west wonderland is a casual (or strenuous) hike to stretch the legs and soak in the scenery. If you need a hand choosing just one or two routes, Escalante Natural Bridge or Lower Calf Creek Falls are the highest rated trails in the canyon, however, any of the four trails which lead to Coyote Gulch are postcard-worthy in their own right. Cyclists and horseback riders will find plenty of routes to explore too, while the more adventurous can try their hand at canyoneering, rock-climbing, or even kayaking along the Escalante River.
But the Escalante isn't all about physical activity; it's also a great place to simply sit back and take in the scenery (which has been featured in several Hollywood movies over the years).
One of the best ways to do this is by driving one of the Monument's many scenic byways, which offer up breathtaking views at every turn. Hint: make your way down Burr Trail Road, and, if you have time, pop into the Singing Canyon along the way to test the acoustics.
Alternatively, if you're looking for something a little more low-key, there are also plenty of dispersed camping sites throughout the park where you can pitch a tent and stargaze to your heart's content
Whether you're an experienced hiker or backpacker looking for a challenging multi-day trekking route, or if you're just looking for a leisurely family hike to enjoy some beautiful scenery, Escalante has got you covered.
13 – Bryce Canyon National Park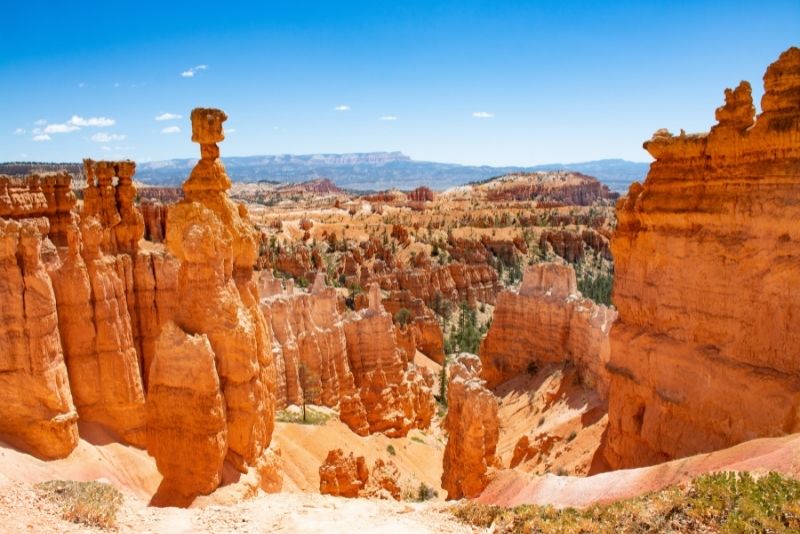 Driving time from Las Vegas: 4h
A veritable wonderland of red rock hoodoos (a type of columnar basalt), Bryce Canyon National Park is one of the most captivating landscapes in the American west, and certainly not something you'd stumble across anywhere else in the world.
The best way to experience all that this national park has to offer is on foot, and there are plenty of trails to choose from, whether you're looking for an easy stroll or a multi-day hike.
One of the most popular trails is the Rim Trail, which offers up stunning panoramic views of the canyon and Bryce Amphitheater as it winds its way along the edge. If you're short on time (or energy), consider doing a section or out-and-back rather than tackling the entire trail in one go.
Other highlights — and we can't stress this word enough, so make sure you bring a couple of spare camera batteries — including Thor's Hammer, the Queen's Garden Trail, Sunrise Point, Queen Victoria, Rainbow Point, the Bristlecone Loop, and Inspiration Point, an aptly-named lookout that dishes up what's regarded as the best view of the hoodoo-packed Silent City.
Thanks to its reputation as one of the best national parks near Las Vegas, similar to Zion, myriad guided tours and activities are also available, from horseback riding and cycling to photography tours. While there's nothing wrong with venturing around at your own pace, if you're short on time (or simply don't want to bother with permits, directions, and booking accommodation and transit), a pre-organized day or multi-day trip from Sin City comes highly recommended for a hassle-free highlight package.
14 – Glen Canyon National Recreation Area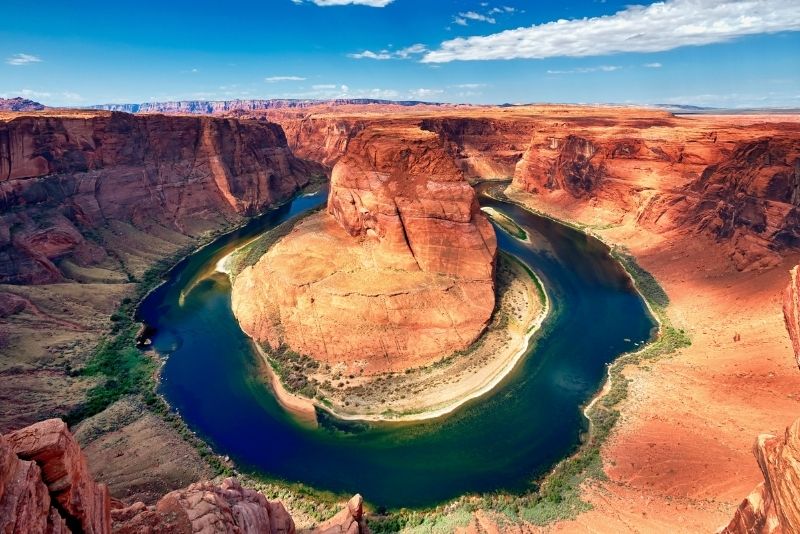 Driving time from Las Vegas: 4h
Forming the border between Arizona and Utah, Glen Canyon National Recreation Area is one of the largest and most diverse national parks in the country.
While it's perhaps not as well-known or as popular as some of its neighbours (Zion, Bryce Canyon, Grand Canyon), that doesn't make it any less spectacular. In fact, with over a million acres to explore, chances are you'll find something new each time you visit no matter how many times you've been before.
From hiking and biking trails to kayaking and river rafting routes, the list of activities is far from short. Adventurous types will want to check out the Reflection Canyon Trial — a 15-mile stretch that's as challenging as it is beautiful — while those looking to relax can take a scenic drive down the Burr Trail, which winds its way through the heart of the park on both paved and dirt roads.
Other unmissable sights include Horseshoe Bend (one of the most photographed spots in all of Arizona), Rainbow Bridge National Monument (the world's tallest natural bridge), and Lake Powell (a man-made reservoir that's perfect for boating, fishing, and swimming).
For something a little different, consider taking a guided photography workshop on water or land, join a tour of the Glen Canyon Dam, or hop in a plane to see it all from the sky!
15 – Vermilion Cliffs National Monument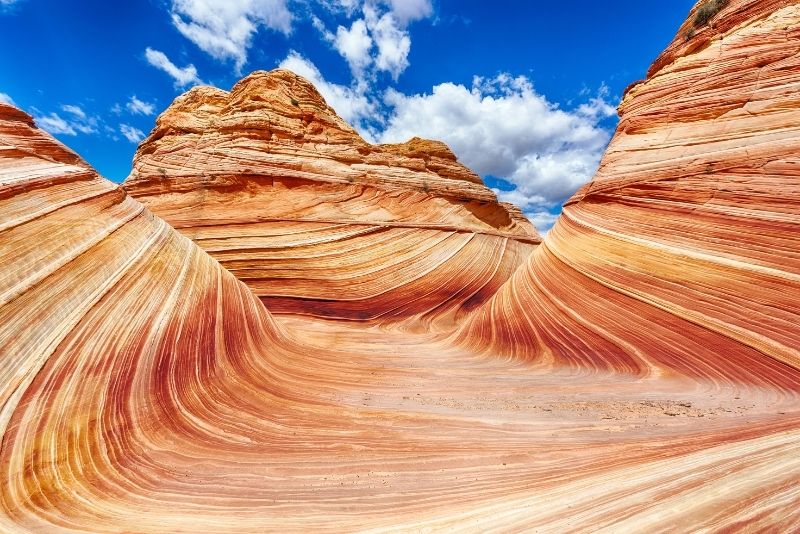 Driving time from Las Vegas: 4h
Located just south of the Arizona-Utah border, Vermilion Cliffs National Monument is a hidden gem that's well worth adding to your list of national parks near Las Vegas.
The monument is home to some of the most unique and dramatic landscapes in the Southwest, including towering sandstone cliffs, narrow slot canyons, and colorful desert badlands. There's something for everyone here, whether you're an avid hiker or just looking for a scenic drive to take in the views.
One of the best ways to experience the beauty and diversity of Vermilion Cliffs is on foot, so be sure to pack your hiking boots! Undeniably the most desired route is the Wave Trail (pictured above) inside Coyote Buttes South, however, to hike it requires a lottery permit system, so be sure to plan well in advance if that's what you have your heart set on.
Far from its only attraction, the monument is also home to a wealth of Native American archaeological sites and historical artifacts, as well as some of the best birding in the area (as the home of myriad endangered California condors). With so much to see and do, it's no wonder that Vermilion Cliffs National Monument attracts visitors from all over the world!
16 – Grand Canyon National Park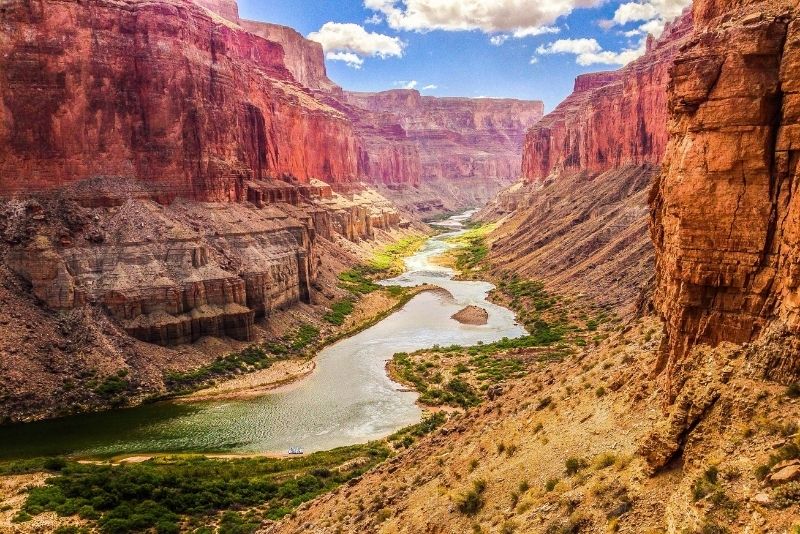 Driving time from Las Vegas to Grand Canyon: 2h30 minutes (West Rim), 4h30 minutes (South, East, and North Rim).
Saving the most famous till last, a UNESCO World Heritage Site that sits just a couple of hours drive from Sin City (or a quick flight if you're looking for aerial views and don't mind splashing some cash), the Grand Canyon National Park is one of the best national parks in the world for a reason.
With its mile-deep gorges, snaking rivers, and bright red rock formations, there's simply nowhere else on Earth quite like it.
Whether you're looking to hike to the bottom (Grand Canyon Village is the starting point for most trails), or just want to take in the views from one of the many lookout points along the cliffs (find the quintessential pic at the Skywalk), there's no shortage of things to do here — at that's just the tourist-popular West Rim! For that other iconic photo, head to Glen Canyon (AKA the east rim of the Grand Canyon) to look over the jaw-dropping vista that is Horseshoe Bend.
Hot tip: Consider a full-day excursion that also includes a trip to the Hoover Dam and Antelope Canyon for the best value for your money. Or, for an unforgettable experience, sign up for a multi-day National Parks Tour that will take you to Zion, Bryce Canyon, and Monument Valley!
See also: Fun things to do at the Grand Canyon, Grand Canyon Skywalk tickets price, Cheap Grand Canyon rafting trips, Best Grand Canyon tours from Las Vegas, Grand Canyon helicopter tours guide
17 – Great Basin National Park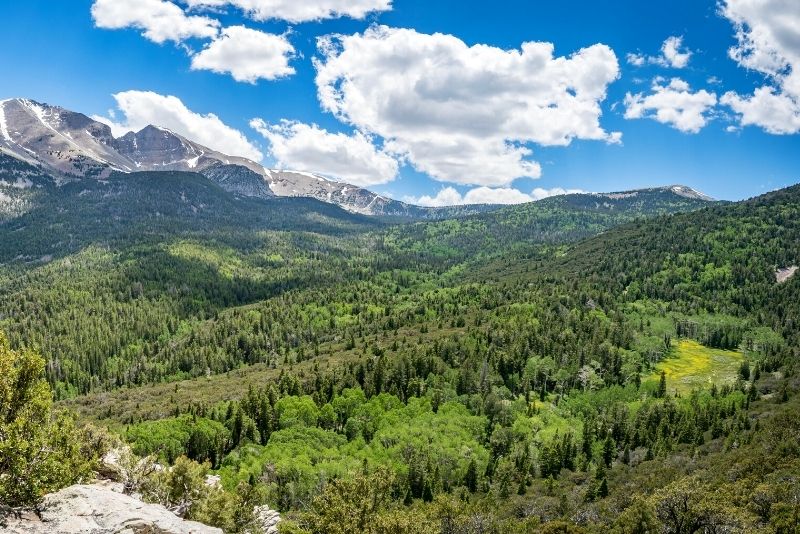 Driving time from Las Vegas: 4h30
Abundant with wildlife and overflowing with greenery — a starc contrast from the desert plains surrounding most of Las Vegas — a stone's throw from the eastern border of Nevada and the town of Baker, Great Basin National Park is a little-known but equally stunning slice of nature that's definitely worth a visit.
The park is home to some of the most unique geological features in North America, everything from rugged mountain peaks to vast underground caverns. Spread throughout this underrated area, you'll find Wheeler Peak (the second tallest mountain in Nevada), Lehman Caves (a network of limestone caves that's been welcoming guided tour guests since the 1800s), and the aptly-named Scenic drive, a 12-mile route that changes so starcly in scenery and elevation that it's like driving from Nevada through to northern Canada.
While it may be smaller than some of its more well-known counterparts, what Great Basin lacks in size it makes up for with its unspoiled beauty and serene atmosphere. So if you're looking for an off-the-beaten track destination — especially if you happen to be visiting in September, when the annual Great Basin Astronomy Festival takes place — then add this spot to the bucket list.
18 – Antelope Canyon Navajo Tribal Park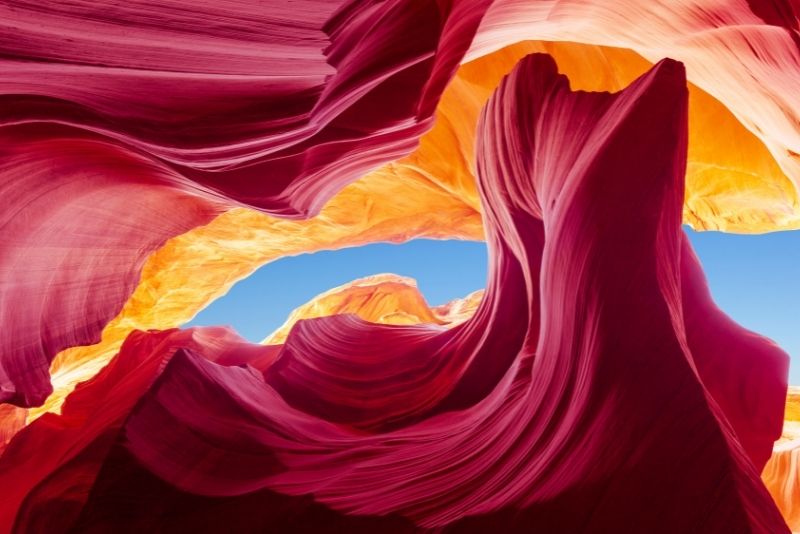 Driving time from Las Vegas: 4h30
A truly mesmerizing landscape, Antelope Canyon is one of the most photographed slot canyons in the world, and it's not hard to see why.
The canyon is divided into two sections — Upper Antelope Canyon and Lower Antelope Canyon — both of which are accessible via guided tour only (but hey, that just means you'll learn a lot more about the area's fascinating geology and history than you otherwise would if visiting on your own).
While both offer up incredible views of the red rock formations, Upper Antelope is generally considered to be more visitor-friendly due to its wider paths and higher ceilings (shaped like an upside-down "V," narrow at the top and wide at the bottom), making it less likely that you'll have to duck or squeeze your way through tight spaces. However, if your idea of fun is challenging yourself to climb and squeeze through spaces, then the Lower Canyon is the obvious choice!
That being said, both canyons are equally as beautiful, so if you have the time (and patience) to do both, many a traveler would say go for it!
If you're staying in Vegas, there's no shortage of organized day tours on offer that include transport, meals, and park entry tickets. However, for the best bang for your buck, and to check off more of the best national parks near Las Vegas in one hit, consider an overnight excursion that also visits the famed Grand Canyon, Zion and Bryce Canyon National Parks, Monument Valley, or a combination of them all!
See also: Best Antelope Canyon Tours from Las Vegas – Full Guide with Map
19 – Petrified Forest National Park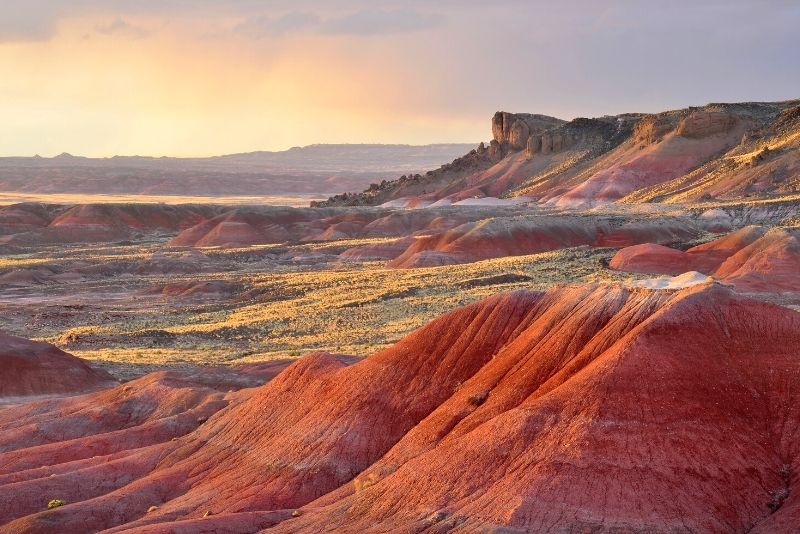 Driving time from Las Vegas: 5h30
Tucked away in the northeastern corner of Arizona, 30 minutes drive from the little desert town of Holbrook, Petrified Forest National Park may not boast foreboding canyons or intimidating sandstone gorges, but what it does provide is a substantial and detailed look into the area's fascinating history – from both a geological and cultural perspective – as well as stunning colorful hills and flat-topped mesas.
As the name suggests, this Navajo and Apache counties park is home to a significant amount of petrified wood (trees that have turned to stone as a result of being buried under sediment and exposed to minerals over millions of years —  225 million years ago, to be more accurate!), making it a popular stop for anyone interested in fossils, rocks, and the historic lay of the land.
Complementing the myriad petrified wood scattered throughout the 200,000+ acres (50,000 of which is designated as 'wilderness' and will remain untouched forever, legally), some of which have been carved into peculiar and photo-worthy shapes and sizes, several other geological highlights await: the Painted Desert (a colorful badland made up of picturesque eroded hills reminiscent of stepping onto Mars), the Blue Mesa (a stunning rock slab that provides excellent overlook views of the landscape), and the Agate Bridge (a natural bridge made from a giant piece of fallen petrified wood), are simply the pick of the bunch
From a cultural perspective, Petrified Forest National Park is home to several ancient ruins, rock art sites, and historic structures, including the Puerco Pueblo — one of the largest pueblos ever built in North America with over 100 rooms. Culture vultures, don't miss the Rainbow Forest Museum as well as the circa-1930s Rainbow Forest Inn,
If you're short on time, thanks to 28 miles of paved roads, it's possible to conveniently drive one way through the park. However, it'd be a sin to not stop at least a couple of times along the way to snap a few pics of the arid, historic, unique landscape.
20 – Capitol Reef National Park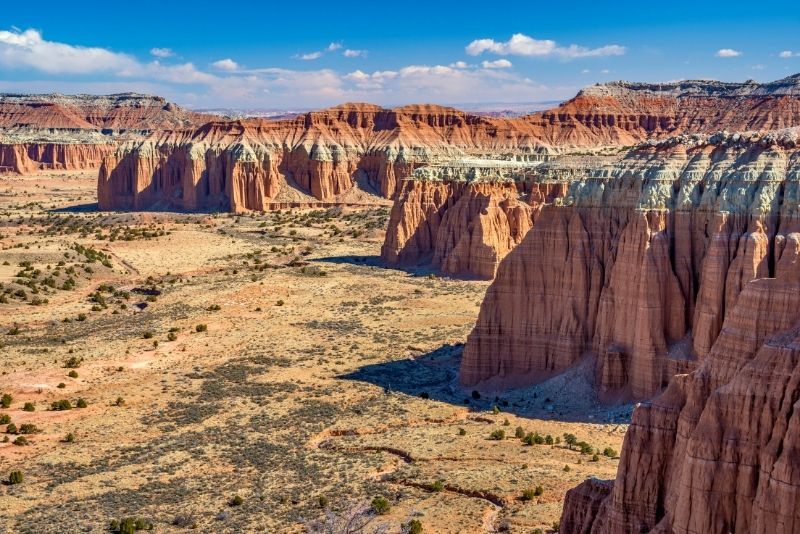 Driving time from Las Vegas: 5h30
Combining a rich history with raw year-round beauty, Capitol Reef National Park is one of the premier national parks near Las Vegas that, because of its distance, is often overlooked — yet only to the detriment of those who choose to do so!
Named for a section of the Waterpocket Fold — a massive 100-mile long wrinkle in the earth's surface that was created by prehistoric tectonic activity (and still growing!) – Capitol Reef ranges from narrow canyons and ridges to towering monoliths and sandstone domes, making it not only a fascinating but utterly beautiful (not to mention peaceful) place to explore no matter what your interests may be.
Spread across close to 250,000 acres in south-central Utah, nature lovers can rejoice in outdoor adventure; there's plenty of opportunity for hikers, backpackers, horseback riders, and climbers to find their own slice of solitude within the park, as well as campers who can bunk in at the 71-site Fruita Campground.
Budding geologists will have a blast exploring the Fold's many layers of sedimentary rock (exposed thanks to the park's unique position atop a water pocket), as well as fossils that date back to the Triassic period, while photographers will be in awe of the ever-changing light show the landscape provides no matter what time of day it is.
As with most parks in this list, there are several notable landmarks worth mentioning (and taking selfies with!): Grand Wash, Chimney Rock, the Fruita Historic District, Capitol Gorge, and Cohab Canyon, to name but a few. Plan on spending at least a day or two here to make the most of it!
For the highlight reel, cruise down the 8-mile Capitol Reef National Park Scenic Drive; for the ultimate Capitol Reef road trip, spend a day taking Utah Highway 24 from Loa to Hanksville via the National Park for nonstop knockout scenery
Hot tip: If you don't opt for a guided tour and, instead, are looking for a place to stay in the area, check out the town of Torrey. It's a short car ride away and features rustic lodges (with really, really good pie) as well as budget hotels and motels.
21 – Arches National Park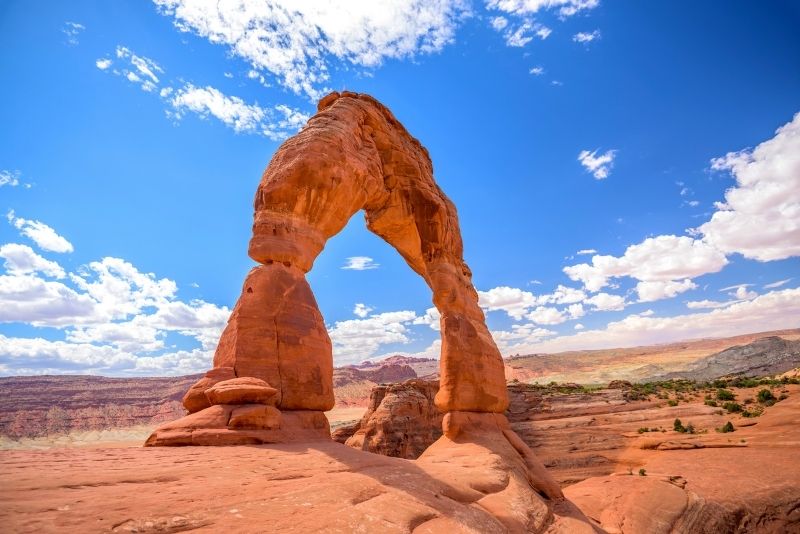 Driving time from Las Vegas: 6h40
Sometimes, a park's name means little, being purely symbolic. Here, it means everything: as the home of more than 2,000 naturally formed sandstone arches (not to mention pinnacles, balanced rocks, fins, and other rare and incredible geologic formations), making it the official trophy-holder of the densest concentration of natural stone arches in the world!
With a bounty of Mother Nature's best work scattered in every direction, it's easy to see why this park is one of the most popular (yet still seldom crowded) in the National Park System; visitors can explore over 76,000 acres by foot (the 7.8-mile Devil's Garden Trail is a great place to start), car, horse, bike, or even an off-road vehicle as part of an insightful (and adrenaline-pumping) adventure tour.
For all of you budding hikers, the Arches National Park has you covered with over nearly 50 different trails ranging in difficulty from easy to strenuous, taking you past some of the most iconic, yet still underrated (compared to those of Zion and Bryce) geological features in Utah — Fiery Furnace, Landscape Arch, Double O Arch (where one sits on top of another) and Tower Arch, to name but a few. Both the Park Avenue trail and Double Arch trail are short, family-friendly strolls packed with photo ops, while the more advanced (and incredibly rewarding) Devils Garden Primitive Loop, at 7.2 miles, is the longest and most difficult hike in the park.
While many of the arches are easily accessible via a short walk from the road (the famed Delicate Arch is just a three-mile round trip), others require more effort; however, even if you don't consider yourself an intrepid adventurer, it's worth noting that simply driving through this park on the 19-mile Arches Scenic Drive is an experience in and of itself.
As with other parks on this list, there's plenty for hikers and backpackers of all levels of experience and interest, as well as campers looking for an epic view while they sleep. The Devils Garden Campground offers primitive camping and sites must be reserved in advance during the peak season, but it's a stone's throw from some of the best hikes in the region!
No matter how you choose to explore it, though, one thing's for certain: Arches National Park will leave you awestruck!
22 – Monument Valley Navajo Tribal Park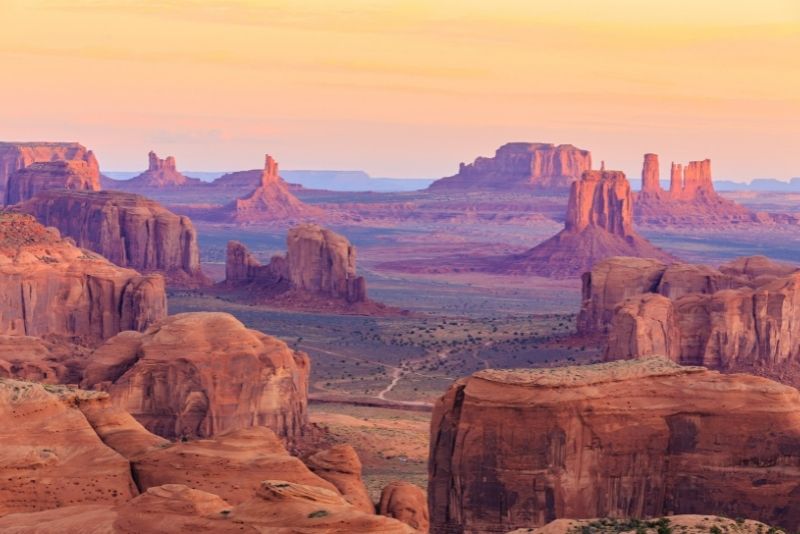 Driving time from Las Vegas: 6h40
Defined by foreboding sandstone mountains that tower 1,000 feet high, sprawled across a wide and empty desert landscape, Monument Valley is a photographer's paradise, dishing up a variety of landscapes, natural monuments (fitting, given the name), wildlife, and, of course, Navajo culture.
The Tribal Park is home to a number of different trails that are perfect for day hikes, the most maintained and popular (and photographed) being the Wildcat Trail, which brings you past iconic sandstone landmarks such as Mitten Buttes and Merrick Butte; it's an easy 3.2-mile loop that anyone can do.
If you're looking to stay in the comfort of your air-conditioned car, you'll still notch up killer views. Cruise slowly down the scenic 17-mile dirt road and you'll soak in views of the Mitten Buttes, North Window, Three Sisters, Yei-bi-chai, and the postcard-worthy Totem Pole.
For those who want to really immerse themselves in Monument Valley (literally), backcountry camping is allowed at different spots (can't go wrong with The View Campground), but be sure to come well-prepared as water and food aren't so easy to come by.
For the better part of a millennium, the Navajo people have called this place home, their legends and traditions intertwined with the land in ways both mysterious and beautiful; today, it's still considered sacred ground by many of its inhabitants.
Depending on which tour you choose, chances are good that you'll stumble upon some of the most iconic scenes in America: The Mittens, John Ford Point, Elephant Butte. These landmarks — named for their resemblance to various objects or animals — have been featured in countless movies and photographs over the years, and it's easy to see why.
Hot tip: check out Goosenecks State Park, essentially a smaller-scale version of Horseshoe Bend, without the tourist crowds!
23 – Sequoia & Kings Canyon National Parks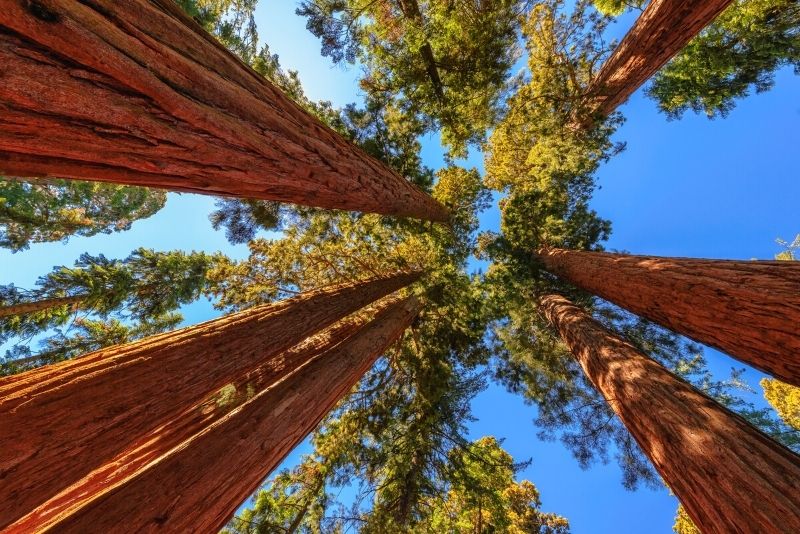 Driving time from Las Vegas: 7h
Two dramatically landscaped parks full of photo opportunities and wildlife sit side-by-side, east of Fresno, California — their names a mouthful, but their natural beauty worth the drive.
Sequoia National Park is home to General Sherman, the world's largest tree by volume (and thought to be nearly 2,700 years old), as well as hundreds of other sequoias that are just as impressive, making each and every visitor feel small. For more than just a forest, it's also blessed with stunning mountain scenery and miles upon miles of trails for hikers of all levels of experience (the Big Trees Trail is always a hit, while Tokopah Falls is one of the park's few waterfall hikes, perfect for a hot summer's day).
Kings Canyon, on the other hand, offers canyons carved by glaciers during ice ages past (hence the name), making for some awe-inspiring landscapes, and a dramatic juxtaposition to Sequoia next door; there's also plenty of hiking, biking, and horse riding opportunities for the whole family here too.
Together, these parks offer endless photo ops and chances to see rare wildlife in its natural habitat — from black bears and badgers to deer to bald eagles, Sequoia and Kings are is home to over 300 different kinds of animals.
24 – Canyonlands National Park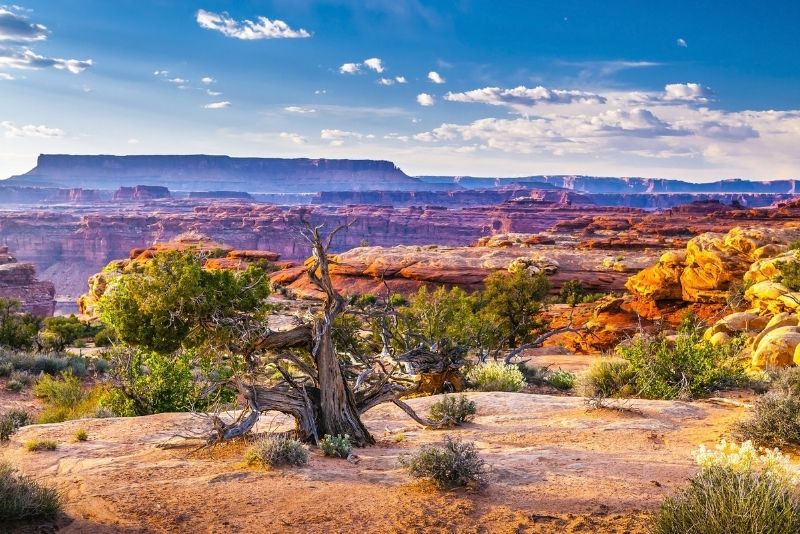 Driving time from Las Vegas: 7h
Beckoning adventure-seeking travelers like moths to a flame, Canyonlands National Park is one of the lesser-known but beautiful parks in the United States, serving up its own version of all of the artistic highlights of the Grand Canyon, Zion, and Arches National parks.
How can one park replicate that of three other very different areas? Easy: this Utah park is made up of four distinct districts (Island in the Sky, The Needles, The Maze, and The Rivers) that are each their own world unto themselves, with unique geology, ecosystems, and adventures to be enjoyed.
While some visitors do tackle all four districts in a single trip (it can easily take a week or more), most people tend to pick one or two favorites and spend their time there.
The Island in the Sky district is probably the most popular for those short on time; it features expansive canyon views from its high mesas and offers easy hiking routes and some challenging mountain biking trails (take a spin on the White Rim Road).
The Needles district, on the other hand, is for those who want to really get off the beaten path; located in the southeastern part of the park, it's characterized by its dramatic spires of sandstone and requires a decent amount of hiking (and scrambling in a few spots) to see its best bits. The visitor center makes for a great starting point, with ranger-led programs to boot.
As for The Maze, it's aptly named and is the most remote district in the park, usually requiring several days to explore; it's definitely not for the faint of heart (or those without a lot of time), as getting lost in the solitude here is all too easy for those unprepared.
The Rivers district rounds out Canyonlands National Park and centers around the Colorado and Green rivers. Contrasting the rest of the park, the river corridors and lush and green, welcoming wildlife and plantlife aplenty.
Don't forget: despite not falling into one of the four main areas, Horseshoe Canyon is well worth a visit too; it's home to some of the most impressive rock art in all of the national parks.
25 – Dead Horse Point State Park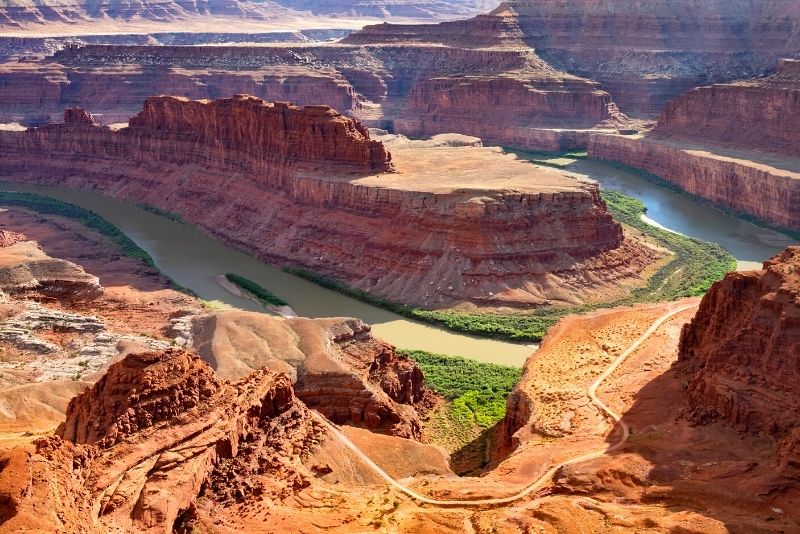 Driving time from Las Vegas: 7h
Just 32 miles from Moab sits a Utah State Park within the bounds of the epic Canyonlands National Park. Full of red-rock landscapes and varied terrain, Dead Horse Point State Park is a jaw-dropping oasis in the desert that serves up (inter)stellar stargazing opportunities thanks to its designation as a Dark Sky Park, as well as killer views from the overlook above the Colorado River from its altitude of some 5,900 feet.
The park gets its name from a narrow neck of land (or "point") that overlooks a hairpin of the Colorado River, where legend has it that cowboys once caralled horses and, well, you can fill in the blanks.
These days, visitors come for hiking trails (ranging from easy strolls to strenuous climbs) and 17 miles of mountain biking trials (the Intrepid Trail is where it's at!), with plenty of bird watching and wonderful vistas throughout. There's also the Kayenta Campground and Wingate Campground on-site should you wish to make a night (or more) of it.
So, if you're looking to explore more of Utah's red-rock country, Dead Horse Point is a great place to start — and with Las Vegas or Moab as your home base, it's an easy weekend trip.
26 – Yosemite National Park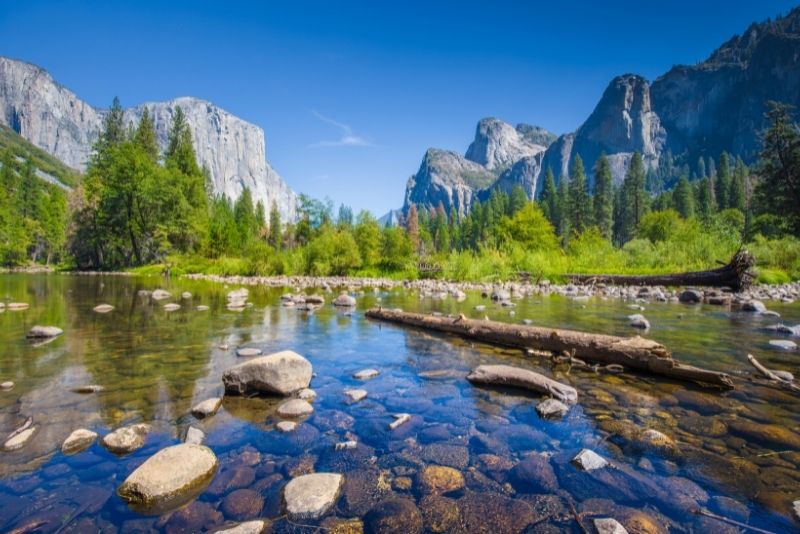 Driving time from Las Vegas: 7h15 minutes
A staple Californian National Park, and one that needs no introduction, Yosemite National Park is easily one of the most popular in the country.
From its awe-inspiring waterfalls (El Capitan, Bridalveil Fall, and the firey Horsetail Fall) to its giant sequoias (Mariposa Grove is a must-see), there's something for everyone here; add in world-class rock climbing and hiking trails, and it's not hard to see why this park sees millions of visitors every year.
Thanks to its proximity to San Francisco, guided tours are plentiful and easy to book, with everything from day tours to overnight camping adventures, multi-day hikes, and horseback rides on offer; alternatively, those wanting a more independent experience can easily plan their own trip using the park's well-developed infrastructure. Either way, despite the drive, it remains one of the most beloved national parks near Las Vegas and a logical stop if journeying between Sin City and San Fran.
Final thoughts:
There you have it, folks: 26 of the very best national parks near Las Vegas! With so many options to choose from, there's something for everyone, whether you're looking for a quick day trip or an extended camping adventure. So what are you waiting for? Get out there and see all of what the Wild West has to offer!
What are your favorite national parks near Las Vegas? Let us know in the comments below! And don't forget to check out our other blog posts for more things to do in and around Sin City! As always, happy travels!