Everybody has searched for cool things to do when planning holidays: boat tours, cycling tours, diving, food tours, paragliding, safari, etc. But when it comes to booking those travel activities online, you're getting a huge headache. Has it happened to you – that your web browser is flooded with tabs of travel websites, most of which are just selling similar tours but at different prices? So, how to book tours online …?
TourScanner is the No 1 meta-search engine for tours & travel activities. Search over 15 bookings websites and find your ideal travel activity at the best price.
We've all been there. There are too many travel booking sites and it's hard to know where to start. The most common scenario is that you simply search on Google and all you get is a messy browser with countless opened tabs and windows. If you're a little bit more experienced, you might find your tours on TripAdvisor, or book with online travel agencies (OTAs) like Viator. In some cases, you might just contact local tour providers directly.
Whichever method you opt for, the whole process of searching and booking is time consuming and tiring, and you're not certain to have booked your ideal tour at the cheapest price.
Even though some travelers prefer to book their tours on the spot, more and more are also annoyed to spend their precious vacation time talking to local travel agents and negotiating prices. It's not like you travel all this far just to spend hours queuing and negotiating in a tour operator office!
You don't travel 1000 miles to end up in a tour operator office
Thus, you decide to just sit in front of your computer, and start looking online for the coolest activity you can do on your vacation.
Now, imagine that you're all pumped up for your holiday in Paris. You have your flights and hotel booked and are now casually looking on the Internet for things to do in Paris.
You have long wanted to go to Louvre Museum and see the sought-after "Mona Lisa". Right now you just can't believe it's soon happening. "I should book a guided tour," you said to yourself, hoping to get the most out of the Louvre.
The first thing you do is putting "Louvre guided tour" on the Google search bar. You plunge into a sea of search results and click all the ones you see fit. Soon you end up having 15+ tabs opened on your browser and feeling tired after looking at only two pages of search results.
But the hassle doesn't end here.
Next you find yourself looking at different prices, choosing between tour providers, jumping from page to page, closing tabs, opening new tabs… At last, you finally make a choice and immediately pay for it.
DONE!
Just as you think it's over, you come across an even better, cheaper option.
"How could I have missed that?"
At this moment, you wish that someone could go through this whole process for you and make all the information readily accessible. You look back on how you booked your flight and hotel. It was easy – you simply went to a search engine and entered your destination, then all the search results were there for you.
It literally took 0.1% effort. How come it's so difficult to find a tour?
Well, the answer is simple – there's no search engine for tours and travel activities available on the web. Comparing to flights and hotels, the market for tours and activities has been much more fragmented, resulting in a missing Skyscanner or Trivago for this sector.
However, several new online travel agencies specializing in tours are now emerging on the web. We have listed the main OTAs so that you don't miss any good stuff.
Websites to Book Tours - Focus on Asia
Websites to Book Tours - Focus on Australia and New Zealand:
Websites to Book Tours - With locals
So, now, you might think you have to look at 20+ websites when you book your tour. How is that easier?
You're right. It's still a lot of work to browse each website and go back and forth between pages. That is why we created TourScanner – a solution to your problem.
TourScanner is the first meta-search engine specialized in Tours & Activities. By aggregating all the available offers onto one single platform, TourScanner makes it effortless for travelers to compare and book tours, and discover new things to do.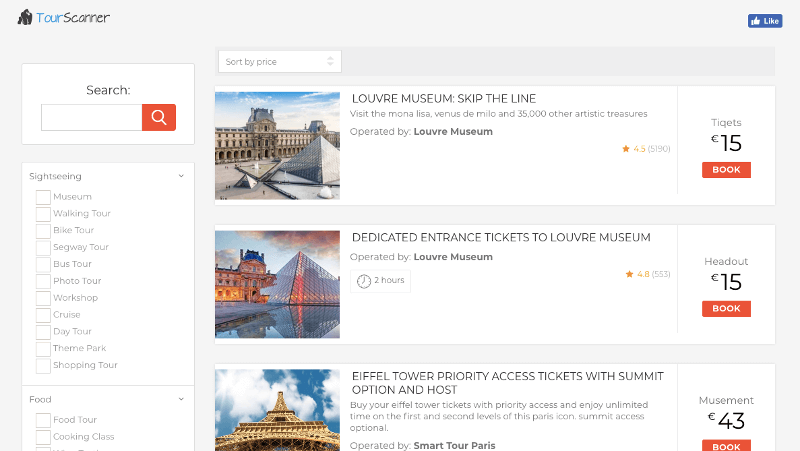 TourScanner is the first meta-search engine for tours and travel activities. In just a few clicks, travelers can compare prices of tours & travel activities from more than 20 booking sites.
Our goal is to bring you a large catalog of tours, tickets and activities so that you can save time and money from googling or missing out on interesting offers. It's now easier to book tours online with a meta-search engine like TourScanner, where you can:
Search for tours and travel activities from 20+ booking sites (we are adding more partners every week, thank you for your patience)
Discover new activities/tours

Compare tours and prices
Book your favorite tours
Save (a lot of) time from googling & money 🙂
We hope you like this concept and that it'll be of help in finding your ideal travel activities. Click here to try TourScanner and tell us what you think. 🙂 Happy searching!