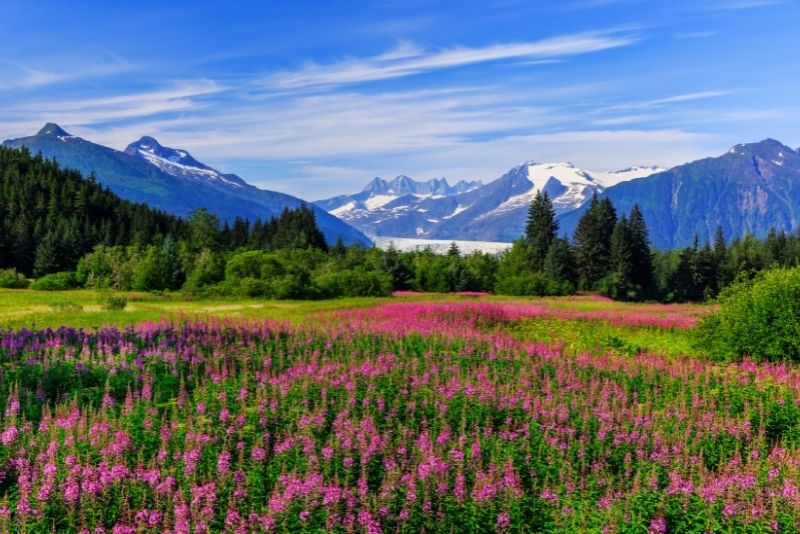 Alaska's state capital really packs a punch when it comes to wilderness adventure and cultural immersion. Juneau is famed for its wildlife encounters and glacial landscapes, where hidden gold twinkles in the sun and hiking trails meander through dramatic valleys. Back in town you can ride on historic tramways, visit art galleries, and eat all the salmon you can handle.
Considered to be one of the largest municipalities in the U.S. – Juneau is the most isolated city in the state, located in the middle of Alaska. Surrounded by ample nature, beautiful wildlife, and then some, you'll truly be one with nature, as the locals are, with everything you need for an incredible stay.
Home to over 10,000 different bald eagles, Juneau is the perfect place to spot more than a few just on your way to get coffee in the morning, or, while hiking one of the many hiking trails (more than 130 miles to be exact!).
There are enough fun things to do in Juneau to keep you busy for weeks, but if you only have a few days, here are the top picks.
1 – Go whale watching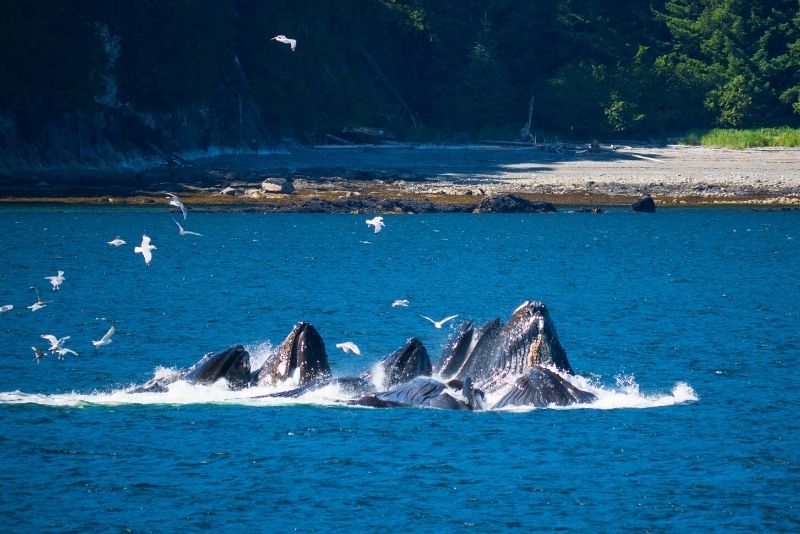 Seeing whales in Juneau is no fluke. Humpbacks are frequently spotted in these wildlife-rich coastal waters, so you have a good chance of enjoying their antics.
Relax on deck as your boat cruises into the Pacific Ocean on a hunt for these majestic marine giants. The scenery is stunning, but don't get too distracted because Mother Nature always has a surprise up her sleeve. Maybe in the form of a pod of orcas, or some playful sea lions!
2 – Descend into the AJ Mine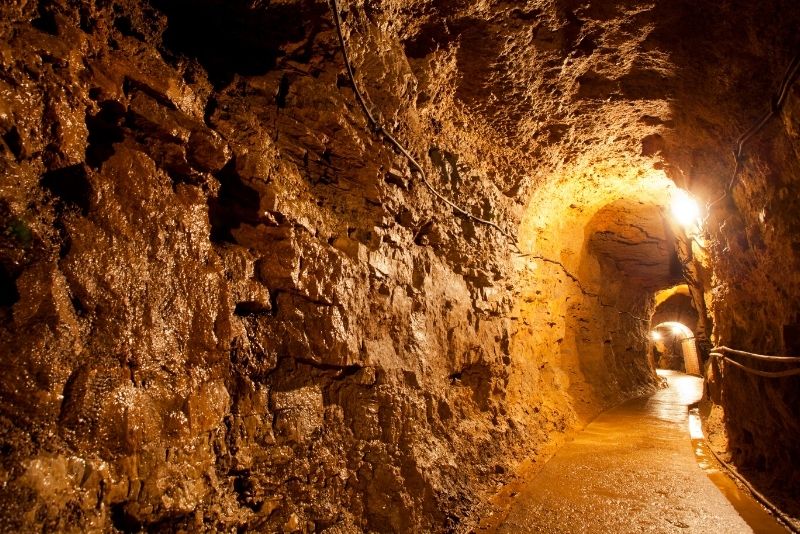 Experience Juneau's industrial heritage on a thrilling tour of the AJ Mine and Gastineau Mill. Put on your hard hat and venture deep underground on a quest into the past.
As you follow your guide along the dark tunnels, try and imagine what mining life was like for those who chipped away at the hard rock. Back up in the sunlight, head over to the mill and have a go at panning for gold.
3 – Walk on the Mendenhall Glacier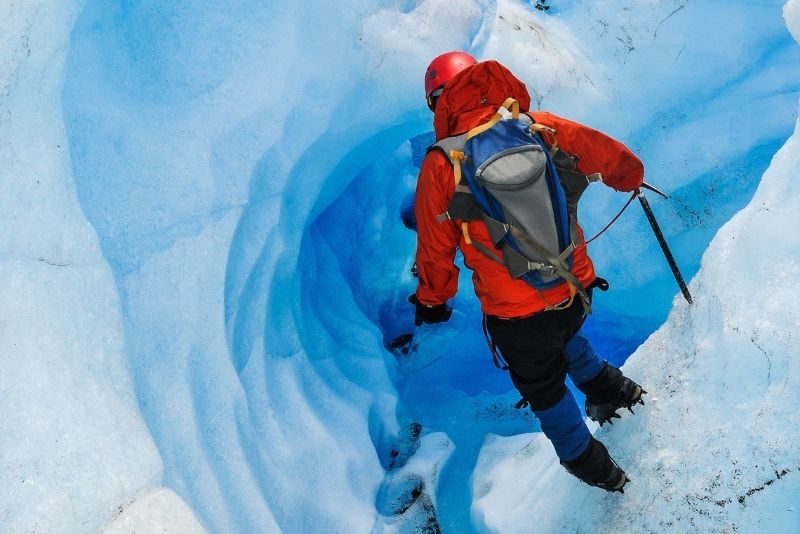 The Mendenhall Glacier is one of the coolest places to visit near Juneau. Stroll along walkways to viewing points where you can gaze down over the sapphire ice. Your favorite vacation snaps are guaranteed to come from here!
For the ultimate thrill, strap on some crampons and venture out on a guided walking tour of the vast icefields. You'll be skirting deep crevasses and exploring secret ice caves so keep your wits about you.
4 – Kayak along Mendenhall Lake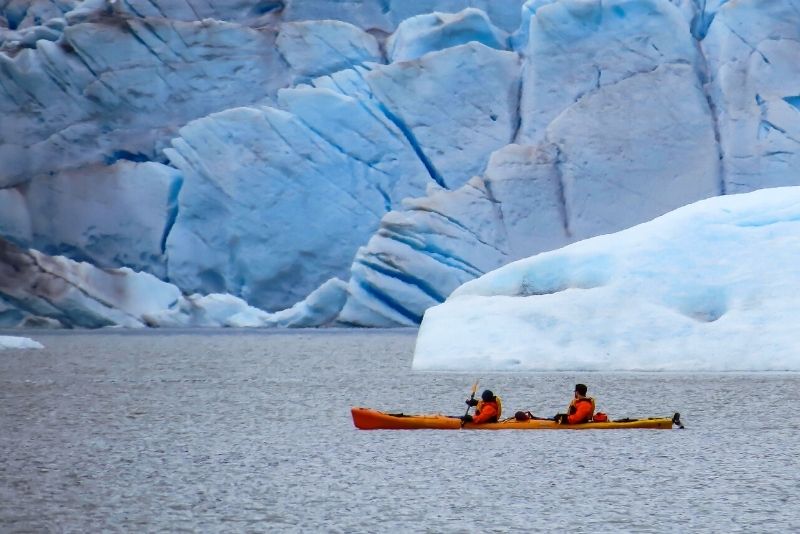 One of the best ways to experience Mendenhall Lake is by kayak or canoe. Dip your paddle into the sparkling blue water and float in the shadow of the mighty glacier. You'll be humbled by nature as those sheer walls of ice keep watch over your progress.
There are wetlands to explore too, where bald eagles rule the skies. You might be joined by humpback whales or orcas as you venture deeper into the lake.
5 – Examine history at the Last Chance Mining Museum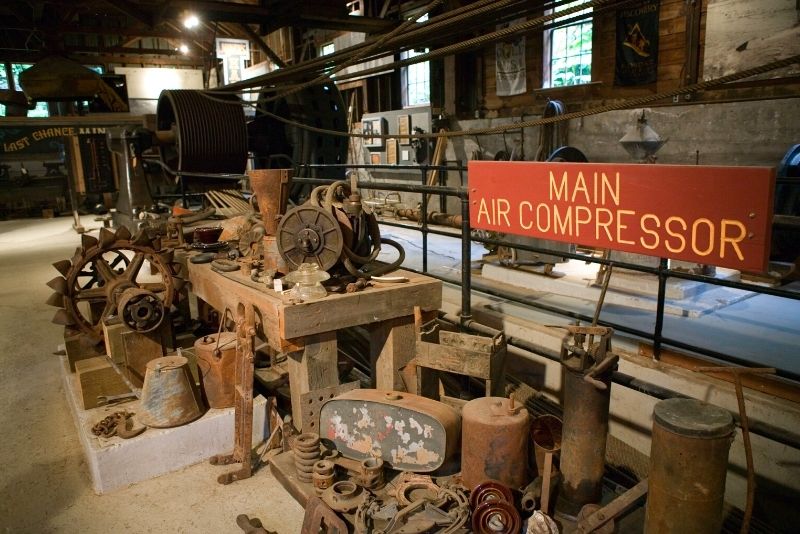 You'll get a real sense of Gold-rush life as you explore the Last Chance Mining Museum. The star of the show is the air compressor, which is one of the largest in the world.
Stroll around the industrial ruins and see the electric trains which transported workers to the mine and took ore to the mill. Then scramble up the little hill to visit the museum for your artifact fix.
Bring cash, as general admission is $5 USD, and is only open during summer.
6 – Spot bears at Pack Creek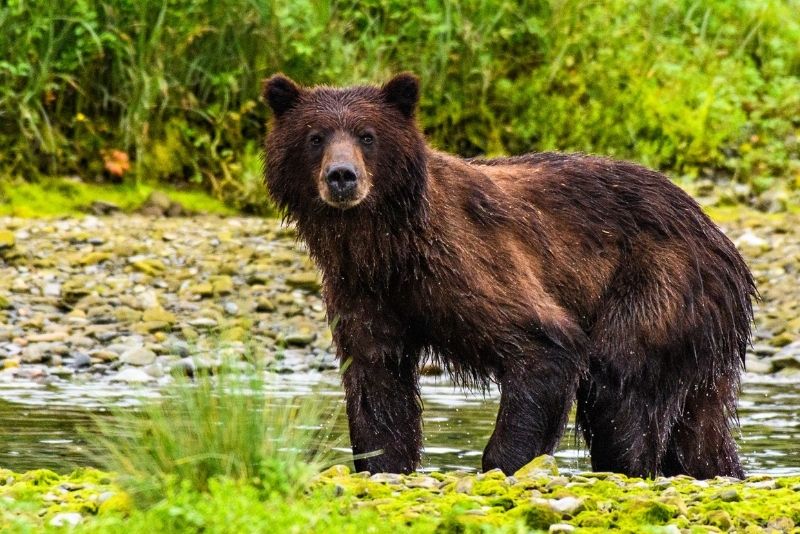 One of the top things to do in Juneau is seeing brown bears at the Pack Creek viewing area on nearby Admiralty Island. It's a quintessential Alaskan experience, and as a bonus, you get to ride in a floatplane!
Spend a few magical moments observing the antics of these wild bears as they forage for clams and tussle with their siblings. If you're there mid-summer you may even see them fishing for salmon.
7 – Ride the Goldbelt Mount Roberts Tramway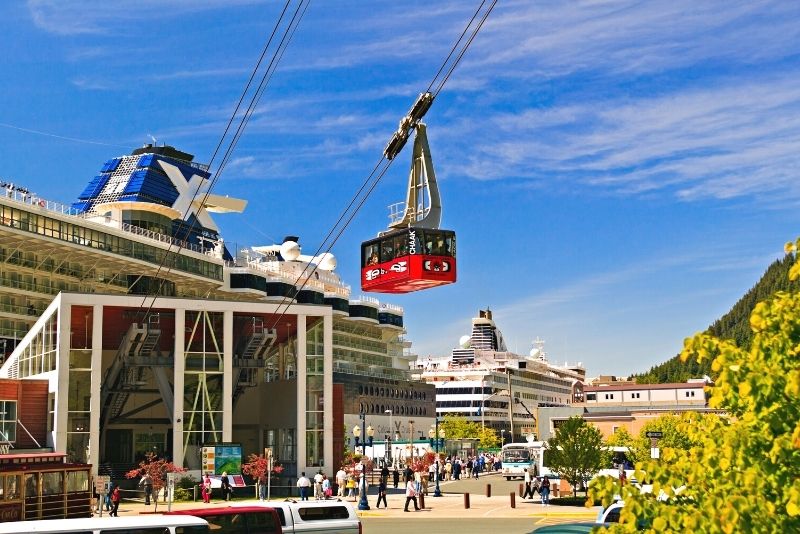 Climb aboard the Goldbelt Tram and be whisked off up the mountainside to explore Mount Roberts in style. As you ascend to 1800 feet watch the rainforests and alpine meadows fall away beneath your feet.
The views over Juneau and the Chilkat Mountains will make you weak at the knees so keep your camera handy. At the top go in search of marmots and deer who often show their faces if you're patient.
Tickets start at $50 USD for adults.
8 – Hike the Mount Roberts Trail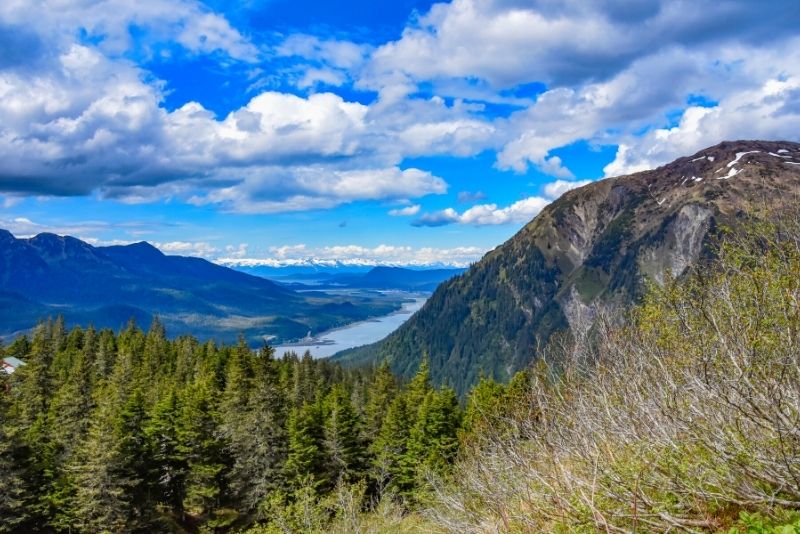 Juneau is home to some of Alaska's best hikes, some of which can be accessed directly from town. You'll need to put in a bit of effort on the Mount Roberts Trail, but the superb panoramas of the Gastineau Channel and Douglas make it worth every puff.
Listen for rustles in the meadows that give away the presence of grouse. Black bears are sometimes spotted too so keep an eye out as you walk!
9 – Feel the spray on your face at Nugget Falls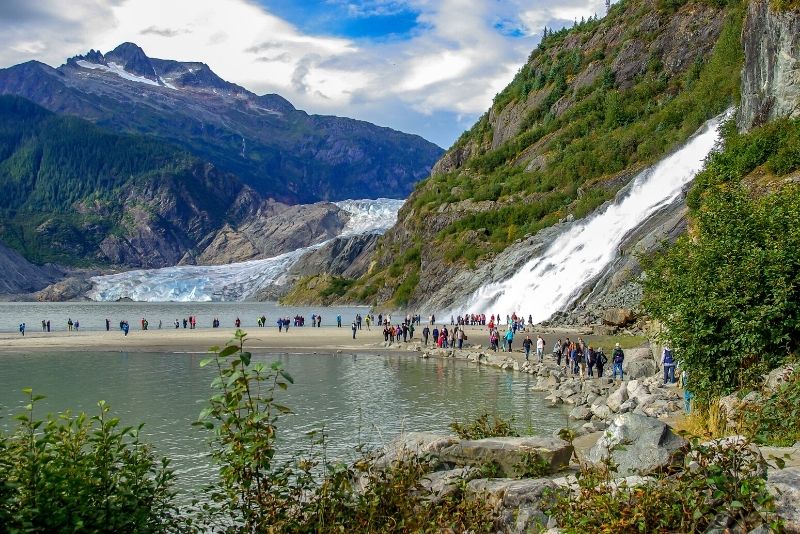 Plummeting 377 feet from the Nugget Glacier into the deep waters of Mendenhall Lake, this powerful cascade is a sight to behold. Experience the full force of nature as you stand beneath Nugget Falls on the gravel flats – the roar of the water is pretty powerful!
The viewing point is accessed by an easy mile-long trail (typically taking around 40-43 minutes) from the visitors center which even the smallest of adventurers can handle.
The hike is perfectly doable to complete on your own.
10 – Take to the skies on a helicopter tour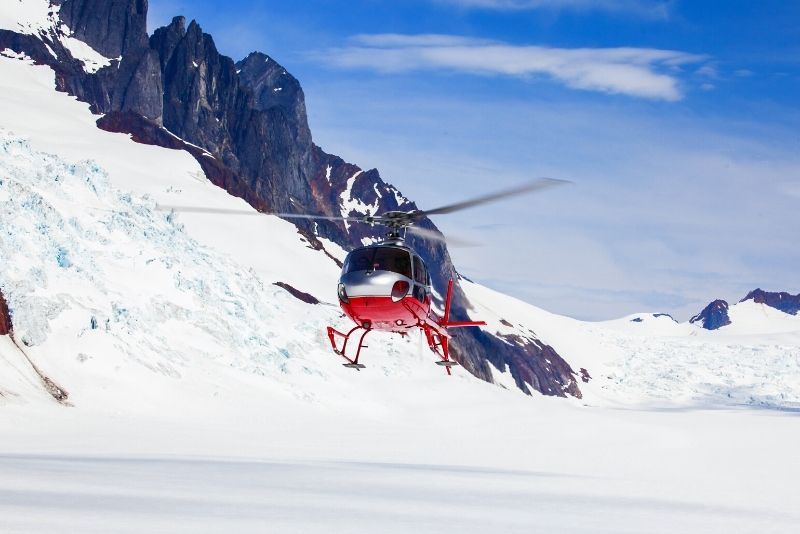 Fly over the glinting icefields and discover hidden glaciers on a thrilling helicopter tour from Juneau. Seeing the Alaskan landscape unfold from up above is super special – not many visitors get a bird's-eye-view of the wilderness.
You'll see icefalls and unusual rock formations from your lofty vantage point, as well as panoramas of distant peaks. The pilot will point out key landmarks and give an insight into Alaska's natural history.
Some tours may offer a guided icefield walk, something exciting to consider doing!
11 – Visit the Alaska State Museum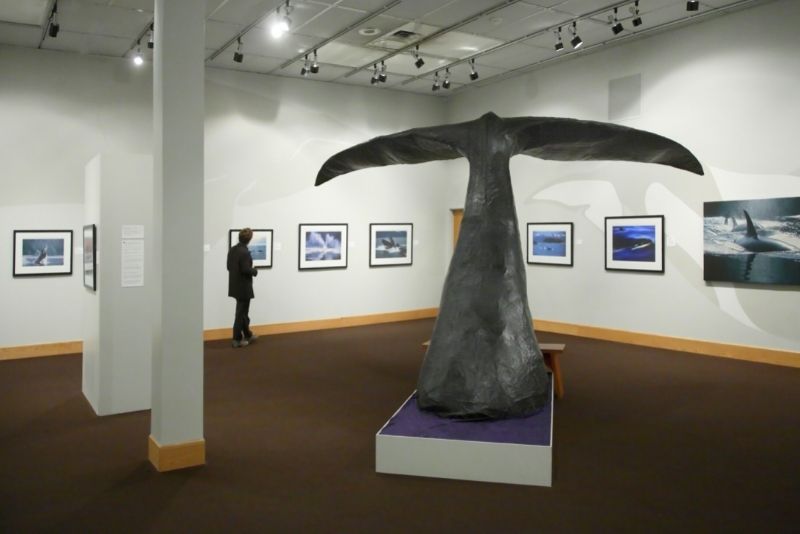 Discover culture, history, and art from all corners of Alaska at this must-see Juneau attraction. The Alaska State Museum has enough permanent and changing exhibits to keep you enthralled for hours.
Check out sacred textiles that tell the story of native weaving and admire intricate ceremonial objects and archaeological finds. Don't miss the watercolor painting from Captain Cook's Alaska explorations in 1778. There are shipwreck artifacts and 19th-century gold rush exhibits too.
Tickets start at $9 USD for general admission, with other special pricing available.
12 – Feel like a local at the Alaska Folk Festival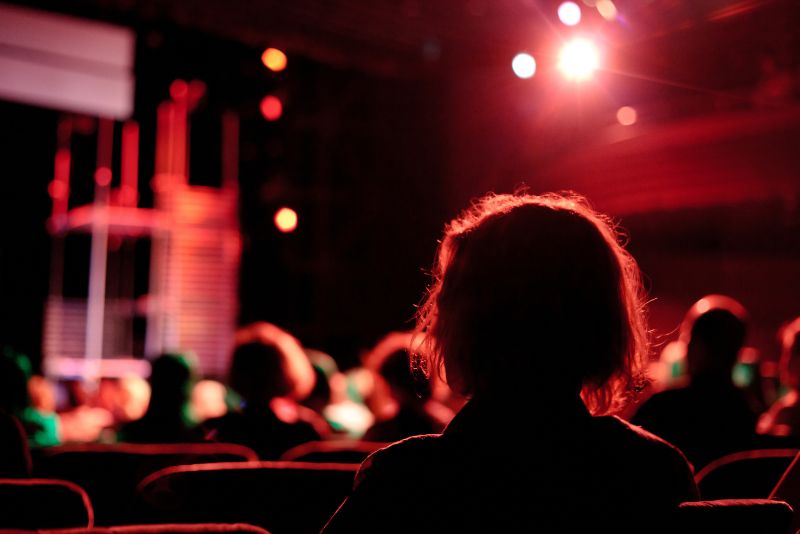 Get into the local action at the Alaska Folk Festival – an event that happens every April, and features a week-long of performing acts, from musicians, dancers, and other types of performers.
Considered to be one of Alaska's oldest and largest festivals of its kind, it's truly an event not to miss out on if you're in Juneau in April!
Come by, and cheer on the local, professional and non-professional talent that boldly takes on the stage for an unforgettable performance!
This event is 100% free!
13 – Tour the Glacier Gardens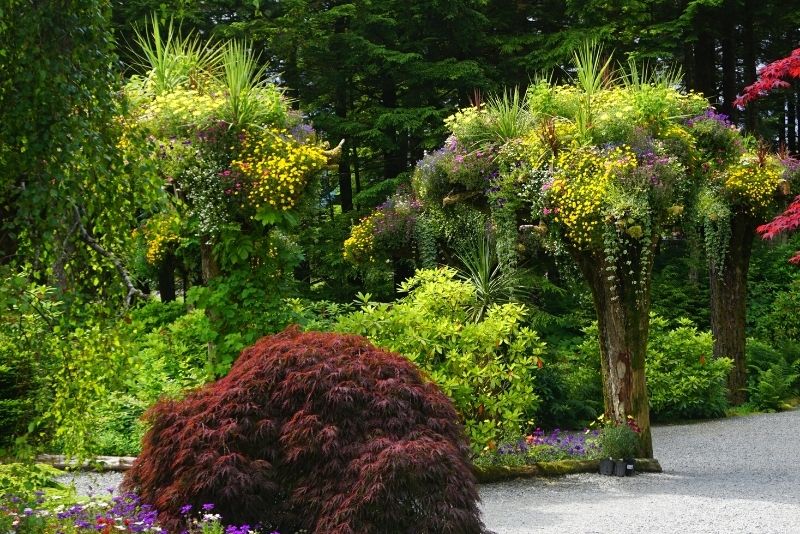 Glacier Gardens are about as far removed from their chilly namesake as they could get! Hidden away in the green Tongass National Forest, this botanic garden is more jungle than ice.
Go on a rainforest adventure as you delve deep into the hanging gardens on a guided tour. The upside-down flower towers will make you think you're in the tropics. Take a moment to drink in the spectacular views of Mendenhall Valley while you're there.
12 – Discover the Wickersham State Historic Site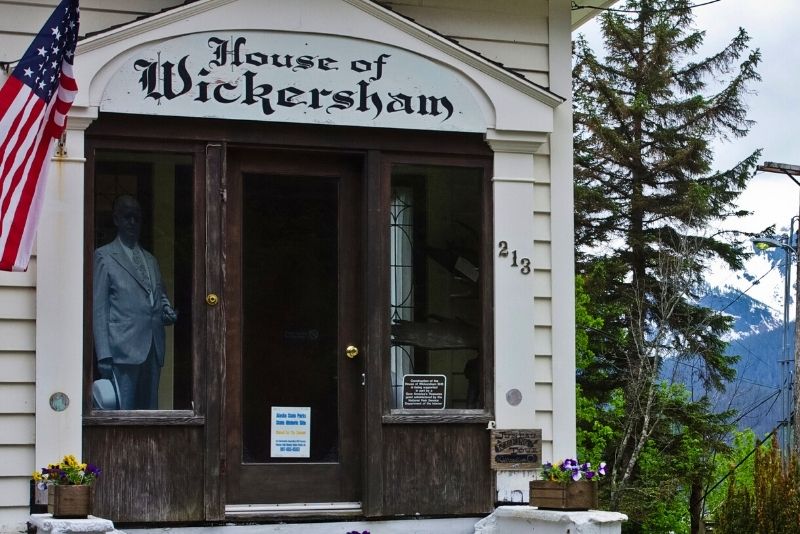 James Wickersham was a legendary judge who brought law and order to the gold-rush settlements of Fairbanks, Eagle City, and Nome. He was also responsible for the building of the railroad.
For a glimpse into life during Alaska's frontier days, you can visit his Victorian house, which was built in 1898. As you stroll around the Wickersham State Historic Site, you'll discover period furnishings, historical photos, and documents signed by Teddy Roosevelt.
The Wickersham State Historic Site is located downtown.
13 – Explore the Macaulay Salmon Hatchery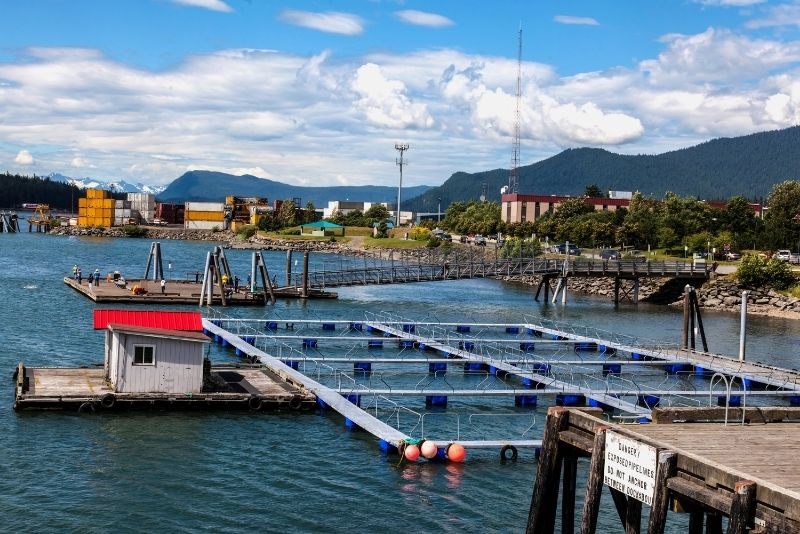 Looking for unusual things to do in Juneau? Then head to the Macaulay Salmon Hatchery and clap eyes on these Alaskan icons. Over 130 million fish are raised here annually, and visiting is a fun way to learn about the process.
If you come between June and October, you'll see adult salmon battle up the fish ladder into the holding pools. Take a walk on the sky bridge to spot baby salmon in action.
The hatchery is open May-September, and October-April (by appointment only).
14 – Venture down Tracy Arm Fjord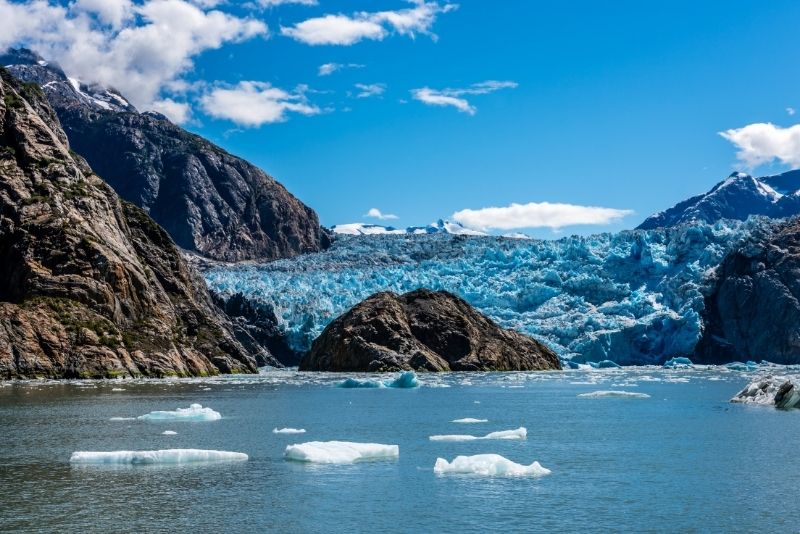 Tracy Arm Fjord is remote and tricky to access, which just makes the adventure even more worthwhile. Jump in a floatplane or climb on board a boat and head off to explore this deep turquoise inlet.
Towering cliffs loom either side of the water, which is fed by plunging waterfalls and the Sawyer Glacier. You'll spot icebergs bobbing on the waves, and wildlife foraging on the shores. Keep your eyes peeled for porpoises.
15 – Embrace peace at the Shrine of St. Therese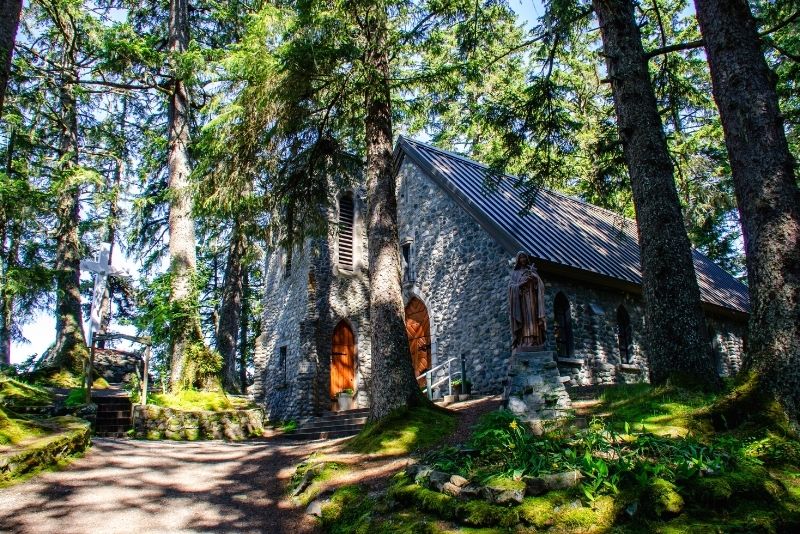 Get in touch with your soul as you pay your respects at the Shrine of St. Therese. This spiritual sanctuary is a bit of an insider secret and a deeply beautiful place that can't fail to impress.
Built on an island accessed by a causeway, the shrine draws visitors seeking solace in nature. You can stay overnight in a cabin and spend the day picnicking and meeting the resident sea lions.
Pass by the crypt of Bishop Crimont, who was a supporter of the idea of the shrine.
16 – Pop into the Juneau-Douglas City Museum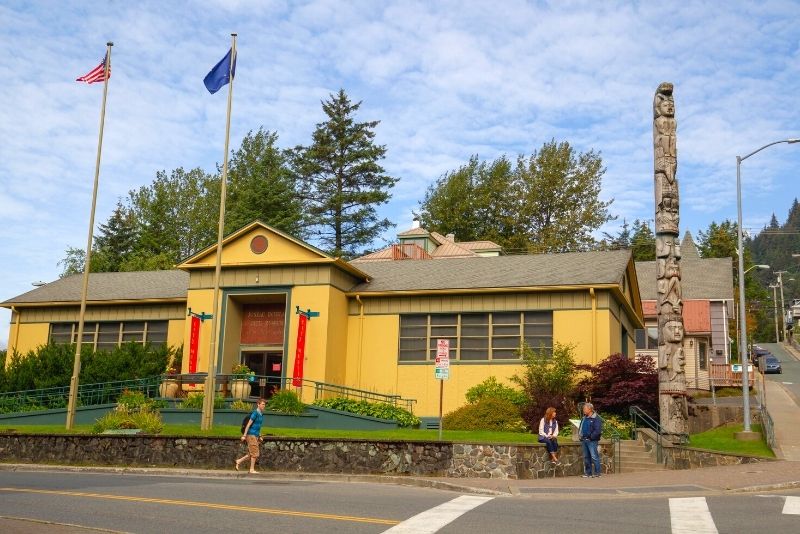 The Juneau-Douglas City Museum has a history all of its own – it lies on the site where Alaska became an official state in 1959!
If you're into local lore and cultural heritage, you'll love checking out the exhibits here. Learn about the lives of the early pioneers and delve into the city's fishing industry – don't miss the ancient native fish trap. There is a canoe-building display and an interactive mining gallery too.
The museum is open during summer and winter sessions, with free entry in the winter.
17 – Feast at the Gold Creek Salmon Bake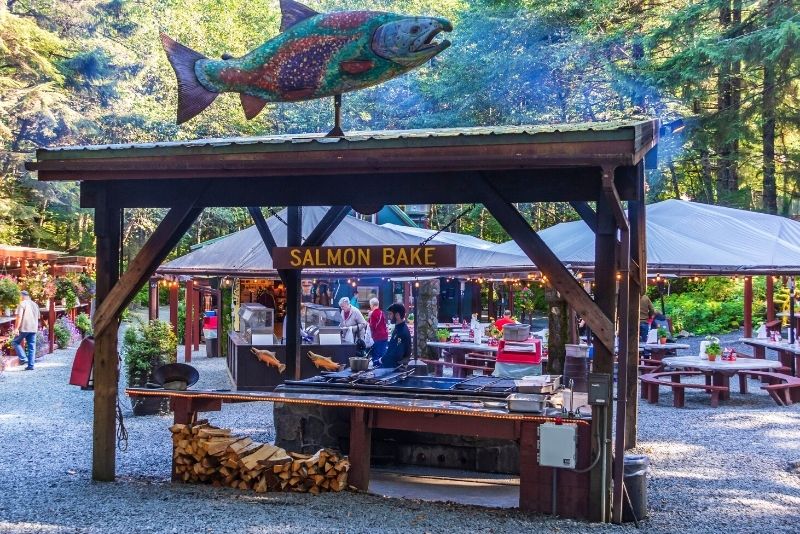 Hidden in a nearby rainforest, the Gold Creek Salmon Bake is the place to go if you want to sample this famous Alaskan fish. Sink your teeth into delicious flakes of salmon that have been roasted to perfection over an alder wood fire. There's wild rice, cornbread, and local ale too.
Finish up with blueberry cake and marshmallow toasting around the campfire while being serenaded by local folk musicians.
Keep in mind that the Gold Creek Salmon Bake opens from Late April-Early October only!
18 – See the statue of Patsy Ann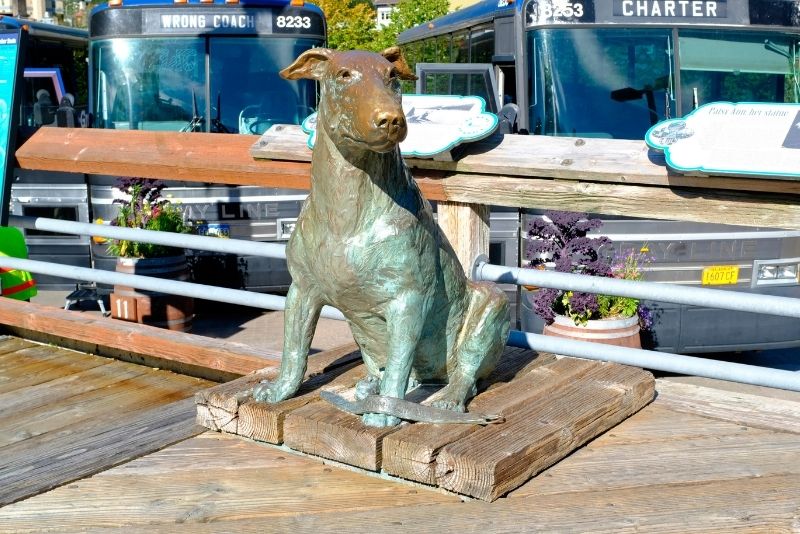 Patsy Ann was Juneau's most famous canine inhabitant. This enterprising and lovable bull terrier came to the city in 1929 and spent her days greeting steamships as they came into dock. Apparently, she never missed a boat!
Known to trot down theater aisles during performances and pop into shops for tasty treats, Patsy Ann really left her mark on Juneau. A waterside statue now honors her memory, ensuring her presence is everlasting.
You can find Patsy Ann at Marine Park, so don't forget your camera!
19 – Roam through Juneau Rainforest Garden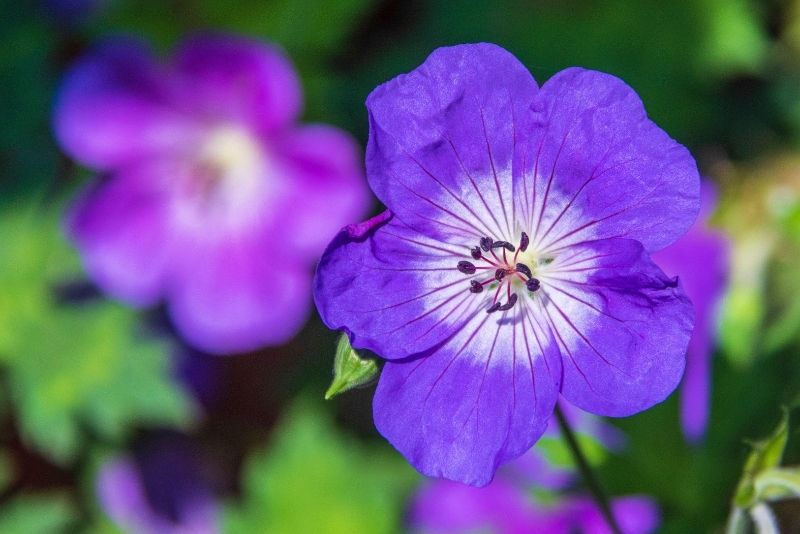 Alaska isn't all snow and ice – it has tropical pockets too! The Juneau Rainforest Garden is a haven for native vegetation and a center for studying the cultural and medicinal uses of plants.
Enjoy a leisurely meander along the forest paths, observing swathes of wildflowers and oddities like skunk cabbages. There are photo opportunities around every corner, as well as a few botanical surprises. Sip tea in the floral pavilion after your explorations.
The botanical garden is open May 1st-October 25th.
20 – Get hands-on during a dog sledding tour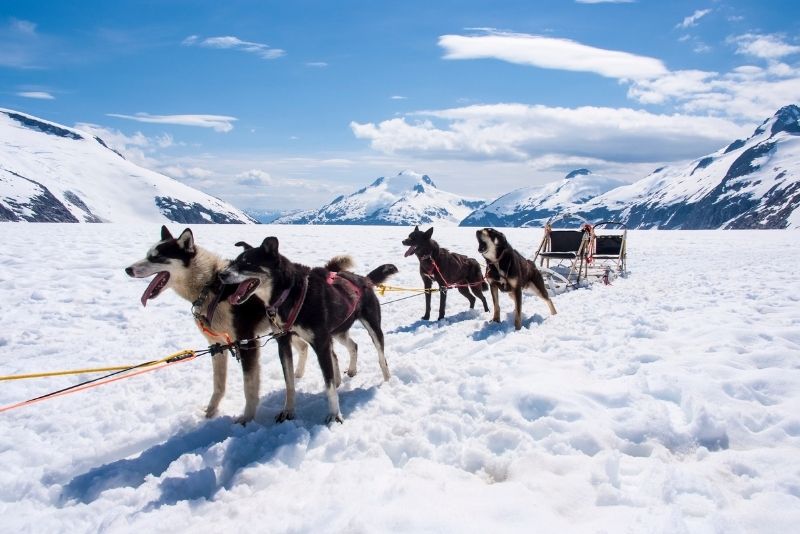 Become a musher for the day as you go dog sledding through the Alaskan wilderness. It's one of the most exhilarating things to do in Juneau and a must for dog lovers.
Inhale the pine-scented air as you slice through snowy forests under the watchful eye of majestic peaks. Have a go at commanding your trusty husky team as they negotiate remote trails. Hold on tight, these guys know how to run!
This experience is child-friendly with an accompanying adult.
21 – Have a wild time in Tongass National Forest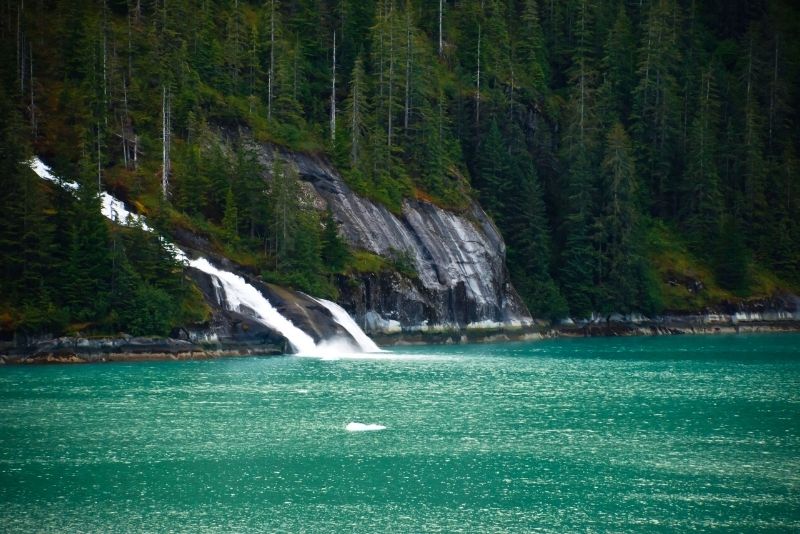 Head deep into Alaska's biggest tract of forest in search of wildlife and adventure. Surrounding the Inside Passage, Tongass National Forest is where you'll find Alaska at its wildest.
Pull on your boots and hit the trails, go dog sledding on a glacier, or fish for salmon in remote streams. Want to see bears in their natural habitat? Then head to the viewing platforms and put that camera to work.
Feeling up for a true adventure? Stay at a cozy cabin and get the park all to yourself!
22 – Tour the State Capitol Building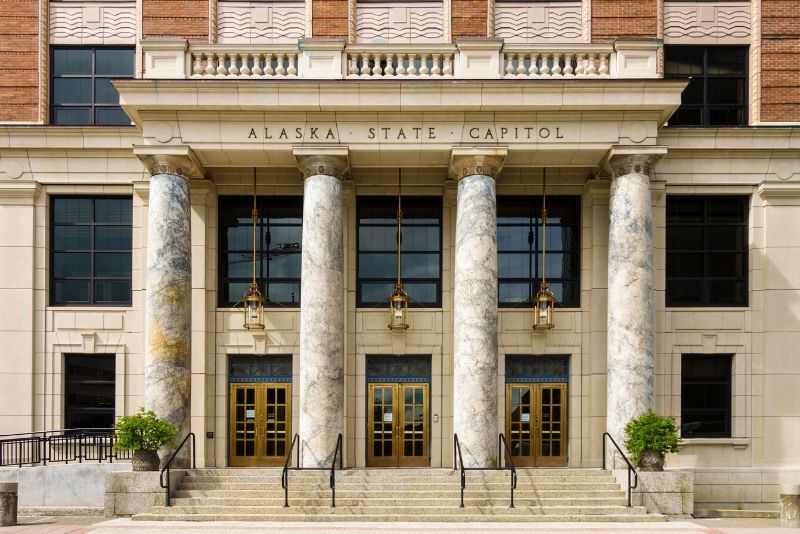 Take a tour of Alaska's State Capitol Building and discover what goes on behind the scenes. Built in 1931 it housed the federal government until statehood a couple of decades later.
Admire the entrance columns that were crafted from Ketchikan marble and see where the senators debate. Of particular note are the murals dedicated to the ocean. Living off the sea is still a huge part of life here, and several politicians are fishermen.
The self-guided tour is completely free to do!
23 – Hike the Perseverance National Recreation Trail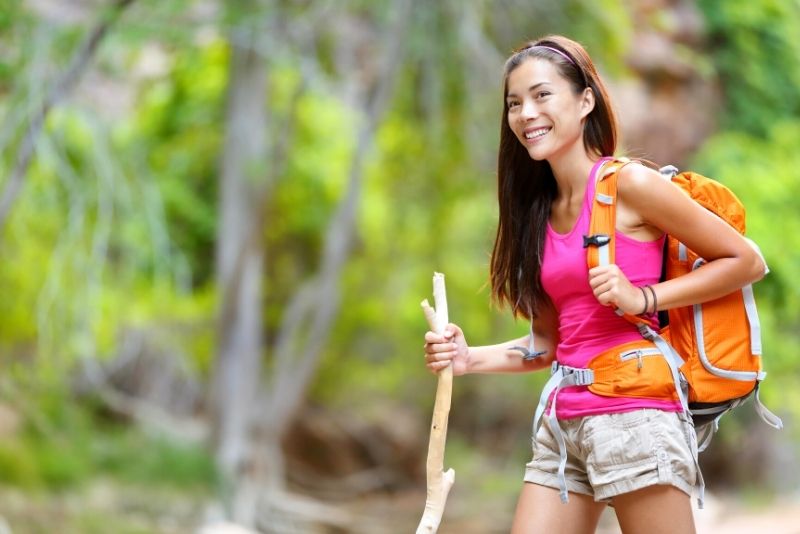 Reveal your true grit as you take on the Perseverance National Recreation Trail. Starting in Downtown Juneau, this beautiful path leads you straight into the wilderness.
Walk down into a dramatic canyon before ascending above Gold Creek Valley on this former rail line. See if you can spot the old mine shafts along the way.
Take a short detour to the plummeting Ebner Falls, and savor the sweet taste of salmonberries in summer.
24 – Hunt for gold on the Treadwell Mine Historic Trail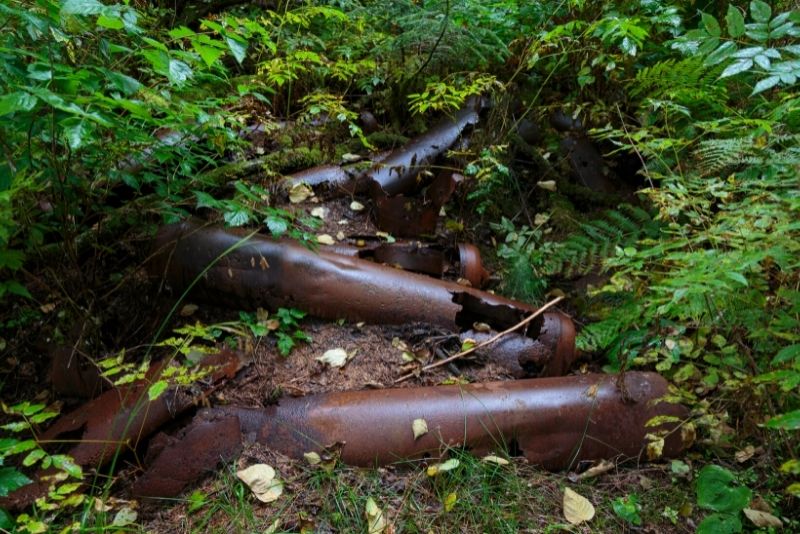 Wannabe gold prospectors will love exploring industry remnants along the Treadwell Mine Historic Trail. A whopping $70 million in gold was found here, so keep your eyes peeled for glints of the shiny stuff.
You can still see building ruins, old pulleys, and pumping plants as you wander around the site. Don't miss the Glory Hole, which was the mine entrance and today has a waterfall tumbling into the shaft.
The trails are considerably not too challenging, perfect for all to enjoy!
25 – See native art at the Sealaska Heritage Institute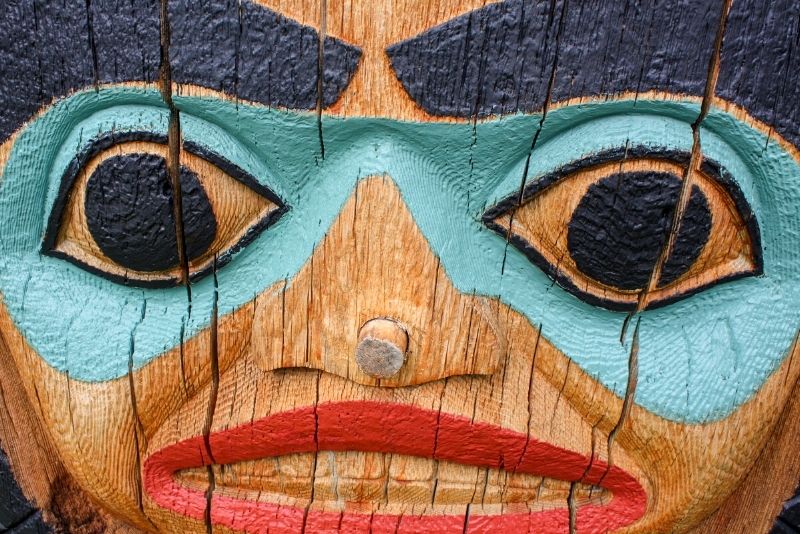 Each piece of art at the Sealaska Heritage Institute tells a story. As you step across the threshold of the Walter Soboleff Building, you'll be transported into a world of indigenous culture and creation.
The Alaskan tribes of Tlingit, Haida, and Tsimshian are all represented here. Immerse yourself in tales of Wasgo the whale hunter, and the magical raven who features in many First Nations creation stories. Prepare to be spellbound!
Self-guided tours are always the main option, with the occasional guided tour available as well.
26 – Visit one of Juneau's best-kept secrets – Eaglecrest Ski Area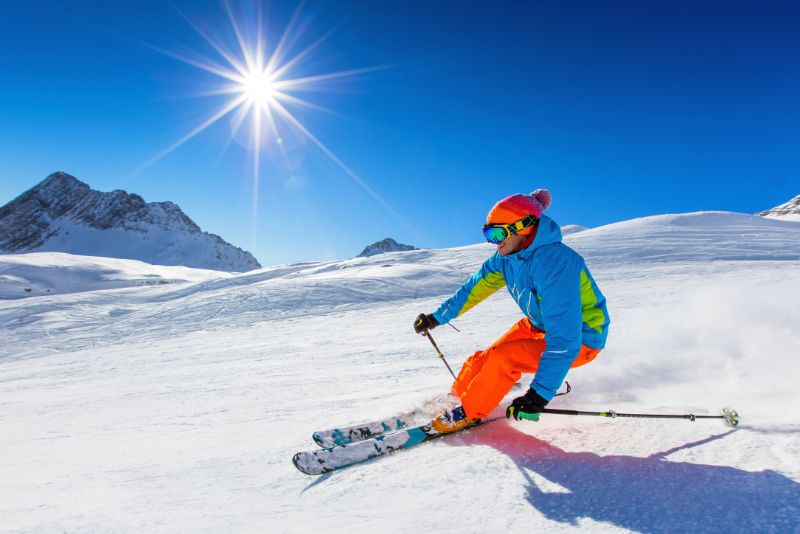 Join all the fun at Eaglecrest Ski Area, from impressive skiing opportunities (we're talking over 640 acres of fun) to hiking, and more, located in a slightly remote area of Juneau.
Eaglecrest is truly a beautiful plan to take part in, and it's only a 15-minute drive from Juneau. Relish almost no lines at the lift, a massive 1620' vertical drop, and stunning views of secluded snow-capped mountains.
With ample hiking opportunities, be sure to gear up for an unforgettable experience here!
27 – See the sights on a segway tour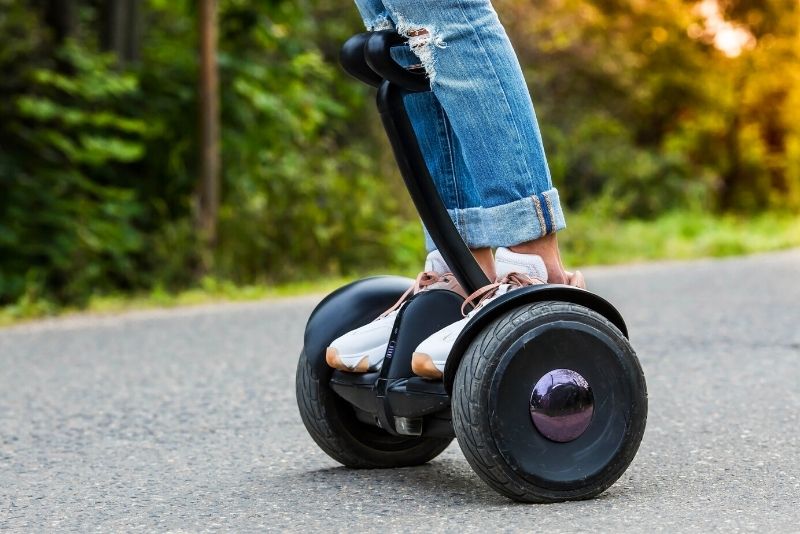 Forget about walking tours and bus excursions, seeing the highlights of Juneau by Segway is the only way to roll! Whether you're wheeling around Downtown or breezing along rainforest trails, this is the way to travel.
You'll be learning about the Gold Rush heritage, indigenous cultures, and natural history of Juneau while having a blast. First time on a Segway? Don't panic, you'll soon master the motion.
Segway tours start at $150 for up to 3-hour long sessions.
28 – Spot wildlife at Eagle Beach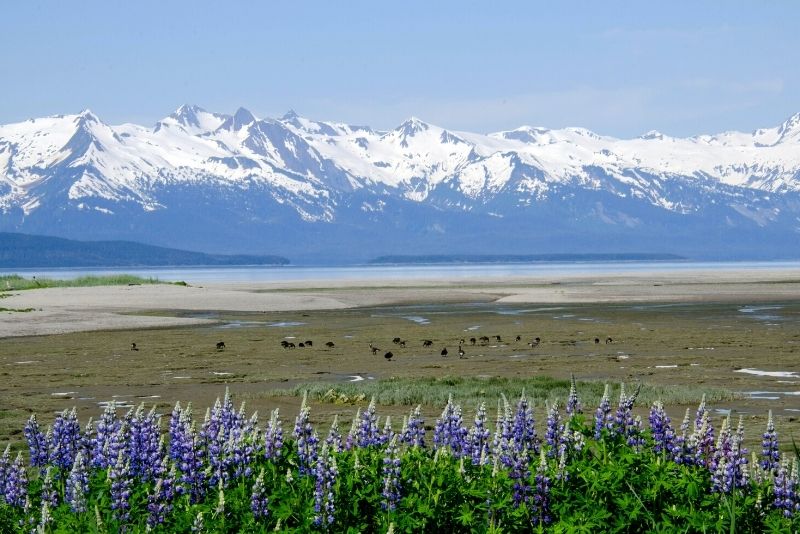 Coastal exploration is the name of the game at Eagle Beach State Recreation Area. Locals agree that pottering along the tidal flats is one of the best things to do in Juneau, thanks to the epic Chilkat Mountain views. You might see whales and sea lions playing in the waves too.
Go beach-combing, try kayaking, or enjoy a picnic on the shoreline. Just make sure the sea eagles don't pinch your sandwiches!
If you have time, make it an overnighter with ample camping spaces available at the park!
29 – Visit the St. Nicholas Orthodox Church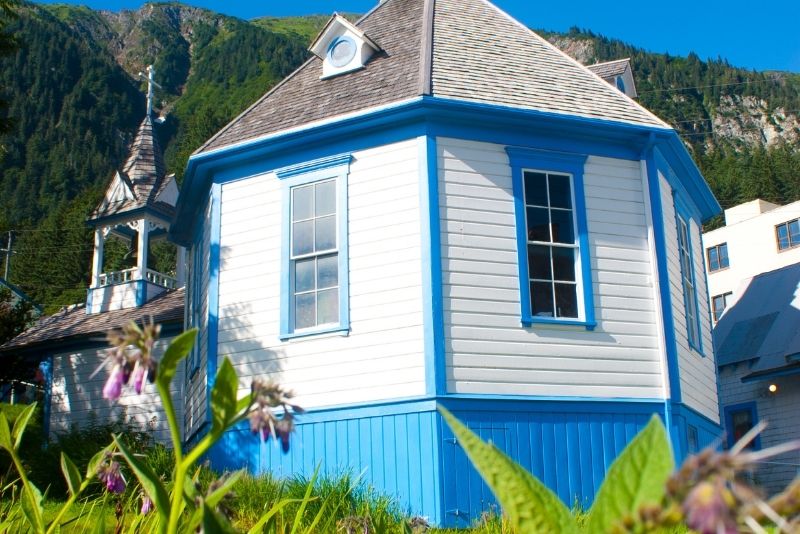 Founded in 1893 by the local Tlingit community, the St. Nicholas Orthodox Church is a pleasant contrast from wild mountains and icy lakes. It was funded by Russian donations and remains an important part of Juneau life today.
Enter this small but spiritual holy sanctuary and discover religious relics and historical vestments over a century old. The striking domed church sits against a backdrop of Mount Juneau making for top-notch photos.
Check out their calendar for religious and cultural events taking place, and for a dose of local traditions.
30 – Marvel at the whale sculpture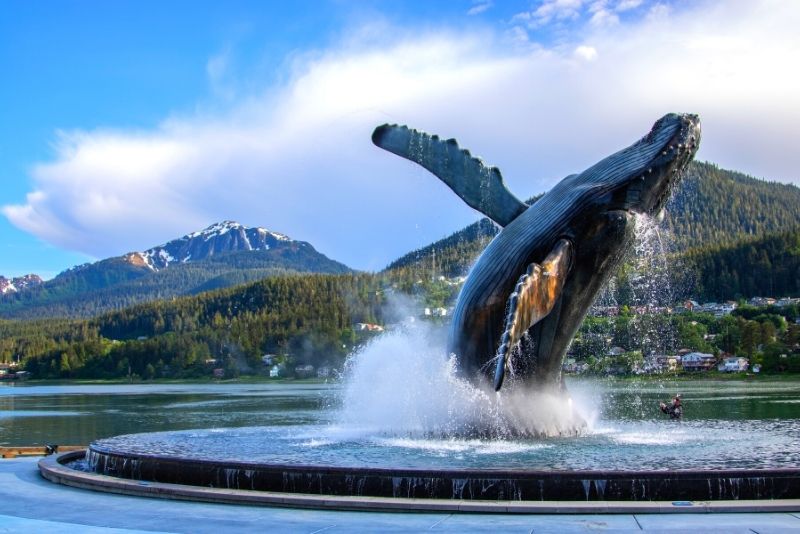 You'll need to look twice at the life-size whale sculpture to realize that it's not real! This incredible bronze work of art shows a humpback whale breaching in an infinity pool on the waterfront.
Crafted by local artist R. T. Wallen to celebrate the 50th anniversary of Alaska's statehood, the masterpiece is a focal point in Downtown Juneau.
Unless you want to purchase your own version of the limited quantity (and expensive) statue, make sure to pose for photos beside the leaping giant as the fountains provide some convincing spray.
31 – Play games in Cope Park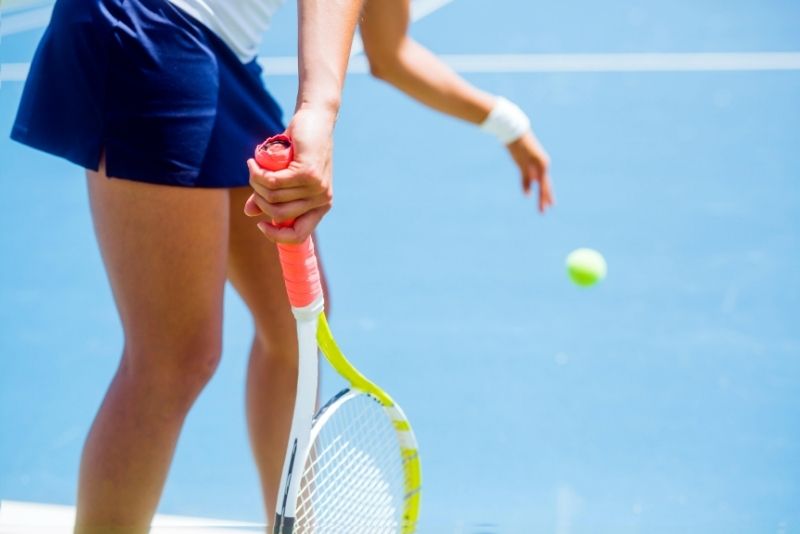 Down on the banks of Gold Creek, Cope Park is the perfect space for letting off some steam.
Perfect your putting skills on the golf course, slam some balls around on the tennis courts, or enjoy a game of pickleball. Then fill your lungs with fresh air on the hiking trails that meander through the forests.
Reward your efforts with a picnic, because we all know that food tastes even better when eaten outdoors.
32 – Go on a gold panning tour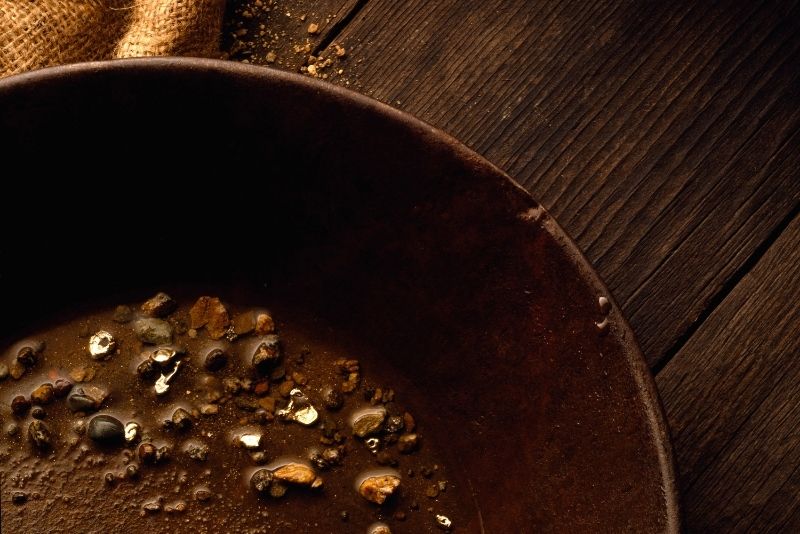 Gold panning is one of the quintessential things to do in Juneau. You won't come away a millionaire, but the fun you'll have trying is worth its weight in gold.
Head down to the creek and learn how to cull the waters for the shiny metal. It takes practice and patience, but the feeling when you see that first sparkle of gold is priceless. If you find anything, you get to keep it!
Upgrade the experience, and consider joining a tour with a Salmon Bake lunch included!
33 – Discover the Jensen-Olson Arboretum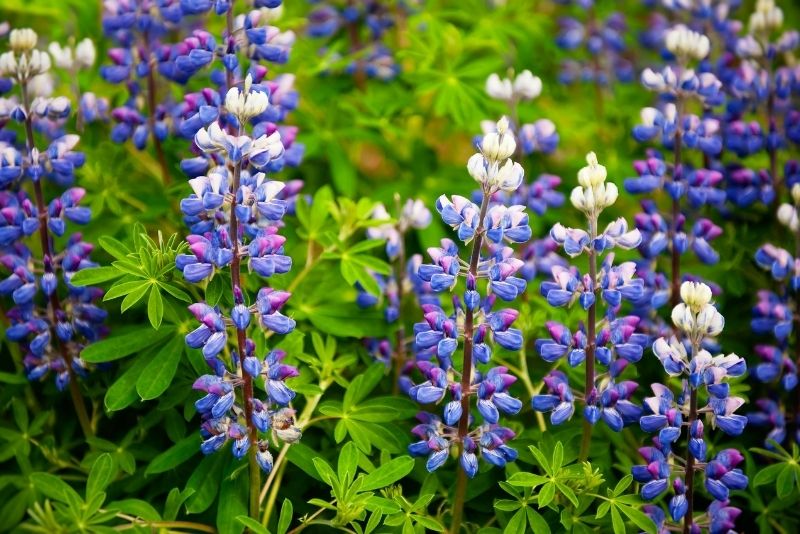 Tucked away on the shores of the Inside Passage at Pearl Harbor, the Jensen-Olson Arboretum is a world away from bustling Juneau. Established in 1904 by German settlers, the gardens are home to several European species.
There are plenty of unusual native plants to admire, which are rarely seen elsewhere in the US. Amble along the paths and enjoy the pops of color from the beds of Primula, which are at their best during summer.
34 – Watch salmon spawning at Steep Creek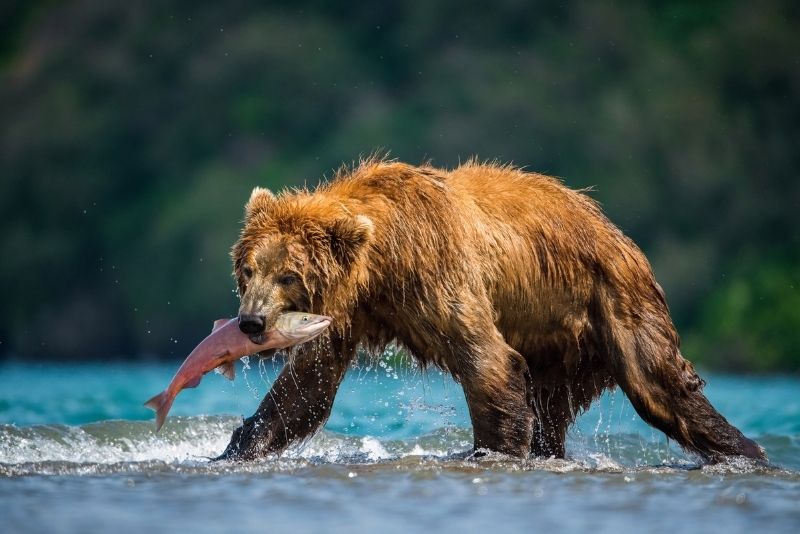 It's all about the salmon at Steep Creek, where a viewing point gives you front-row seats to spawning sockeye and coho. Wander along the Moraine Ecology Trail to the forest platform and watch these iconic fish in action.
There's a cool underwater "fish cam" at the Mendenhall Glacier Visitor Centre for a different perspective. Come between mid-July and October for the best salmon show in town, and don't forget your camera!
35 – Be entertained at the Juneau Arts and Humanities Center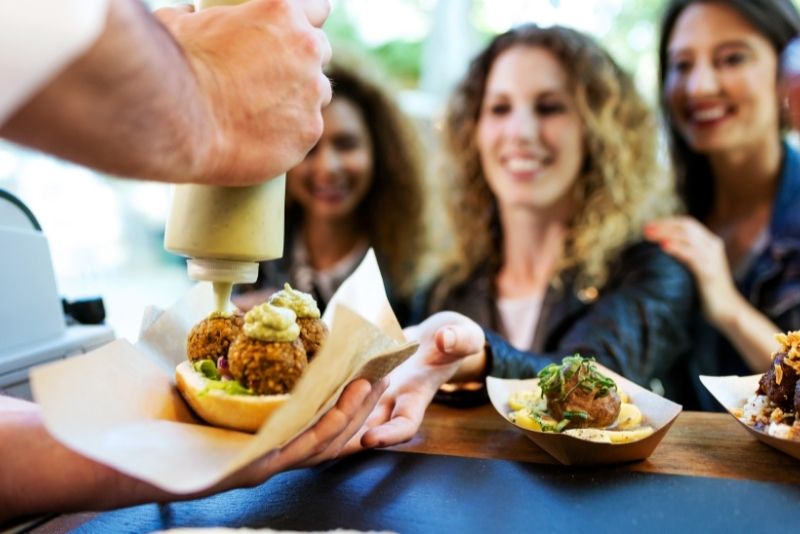 Culture vultures should make a beeline for the Juneau Arts and Humanities Center, where concerts and exhibitions are on tap. The Friday block parties are buzzing, with food trucks, local crafts, and live music to enjoy.
There are changing monthly events so check the schedule to see what's on during your visit. Swing by the market for handicrafts and art, or tuck into local delicacies at the culinary festivals.
36 – See the Empty Chair Memorial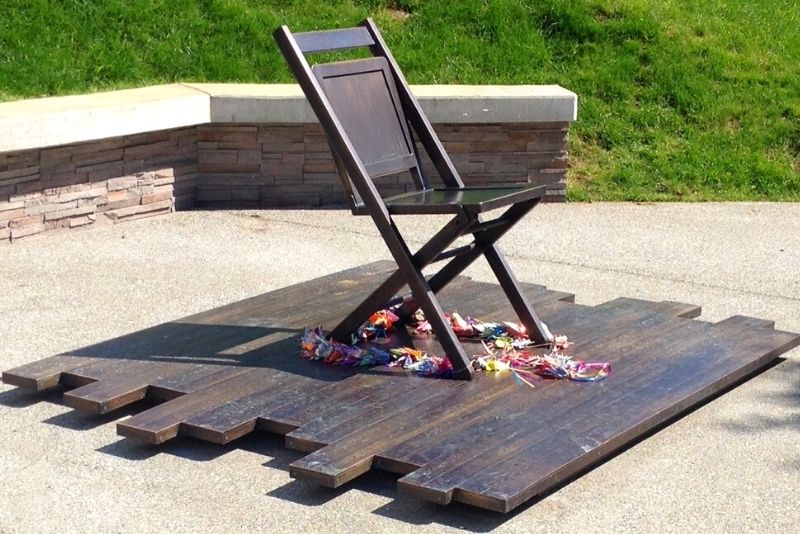 The striking Empty Chair Memorial pays tribute to those who suffered during the forced removal and resettlement of Juneau's Japanese community. This took place in World War II after Pearl Harbor was bombed, and many local Japanese Americans were incarcerated.
In 1942 an empty chair was left at the Juneau High School graduation ceremony as a mark of respect for their absent Japanese friends. The memorial today is a permanent extension of that gesture.
37 – Browse the Juneau Artists Gallery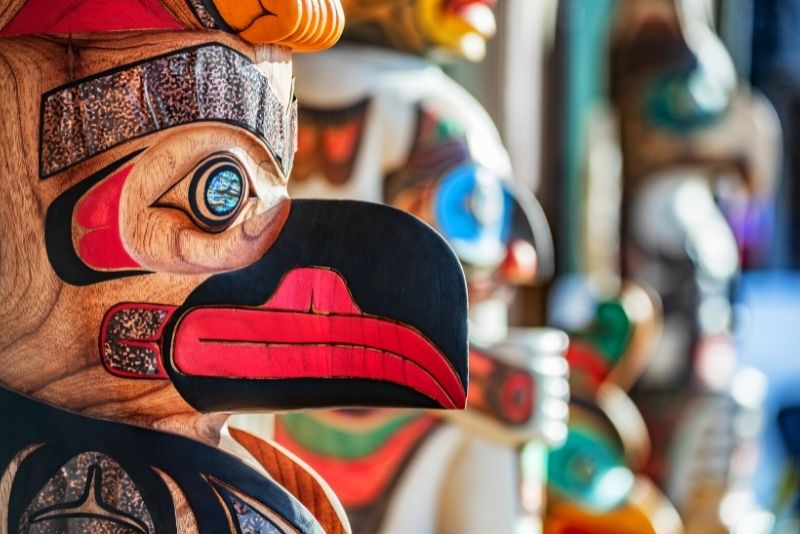 The Juneau Artists Gallery features some of the finest interpretations of the Alaskan wilds in town. You can pop in to browse the wide range of vibrant wall art, or shop for a souvenir to hang on your wall back home.
As well as paintings you'll discover glass jewelry, intricate beadwork, and unique ceramics on display too. It'll be tough to choose between the gems in this treasure trove, but it's fun trying.
38 – Watch some local theater at the Perseverance Theater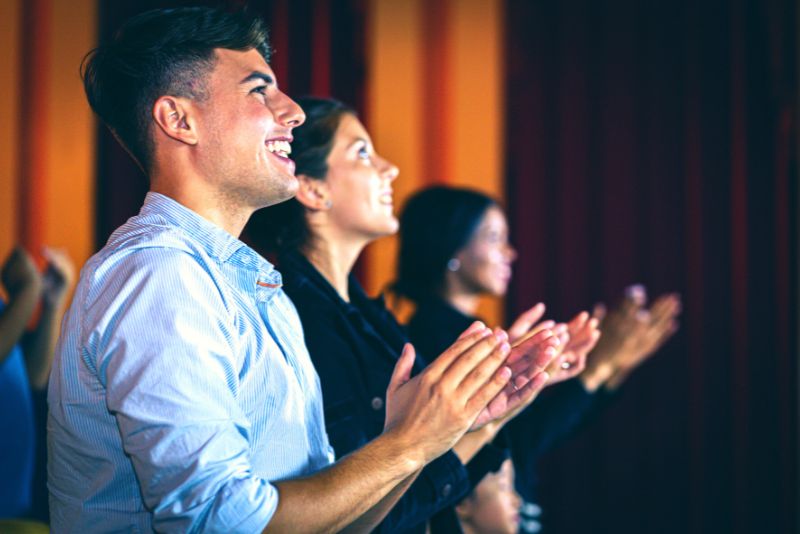 Check out the events calendar at the Perseverance Theater, located in downtown Juneau, hosting a variety of theatrical performances mostly written and acted by locals, inspired by Alaskan culture and traditions.
A beloved theater for many years, visitors and locals love flocking to the theater for a taste of hometown pride, and as a way to gain insight into local culture through the art of theater.
Check for tickets online, as you can purchase them easily through their website.
39 – Dine at the best restaurants in Juneau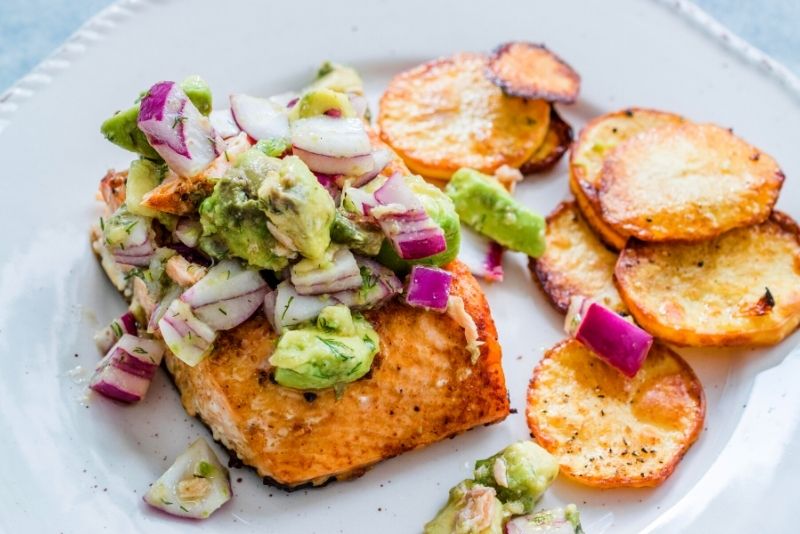 One of the most popular things to do in Juneau for foodies is to taste the offerings at the Twisted Fish Company Alaskan Grill. Enjoy waterfront views over the Gastineau Channel and the Douglas Island mountains as you tuck into your surf and turf. Clam chowder and king crab legs are local favorites, which taste even better when washed down by some craft cocktails.
Salt is the place to go if you're looking for modern Alaskan cuisine, from roasted chestnut soup to sea scallop carbonara, and much more. Get a stunning view of Juneau when you stop for lunch or dinner at The Hangar on the Wharf or get a filling steak and eggs for breakfast at Sandpiper's Cafe – a Juneau classic!
40 – Drink at the Red Dog Saloon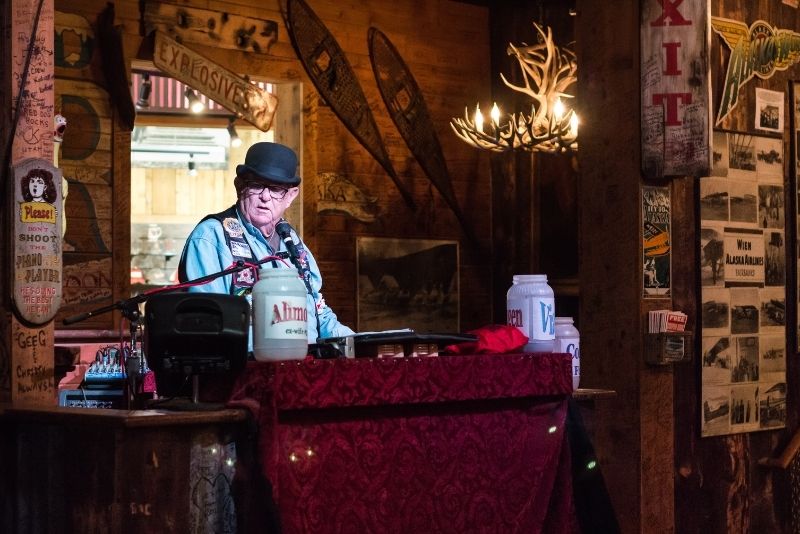 The Red Dog Saloon is a lively Juneau joint, with a convivial Alaskan atmosphere and burgers worth licking your fingers for. During the summer there's live entertainment to get those feet tapping.
Dating to the city's mining era, this traditional saloon is full of historical antiques, guns, and furs. Walk through those swinging doors and journey back in time as you settle in for an evening of revelry at this iconic watering hole.
41 – Oooh and ahh at the Northern lights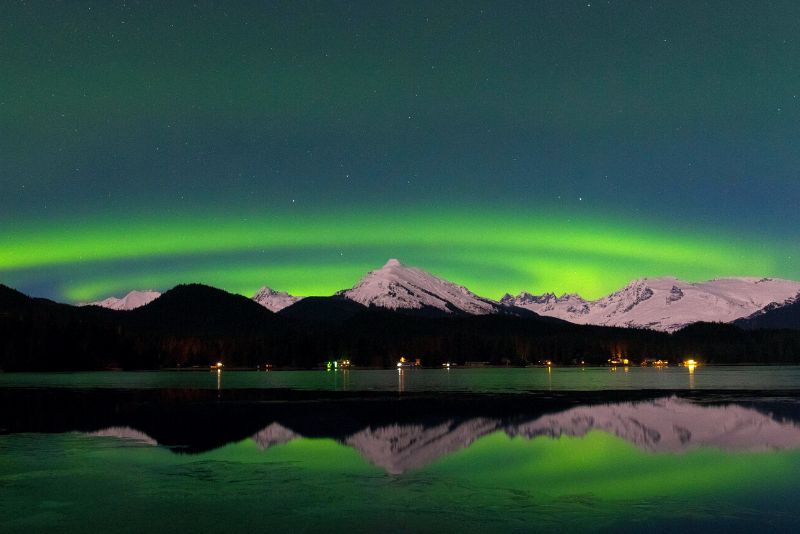 You don't have to leave the U.S. to catch a glimpse of the stunning northern lights! While visiting Juneau, make sure to visit some of the best Aurora spottings, from Tongass National Forest, or near the frozen Auke Lake.
Make sure to gear up and take a hike to get to these slightly remote locations, to get optimal views of this natural light phenomenon, or if you want a unique experience, kayak or even ice skate under the glow of the northern lights, available at Tongass National Park.
42 – Sip whiskey at the Amalga Distillery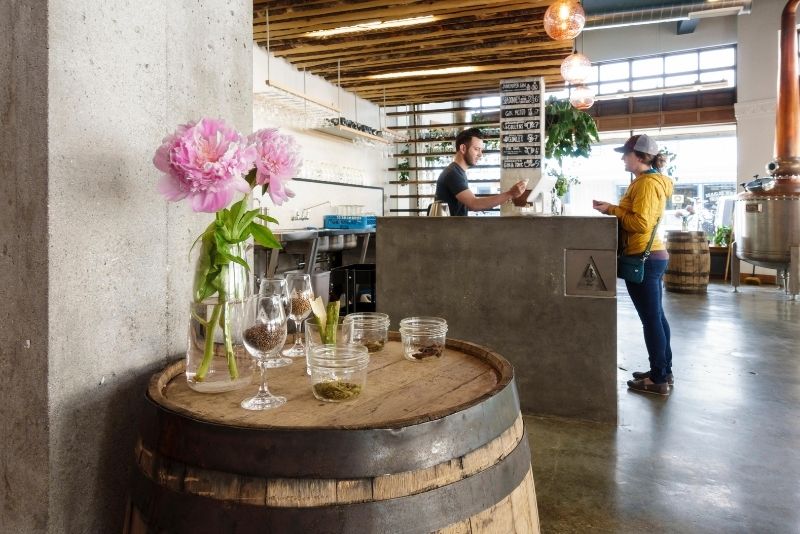 Lick your lips as the legendary "Juneauper Gin" trickles down your throat, setting your senses on fire. Or sample the special "Solstice" cask whiskey as you enjoy a tour behind the scenes at the Amalga Distillery.
Discover the secret ingredients that make these botanical favorites so memorable and knock back a few cocktails in the still house tasting room. You might want to buy a bottle or two to take home.
43 – Eat out at Hangar on the Wharf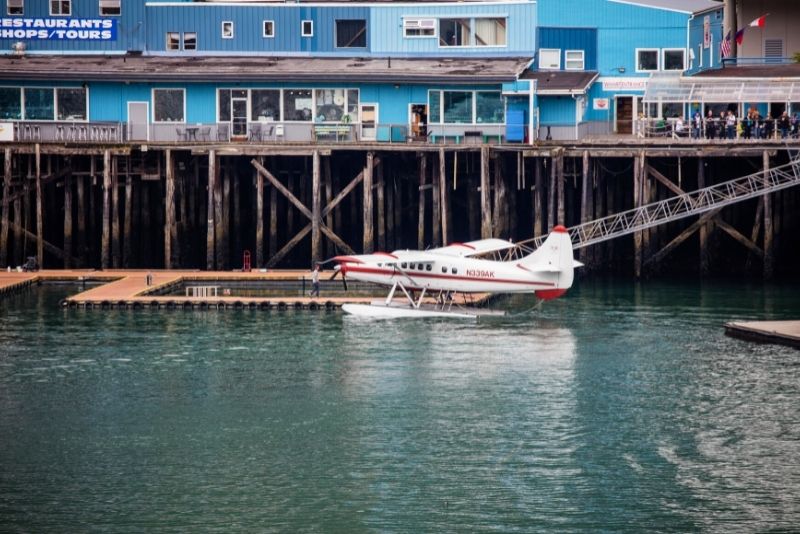 Relax on the terrace of Hangar on the Wharf and watch floatplanes coming into land as you chow down on your lunch. Choose from steak salads, buffalo chicken burgers, and baskets of crispy tempura shrimp as you soak up those views.
Still got room for more? Then enjoy a delicious mud pie or apple crisp along with some local craft beer for the full Alaskan dining experience.
44 – Go beer tasting at the Alaskan Brewery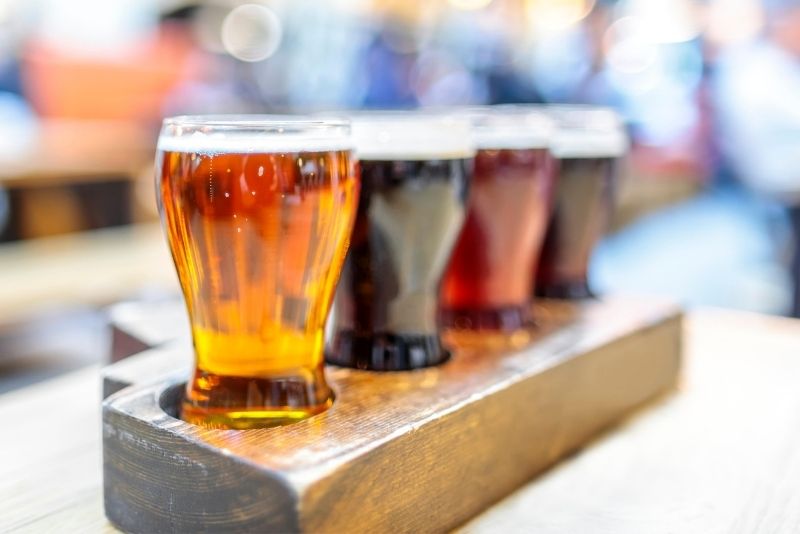 Enjoy the numerous craft beers at Alaskan Brewery, from the Chillin' Cold IPA to the Winter Ale brewed with spruce tips – you can't get any more Alaskan than that!
Offering beer on tap, as well as a few bottles with quirky names like Sharp Tongues & Porcelain Ears, you'll surely love trying a flight or two when you visit Barnaby Brewing Company.
Mixing a bit of European and American brewing styles together, you'll find that the Devil's Club Brewing Company does it just right with the perfect ales.
Reopening in April 2023, start checking out the sharing plates at Alaskan Brewing Public House, from chicken wings to pulled pork sliders, to accompany the stunning ales and stouts.
Nothing is truly forbidden at Forbidden Peak Brewery, and you'll see when you try some of the beers, from cranberry and other berry notes in the CRANRAZZ Lager to the Moller Lite and Mojito Hard Seltzer.
45 – End the nights at the Best bars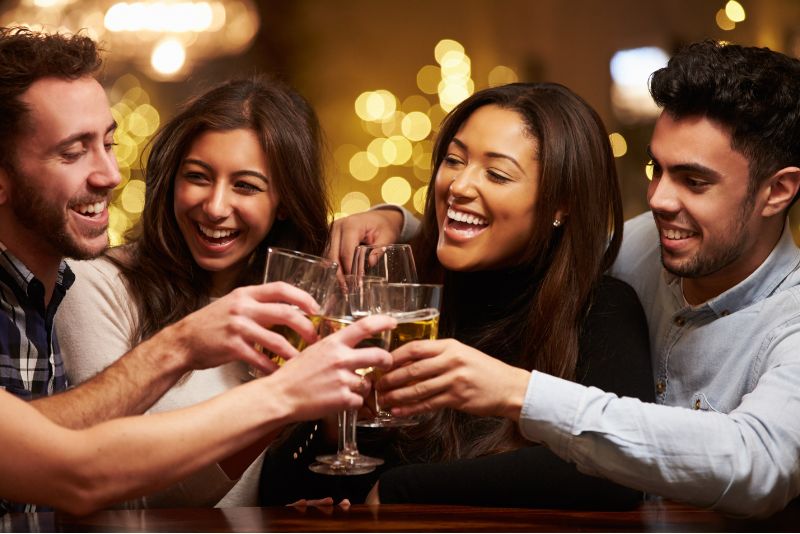 The Narrows Bar is splendid, not to mention a cozy bar situated in downtown Juneau. From handcrafted cocktails to beer, and more, step in for a whiskey tasting and chat with the bartenders.
Feel the history come off the wall at The Imperial Saloon, dating back to 1891. From darts and pool to a fun night of trivia and even a dance party, a good time is awaiting at this watering hole.
For a chill vibe, with classic drinks, The Lucky Lady Pub is your lucky strike. Be sure to also take a look at the menu, offering a great selection of bar bites.
How to get to Juneau?
Some of the common ways to get to Juneau are via a cruise ship or flying into Juneau International Airport.
Whether you land in this slice of nature heaven via land or sea, the best way to get to your hotel is by far pre-booking an airport transfer which can take you anywhere in the city, for a fixed price.
Where to stay in Juneau?
Slip into the cozy robes at the Alaska's Capital Inn Bed and Breakfast, and wake up to the smell of hot breakfast downstairs, from crab eggs benedict to Alaskan sourdough pancakes. With the airport only 10 miles away and the Salmon Hatchery a short 4 miles away, you'll be in the perfect location, close to what you want to see!
Four Points by Sheraton Juneau has rooms with incredible views of the mountain and the water, as well as being close to the Centennial Convention Center.  Enjoy dry cleaning services, a 24-hour front desk, as well as tour options right from the concierge desk.
Juneau Hotel is a perfect option for those looking for a comfortable stay that is both downtown, and offers amenities like shuttles to the airport and the ferry terminal to guests. Your stay at Jueanu Hotel is an absolute steal for the price, as it's rated highly.
Where to go next?
From the stunning nature encounters with a gorgeous natural backdrop at Kenai Fjords National Park, to a kayaking adventure through Ressurection Bay, and yelling "Mush" as you're being pulled through the Alaskan backcountry by a pack of sled dogs, the long list of things to do in Seward is an exciting one to check out.
Anchorage also offers its fair share of incredible opportunities to get in touch with nature, from hiking on glaciers to hiking up Chuchach State Park and Flattop Mountain Trail for stunning valley views.
Learn more about Alaskan natives at the Alaska Native Heritage Center, offering insight into the rich culture of Alaska's indigenous people.
Located centrally is the city of Fairbanks, you must hop on the McKinley Explorer, a scenic journey into the wild with views of mountains, rivers, and wildlife.
Don't forget to stop by the Running Reindeer Ranch for a meet and greet with a reindeer!
Final thoughts
With its enchanting adventures on both land, sea, and air – Juneau has a way of pulling out of every traveler, their inner explorer and outdoor lover.
We hope our list of fun things to do in Juneau has inspired you to book your tickets to explore the rugged and pure landscapes and wildlife in Juneau.
Have you been before? Let us know!