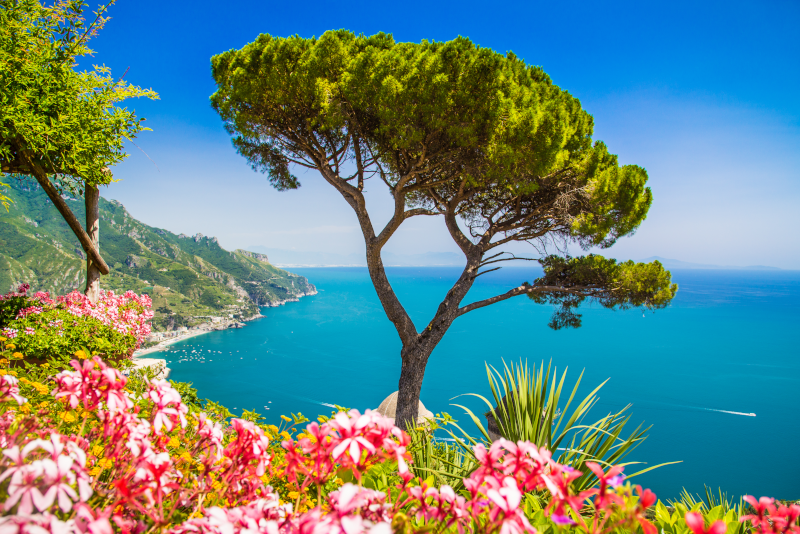 Discover our guide of the best day trips from Naples and don't miss the opportunity to explore the stunning destinations all around. Get away from the lively Naples for one day and enjoy a day off from the city.
Get plenty of ideas and explore seaside resorts, archaeological sites, as well as picturesque villages and hidden hamlets.
Read on and discover some of the coolest places around Naples!
1 – Procida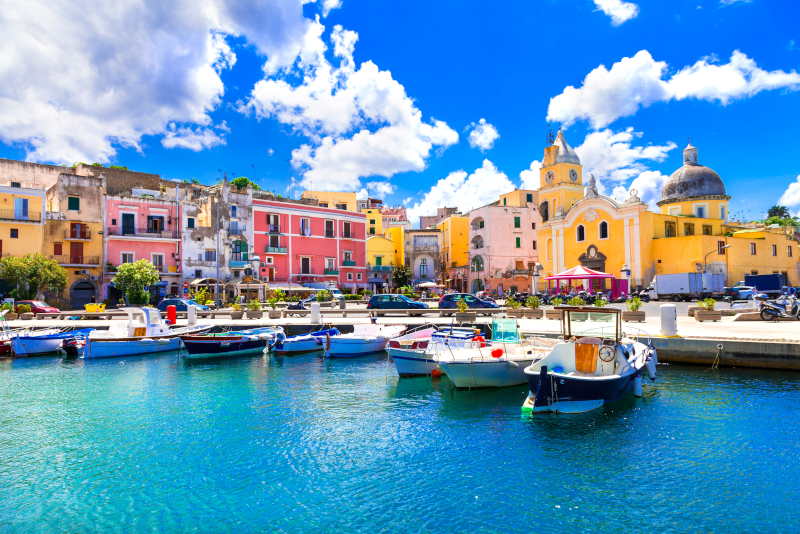 Located just off the coast of Naples, Procida has been mostly untouched by time. Its long-lasting beauty makes Procida a real gem. This tiny island is the smallest and least touristy in the Bay of Naples. Get here to escape the crowds and enjoy traditional island life!
2 – Pompeii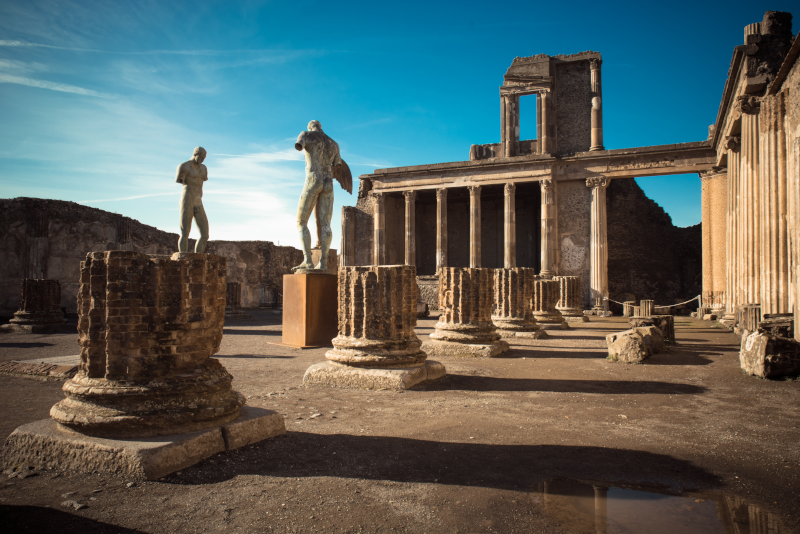 Easily reachable from Naples, Pompeii represents one of the worldwide most-visited archaeological sites. After the volcanic eruption occurred in 79 A.D, nowadays the Roman ruins are well-preserved, and in 1997 they have been declared a World Heritage Site by UNESCO. Explore the digs to take a plunge into Pompeii's past.
Plenty of guided tours are also available to discover Pompeii on a day trip.
If you are looking to book Pompeii tickets, read our blog post about how to book Pompeii skip the line tickets!
3 –  Sorrento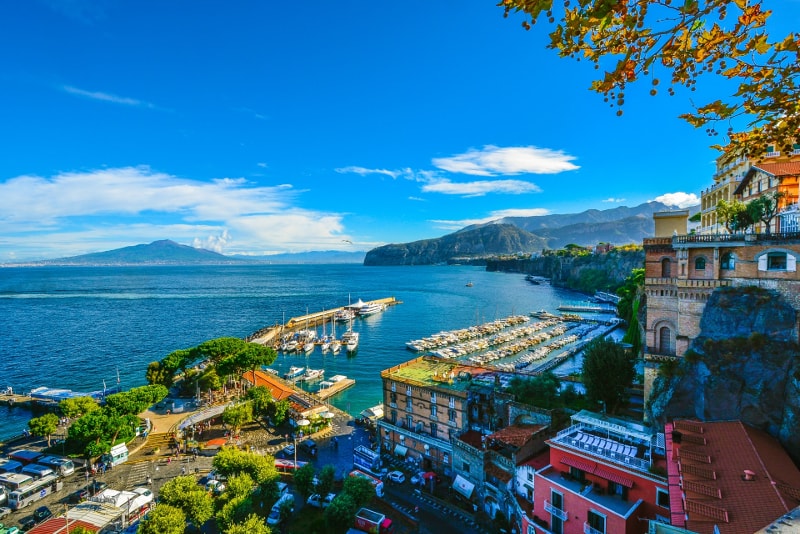 Sorrento is a lovely coastal town part of the so-called Amalfi Coast. The centre won't take much time to visit. A travel tip: from here you can reach in brief time "I Bagni della Regina Giovanna", a tiny beach that rises inside a bay set between the rocks. Being widely known, during the summer period is very crowded.
See also: Fun things to do in Sorrento
4 – Positano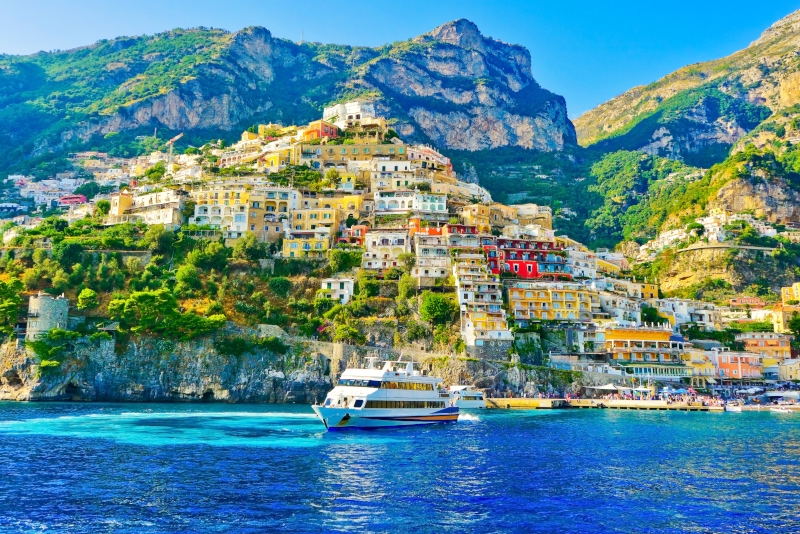 Positano is a stunning, small beach town on the Amalfi Coast. A popular holiday destination with a pebble beachfront and a lovely centre where narrow alleyways intertwined. Mediterranean buildings all around spread bright colours ensuring a unique scenery.
5 – Mount Vesuvius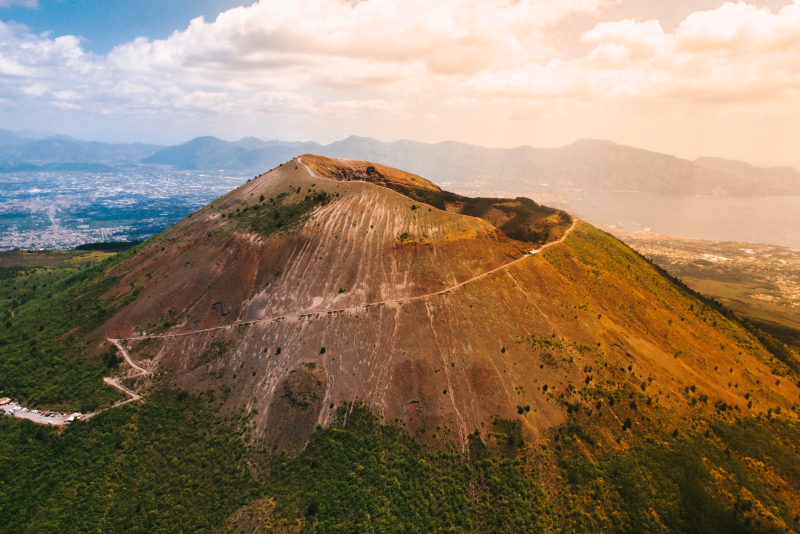 Mount Vesuvius is located on the Gulf of Naples in Campania. Widely renowned for being the only active volcano in mainland Europe, it is close to Naples, hence easily accessible during a day trip. Visiting the crater is a must, and tourists from all over the world climb the trail each year to peer into its depths.
6 – Herculaneum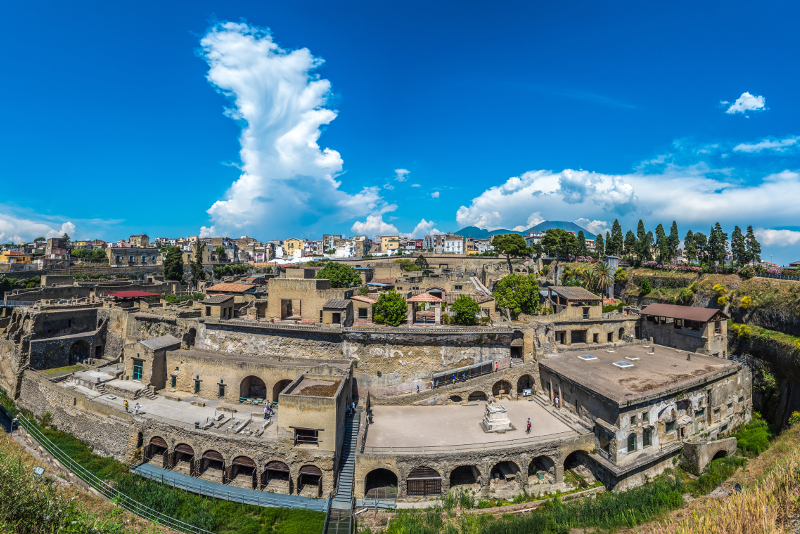 Herculaneum is another impressive UNESCO World Heritage Site. As well as Pompei, this ancient Roman town witnesses the destructive Vesuvius' strength of the year 79 A.D. History lovers will surely be intrigued by the past of this place.
Check our latest article if you want more info on how to book in advance Herculaneum tickets online.
7 – Capri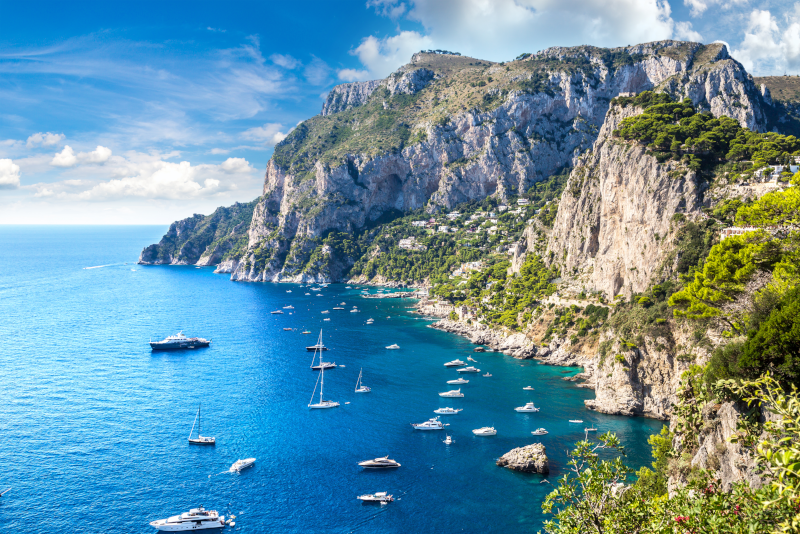 Capri is a small gem right in front of Naples belonging to the Campanian Archipelago. This upscale and stylish island is well-known for the impressive sea stacks sheer to the sea, as well as the Blue Grotto known for its blue waters. The small centre of Capri is lively, filled with delightful restaurants and luxurious fashion boutiques.
See also: Best Capri boat tours
8 – Ravello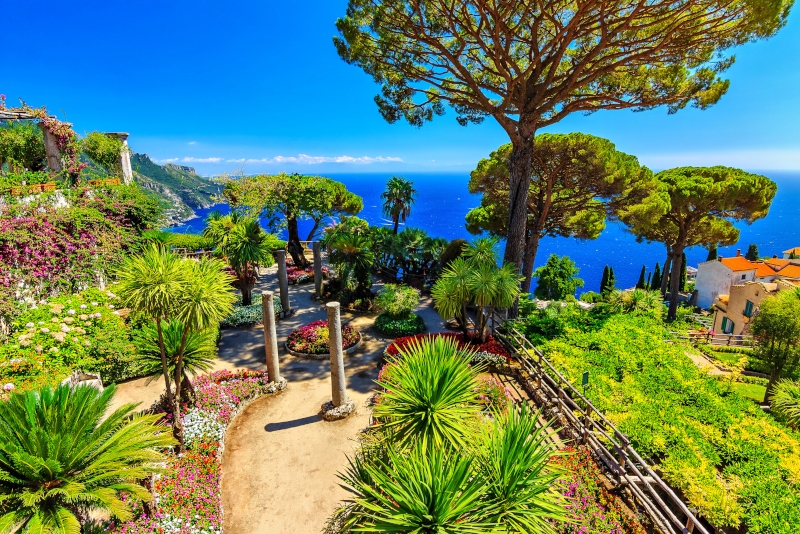 Ravello is another treasure guarded in the Amalfi Coast. The breathtaking shoreline view from the terrace of Villa Rufolo is something that you can't miss out. Get there during summertime, when the Villa hosts the renowned Ravello Festival.
9 – Amalfi
Deemed a UNESCO World Heritage Site for its undoubted beauty and the exceptionalism of its natural backdrop, Amalfi boasts a classic Italian charming scenario. Dotted with colourful traditional houses and surrounded by Mediterranean nature. Make sure to book one of the Amalfi Coast boat tours for a perfect adventure.
10 – Royal Palace of Caserta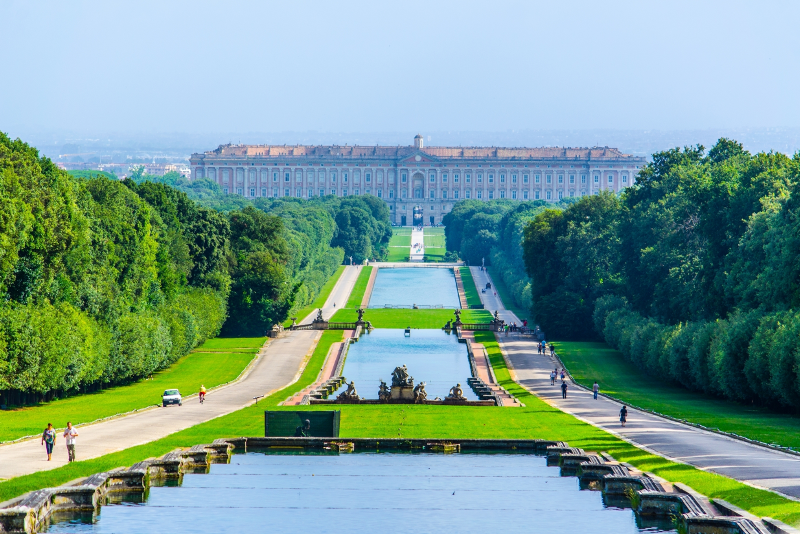 The Royal Palace of Caserta was declared a UNESCO World Heritage Site in 1997. This is an extensive complex surrounded by magnificent gardens of truly incomparable splendour. A great place even to spend some time with the family.
If you wish to visit the Royal Palace of Caserta, check our our blog post about how to book  in advance Royal Palace of Caserta tickets online.
11 – Ischia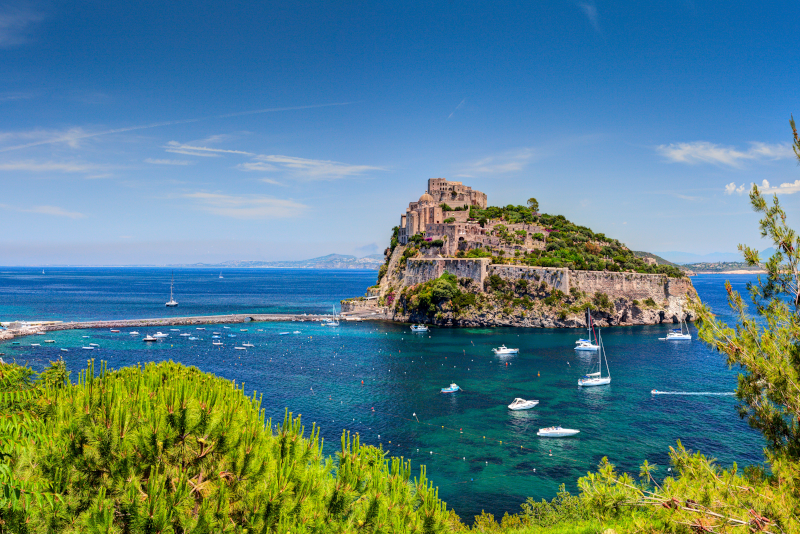 Located right in front of Capri, Ischia is the largest island in the Bay of Naples. This is a volcanic island and a small green paradise. What does it offer? Secluded beaches, thermal spas largely well-known for their mineral-rich waters, as well as amazing beachfront seafood dinners.
12 – Paestum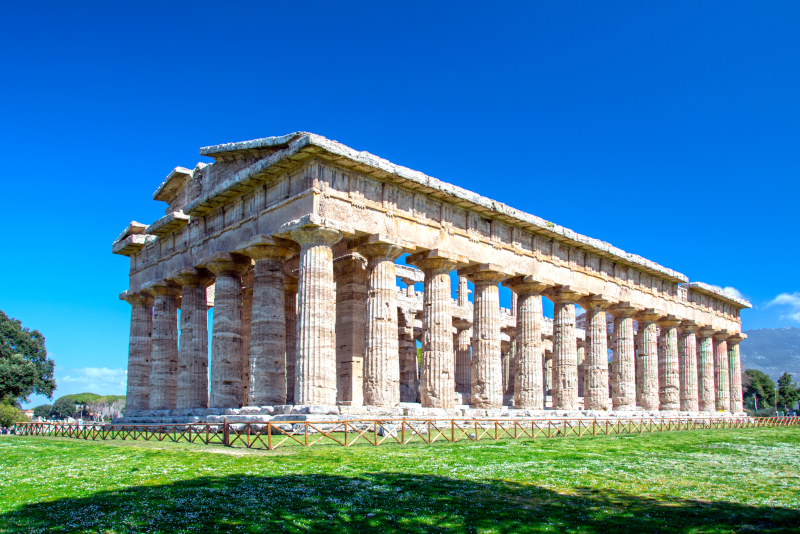 Designated as a UNESCO World Heritage Site in 1998, Paestum is home to a prestigious archaeological area. It includes three of the world's best-preserved ancient Greek temples in the Doric Order. Feel a connection with the ancient past strolling around the Greek ruins.
13 – Sapri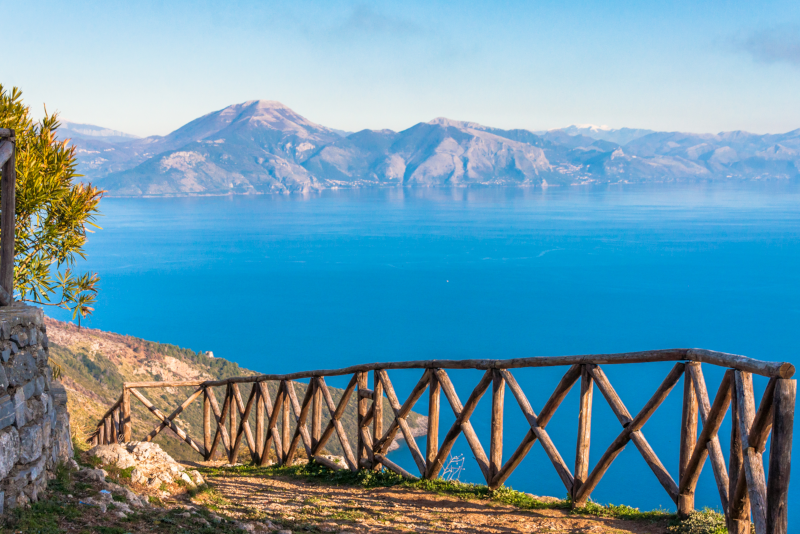 Sapri is a town in the province of Salerno, in the Campania region. Perched on an inlet on the Gulf of Policastro, Sapri is a natural background of beaches nestled among lush headlands. Among the most famous beaches of Sapri, there are Camerelle Beach and Sapri Beach. Besides the beautiful beaches, Sapri is mostly famed for having breath-taking sea views along some natural paths.
14 – Camerota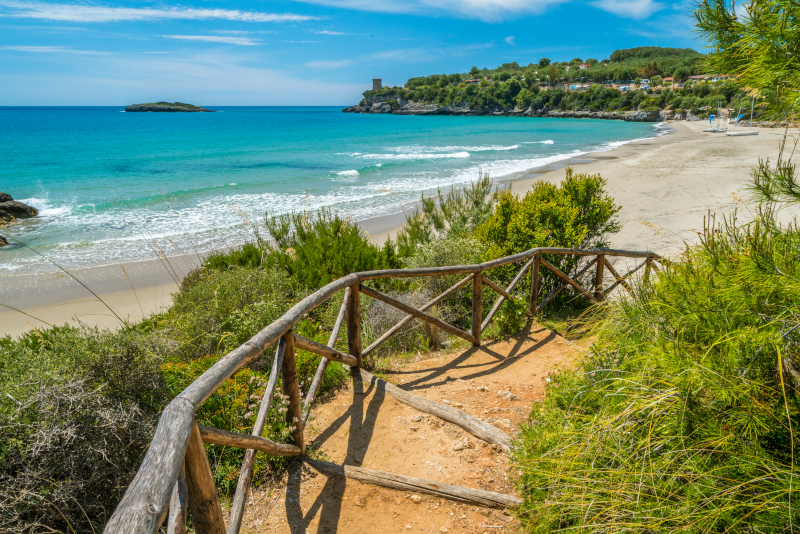 Located in the province of Salerno, Camerota is a picturesque fishing town and beach resort in the heart of the Cilento National Park, between Capo Palinuro and Sapri. Better known for its Marina, today a thriving seaside town with a tourist harbour. In the past, it was a small hamlet of fishermen. The town itself even has a long tradition of music.
15 – Fusaro Lake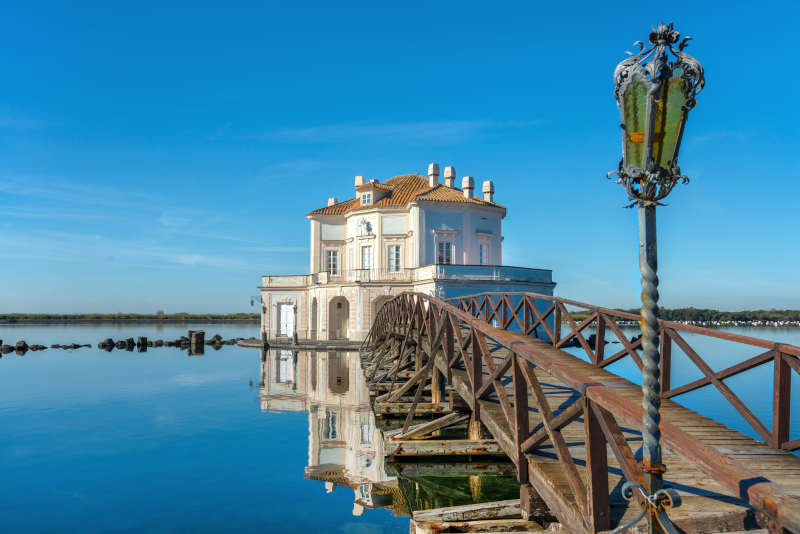 Fusaro Lake is less than an hour's drive from Naples and located in the territory of the community of Bacoli. The lake hosts the Vanvitellian complex, a lovely Bourbon hunting lodge built on the eastern shore of Lake Fusaro. A masterpiece of Baroque architecture.
16 – Castellabate

The Medieval Castellabate lies in the province of Salerno. This tiny hamlet in Cilento National Park is a special place to visit. It is also famous for being the set of "Benvenuti al Sud", the Italian adaptation of the 2008 French film "Bienvenue chez les Ch'tis". Just a few kilometres away, you will get to Santa Maria di Castellabate, another popular seaside resort.
17 – Montecassino Abbey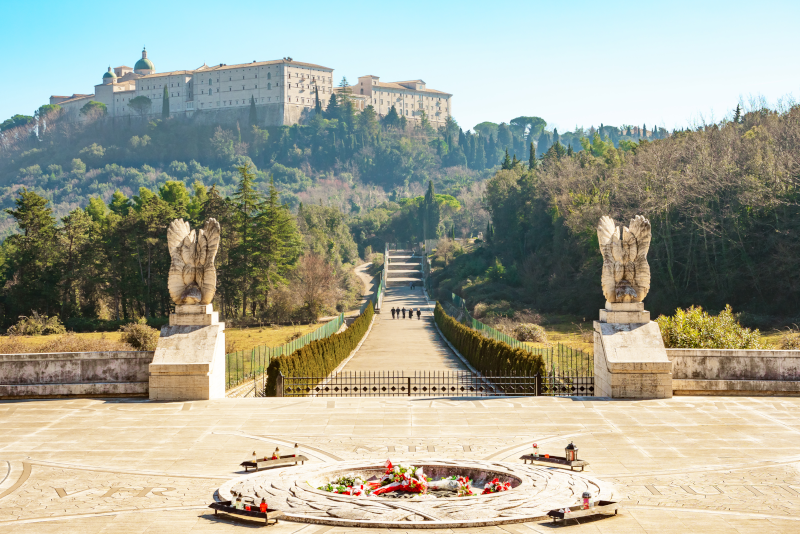 Established by Saint Benedict himself 1500 years ago, Montecassino Abbey is perched on a rocky hill. Located in the southeast of Rome, near the homonymous village, it's one of the most known Abbeys worldwide, and a pleasant place to visit. Admire its magnificent architectural splendour and walk through its history.
18 – Rome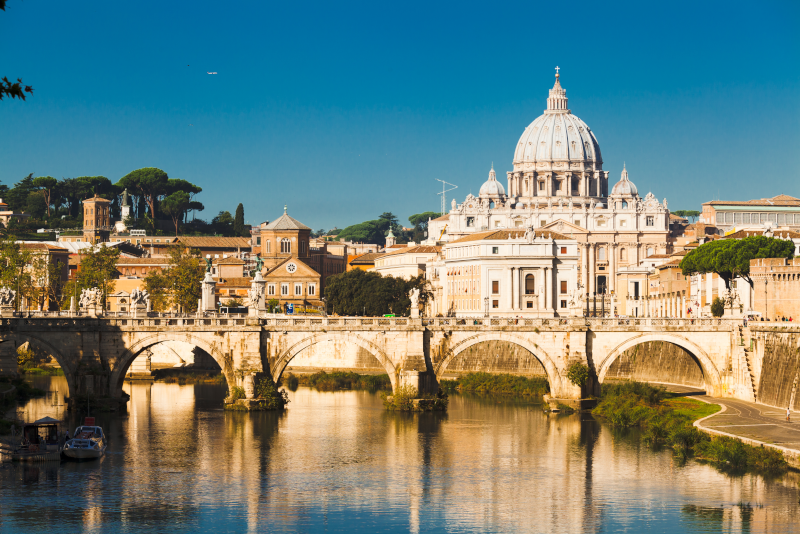 Rome is always worthy, even for one day. A charming city where you'll be plunged into history, culture and delicious food. Moreover, the eternal city is easily accessible by train from Naples. During a day trip, you can enjoy a guided tour to visit the most famous attractions that the city offers surrounded by the bustled Roman daily life.
19 – Rainbow MagicLand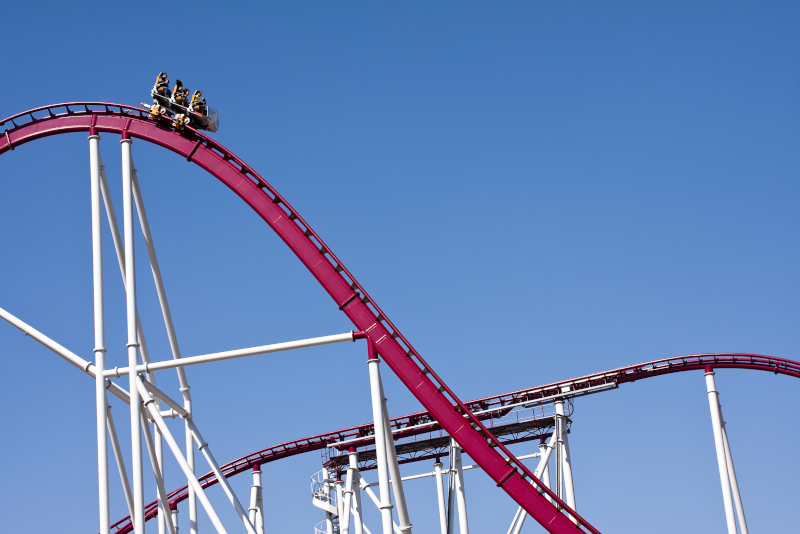 Escape the city for an alternative trip! Not far from Rome, Rainbow MagicLand is an incredible amusement Park with 38 different attractions and several themed areas. This park is the perfect place for kids and thrill seekers as well, where to enjoy a fun day with your family.
20 – Gaeta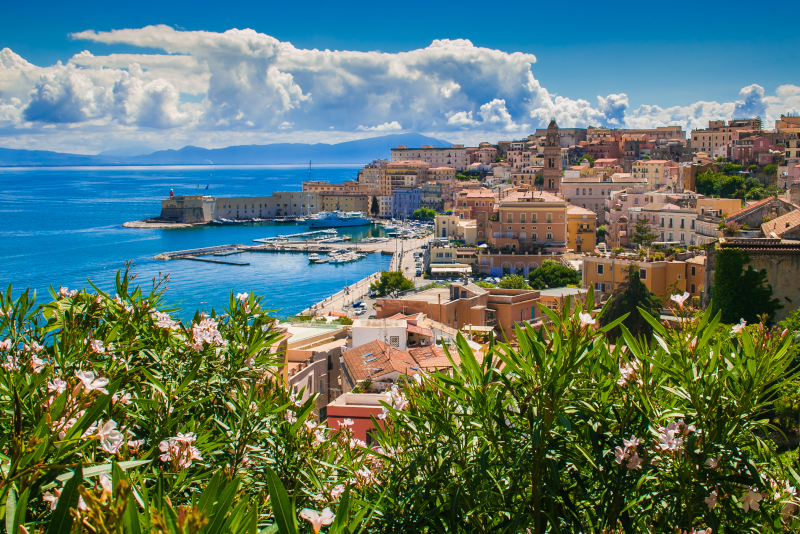 Gaeta is a coastal city in central Italy, south of Rome. Set on a promontory stretching towards the Gulf of Gaeta, it is an extremely popular summertime destination because of its amazing beaches. Gaeta is also home to Monte Orlando Park, a protected area with Roman ruins, Mediterranean vegetation and dive sites.
21 – Sperlonga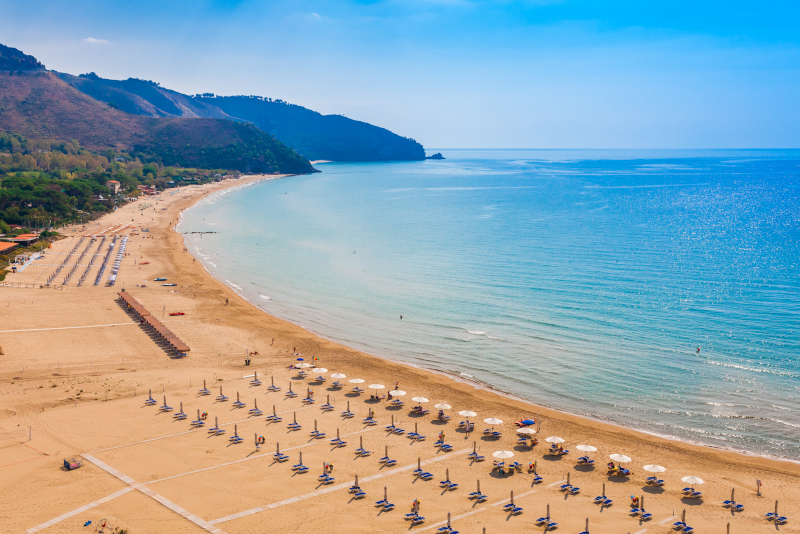 Sperlonga is a coastal town, halfway between Rome and Naples. Whitewashed houses are clustered together on a steep headland. Sperlonga is known for its beauty and natural splendour with a lovely coastline and landscape that captures the curiosity of every visitor coming here.
22 – Fiuggi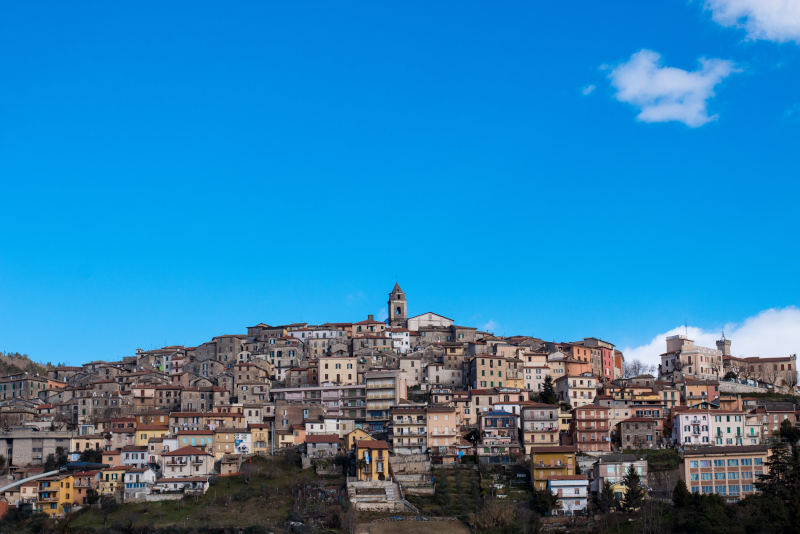 In the province of Frosinone, Fiuggi is one of the most renowned spa towns in Italy. The popular town of Ciociaria even boasts a lovely historical centre. Besides, Fiuggi became famous for its "Acqua di Fiuggi" which flows from its natural springs and mountains.
23 – Matera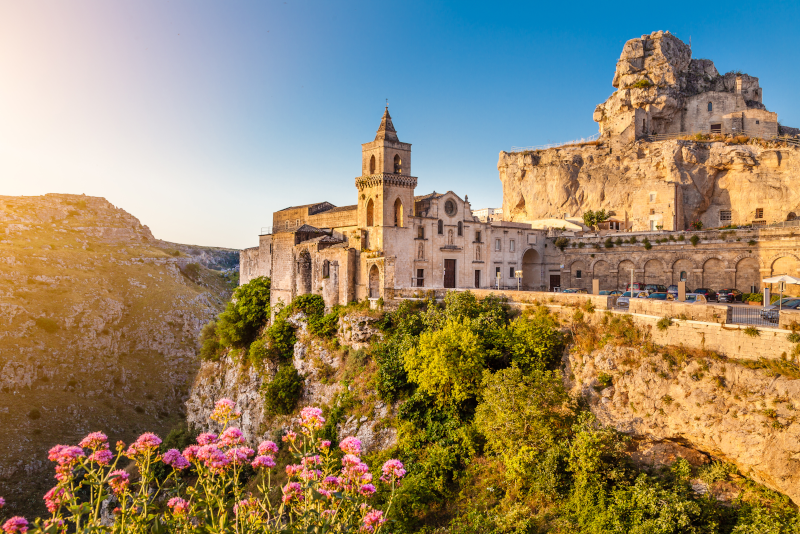 Deemed a World Heritage Site by UNESCO, Matera is an atmospheric cave-town in southern Italy. It includes the Sassi area, a complex of cave dwellings carved into the mountainside. Basilicata's jewel may be the third-longest continuously inhabited human settlement in the world. One of the most unique and spectacular places you may visit in Italy.
24 – Venosa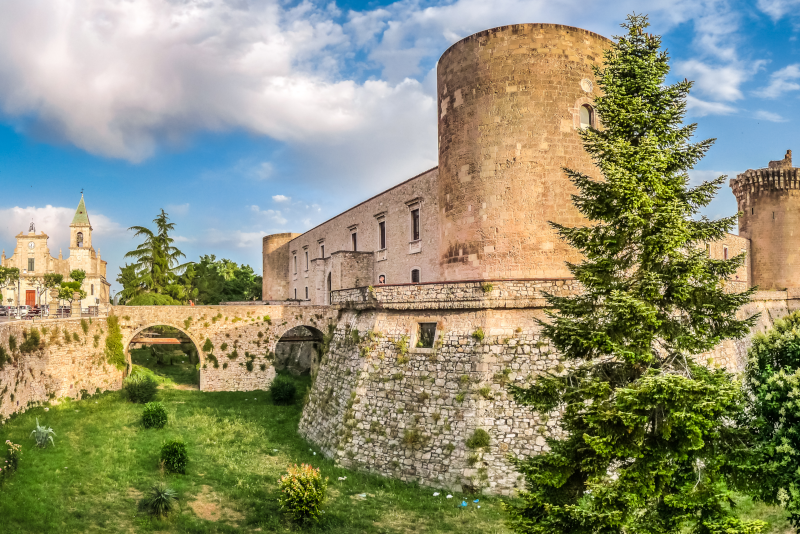 Venosa lies in northern Basilicata, at the foot of the extinct volcano Monte Vulture. This jewel is famed as one of the most beautiful villages in Italy and has significant cultural and historical value. Venosa boasts a national archaeological museum and park, Jewish catacombs, as well as Roman ruins, including an amphitheatre, the Aragonese Castle, and the Roman poet Orazio's home.
25 – Castelmezzano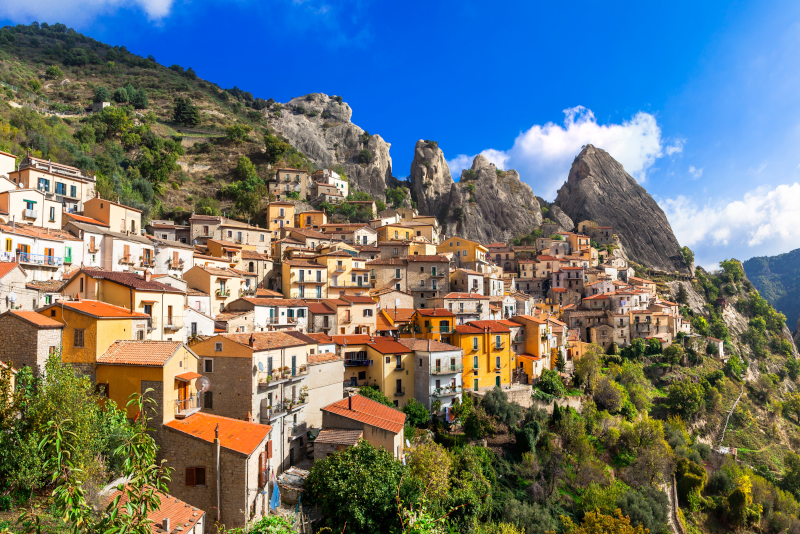 Among the most beautiful treasures of Basilicata, Castelmezzano lies in the south-east of Potenza. From here, many nature trails allow you to explore the area: the most famous is the one called "Sette Pietre". From Castelmezzano it is possible to reach the village of Pietrapertosa, and vice versa, through the famous Angel's flight. Hooked to a steel cable, get your thrills flying over a breathtaking view.
26 – Craco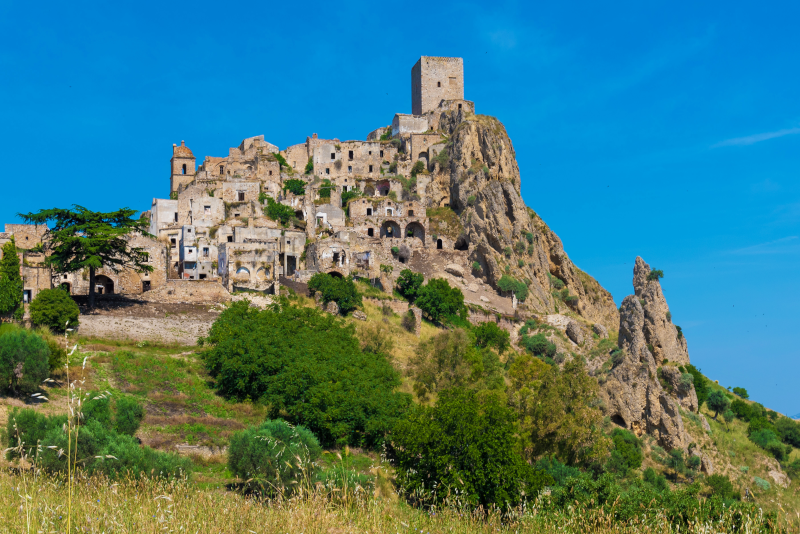 Perhaps unknown to many, Craco is probably the most famous and unique ghost town in Italy. Due to recurring earthquakes and landslides, the inhabitants were forced to move. Since that moment, Craco is still wholly uninhabited. Its abandonment has made Craco a tourist attraction and a popular filming location.
27 – Polignano a Mare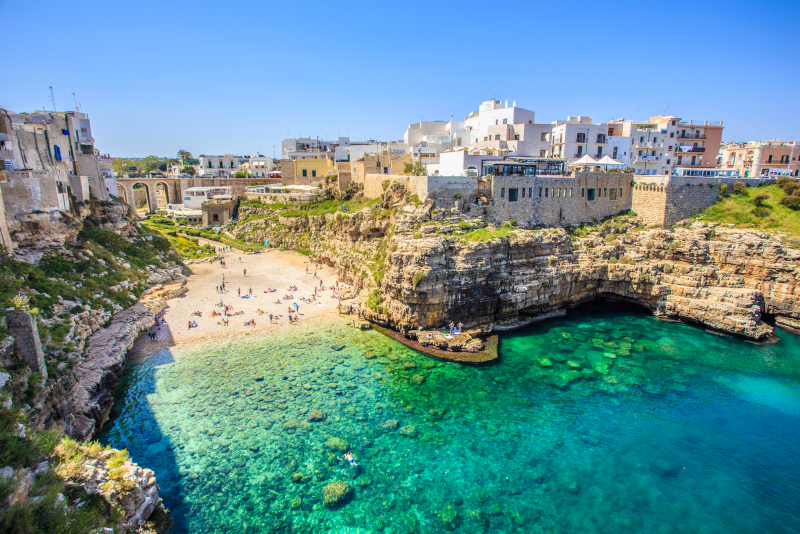 Located in Puglia and close to Bari, explore the wonderful Polignano a Mare. This small village is hugely well-known among holidaymakers. Be enchanted from the breathtaking view from the famous Cala Porto and be sure to catch a fantastic sunset. Don't forget to take a stroll along the historical centre enclosed by a labyrinth of lovely alleyways. 
28 – Alberobello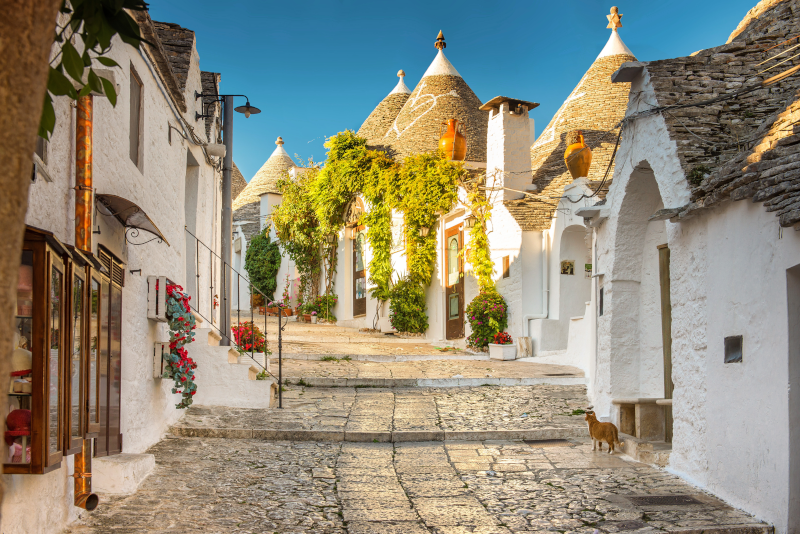 In the southern region of Puglia, Alberobello is home to the popular "Trulli", whitewashed stone huts with conical roofs. This stunning UNESCO World Heritage Site represents one of the most visited tourist attractions of the region. A unique hamlet made up of cobblestone village roads lined with stretches of local shops and restaurants on both sides.