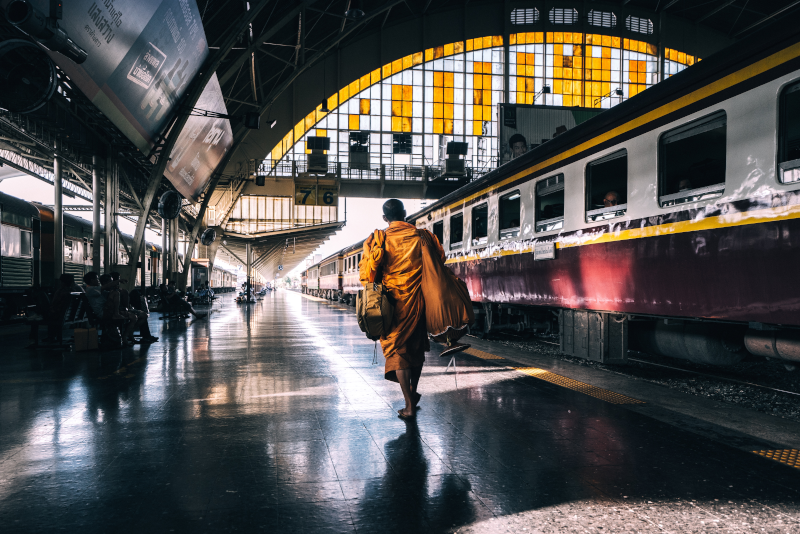 Looking for the best day trips from Bangkok? You're in the right place. 🙂 
There is plenty to see and do in Thailand: from bustling floating markets, stunning temples and white sandy beaches to family-friendly theme parks, there is something for everyone!
Here is our selection of 19 awesome day trips from Bangkok. 
1| Death Railway Bridge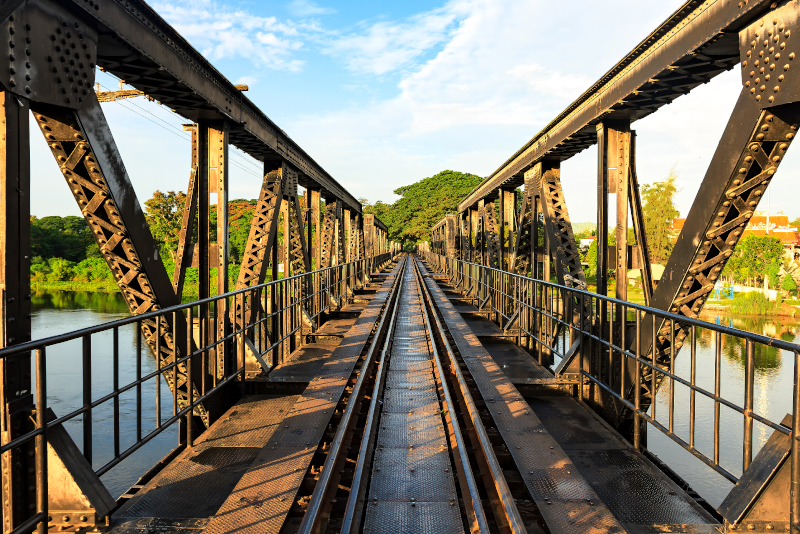 The Kanchanaburi province is mostly known for its Death Railway bridge, built by civilian forced laborers and Allied prisoners of war under Japanese command during WW2. Today, the impressive structure serves as a memorial to the estimated 102,000 people who died building the railway. 
Your guide will lead you through many memorial sites in the area and help you understand this painful episode of Thai history. Some tours include other local highlights such as the Damnoen Saduak floating market or the Saiyoke Noi falls.
Things to see: Death Bridge | JEATH War Museum | Allied War Grave | Hellfire Pass and Memorial | Damnoen Saduak floating market | Saiyoke Noi falls.
By car 1h45 / by train: 2.5h  
2| Mae Klong & Mahachai railway markets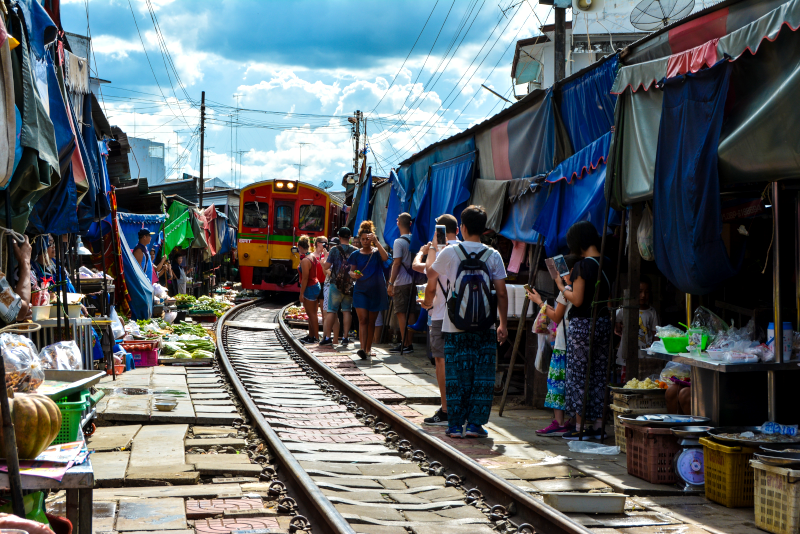 Watch umbrellas fold and unfold as the market swallows the trail.
After a 1-hour journey, arrive in Mahachai, where you'll find yourself in the middle the markets spreading around the train tracks. The Mahachai and Mae Klong markets are some of Thailand's biggest traditional fresh seafood markets. Aside from the fresh seafood, you'll spot all sorts of dried seafood products and kapi (shrimp paste), a specialty of Samut Sakhon. If you have a sweet tooth, you'll want to try the classic mango with sticky rice if you haven't already.
Things to see: MaeKlong train Market | Mahachai train Market | Damnoen Saduak Floating Market | Amphawa floating Market | Thai House and Rama II Museum | Wat Pom Wichian
By car: 40 min / by train: 1h
3| Ayutthaya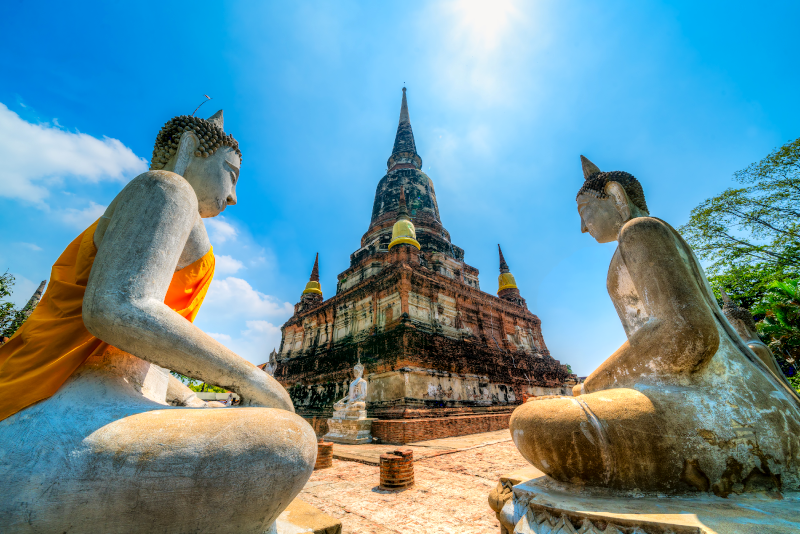 The Ayutthaya Historical Park is a UNESCO World Heritage Site and one of the most popular day trips from Bangkok. Visit Wat Mahathat where a Buddha's head is nestled inside a tree trunk before heading to Wat Ratchaburana to explore one of the most well-preserved ruins in Ayutthaya. End the day in Ayutthaya Floating market, featuring more than 200 stalls, and taste roti sai mai, a popular Thai snack.
Make sure you make the most of your visit and learn more about Thailand's fascinating ancient history from an expert guide. 
Things to see: Wat Mahathat | Wat Ratchaburana | Wat Lokayasutharam | Wat Phra Sri Sanphet | Bang Pa-In Summer Palace | Wat Na Phra Mane | Wat Niwet Thammaprawat 
By car: 1 hour/ by train: 1.30 hours from Hua Lamphong/ by minivan: 2 hours 
4| Ancient Siam (Muang Boran)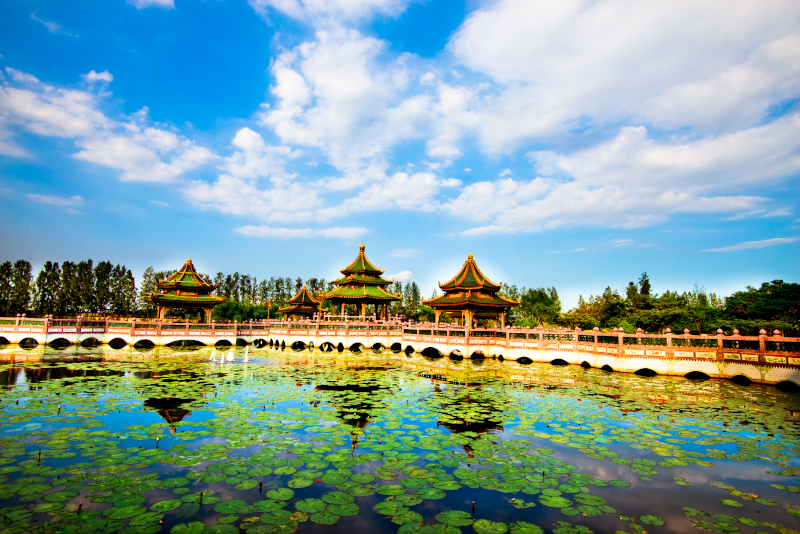 Ancient Siam, also known as Muang Boran, is just an hour away from Bangkok. This open-air museum offers a peaceful respite from the city along with a chance to learn a bit more about Thailand.
Ancient Siam Park is home to over 100 replicas of temples, gardens, and sculptures, recreated to celebrate Thailand's history and culture. Famous ancient sites, some of which are difficult to reach or no longer standing, have been carefully recreated.  
You can find Ancient Siam tours here to get a complete explanation of Thailand's fascinating history.
By car: 1 hour / Subway to Kheha + taxi: 55 minutes / Bus to Thanakhan Krungthep + taxi: 1.30 hour
5| The world's tallest stupa – Phra Pathom Chedi
Nakhon Pathom is in a small province an hour-drive away from Bangkok and the cradle of Thailand's Buddhist tradition. Get to know the local riverside community as you float on a traditional long-tailed boat down the green waters of Mahasawad Canal. Nakhon Pathom is renowned for its abundant fruit varieties and famous dishes, so we recommend that you spend some time in Don Wai Floating market to sample the best local products.  
Don't miss the tallest stupa in the world, Phra Pathom Chedi. Your guide will tell you all about the fascinating history and details of the stupa. The ancient religious structure was the landmark that signified the spread of Buddhism in Thailand. 
Things to see: Don Wai Floating Market | Sanam Chandra palace | Phra Pathom Night Market | Wat Rai Khing | Woodland Muangmai
By car: 40-60min/ by train: 1.5 h / by bus 1.40h
6| Khao Yai National Park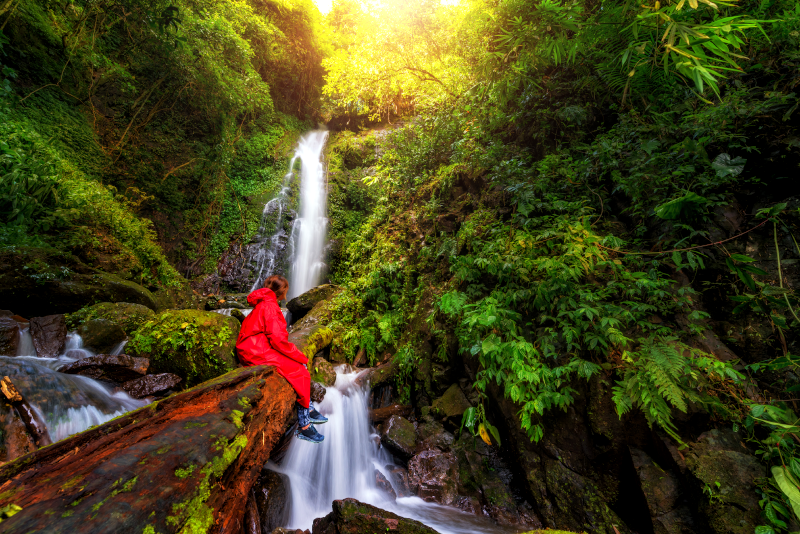 Khao Yai is part of the Dong Phayayen Khao Yai Forest Complex, a UNESCO World Heritage Site comprising five protected areas from Khao Yai to the Cambodian border. Witness fascinating wildlife including elephants; macaques, exotic reptiles and about 300 birds as well as dream-like waterfalls.
The park is best enjoyed on a guided hike since those are more immersive, generally come with the transfer from Bangkok, and there is something for all fitness levels. If you want to go by yourself, please note that you cannot access the entrance on foot and, given the size of the Park, you'll want to move between trails on a motorized vehicle.
Things to see: Haew Narok waterfall | Haew Suwat Waterfall | Non Pak Chi watchtower | Pha Kluaymai waterfall | Khao Luk Chang bat cave | wine tasting
By car: 2h15 – 2h30 / by bus: 3-4h / by train: 3h
7| Pattaya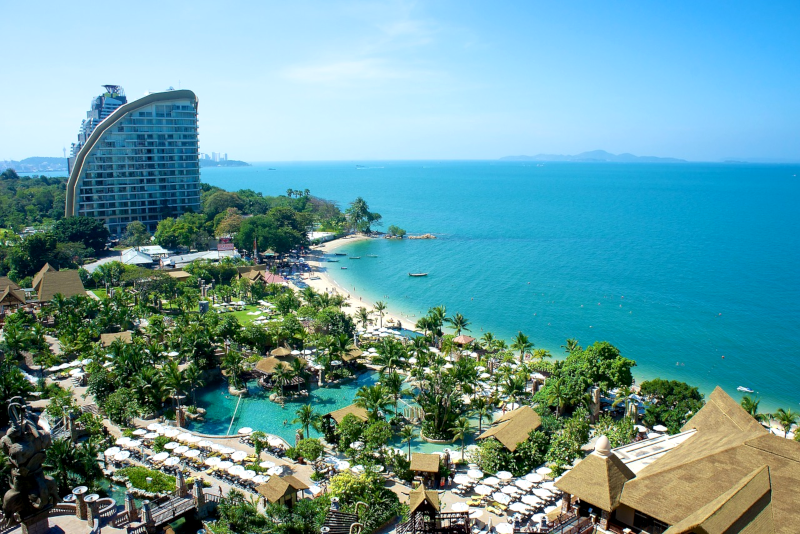 Only 147km from Bangkok, Pattaya is the closest of Thailand's major beach resorts to the capital city. If you are considering day trips from Bangkok to swim in turquoise waters, this is the place.
Pattaya never sleeps. From sunrise to sunset, head to the beach to indulge your love (or curiosity) of water sports or opt for a swim and tanning session. After dark, the action shifts to the streets where you'll take in the galvanizing nightlife and party non-stop until dawn if you so desire.
Check out Pattaya day trips from Bangkok on TourScanner, and you'll find that Pattaya has something for everyone. 🙂
Things to see: Coral Island | Nong Nooch tropical garden | Big Buddha Hill (Wat Phra Khoa Yai) | Sanctuary of truth | Art in Paradise | Koh Si Chang | Koh Larn Island
By car: 1.5h / by bus: 3h 
8| Chachoengsao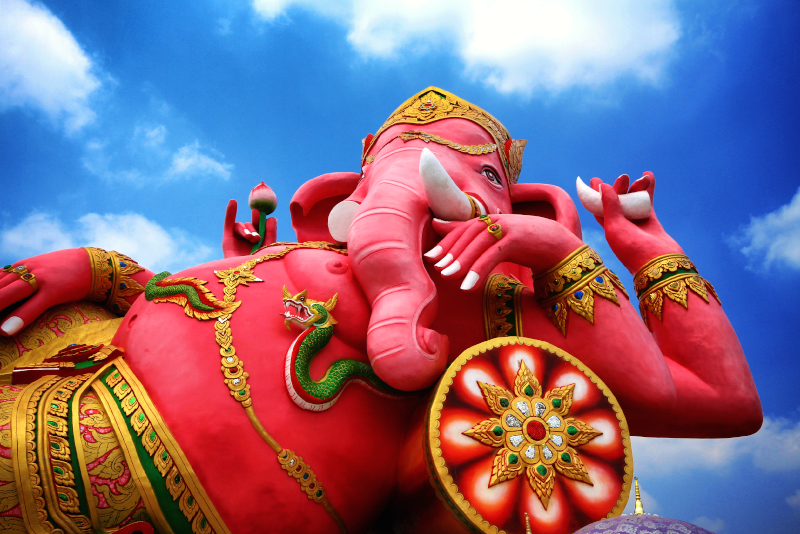 A 1-hour drive away from Bangkok, Chachoengsao is a nice place to witness genuine Thai culture during the weekend. The city itself is small enough to be walkable though you will need to catch a songthaew to get to the local temples. 
Ban Mai market boasts a large choice of good food at decent prices. We recommend that you visit the market first thing in the morning to avoid the crowds. Wat Saman Rattanaram hosts the biggest Reclining Ganesha statue in Thailand and is justifiably the biggest attraction in town.
Things to see: Wat Saman Rattanaram Hindu temple | Wat Sothon | Ban Mai Market | Wat Pho Bang Khla | Sand Castle
By car: 1h / by train: 70 mins-1.5 h / by bus: 2h-2.5h
9| Nakhon Nayok
Spend a day touring Nakhon Nayok, a province located northeast of Bangkok. These day trips from Bangkok provide an authentic Thai countryside experience. You'll get to visit a local market where you'll enjoy a traditional Thai lunch before swimming around Nang Rong Waterfall. Adrenaline seekers can ride in an ox car or quad bike through rugged terrain and raft through white water. 
Things to see: Phra Pratommachedi | Nang Rong Waterfall | Khun Dan Prakan Chon Dam| Wang Takrai Park | Wat Chulapornwararam 
By car: 1.5 h / Train to Nong Nam Khao + taxi: 2.5h
10| Hua Hin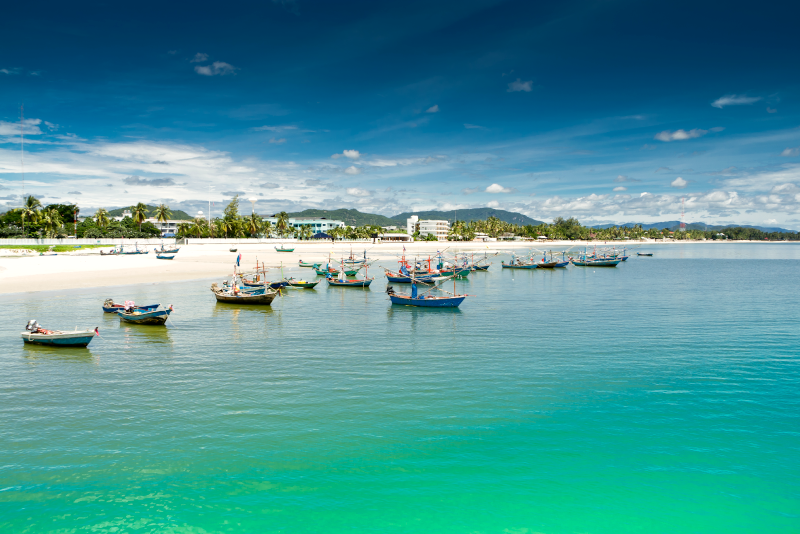 Hua Hin is a little piece of paradise between city and sea with a cosmopolitan atmosphere which makes for a quieter alternative to Pattaya. There, you'll find lively markets, a good nightlife, water parks as well as cheap, quality seafood and international cuisine. 
The local public transport is convenient, and it takes a lot less time and effort to get there from Bangkok than to the southern islands. However, the Hua Hin resort is still pretty far from the capital, so a private vehicle is the best way to avoid spending your day in public transports.
Things to see: Khao Hin Lek Fai | Huahin Artist Village | Hua Hin train station | Cicada market (night market open on weekends)| Hua Hin Night Market | Sam Roi Yot National Park
By car: 3h 
11| Koh Kret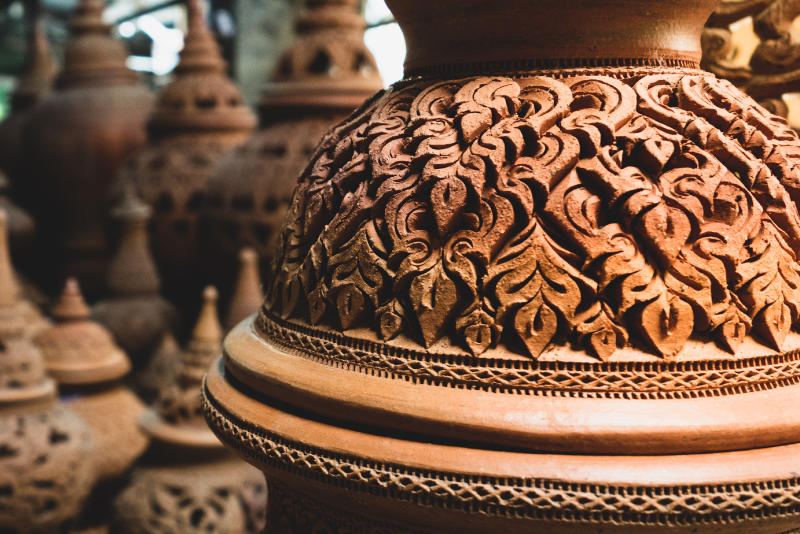 Escape the busy streets of Bangkok for a day in Koh Kret, where you will get to experience the unique culture and lifestyles of the Mon community ( a Thai minority). Koh Kret is well known for its rural atmosphere, vibrant riverside communities, traditional crafts, and delicious Thai sweets.
Day trips from Bangkok to Koh Kret generally are bike tours (the best way to go around the island) where your guide will introduce you the local highlights.
Things to see: Nonthaburi Market | Koh Kred Pottery Handicraft Group | Wat Tha Sutthawat.
Ferry from Saphan Taksin Pier: 30 minutes
12| Sampran Riverside Thai Village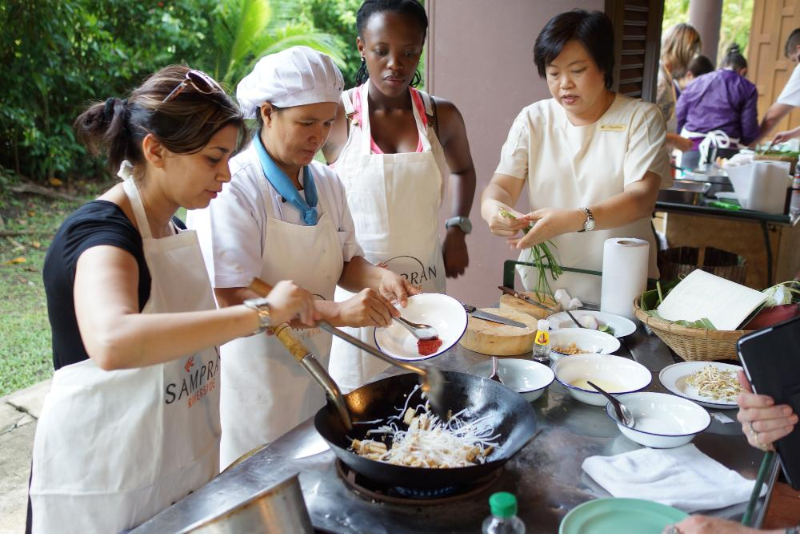 The Sampran Riverside Thai Village is a resort-style microcosm of Thai traditional culture and crafts. Don't miss the Rose garden cultural center, where you will be able to enjoy an organic farm-to-table cooking class and crafts workshops. Head to a nearby cultural village to see arts and crafts demonstrations, including umbrella painting, mat weaving, pottery, Thai boxing, and rice pounding.
Things to see: Rose Garden Organic Farm | Damnoen Saduak Floating Market
By car: 30mins-1 hour / by bus: 1.5h 
13 | Bang Saen Beach

Bang Saen beach is the closest beach from Bangkok. Located in Chon Buri province, it is popular with Thai people who like to spend some time here on weekends. It is also a good place to stop to get some peace and quiet on your way to Pattaya. You will find that Bang Saen beach is almost free from tourists and even peaceful during the week. This long stretch of sand is a good place to eat seafood and enjoy the breeze.
Things to see: The Wang Saen Suk Hell Garden | Laem Tan | Laemtong Bangsaen shopping center | The Institute of Marine Science Aquarium and Museum
By car: 2 hours / by van or minibus: 1.5 to 2.5 hours from Ekkamai station
14| Theme park day trips from Bangkok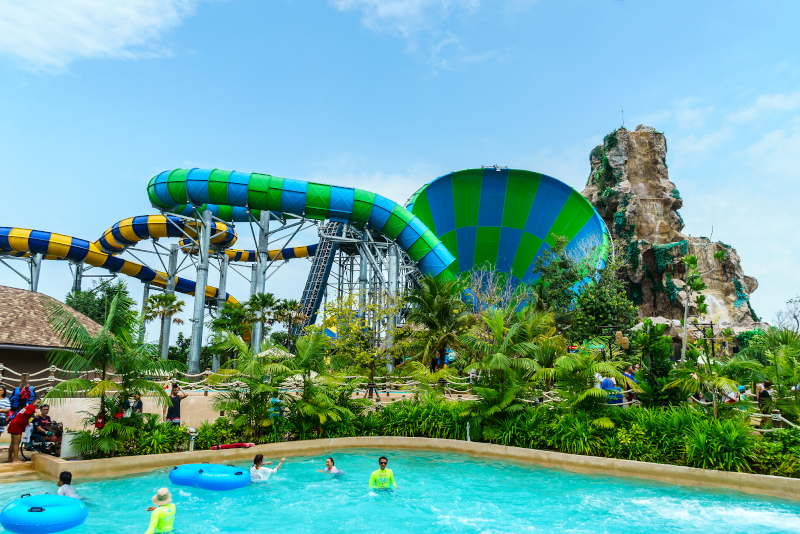 Escape the bustling capital for a fun day in one of Thailand's best theme parks! Whether riding on wild roller coasters or speeding down a 7-story rainbow slide, you will have an adrenaline-filled day to remember. 
Due to the popularity of those parks, we recommend buying your tickets ahead of time to avoid long queues when you get there.
By car: 30 minutes / By train + car: 30 minutes
15| Safari World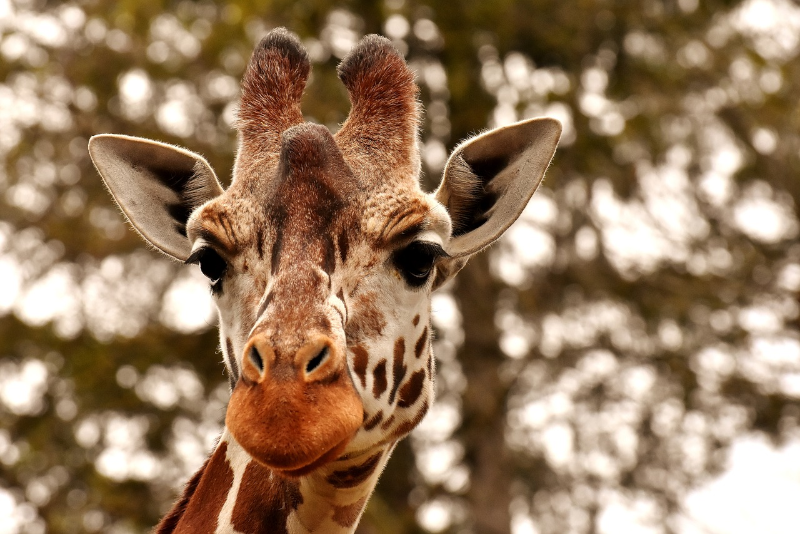 Escape the capital for a day and get close to the free-roaming animals of Safari World on a safari drive where you will get to see tigers, lions, Himalayan black bears, and much more.
Safari World is one of the best day trips from Bangkok for families because there is something for everyone. The park is extremely popular with tourists and locals alike, so we recommend that you book your tickets in advance to avoid long queues at the entrance and get straight to the wholesome family fun. 🙂
Things to see: Dolphin show | Sea Lion Show | Giraffe feeding | The Bird Show | The Hollywood Cowboy Stunt Show | The Tiger and Lion Feeding Show
By car: 30 minutes / By bus + car: 1 hour
16 | Damnoen Saduak Floating Market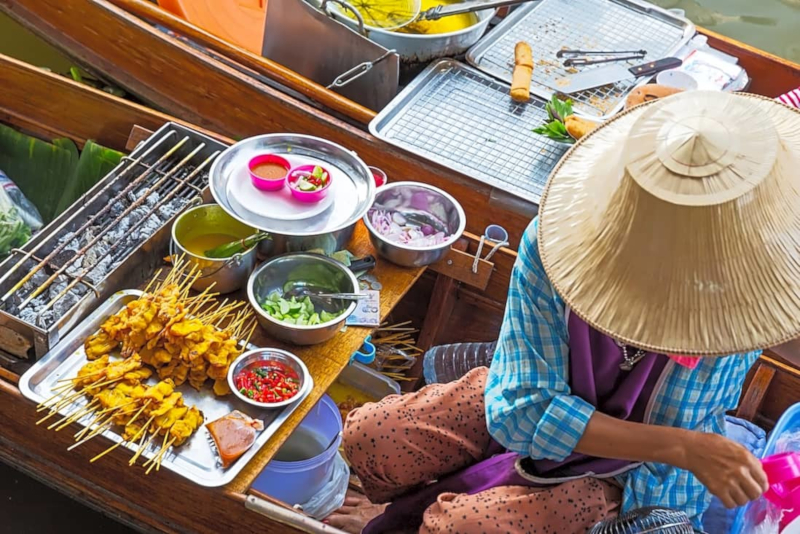 The Damnoen Saduak Floating Market is the biggest and most popular market around Bangkok, a little over a 1h30-drive away from the capital. Floating markets are an experience not to be missed when you're in Thailand especially if it is your first time in the country. The market is an excellent addition to your visit to the nearby Mae Klong and Amphawa markets. 
As a final treat, take a short night cruise on a speedboat beyond the Amphawa market to get a glimpse of fireflies dancing in the night sky.
Things to see: Mae Klong Railway Market | Amphawa Floating Market | Amphawa market fireflies | Thaka village 
By car: 1h30 / 7 minutes by bus from Mae Klong Railway Market
17| Thung Prong Thong Mangrove Forest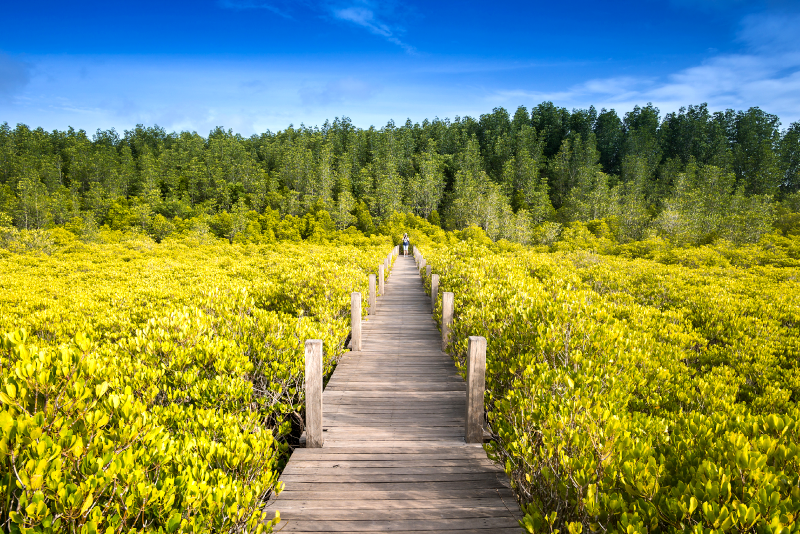 The Thung Prong Thong Mangrove Forest covers a massive 2,400 acres along the coast of Rayong province, a 2-hours-and-a-half-long drive East of Bangkok.
Take in the biodiversity on a relaxing stroll along long stretches of boardwalks. While the most famous sight is the sprawling golden mangrove forest, you will get to see some wildlife including crabs and rare wetland birds. If you want to explore the wetlands a little further, you can get on a 20-minute longtail boat ride available near the entrance of the park.
You will need private transport to get to Thung Prong Thong. We suggest hiring a car in Bangkok for the day.
By car: 2.5h
18| Wat Phra Dhammakaya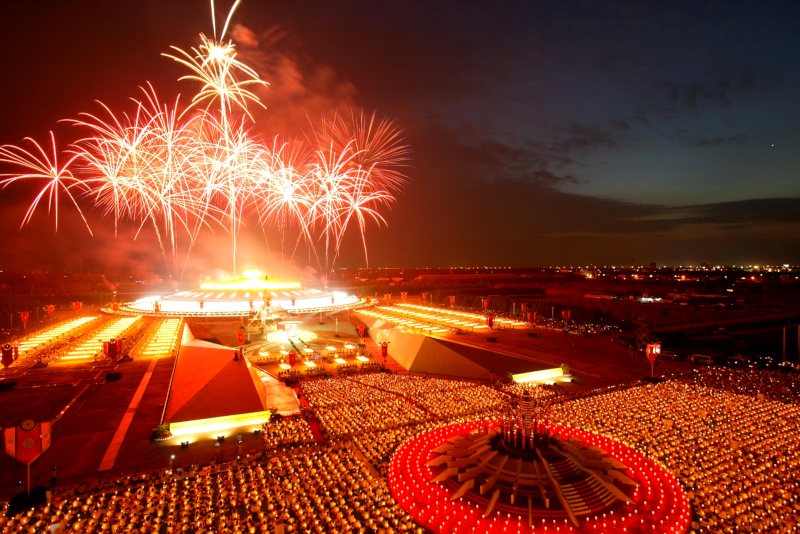 Wat Phra Dhammakaya is a Buddhist temple in Khlong Luang District and you've never seen anything like it.
The Great Dhammakaya Cetiya, the temple's pagoda makes for a truly impressive sight. The pagoda of a million Buddhas is covered with 300,000 golden statues of Buddha and another 700,000 can be found inside the temple.
The temple offers meditation courses and tours and it's a place you don't want to miss during your stay in Bangkok.
Things to do: Bua (Lotus) Museum | Southeast Asian Ceramics Museum | Talad Thai market
By car: 30 minutes / By train: 1h15 / By bus: 1.5h
19 | Erawan Waterfalls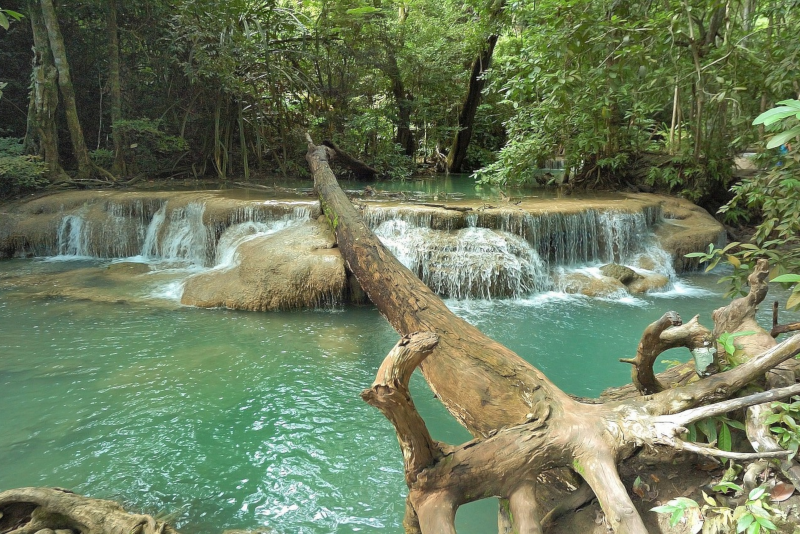 This is one of the best day trips from Bangkok for nature lovers. Head to Erawan National Park and let your guide lead you on a trek through the jungle to the stunning terraced waterfalls. You will be able to swim (or paddle if you prefer) at Erawan falls so don't forget your swimsuits!
Things to do: Kanchanaburi highlights | Death railway | River Kwai bridge | elephant camp | Treetop Adventure Park
By car: 3 h 
We hope that you liked our selection of awesome day trips from Bangkok. If you have any questions, feel free to leave those in the comments. We're happy to help!
Have a great stay in Thailand 🙂