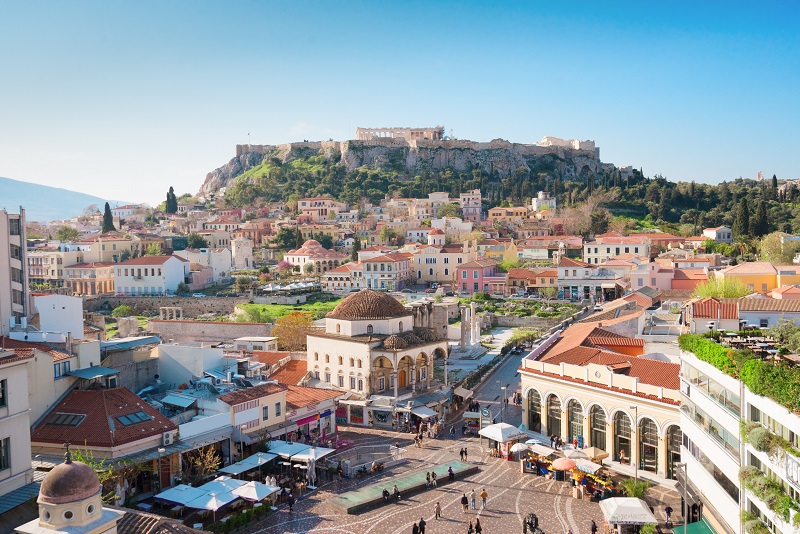 Are you looking for the best day trips from Athens? Then this top should speak to you! If you've seen and done everything in Athens and your Greek adventure isn't over yet, know that there is still plenty to explore.
Athens is perfectly located so you can reach countless interesting neighboring spots! From stunning archeological sites to beautiful islands, discover an eclectic mix of Athens day trips to meet every budget!
Some of those day trips might be a bit far away from the capital but we still chose to include them as they're way too awesome to be skipped!
1 – Delphi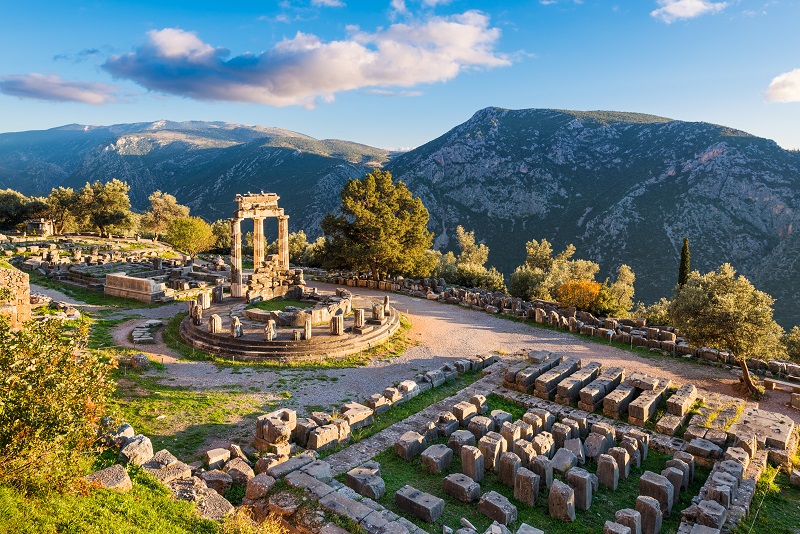 Where is Delphi?
Located north of Athens in upper central Greece, Delphi is a sanctuary site in the Phocis region. Surrounded by magnificent nature, it is an astounding cultural jewel on Greece's crown and an interesting day trip from Athens.
What is there to see or do in Delphi?
It was once the sanctuary of the oracle Pythia. There, she used to repeat to people what a certain god told her. She'd first purify in the Castallian Fountain then get into the adyton (temple's underground) where she'd go into a trance. Follow her steps!
Then, visit the splendid Temple of Apollo along the Sacred Way. Probably the sanctuary's major monument, there resided the god of light, arts, music, and knowledge himself!
But the wonderful archeological site isn't the only place worth visiting. Head to Delphi village and discover authentic tavernas, cafes, and souvenir boutiques. Then enter into the wonderful European Cultural Center which showcases sculptures and paintings from excellent Greek artists
Car: approx. 2h30 – Train: 2h40 – Bus: 3h
2 – Andros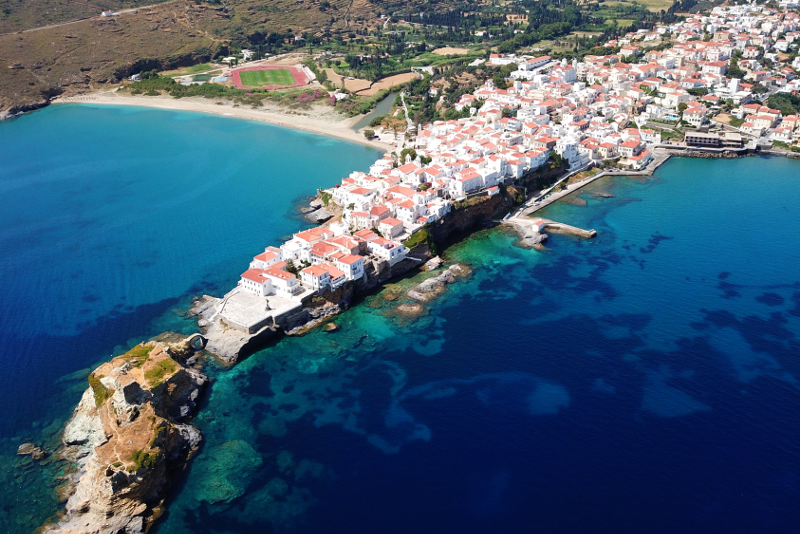 Where is Andros?
Located east of Athens, Andros is an island in the South Aegean region. It's most known for its Sariza spring at Apoikia from which water flows from a lions' head.
What is there to see and do in Andros?
Andros beaches are absolutely breathtaking and vary from each other. Agios Petros, Chrissi Ammos and Kypri are, for instance, ideal for windsurfing. For their part, Vlychada and Megali Peza are more isolated and are a great spot to relax on without buzzing tourism activity.
Don't miss the Cyclades Olive Museum which has, for several years, been voted amongst the top 10 museums in Greece. There, learn the ancestral art of olive-making and witness the passion of olive oil artisans.
Need a historical fix? Then don't forget the Monastery of Panachrantou which notably hosts the skull of St. Panteleimon as well as offers an incredible view of the sea.
By boat (from Rafina port): 2h
3 – Meteora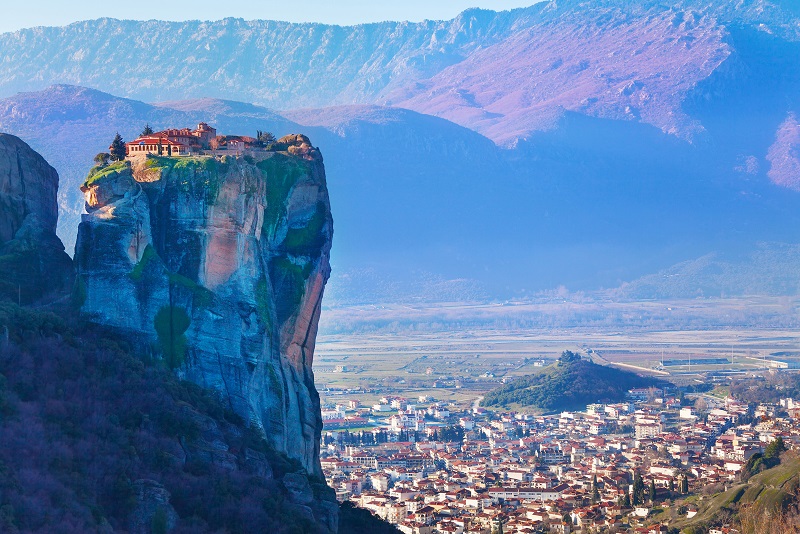 Where is Meteora?
Located north of Athens in central Greece, Meteora is a set of monasteries in the Thessaly region. Built in the 11th century on a rock formation, they're Greece's 2nd largest Eastern Orthodox monastery complex. Originally a monk's place of prayer and pondering, it now draws thousands of visitors each year. Meteora is the perfect day trip from Athens.
What is there to see or do in Meteora?
The good news is that there's no need to be religious to enjoy this place. Indeed, the location of the monasteries is perfect for hiking, biking climbing and admiring the sunset. Its impressive boulders and rocks will make a great challenge for any sports lover! Besides, the scenery is beautiful.
However, we also strongly advise visiting at least one of the wonderful monasteries. The largest is the Monastery of the Transfiguration of Christ, which was founded in 1340 by Saint Athanasios.
Car: approx. 4h – Train: approx. 5h – Bus: 5h40
4 – Lake Marathon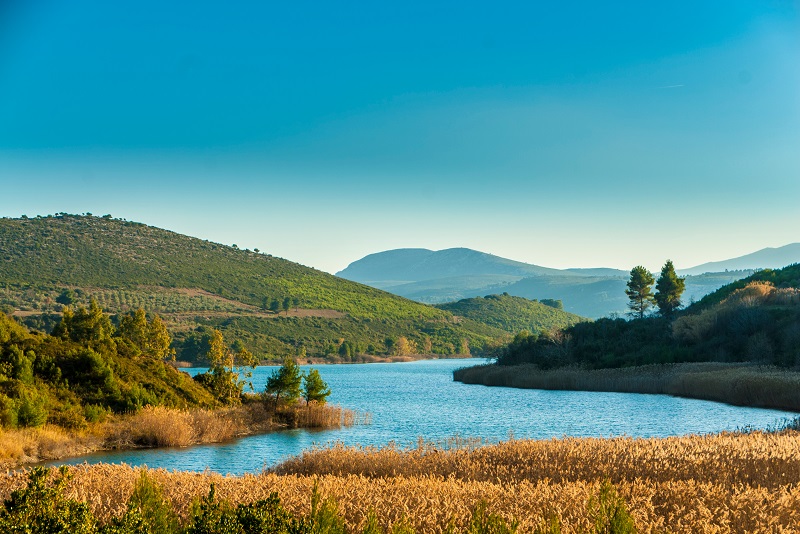 Where is Lake Marathon
Lake Marathon is actually an artificial lake. It serves as a water supply for the city of Athens and its surroundings. The dam was constructed in the 30s.
What is there to see and do in Lake Marathon?
Lake Marathon is a great spot to just stroll around and enjoy the contrasting view of the dam and surrounding fauna and flora offers. It's possible to swim in some areas, but most of it is forbidden for safety reasons.
One popular activity would be bird watching since there are many bird species to observe there. Most people who visited Lake Marathon say that it's a hidden gem. Not a tourist destination at all, but one not to miss!
By car: 1h
5 – Piraeus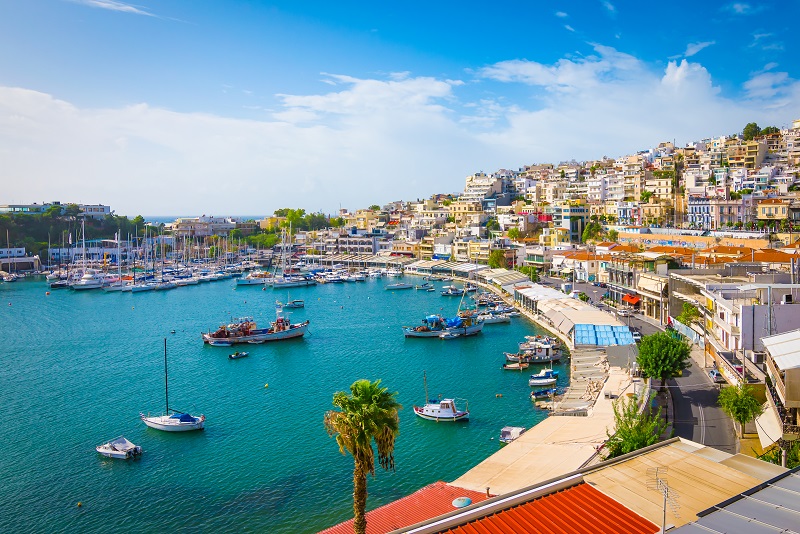 Where is Piraeus?
Located in the Attica region within Athens suburbs, Piraeus is a port city. It is Greece's largest port! An industrial city, Piraeus is a fascinating piece of Greek history for both cultural and historical reasons
What is there to see and do in Piraeus?
First, head to Pasalimani harbor where the number of luxurious yachts might be surprising! The surrounding neighborhood is bordered by various cafés, restaurants, and tavernas to relax on in front of the ocean.
Not too far from it, find the Hellenic Maritime Museum. There, admire ancient and modern ships alike! From prehistory to the modern era, there are more than 2500 objects to see. A preference for Mainland? hen the Electric Railway Museum next to the train station might be ideal! Founded by former railway workers in 2005, thousands of treasure-like items are now observable. Photographs, old tickets, leaflets… those are a vestige of another time.
If lucky to be in Piraeus on a Sunday, visit its flea market! Also next to the train station, find vintage as well as authentic Greek objects to take home as souvenirs.
Car: 12 minutes – Metro: 14 minutes – Bus: 30 minutes
6 – Serifos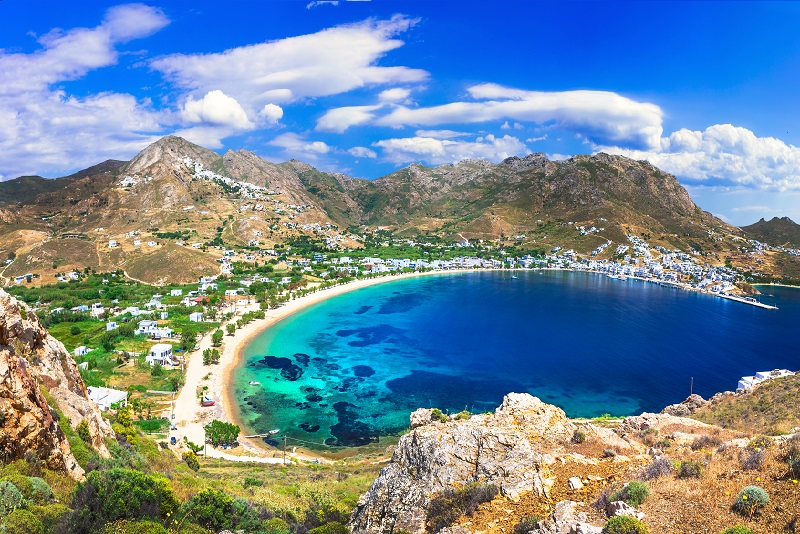 Where is Serifos?
Located south of Athens, right below Kythnos, Serifos is an island in the Milos region. Not as touristically developed as its neighboring Mykonos and Santorini, Serifos still has its tourism season!
What is there to see and do in Serifos?
What is interesting with Serifos is that there's no need to rent a car to get by. Indeed, the island is small enough that all the beaches around it are observable on foot! The most famous one is Psili Ammos and should be ideal for an afternoon with children. Others, like Vagia or Ganema are wilder, and should appeal to the adventurous kind.
Like in much of the rest of Greece, there is a monastery up north. Also, visit the hill-top Chora of Serifos village which is a dreamy whitewashed place.
By boat (from Piraeus): 3h
7 – Mycenae
Where is Mycenae?
Located southwest of Athens in the Argolis region, Mycenae is an archeological site and interesting day trip from Athens. A true symbol of Greek civilization on the Peloponnese peninsula, its founder is thought to be Perseus. There, he commissioned cyclopses to erect walls.
What is there to see or do in Mycenae?
Enter Mycenae through the Lion Gate. Named after a sculpture of two lionesses, it's the citadel's main entrance. Then, head into the Museum of Mycenae! There, four different sections will reflect the eventful thereabouts and customs of Mycenaeans.
Visit the Tomb of Atreus. A beehive vault, it's home to the son of Pelops and Hippodamia. Legend has it that he became king of Mycenae after being exiled by his father. The reason was the murder of Chrysippus with his brother Thyestes to become kings of Olympia.
Car: 1h26 – Bus: 1h30
8 – Corinth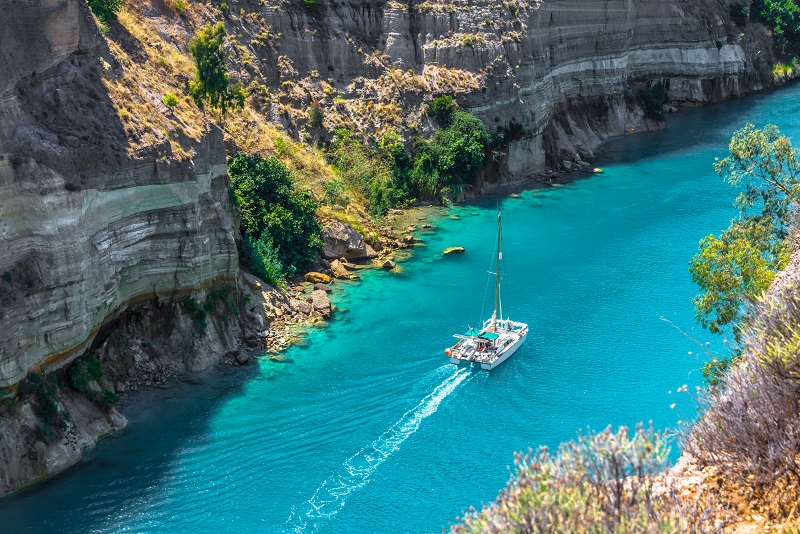 Where is Corinth?
Located east of Athens in the Peloponnese region, Corinth is an ancient city. It saw its own destruction in 1858 after a devastating earthquake. Nowadays, the modern village of Corinth cohabits with Ancient Corinth. This creates a perfect blend of local culture with history.
What is there to see or do in Corinth?
When arriving at Corinth from Athens, sail the Corinth Canal. The area is so breathtaking that it leaves most people speechless! Then, visit Ancient Corinth. There, find the Temple of Apollo and the acrocorinthe which are important slices of the city's history.
And don't forget to visit the modern city! And don't think for a second that there's nothing to do here. The whole area is absolutely beautiful and makes a perfect afternoon stroll. Also, there is plenty of restaurants with delicious Greek food.
Car: approx. 1h – Train: approx. 1h5 – Bus: 1h10
9 – Nafplio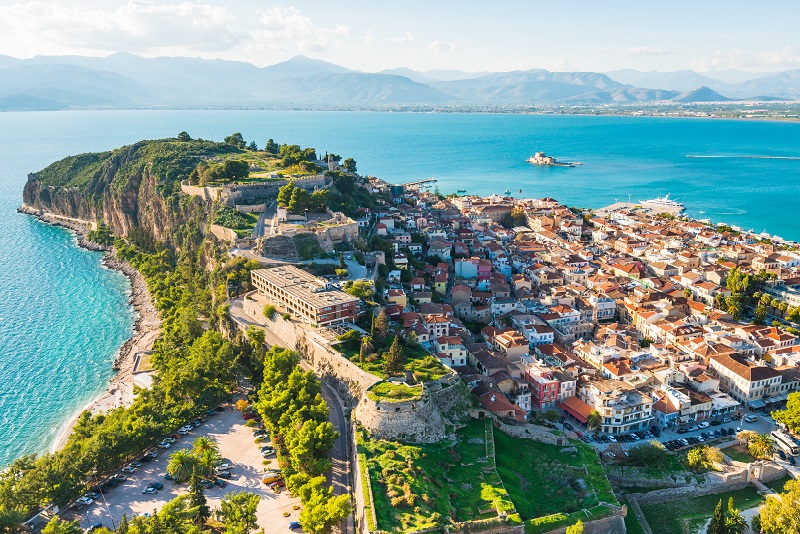 Where is Nafplio?
Located southwest of Athens, Nafplio is a seaport town in the Peloponnese region known for its picturesque atmosphere and interesting history. Indeed, it used to be Greece's first capital until 1834! During Venetian ruling in the 15th century, it used to be dubbed "Naples of the East".
What is there to see and do in Nafplio?
There are many historical sites visitable in Nafplio. Start by the Bourtzi Castle in the middle of Nafplio's harbor. Its construction by Venetians ended in 1473. This military fort was built to shelter the city from pirates and sea-led invasions.
Then, climb the Palamidi Castle. Built in 1686, still by Venetians, it's a majestuous castle built 216 meters above sea level. Hiking shoes required! A mere 999 steps lead to the top of the baroque building where a stunning view awaits.
After such a tiring hike, relax on one of Nafplio's magnificent beaches. Then it's a question of taste: the city has both pebbled and sandy beaches! Whether it's Karathona, Neraki or Arvanitia beach, the water will be clear as day!
Get a little bit artsy and visit the Museum of Worry Beads. Those bracelets are used to pass time and are emblematic of Greek and Cypriot culture. In this museum, learn everything there is to know about them. With more than 700 different types of rosaries, there are several influences to them: Orthodox, Muslim, Buddhist etc.
Car: 1h46 – Bus: 2h10
10 – Cape Sounion
Where is Cape Sounion?
Located southeast of Athens, Cape Sounion is in the Attica region which happens to be a peninsula. It is known for being a symbol of Golden Age Athens where after fighting off Persians, the city thrived politically, economically and culturally. Located near the coast, it's a perfect day trip from Athens and it can be reached by boat tours as well.
What is there to see or do in Cape Sounion?
There are plenty of things to do in Cape Sounion! Of course, enjoy its many beaches such as Akti Asimaki and Pasas. There, many tavernas and seaside restaurants will await and gladly allow people to refuel. Seafood is a staple in Greece, so be prepared to enjoy some excellent fish!
But wait! The main attraction of Cape Sounion is, of course, the wonderful Temple Of Poseidon! It's unmissable; sitting above the sea on the peninsula's headland, the remains celebrate the god of the sea. Made entirely of fine marble, it was built by an unknown architect in the mid 5th century BC.
Car: 1h – Bus: 2h
11 – Epidaurus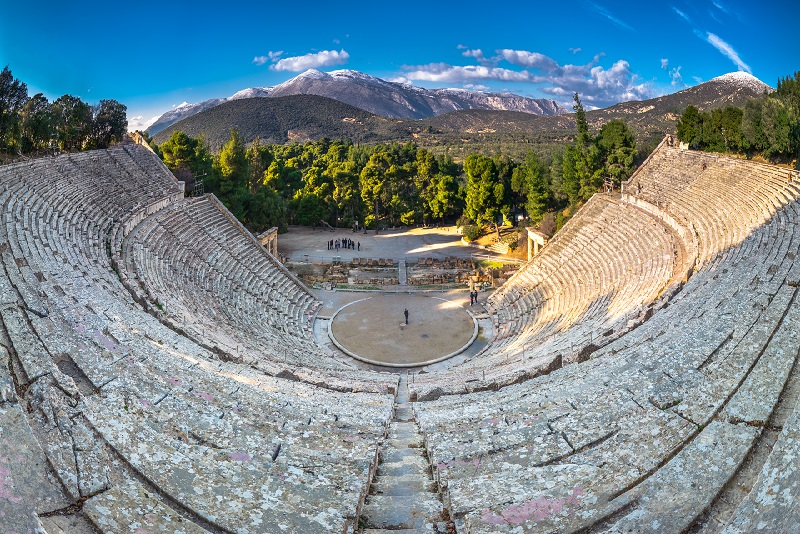 Where is Epidaurus?
Separated by the Saronic Gulf, Epidaurus is a sanctuary located west of Athens on the Argolid Peninsula. It is known for its spectacular Ancient Theater which, fortunately, is still in use to this day (the Athens Music Festival takes place here)!
What is there to see or do in Epidaurus?
Indeed, designed by Polykleitos the Younger in the 4th century BC, it has a capacity of a mere 14 000 people and has excellent acoustic! On stage, a fly could practically be heard from the last row.
But the theater isn't the only place worth visiting in Epidaurus. Also, visit the Sanctuary of Asklepios which celebrates the god of medicine. Then, under a field of olives trees, stop by the little theater where performances, political and religious meetings used to take place.
Car: approx. 1h55 – Bus: 2h15
12 – Hydra
Where is Hydra?
Located south of Athens, Hydra is an island on the Saronic Gulf. Part of the Saronic Islands, it is known for being one of Greece's great maritime power of the Mediterranean Sea in the late 18th century. Nowadays, the picturesque island is a highly touristic spot, mainly visited on day trips from Athens. Its pristine white architecture and surrounding nature make for one of those nice and calm day trips from Athens!
What is there to do or see in Hydra?
Hydra has beautiful beaches if your idea of a well-spent afternoon takes the form of sunbathing! However, be aware that all of them are pebbled.
Also, strolling in the old town is a must! As said before, the architecture is lovely but you're most likely to stumble upon cute authentic cafés to sip refreshments on. Also, one particularity of the island is its absence of cars. Indeed, to get around, either walk by foot or horse and donkey rides! When arriving at the port, several people should suggest horse and donkey tours. Don't be afraid and try it!
Ferry (from Piraeus): 2h
13 – Lake Vouliagmeni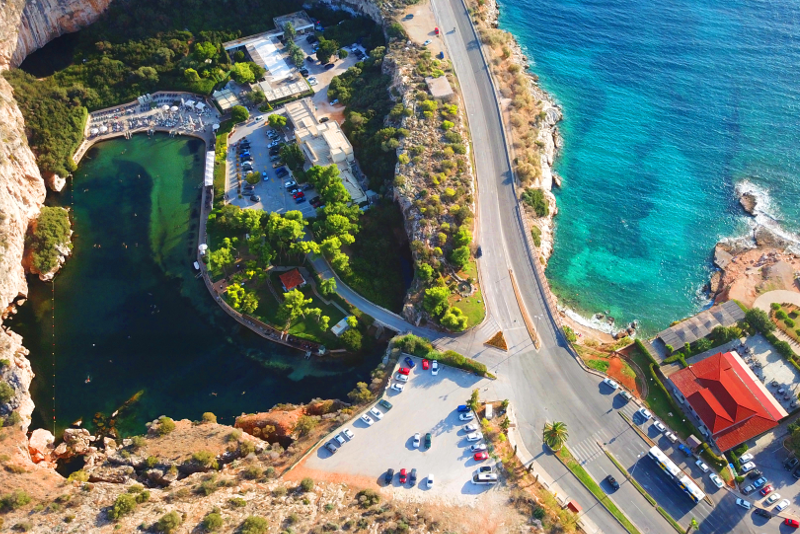 Where is Lake Vouliagmeni?
Located south of Athens, Lake Vougliameni is a true gem of nature. The lake's water, which is a mix of salt and pure water, is known for having various therapeutic proprieties.
What is there to see and do in Lake Vouliagmeni?
The lake is actually the visible part of a cave. There used to be a "roof" over it but it fell after erosion's pressure. It's supplied by both the sea, which is nearby, and a thermal source. That means that even during winter, the minimal water temperature is 22 degrees. Ideal if visiting early in the season and seawater isn't warm enough!
Moreover, it hosts a rich ecosystem comprising of little fish named Garra Rufa that'll feed on feet' dead cells and leave it rejuvenated. Ticklish folks, beware! Additionally, the water is rich in calcium, sodium, lithium, potassium and many more elements with lots of virtues. The perfect compromise to treat well yourself!
Car: 20 minutes – Bus (122 line): 1h30
14 – Eleusis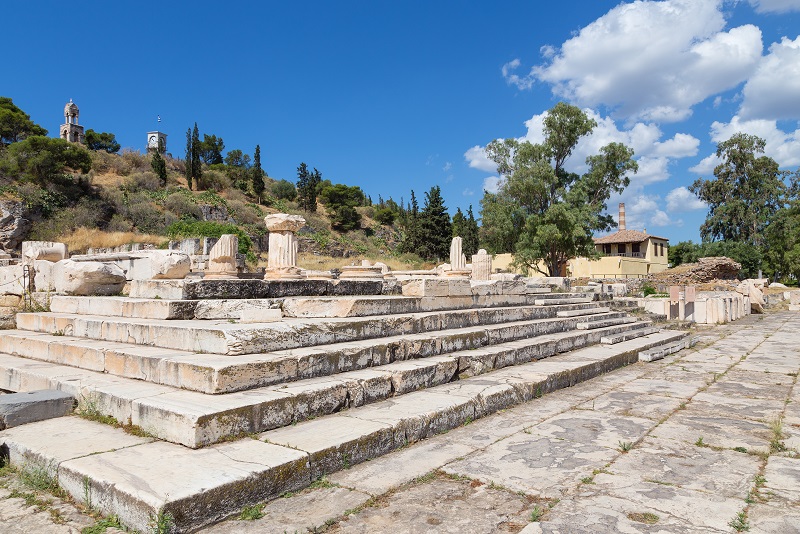 Where is Eleusis?
Located northwest of Athens, Eleusis is a city in the Attica region. It's known for its rich Ancient history as well as its modern industrial development.
What is there to see and do in Eleusis?
Of course, don't miss Ancient Eleusis where there is plenty to see. From the Sacred Court where pilgrims gathered to offer gifts to the goddesses to the Triumphal Arches built A.D 129.
Also don't miss out on the Archeological Museum of Eleusis which was built in 1889 to house excavated finds such as the Rheitoi relief, headless statue of Demeter, marble statue of Antinos and the Eleusis amphora. If a history junkie, then definitely check Eleusis!
By car: 30 minutes
15 – Poros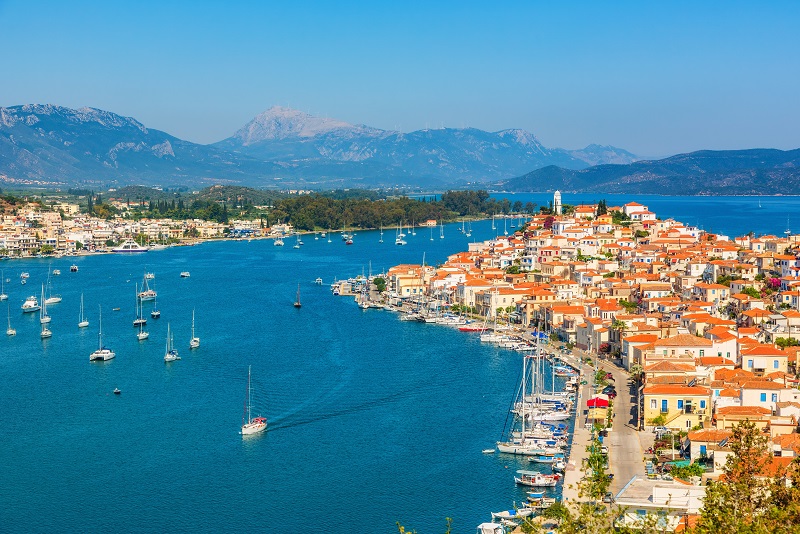 Where is Poros?
Located south of Athens, Poros is an island-pair on the Saronic Gulf. Part of the Saronic Islands, it consists of two islands; the Northern and largest part called Kaulaureia and the Southern of volcanic origin called Sphairia with a bridge connecting the two. Rich with vegetation, the North is mostly scrubby while the South is wooded. Just like Hydra, it's a popular destination for Athenians and tourists alike looking for a day trip from Athens to a Greek island.
What is there to see and do in Poros?
When arriving, the first thing visible is the Poros clock tower. Built in 1927 on the top of the highest hill, don't hesitate to climb it to enjoy an astounding view! Additionally, and as opposed to Hydra, Poros has sandy beaches such as Askeli, Kanali or Monastiri. All of them are either accessible by foot, boat, car or public transports. Also, visit the great Monastery of Poros! It was founded in 1720 by the Archbishop of Athens right after he got miraculously cured of a crippling disease by drinking water springing not too far.
Ferry (from Piraeus): approx. 1h10
16 – Thermopylae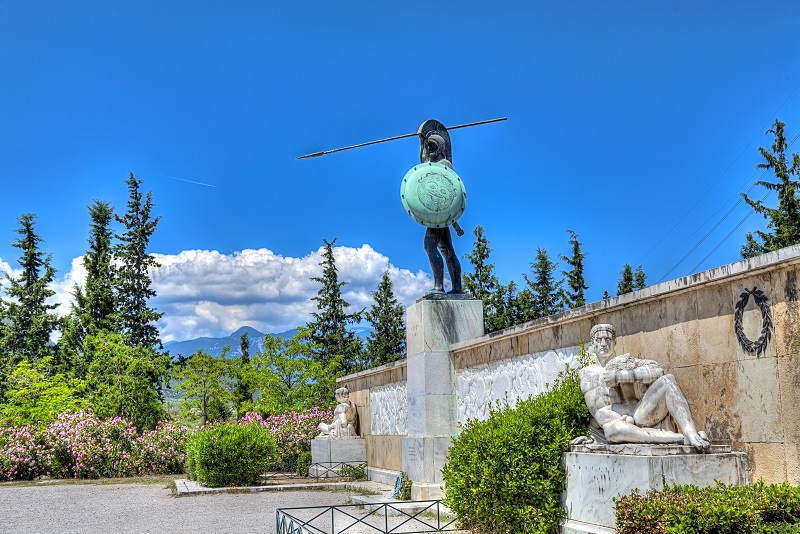 Where is Thermopylae?
Located northeastern of Athens, Thermopylae is an archeological route in Central Greece. It's most famous for the battle of the same name that took place 480BC. There, 300 Spartans led by King Leonidas fought off the army of the Persian King Xerxes. Perfect for hiking, there is much to see and do in Thermopylae!
What is there to see and do in Thermopylae?
Of course, start by the Battle of Thermopylae's site! Back in antiquity times, it was the strategical route to take for large armies in other to reach the southern part of Greece. Trek on the famous and historical path that saw many bloodsheds!
Then admire the monument that was erect in the honor of King Leonidas. It celebrates Greece's military achievements against invading forces. It is located where the historical battle ended, just opposite the hill of Kolonos.
Finish the day and relax in the village's spa resort. After all, Thermopylae translates to "the hot gates". Indeed, they were believed to be built at Athena's request by Zeus' son, Hephaestus. We don't know whether that's true but what's sure is that hot springs still gush out at the bottom of the cliff to this day. Go on, take a dip in the therapeutical water!
Car: 2h – Train: 2h35 – Bus: 3h13
17 – Glyfada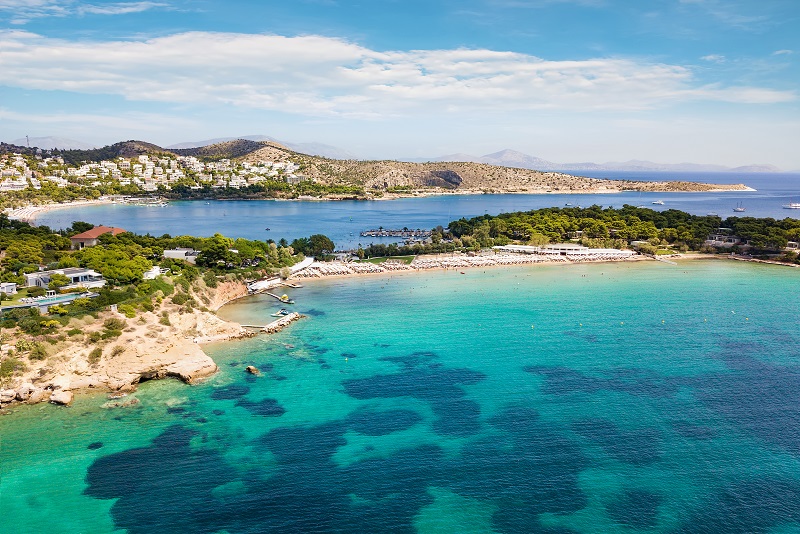 Where is Glyfada?
Located just south of Athens, Glyfada is a city that is known for its lavish lifestyle. Indeed, it has been dubbed "Greece's Beverly Hills" because so many celebrities, politicians and millionaires reside there.
What is there to see and do in Glyfada?
Glyfada is conveniently located on Athens Riviera, which means that it has a seafront. Of course, visiting the beach is a must but keep in mind that everything is more expensive here. Try Astir Vouliagmeni which has excellent facilities.
The area is also known for having kilometers of high-end stores. A little luxury has never hurt anyone, let yourself be tempted by Moncler, Phillip Plein, Mykita and many more luxurious brands that are missing anywhere else in Greece.
Of course, any city with rich people has a golf course. Placed just near the sea, the Konstantinos Karamanlis Gold Course will offer a beautiful view to play!
Car: 15 minutes – Tram (line T4): 45 minutes – Bus: 55 minutes
18 – Aegina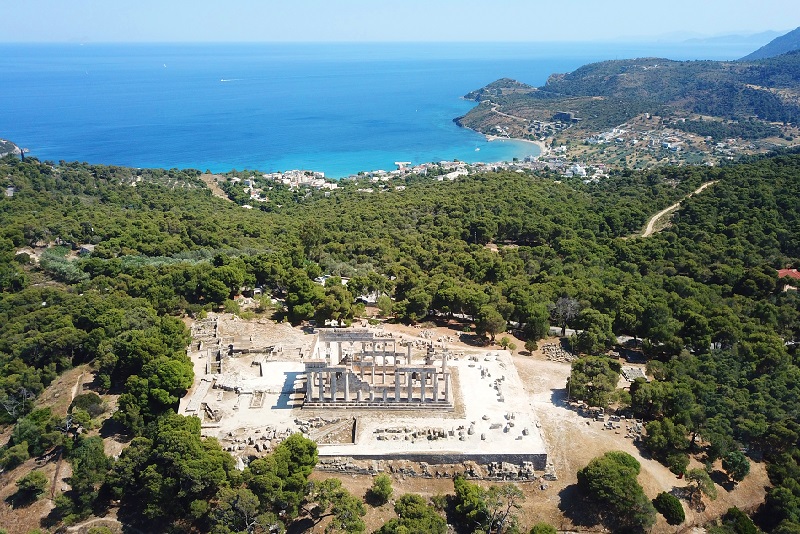 Where is Aegina?
Located south of Athens, Aegina is an island on the Saronic Gulf. Triangular shaped, it's one the most popular island out of the Saronic Islands. Many day trips from Athens head to Aegina. Aegina is most famous for the Temple of Aphaia.
What is there to see and do in Aegina?
Once arrived at Aegina port, start by visiting the main town! Walk along the pier with its fishermen boats and admire the Agios Nikolaos church. The streets there are picturesque and filled with cute little cafés, tavernas and other authentic Greek boutiques. Also, don't forget to taste Aegina's famous pistachios! Indeed, Greece is the world's first producer of pistachios and Aegina is a great export.
Then of course, visit the Doric Temple of Aphaia. The goddess of light was believed to be of extreme beauty and much to her discontent, many men tried to pursue her. Thanks to the help of Britomartis, the goddess of hunting, she became invisible and thus the temple was built on the spot she disappeared.
Relax at Agia Marina beach. It's probably the most popular beach on the island. Indeed, its long stretch of sand allows a nice relaxing afternoon. Don't forget to take a dip in the crystal clear waters!
Ferry (from Piraeus): 50 minutes
19 – Agistri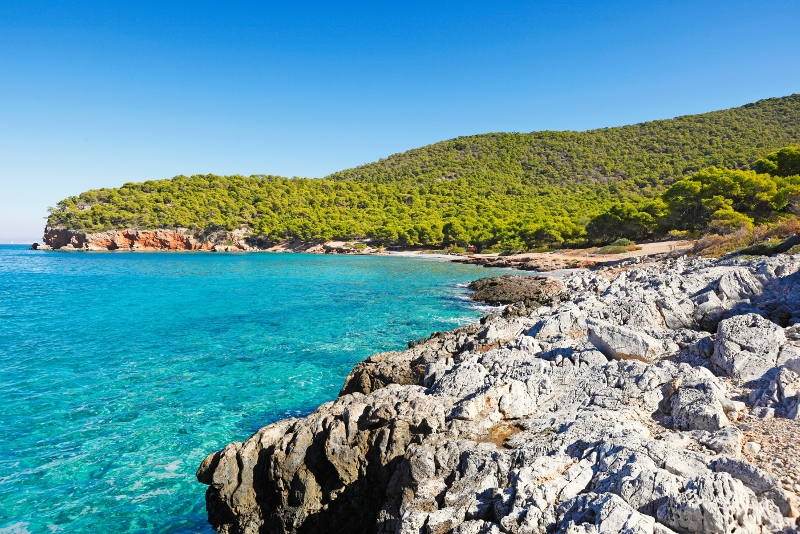 Where is Agistri?
Located south of Athens, Agistri is the smallest of the Saronic Islands, but it could be a great day trip from Athens! It's a tiny island with a little over 1,000 inhabitants so it's not very touristy.
What is there to see and do in Agistri?
Agistri is a nice laid-back day trip for people looking to fly mass tourism. Indeed, the island isn't the most popular but its several beaches, which are uncrowded, should be nice spots! The trick is to rent a scooter or a bicycle and visit every one of them – Skala, Megalochori, Skliri and Chalikiada. As the island is super tiny, it shouldn't take an eternity!
Then head back to the main town, Skala, where all of the few tourist facilities are – hotels, tavernas, cafés, souvenir boutiques…
Finally, for just 25e a 90-minute ride, go horseback riding in the southern half of Agistri!
There are many boat trips from Athens going to Agistri and the other Saronic Islands.
20 – Santorini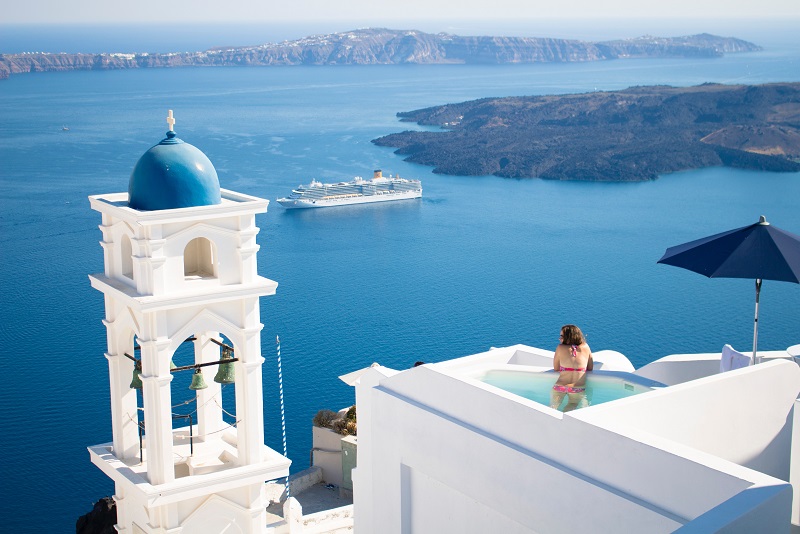 Where is Santorini?
Of course, how can one talk about amazing day trips from Athens without mentioning the beloved Santorini? Located south of Athens on the Aegean Sea, Santorini is too far for a day trip from Athens, but it can be reached on a multi-day trip from Athens. but the place is so magical we couldn't miss it. It's characterized by its famous and marvelous pristine white and blue architecture.
What is there to see and do in Santorini?
First, take a dip in the Red Beach! Yes, red. Because the island is volcanic, its beaches are fairly atypical. Its sand isn't gold nor white and the area isn't surrounded with majestuous palm trees. Instead, it's red and surrounded by copper-colored cliffs. Want to feel like sunbathing on mars? Then it's definitely the beach to go! Or, if more of an Edgar Allan Poe fan, try Kamari, Perivolos and Perissa beaches with their black and grey sand…
Then, head to Akrotiri or, as people like to call it, the Greek Pompei. Indeed, it's an archeological site where Santorini's eruption effects on Minoan civilization more than 3 500 years ago is visible! Then, head to the Sigalas winery and taste wine from one of the oldest wine production in the whole world. Or again, hike in the beautiful towns of Fira and Oika and take in the unforgettable, distinguishable architecture of Santorini. There are so many things to do in Santorini that you'd need a month to try everything!
By plane: 45 minutes
21 – Nemea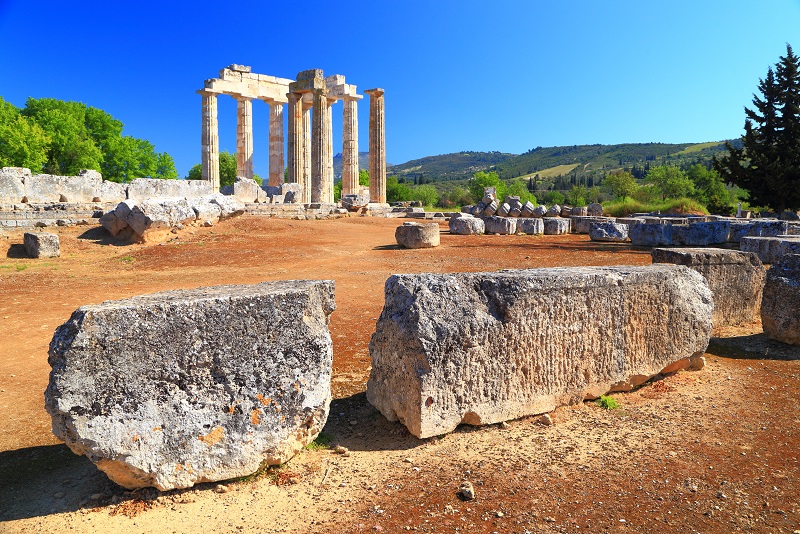 Where is Nemea?
Located west of Athens in the Peloponnese region, Nemea is one of a kind. Indeed, the archeological site of Nemea lies just west of the picturesque town with a wine country of the same name. One of those amazing day trips from Athens for both history and wine aficionados.
What is there to see and do in Nemea?
First, head to the archeological site with remains of where the Nemean Games used to take place. Those were held every two years in the honor of Zeus and had a gymnastic and equestrian part. Also, visit the Museum on the site where it's possible to ask as many questions as possible to understand the site's history.
Then to end the day trip, stop by the many wineries of Nemea, Peloponnese's most important wine-country. Gaia Wines, Palivos Estate, Semeli Winery, Domaine Spiropoulos and many more! It's basically impossible to run out of wineries to visit. The only constraint might be how well you hold your wine!
Car: approx. 1h25 – Bus: 3h10 – Train (then taxi): 1h35
22 – Mount Parnitha National Park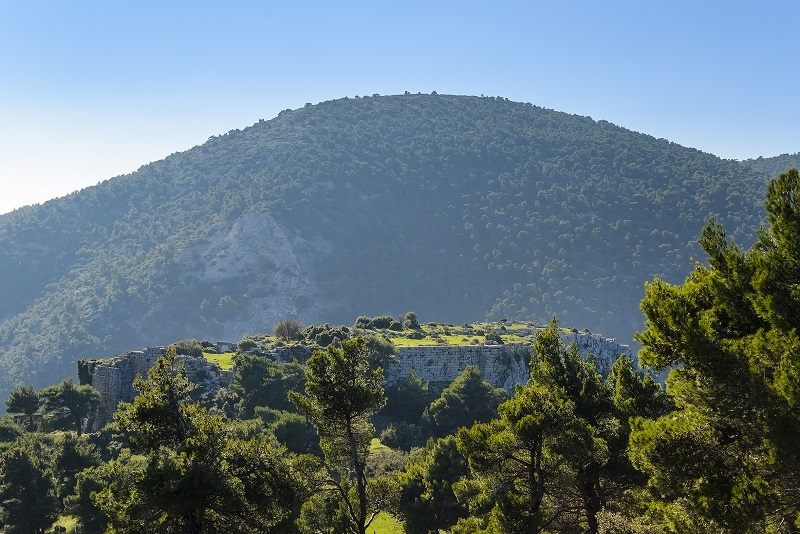 Where is Mount Parnitha?
Located northwest of Athens, Mount Parnitha is a national park. Its characteristics are vast and full pine trees, over 800 plant and herb species and 30 mammal species (foxes, rabbits, deers etc…).
What is there to see and do in Mount Parnitha?
Mount Parnitha is perfect for those adventurous nature lovers searching for a great spot to hike and observe fauna and flora. There are hundreds of footpaths available to explore this impressive national park!
While strolling (or riding a  bike!) the area, find the Filis Fortress which is located at an altitude of 687 meters or the Panos Cave which is only accessible through a gorge. There, encounter stalagmites and stalactites!
Oddly enough, there is also a casino which is open 24/7. If you ever want to combine your hiking with your gambling.
By car: 1h15
23 – Spetses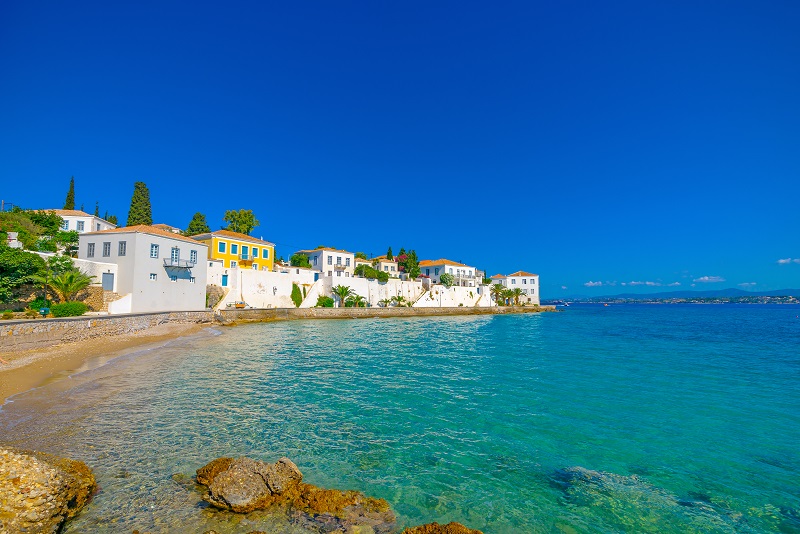 Where is Spetses?
Located southeast of Athens in the Attica region, Spetses is one of those wonderful Greek islands! Often considered as part of the Saronic Islands, it's an appealing tourist destination and a nice getaway from crowded Athens.
What is there to see and do in Spetses?
First, stop by the picturesque Old Port surrounded by magnificent building of classical, neoclassical and modern style.
Then head to the Church of Panagia Armata. There, admire massive paintings of Koutsis narrating the 1822 epic battle against the Muslim Turks.
And why not visit the Spetses museum? Discover the rich history of the island which spans the Classical, Roman and Byzantine periods.
By ferry (from Piraeus port): 1h45
24 – Mykonos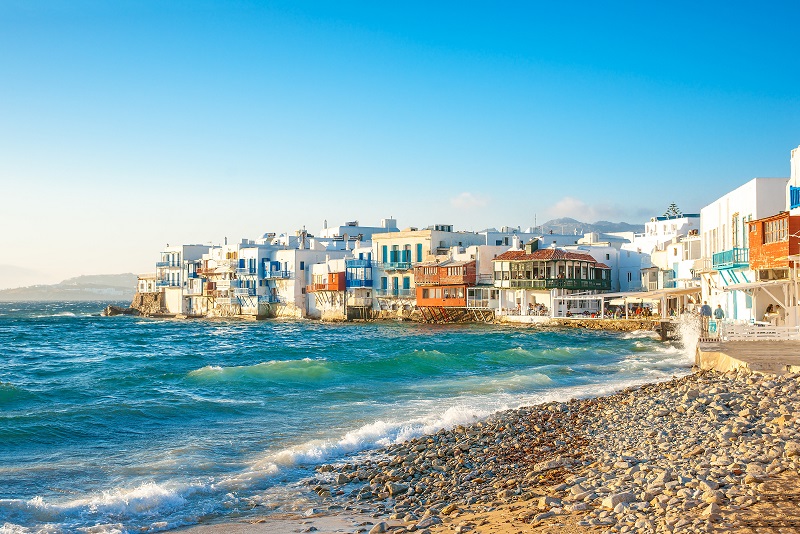 Where is Mykonos?
Located southeast of Athens, Mykonos is another beloved island among tourists! We couldn't make a list of amazing day trips from Athens without mentioning Mykonos. It's especially the right destination for party animals. Indeed, the island is known for its restless nightlife. Yes, rest assured: the night is always young in Mykonos!
What is there to see or do in Mykonos?
Start off by walking around the Old Port. With its many cafés and seaside restaurants facing the water, it's a nice place to relax. Then, catch a ferry to Delos island which is a UNESCO World Heritage archeological site. There, find Apollo's sanctuary as well as his and Artemis' temples. Multiple interesting archeological spots surround this interesting uninhabited area!
When back from Delos, also stroll around Mykonos town. Discover its enchanting architecture with the pristine white walls and colorful roofs. The city's center is ideal for shopping, but, bear in mind, that it could get a bit pricey! Find many cute terraces and bars to sip fresh cocktails on.
But it's when the sun goes down that things get interesting! Get dressed and bar hop in Little Venice! Built on the edge of the sea, all the houses there have been turned into restaurants and bar. Then head to the notorious Paradise Club and dance the night away! Spice things up and rent a yacht to enjoy the sea! Take a look at the full list of things to do in Mykonos.
Ferry (from Rafina): 2h15 – Plane: approx. 3h30
25 – Kythnos
Where is Kythnos?
Located south of Athens, Kythnos is an island in the Aegean region. With more than 70 beaches and its narrowly paved picturesque towns, Kythnos is a dreamy destination for people looking for chill day trips from Athens!
What is there to see and do in Kythnos?
When arriving at Kythnos, find yourself on the Loutra Port where many tavernas, restaurants and bars will await. Then, head to the capital of Messaria and stroll down its artful streets! Admire paintings by locals and of course, Greece's typical pristine white architecture.
Try the town of Loutra which is famous for its hot springs! Dip into the hot, relaxing and therapeutical groundwaters. Also, stroll down the streets of Dryopida and shop for ceramic souvenirs! Indeed, the town is known for its cute ceramic production. Also, visit the sumptuous Agios Mina church with its hand-crafted bishop's throne.
Head to the highly popular Kolona beach. Heaven-like, there's a narrow strip of fine and light sand right in the middle of the sea which gives the impression of two separate beaches.
Car (to Laurio) + Ferry: 3h36
26 – Olympia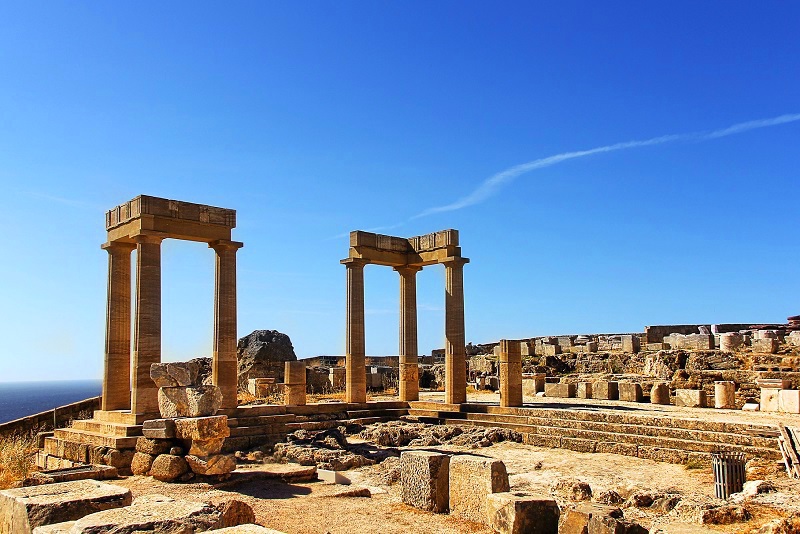 Where is Olympia?
Located in the Western Greece region, Olympia is a small town on the Peloponnese peninsula. It is most known for its archeological site of the same name and makes one of those amazing day trips from Athens.
What is there to see and do in Olympia?
If a history lover, Olympia is definitely the place to be. Indeed, it's probably one of the most important archeological site of Greece. That's because the area hosted the famous Olympic Games. There, athletic events took place every four years to celebrate Zeus. Nowadays, watch the remains of ancient temples, a stadium and of course, its archeological museum. There, everything there is to know about the Olympic Games will be taught. Without further ado, get to the birthplace of competitive sports and add one of those amazing day trips from Athens to your list!
Car: 3h30
27 – Kaisariani Monastery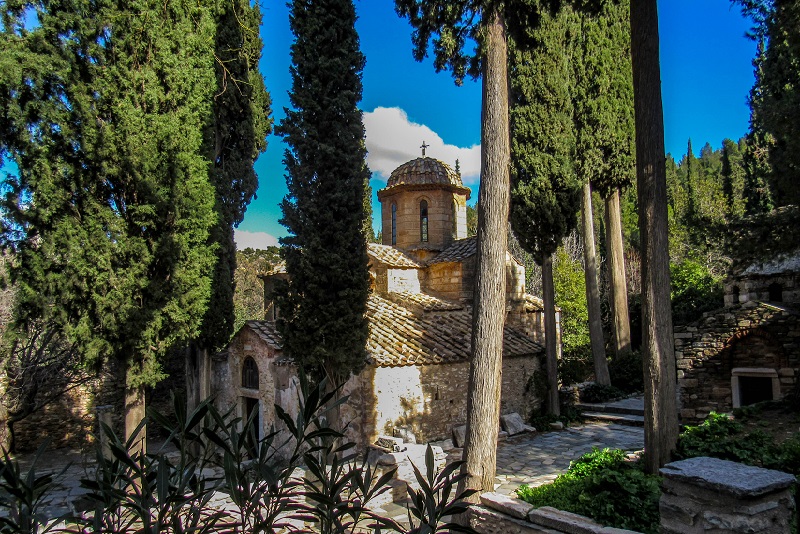 Where is Kaisariani Monastery?
Located on Mount Hymettus just southeast of Athens, the Kaisariani Monastery is a vestige of the Byzantine era, specifically in the 5th century.
What is there to see in Kaisariani Monastery?
Kaisariani is an Eastern Orthodox monastery standing on a site that used to be a place of Pagan worship since Antiquity. Indeed, a shrine of Aphrodite used to stand there while nowadays, it's the Virgin Mary that is revered there.
There's no need to be religious to enjoy the beauty of the monastery with its magnificent frescos on the dome's ceiling. Additionally, it's an ideal day trip from Athens if visiting during spring since picnicking on the surrounding grass is possible. The beautiful scenery surrounds it!
By car: 28 minutes – By bus (224 to Benizelou – Kaisariane): 27 minutes
28 – Mystras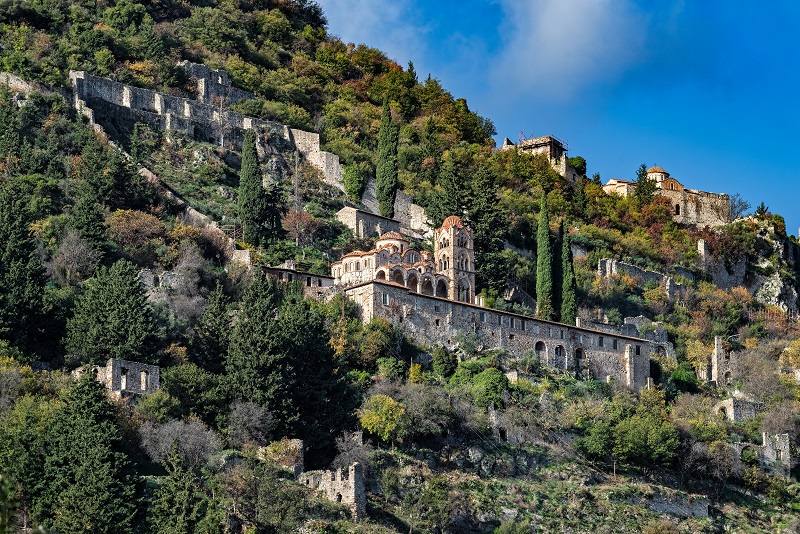 Where is Mystras?
Located east of Athens, deep in the hills of Sparta, Mystras is a fortressed village. It's completely uninhabited, and the remains are available for visitors to observe.
What is there to see and do in Mystras?
Mystras has a very rich history with astounding architecture dating back to the Byzantine Despotate of Morea era when it was its capital.
Wandering through the castle city is an incredible experience that will leave anyone feeling like royalty. From the Palace of the Despots to the beautiful Cathedral of Saint Dimitrios, the spots to explore are numerous!
Before leaving, don't forget to check out the town's archeological museum to fully grasp the area's history.
By car: 3h – By bus (from Kifissos KTEL Bus Station): 3 hours
Boat tours from Athens – Aboard a yacht and explore the fabulous Greek islands nearby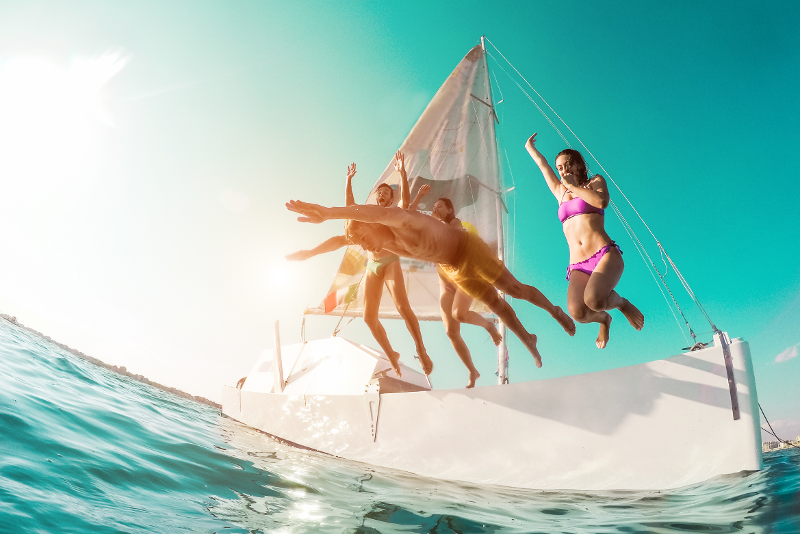 As Athens is situated in the center of Greece, visitors can easily visit an island for a day.
Head to the Piraeus port and enjoy a fantastic boat tour. Escape the hustle and bustle of Athens and spoil yourself for a day with an unforgettable boat tour. You may visit the Saronic islands or sail along the coastline, there are many boat tours options.
Hope you enjoyed this list of day trips from Athens. Don't hesitate to comment below if you have any other recommendations or some questions.
Check out our article about the top things to do in Athens to discover the best to do in the city.
Enjoy Greece 🙂