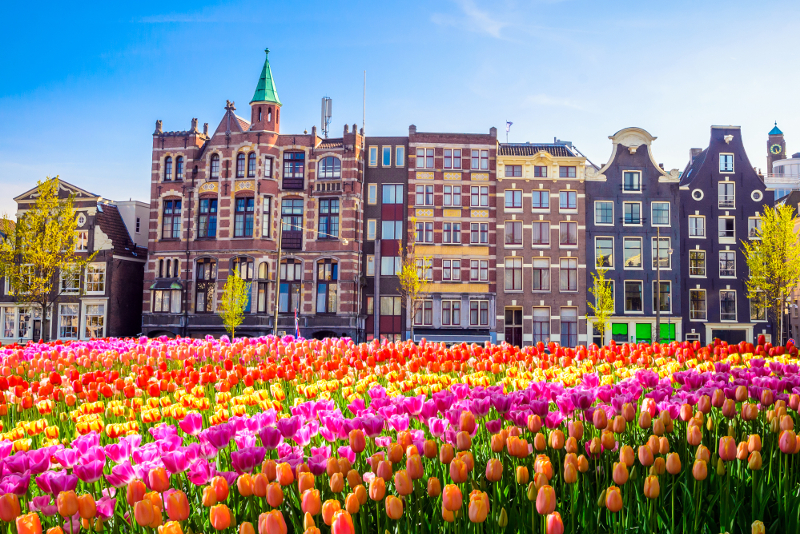 The capital of the Netherlands has so much going for it that it's embarrassing. You've navigated picturesque canals, visited treasure-filled museums and seen jaw-droppingly beautiful modern and historical architecture. Now it's time to venture a little further to see more of the country by taking day trips from Amsterdam.
From well-preserved ancient castles and picturesque fishing villages to an open-air museum of windmills and fields awash with tulips, here are our top picks of rewarding trips out of the city.
1 – Gouda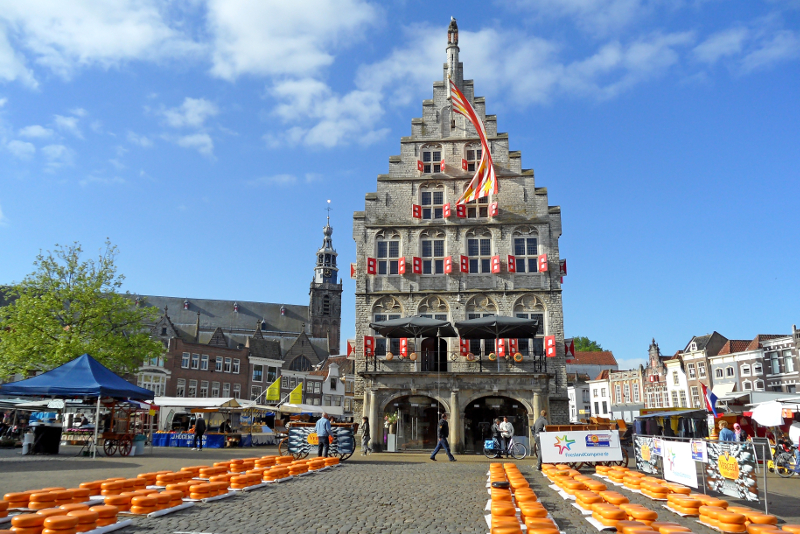 Gouda is the birthplace of one of the Netherlands' most famous food exports, Gouda cheese. It may smell like old socks, the cheese not the city, but it accounts for the majority of the country's cheese production.
However, there's much more to this attractive Dutch country place than its namesake yellow cheese. Tour the centuries-old historic centre, marvel at the stained glass windows of the Gothic church of Sint Janskerk and go boating, walking and cycling at Reeuwijkse plassen, a wetlands area.
2 – Utrecht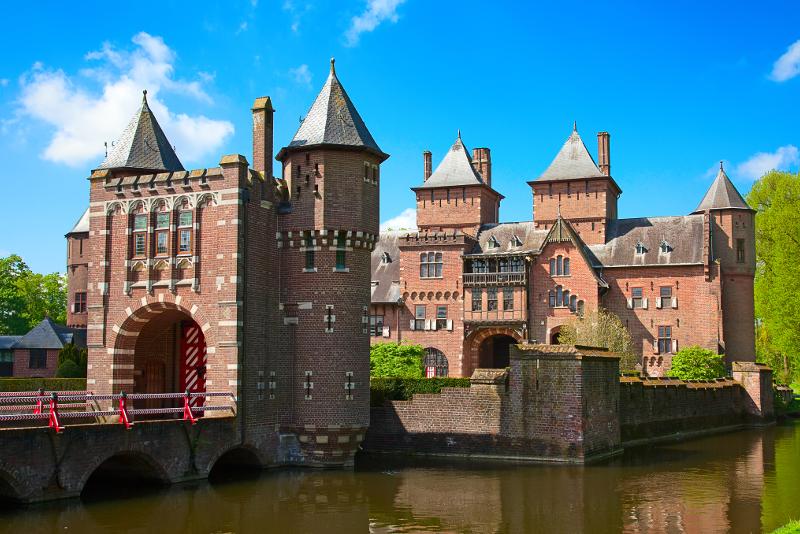 Sitting in the centre of the Netherlands is the city of Utrecht, approximately 50 kilometres from Amsterdam. This is one of the largest cities in the country and features a car-free medieval town centre, canals, street cafés and centuries-old architecture. With lots to see and do here, Utrecht is a fascinating and fun-filled day out from Amsterdam.
Explore the towers, turrets and ramparts of De Haar Castle, climb up the 112-meter Dom Tower, the tallest church tower in the Netherlands and venture beneath Domplein Square to discover 2,000 years of history. This underground visitor centre called DOMunder showcases archaeological finds from numerous eras including Roman and medieval times.
3 – Giethoorn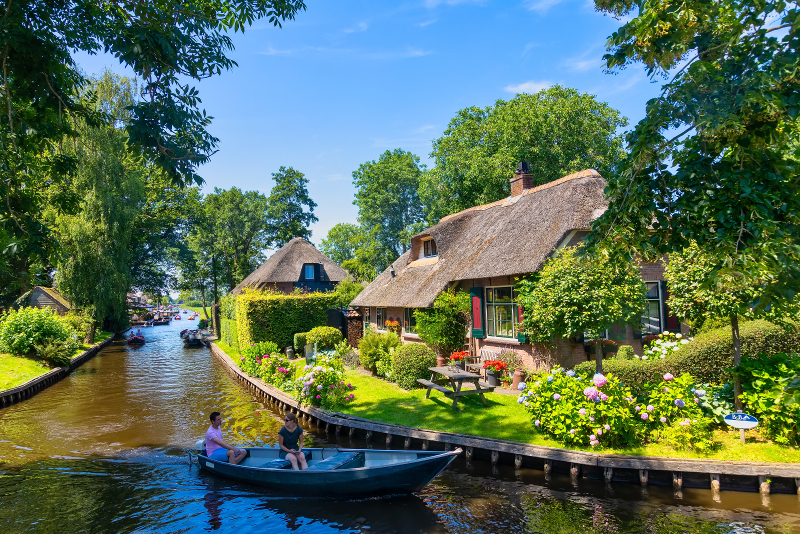 Unwind amid the peaceful environs of Giethoorn, a car-free village that is the centre of Overjissel's canal system. Go on a canal cruise and glide along the waterways, past thatched-roof homes and under bridges. When you are back on dry land, go walking or cycling the village and its surrounding countryside.
Other highlights of this excursion from Amsterdam are the collections of minerals and gemstones at Museum de Oude Aarde and Het Olde Maat Uus Museum. This is a historic farming village with costumed actors that recreate farming life of a century ago.
4 – Rotterdam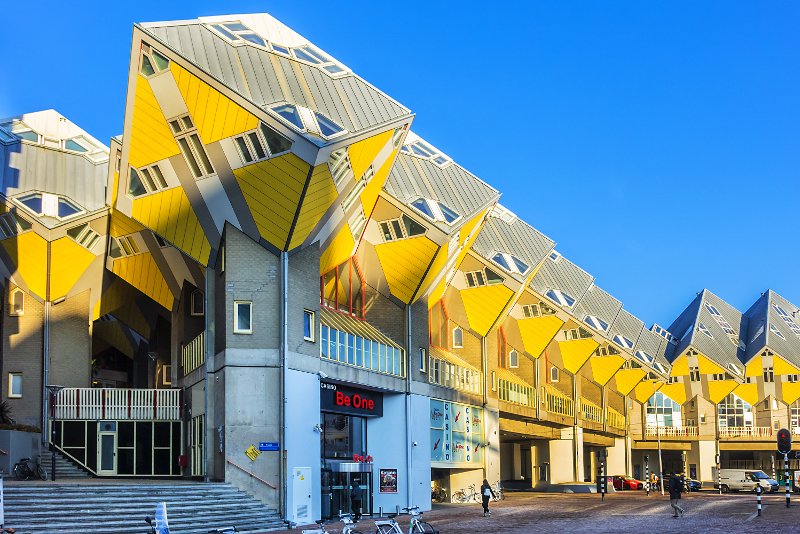 Just an hour's train ride away from Amsterdam is Netherlands' second city, a modern metropolis with a gleaming skyline of skyscrapers and one of the largest ports in the world.  Rotterdam's story is an incredible one. World War II reduced it to rubble but in the years since it has bounced back to become the country's most futuristic city.
Shop in elegant malls, go on a harbour tour, explore modern architecture such as the cube houses and look down on the city from the observation platform of the 185-metre Euromast Tower.
5 – The Hague
Bursting with character and culture, the Hague makes for a fascinating day out from Amsterdam. The city has been the political heart of the country for around 500 years and is the seat of the government of the Netherlands.
The UN's International Court of Justice is here as are many royal palaces. It is also just a stone's throw away from the beach. With museums, shopping streets, galleries and a seaside resort, you'll never be short of things to see and do in The Hague.
The Hague day trips from Amsterdam are ideal for the ones looking for seaside trips.
6 – Alkmaar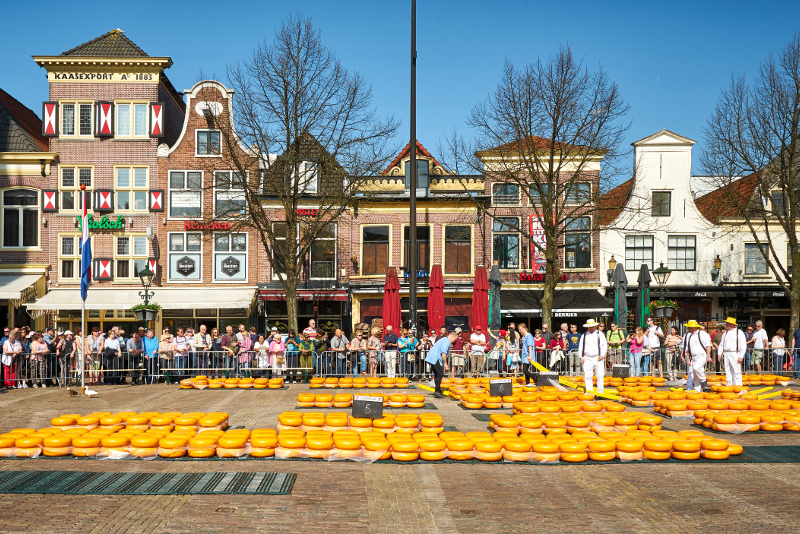 Another great day trip from Amsterdam is Alkmaar, which is fondly known as the "Cheese City". This small historic Dutch city is 40 kilometres north of Amsterdam and boasts an old city centre of centuries-old buildings and canals.
Among its many highlights are discovering the city on a canal boat tour, the Beatles Museum and the cheese market which is held weekly from March until the end of September. It features a fascinating spectacle of Kaasdragers or cheese porters hauling circular chunks of cheese. For some sun-kissed relaxation make tracks for the nearby beaches and sand dunes.
7 – Zaanse Schans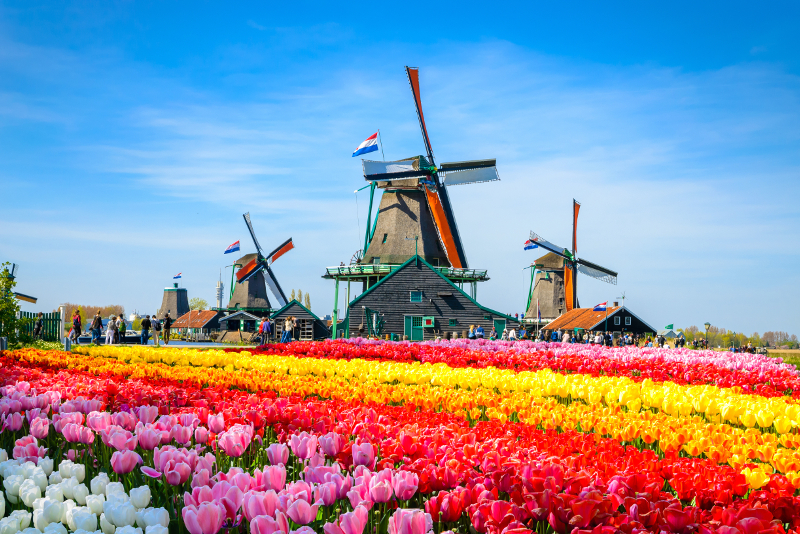 Visiting the neighbourhood of Zaanse Schans in Zaandam is like stepping back into the past. And that's the intention. Historical 18th and 19th-century windmills were relocated here to conjure up an image of the Netherlands of yesteryear. During this day trip from Amsterdam visit functioning windmills, see wooden clogs being made in workshops and taste cheese at a cheese farm when you tour this recreation of an old Dutch village.
8 – Keukenhof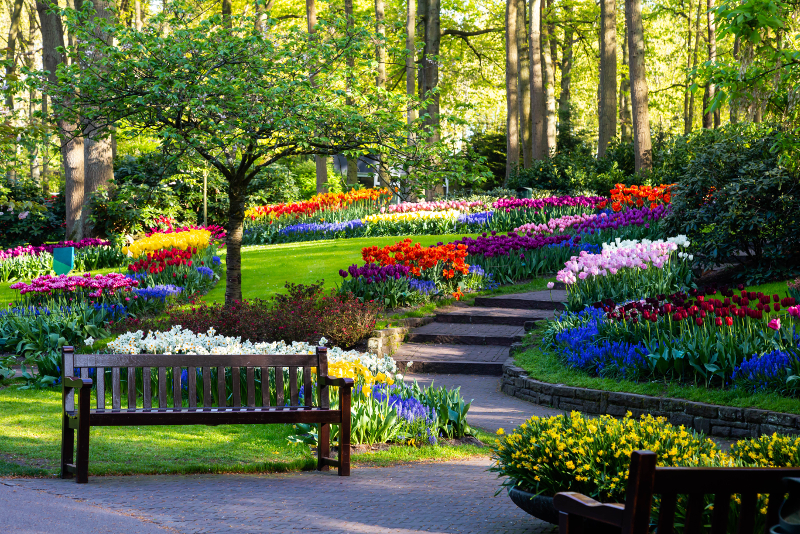 Nicknamed "the Garden of Europe", Keukenhof is one of the largest flower gardens in the world, a botanical wonderland of more than seven million bulbs that bloom in spring. Follow your nose through 32 fragrant and flower-filled hectares to see daffodils, orchids, roses and more than 800 varieties of tulips. Other attractions include a petting farm, maze and playground.
Keukenhof is less than an hour's drive from Amsterdam and is open for two months every spring. Keukenhof gardens are one of the most famous day trips from Amsterdam.
9 – Haarlem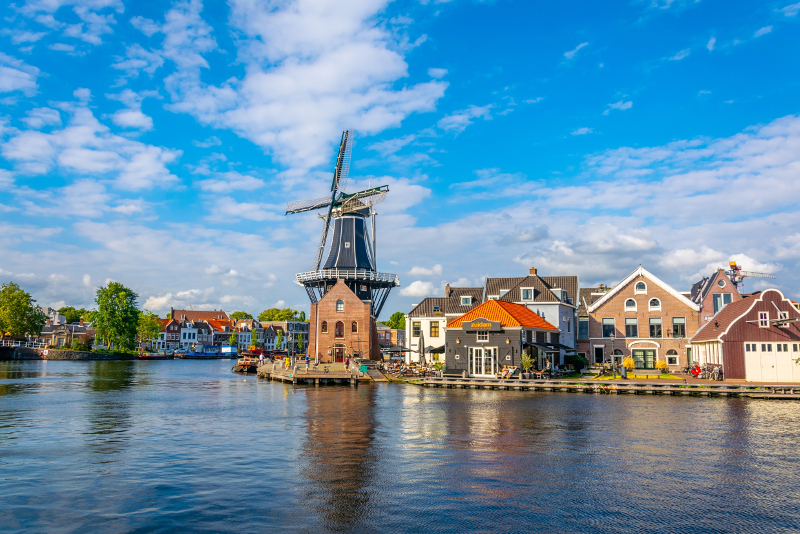 The capital of North Holland is a picture-postcard-perfect quaint town of canals, cafés, markets, churches, breweries and cycle paths. Explore the city by cruising the calm waterways of its many canals and by walking or cycling through scenic streets that have retained their medieval character.
Among the sights to see are the Frans Hals Museum, 'hofjes' or hidden courtyards and the staggeringly beautiful Cathedral of Saint Bavo.
10 – Leiden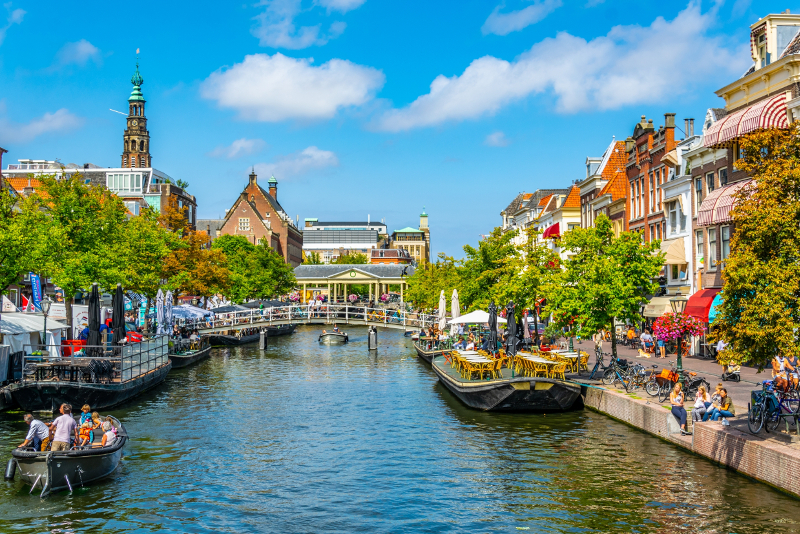 The Dutch city of Leiden has a number of claims to fame in addition to its spectacular landmarks. It is the birthplace of several painters including Rembrandt, Jan Steen and Jan van Goyen and is the location of Leiden University. Founded in 1575 by William, Prince of Orange, this is the oldest university in the country.
Make Leiden your base for at least a day to cruise down its canals, study Egyptian artefacts in the National Museum of Antiquities and tour the Molen de Valk Windmill Museum. Pick up insights into the story of milling in this 29-meter 18th-century flour mill.
11 – Muiderslot castle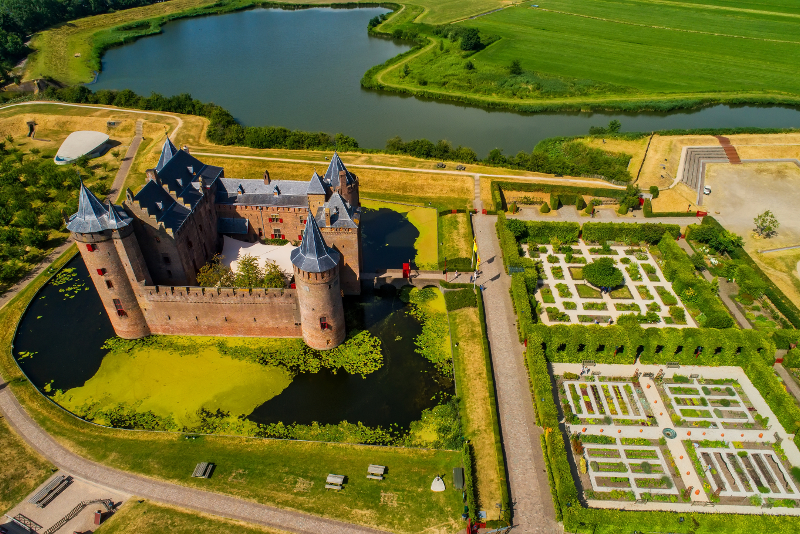 One of the easiest day trips from Amsterdam is Muiderslot castle, a 13th-century fairy tale-like medieval stronghold just 15 minutes from the city. This is one of the oldest and best-preserved castles in the country and enthrals with its towers, turrets, moat, drawbridge and grounds.
Embark on a tour of the ancient structure, wander through its fragrant and colourful historic gardens and watch the falconry bird show.
Day trips from Amsterdam to Muiderslot castle are like a ticket back in time.
12 – Volendam & Marken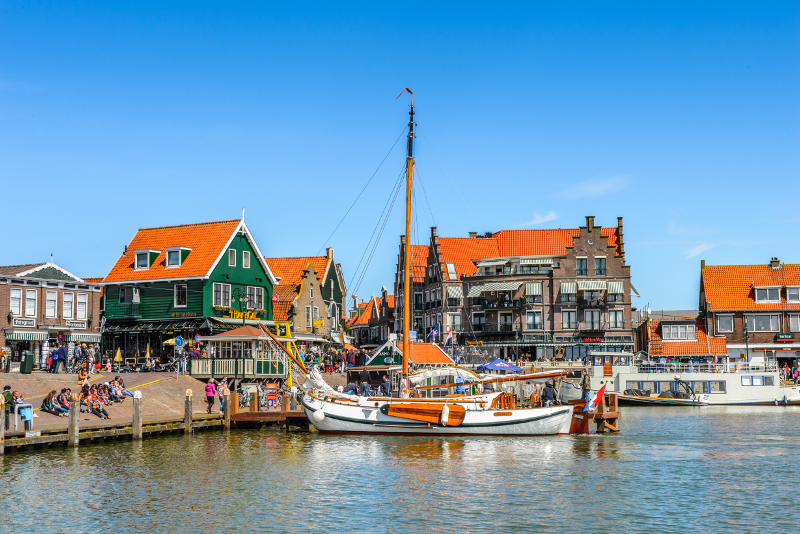 Tuck into a generous slice of traditional life at Volendam, a picturesque fishing village of colourful wooden houses on Markermeer Lake. See old fishing boats, learn about village folklore and history in its museums and purchase fresh seafood from the vendors in the harbour.
Then head over to Marken, a small and easily walkable island that has kept old traditions alive, such as clog making.
13 – Bruges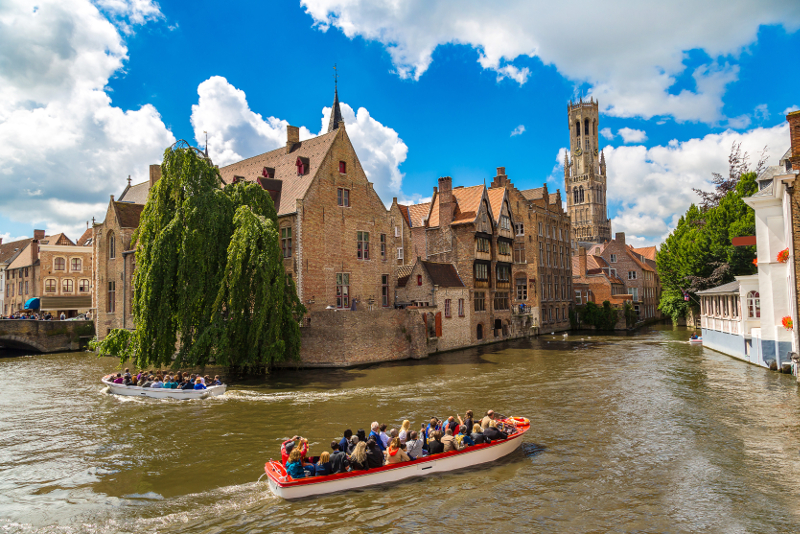 About a three-hour train ride from Amsterdam is Bruges in Belgium, one of the best-preserved medieval cities in western Europe.
There are no shortage of fun things to do in Bruges; explore the beautiful canals, visit the historic landmarks such as the Belfry of Bruges and the Basilica of the Holy Blood, and for the foodes, indulge in delicious Belgian chocolates while strolling through the charming streets of Bruges.
14 – Bourtange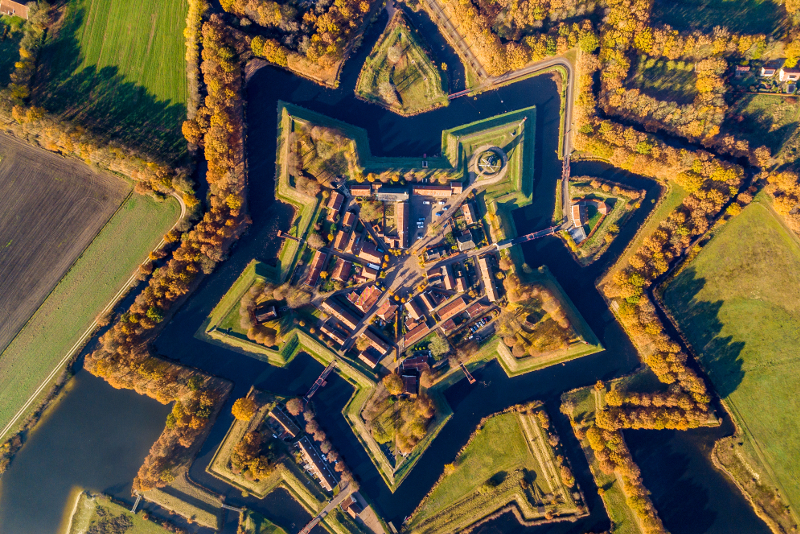 Explore the 16th-century fortified town of Bourtange which lies close to the German border, approximately a two and a half-hour drive from Amsterdam. At the heart of the town is a restored star-shaped fortress that was originally built in 1593 and never taken in battle. Tour the fortifications and barracks and watch re-enactments of battles from the Eighty Years' War, also known as the Dutch War of Independence.
During your time in the fort stop by its museums and exhibitions. They include the former synagogue which was built in 1842 and the Captain's House which includes the building's original 17th-century fireplace.
15 – Delft
The fortified old city of Delft welcomes visitors with the twin towers of its city gate which sits by a moat. It has a long history that stretches back to the middle of the 13th century and is a showcase of awe-inspiring architecture that recalls the Dutch Golden Age of the 17th century, a period of great wealth.
Travel back in time and relive the city's past as you wander along canals, visit mansions and museums and tour churches such as the Old Church which originated in the 11th century.
16 – Lisse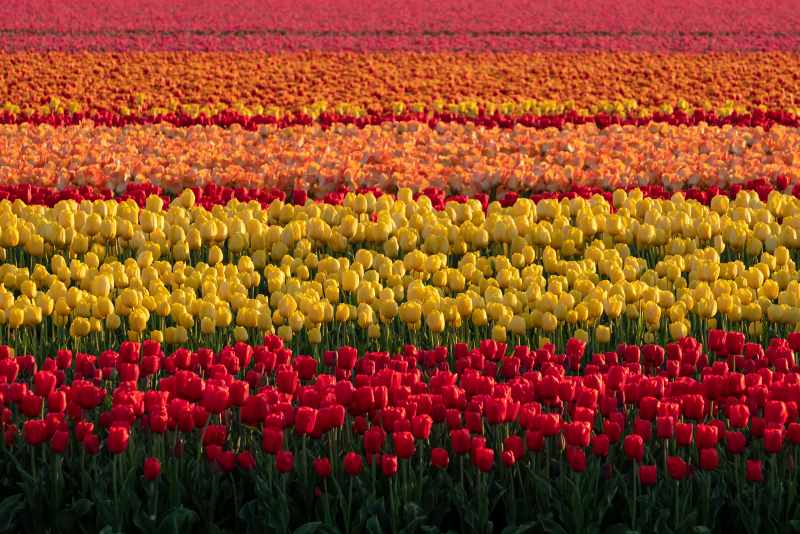 Lisse's shining jewel may well be Keukenhof, one of the largest flower gardens in the world, but there's much more to the town than its floral paradise which is only open for two months every year. Visit the 17th-century Keukenhof Castle, stop by Huys Dever, a small castle from the 14th century and relax in the cafés and restaurants in and around the main square.
17 – Maastricht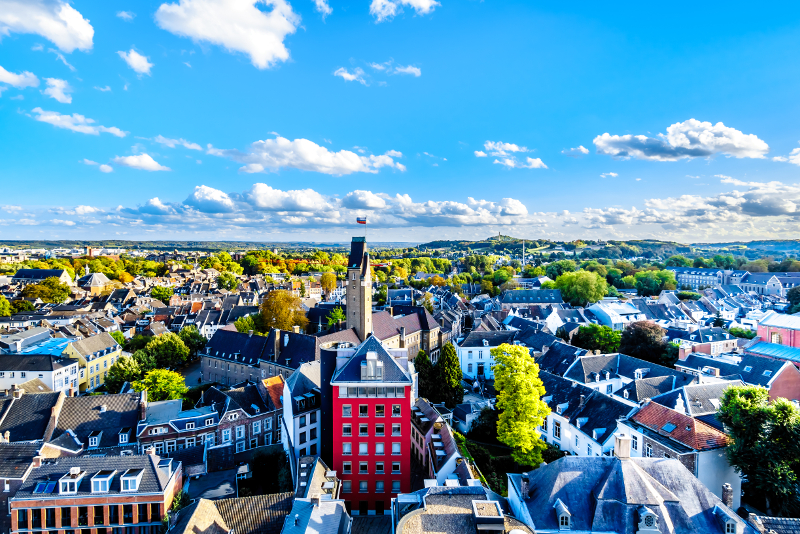 Founded by the Romans in 50 BC, Maastricht is one of the oldest cities in the Netherlands. It enjoys a privileged setting along both banks of the River Maas and is celebrated for its culinary flair.
In addition to exploring the pedestrianised cobblestone old town and visiting such sites as the sixth-century St. Servaaskerk Church, sample the cuisine. Dine on such local specialties as fruit-filled Limburg pies and Hutspot, a dish of boiled or mashed potatoes and vegetables.
18 – Batavia Stad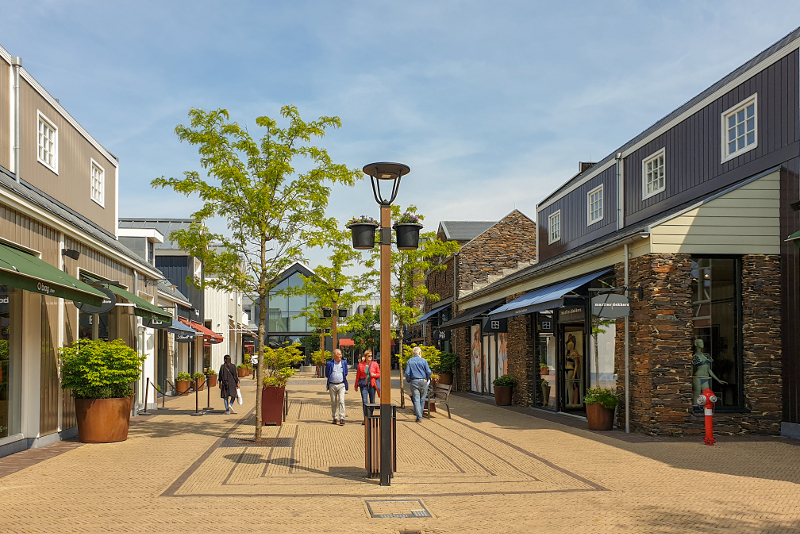 Refresh your wardrobe with a shopping expedition to Batavia Stad. This lakeside fashion outlet mall in the city of Lelystad is less than one hour from Amsterdam and is bursting to the seams with more than 250 international fashion and lifestyle brands. Shop for the latest trends by such world-renowned names as Tommy Hilfiger, Hugo Boss and Michael Kors.
Break up your shopping trip with a meal or refreshments in the shopping paradise's cafes and restaurants. There is also a playground for kids featuring climbing frames, a slide and a giant swing.
Batavia Stad day trips from Amsterdam are ideal for shopping addicts 🙂
19 – Hoorn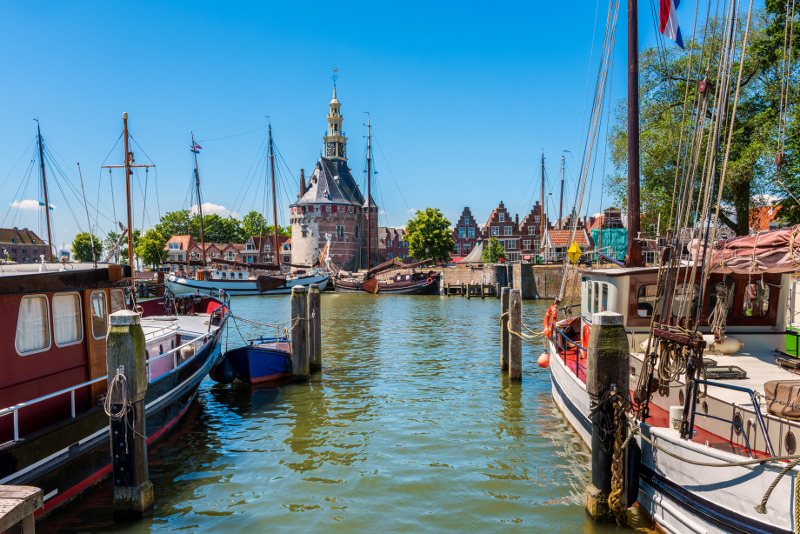 Nestled by IJsselmeer lake is the beautiful city of Hoorn, an easy day trip from Amsterdam. This was once a prosperous trading port and an important base for the Dutch East India Company.
Today it is  a popular tourist destination for its well-preserved historical buildings including 17th and 18th-century houses and its beautiful natural surroundings. Wander through the historic centre, take part in water sports and see restored old boats in the harbour.
20 – Den Bosch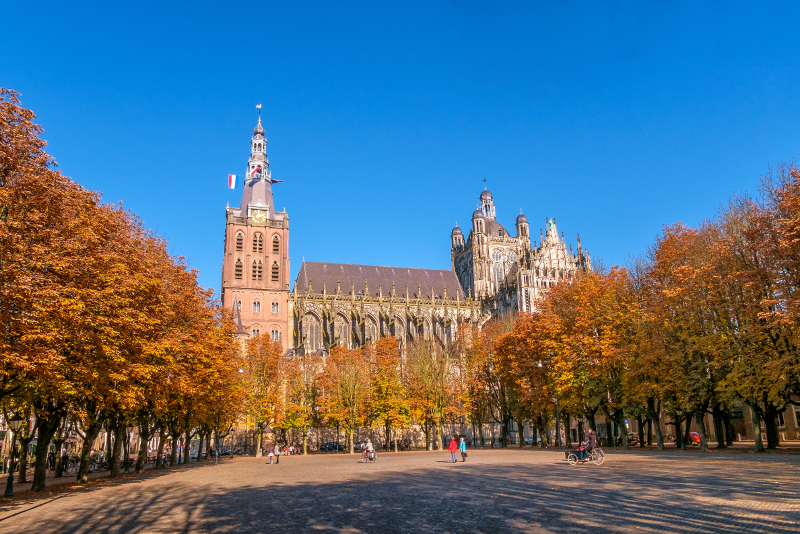 With historic buildings, fascinating museums, medieval architecture and a centuries-old canal system, the city of Den Bosch is a great day out from Amsterdam.
Cruise the waterways within the city walls on an open-topped boat then climb up the 43-metre high tower of St. John's Cathedral. This majestic church is a national monument and was built between 1370 and 1529.
Get around to some of the city's other big tourist draws which includes the city centre market on Wednesdays and Saturdays and the Museum Quarter where you can explore the art, history and culture of the area.
21 – Lauwersmeer
Enjoy a day on and by the water at Lauwersmeer National Park, an extensive outdoor playground with a manmade lake. Thrill to such aquatic adventures as surfing, sailing, canoeing, swimming and kitesurfing. If you prefer to keep your two feet on dry land, take one of the nature paths or hiking trails and cycle or walk through forests, fields and grasslands.
If you are into birdwatching, grab a pair of binoculars and position yourself in one of the huts to spot hundreds of water birds, sea birds, shore birds, woodland birds and birds of prey.
22 – Breda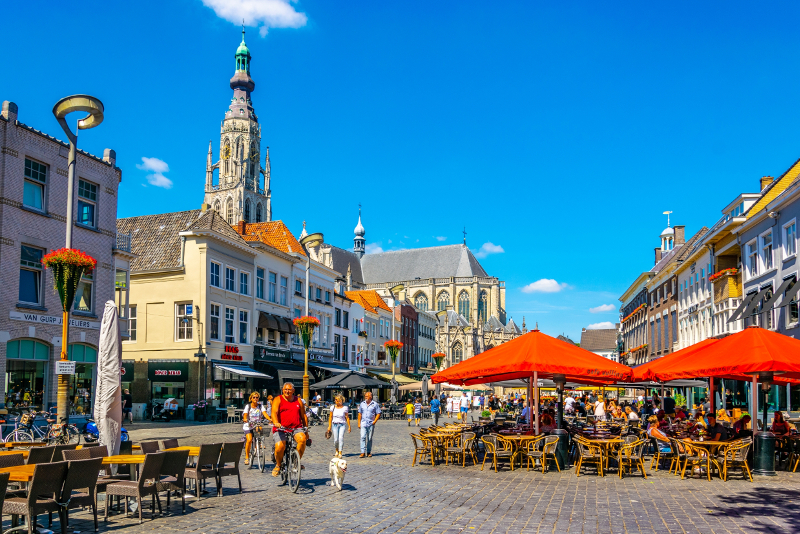 Hop over to Breda, a pretty and easy-going city in the southern part of the Netherlands that's filled with historic monuments, shopping districts and a variety of cafés and restaurants. Dominating the skyline of the historical city centre is the magnificent 13th-century Gothic cathedral, with a 97-metre tower that was a 16th-century addition. Explore the interior of the church then tour some of Breda's other medieval structures including Bouvigne Castle and its gardens.
While you are here, stroll streets lined by shops and boutiques such as Sint Annastraat a street packed with artisan shops. If you are into jazz, coincide your visit with the Breda Jazz Festival, one of the oldest and biggest jazz festivals in Europe. The four-day annual event kicks off on Ascension Day.
23 – Hoge Veluwe National Park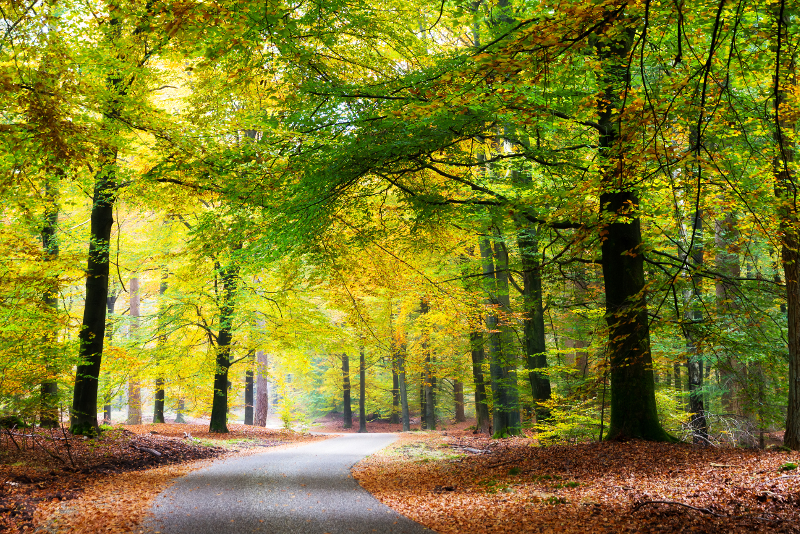 Plan a day trip from Amsterdam to explore the great outdoors and get close to nature at Hoge Veluwe National Park. This vast protected area covers 5,400 hectares encompassing heaths, grassland, sand drifts and forests, and is less than a 90-minute drive from the city. It is home to a variety of plant and animal species including deer, boars, badgers, toads, lizards and woodpeckers. Hike or cycle through the ever-changing landscapes and go on a wildlife-spotting adventure.
Also inside the park is an early 20th-century mansion modelled on an English country house and Kröller-Müller Museum which houses a collection of paintings and drawings by Vincent Van Gogh.
Hoge Veluwe National Parkday trips from Amsterdam are perfect for nature lovers.
24 – Zwolle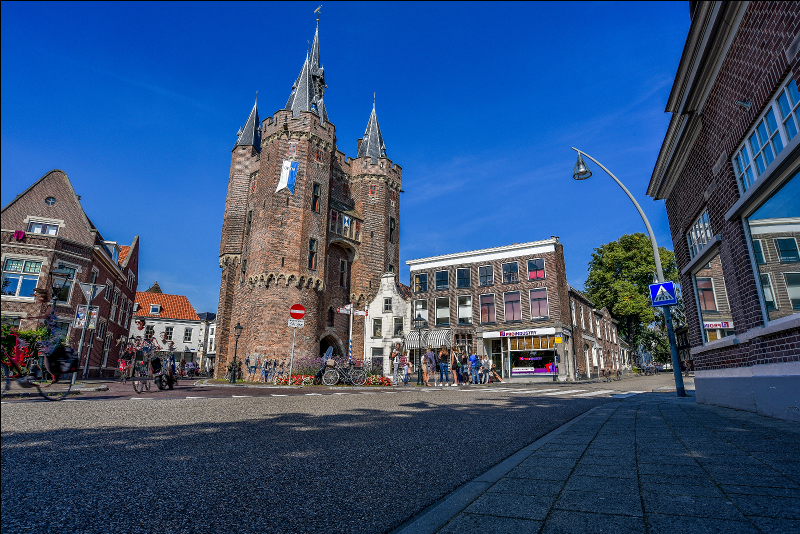 Drive east of Amsterdam for approximately 115 kilometres for an exciting day out at Zwolle, the attractive and compact capital of the Overijssel province that was founded in the ninth century. There is a lot of history wrapped up in its buildings and structures such as the 15th-century fortified Saxon Gate and Grote Kerk, a Gothic church that also dates back to the 15th century.
In addition to studying the city's ancient architecture thrill to a variety of other attractions. Unwind in Wezenlanden Park, a green oasis at the edge of the city centre, see realistic dinosaurs at Dinoland Zwolle and browse collections of Dutch modern art at Museum De Fundatie.
25 – De Biesbosch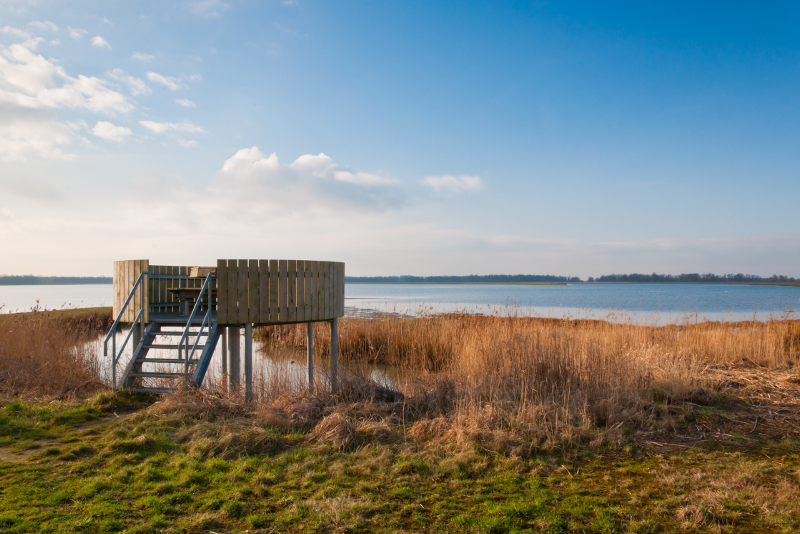 Comprising approximately 8,000 hectares of rivers, streams and willow forests, De Biesbosch is one of the largest national parks in the country. This vast natural reserve supports a variety of wildlife including kingfishers, beavers, geese, deer, foxes and ospreys. It makes for a fascinating day trip from Amsterdam, a place where you can get active amidst gorgeous natural scenery. Go hiking, canoeing, cycling, fishing, sailing, birdwatching and much more at what is the largest freshwater tidal zone in Europe.
26 – Brussels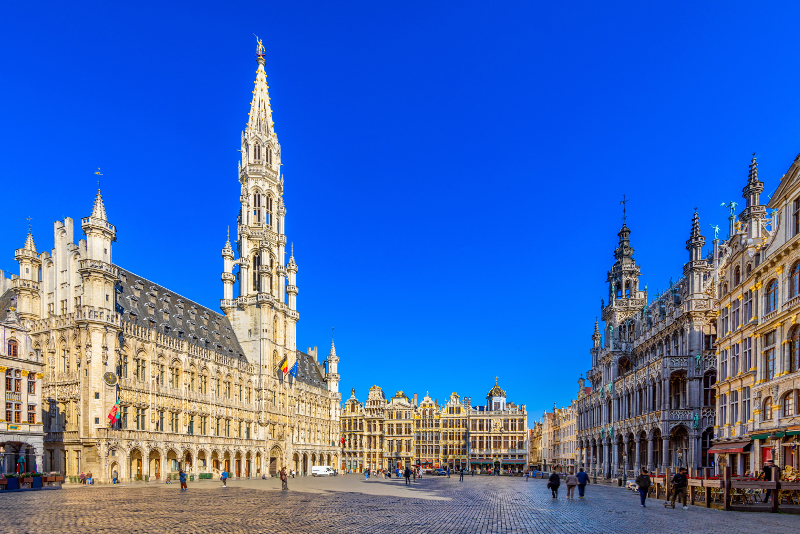 The capital of Belgium is a compact, easy-going and cosmopolitan city with world-class museums, an energetic nightlife and architecture that spans many styles and eras including medieval, Renaissance and cloud-touching modern skyscrapers. Then there is the rich and eclectic restaurant scene with flavours from all of the world.
The city may well be associated with dull European Union bureaucracy, but it is alive with character, charm, culture and endless possibilities. Among the many tourist gems are the elegant main plaza, the royal palace and the Parc du Cinquantenaire.
27 – Kinderdijk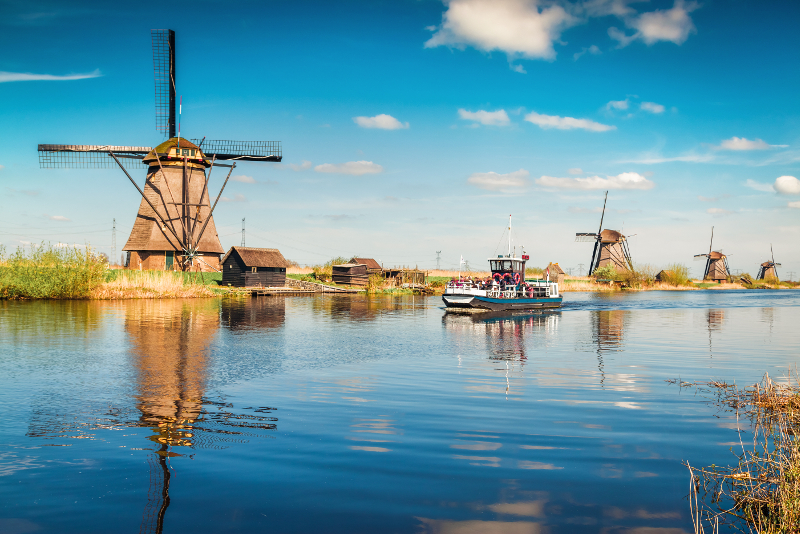 The Dutch have a long history of using windmills and pumping stations to keep the soil dry. See some of them in action at Kinderdijk, a UNESCO World Heritage Site that comprises 19 mills. They have been part of the water management system of the wetlands around Dordrecht, since 1740. There are also four pumping stations.
While you are here, visit the museums that explain how windmills work and are maintained and enjoy picnics and stroll through the surrounding countryside.
28 – Antwerp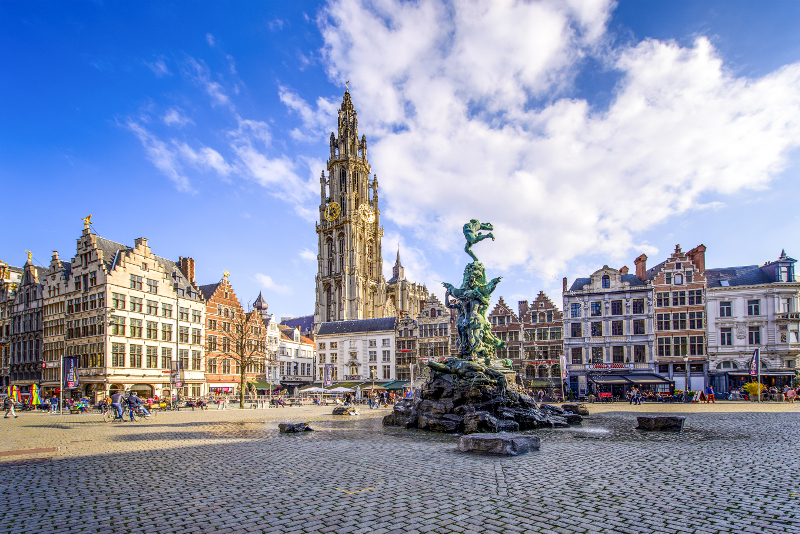 The cultural capital of Flanders is a busy port city that was once the home of such famous artists as Rubens and Van Dyck. It is a place of outstanding architectural beauty which includes a striking-looking cathedral and other buildings of its historic centre.
Travel back in time at the 16th-century town hall and the 17th-century St. Paul's Church which boasts a magnificent Baroque tower. Browse a rich collection of paintings by Rubens in his former mansion home and spend some time with the animals at the ZOO Antwerpen animal park.
We hope you enjoyed our selection of day trips from Amsterdam. Have fun and enjoy the Netherlands 🙂