Seville, the capital of Andalusia. One of the most visited cities in Europe, it really deserves its reputation. Seville and Andalusia have always been an attraction for many different cultures. From Phoenicians to Romans, Arabs, Christians, when you walk through this city you can really feel the mix of all these cultures. There is a big variety of things to do in Seville. If you are planning to go there, whether it is your first time or you have already been there, don't miss our list of the best things to do in Seville! Thanks to this collection of ideas you will explore this city from many different points of view.
1 – Live the unique Feria de Abril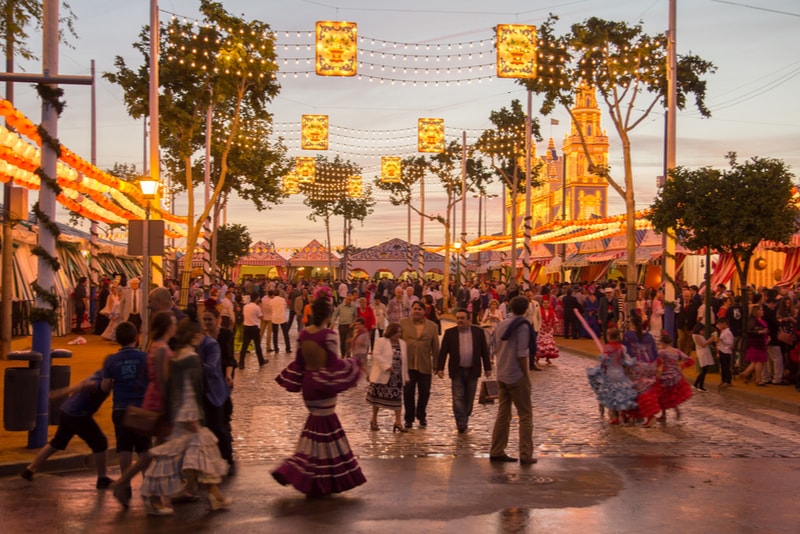 Be part of one of the most impressive events in this city! This legendary fiesta takes places usually 2 weeks after Easter and is one of the biggest fairs in Spain. During this week-long party, there will be around 1,000 marquees (casetas) where to drink and party. If you visit Seville in this period you will hardly forget this experience!
2 – Eat as a local, try the best Tapas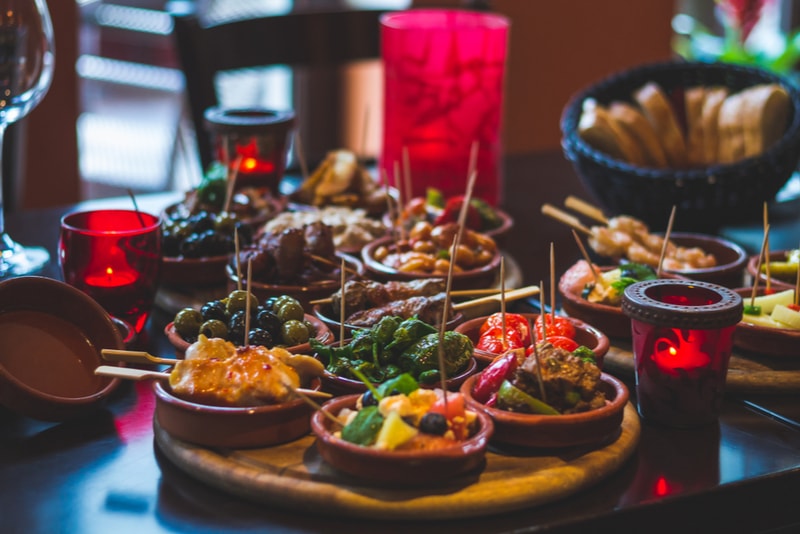 It is such important that Spanish invented a verb for this action, tapear: to eat tapas. Each area of the country has his typical tapas to eat. If you are in Seville there are a couple of them you can't miss. Make sure you have some Albóndigas de choco y gambas or some Berenjenas rellenas. Not to mention the typical Rabo de toro or the Costillas al miel. If you are a fish lover, don't worry, there are also plenties of fresh fish tapas (de pescaito) that will satisfy your palate. Depending on your stomach you will not spend over 10-15 € with beers or wine included. Yes, you heard well!
3 – Discover the Real Alcazar secrets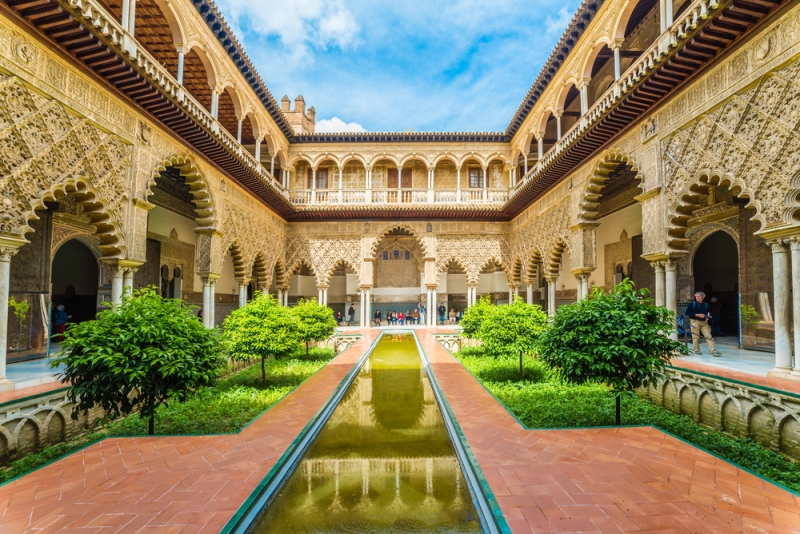 Located in the heart of Seville, the Real Alcazar is one of the oldest palaces still in use in Europe. From its walls, we can appreciate the influence of the cultures that have passed through the city. It is a perfect example of the mix of cultures of this city. It can be worth to book a guided tour of the Real Alcazar to discover all its secrets and beauties, including very often the Cathedral, which is located in front of the Real Alcazar. A visit to the Real Alcazar is definitely one of the best things to do in Seville!
4 – Let Plaza de España conquer your heart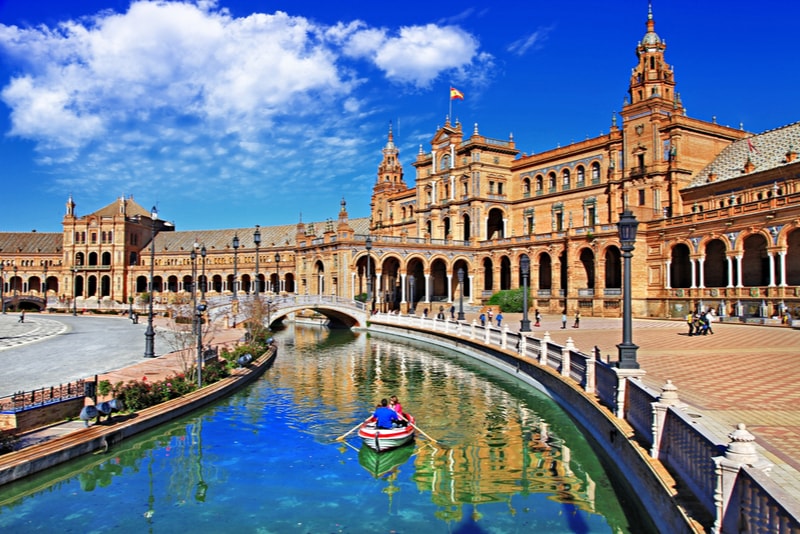 No doubts, one of the best things to do in Seville is spending a couple of hours in this magnificent square. Built in 1929, it is the symbol of the Ibero-American Exposition World's Fair. The shape represents the embrace of Spain and its ancient colonies and it is orientated facing the Guadalquivir River as a path to America. The unique style and the magic atmosphere make Plaza de España an incredible attraction!
5 – Visit the magnificent Cathedral and the Giralda tower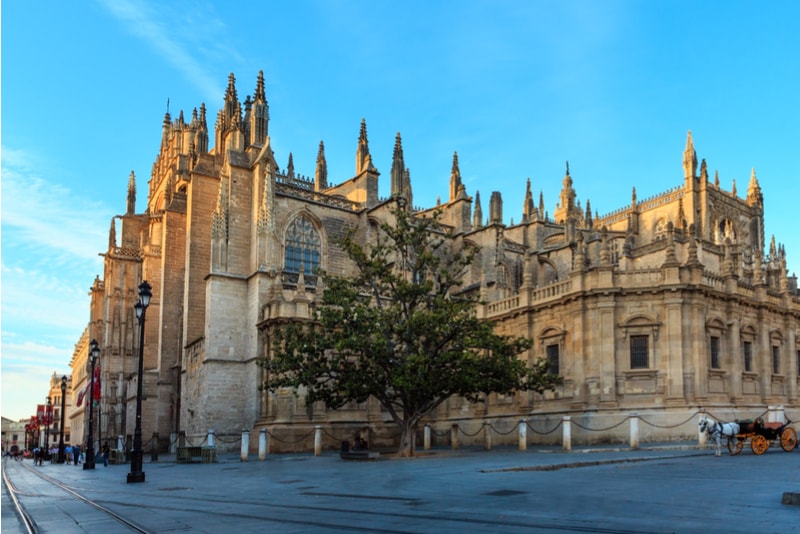 Seville's Cathedral is the largest gothic cathedral in the world. And it's not only the size to make it so famous: his beauty and his magnificence make this cathedral also one of the most visited in the world.
His tower, La Giralda, is one of the highlights of Seville and one of its most representative buildings.  Surely it is one of the finest examples of the cultural blend that defines Spain. It is located just next to the Real Alcazar and it can be visited on the same day for convenience. A skip-the-line ticket or a guided tour is recommended for the most crowded periods of the year (usually Spring and Autumn).
? Cathedral and La Giralda, Seville
6 – See a live Flamenco show in the first Flamenco Museum in the world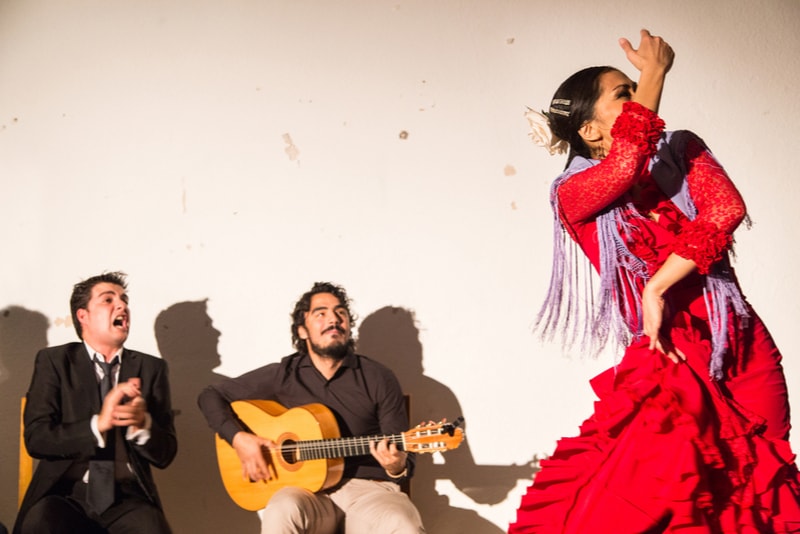 Museo del Baile Flamenco is not a traditional museum, it's an all-in-one experience! You will learn about flamenco dance, song, and guitar, as well as the history of the art. They have shows every evening alongside the museum, which you can book tickets for separately or all together. You can also take Flamenco classes if you are planning to stay longer in Seville and you are really into it! This is a great place to not only see flamenco in Seville but also to get a sense of the history and culture.
7 – Get lost in Barrio Santa Cruz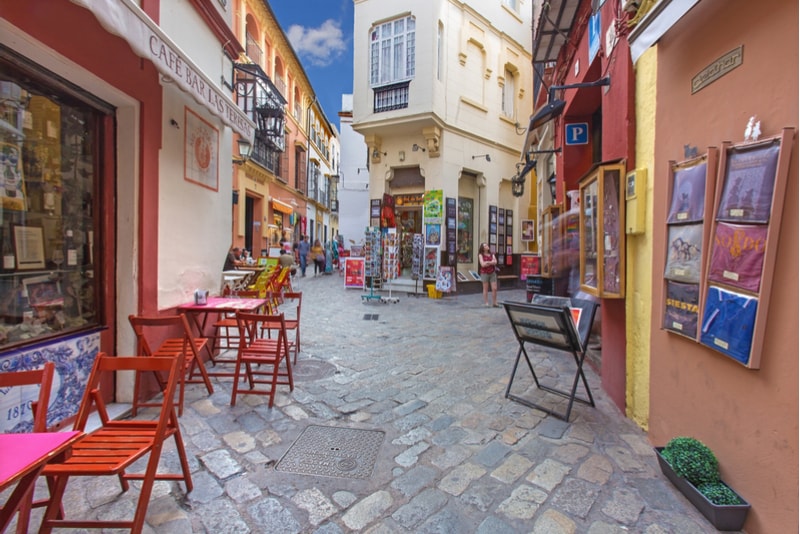 One of the most authentic parts of Seville, here you will feel the real Spain. This charming neighborhood is one of the most ancient areas of the city. It's here that the Jewish of Seville used to live. In this barrio, you will find the most narrow street of the city, calle de los besos, the street of the kisses. It's very easy to get lost or turned around when exploring the Santa Cruz, and that, of course, is part of the fun! It is very nice to take part to a walking tour in Santa Cruz to discover all the peculiar stories behind this interesting neighborhood. There are also free walking tours that can lead you around the district.
8 – Rent a bike and enjoy the city center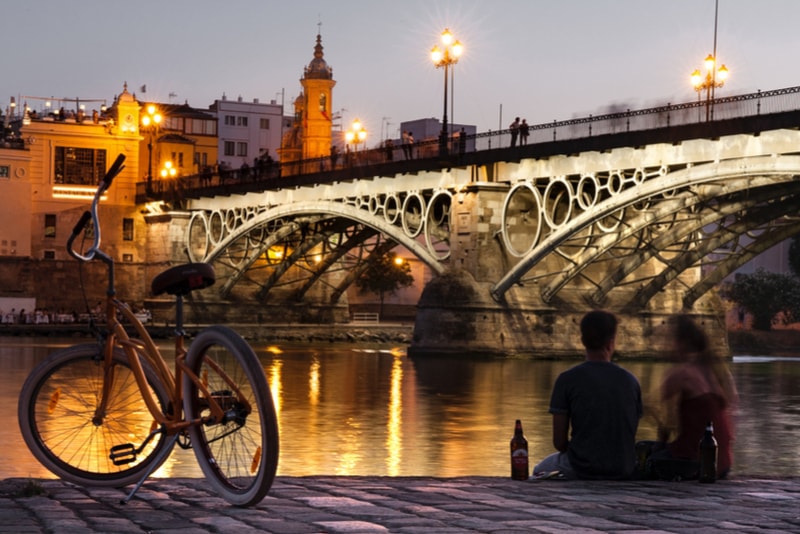 Amsterdam has long been hailed as Europe capital of cycling, but now there's a new kid riding on the block: Seville. Lately, in Seville, rental and sale shops are springing up almost weekly. Until 10 years ago barely anyone there owned a bike. But things have changed. The city offers a huge number of cycleways. Going around the city center or biking along the river is such a nice experience, you can either rent a bike or join one of the bike tours offered in this city, one of the best things to do in Seville!
9 – Watch the best sunset from Las Setas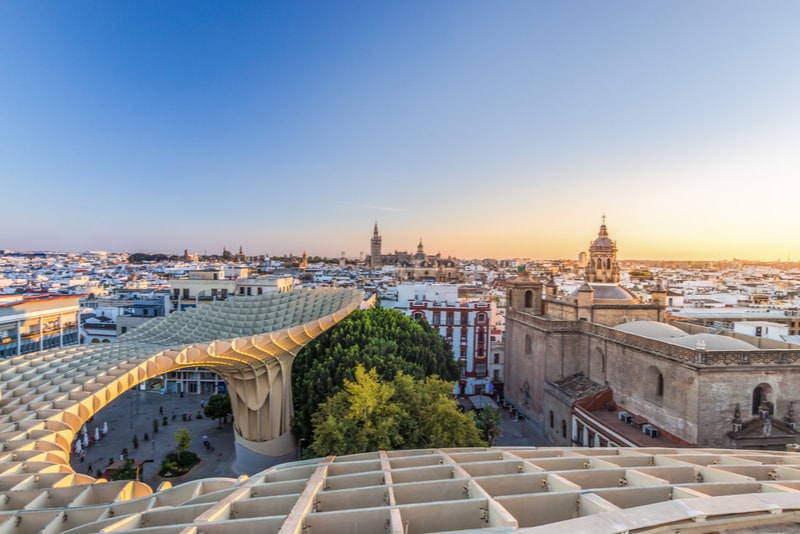 Despite some contrary opinions, Metropol Parasol, known locally as las setas (the mushrooms), has become something of a city icon. The German architect, Jürgen Mayer-Hermann, has designed this 30m high mushrooms that are the largest wooden structure in the world. From the top of it, you will enjoy a killer view and surely one of the best sunsets in Seville!
10 – Hang out in the bohemian Alameda de Hercules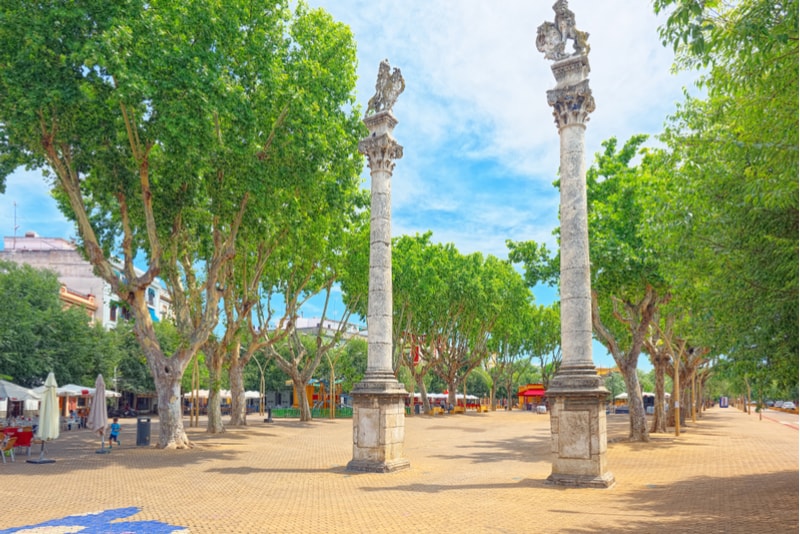 Alameda is not just the older park in Europe, it is also the first entertaining area and one of the most famous in Seville. This big pedestrian street is full of alternative bars and restaurants, where you can find any kind of music. Jazz, 'rock andaluz', concerts, in Alameda everything is possible.  As in Soho (London) or El Raval (Barcelona), here is a mix of historic places, creatives spaces, multicultural events, and nightlife!
? Alameda de Hercules, Seville
11 – Visit Granada and the spectacular Alhambra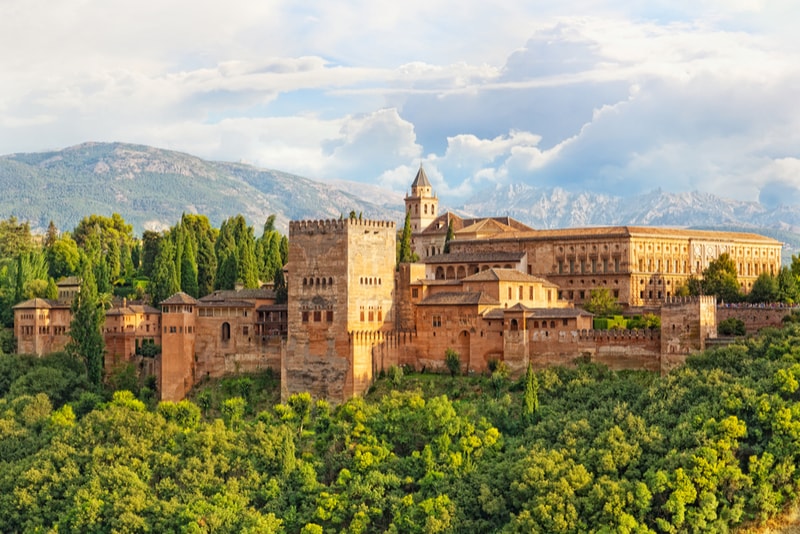 Located just a few hours from Seville there is one of the most attracting cities in Spain. Granada, sprawled at the foot of the Sierra Nevada, was the last stronghold of the Spanish Moors and their legacy lies all around his horseshoe arches, spicy aromas emanating from street stalls, teterías (teahouses) of the Albayzín, and in his historic Arab quarter. Most spectacularly, of course, it's in the Alhambra, an astonishing palace complex whose Islamic decor and landscaped gardens are without peer in Europe.
Going to Granada is definitely worth it. There is such a mix of cultures and an incredible energy on the streets! Such a bohemian atmosphere with his graffiti, the flamenco shows, and students and travelers from everywhere in the world. Spending one or two days in Granada with no doubts is one of the best things to do if you are planning to stay in Seville for more than a few days. Keep in mind that the tickets for the Alhambra are sold out most of the days of the year. Therefore, plan your visit in advance by booking a ticket or tour if your are going to the Alhambra by car, bus or train, or book a day trip leaving from Seville to the Alhambra.
? Granada
12 – Walk through the romantic Puente de Triana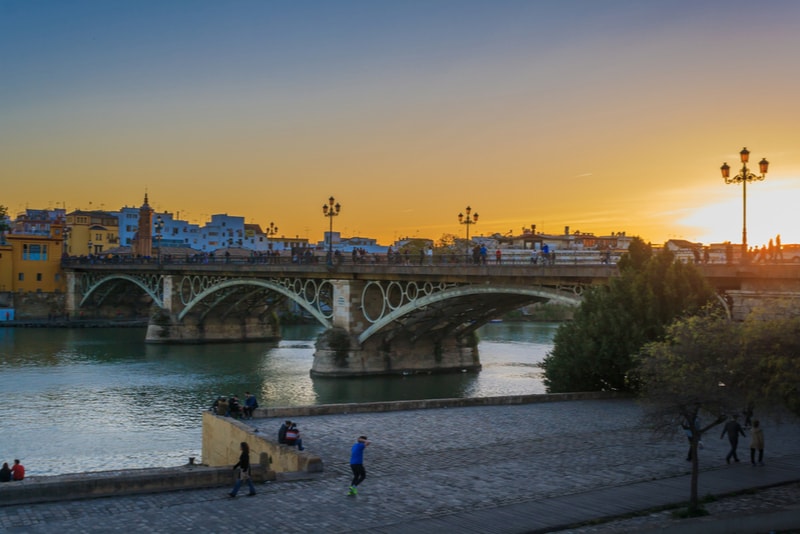 One of the most iconic and historical places of Sevilla, this bridge has been declared National Heritage in 1975. Thousands of pictures have been taken of this tourist attraction but it doesn't matter. Once you are in Sevilla having a walk through this beautiful bridge it's one of the most romantic things to do.
? Puente de Triana (Isabel II), Seville
13 – Visit the astonishing Plaza de Toros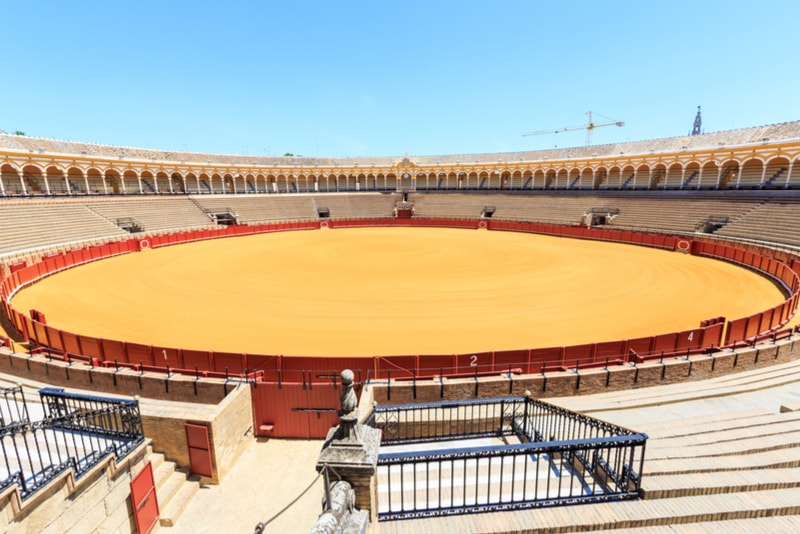 Seville's Real Maestranza bullring is one of the most attractive and important plazas in Spain. Construction began in 1761 on the site of the city's old rectangular plaza de toros, and was finally completed in 1881. In addition to being regarded as a building of almost religious significance to fans, it is the oldest ring in Spain. Also, it was here, along with the bullring in Ronda, that bullfighting on foot began in the 18th century.
? Plaza de Toros de la Real Maestranza, Seville
14 – Paddle in Guadalquivir river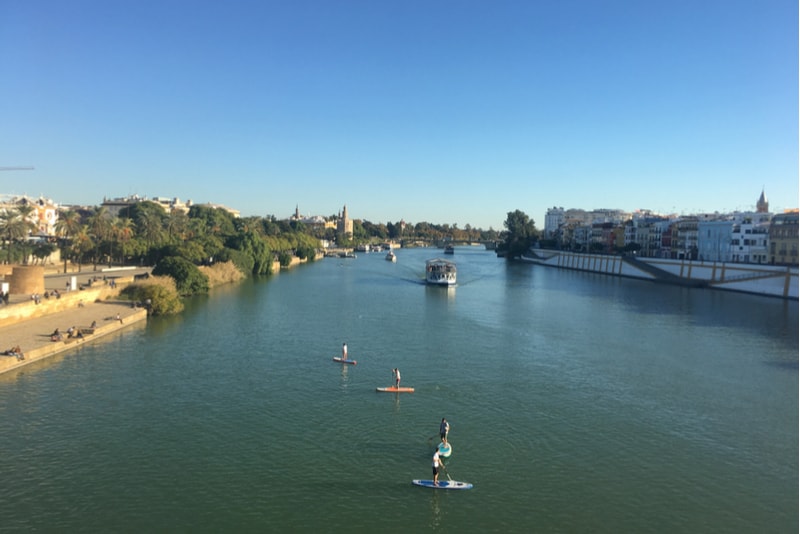 What makes so special Seville is also his beautiful River. It is the second longest river in Spain, traveling 650 kilometers across the width of Andalusia to finally arrive at the Atlantic Ocean, just above Cádiz. And what can be better than Paddling in it? There are Kayaking tours and also Stand-Up Paddle tours. It is also possible to have a Yoga SUP class, something really unmissable, the coolest thing to do!
15 – Enjoy the happy hour on the best rooftops in Seville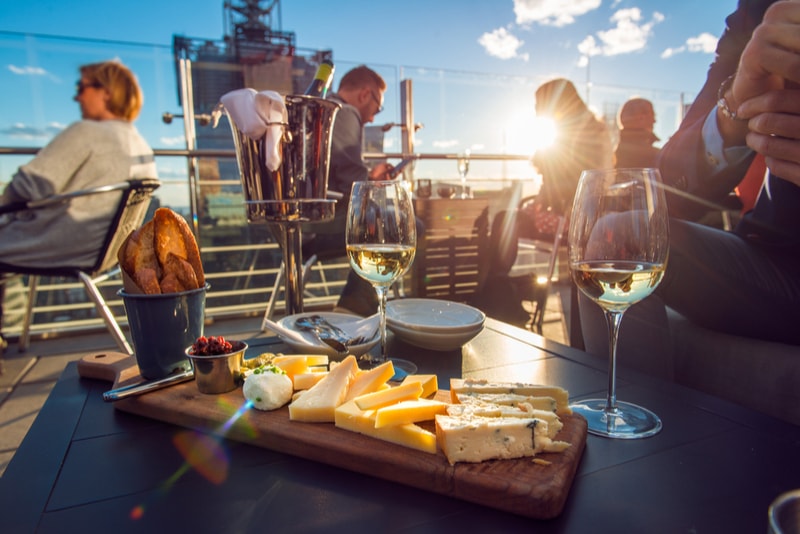 Probably one of the best things to do in Seville to end your day is a Happy Hour in one of his beautiful terraces. You will enjoy an amazing view of the sunset with a drink in your hand! Some of the best rooftops are Terraza de El Corte Ingles el Duque, Terraza del Hotel Dona Maria, Terraza Eme, Roof Estamos Arriba, and many more.
16 – Watch the processions during Semana Santa
Semana Santa in Seville is one of our most iconic celebrations, and the week leading up to Easter is a fascinating time to be in the city. The Holy Week processions in Seville are Spain's most famous. From Palm Sunday to Easter Sunday, processions take over the streets of Spain as a tribute to the Passion of Jesus Christ. The enormous statues (pasos) you see during the celebration originally had an educational function and put an image to the passages of The Bible. The people who walk the processions with the float are performing an act of penance, repenting their sins.
17 – Eat, drink and shop in Triana Market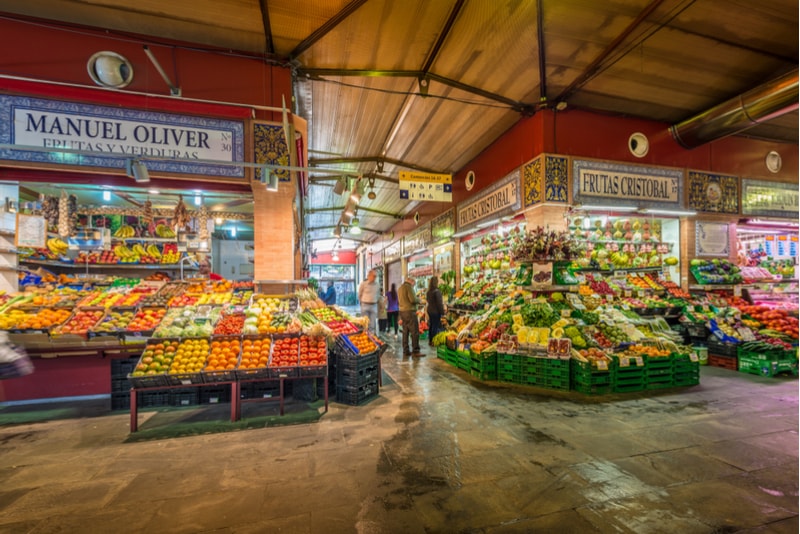 The Triana market is a market located in Plaza del Altozano, next to the Triana Bridge. It was substantially renovated a few years ago to improve facilities for both stallholders and customers, while still retaining its traditional appearance with the tiled nameplates of the vendors. Once you are in Seville make sure you eat, drink or shop in this characteristic market. It is definitely a very cool way to experience Seville's street life!
18 – Have a glass of one of the typical wines of Andalucia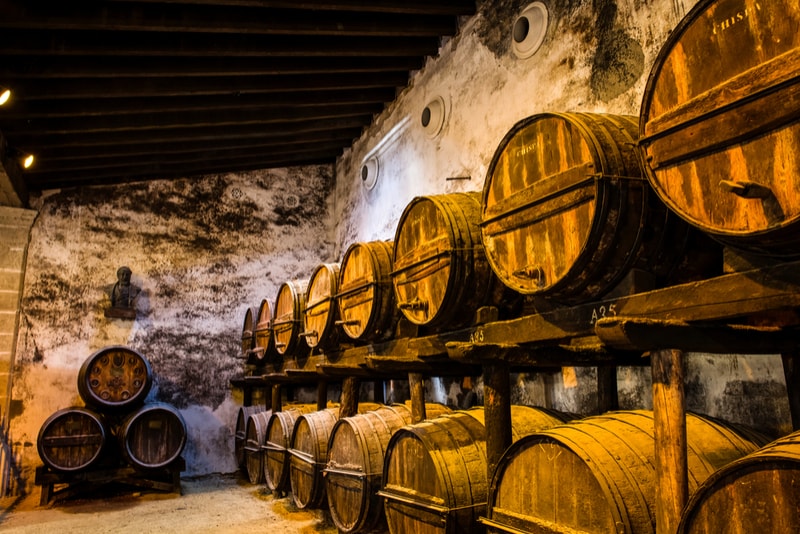 Andalusia is with no doubts a primary destination for sherry lovers. Very close to Seville there is the 'Sherry triangle' where this fortified wine was born. This area is between Jerez de la Frontera, San Lucar de Barrameda, and El Puerto de Santa Maria. There are day tours from Sevilla to Jerez that usually include a visit to the vineyards, wine tasting and a visit to the city of Cadiz and Jerez. You definitely can't miss a glass of Manzanilla, Amontillado, Oloroso, and Palo Cortado.
19 – Experience the relaxing Baños Arabe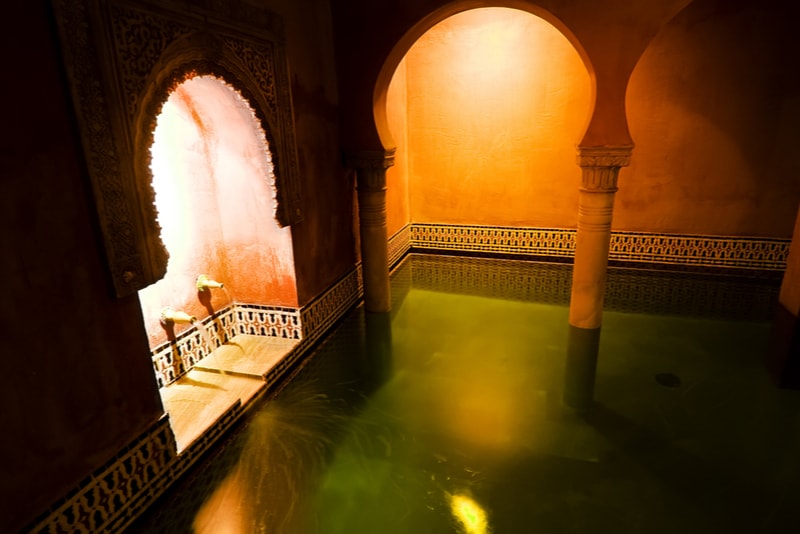 One unmissable thing if you are in Seville, and in Andalusia more in general, is to have an Arab bath. It is the best way to relax and escape from the daily routine. One of the best places to go to experience this tradition is the Aire de Sevilla. This Arabic tradition of taking long baths and relaxing in water was acquired from the Byzantines and the Romans. In Andalusia, baths were originally built under Islamic tradition as they believed water to symbolize purity, and during ancient Moorish times, these types of baths were key for social and business purposes. While few original baths can be found today in Spain, the practice has been kept alive in the form of spa-like sessions to relax the body, the spirit, and the mind.
20 – Watersports and nightlife in Tarifa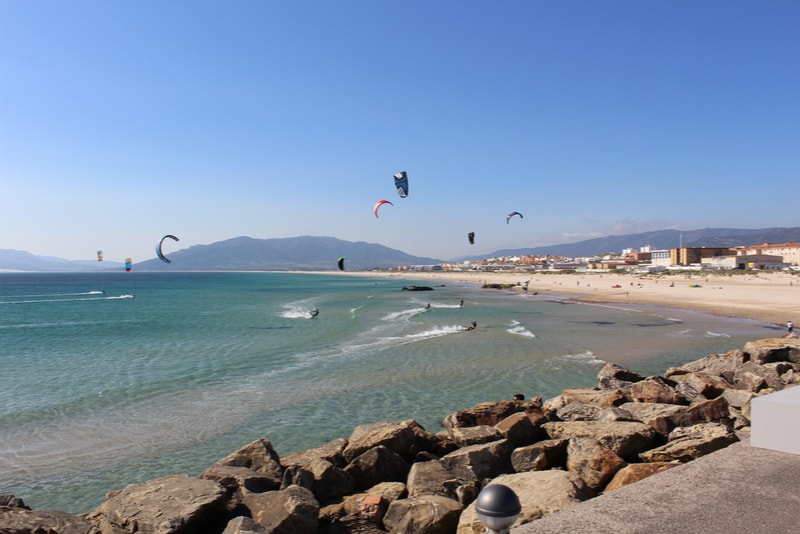 Just a couple of hours by car from Seville there is a real watersports paradise. In Tarifa, you will have the chance to learn how to Kitesurf, Surf, or Windsurf. If you already know how to do it you can easily rent your equipment in one of the surf shops of this beautiful city. And if you are planning to stay for a few days you will never get bored! Tarifa is also famous because it is a very active center of Spanish movida with a lot of restaurants, bars, and discotheques where to spend a night out.
? Tarifa
21 – Visit the beautiful Casa de Pilatos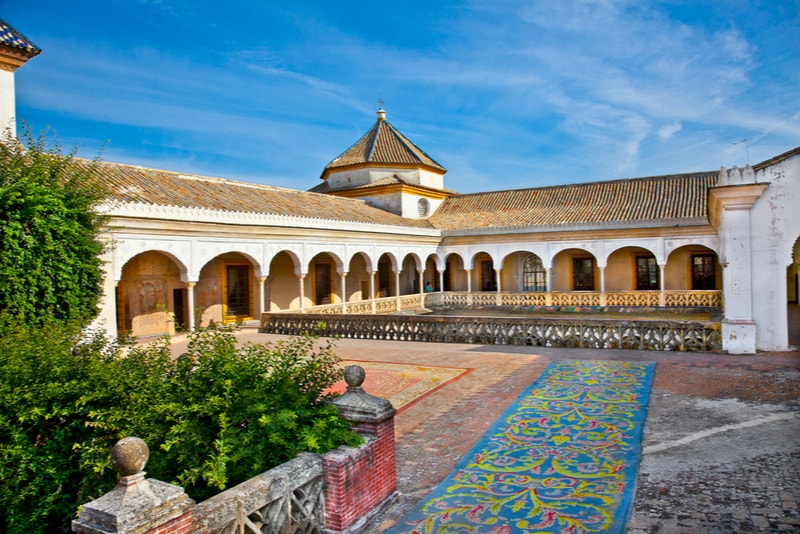 Casa de Pilatos is surely one of the best Andalusian palaces of Spain and an example of the 16th century Sevillian architecture. It is also known as the Palacio de los Adelantados Mayores de Andalucía (Palace of the Governors of Andalusia). It was built between the 15th and the 16th centuries and it is one of the biggest private residences of Seville. Located in the historical center, its Gothic Mudejar style, wonderfully combined with Renaissance innovations, is one of the highlights of the palace.
22 – Have a crazy Night Out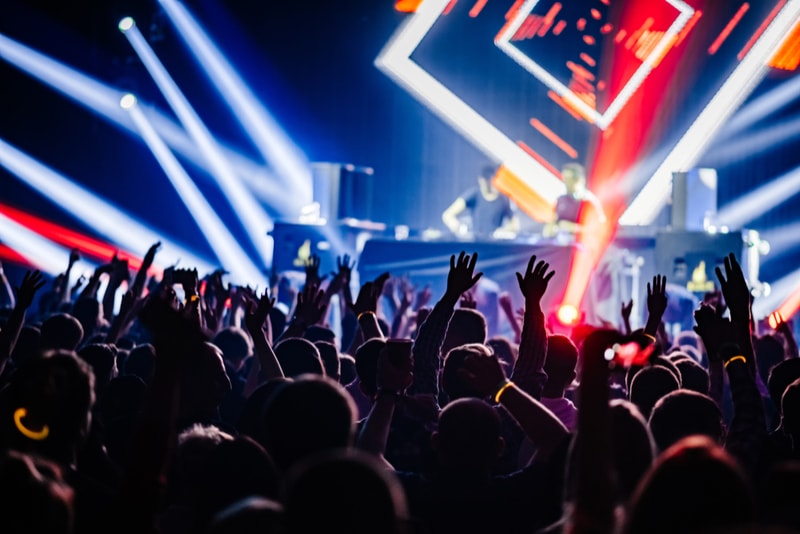 Famous for its nocturne movida, in Seville, there are plenty of places where you can spend a crazy night out! It is very typical to start the night in some bars with tapas and beers and end your night in a disco. If you are a nightlife lover we have some suggestion for you. The antique Teatro, Tokyo or the Obbio Club are some of the best discotheques in the city!
23 – Visit around Andalusia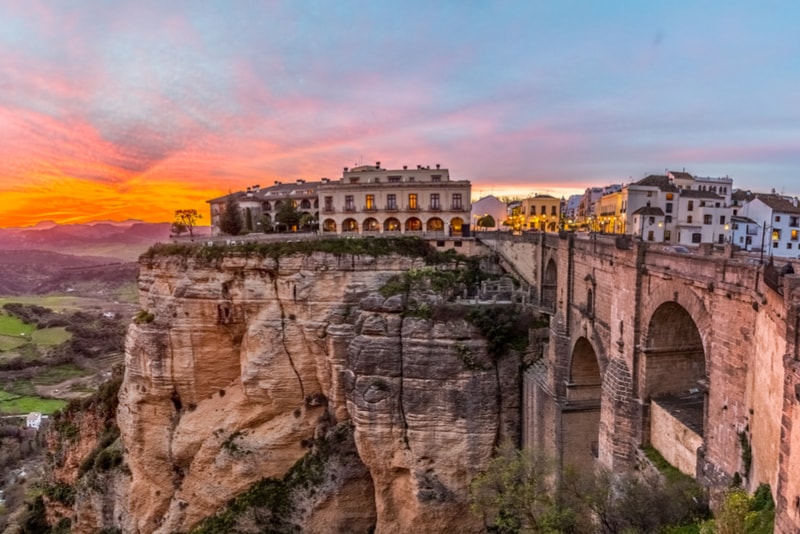 If you are planning to stay in Seville for more than a few days, one of the best things to do is to rent a car and visit around Andalusia. This beautiful region is quite small, so in a couple of hours, you can reach amazing places!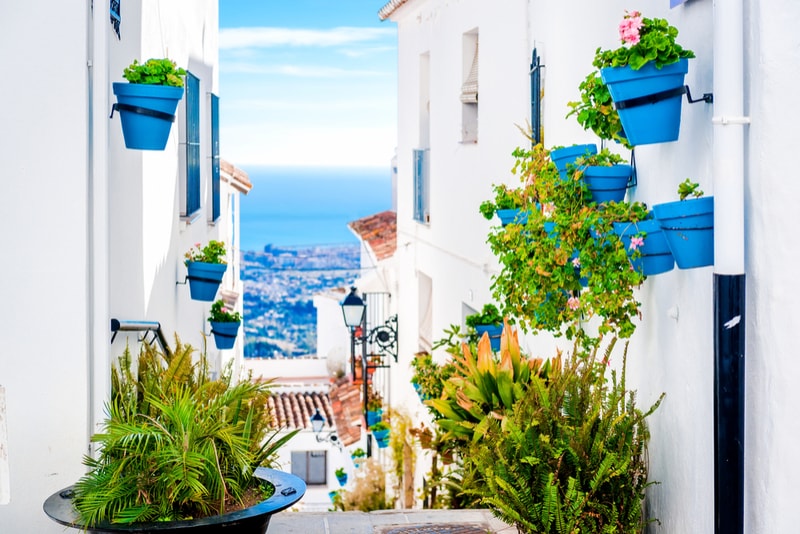 You can visit Malaga and his beautiful coast, you can plan a day tour from Seville to Granada and visit the stunning Alhambra. Or you can do an excursion to Ronda from Seville, a beautiful small city with a great history and amazing landscapes. You can also visit the Sherry Triangle and taste some of the best wines in Spain.
Additionally, you can go for a day trip from Seville to Cadiz and la Costa del Sol and enjoy some astonishing beaches and a relaxing atmosphere! Day tours to Doñana Natural Park from Seville will take you in one of the most untouched ecosystem in Europe, home of the Iberian lynx.
Of course, there are also wonderful beaches near Seville! Discover our list of best day trips from Seville.
24 – Attend an art exhibition at Hospital de los Venerables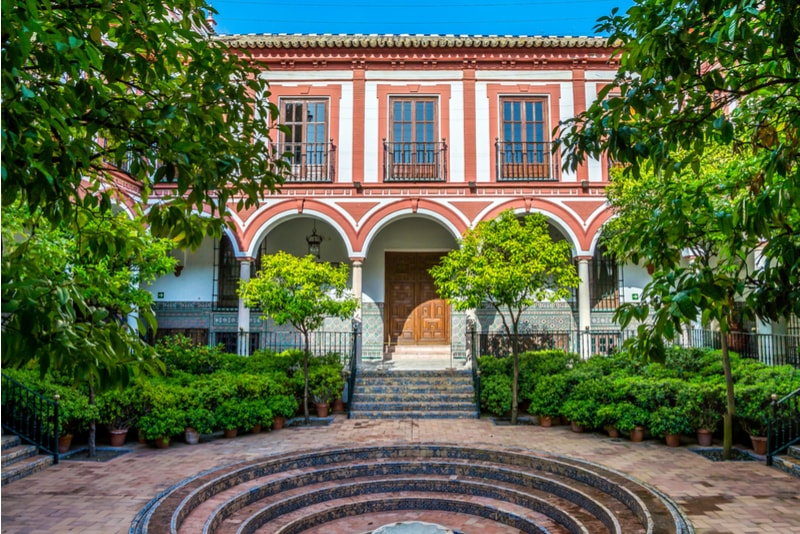 One of the most rewarding museums of the city, it is housed in a former hospice for aging priests. The artistic highlight is the Focus-Abengoa Foundation's collection of 17th-century paintings in the Centro Velázquez. It's not a big collection but each work is a masterpiece of its genre. This former hospital has a beautiful stepped fountain and is surrounded by Tuscan arches. Thus, attending an art exhibition there is surely one of the best things to do in Seville!
? Hospital de los Venerables, Seville
25 – Visit Calle Feria and his market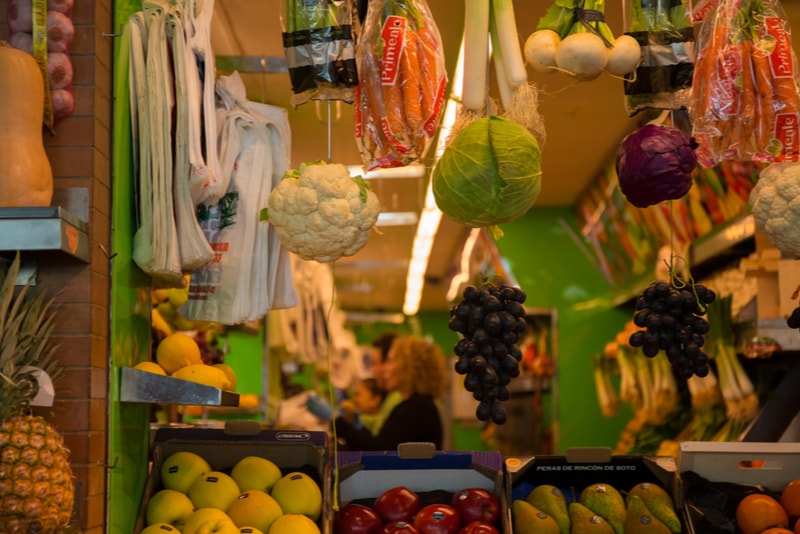 Located in la Macarena, one of Seville's coolest neighborhoods, calle feria is a paradise for market lovers. About halfway along its length is located Seville's oldest market, the Mercado de Feria. On Thursdays, Fridays, and Saturdays, it is very busy and there is a very good atmosphere. This market is the ideal place to buy and taste the specialties of Sevillian cuisine. One of the best things to do in Seville! For example, you can't miss the fresh fish tapas, best enjoyed with a crisp, cool beer.
26 – Watch the derby between Sevilla and Betis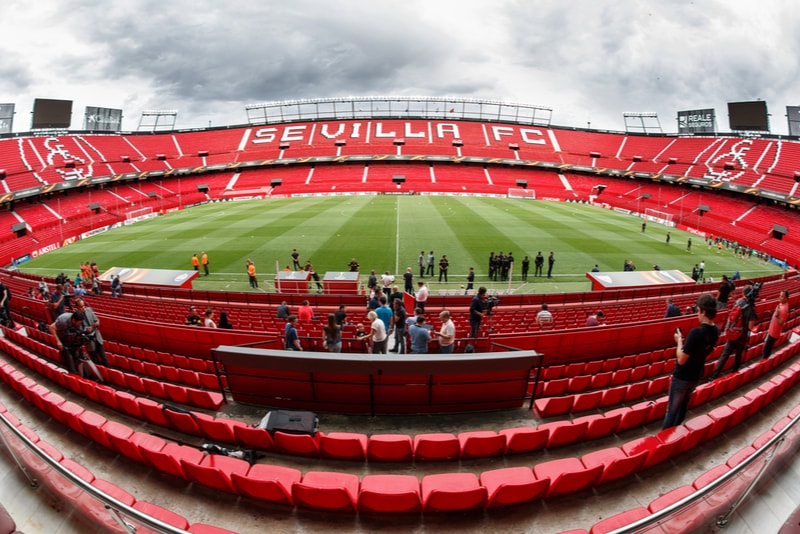 The derby between Real Betis and Sevilla FC is undoubtedly one of La Liga Santander's greatest clashes. The rivalry between these two clubs from the city of Seville is very old. Since the starting of La Liga these two clubs were big enemies. Sevilla FC, representing the nobility of the city and Real Betis, representing the working class. This derby is much more than just a game of football. Thus, hurry up and buy the tickets because attending this match is one of the best things to do in Seville!
We hope our list will help you to make the most of your stay in Seville! If you have some other cool things to do in Seville, share the fun in the comments below.
Enjoy this magical city!
Share it on Pinterest 🙂