With its steep city blocks, colorful buildings, gorgeous parks, and world famous art installations, San Francisco truly is a city like no other. More than that, it's many things to many different people.
To some, it's the fog drifting along the skyline as they take their morning jog in Golden Gate Park. To others, it's the land where the dreams of the future are coming true, as each new day brings bares new tech fruit from the Silicon Valley tree.
To others still, San Francisco is all about the music, be it smooth piano jazz or a rainy day, or the heavy music the Bay Area became so famous for in the '80s and '90s.
Whatever you picture when you think of the Golden Gate City, you're probably having a time deciding which places are the best places to visit in San Francisco. Don't worry, we've got you covered.
From Pier 39 in Fisherman's Wharf all the way to the Hidden Garden Steps on 16th Avenue, here's everything you need to know about visiting San Francisco, California.
1 – Golden Gate Bridge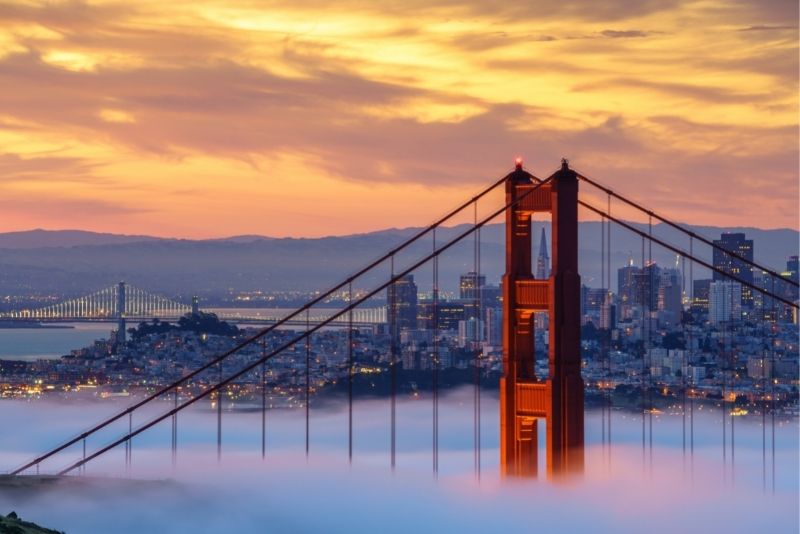 Of all the places to visit in San Francisco, the Golden Gate Bridge is probably the most famous. It's been prominently featured in dozens of movies – often getting blown up in the process. Fortunately, the real bridge, built all the way back in 1937, is still standing tall to this day.
If you're looking for the absolute best possible view of the bridge, you'll want to head to the Battery Spencer observation deck on the north side. Don't forget to bring your camera!
2 – Alcatraz Island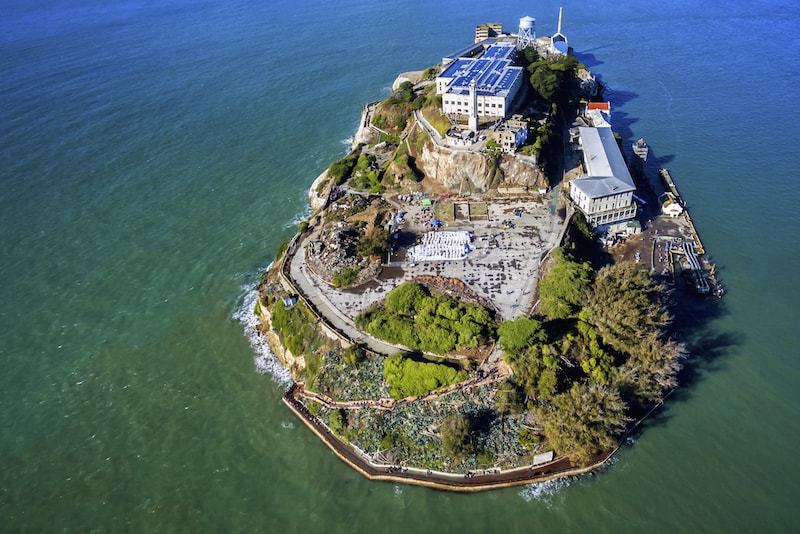 For better or worse, Alcatraz is intrinsically tied to the history of the prison system of the United States. The infamous prison closed down in 1963, but that was far from the end of the island's messy story.
Today, the structure is still maintained as a national park and historical landmark. Visitors are welcome to tour the grounds, and it holds art exhibits and other events on a regular basis.
The island itself has also become a lush home for wildlife, so expect to see spot lizards, rare birds, and an impressive array of colorful flowers, when you visit.
Hot tip: learn more about the best Alcatraz tours.
3 – Golden Gate Park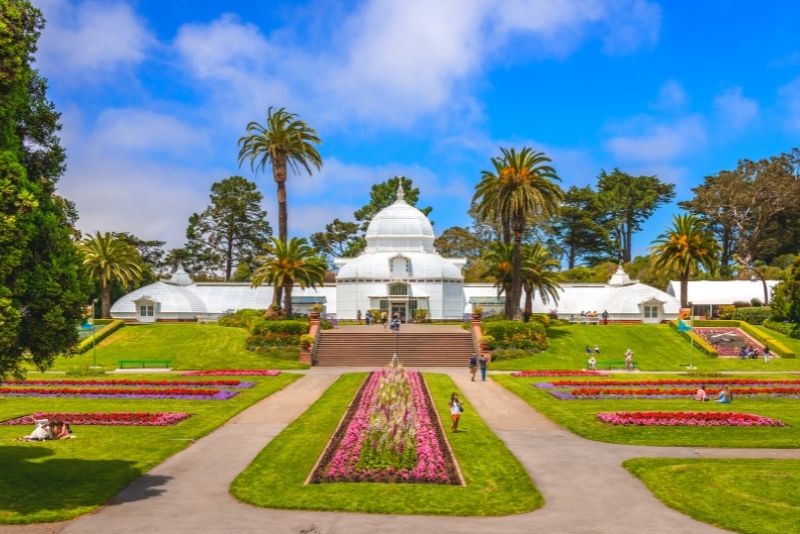 Believe it or not, Golden Gate Park is actually larger than Central Park, which sort of makes sense, since the whole reason it was because San Francisco wanted their own version of New York's famous locale.
Golden Gate Park has all the same trappings; historic bridges in between dreamlike foliage, captive animals on display (you'll want to pay a visit to the bison paddock), a gorgeous system of lakes, and a collection of memorial gardens including one dedicated to The Bard himself.
4 – Lombard Street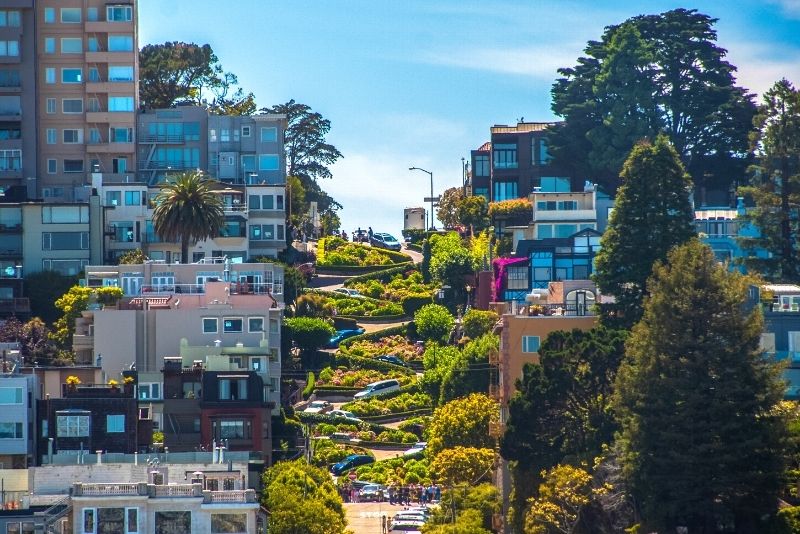 Lombard Street is famous for a particular section that is not only steep, but curves eight times in a hairpin formation.
It's lined with gorgeous urban foliage and the type of colorful architecture San Francisco is so well-known for.
The street is particularly striking when viewed from above, and unsurprisingly, it's one of the most photographed blocks in the whole world.
5 – Fisherman's Wharf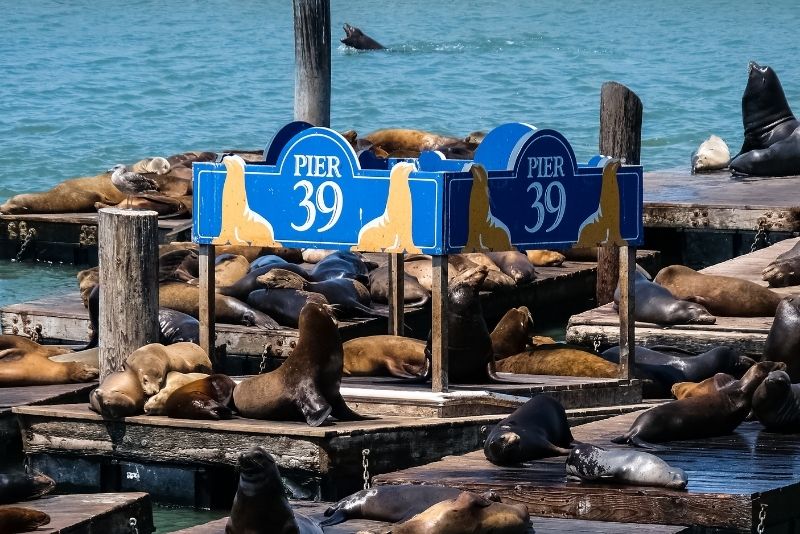 Fisherman's Wharf is a thriving community and commercial center that was bolstered by Italian immigrants in the early 1800s. It's one of the best places to visit in San Francisco just because of how much there is to do.
Is you make your way through the streets, you'll find fancy hotels, exquisite restaurants. There's also still plenty of the original flavor that made the neighborhood so successful in the first place, with local crabs and fresh chowder available from the sidewalk stalls.
If you're in the neighborhood, it's worth stopping by Pier 39 to see the sea lions at the marina, and the world-famous Aquarium of the Bay.
6 – San Francisco Cable Car Museum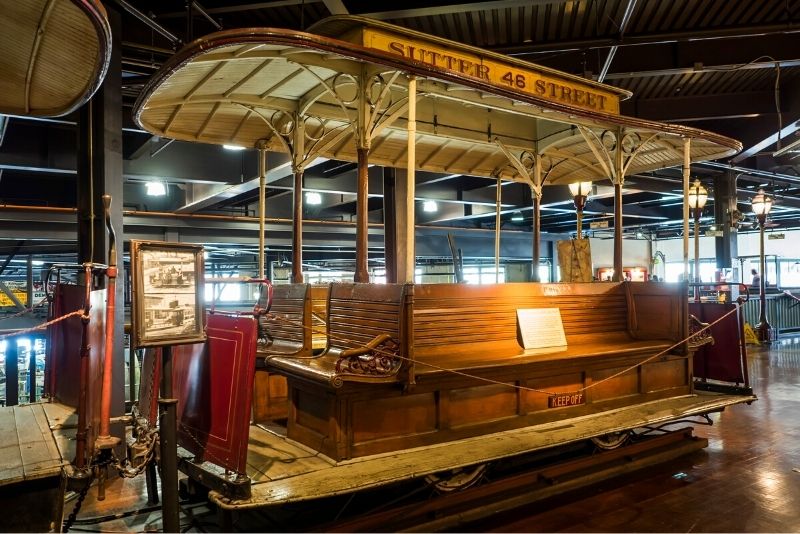 San Francisco is famous for its cable cars, mostly because it's the only place in the entire country that still uses them. If you were going to visit a museum dedicated to the history of cable car systems, San Francisco is probably the city you'd want to do it in.
Among its treasure trove of priceless odds and ends, the Cable Car Museum houses three fully intact cable cars from all the way back in the 1870s.
The museum is conveniently located right in the centre of San Francisco's cable car route.
7 – Twin Peaks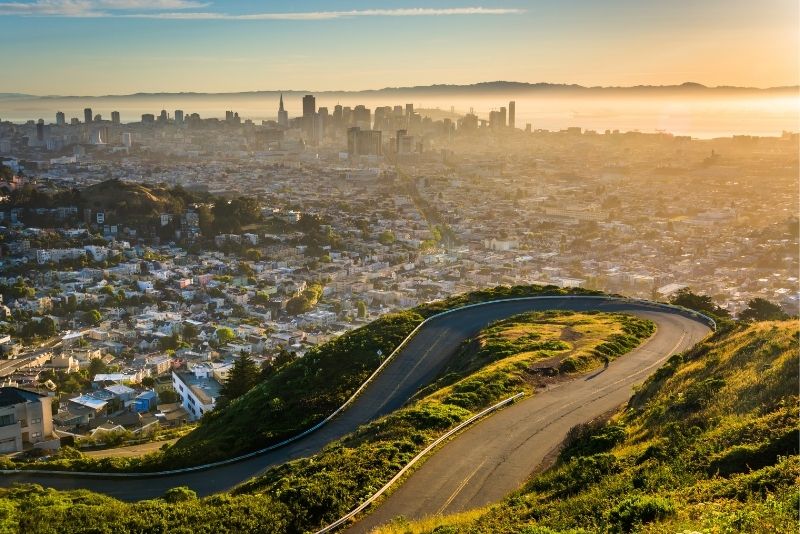 The Twin Peaks Eureka and Noe are quite a sight to behold, even if they don't quite have the televised distinction of the ones in Washington. They look great in photos, especially when a spot fog or some other weather even wraps itself around their…um…peaks.
The upper parts of the hills are entirely undisturbed by modern society (one of few such places in existence) and as such is home to a number of endangered species.
The Twin Peaks neighborhood is also home to a number of other important local attractions, including the San Francisco Police Department Academy at the base of the peaks.
8 – Oracle Park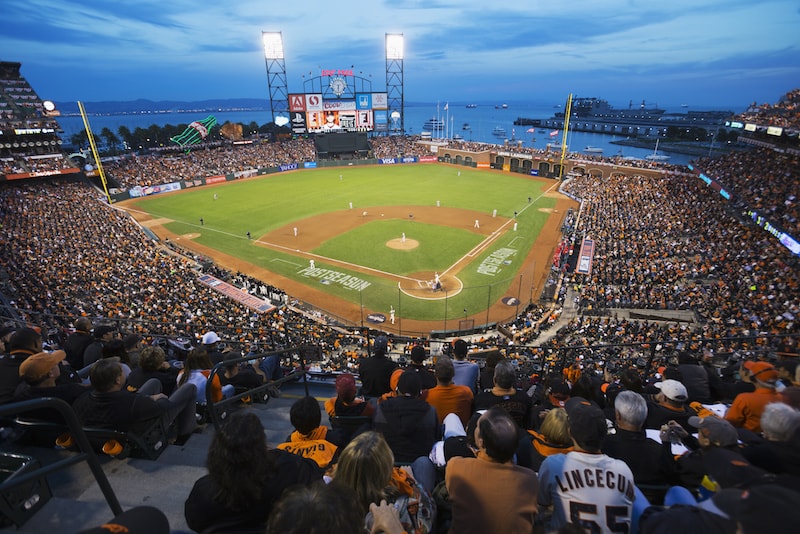 Batter up! Home of the San Francisco Giants, Oracle Park is one of the premier Major League Baseball locations in the United States.
Take a peek behind the curtain – tours of the players' private facilities are regularly available.
Otherwise, the park also hosts major concerts and festivals all year round.
9 – The Palace of Fine Arts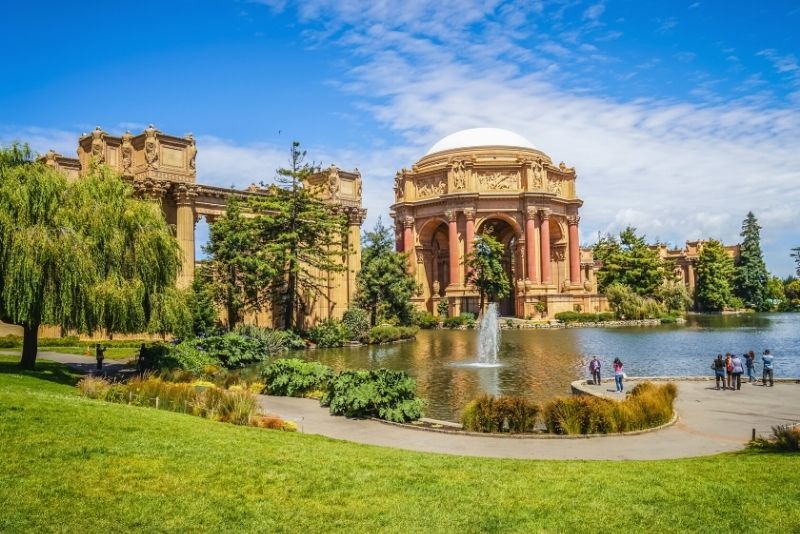 The Palace of Fine Arts is like something out of a fantasy story.
Standing amidst crystal clear waters at the center of an enclosed lagoon, this magnificent structure is the only one that remains from the original Panama-Pacific Exposition back in 1915.
Aside from being incredibly picturesque on its own, the Palace of Fine Arts also functions as a venue for concerts, galas, and other events. It's easily capable of holding more than 5000 people.
10 – Union Square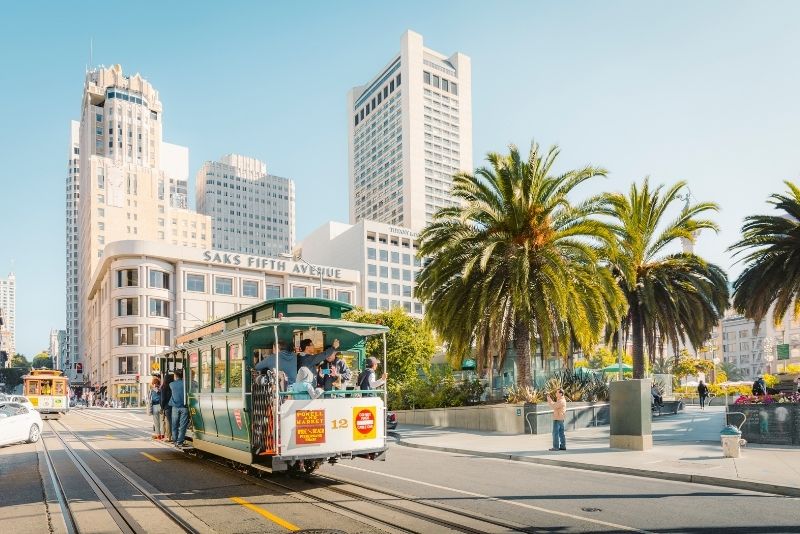 Union Square is one of the best places to visit in San Francisco for people who love to shop.
You'll find all the big-name stores you can imagine in this neighborhood, plus some of the top hotels and restaurants in the city.
The Union Square Plaza, where the neighborhood gets its name from, is a designated California Historical Landmark.
It's a great place for people to meet up, or simply hang out and grab some selfies.
11 – Chinatown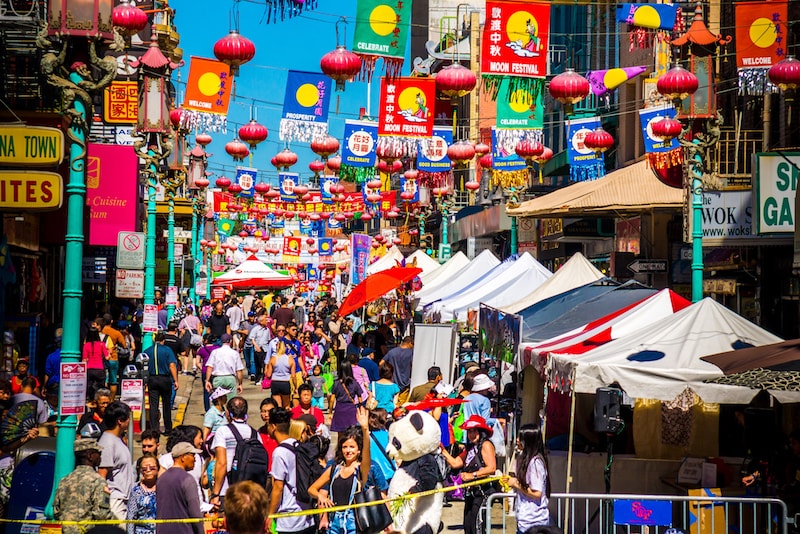 Most major cities in the U.S. feature a Chinatown area of some kind. What makes San Francisco's stand out from the rest is that it's one of the oldest, and it's also one of the largest Chinese cultural communities outside of Asia.
Another thing that sets it apart is that it's the home of City Lights Bookstore, one of the most famous book stores in the United States.
12 – de Young Museum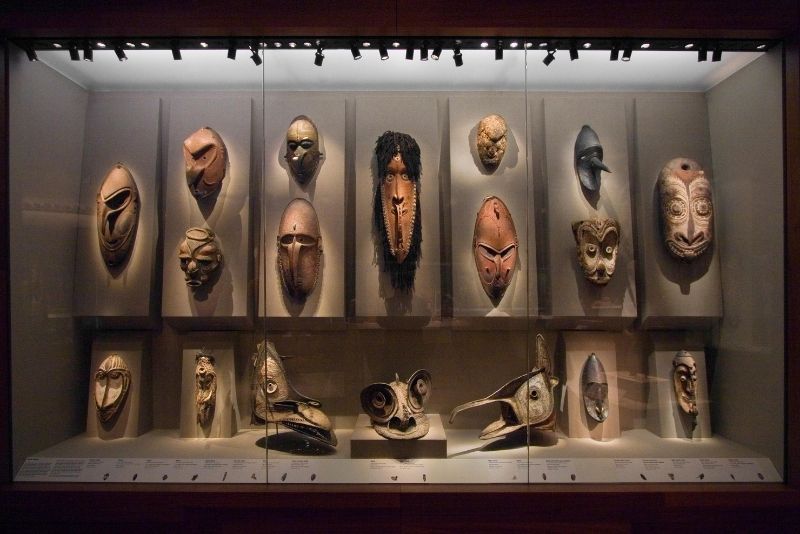 The de Young is first and foremost a museum dedicated to serving the community.
They maintain a large and impressive collection of fine art from around the world and their exhibitions showcase world-class talent like Frida Khalo, but they always make sure their doors are open to local artists who have work to present, and to local students who are searching for avenues to hone and explore their craft.
The de Young Museum is located within Golden Gate Park and admission is dirt cheap, so it's usually one of the first places that come up when discussing the best places to visit in San Francisco.
The de Young Museum is administered by the Fine Arts Museum of San Francisco.
13 – Exploratorium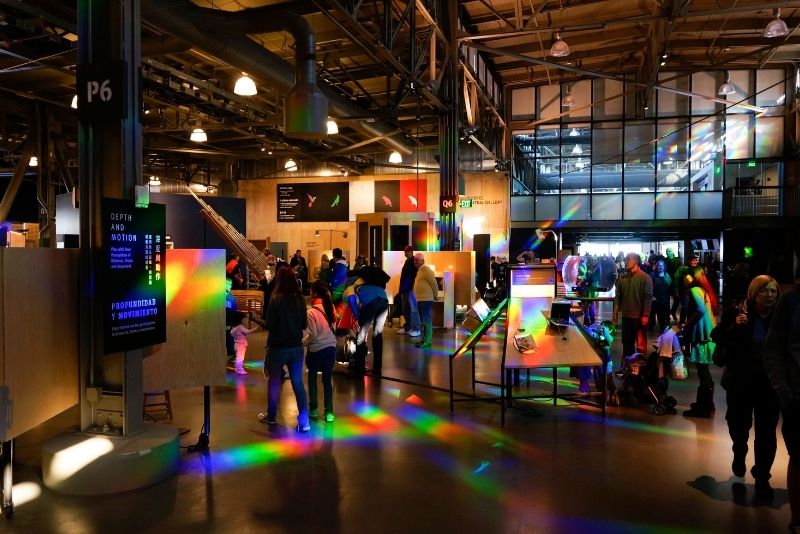 If you've ever wanted to contribute to a real scientific study or experiment, the San Francisco Exploratorium will probably seem like a dream come true.
The museum is structured like a collection of little research facilities, and visitors get to engage and interact with the exhibits in real time as they make their way through each room.
The Exploratorium is funded by some of the biggest names in Silicon Valley, so you can bet the experience will always be cutting edge.
14 – Crissy Field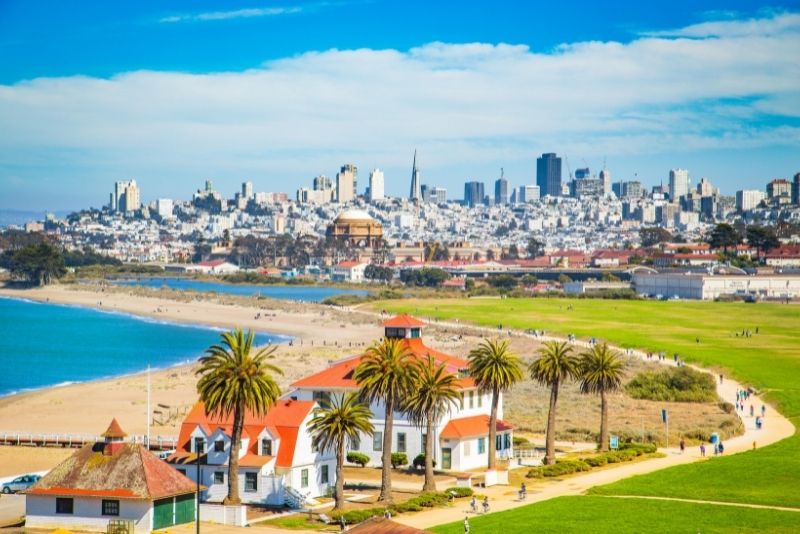 Once an active military airfield, Crissy Field languished under the army's ownership for years until it was finally turned over to the National Parks Service in 1972.
Today, Crissy Field boasts a gorgeous beach, a thriving wildlife community, numerous picnic tables and sport facilities, and to top it all off, a perfect view of the Golden Gate Bridge.
15 – San Francisco Museum of Modern Art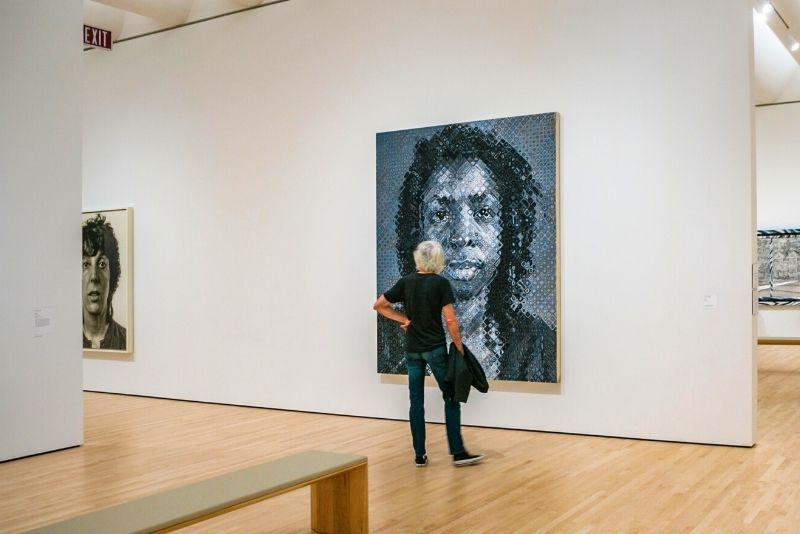 The extensive collection at SFMOMA includes some of the most important modern art pieces of all time from names like Andy Warhol, Henry Matisse, Jason Pollock, and on and on.
They also do a great job of showcasing local art from around the Bay Area.
While you're there, you'll definitely want to check out the Living Wall, a 30 foot tall collection of exotic plants surrounded by sculptures.
16 – Ferry Building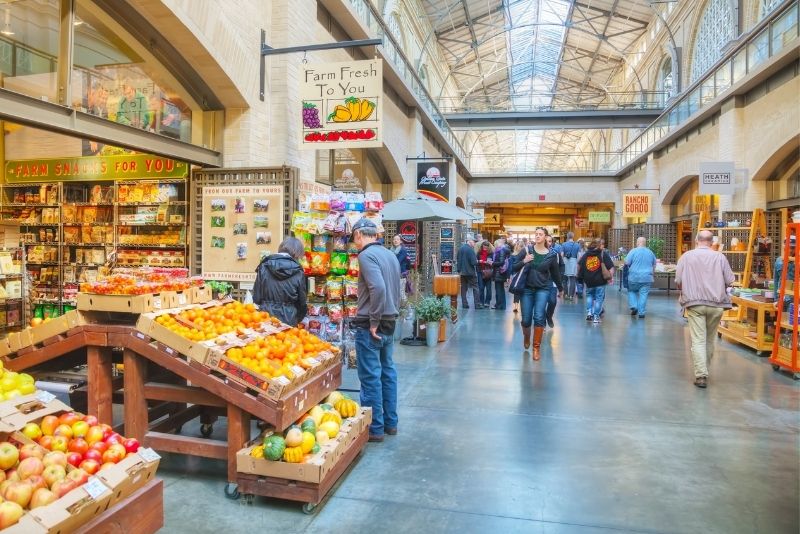 The Ferry Building is one of the oldest and most storied buildings in all of San Francisco, and that's saying something. Over a century ago it was frequented by thousands of locals and travellers alike as one of the city's main transport hubs.
In 2003, after an extensive remodelling project, it was reopened as as a world class food market, and once again people came from all over the world to frequent the Ferry Building's halls.
The market in the building is open all week, but if you really want the best experience, you'll want to visit on a Tuesday, Thursday, or Saturday so that you can take advantage of the local produce at the Ferry Plaza Farmers Market.
17 – Aquarium of the Bay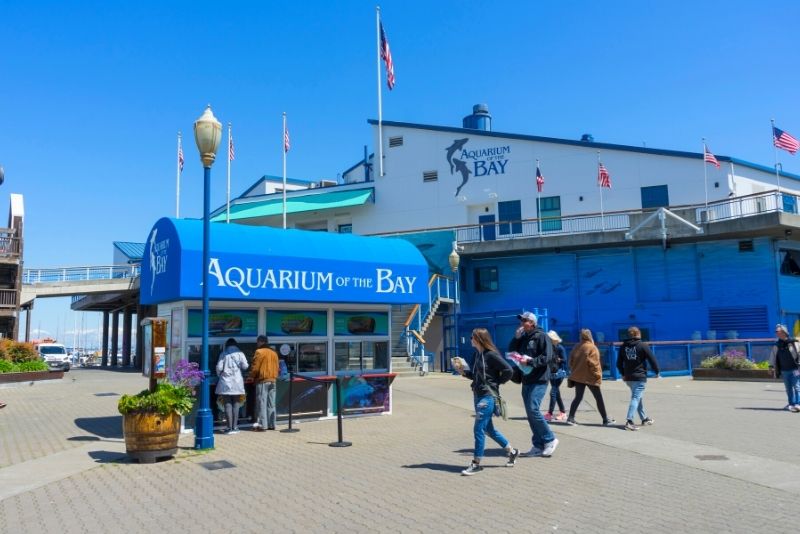 Pier 39 is one of the most popular tourist attractions in San Francisco, and the Aquarium of the Bay is a big part of the reason for that.
We're talking about a world-class indoor collection of fully realized marine life environments with over 20,000 unique sea and ocean creatures.
They offer a variety of different ways to get up close, hands-on experience with the animals, including opportunities to join in on fully-fledged eco expeditions.
18 – Japanese Tea Garden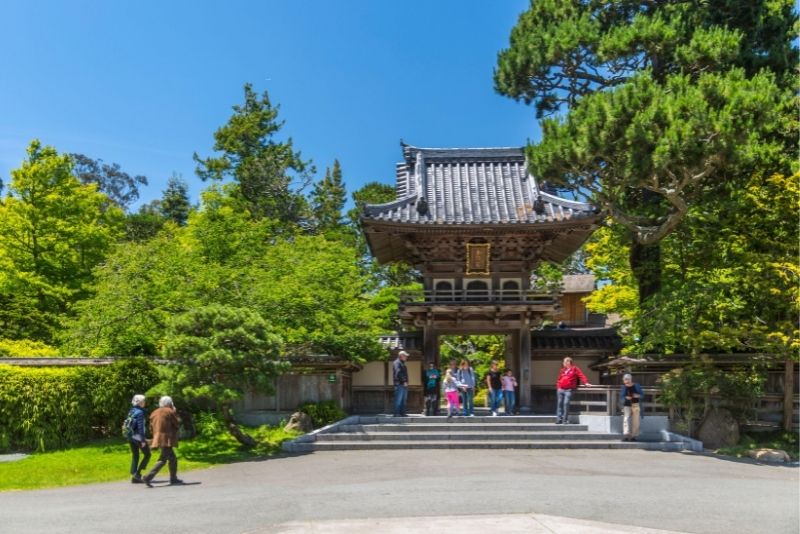 The Japanese Tea Garden in San Francisco was created over a century ago with the intention of bringing a little bit of the peace and serenity of Japanese community life to the United States.
The paths that zigzag their way through the garden are laden with wooden bridges, stepping stones, pagodas, and koi ponds (you'll definitely want to snap some photos of these beautiful, multi-colored fish).
The best time to visit the gardens is in the Spring, specifically during the months of March and April, so that you can enjoy the blooming cherry blossom trees while you walk and sip your tea.
19 – Asian Art Museum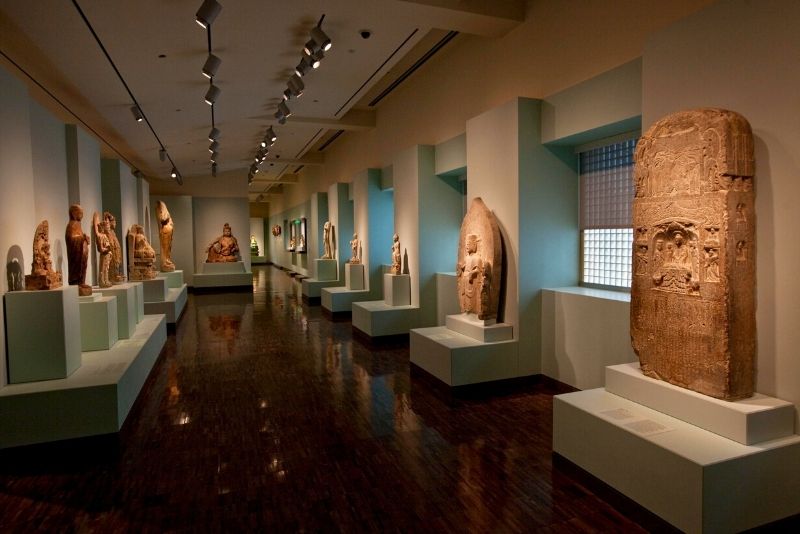 Even before you enter the Asian Art Museum, you'll be able to instantly recognize the unique style and flair of Asia by the pair of ancient lion statues that guard the front steps.
These fixtures are permanent, but the museum often features other art and sculpture installations on the landing outside the main entrance.
Inside, you'll find unique pieces of art spanning centuries of Asian culture. Ticket prices are cheaper than most movie theaters, but if you're really pressed for cash, admission is free on the first Sunday of every month.
20 – Muir Woods National Monument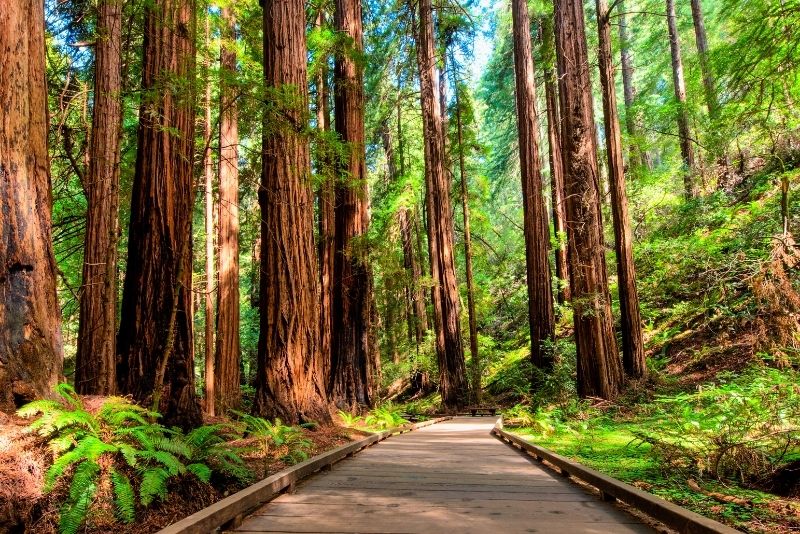 Coastal redwood trees native to California are some of the oldest and largest living things on the planet.
Muir Woods National Monument is a protected section of old growth forest where these monolithic trees have continued to grow unabated for centuries. Some of them measure well over 200 feet tall.
The sheer power of nature is on full display in Muir Woods, and it's one of the best places to visit in San Francisco by far.
21 – Coit Tower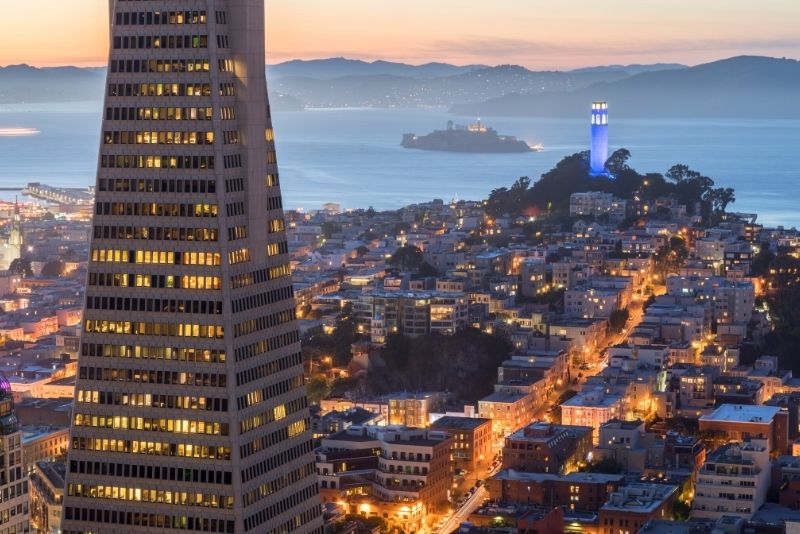 The Coit Memorial Tower was built at the top of Telegraph Hill as a memorial to the city's firefighters, but it quickly became a bigger symbol representing the New Deal and the struggle to end the Great Depression.
The inside walls of the tower are covered with murals painted by some of the most prolific local artists of the time. George Harris, Maxine Albro, Edith Hamlin, and many more were all paid as part of The New Deal to paint murals depicting day to day life in San Francisco.
Telegraph Hill is the tallest hill in the Golden Gate City, so the top of the Coit Tower provides a uniquely inclusive view of San Francisco.
22 – Legion of Honor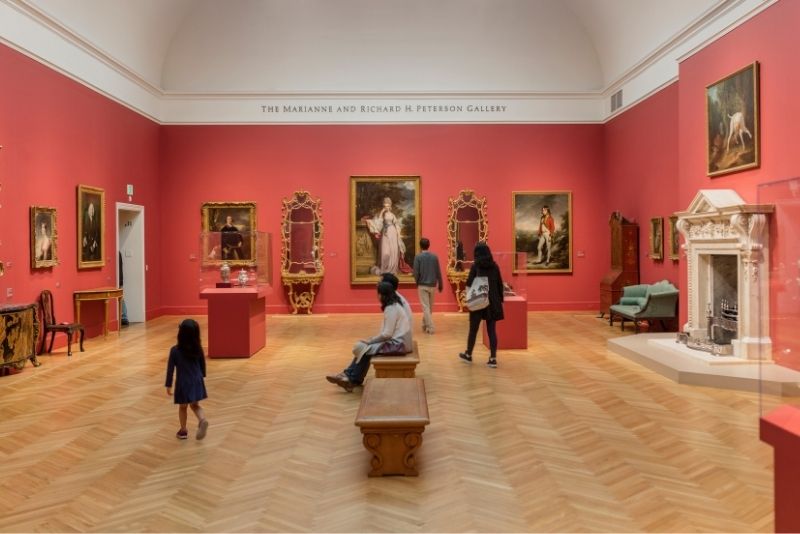 Some of the oldest known pieces of European art in the world are housed at the Legion of Honor Museum.
Film buffs will recognize the building's unique architecture from appearance its appearance in Alfred Hitchcock's Vertigo – the painting from that famous scene doesn't exist, unfortunately.
Much like the de Young Museum, the Legion of Honor is owned and maintained by the Fine Arts Museum of San Francisco.
23 – California Academy of Sciences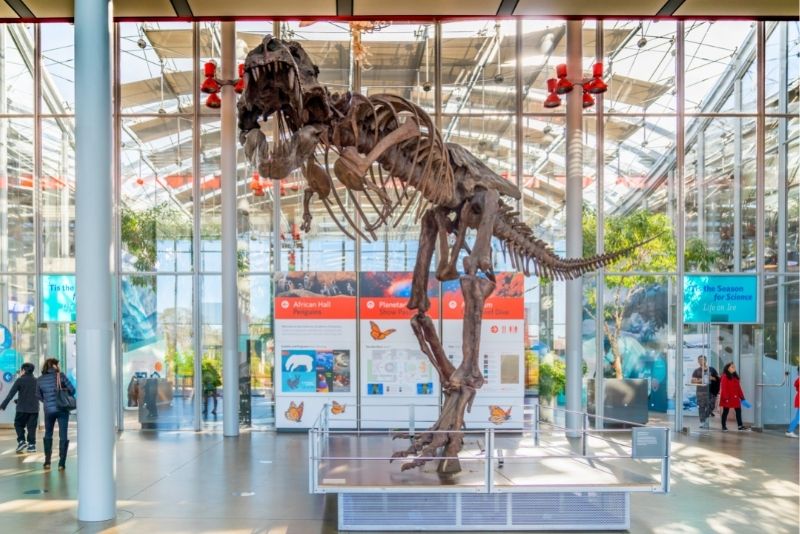 It should come as no surprise that there are so many ways to interact with cutting-edge science and technology in Silicon Valley.
The California Academy of Sciences is one of the largest natural history museums on the planet – you'll find full recreations of every extreme natural environment from the rainforest to the arctic here.
For the kids, they even offer sleepovers with specialized itineraries that include late-night planetarium showings and breakfast in the morning.
24 – San Francisco Maritime National Historical Park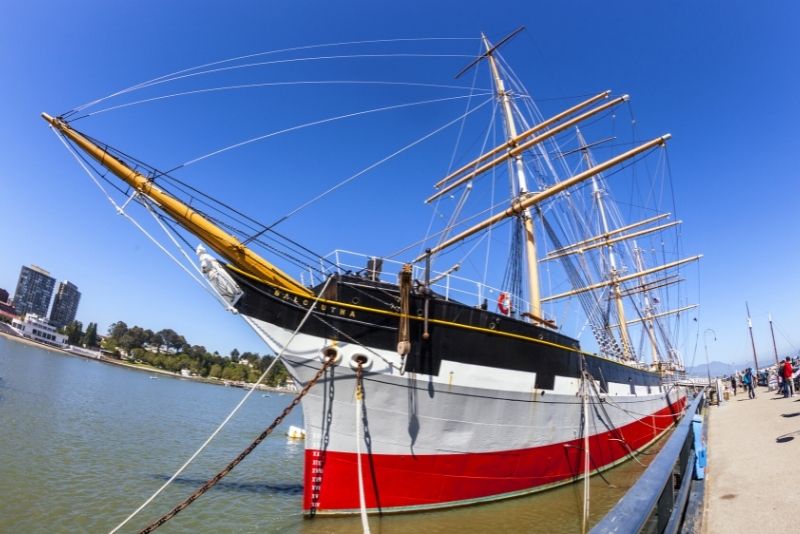 Here's yet another reason to pay a visit to Fisherman's Wharf while you're in San Francisco.
The San Francisco Maritime National Historic Park facility has no less than six historic vessels docked at its designated pier. You can even climb on board some of them and take a look around.
Once you're done learning about nautical history, there's still plenty to do. You can head to the swimming area for a quick dip, and they dry off as you peruse the numerous volumes in the library.
25 – The Walt Disney Family Museum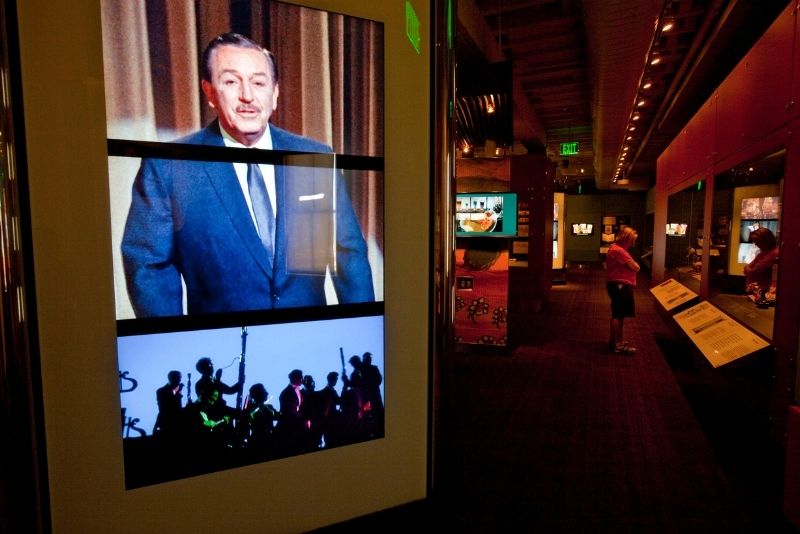 The name says it all.
The Walt Disney Family Museum is dedicated to showcasing not just Walt Disney's immeasurable contributions to film and media, but also the man behind the timeless animations, his personal relationship with his children, and the struggles he endured before and after his meteoric rise to stardom.
The museum also extends beyond its Disney namesake with community programs aimed at educating and even combatting homelessness.
26 – Ghirardelli Square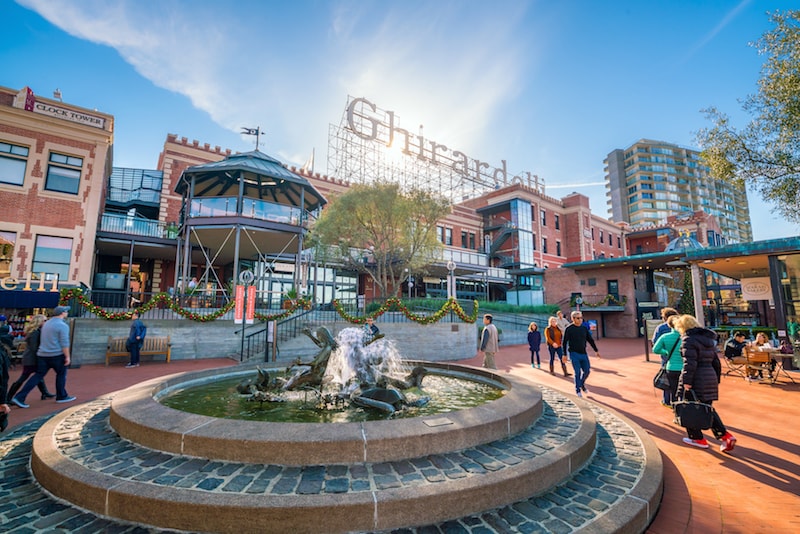 Once upon a time, the Ghirardelli building that now makes up a whole shopping complex used to be a simple chocolate factory owned and operated by an Italian immigrant.
You'll still find the original Ghirardelli Chocolate Shop selling delicious treats, but the square is so much more than that today.
One of the best shopping locations in the city, you'll find all kinds of top-of-the-line clothing and food from local vendors, along with a five-star hotel on the grounds.
The building was designated as a national historical sight in the 1980s.
27 – Madame Tussauds San Francisco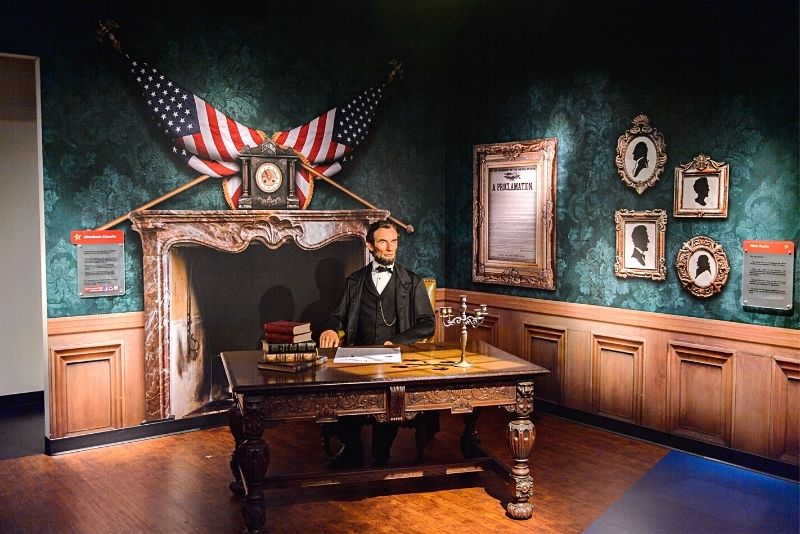 Any old wax museum can be a neat experience, but Madame Tussauds is iconic.
While it's not the London original, the Madame Tussauds outlet in San Francisco still boasts plenty of so lifelike it's scary wax sculptures of celebrities from the city's storied history, including the likes of Muhammed Ali, Marilyn Monroe, and President Barrack Obama.
28 – Hidden Garden Steps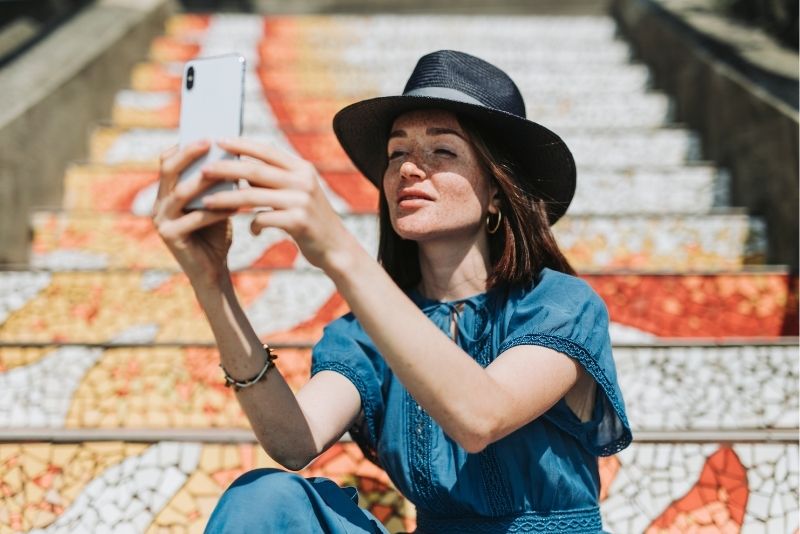 If you weren't looking for them, you might walk by the Hidden Garden Steps on 16th Avenue and miss them entirely. They're worth stopping for though.
Devised as a community project, the steps were painted during a festive opening ceremony and signed by all who were there.
The mosaic is designed to make the steps look like the pathway from the sea to the stars.
On either side of the steps is a vibrant community garden.
29 – City Lights Booksellers & Publishers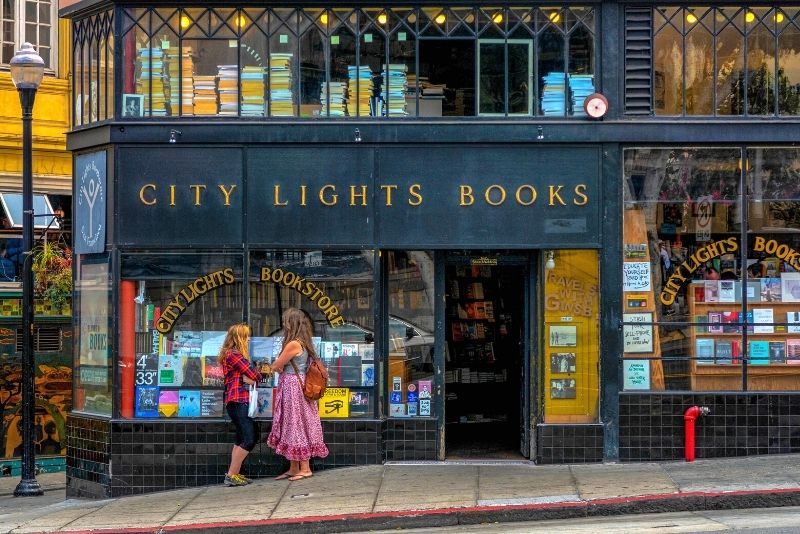 City Lights is so much more than just a local book store, it's one of the most important locations in modern pop culture history.
It was the first and only bookstore to publish works by many major poets of the Beat Generation, and it was co-founded Lawrence Ferlinghetti himself.
Ferlinghetti and the store's manager were later arrested for selling copies of Allen Ginsburg's Howl out of the store.
It looks much the same as it did back then, and it goes without saying that it's probably one of the best places in the world to walk into and pick up a book.
30 – The Wave Organ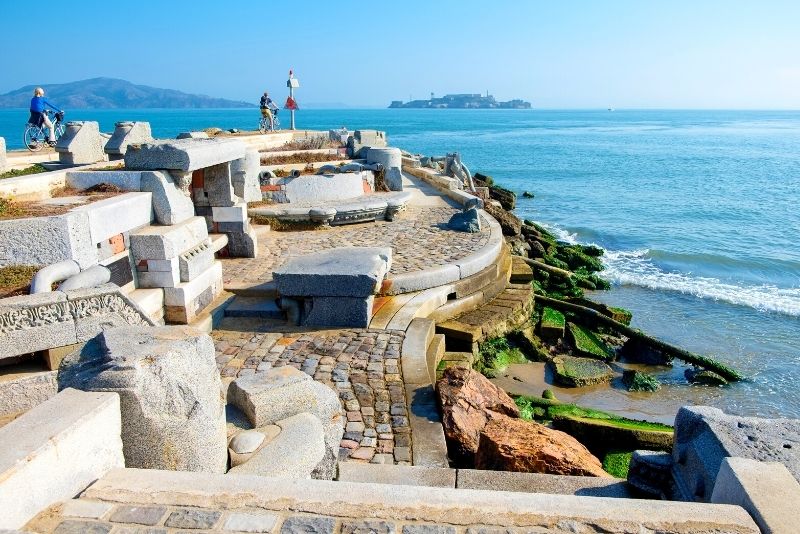 Part of the Exploratorium interactive museum, the Wave Organ is essentially a giant stone musical instrument played by the waves that move through it naturally from San Francisco Bay.
The 20 stone pipes extend into the bay and basically function the same as putting a seashell up to your ear. It's just one of the many local oddities that make San Francisco so unique.
31 – Musée Mécanique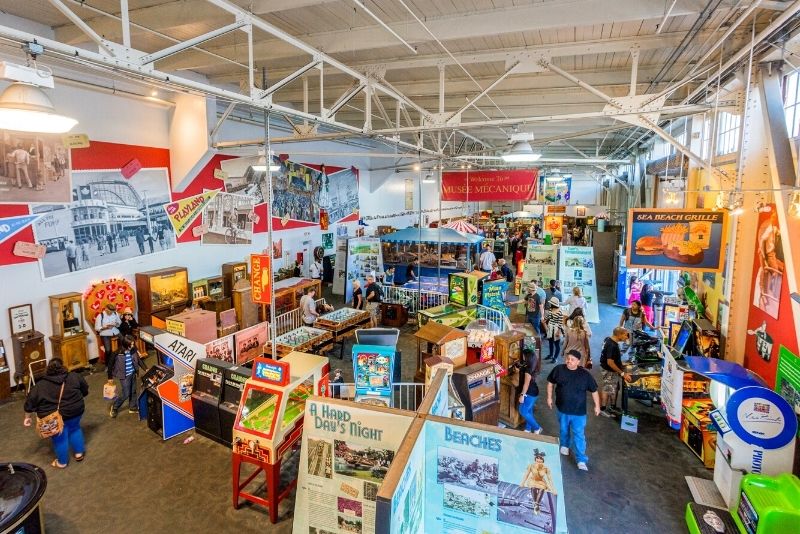 You'll need to spend at least a few days making your way around Fisherman's Wharf, otherwise, you may miss out on insanely entertaining museum concepts like the Musée Mécanique.
This is not your typical art museum. Instead, here you'll find a huge collection of toys, arcade games, peep shows, dioramas, and other odds and ends from ages of entertainment past.
To maintain the mystique of the video arcades and carnivals of yesterday, you still need to pay to play with all of the exhibits.
32 – San Francisco Zoo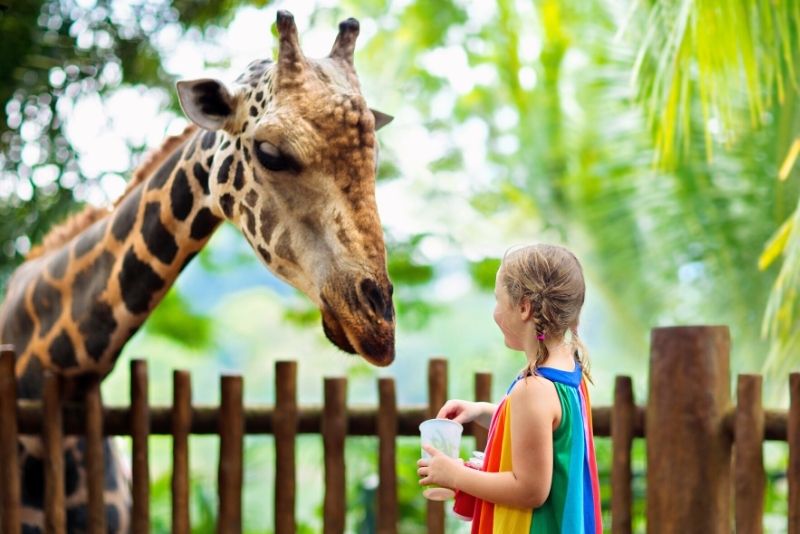 Even on holidays, the San Francisco Zoo is open to the public. The zoo's main goal is to bring in rescued and endangered species and make sure they have a suitable and safe habitat to thrive and procreate in.
Among their assortment of rescued animals are a pair of grizzly bear sisters named Kachina and Kiona who are both trained to get up close and personal with visitors.
The zoo also maintains some pretty impressive records; they've got the largest outdoor lemur habitat in the U.S. and the largest captive colony of Magellanic penguins on their Penguin Island exhibit.
33 – Baker Beach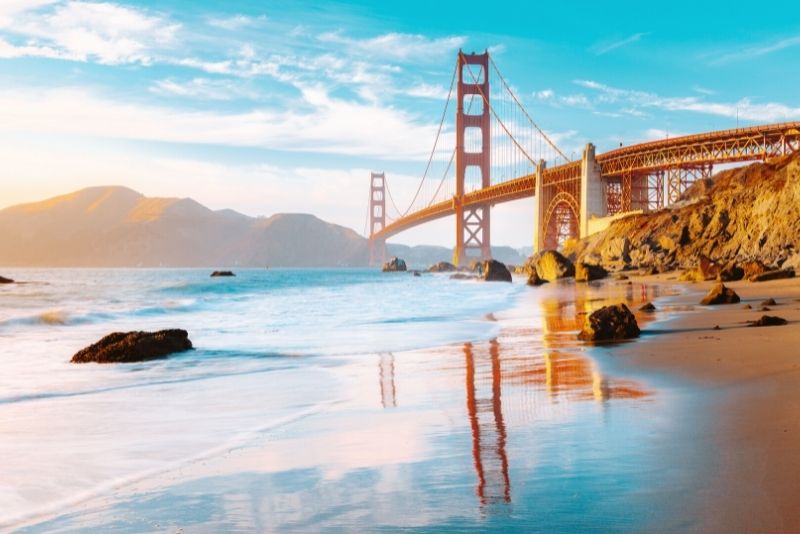 On the north section of Baker Beach, you'll find one of many possible spectacular views of the Golden Gate Bridge.
Not a bad view while spending a day in the sun (assuming you manage to catch some sun, of course, as it does rain a lot in SF). If you like to fish, the rocky areas along the sand are a prime location.
If you're a bit of a history buff, Baker Beach was also the sight of the first few iterations of the Burning Man festival.
34 – San Francisco Botanical Garden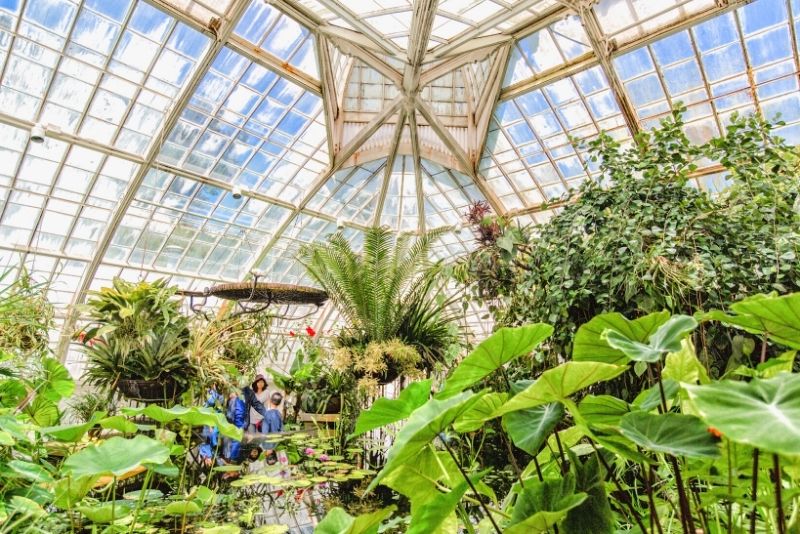 Yet another reason to visit Golden Gate Park more than once, San Francisco Botanical Garden is home to over 9,000 plants, many of which are unique to coastal California.
They also have a great bookstore where you can find all kinds of books on gardening, including really specific design niches like bonsai. The gift shop is pretty neat as well.
If you're an early riser, entrance to the garden is free between 7 and 9:30 am every morning, as well as on the holidays, and the second Tuesday of every month.
35 – Sutro Baths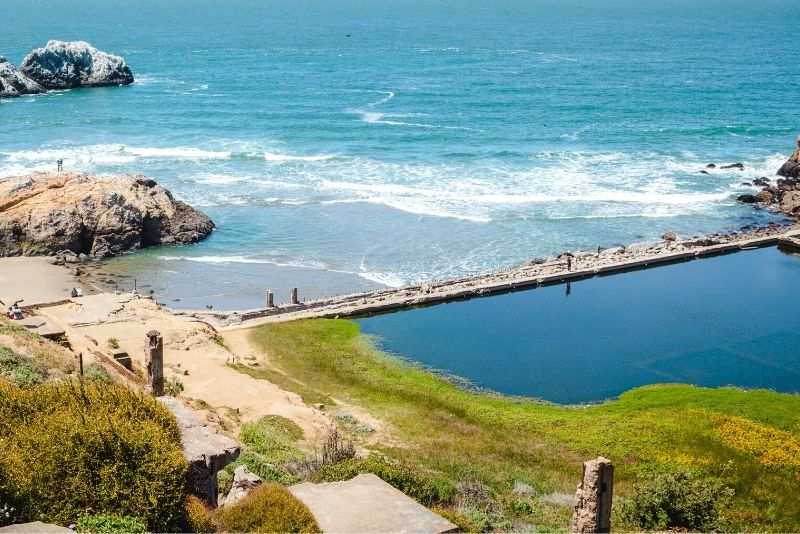 Long before water parks began to dot the landscapes of rural America, a building designer named Adolph Sutro began work on what would become the world's largest and most ornate indoor saltwater swimming facility.
Sutro believed in giving the general public access to the healing benefits of saltwater recreation and affordable prices. Unfortunately, though popular, Sutro's dream wasn't profitable, and over time the business fell to ruin.
In 1966, the facility was all but destroyed by a fire. What remains today are the eerie ruins of this once vibrant public staple. The ruins are open to the public for tours and general exploration.
36 – Washington Square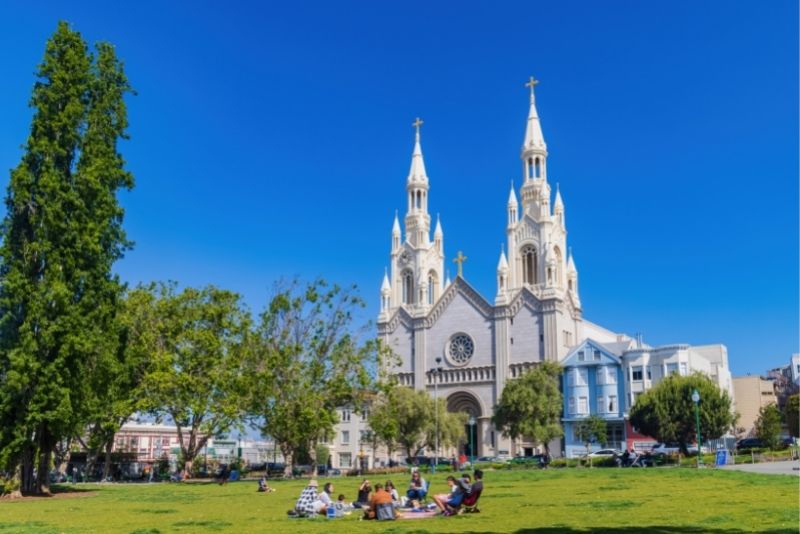 No, you haven't accidentally stumbled into the wrong city, Washington Square is actually a park in San Francisco, one of the city's first.
Toward the center of the park, underneath a small sculpture of Benjamin Franklin, is a time capsule that was planted there in 1979 and will be unearthed in the year 2079.
Directly across the street from the park, you'll find Mama's, a world-famous brunch joint that's a favorite among foodies and travel blogs.
37 – Lands End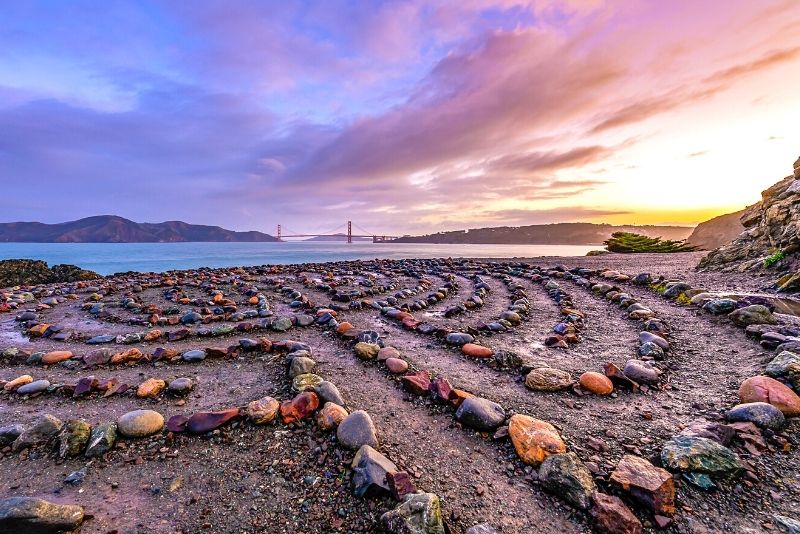 Lands End Park is less frequented than some of the other parks in the city, which actually makes it one of the best places to visit in San Francisco.
Of its many beautiful coastal walking trails, the one at Eagle's Point leads to a beautifully constructed stone "labyrinth," a piece of art created by artist Eduardo Aguilera.
In 2012, the construction of Lands End Lookout was completed on the park grounds. The visitor center contains a cafe, a gift shop themed after the park.
38 – Yerba Buena Gardens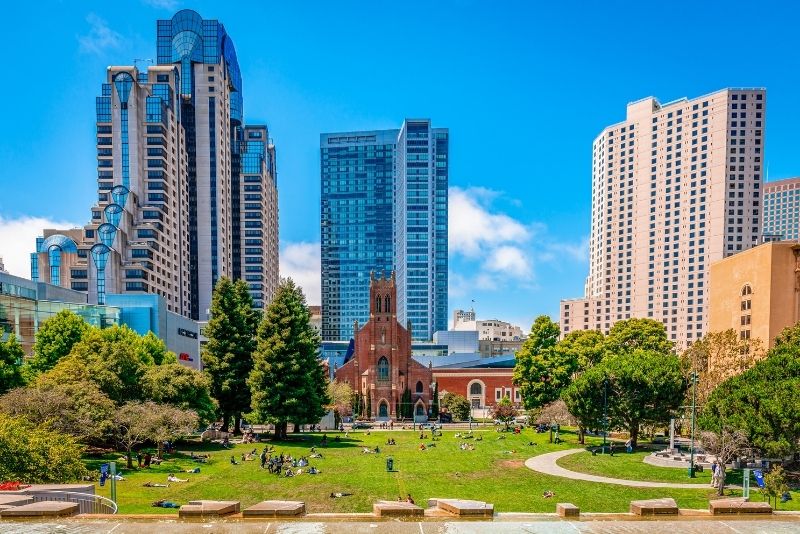 Two blocks of public parks make up Yerba Buena Gardens in Downtown San Francisco. Notable for their numerous public art installations, the gardens actually received Rudy Bruner Award for Urban Excellence in 1999. You'll find a number of delicious local eateries sprinkled throughout the parks as well.
At the center of the gardens is the Yerba Buena Center for the Arts, which is one of the Bay Area's premier contemporary art facilities. The center functions as a non-collecting museum as well as a live music and theatre facility, and they have a regular calendar of rotating exhibitions.
Since 2021, the YBCA has partnered with the San Francisco Arts Commission, San Francisco Grants for the Arts, and the San Francisco Human Rights Commission to provide funding for dozens of local contemporary artists living below a certain income level.
39 – Angel Island State Park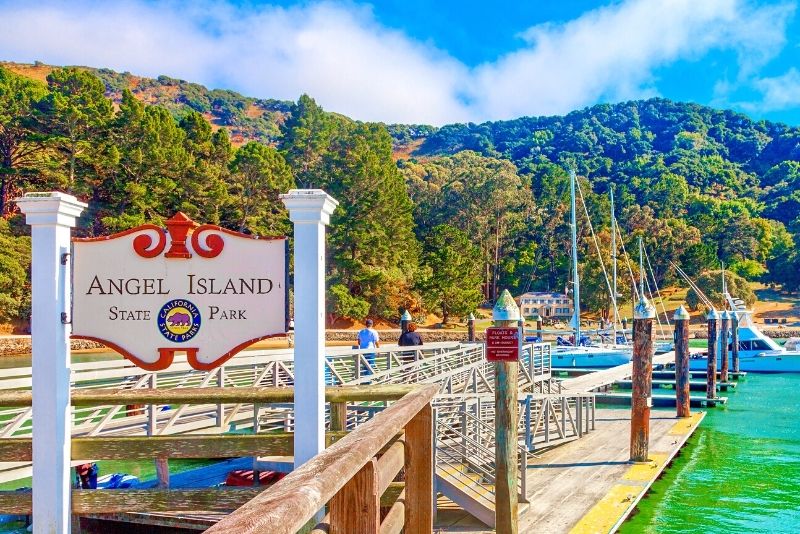 A former immigration station, Angel Island has thousands of years of history waiting to be explored on its grounds, along with a healthy helping of natural and man-made attractions.
Forming the perimeter of the island is a full five miles of biking trail. You can rent bikes or bring your own, and there are lush campgrounds that sometimes feature live musical performances.
On the historical side of things, its past as an immigration station alone has left significant landmarks, including an original quarantine center built during the bubonic plague.
The island is accessible by a roughly 10-minute ferry ride via Tiburon in the San Francisco Bay Area. The ferry ride itself isn't free, but it is worth it as it offers a gorgeous view of the Bay.
40 – Painted Ladies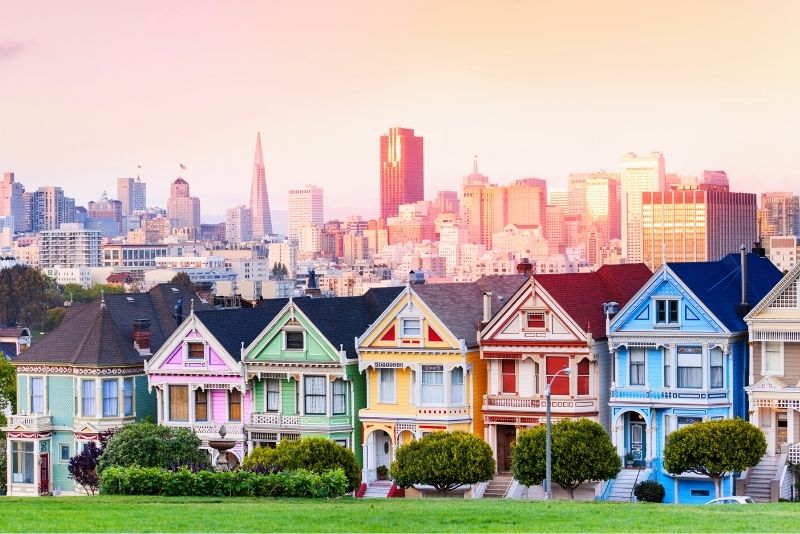 Many a San Francisco postcard is adorned with a picture of the Painted Ladies, seven colorful Victorian houses diagonally arranged to symmetrical perfection on the edge of Alamo Square.
It's a great spot for a photo op, but remember that while the houses are beautiful, they're also homes to the people who live there, so make sure to remain respectful while admiring the architecture!
41 – Mission Dolores Park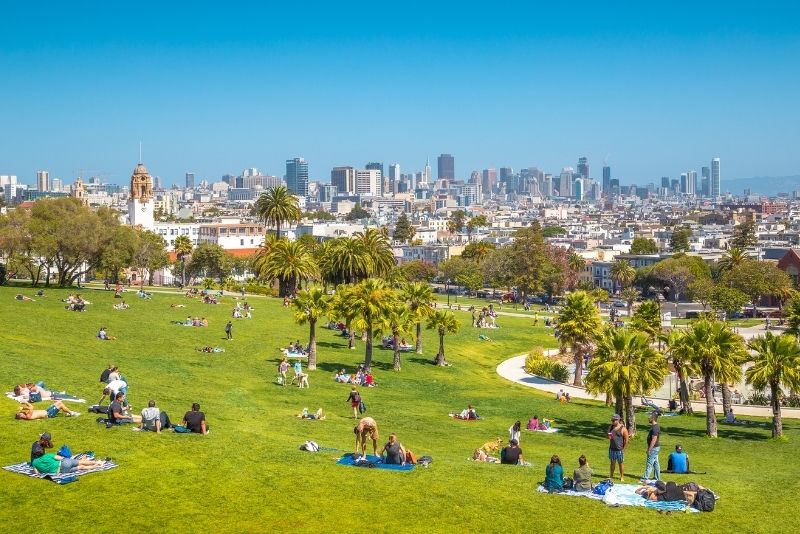 Mission Dolores Park has all the makings for the perfect California park experience; they've got numerous sports facilities including a soccer field, several tennis courts, and at least a couple of basketball courts.
And when it's lunchtime, nothing beats a picnic under the palm trees. To top it off, the park is a popular location for major festivals, especially during the summer months.
The park holds a special place in the annals of San Francisco history as it was used as a refugee camp in 1906 after a major earthquake left hundreds of locals homeless.
42 – USS Hornet – Sea, Air and Space Museum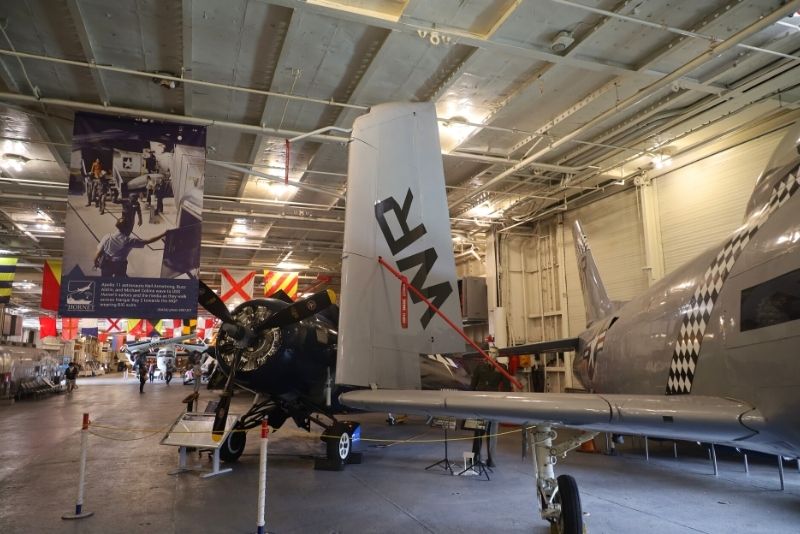 During its time as an active aircraft carrier, the USS Hornet took part in quite a few combat missions, including the oh so subtly named "Great Marianas Turkey Shoot."
From the early '40s all the way until 1970, Hornet carried countless servicemen and vehicles across the ocean
Hornet currently sits docked in Alameda (a neighboring county to San Francisco, just a hop and a skip away) and has been transformed into fully-fledged sea, air, and space museum.
You'll not only find cool artifacts and stories from some of the most famous American war efforts in recent memory aboard the ship, but also exhibits featuring the other feats of U.S. ingenuity, like the moon landing.
The museum offers multiple tour packages, but if you're looking for a solo experience, you can peruse the ship's docks at your leisure for less than the price of a movie ticket.
43 – Bernal Heights Park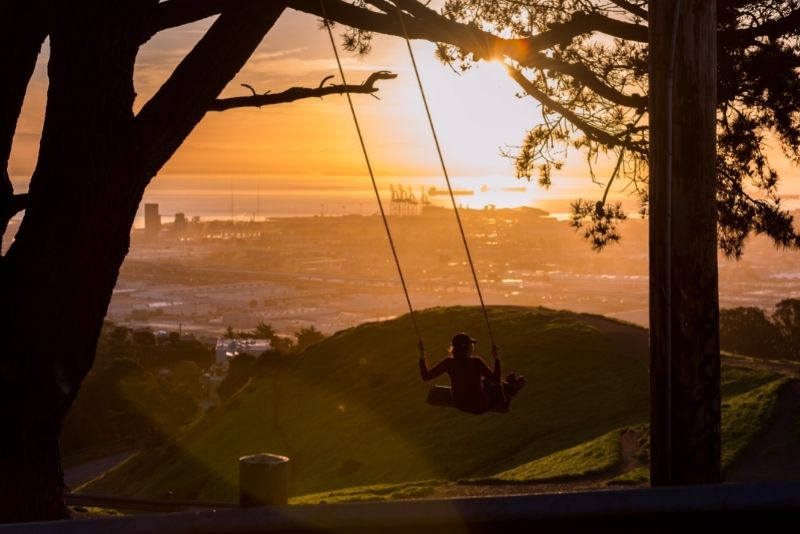 For animal lovers, Bernal Heights Park is definitely one of the best places to visit in San Francisco.
The park is home to dozens of plant and animal species that one wouldn't normally expect to find in a residential area, but the locals have learned to coexist with the likes of California alligators and coyotes.
On the more adorable side of things, the park is also home to salamanders, gophers, and over 40 different types of birds, including Townsend's warblers, dark-eyed juncos, and American kestrels, so make sure to pack your binoculars.
44 – Conservatory of Flowers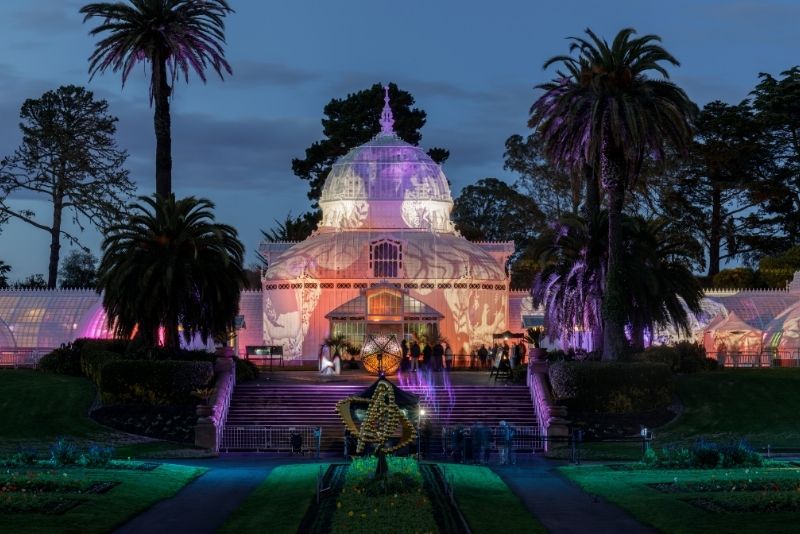 Located right at the entrance of Golden Gate Park, the team behind the Conservatory of Flowers is dedicated to collecting as many rare flowers as humanly possible and placing them in mind-bogglingly gorgeous arrangements as far as the eye can see.
The conservatory is open all year round during the day, including many holidays, and is split up into curate sections:
Aquatic Plants: This section is designed as a gorgeous miniature man-made river dotted with aquatic plants. Highlights include giant water lilies and carnivorous pitcher plants.
Highland Tropics: You won't find many galleries of highland tropic plants in the U.S., so this section alone makes the Conservatory of Flowers worth the visit. Highlights include the world famous Dracula orchid.
Lowland Tropics: The rich plant life of the world's mightiest jungles is on display here, and it's always humid enough for a light rain to wash over you as you make your way through coffee berries, cacao, plants, and tropical fruits. As a bonus in this man-made rainforest environment, you don't have to deal with the scary predators that might be stalking you in the real thing.
Potted Plants: This gallery is dedicated to showcasing the history of potted plants from around the world, with special attention given to representing the 1800s Victorian style that was prominent when the conservatory was first constructed.
West Gallery: After making your way through some of the more extreme simulated weather conditions in the other galleries, you'll find yourself back in more familiar territory in this gallery dedicated to showcasing all different types of that most popular of house plants: the fern.
45 – USS Pampanito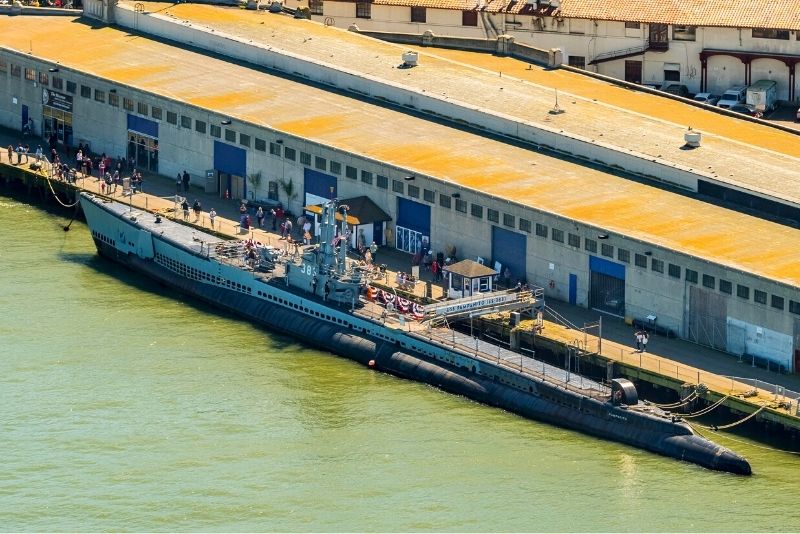 Yet another retired war vessel that saw combat during the second world war, including Pearl harbor, the USS Pampanito has been transformed into a maritime memorial and museum facility docked at Pier 45 in Fisherman's Wharf.
Tours of the submarine are available both in the self-guided variety as well as with an experienced guide, but booking arrangements need to be made in advance for the latter.
46 – John McLaren Park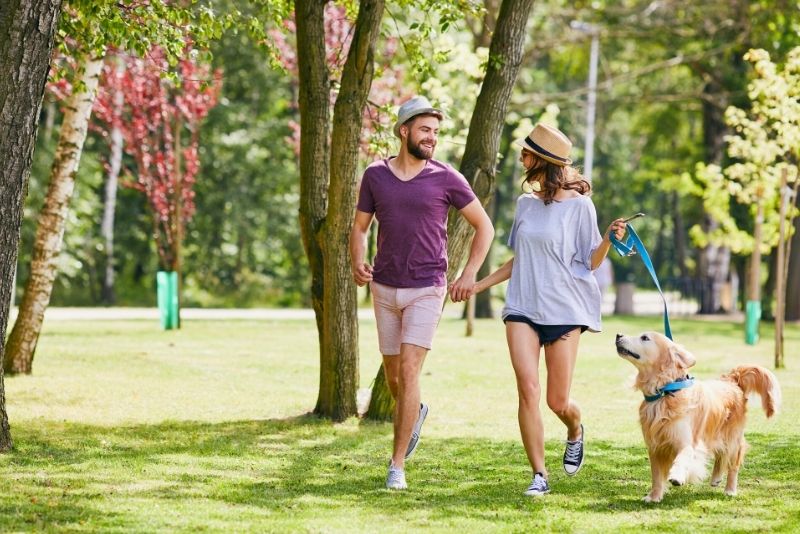 Thanks to a number of sizable contributions from the city, John McLaren Park has become a thriving community center with a number of important landmarks and attractions.
For starters, there's Gleneagles Golf Course, which only has 9 holes, but can always be played as 18 if you decide to loop back around.
You'll also find the Jerry Garcie Amphitheater, named after the famous Grateful Dead guitarist and San Francisco native himself. The amphitheater has a capacity of well over 3,000 people and regularly hosts major concerts and other events.
Philosopher's Way is where you'll want to go if you're looking for a good hike. This hillside trail is one of San Francisco's best-kept secrets, created by Exploratorium staff artists Peter Richards and Susan Schwartzenberg.
The trail features a number of stone markers placed deliberately in key locations to function as "musing stations."
47 – Top of the Mark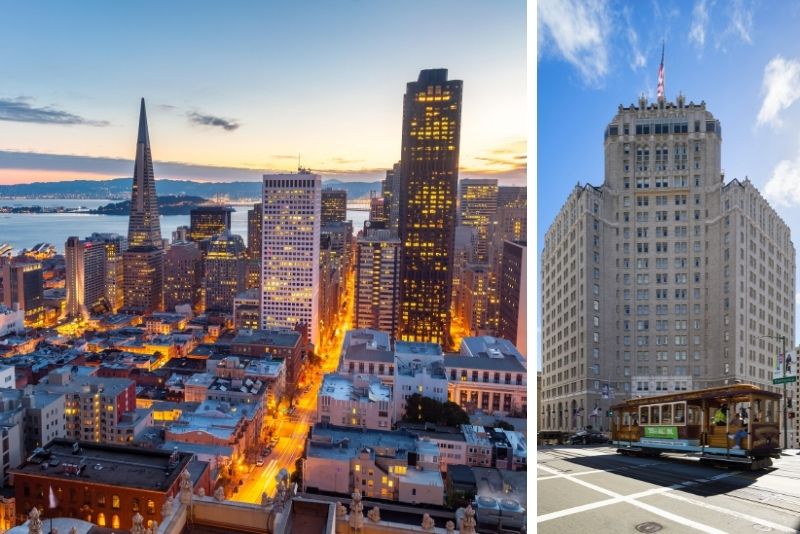 You want to talk about luxury? The Top of the Mark has more than 100 different martinis on their cocktail list.
Whether you're visiting for business or pleasure, they're equipped to handle every customer's whim, 24/7.
You can see the flag on top of the building waving in the wind all the way from the Golden Gate Bridge. It's truly one of the most iconic places in the entire city.
If you're looking for places to stay in San Francisco, this should definitely be on the top of your list.
48 – Buena Vista Park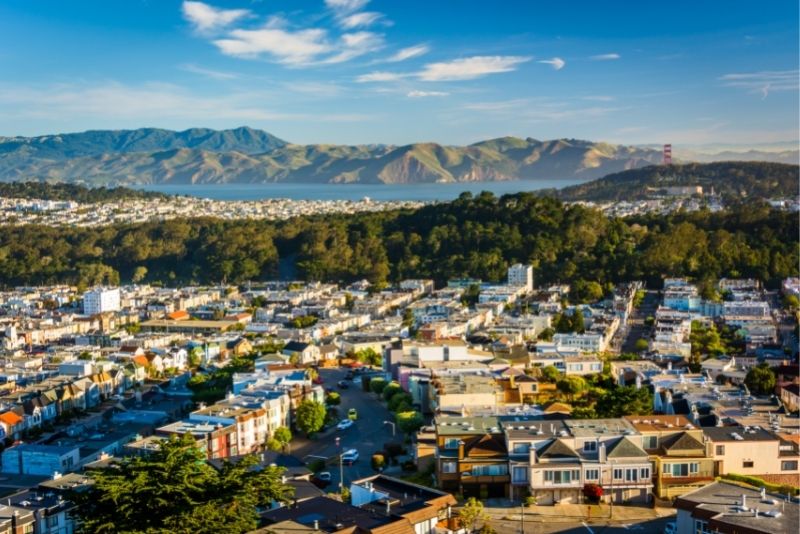 Right at the center of San Francisco you'll find Buena Vista Park.
It's not the biggest park in the city, nor is it the most famous, but it has one of the few remaining coast live old oak groves in the area, which creates a natural habitat for numerous species of birds, western harvest mice, and Botta's pocket gophers.
Like any good park in San Francisco, it has a number of sports facilities, picnic tables, and some truly memorable hiking trails.
Along the trails, you'll find notable landmarks like a flower arrangement shaped like an international peace sign and a path made entirely out of broken headstones from cemeteries that were once located at Lone Mountain.
49 – SS Jeremiah O'Brien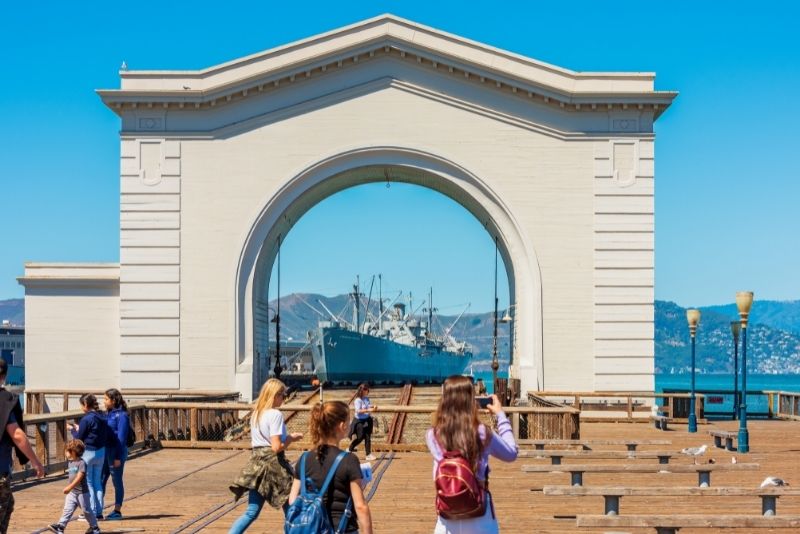 If you're a history buff, particularly someone fascinated by World War II, and especially if you have a thing for old sea-faring war vessels, then your cup truly doth runneth over if you choose to visit San Francisco.
You'll find the liberty ship SS Jeremiah O'Brien docked at Pier 45 right near the USS Pampanito in Fisherman's Wharf.
The ship is open for guided tours, but unlike almost all of its contemporaries, the SS Jeremiah O'Brien is still fully operational and regularly takes passengers out into the San Francisco Bay and beyond on cruises.
50 – Transamerica Pyramid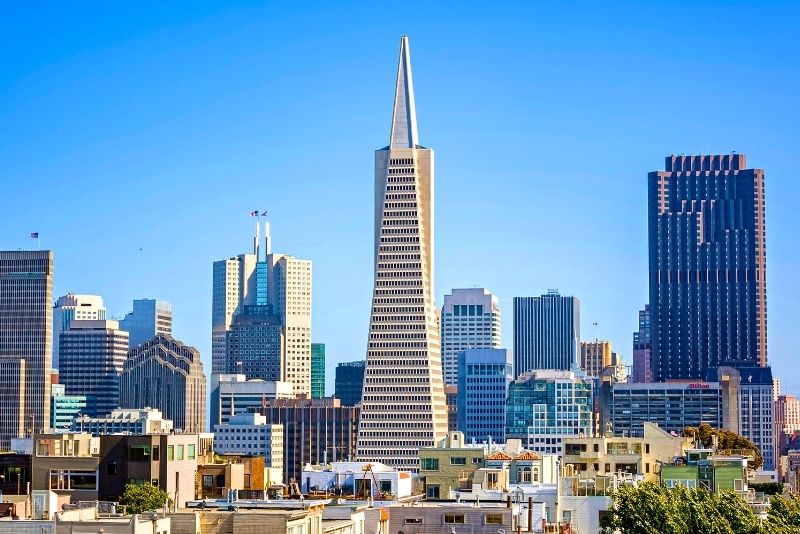 One of the things that make the Transamerica Pyramid stand out from the other already extremely unique structures in San Francisco is the fact that it is, well, a pyramid.
A modern and sleek pyramid that has about as much to do design-wise with large ancient Egyptian structures as a pop tart has to do with a loaf of bread, but a pyramid nonetheless.
Built during the skyscraper boom of the 1970s, Transamerica CEO specifically requested that the building be constructed to allow light to pass through it ad reach the ground below as much as possible, in stark contrast to the large shadows cast by the skyscrapers that had taken over Manhattan.
For a long time, the Transamerica Pyramid was also the tallest building in San Francisco, until it was surpassed by the much less flamboyant Salesforce Tower in 2018.
While Transamerica no longer actually maintains ownership of the building, a number of high-profile companies call it their headquarters, including Mars Inc and Greenhill & Co.
51 – Glen Canyon Park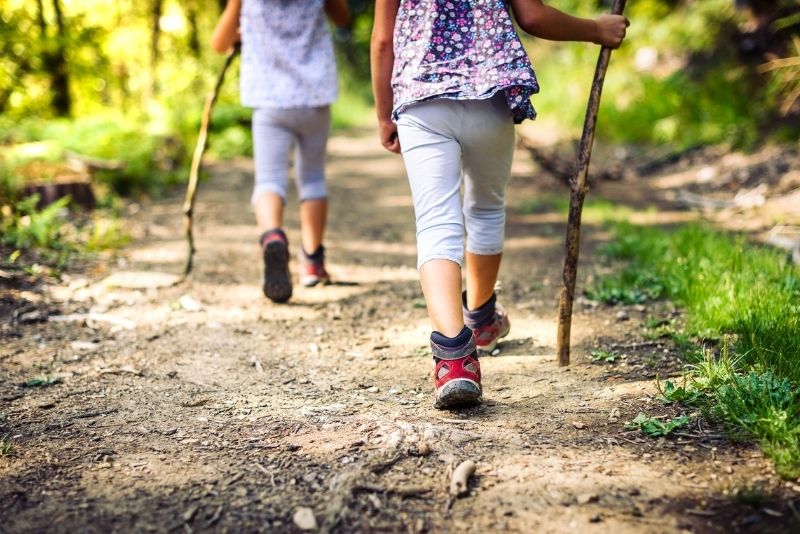 Glen Canyon really helps to illustrate the sheer scope of natural environments you'll find when you visit San Francisco.
The canyon does contain paved walkways and typical park amenities, but there are also large portions of the area that are entirely untamed, and it's not uncommon to spot wild animals like opossums, great horned owls, and coyotes.
The untouched nature of the canyon also means that there are rock formations that date back millions of years, and you'll be able to see the results of age-old volcanic eruptions.
All among the many ways to reconnect with nature in California, Glen Canyon definitely makes its case as one of the most unique.
52 – San Francisco City Hall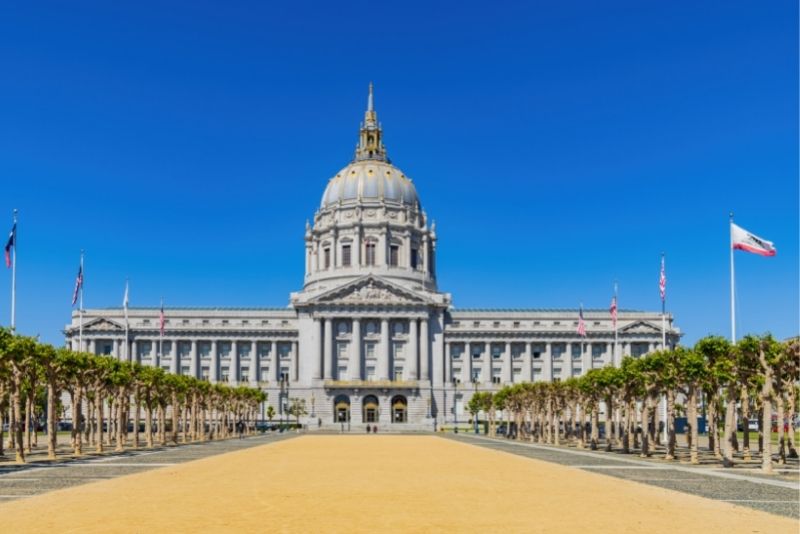 In honor of Carlton B. Goodlett, a prominent newspaper publisher and civil rights activist who took up residence in the Bay Area, the official address of San Francisco City Hall was designated as 1 Carlton B. Goodlett Place in 1999.
The dome is taller than the one in Washington, and like most other buildings in San Francisco, its architecture is uniquely artistic, and you'll find a number of priceless artifacts from throughout the city's history when you take a tour of the premises.
53 – War Memorial Opera House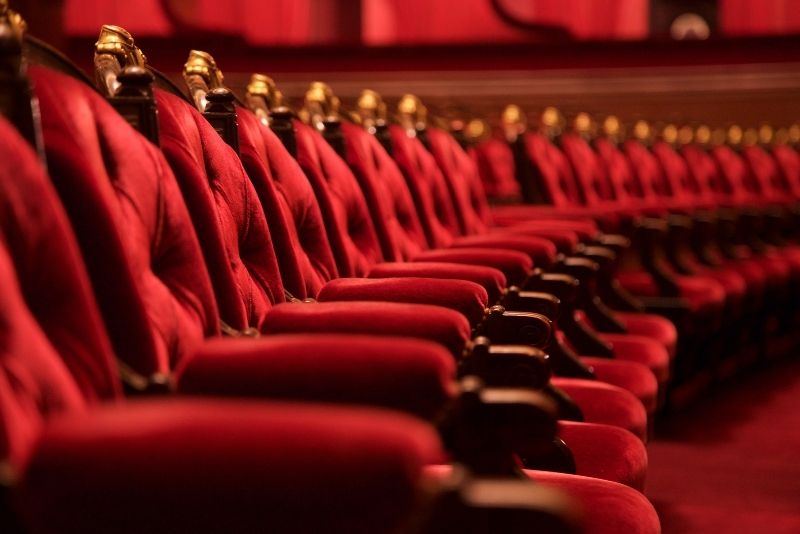 It would be high praise indeed to name one single building the most beautiful in all of San Francisco, but if such a conversation were ever to be had, the War Memorial Opera House would certainly be a contender.
Conceived after the first world war was a way to commemorate those brave soldiers who lost their lives in battle, its design took influence from a number of historic periods and structures, including the Louvre.
The opera house has played a part in hosting many important historic meetings, not the least of which being the 1945 San Francisco conference.
Of course, the opera house is a musical theater first and foremost, and as the home base of the San Francisco Opera, it puts on no less than 60 performances every single year.
54 – Children's Creativity Museum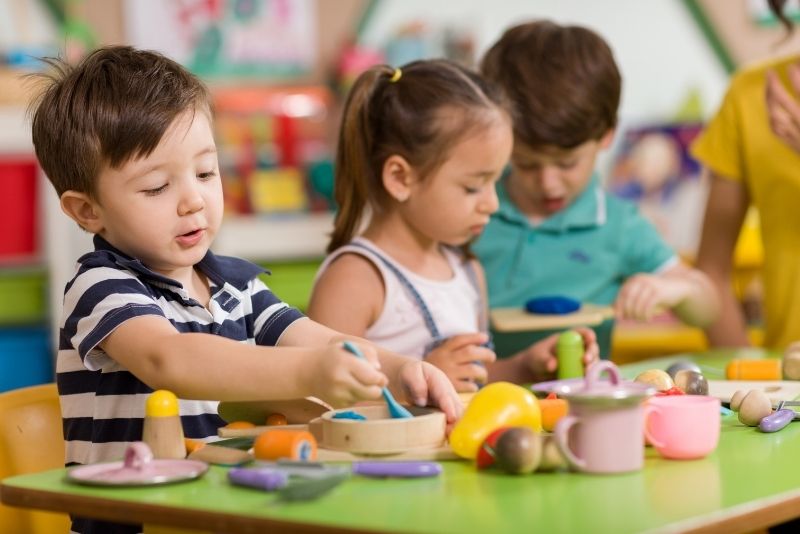 One of the many facilities located within the sprawling two blocks of Yerba Buena Gardens, the Children's Creativity Museum is a great tourist option for those families traveling with children.
Like most of the modern museum facilities located in Silicon Valley, this one is fully interactive, and your kids will have a blast getting hands-on while learning about stop motion animation, computer programming, music video animation, and so much more.
55 – Napa & Sonoma Valley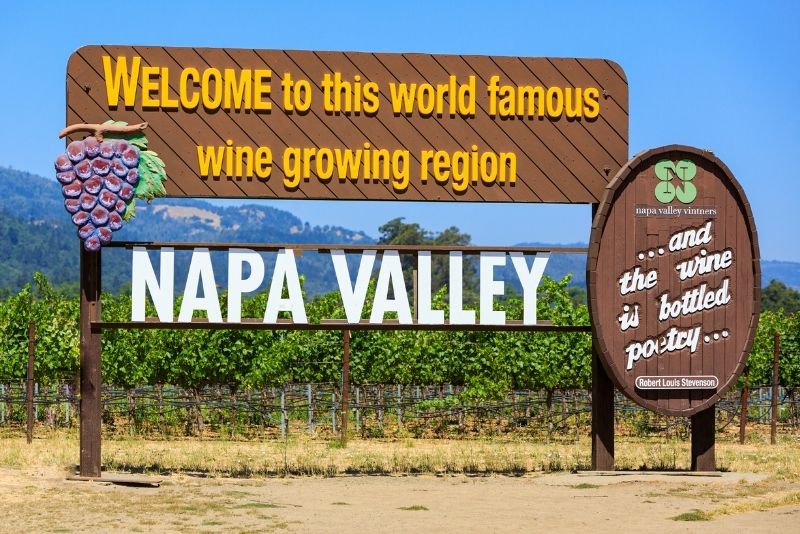 No trip to California would be complete without taking a trip through wine country. There are hundreds of wineries spread out between Napa and Sonoma, so no matter which path you choose to take, you're bound to find a flavor you'll enjoy.
The nectar of the vines is the most obvious reason to visit Napa, Sonoma, and the other municipalities that make up Wine Country, but it's far from the only reason.
Napa Valley
It goes without saying that you'll find fantastic wineries in Napa Valley, but so many other reasons to visit as well.
For starters, you'll find world-class hot spring and mud bath resorts in the town of Calistoga.
There's also the Silverado Trail, which is absolutely perfect for bike rides.
You also can't go wrong with a visit to the petrified forest, where you'll find trees preserved over centuries in volcanic ash, the results of which are absolutely stunning and definitely worth the photo opportunity.
See also: fun things to do in Napa Valley.
Sonoma Valley
Sonoma County is California's largest wine producer, so obviously that's the first thing that comes to mind when you think of the area.
After you've visited the Buena Vista, which is the oldest premium winery in the state, you'll probably be ready for a magical walk through the coast redwood forests, where you'll be humbled under the largess of the tallest and oldest living trees on the planet.
After that, there's no reason not to check out one of the area's amazing local farmer's markets, where you'll find some of the best fresh produce money can buy.
We hope you've enjoyed reading about some of the very best places to visit in San Francisco. If you're planning to take a trip there soon, check out some of the best hotels in San Francisco.
If you're looking to access a lot of local attractions in one trip and don't want to have to deal with the hassle of waiting in line to pay for special attraction tickets, consider looking into a Go San Francisco Card explorer pass, which will allow you to book up to 5 different attractions at once.
If you've been to any of the places we spoke about in this list and would like to share your thoughts, or if you think there are any places we've missed, feel free to let us know in the comments.
As always, stay safe and happy travels!