Are you looking for the best Halong Bay cruises from Hanoi? Well, you've come to the right place. Known for its emerald waters and limestone islands, Halong Bay is one of the most picturesque areas in Vietnam – and offers plenty of opportunities for a relaxing cruise along its waters.
There as so many available boat tours that it can be challenging to pick the one that's right for you. But worry not, as we have listed the best Halong Bay Cruises. Read on, and enjoy.
1 – Halong Bay Deluxe Cruise (1-3 Days)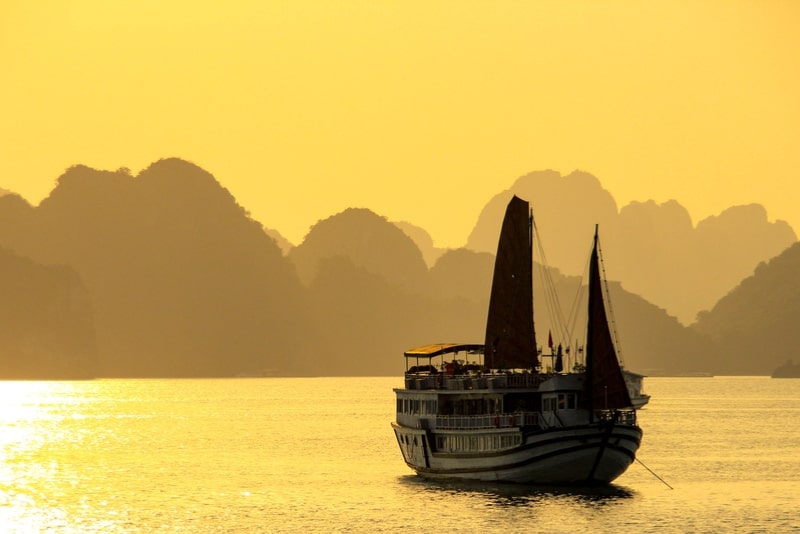 Choose your length of stay, from one day or two nights and three days, with this Halong Bay Deluxe cruise. The natural beauty of Halong Bay, a UNESCO World Heritage Site, is on offer, and you will marvel at the beautiful limestone islands.
The trip includes a visit to Cua Van Floating village, which is the largest fishing village in Halong Bay. Other features include famous islands such as Fighting Cocks and Stone Dogs. You'll discover hidden beaches, where you can laze of the soft sands before dipping into the relaxing waters.
2 – Halong Bay Day Tour from Hanoi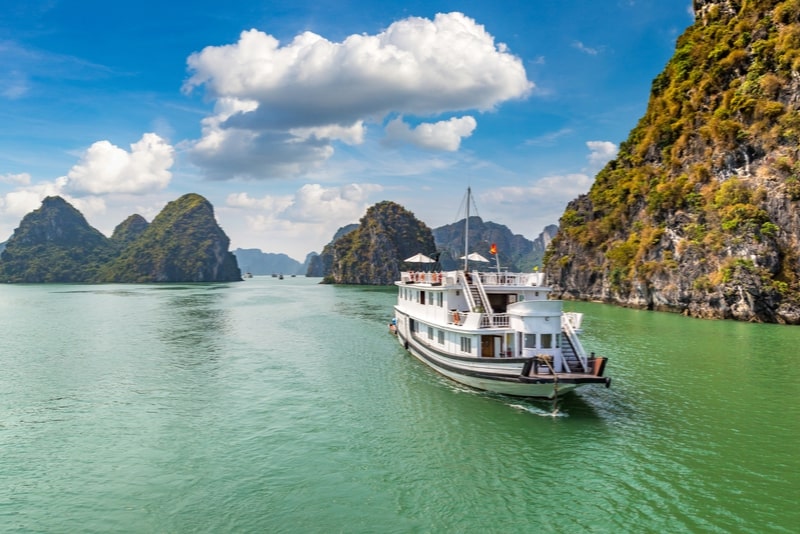 Immerse yourself in the beauty of Halong Bay with this day tour from Hanoi. After being picked up from your hotel, you'll journey along the Red River delta before arriving at Halong City harbour. From here, you will board a traditional wooden junk boat and head out into the bay.
Enjoy a spot of seafood for lunch, then take in Halong Bay and its surroundings. The tour includes a stop at Thien Cung Cave, a huge chamber filled with stalactites and stalagmites. There will also be an opportunity to kayak around the islands.
3 – 2-Day Oriental Sails Junk Cruise of Halong Bay from Hanoi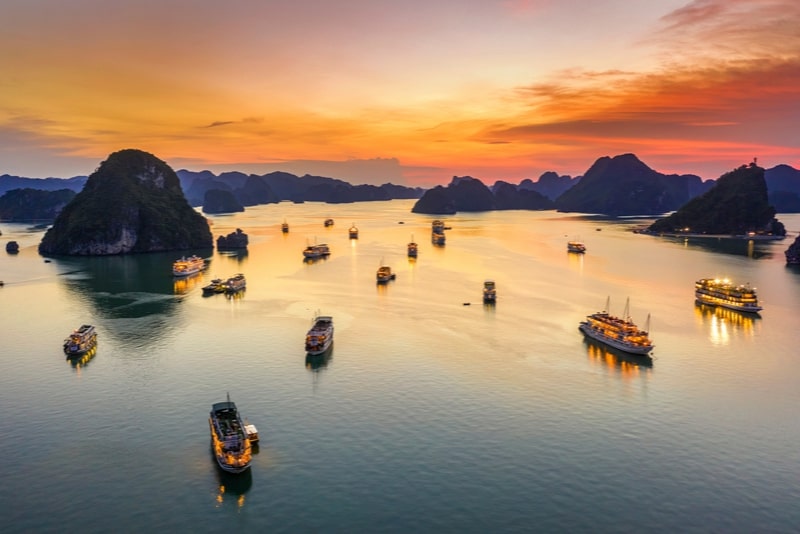 One of the best Halong bay cruises, this trip affords the opportunity to enjoy a stay on the 'Oriental Sails', a traditional-style junk boat featuring 18 deluxe cabins that are designed to provide maximum relaxation. They are the perfect starting point for your Halong Bay adventure. The two-day tour includes a visit to Tiptop Island, where you can enjoy a spot of hiking and swimming.
Next, kayak to Luon Cave and enjoy a tai chi morning exercise with a cooking lesson thrown in for good measure. From here, you will have the opportunity to relax at your own leisure and soak up the beauty of Halong Bay's surroundings.
4 – Halong Bay Full-Day Deluxe Tours Including Cruise, Kayaking and Lunch from Hanoi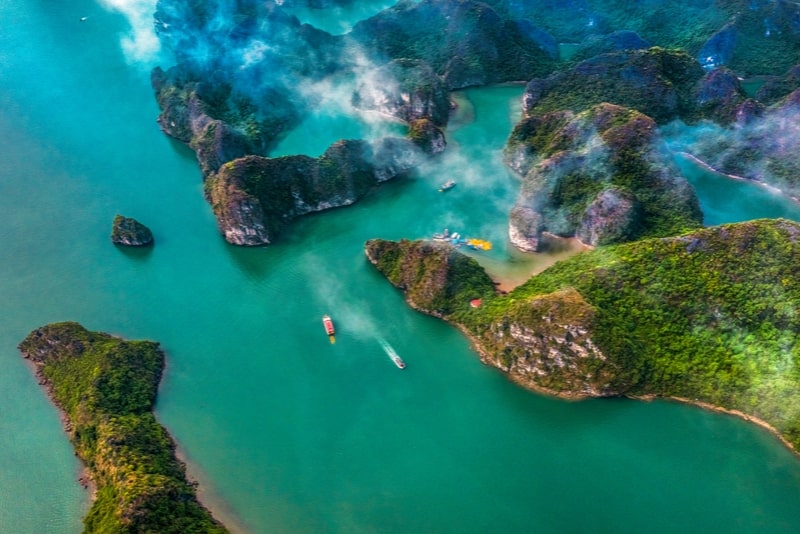 Experience an all-action adventure combined with the stunning sights of Halong Bay with this full-day deluxe tour. Your day will begin with a bus ride from Hanoi and lunch on the boat that will take you around the UNESCO World Heritage Site of Halong Bay.
Discover the Sung Sot Cave, which is Halong Bay's largest cave and features stalactites and stalagmites that serve as the folklore of the area. Once you have conquered the caves, enjoy a spot of kayaking and swimming in the soothing waters.
5 – Jadesails – Halong Bay and Lan Ha Bay Luxury Day Tour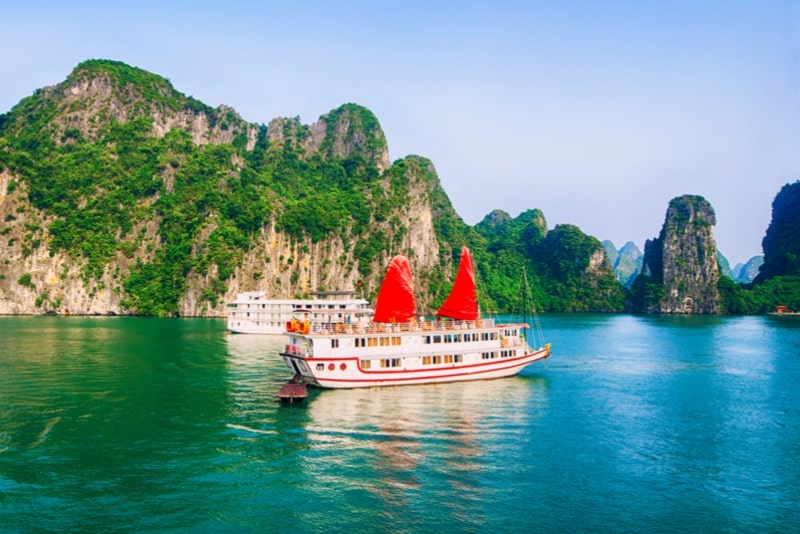 Turn your day trip to Halong Bay into a luxury one and incorporate a stop at Lan Ha Bay, the equally beautiful karst islands. This 12-hour day tour starts with a ride in a limousine to Halong Bay, where you will then board a luxury boat. There is also the opportunity to choose an overnight cruise option.
Your first experience is Halong Bay, where you will witness the UNESCO World Heritage Site while enjoying kayaking and swimming. Next, you will head to Lan Ha Bay and take in the local area of this less tourist, quieter bay.
6 – From Hanoi: Halong Bay One Day Escape Including Lunch on the Boat
Marvel at everything the UNESCO World Heritage Site of Halong Bay has on offer with a one-day escape from Hanoi. From the Sot Cave to picturesque limestone islands, your day will be filled with spectacular sites.
The tour includes other prominent sites, such as rural and rustic villages of northern Vietnam, as well as sweeping scenery on offer. Lunch is also included, with a seafood buffet ready and waiting for you if you work up an appetite exploring the beauty of Halong Bay.
7 – Genesis: Halong Bay Luxury Day Tour with Premium Transport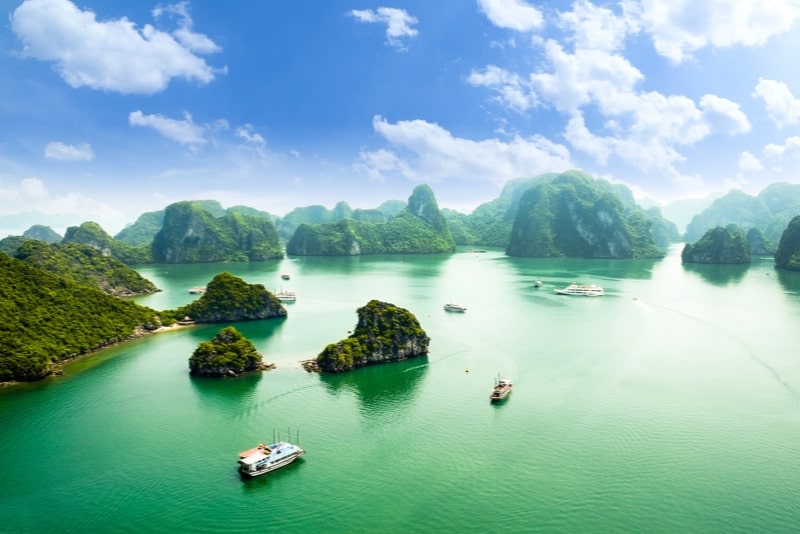 Upgrade your Halong Bay visit with a high-class cruise. Start your 12-hour day trip with luxury transportation from Hanoi, before enjoying a welcome drink on the ship. Then get down to some major sightseeing with all of Halong Bay's top attractions, including 2,000-plus limestone islands.
Back on the ship, a nine-dish Vietnamese lunch awaits you and offers a chance to sample local cuisine. After lunch, take part in some kayaking or hop on a rowboat and explore the relaxing waters of Halong Bay – all in the comfort of a luxury boat.
8 – Halong day tour islands caves kayak with dragonfly cruise Halong Day Tour: Islands, Caves, Kayak with Dragonfly Cruise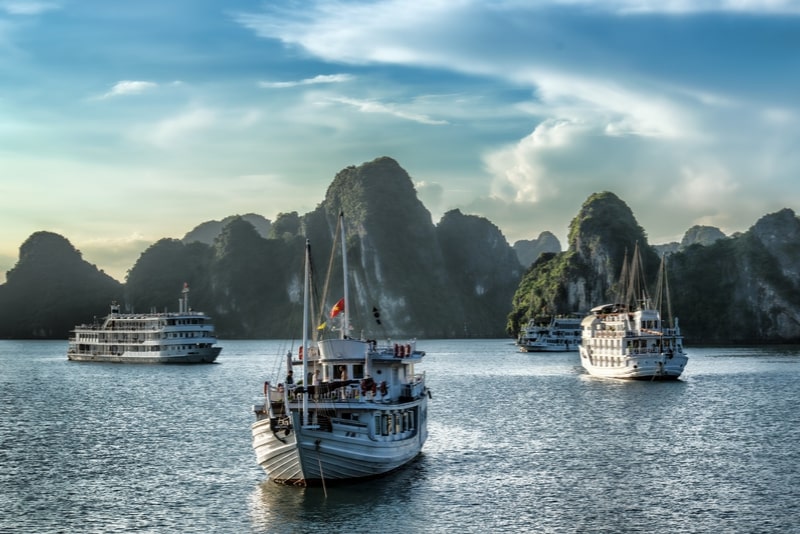 One of the best Halong Bay Cruises, this trip sees you enjoying everything on offer at this UNESCO World Heritage Site. The day starts with a journey from Hanoi to Halong Bay, where you make a short stop to see local craft workshops.
Once on the boat, experience a cruise that visits Heavenly Palace Cave, otherwise known as Thien Cung Cave. Other features include a local fishing farm, an idyllic floating village, and the famous James Bond Cave – the site of a scene in James Bond: Tomorrow Never Dies.
9 – Halong Bay, Thien Cung Cave & Kayak with Incredible Cruise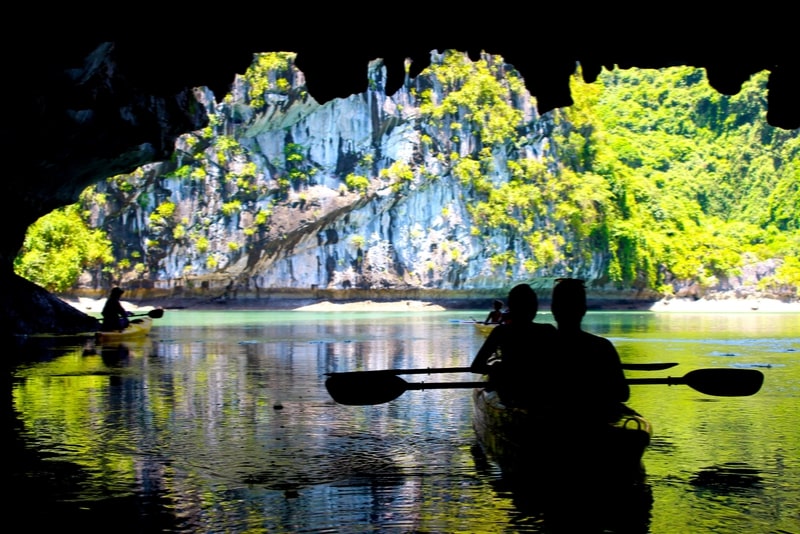 Sail amongst Halong Bay's natural beauty with a day cruise that features some of the area's best sites. Dog Stone and Burning Incense, some of Halong Bay's most iconic islets, will be on view during your cruise.
So too will be local fishing villages, where you can take a moment to kayak in the waters and jump on a bamboo boat that's rowed by the locals. Fighting Cock island and the Heavenly Palace cave round off your trip before heading back to the wharf.
10 – From Hanoi: 2-Day & 1 Night Halong Bay Tour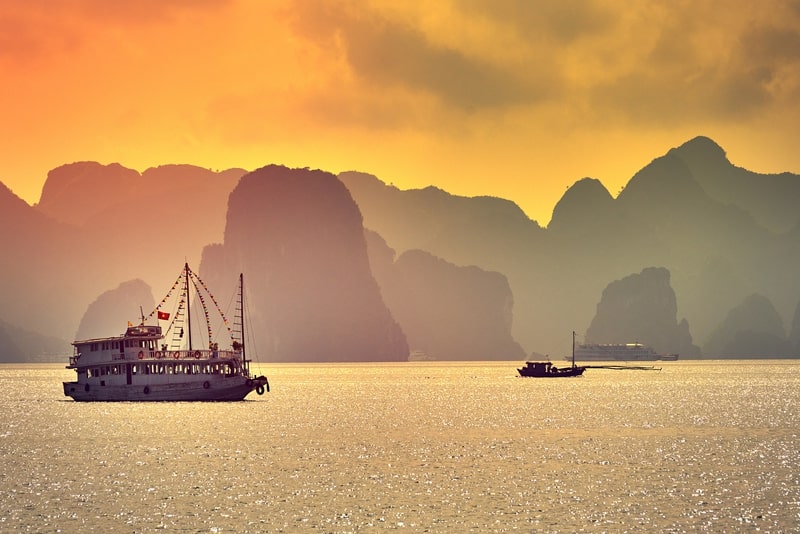 Hop on a four-star junk cruiser for the night and marvel at the wonders of Halong Bay, before and after sunset. The overnight tour sees you visiting the karst rock formations, which have been named after the shapes they form.
There will be a chance for kayaking around the Luon Cave area, while Titop Island provides the perfect opportunity to take in Halong Bay's outstanding views. Other highlights of the tour include a visit to Surprise Cave, the largest on Halong Bay; cooking classes on the cruise; and an opportunity to see the sunrise at this UNESCO World Heritage Site.
11 – Hanoi: 2-Day & 1-Night Halong Bay & Lan Ha Bay Luxury Cruise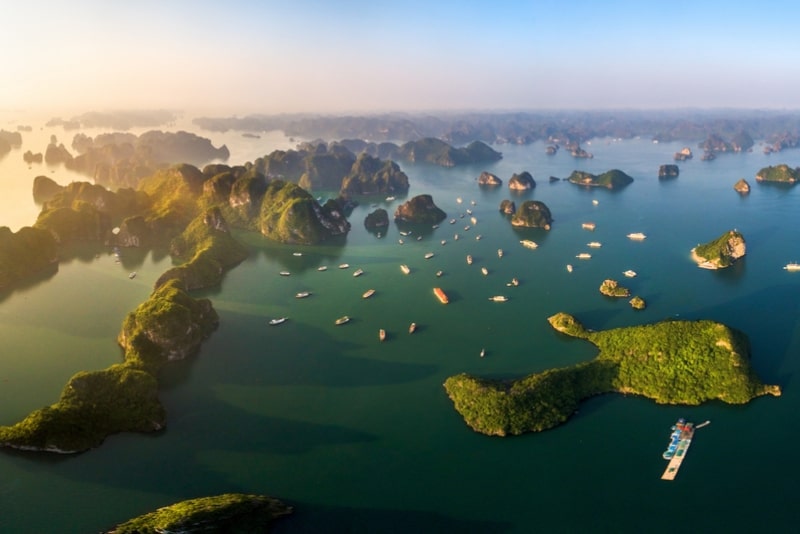 Make the most of your Halong Bay adventure with an overnight stay on a luxury boat with 12 cabins. The trip will see you taking in the wonderful sites of Halong Bay and Lan Ha Bay – the quieter, less touristic area that features plenty of natural beauty.
Swim in the secluded and relaxing area of Lan Ha Bay's Tra Bau, before heading back to the ship and learning how to make traditional Vietnam dishes. This trip is one of the best Halong Bay cruises around and provides you with a chance to enjoy a five-star experience of the area.
12 – Halong Bay Day Trip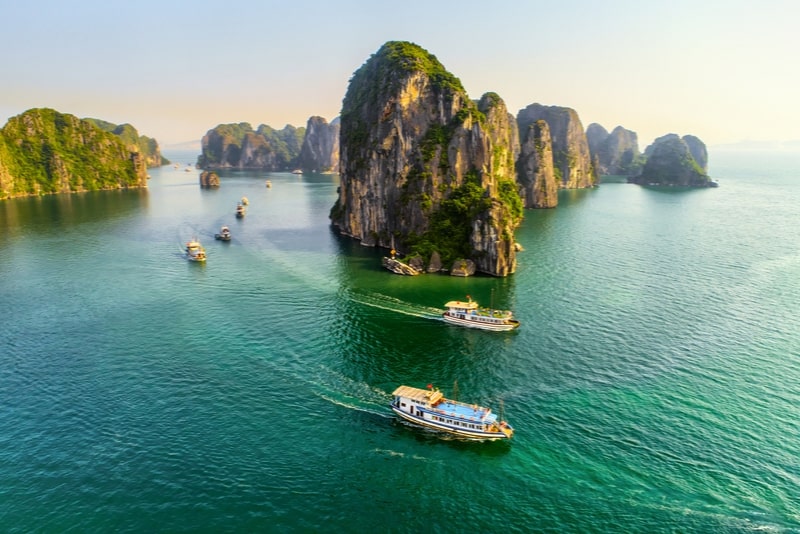 Take a day trip to paradise! Start the day at the port of Tuan Chau island, which is nearby Halong Bay and was officially named as one of the New Seven Natural Wonders of the World. Here, you can witness the iconic formations of limestone rock that go all the way to the turquoise ocean waters.
Other points of interest on your Halong Bay day trip includes Hon Ga Choi, otherwise known as Fighting Cock. The stalactite and stalagmite rock formations inside Thien Cung cave will also be on the itinerary of things to see and do at Halong Bay.