As the largest of the Cyclades islands, Naxos is the perfect starting point for trips to many nearby islands. Small boats, ferries, and some of the best boat tours in Naxos depart from the only port in town regularly – more frequently in summer but also throughout the year for those thinking of arriving during the off-season.
When it comes to island-hopping, Naxos offers plenty of options. Catch a ride for a short trip to nearby destinations or embark on an all-day cruise to explore gorgeous beaches and the rich blue waters of the Aegean Sea. While Naxos has its own charm and plenty to offer, the best way to explore the Greek islands is by getting on the water and sailing away.
Whether you're up for an active day of swimming and snorkeling or you want to sit back and sunbathe as you enjoy the stunning views, there's a boat tour out there for you.
What are the most popular boat tours in Naxos?
1 – All-inclusive catamaran cruise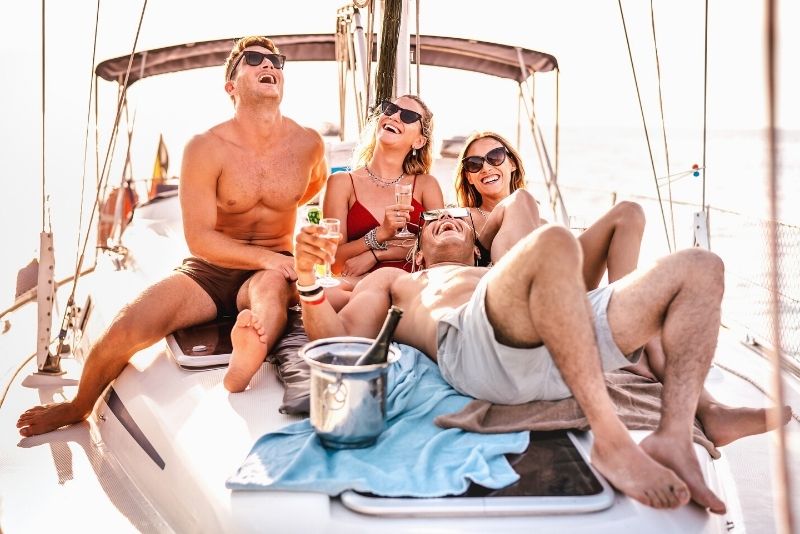 If your idea of a great day out on the water includes an all-inclusive tour, this is the one for you. Leave everything at home except your suntanning lotion – this cruise comes equipped with snorkel gear, complimentary drinks, and a traditional Greek lunch prepared with fresh local products.
Just sit back to soak up the sun as you start your trip on a modern comfortable catamaran. The trip starts at 9:30 am at the Naxos marina and lasts for eight hours, so you'll have plenty of time to both relax and be active. Have some coffee or snacks and get ready for a morning of swimming and snorkeling in the crystal clear blue waters of the Aegean Sea.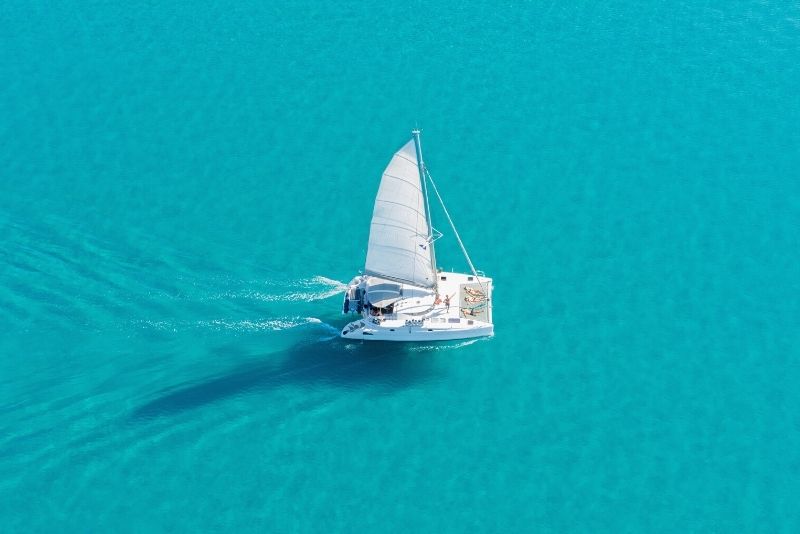 When you get back on the boat, you'll enjoy a hearty Greek lunch prepared with fresh local ingredients (a vegetarian option is available if you let the company know in advance) with beer, raki and wine included, followed by some relaxing sailing around the island. There are plenty of places to sit, both in the sun and in the shade, to admire the beautiful views as the waves rock and splash against the boat.
The boat even offers wi-fi so you can post photos of your amazing day out to your social media as you experience it. This tour runs outside of the high season and will provide an alternative route in case of rough seas or adverse weather conditions. This guarantees that the captain will be able to find the best destination no matter the weather.
2 – Mykonos and Delos boat tour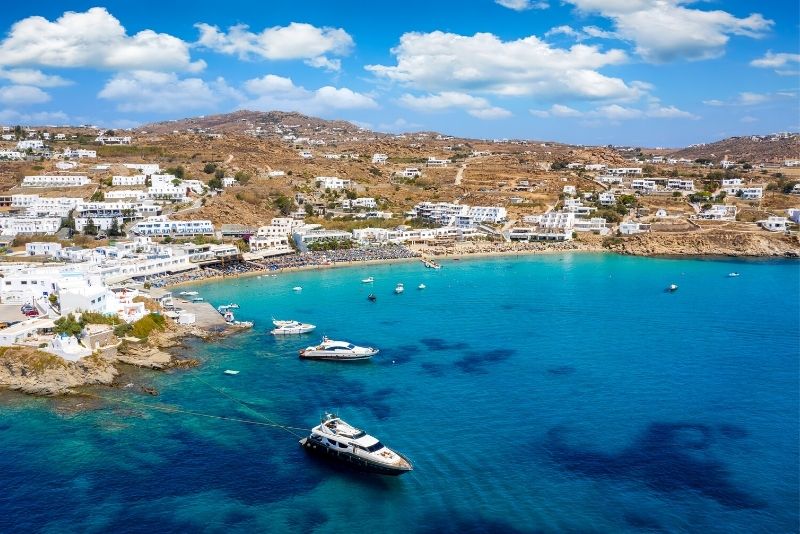 Delos and Mikonos are two of the most popular island destinations near Naxos. Delos is home to a UNESCO world heritage site dating back 3,000 years to the ancient Greek civilization. Sitting right against the deep blue waters of the Aegean Sea, Delos is said to be the birthplace of gods Apollo and Artemis and today offer stunning ruins to be explored.
Just minutes away is Mikonos, a vibrant island famous for its cobbled streets flanked by cosmopolitan shops and restaurants and its vibrant nightlife. If you're short on time and want to visit both islands, a Mykonos and Delos boat tour could be the perfect solution.
Some tours offer a private guide and "skip the line" tickets so you can explore the archeological site at Delos, followed by a guided walking tour of Mykonos harbor and its beautiful white and blue town.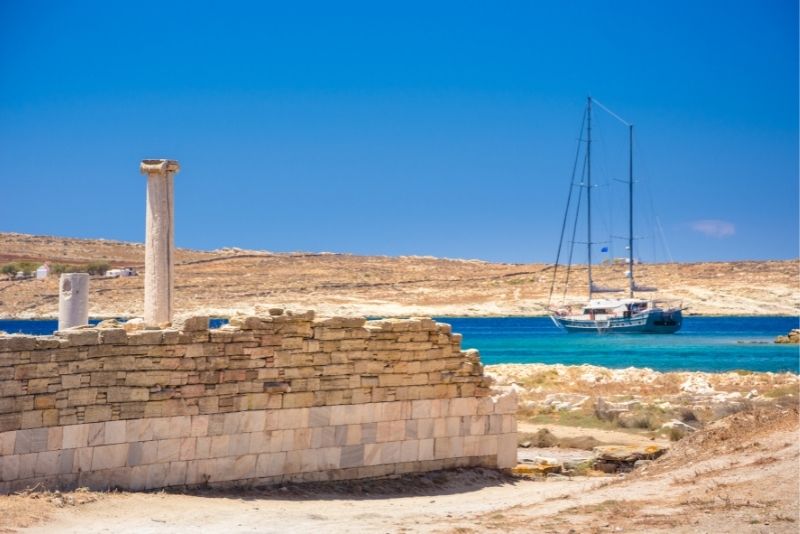 Other tours give you free time to explore Mykonos Town on your own, do some shopping or grab a quick bite to eat. Some tours even offer a basic package that only includes boat transport between the islands, so you can decide how long to spend on each island and how to use your time at each stop.
Most tours last at least half a day, while some are as long as 10 hours. Check in advance if the tour of your choice includes lunch and snacks/drinks. Otherwise, you'll have to plan on bringing food or use your stop at Mykonos for a nice meal overlooking the sea.
3 – Small Cyclades boat tour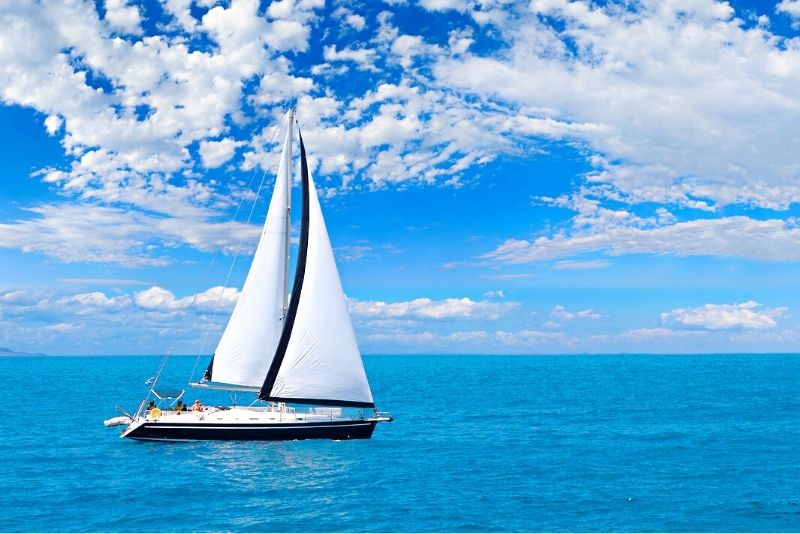 The Small Cyclades (sometimes known as the Lesser Cyclades) is a group of 32 tiny islands that form part of the Cyclades archipelago. Only four of the tiny islands are permanently inhabited, all with populations of just a few hundred people.
Because of their size and lack of amenities (no hotels, restaurants or shops on any of the uninhabited islands), the Small Cyclades provide a great secluded experience, where the emphasis is on enjoying quiet walks under the sun, reading a book or breathing the warm air as you dig your toes into the sand.
No taxis here (rent a bike or a scooter instead) and accommodations are offered in charming little bed and breakfasts or pensions.
If you want to get away from the big crowds that take over Santorini and Mykonos during high season, an all-inclusive day sailing tour from Naxos to the Small Cyclades is the perfect way to escape.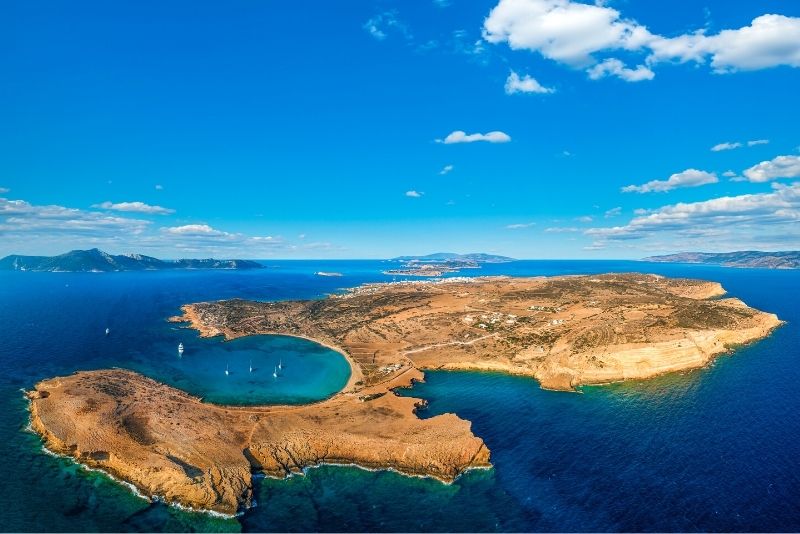 Board the small sailboat cruise early in the morning and get ready for a full day of snorkeling, swimming, and just enjoying the beauty the islands have to offer. Both breakfast, lunch, and snacks (as well as bottled water and alcoholic beverages) are included in the tour, and you can sit back and enjoy it as you sail through the sea on the lookout for dolphins.
Everything you need (including snorkeling equipment) is included, so you can just focus on having a great time. You don't even have to worry about photos – the crew will take professional photos throughout the day and you will have a chance to download them all at the end of your trip as your souvenir.
4 – Koufonissia boat tour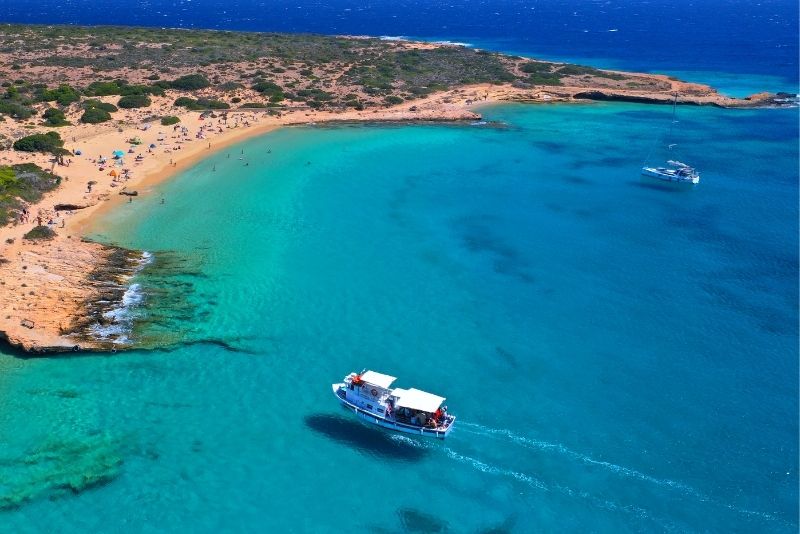 If you're looking for a place to unwind surrounded by turquoise waters and golden sands, the two islands that make up Koufonisia in the heart of the Aegean sea will give you that and more.
Koufonisia consists of the Ano Koufonissi and the Kato Koufonissi islands. Ano Koufonissi is home to a vibrant village filled with great cafes, lively restaurants, and plenty of seaside taverns. Great beaches, a natural pool with crystal clear waters, and plenty of places to explore on foot make this a great destination.
Kato Koufonissi is exactly the opposite – the islet has been uninhabited since the 1960s, but you can still find remnants of a deserted village, plenty of migratory birds, and stunning golden beaches like Nero (the most popular of the beaches here), the tiny Detis with its golden sands, and the very picturesque Panagia and big trees offering shade.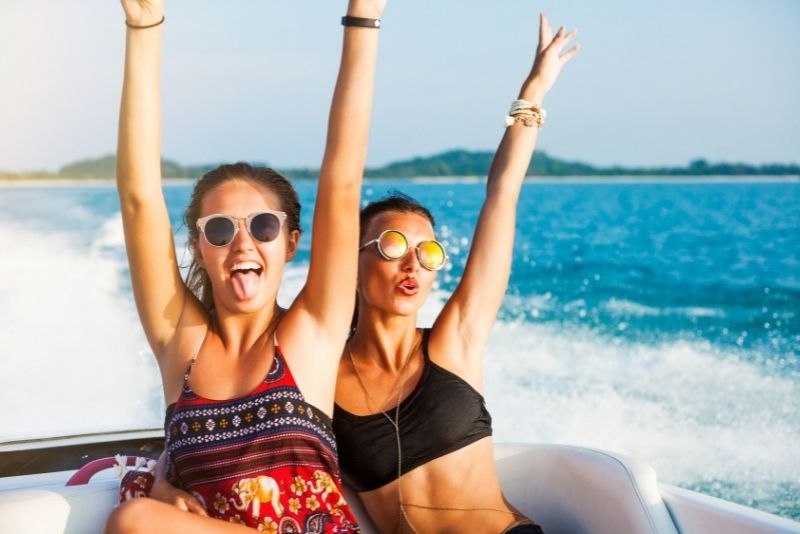 A great way to discover these two islands is with a full-day cruise. This 10-hour-long adventure starts as you get on a traditional wooden boat and head toward Kato Koufonissi.
Here, you'll have time for swimming, snorkeling, and exploring before you get back on the boat for a rich Greek BBQ of souvlaki, local potato salad, and tzatziki with unlimited water, soft drinks, and house wine.
Your next stop is Ano Koufonissi, where you'll get three free hours to visit the beach or explore the village and maybe pick up some souvenirs or take photos as you walk the beautiful shoreline. Once you get back on the boat, you can grab a glass of wine and sit back to enjoy the views as you sail back to your point of departure.
5 – South Naxos full-day cruise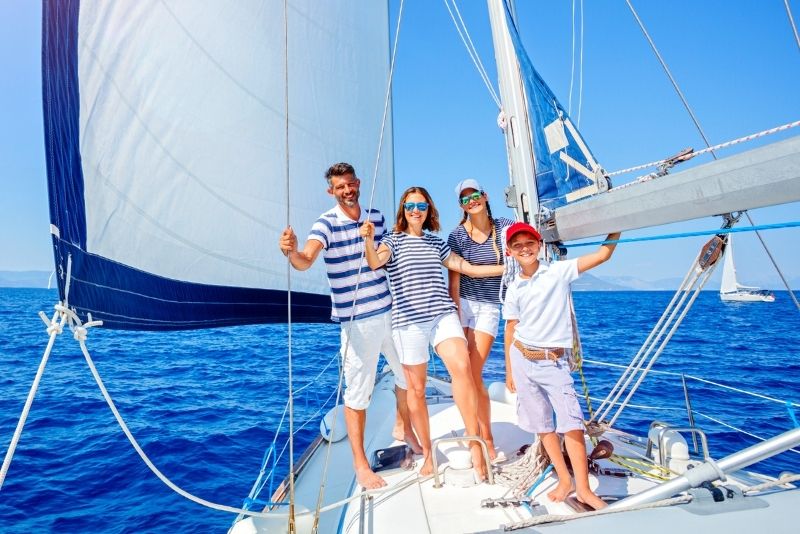 This unique all-day-long cruise allows you to explore the less visited southeast coast of the island. Naxos' port and most popular beaches are all on the west side of the island. This is where visitors go for well-equipped beaches with all the amenities, great restaurants, and windsurfing.
The east coast, especially towards the south of the island, is home to a number of smaller but equally stunning beaches that see a lot fewer visitors. They offer a chance to enjoy the stunning blue waters and golden sands in a quieter, more secluded space.
This seven-hour-long cruise tour starts at 10 am at the Agia Anna Port, where you'll meet your captain and board a traditional wooden boat. From there, you'll start sailing towards the hidden beaches of the southeast coastline, with the first stop at Aliko Beach, which sits against cedar trees.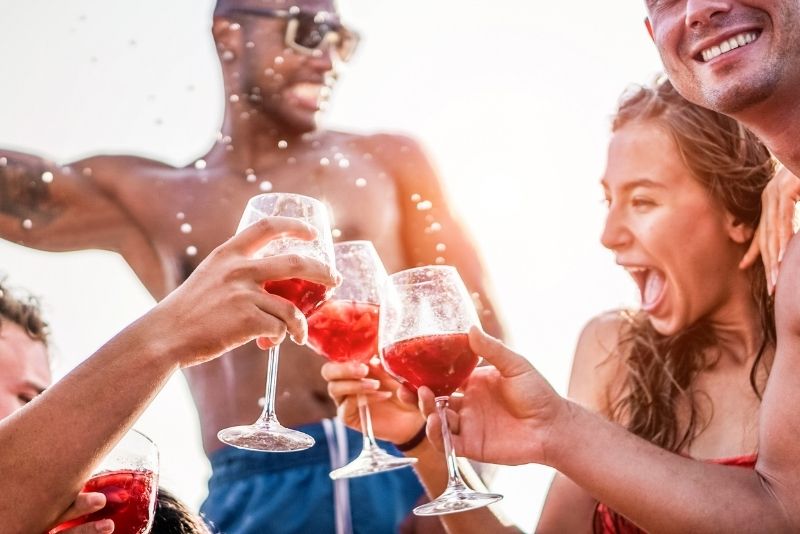 You'll then head to Rina on the Naxian sea. Accessible only by boat, the rocky bay where Rina is located offers picturesque views and crystal turquoise waters perfect for swimming. After exploring Rina Cave, return to the boat for a traditional Greek barbecue lunch served with unlimited water, soft drinks, and house wine.
After another stop at the secluded Kalados bay, you'll make your way to Pyrgaki beach, famous for its dunes and little secret coves that open up to the blue waters. You'll visit the tiny Byzantine Agios Sostis church before heading back to your departure point by 5 pm.
6 – Rhina Cave catamaran tour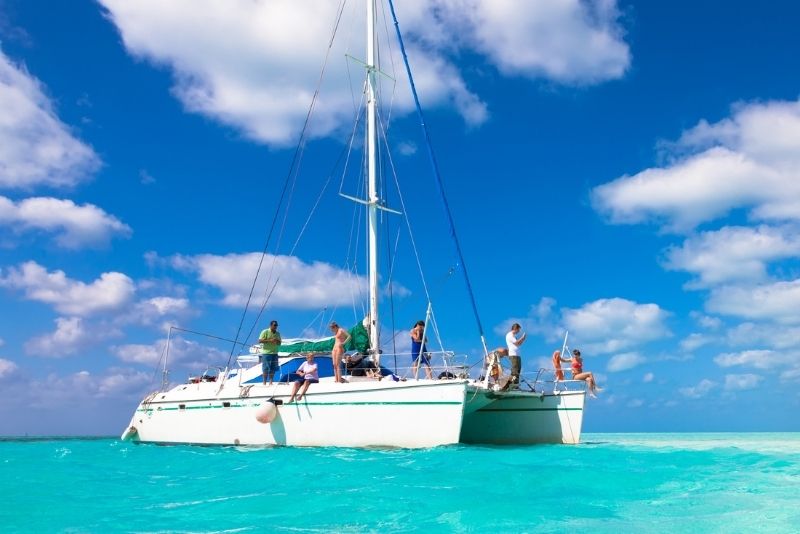 Naxos is surrounded by tons of tiny islands and islets – many offering exciting activities, others uninhabited and perfect for a secluded getaway. These include the Small Cyclades islands as well as additional islands like the blue and white Amorgos, picturesque Paros, and quiet sandy Donousa that are slightly farther away.
Some of these islands can be accessed via ferries departing from Naxos, but if your stay on the main island is short, coordinating ferry times can be complicated and you won't be able to visit many of them in just a few days.
An easier and more effective way to island-hop from Naxos is to join a boat tour that takes you deep into the sea and around the small islands to discover turquoise waters, soft golden beaches, and perfect snorkeling spots.
This 10-hour-long catamaran tour departs from Naxos Port at 8:30 am. For two hours, you'll sail around Naxos, enjoying pristine views of the blue waters and the soft breeze, until you reach Rhina Cave. Here, you'll have to dive into the cool sea under the cave's rooftop, discovering a world of underwater fish and ancient stalactites.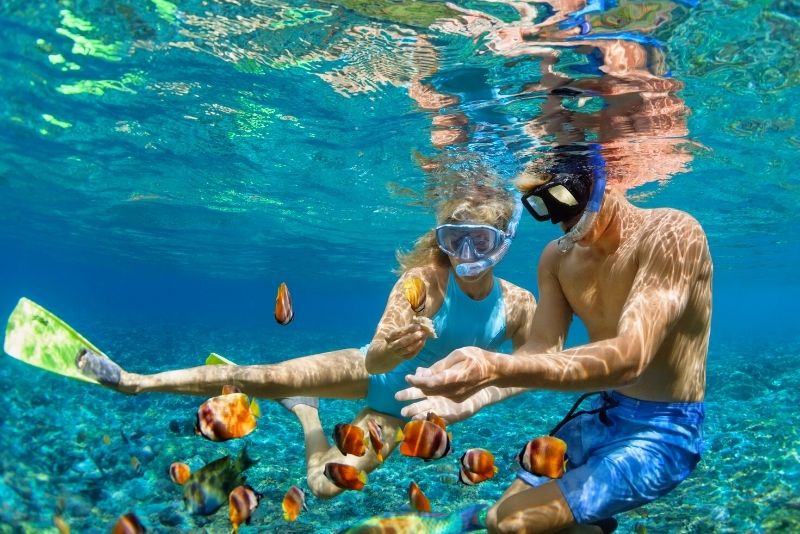 This is also a great area for snorkeling (all equipment is included), and you'll have enough time to try that out before you go back to the boat to continue on your tour.
Next, your captain will take you to one of the many islands around Nexos for some swimming and snorkeling. Your destination varies depending on the weather and the season, so your guide can choose the best destination.
On your way to this slice of paradise, enjoy some wine or a cold beer on the boat's deck. Once there, you'll have plenty of time to enjoy the sea while your hosts prepare a Greek lunch (vegetarian option available).
One more island awaits you after you get a chance to eat and relax for a while. You can choose to chill out in the shade at your last stop or try out more water activities before you sail back to Naxos Port while enjoying some fresh fruits and coffee.
7 – Boat rental in Naxos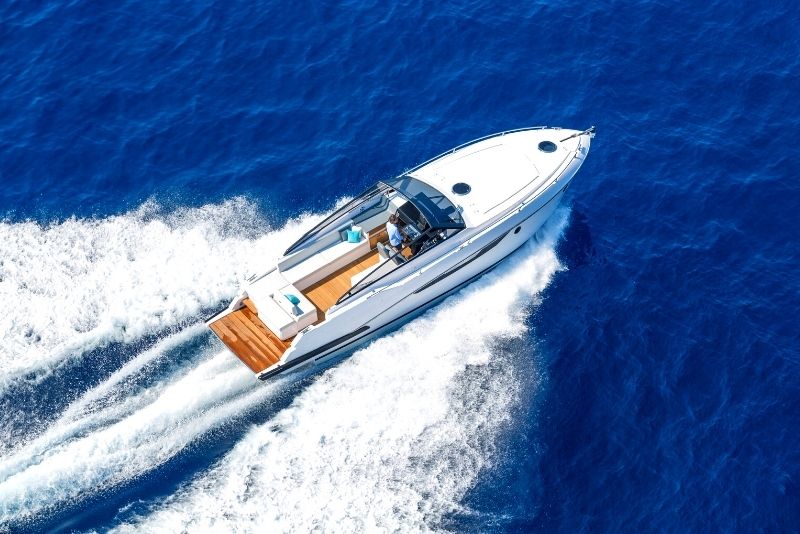 For the ultimate in privacy, you can't beat renting your own boat when in Nexos. Boats are available in all sizes and prices here, and you can find one that fits your budget and needs.
Smaller motorboats with an engine smaller than 30 hp can be rented without a license. This means bigger, more powerful boats like speedboats are out of the question, but smaller boats like cruisers or charter boats might be easy to rent.
When renting, you'll be offered comprehensive training in safety standards and how to navigate the boat if you have no previous experience with it.
This is a great option if you just want to explore nearby islands and want the freedom of making your own schedule and exploring at your own pace.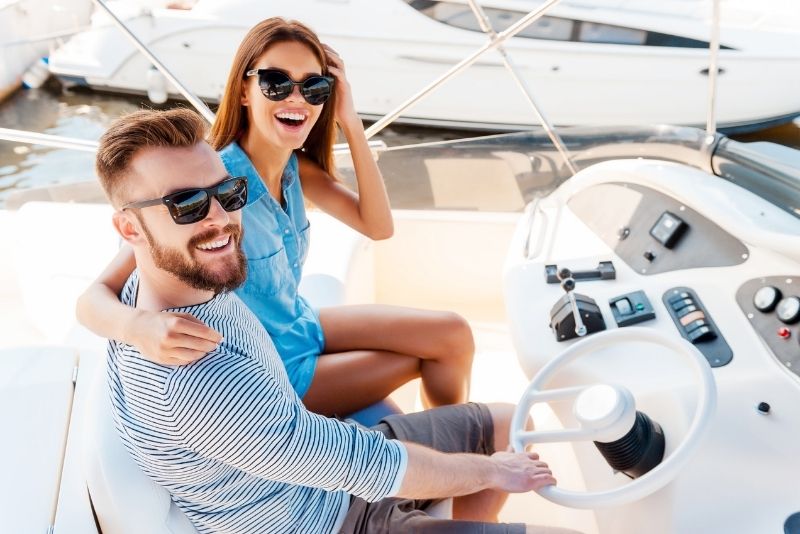 For larger boats, you will need a license from a recognized sailing organization in order to secure a rental. Certain boats also require you to have a co-skipper – meaning a second person that also has a license and is traveling with you.
If this isn't possible, you can always rent a boat that comes with its own captain. This is the perfect option for week-long trips, though it's possible to rent a boat with a captain even for one day of island hopping.
Renting a boat with a captain will increase the overall cost, but if you're traveling in a big group or if the boat is large enough to provide overnight accommodations, the costs will even out in the end. Larger vessels might also provide crew members so you can have a cook or a hostess making the experience feel even more luxurious.
How much does a boat tour in Naxos cost?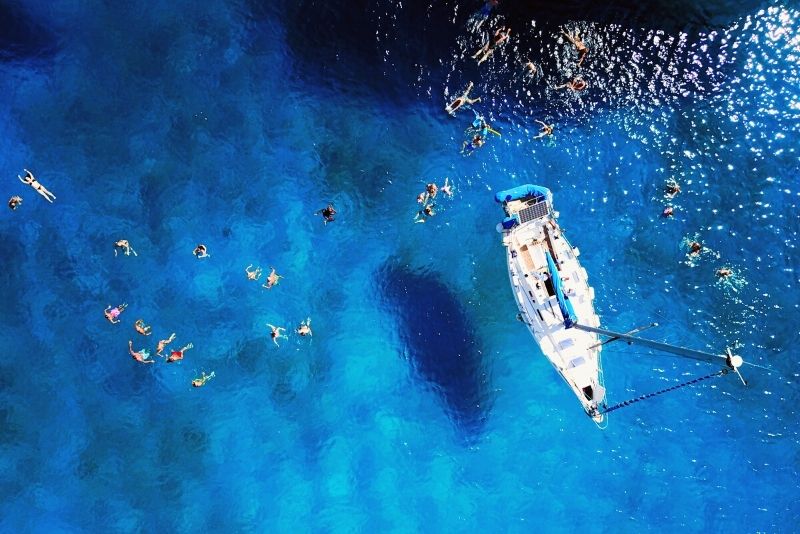 There are plenty of boat tours in Naxos to fit any budget. Count around 50 euros for a half day boat tour, and 120 euros for a full boat tour including lunch. As you might expect, the more a tour includes, the higher the price. For example, a basic day cruise will cost less than an island-hopping cruise that takes you snorkeling and makes several stops. Cruises offering small-group tours will cost more than larger boats that can carry a larger number of passengers.
For the ultimate in luxury, you can always rent your own boat (and, if you don't have a license, also hire a captain) for the day. Private rentals are more affordable (if you are a large group) than you might think, and you'll get not only privacy but also a chance to create your own schedule and itinerary so you can focus on visiting your favorite places.
Also keep in mind that while Greece's sailing season lasts from April to early November, prices for everything, including boat tours, go up between June and August. If you arrive in April-May and September or later, you'll usually pay lower prices.
How long does a boat trip last?
How long your boat trip in Naxos will last depends on which type of tour you choose. Shorter tours can last just 3-4 hours and you often have the choice of a morning or an afternoon trip that best suits your needs.
Longer tours – especially those that include several stops and take you to more than one island – can be as long as 10 hours and sometimes include a chance to catch the sunset on the water.
Private boat rentals offer even more freedom, as you can get a rental for half or a full day, or even for more than one day for an overnight adventure. Naxos has many options for private boat rentals with or without a captain for multi-day and weekly trips.
Traditional sightseeing tours sometimes only spend a couple of hours in the water but you get plenty of time to enjoy the beach or get off at different locations to explore on foot. Other dock or stop near the shoreline so you can jump into the water for some snorkeling and swimming.
With so many options to suit your itinerary (no matter how open or busy it is), there's certainly a boat tour available to suit your needs.
Where do boat tours depart from?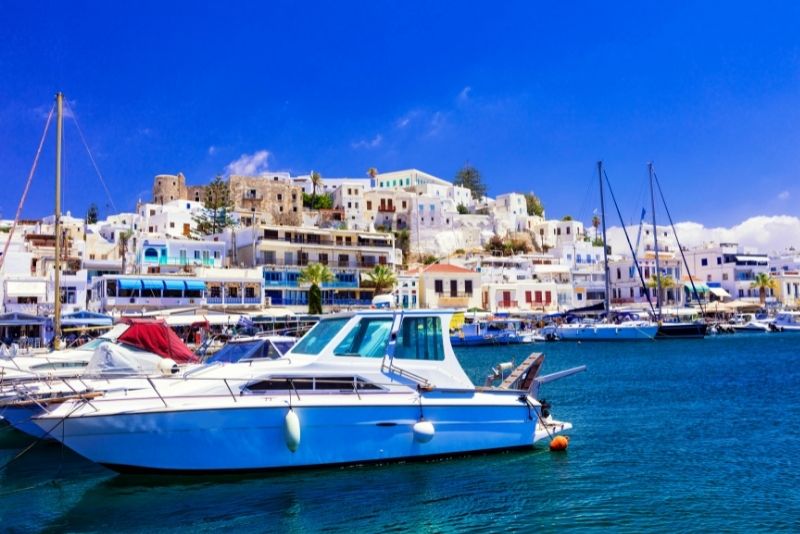 The island of Naxos only has one ferry port located on the edge of Naxos Town. This is where all ferries, private boats, and yachts depart from.
Since the port is easily accessible by buses and taxis, some tours ask you to meet directly here. Other tours will offer pickup from your hotel or a more centralized point and take you to the port. Make sure you confirm this in advance when booking your tour.
Keep in mind that during inclement weather, the waters might be too choppy for departure and the tours can be postponed or canceled. If the tour is postponed for just a couple of hours, the area around the port offers plenty of restaurants, shops and attractions for a nice break until it's time to depart.
What are the best places to visit during a boat tour in Naxos?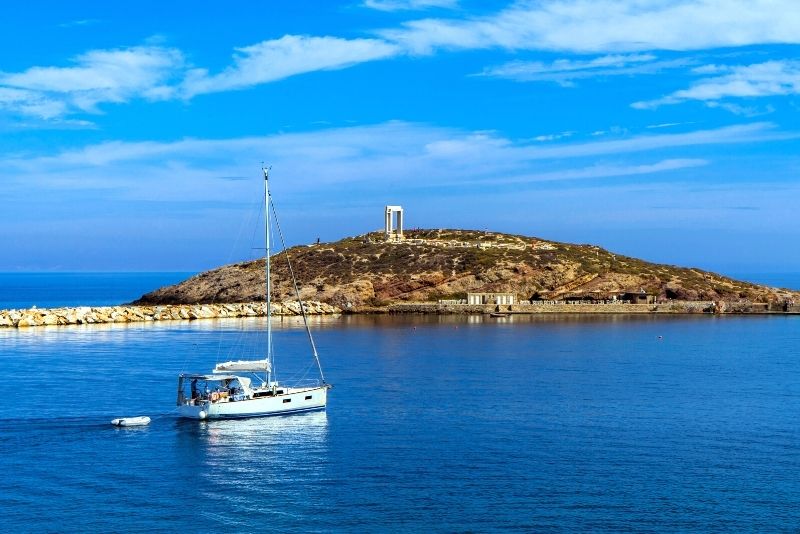 Naxos is located in an ideal location in the South Aegean sea. This large island has a significant port that welcomes ferries and serves as the departure point for many cruises, making it the perfect starting point to explore Greek-island charm.
The Small Cyclades are a popular destination from Naxos because they are so close and offer something for everybody –from bustling little villages with great food to beautiful beaches to plenty of options for swimming and snorkeling. The pristine golden beaches of Pano Koufonissi and the untouched coastline of Donoussa are beautiful destinations too, and so are the Paros and Antiparos islands with their untouched beaches and laid-back luxury.
If you're up for a long day out, Delos and Mykonos top the list as the most popular destinations from Naxos. There's much to do and explore on both islands so expect a full day of sightseeing whether you're taking a cruise or traveling on your own.
The key to island-hopping successfully is in the planning. If you're using ferries, check itineraries in advance so you can plan the connections properly.
If you don't have a lot of time in Naxos, a cruise tour is a lot more effective, as you can find one that covers several islands and activities in one day. Private tours are especially a good choice during middle and low season, as the ferries don't run so frequently and you might not be able to visit more than one island per day.
When is the best time for a boat trip in Naxos?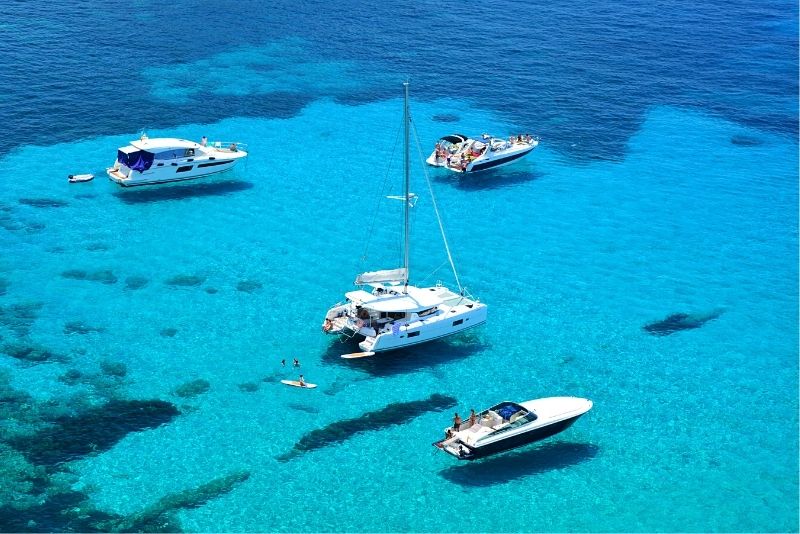 Naxos is a stunning destination all year long, but if you're going to be spending a lot of time in the water, some months are certainly better than others. The warmer season starts in April and lasts until October, with the hottest months being June to August. In September, the air starts to cool down but the water remains warm and inviting, perfect for a swim as you explore the islands on a boat tour.
Keep in mind that summer is peak travel season, so you'll find bigger crowds and higher prices. If you're visiting during this period, make sure you book a boat tour well in advance, as these tend to sell out. These are the best months for private or small-size tours so you can guarantee some privacy and space, especially if you're booking multi-day tours.
Summers also bring the infamous Meltemi winds to the islands. The hot and dry winds can be a good or a bad thing, depending on what your plans are. If you're hoping to sail or hoping to add some windsurfing or kitesurfing to your water adventures, the months of July and August will offer the best wind conditions for it. Keep in mind, however, that the Meltemi winds can make the ocean very choppy on the strongest blowing days.
Winter temperatures average around 15 degrees Celsius in Naxos. While this is great weather for hiking, exploring indoor venues, and even sunset walks on the beach, it might be a bit too cold for boat tours. Keep in mind that many tour companies stop working or work on a limited schedule during the winter.
Travel tips
Plan to spend at least three days in Naxos. Less than that will barely give you time to enjoy a couple of beaches but nothing beyond that.
Don't just use the town of Naxos as an arrival and departure point. There's plenty to see and do here, so spend some time discovering the postcard-perfect cobblestone streets, ancient churches, and vineyards. There are great hikes around town and you could even make it to the top of Mount Zeus if you're up for a steep walk.
Venture away from the most popular beaches. While Plaka Beach and Agios Prokopios beach have plenty to offer in the way of activities, entertainment, and amenities, they sometimes lack the charm of more secluded sandy stretches like Orkos beach and Panermos beach, which offer privacy away from the crowds.
Get on a boat. Whether it's a cruise that just last a couple of hours or a full-day adventure to other islands, Naxos' surroundings are never better than when seen from the water. There are plenty of cruises available (especially during high season) to fit any budget, so whether you want a leisurely sail or a chance to swim and snorkel around the coast, you'll find something available.
Pack lots of sun protection, including high SPF sunscreen, a wide-brimmed hat, sunglasses, and some bug spray if you're visiting during the humid summer months. Bring a loose/oversized button-down shirt to cover up when the sun gets too strong – it will keep you from burning and make long days out in the sun more comfortable.
Don't spend all your time on the beach. We get it – it's hard to pull yourself away from the stunning coastline. But Naxos and the surrounding islands also offer plenty of other marvels, including archeological sites, caves, and vibrant villages with great shopping and food. Find time in your itinerary to explore some of that as well.
Visit in the off-season if you're on a budget. Any month outside July and August will be cheaper and you'll be able to find better deals on flights, accommodations, and tours.
Final thoughts
So, there you go – a list of some of the best boat tours in Naxos so you can find the perfect option to fit your budget and itinerary. Looking for a day packed with activities at some of the most popular islands? There's a tour that can give you just that. Want some privacy away from the crowds? You can rent your own boat and create your own tour for the ultimate getaway.
When planning your getaway, check out our blog post on the best things to do in Naxos for ideas, destinations, and tips on how to make the most of your trip. If you've taken a boat trip in Naxos, don't forget to let us know in the comments about your experience!